15 Minute Sticky Garlic Noodles are the Y2K version of dinner when you're just too tired and too lazy to prep anything else. Netflix is calling and these buttery, garlicky, gooey, noodles, swimming in a soy sauce glaze are the perfect carb-binging meal to pair with your tv binge. You'll barely even need to press pause as you prepare them.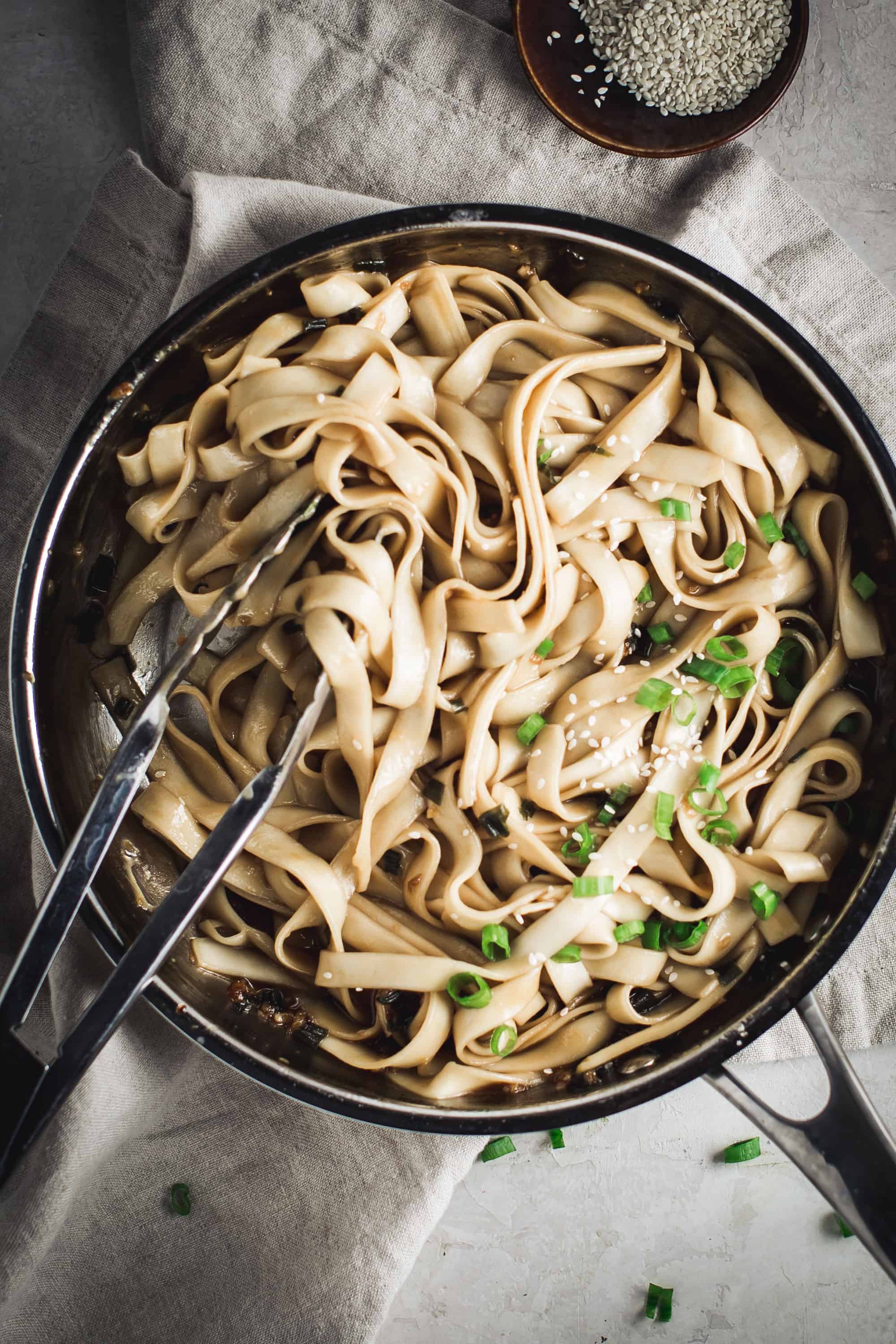 The Fastest Most Delicious Noodles Ever
Some of the least complicated dinners make the best ones and many times noodles are involved in these types of dinners. These delicious lo mein noodles are drenched in a sticky garlic sauce that makes eating one serving almost impossible.
Not surprisingly, there are quite a few quick noodle recipes on my site such as these Instant Pot Sticky Noodles, Easy Vegetable Lo Mein, and of course Gluten-Free Thai Peanut Chicken Noodles. Let's add these delicious ones to the mix.
In no time at all, you can have a delicious meal full of flavor that everyone in the family will also enjoy.
The Best Sauce for Lo Mein Noodles
Now, I might be biased but I prefer a simple sauce when it comes to preparing quick noodle recipes. There's no meat or veggies in this dish, which is why the sauce is so key. The below combination of ingredients comes together to form the delicious gooey garlic sauce.
Butter
Onions
Garlic Cloves
Brown Sugar
Soy Sauce
Oyster Sauce
Why Use Oyster Sauce?
I'm a huge fish fan. Any dish calling for oyster sauce, which resembles soy sauce and barbecue sauce, is one I'm eager to prepare. Need more explanation? Here's what Bon Appetit has to say:
"It's a mixture of caramelized oyster juices. A byproduct of cooking oysters in water for a prolonged period of time with salt, sugar, and sometimes soy sauce. The sauce is thickened with cornstarch."

Bon Appetit
If you're a tad hesitant then you can swap the oyster sauce for hoisin sauce or soy sauce. The sauce will be a bit more watery though.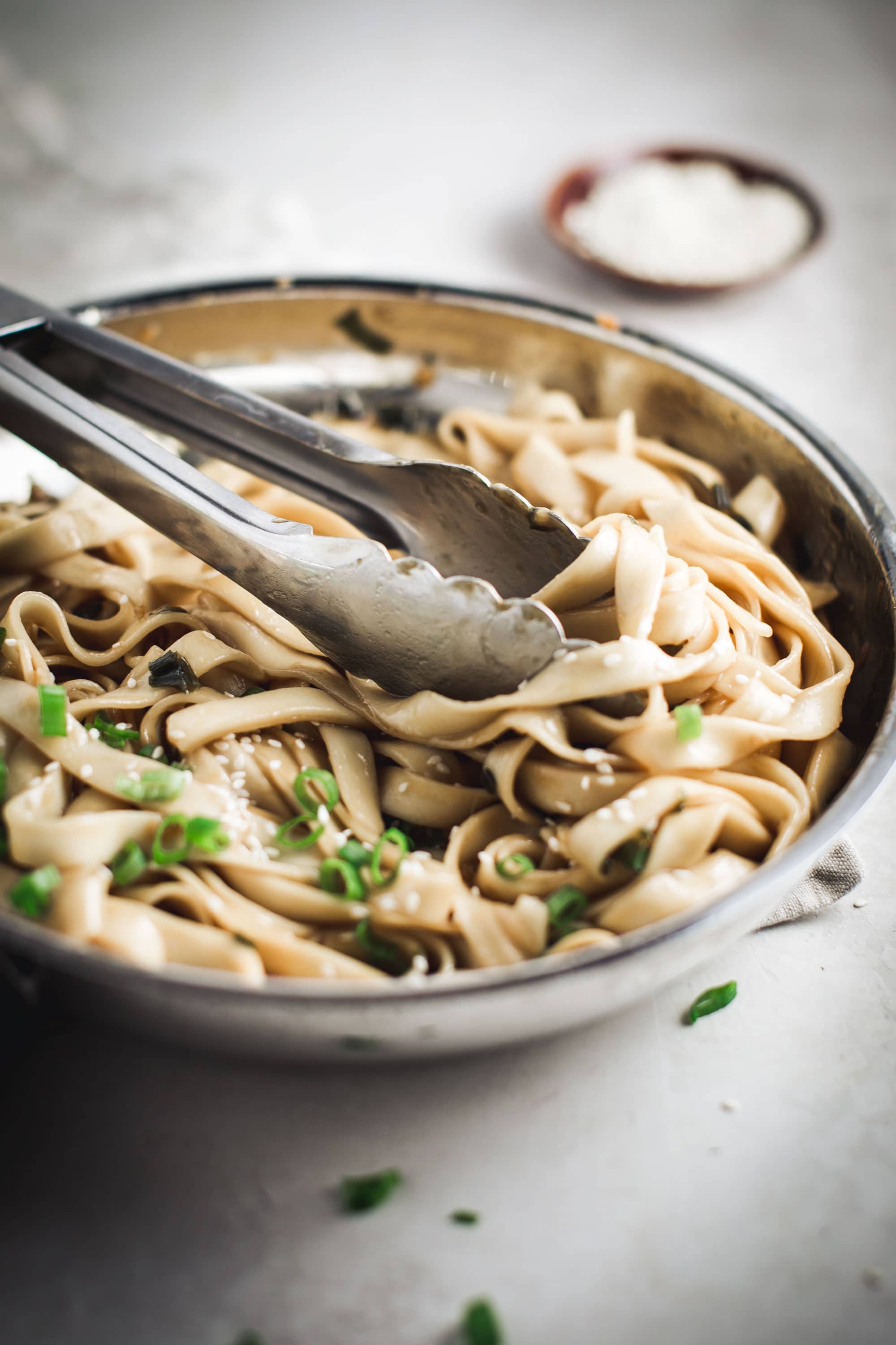 How to Create the Perfect Sticky Garlic Noodles
There are two main players in this simple recipe and they are sauce and noodles. Kind of like the old-school ramen from those impoverished college years. Even to this day, they sound like a good idea!
Prepare the noodles. Cook the lo mein noodles according to package directions, usually in boiling water for 5 to 8 minutes, and then drain.
Prepare the sauce. In a skillet or saucepan melt the butter and then add the green onions and garlic. Cook until fragrant, about 1 minute. Then whisk in the sugar and the soy and oyster sauce.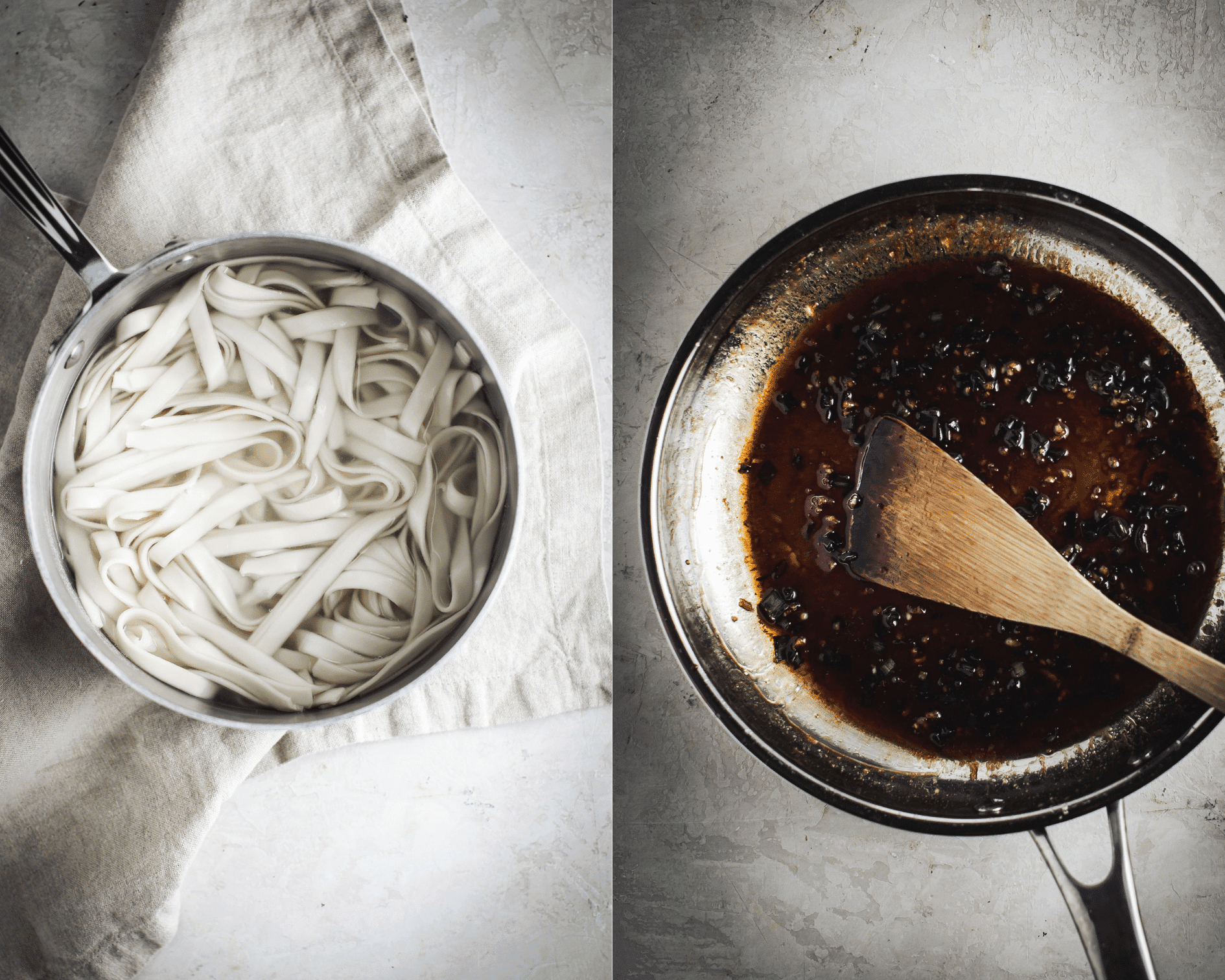 Allow the sauce to thicken. Bring the sauce to a boil and let it bubble as it thickens.
Coat the noodles. Add the drained noodles to the sauce and toss using tongs to evenly coat them Sprinkle with sesame seeds.
Do You Have to Use Lo Mein Noodles?
Nope, not at all. I could have just as easily used the spaghetti noodles or zucchini noodles. A wide and flat lo mein noodle, which is perfect for soaking up all the sauce, is best. If you're really feeling nostalgic, pick up a plastic packet of ramen. Discard the seasoning, and use them for sticky garlic noodle bliss.
There are also gluten-free noodle options or other brown rice pasta options you can use for this sticky garlic noodle recipe. Just choose your favorite.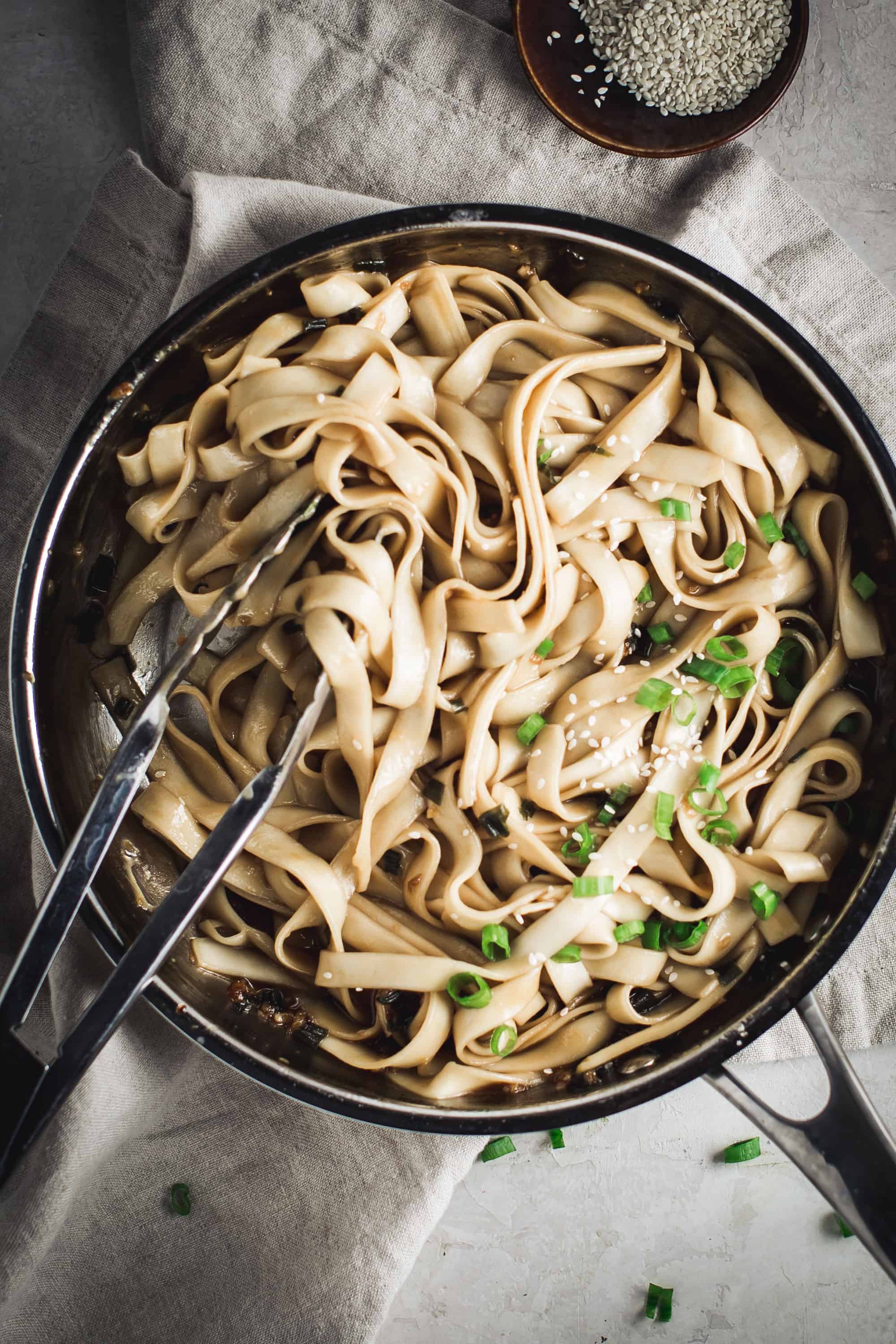 Ingredients
8

ounces

Lo Mein Noodles

3

tablespoons

Butter

6

Green Onions

sliced, green parts only

8

Garlic Cloves

minced

2

tablespoons

Brown Sugar

2

tablespoons

Soy Sauce

1

tablespoons

Oyster Sauce
Garnish
1

tablespoons

Green Onions

2

tablespoons

Sesame Seeds
Instructions
NOODLES: Bring a large stockpot filled with water to a boil and cook the noodles for 8 to 10 minutes (or according to the package directions). Drain and set aside.

SAUCE: In a small saucepan set over medium heat melt the Butter and saute the Green Onions and Garlic Cloves for 1 minute, or until fragrant. Add the Brown Sugar, Soy Sauce, and Oyster Sauce, and whisk the ingredients together then cook for 1 more minute.

Pour the sticky sauce over the noodles and toss to coat evenly. Garnish with additional Green Onions and Sesame Seeds.
Nutrition
Serving:
1.5
cup
|
Calories:
336
kcal
|
Carbohydrates:
52
g
|
Protein:
8
g
|
Fat:
12
g
|
Saturated Fat:
6
g
|
Cholesterol:
23
mg
|
Sodium:
879
mg
|
Potassium:
112
mg
|
Fiber:
2
g
|
Sugar:
7
g
|
Vitamin A:
457
IU
|
Vitamin C:
6
mg
|
Calcium:
70
mg
|
Iron:
1
mg