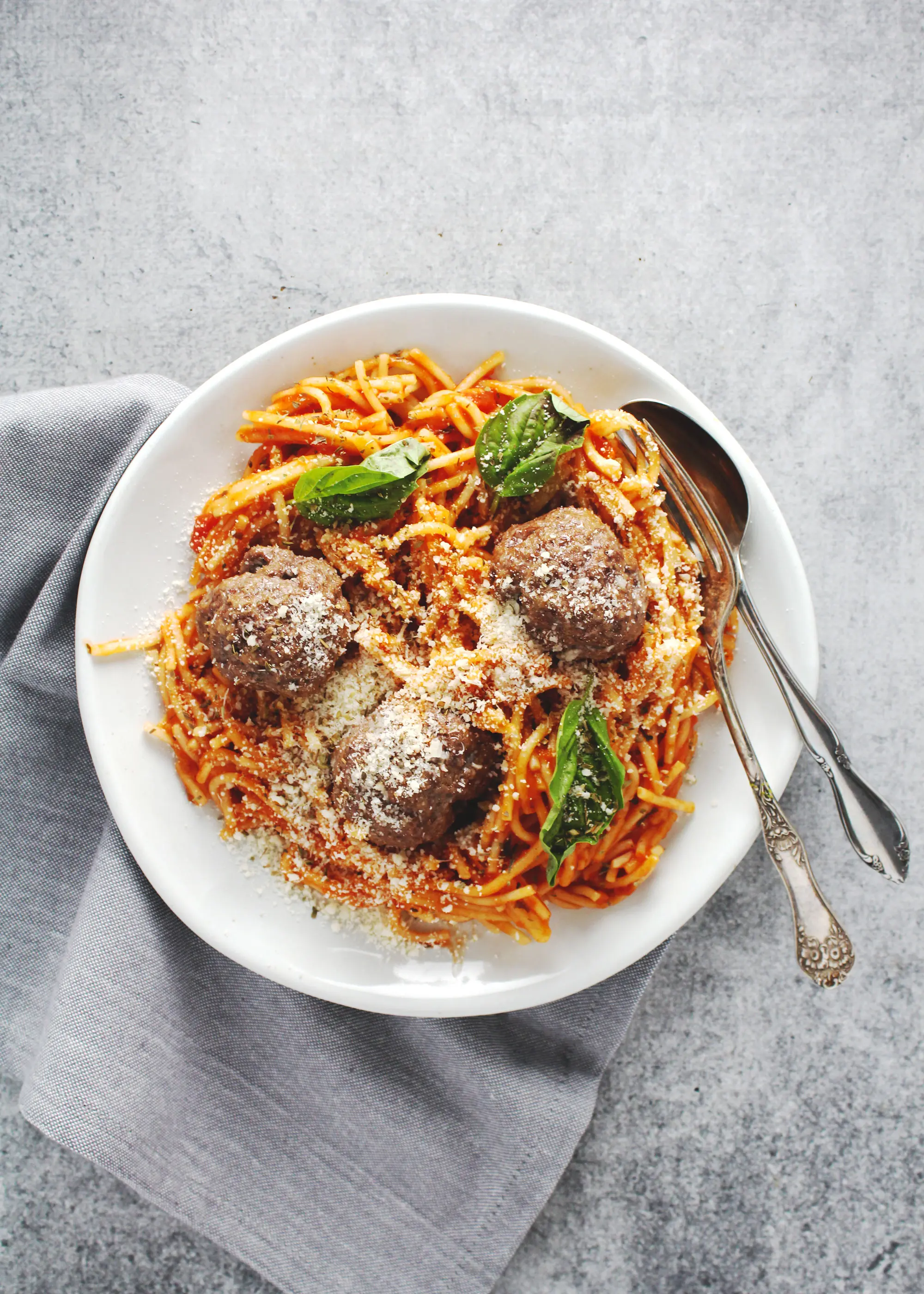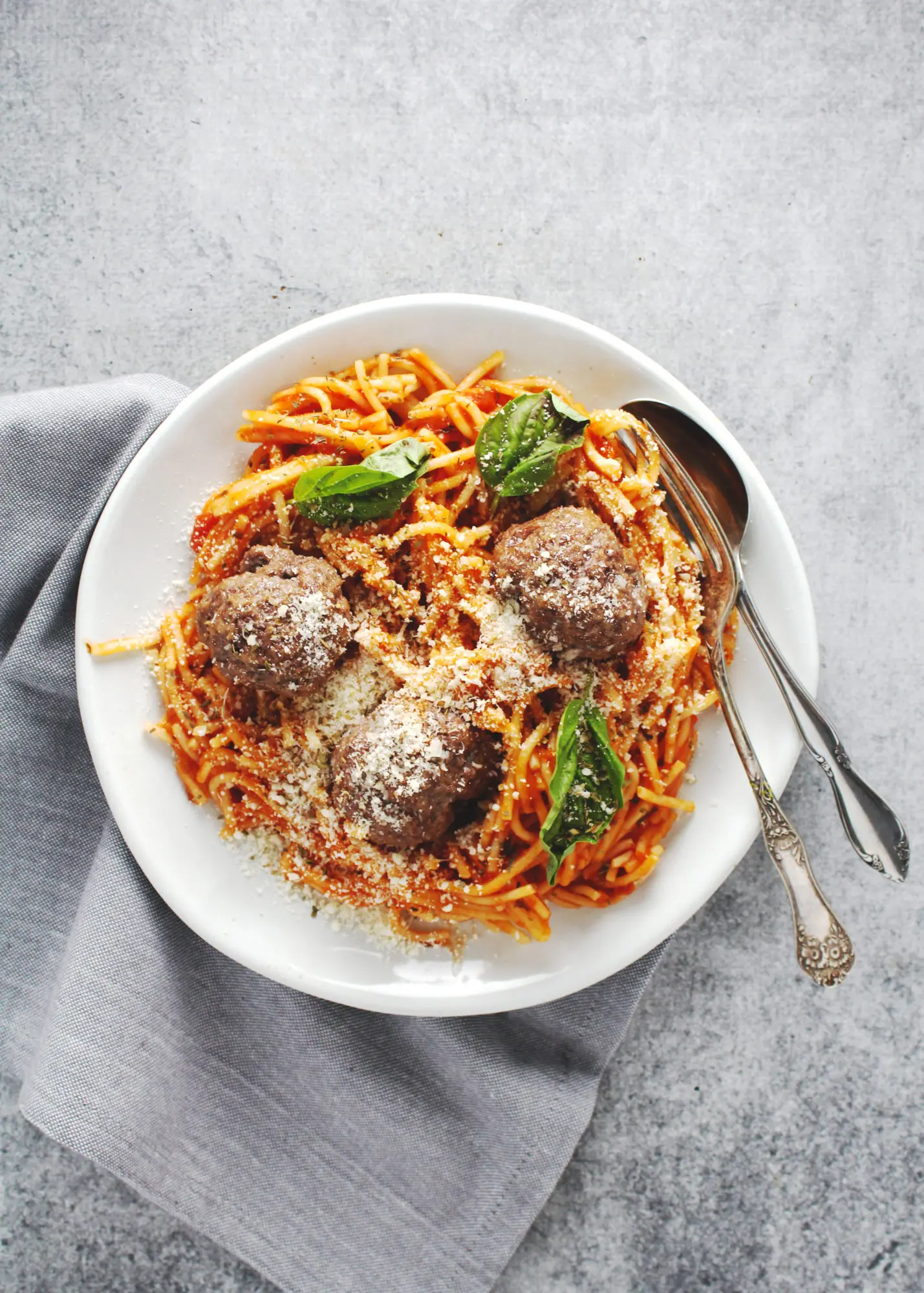 Just good ole' spaghetti and meatballs here, nothing new to see, but hey 5 ingredients and you're dinner done! And, oh wait, you're cutting out gluten? Don't worry, this meal is gluten free!
Maybe you'd prefer low carb? I got you! I'll show you how to take this meal from kid-friendly (or big kid-friendly, aka adults) to you friendly, meaning lower carb/clean eating.
The brilliance behind this dish is the quick and easy label it bears because most nights when it comes to dinner I need not only quick and not only easy but something everyone will eat, including my (what I like to consider) healthy self. This meal covers all the bases.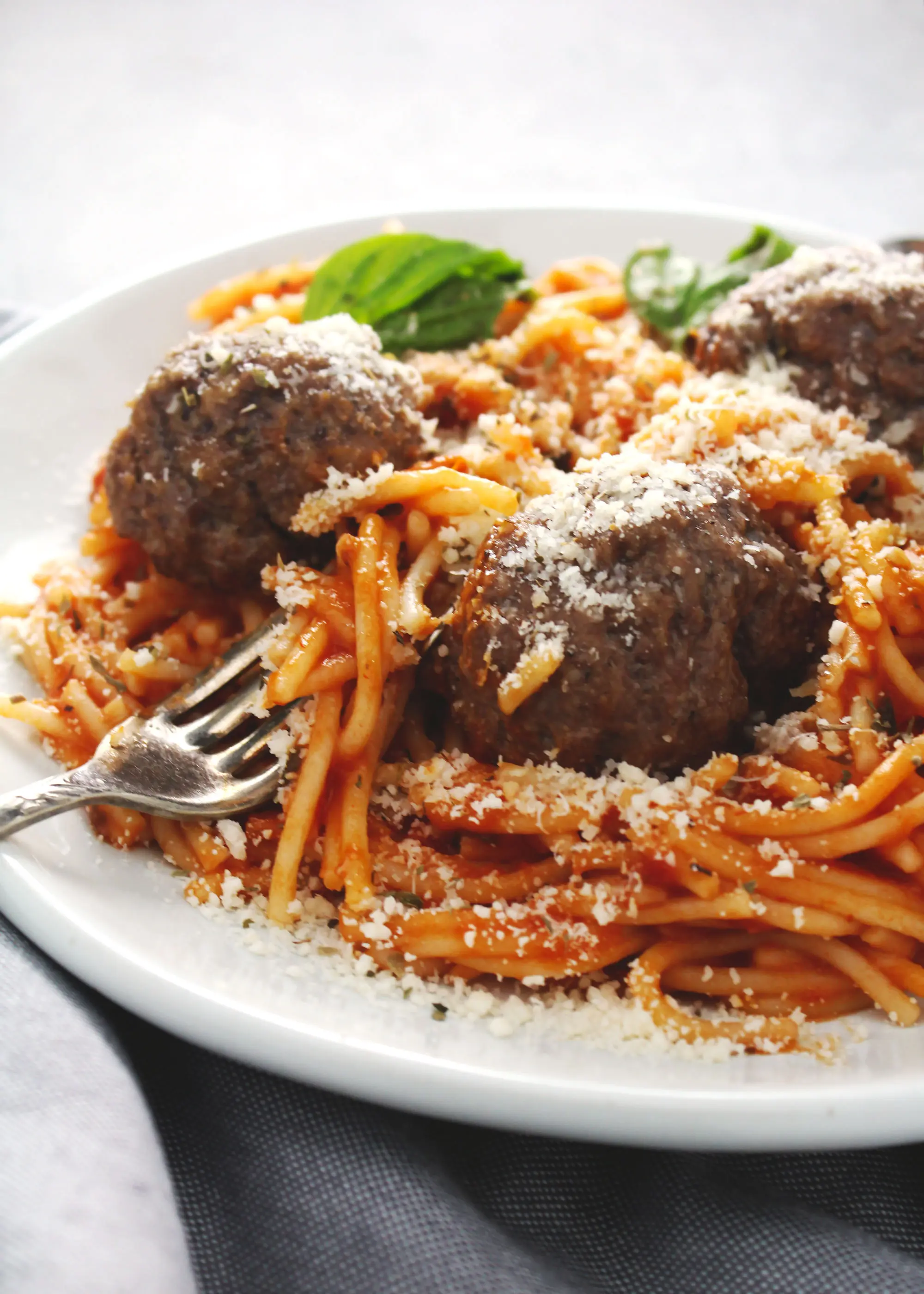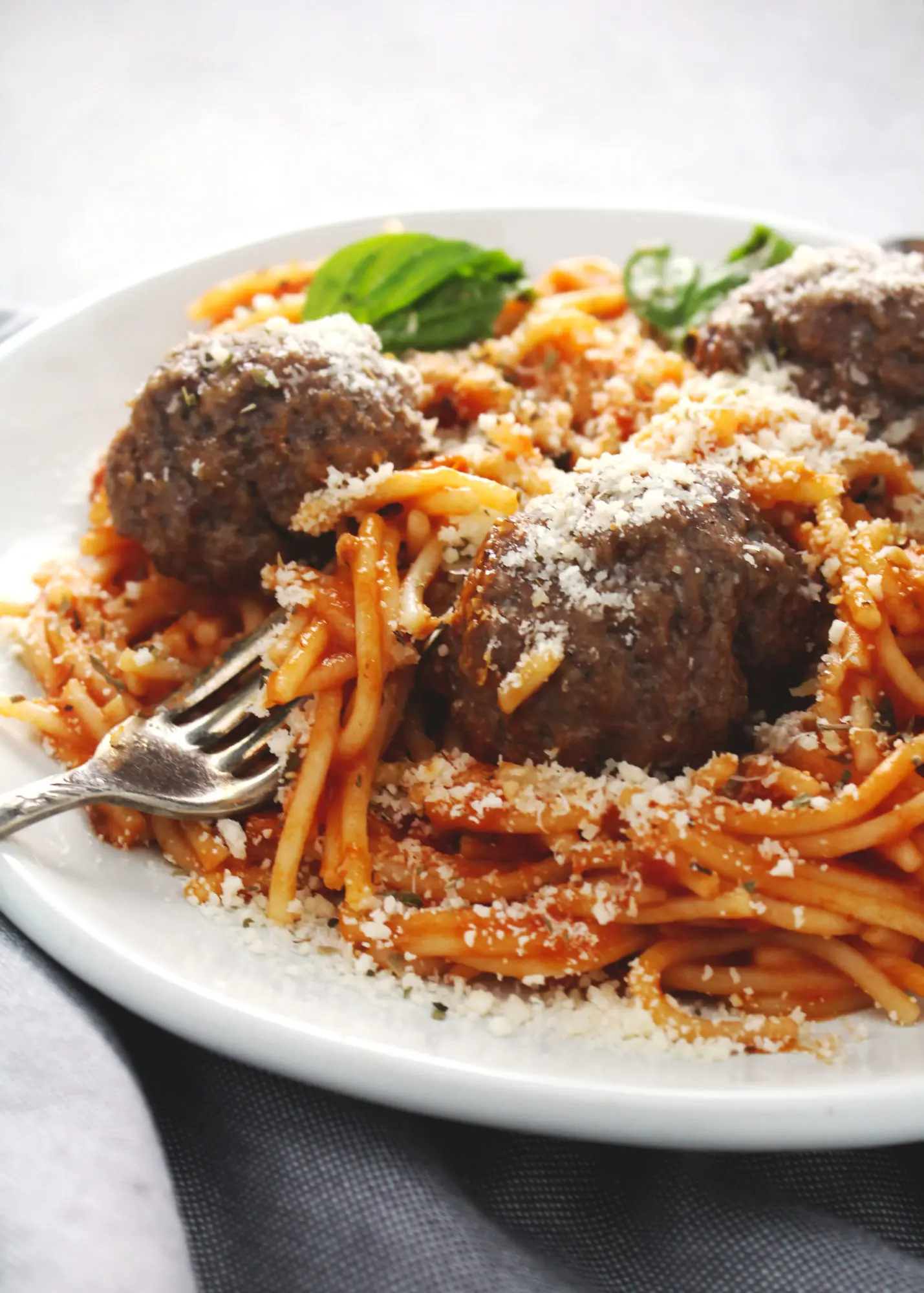 I can even say this meal works in meltdown mode because while I attempted to make it during my toddler's nap time the microwave blew up, and my pot of boiling pasta overflowed causing something on the stove eye to burn and smoke, which then set off the fire alarm.
Naturally, my oldest woke up and came flying out of her room terrified. I was then in a state of trying to quiet her and the blaring alarm before my son woke up too while the kitchen timer started beeping to indicate the meatballs were done.
Fortunately, the crisis was averted in minimal time. After frantically waving a dish towel at the alarm it ceased its obnoxious (but necessary) siren, then I soothed my traumatized child and somehow encouraged her back into bed only to pull the meatballs from the oven with a perfect level of doneness.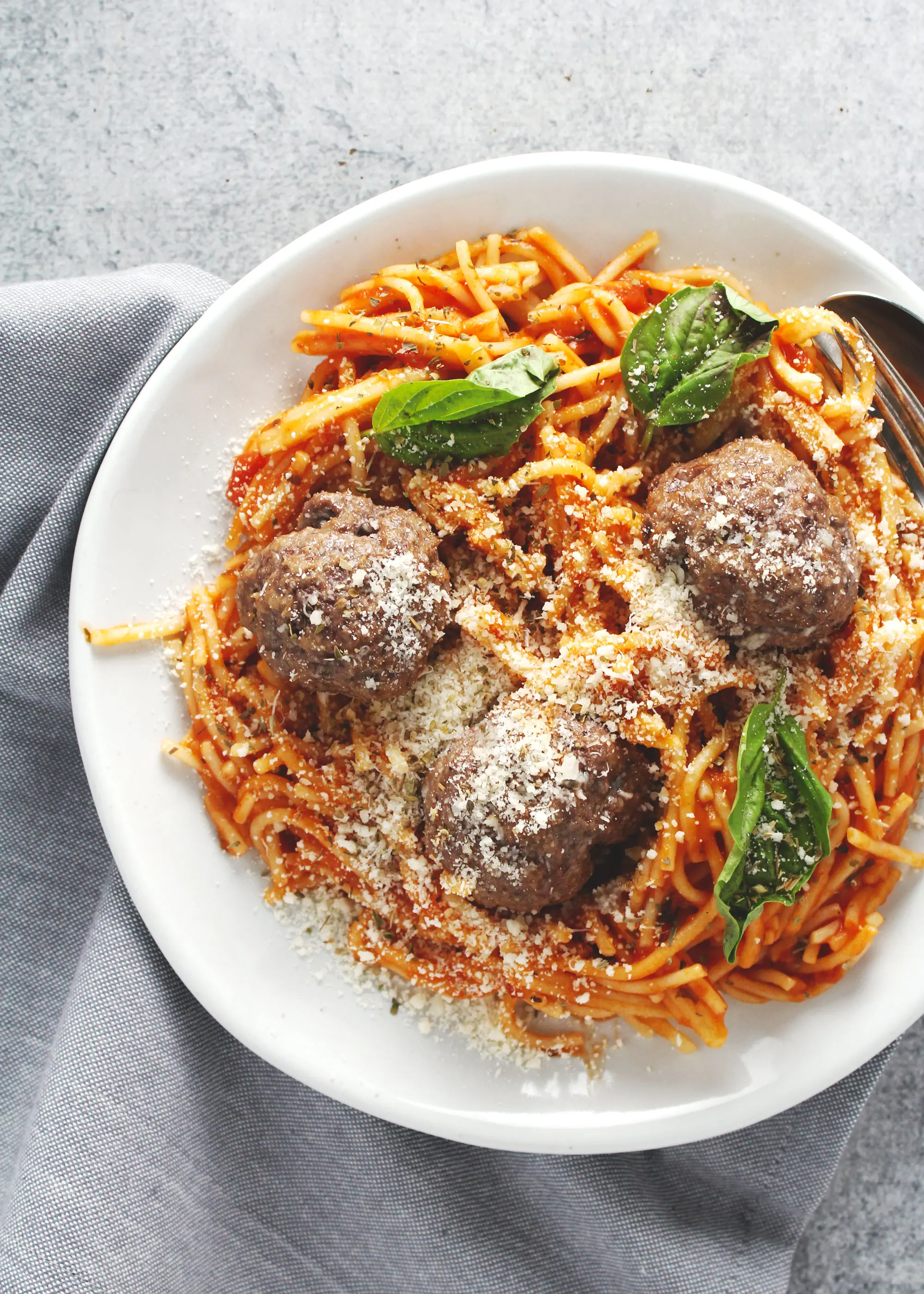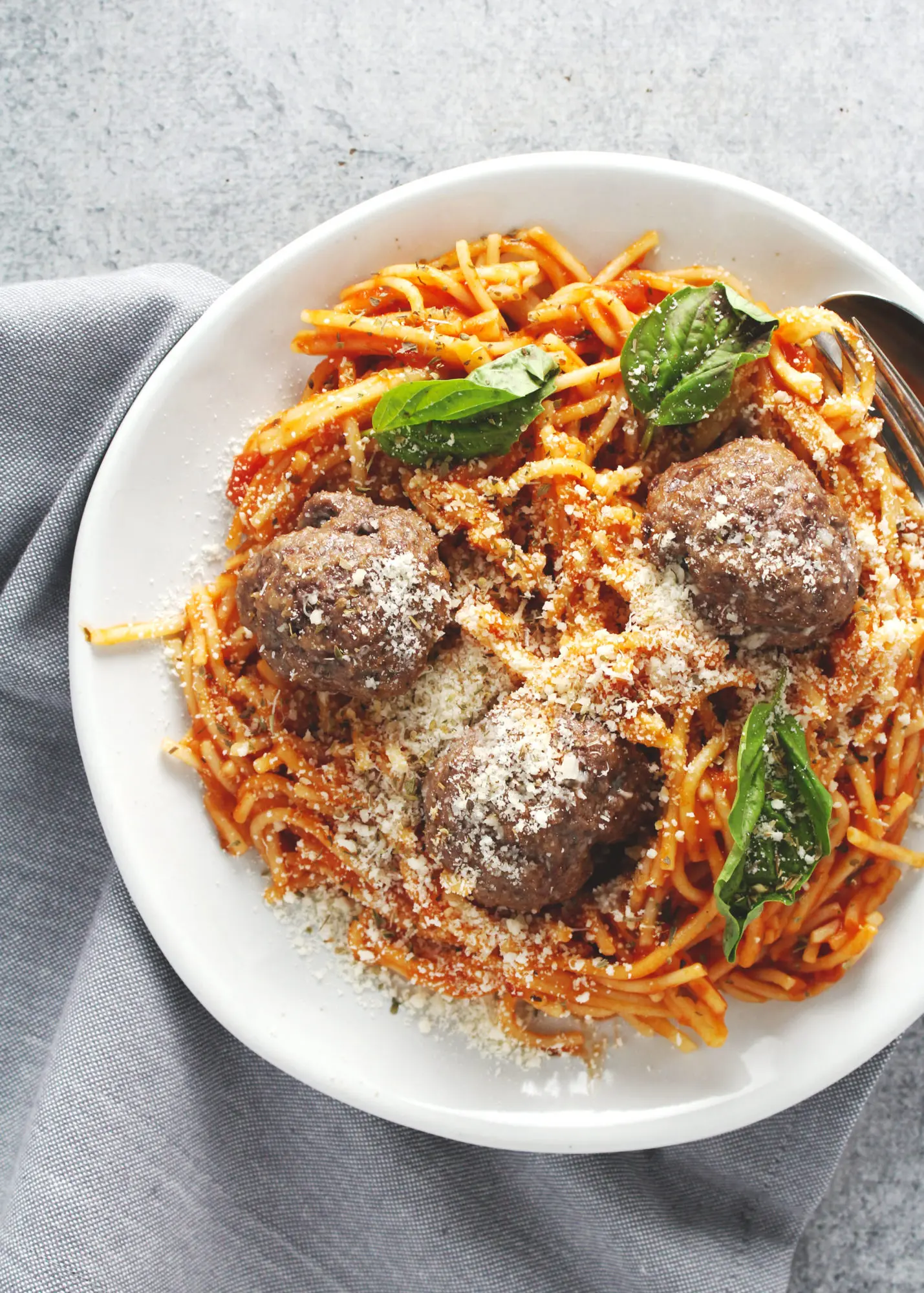 But let's talk kid-friendly food versus you-friendly because often I'm trying to get my kids to eat dinner period but secretly hoping they'll ask for seconds of the broccoli (one can dream right?), while I myself actually do want seconds of the veggies but mainly something healthy. It creates dinner drama!
5 Ingredient Spaghetti and Meatballs is the opposite of dinner drama because the meatballs are low carb AND gluten free. That checks my (current) diet list and while the pasta is boiling and the meatballs are baking I roasted up some asparagus for myself.
I did take quite a few bites of the noodles and sauce, but I had a perfectly filling meat and veggies dinner while my kids happily gobbled up their gluten free spaghetti.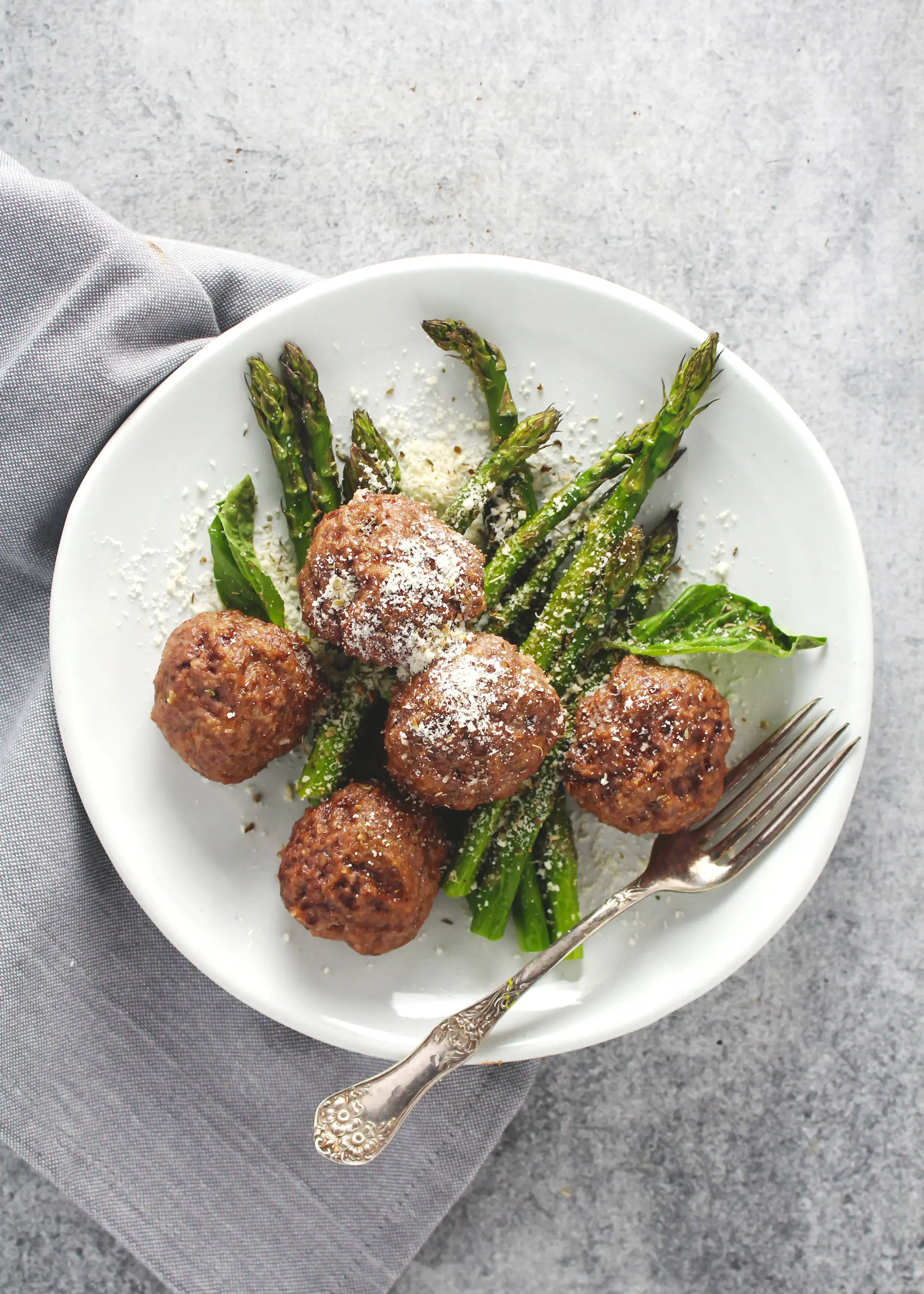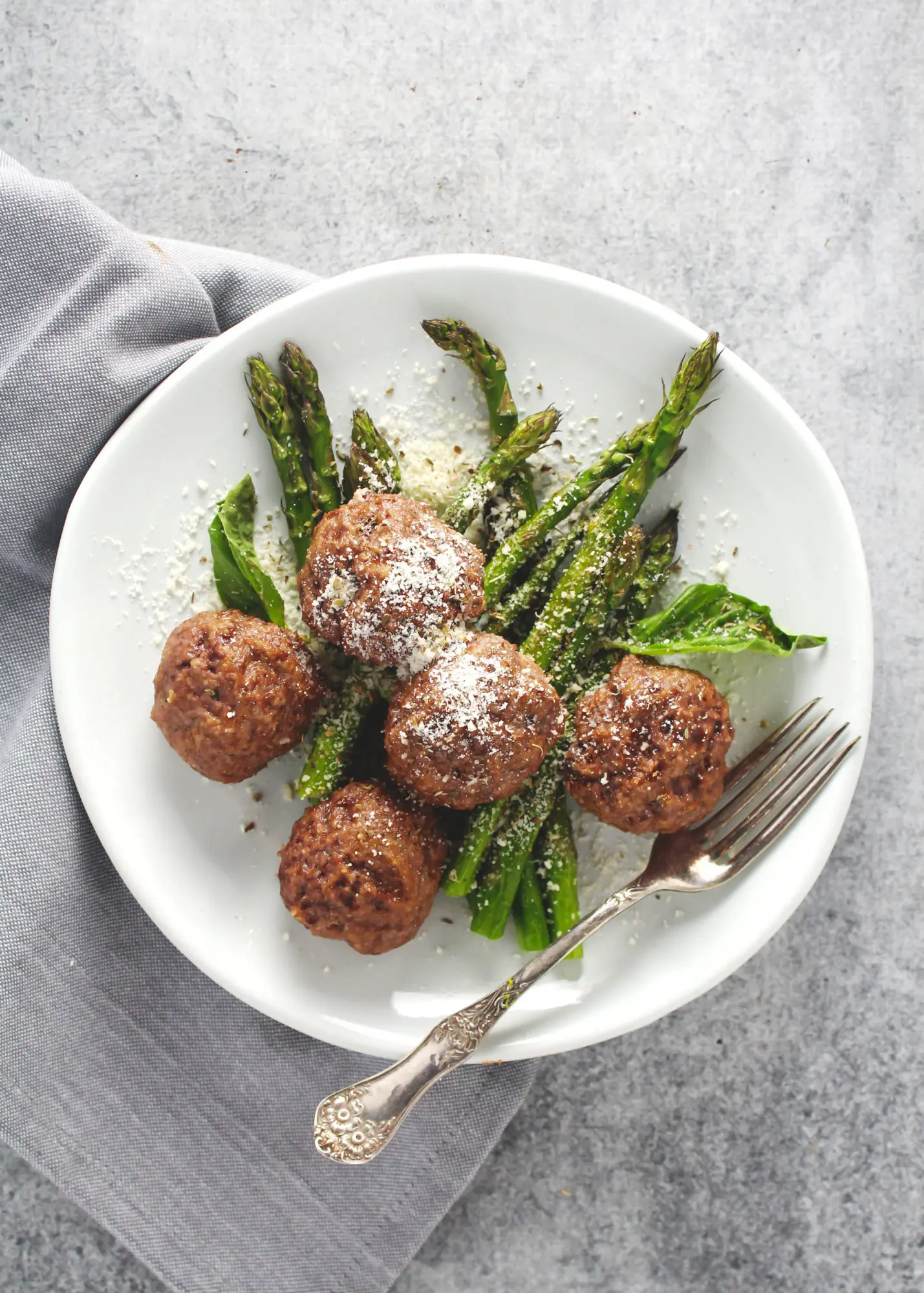 If you really want to go next level healthy, grate some zucchini and hide it in the meatballs. Extra veggies for you and the kids without the whining. So winning instead!
I'm all about the easy dinners right now and this is one you can throw together quickly and make enough so you have leftovers and who doesn't love leftover pasta?!?! ????
5 Ingredient Spaghetti and Meatballs
This recipe for 5 ingredients Spaghetti and Meatballs is a quick and easy dinner meal for when you're tired or want something easy and good that everyone will eat.
Print
Pin
Rate
Ingredients
Meatballs
1

lb

Ground Beef

1

large

Egg

beaten

1/4

cup

Breadcrumbs
Spaghetti
12

ounces

Spaghetti Noodles

25

ounces

Pasta Sauce
Instructions
Preheat the oven to 350ºF and line a rimmed baking sheet with foil.

In a large bowl mix the ground beef, beaten egg, and breadcrumbs together. Form the mixture into 2-inch round balls and place on the prepared baking sheet.

Bake in the oven for 23 minutes, or until the meatballs have cooked through completely and there's no pink in the middle (usually no more than 25 minutes).

While the meatballs are cooking, bring a large pot of water to a boil. Once the water begins to bubble place the noodles in the water, making sure to fully immerse them. Cook for about 12 to 15 minutes (or according to the al dente package directions). Remove from heat and use a colander to drain the water.

Place the noodles back into the pot and pour the entire pasta sauce jar in. Toss the pasta sauce with the noodles.

Layer the pasta on your plate and place the meatballs on top of the pasta.
Nutrition
Serving:
1
serving
|
Calories:
691
kcal
|
Carbohydrates:
78
g
|
Protein:
35
g
|
Fat:
26
g
|
Saturated Fat:
9
g
|
Trans Fat:
1
g
|
Cholesterol:
127
mg
|
Sodium:
1077
mg
|
Potassium:
1113
mg
|
Fiber:
6
g
|
Sugar:
10
g
|
Vitamin A:
835
IU
|
Vitamin C:
12
mg
|
Calcium:
81
mg
|
Iron:
6
mg