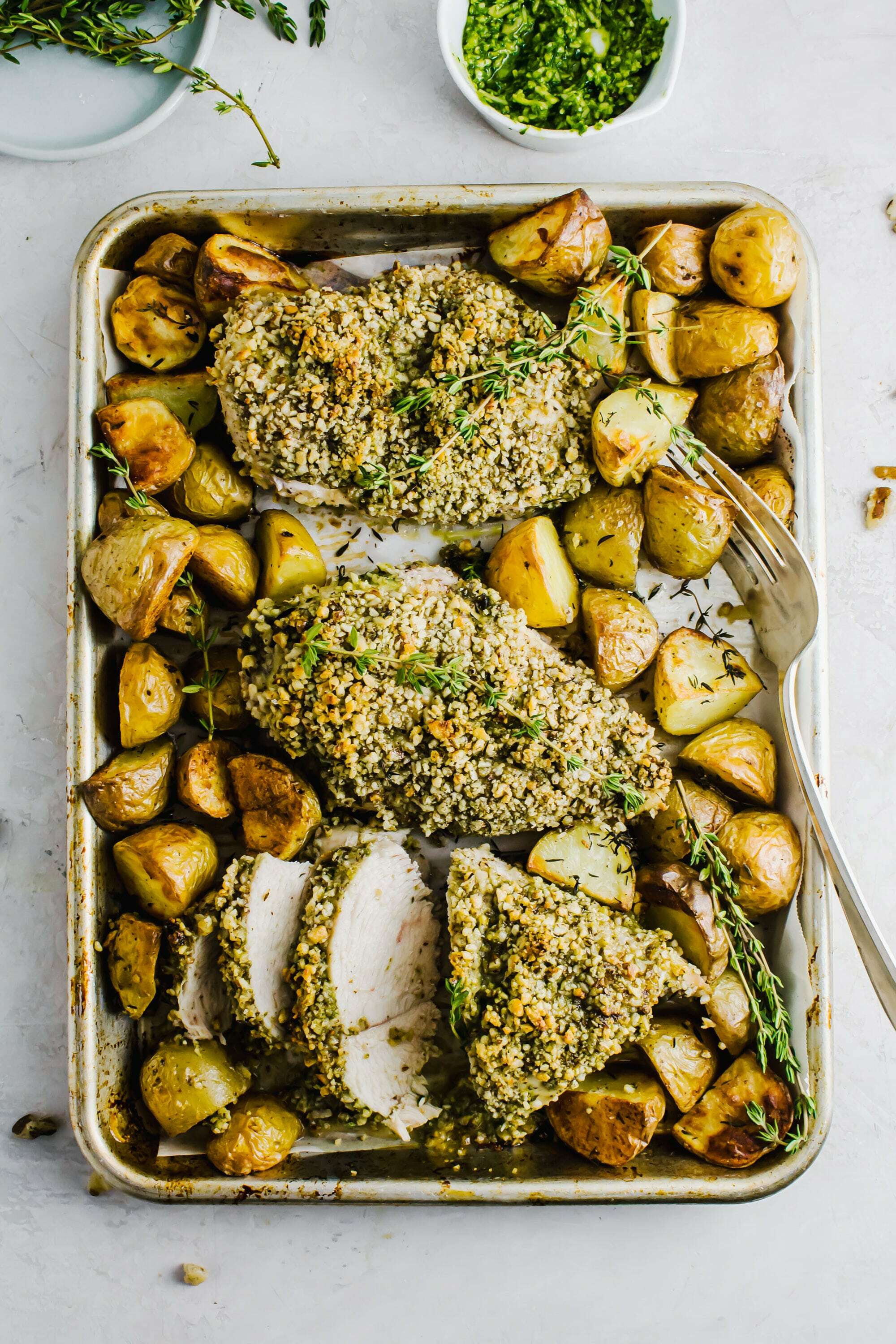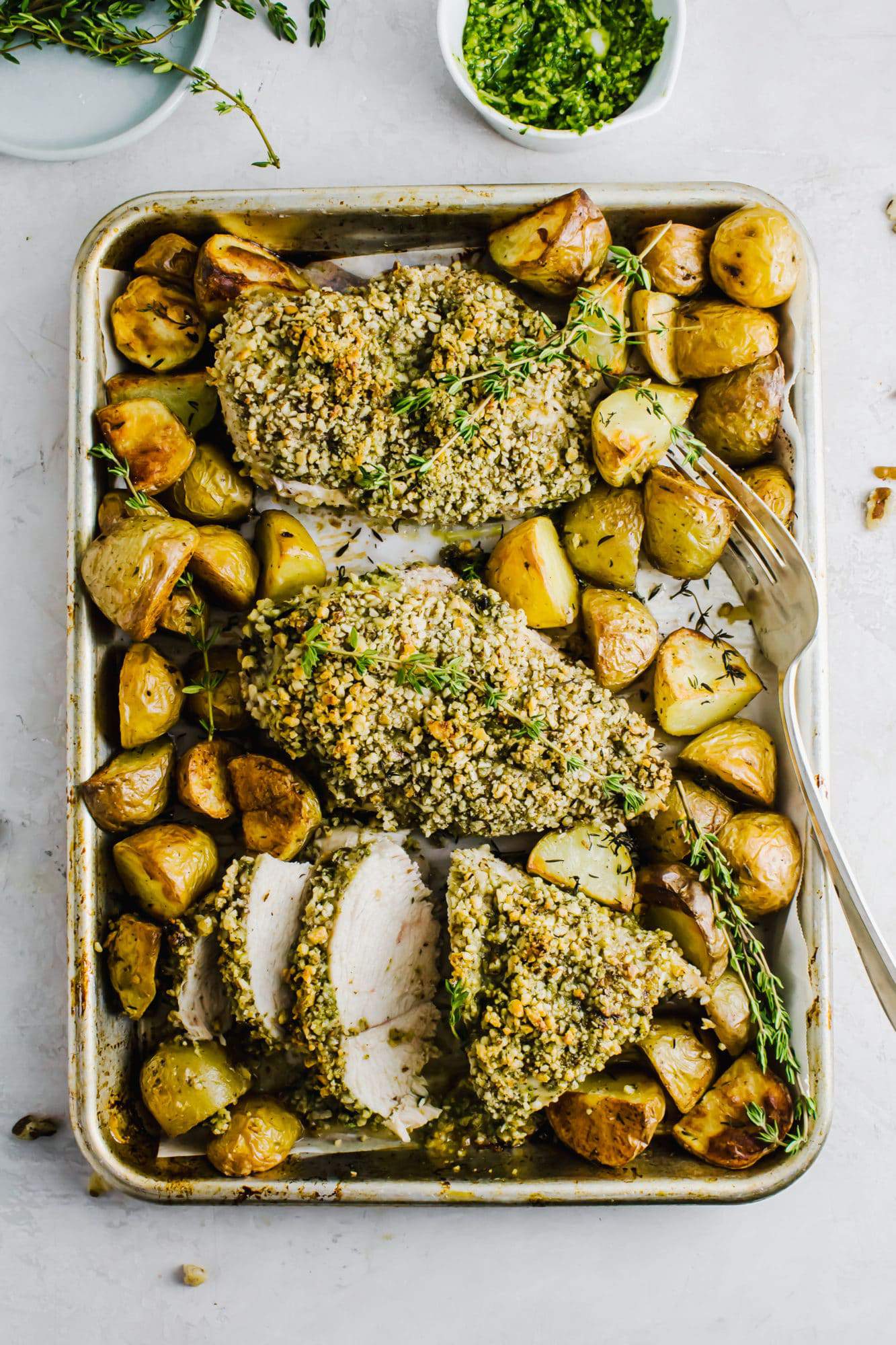 Count with me:
Basil Pesto
Walnuts
Chicken Breast
Thyme
Yukon Potatoes
5 INGREDIENTS ONLY! This amazingly delicious and complete meal of Walnut Pesto Crusted Chicken is only made with 5 ingredients.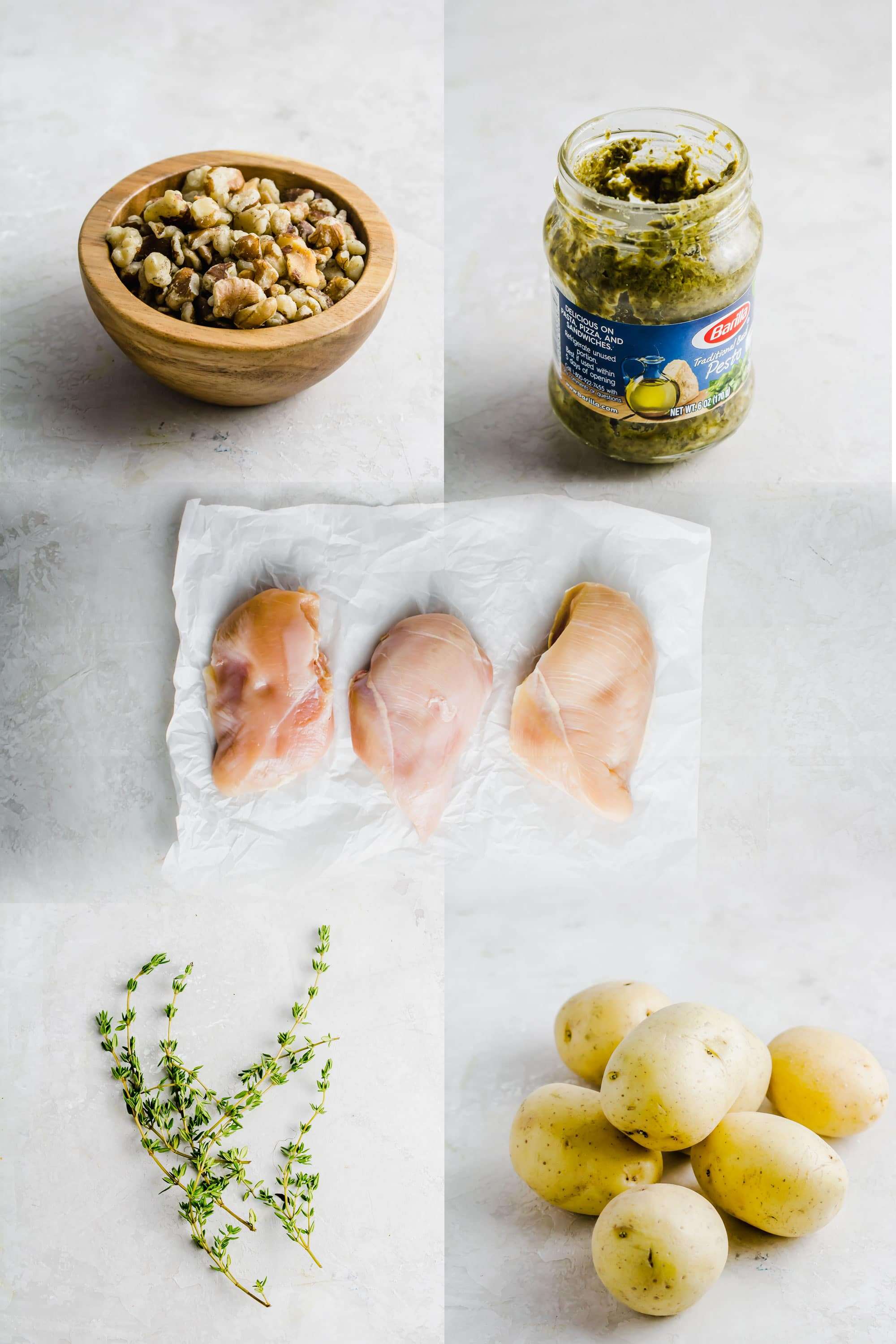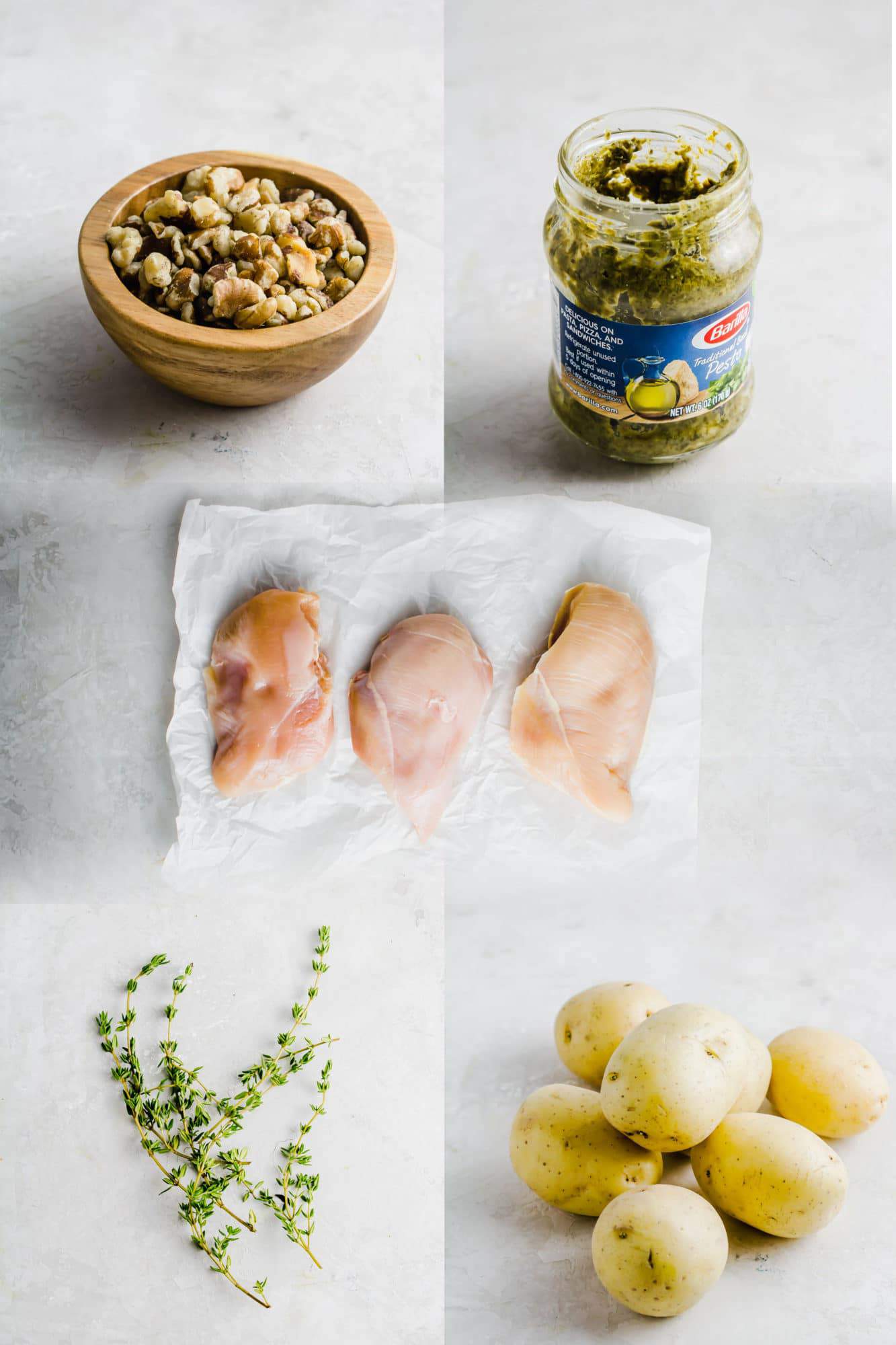 Since becoming a Mom my power for remembering everything has been slightly altered. See, I still remember everything I need to do, accomplish, fix, undo, etc. I don't necessarily remember them at the right times. For example, I often remember I have yet to set up my voicemail in the middle of the night when I'm extremely unlikely to do so. I was warned by other moms and nurses this would happen…
So when I saw Jamie Oliver's new 5 Ingredient Cookbook I couldn't run to the cashier fast enough! 5 Ingredients! Even I can remember 5 ingredients (I think). Those are the types of recipes you could even, dare I suggest, memorize?!?
The evening after my cookbook purchase and while my kids were in bed I climbed into my own and flagged half the book and have been knocking off the recipes day by day. This got me thinking… I should come up with my own recipe tins worth of 5 ingredient recipes too.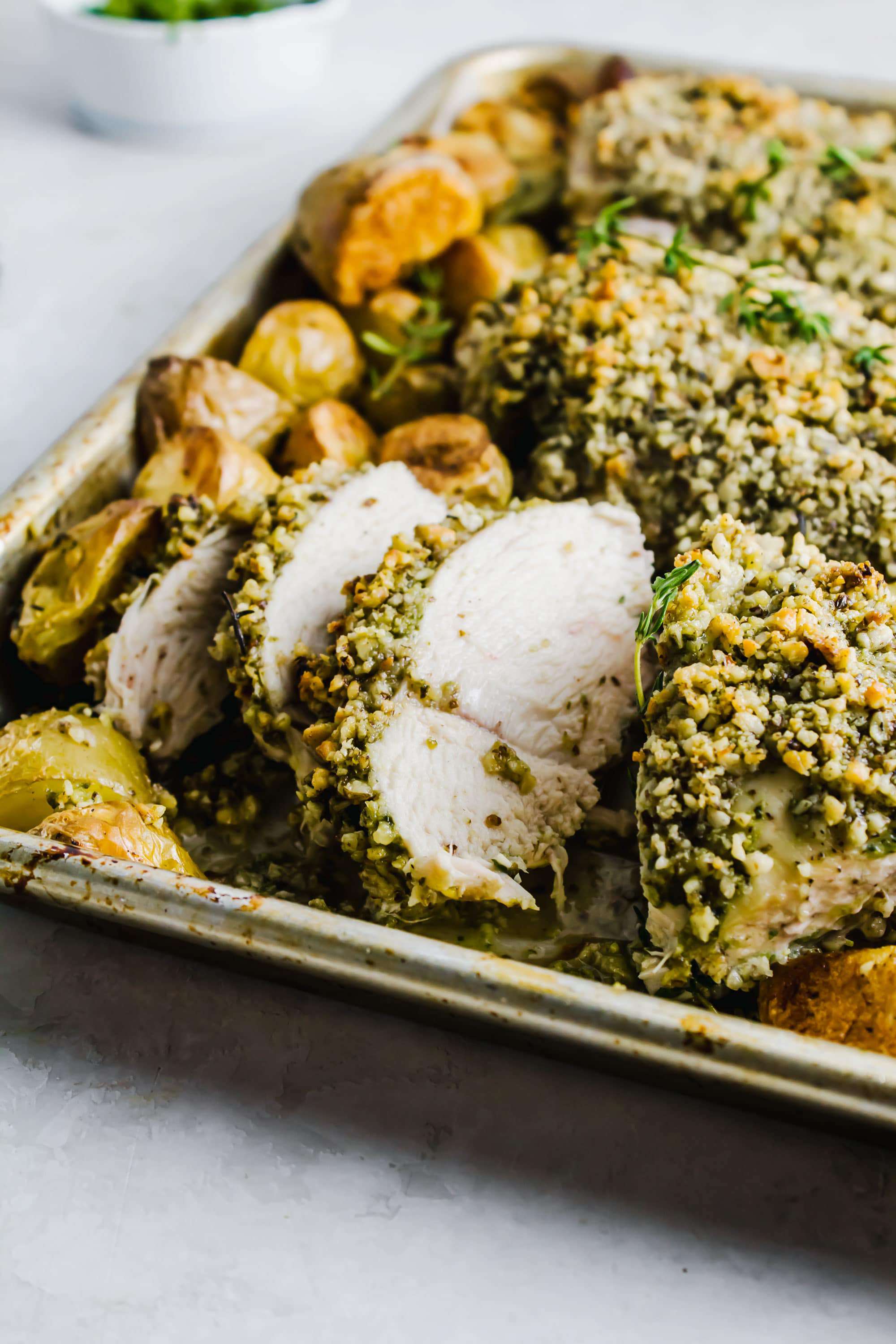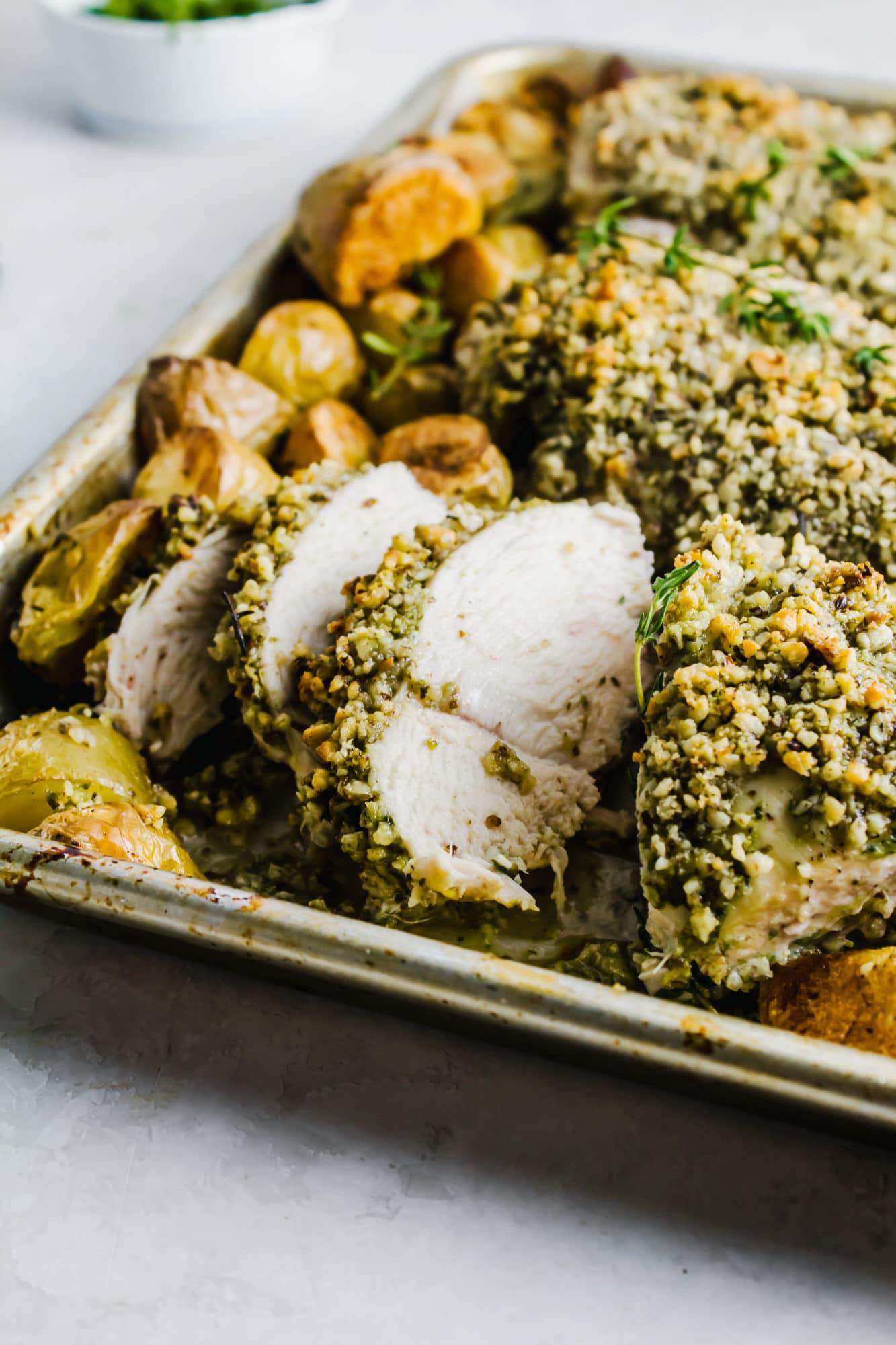 I wanted to start in the healthy realm of recipes. This chicken is there and also kind of sophisticated in flavor with its bold basil pesto sauce combined with the slightly crunchy walnut exterior. Yet, because we're going to bake the chicken it remains tender. AKA how all good chicken should remain. Sophisticated but not fussy. Weeknight meal perfection!
Okay, so now I have to get technical cause there are some ingredients I'm not completely counting, BUT the reason is that most everyone has these in their pantry (if you don't we need to make a grocery store run immediately). Those being salt, pepper, and oil of some kind. You've got those ingredients, right? Good! We can now move on to making the recipe…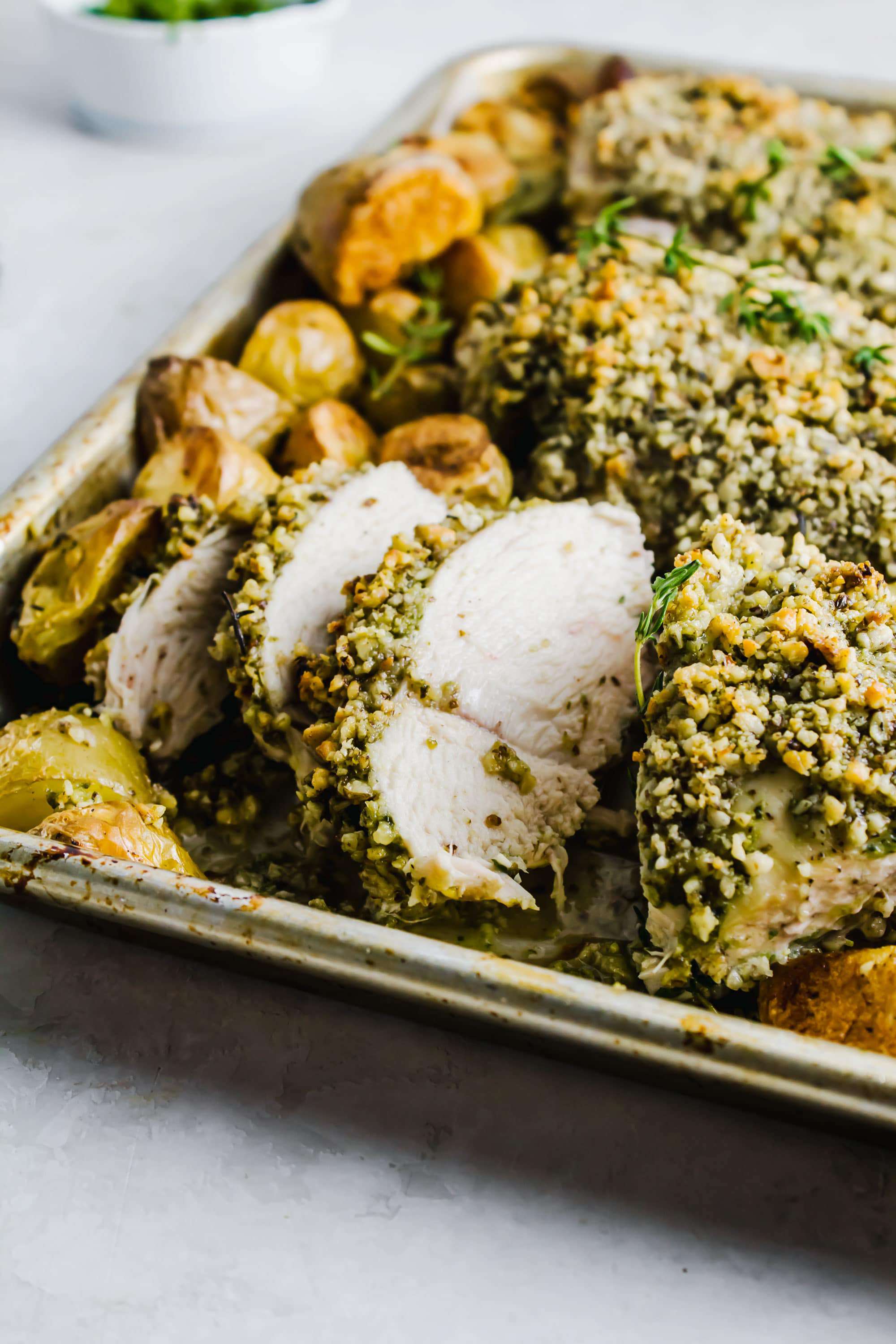 Ingredients
1

lb

Yukon Gold Potatoes

quartered

1

tablespoon

Oil

4

Boneless, Skinless, Chicken Breasts

1/4

cup

Basil Pesto

1/2

cup

Walnuts

1

tablespoon

Fresh Thyme
Instructions
Preheat the oven to 400ºF.

In a medium bowl toss the quartered potatoes with salt and pepper and oil. Place on a large rimmed baking sheet and cook for 25 minutes.

If the chicken breasts are thicker than 3/4″ at the thickest point, place them on a cutting board, cover with plastic wrap, and gently pound (using a rolling pin) the thick end until it's between 1/2 to 3/4″ thickness.

Brush basil pesto over both sides of chicken breasts.

In a food processor pulse the walnuts until a fine meal forms, but some pieces remain. Place on a flat plate and roll the chicken pieces into the walnuts until coated.

Nestle in with the potatoes onto the rimmed baking sheet. Pull the thyme leaves off the springs and sprinkle them on top of the chicken and potatoes.

Continue to cook for 20 to 25 minutes or until the chicken reaches an internal temp of 165℉.
Nutrition
Serving:
1
serving
|
Calories:
404
kcal
|
Carbohydrates:
23
g
|
Protein:
29
g
|
Fat:
22
g
|
Saturated Fat:
3
g
|
Cholesterol:
74
mg
|
Sodium:
283
mg
|
Potassium:
971
mg
|
Fiber:
4
g
|
Sugar:
2
g
|
Vitamin A:
430
IU
|
Vitamin C:
26
mg
|
Calcium:
66
mg
|
Iron:
2
mg