These Coconut Flour Waffles are a delicious healthy dish to start your day. The slightly crispy outer layer with a perfectly soft inside makes these waffles the perfect no refined ingredients option for brunch or grab-and-go breakfast.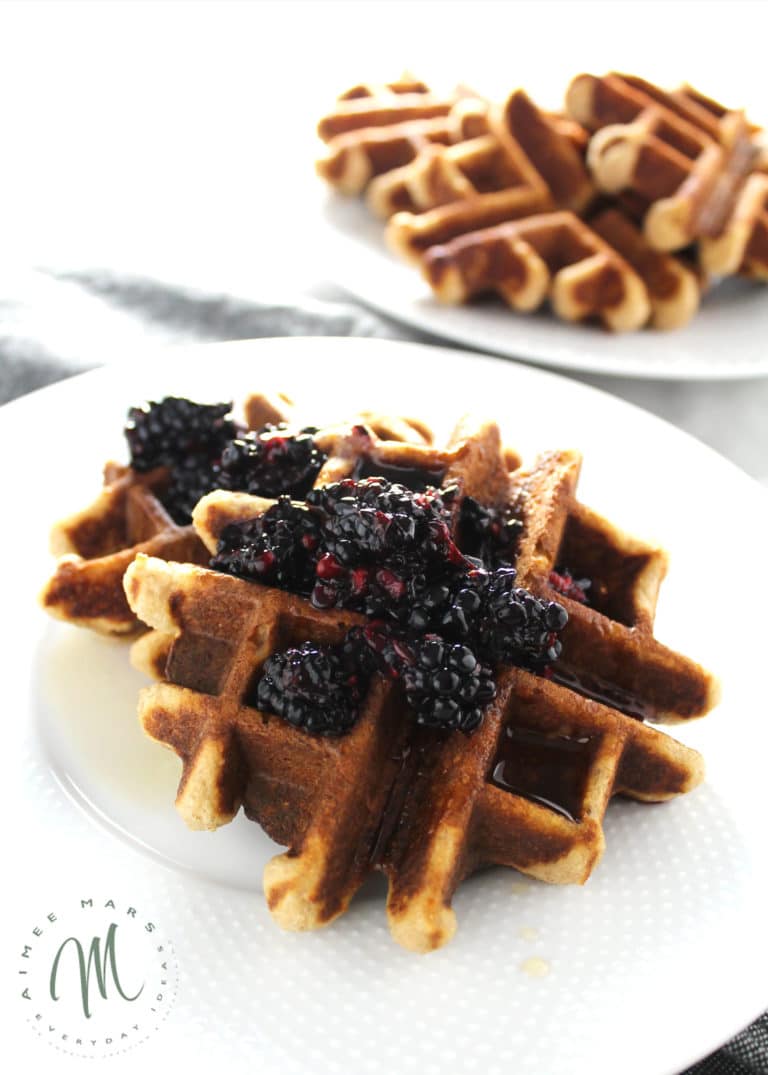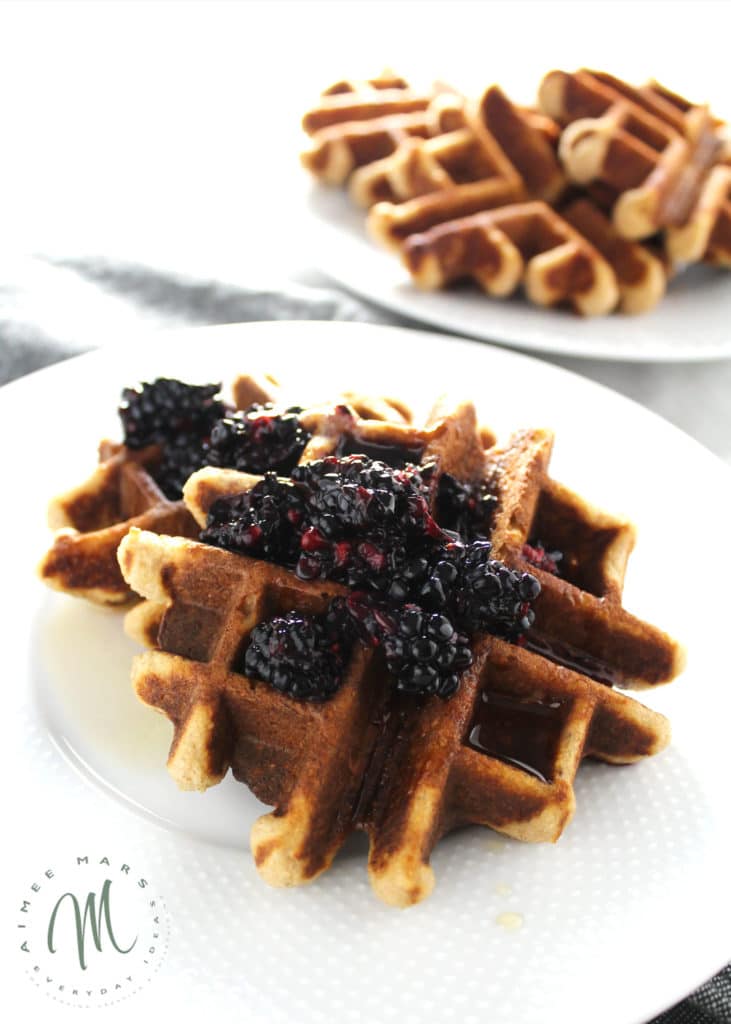 Calling all adults and kids alike, or even adult-like kids or kid-like adults, these Almond Flour Coconut Waffles with Blackberry Jam (that's a mouthful) are for ALL of you!
I brought up how my son Winston has made food prep/getting him to eat anything (ANYTHING!) quite challenging in the last 2 posts because it's seriously all-consuming.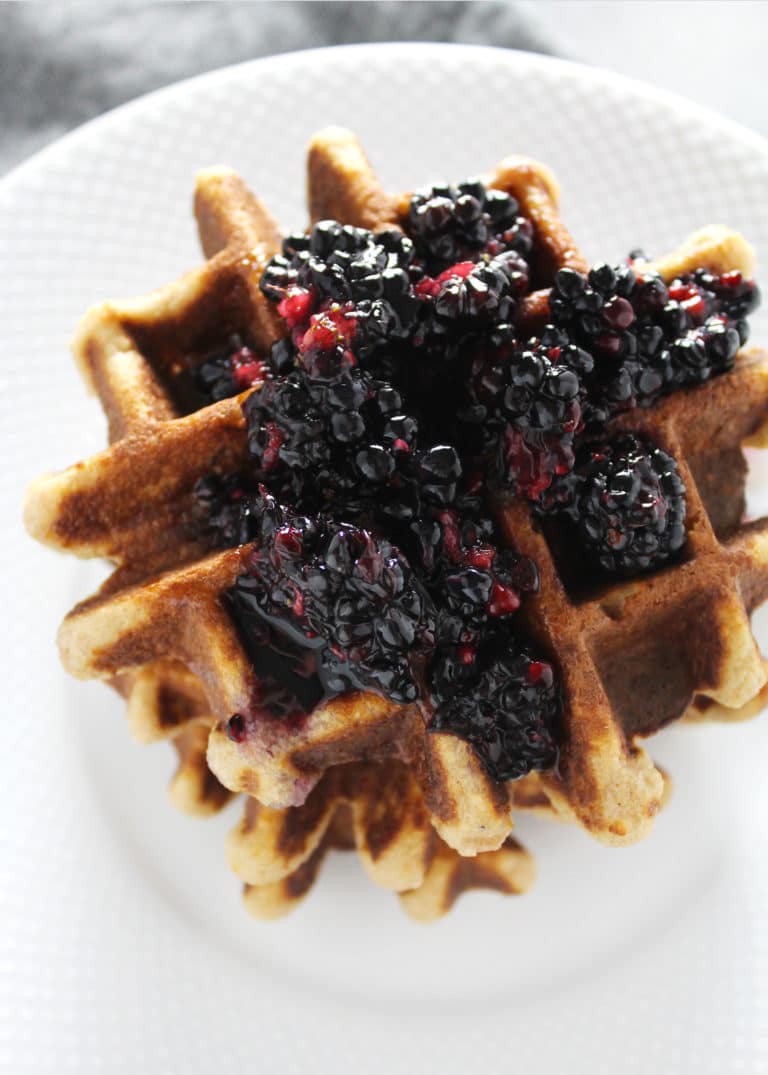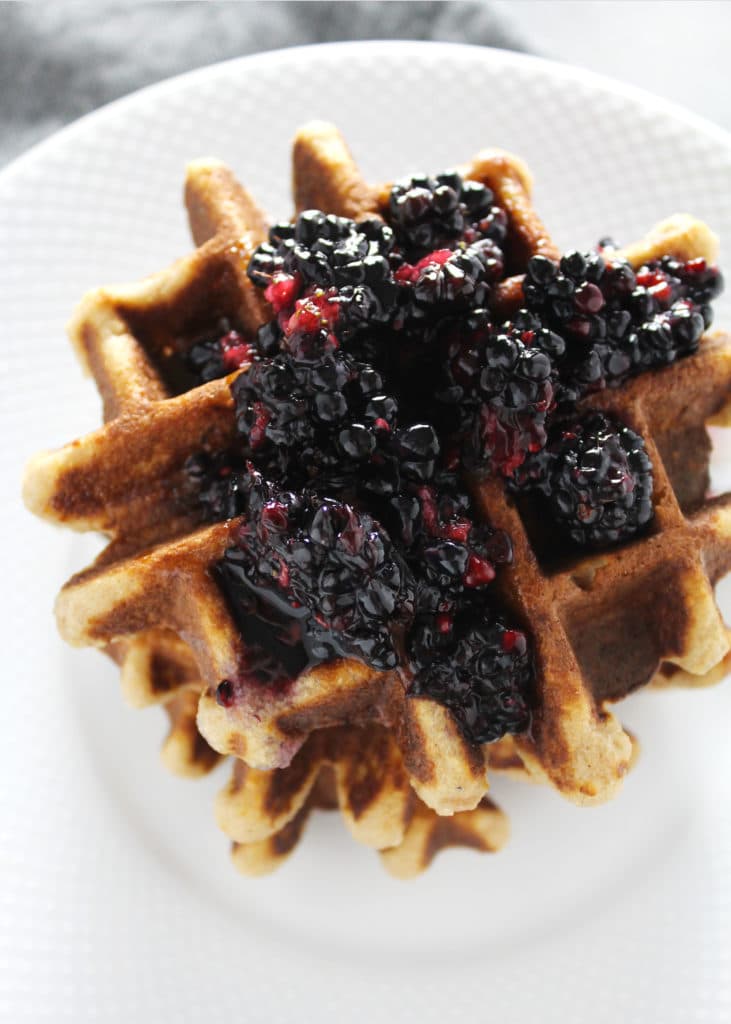 My first solution was to provide him with the foods he'll actually eat, which sometimes changes from day to day, but in doing so I would make a healthier version if the food wasn't already on the "healthy list." (The Baked Chicken Nuggets recipe I make can be found here). This has helped…
My other answer to this ever changing food puzzle was to make sure he was actually getting enough food each day. I'm of the mind set "you don't like it, then don't eat it, but I'm not making anything else!" Well, this theory is all good and well until you start losing sleep…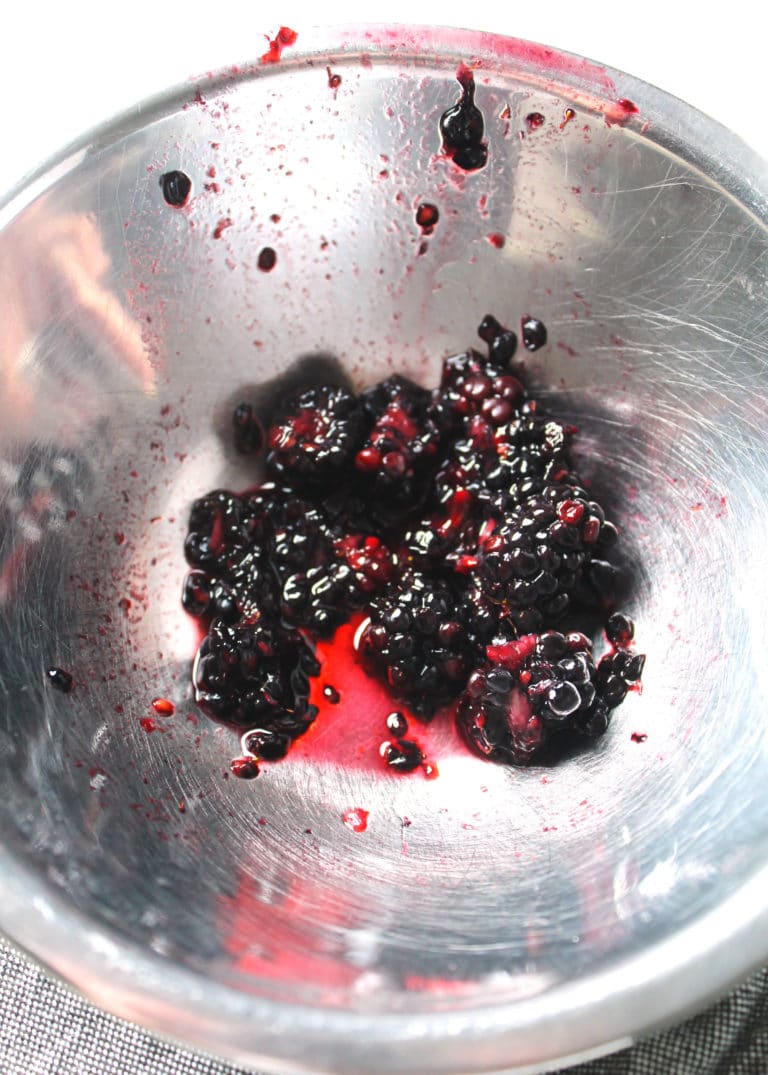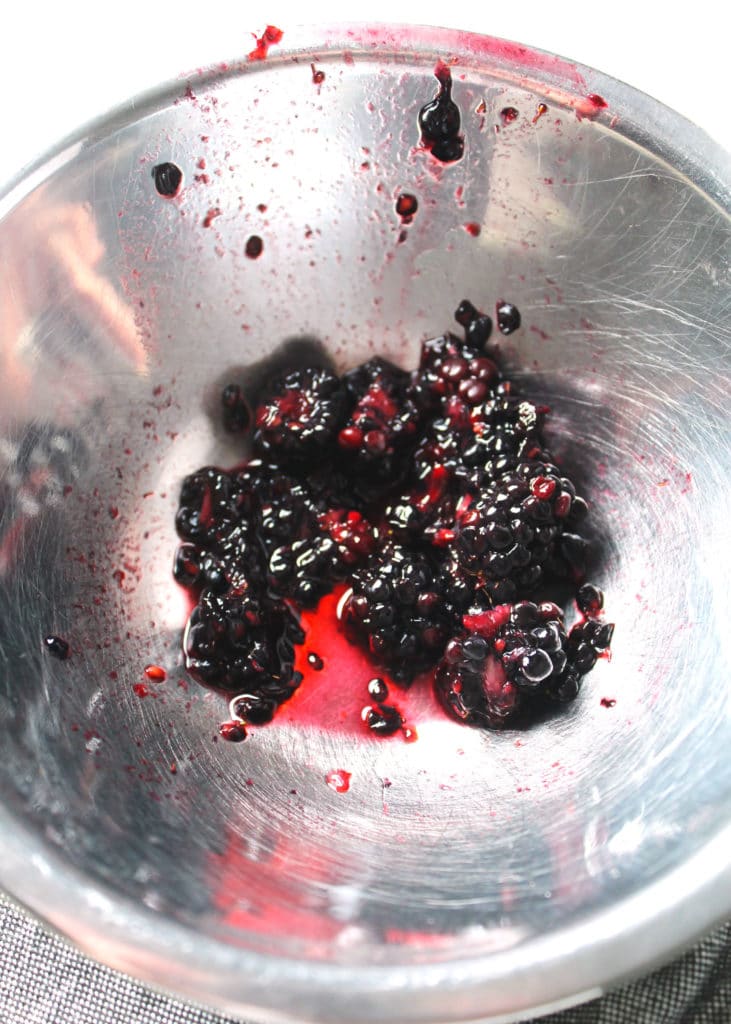 He started to wake in the middle of the night, as in multiple times, hungry or rather H-A-N-G-R-Y! Since he's only been sleeping through the night 4 of the 15 months he's been alive I decided I had to figure out a way to get him enough food and fast!
My solution = Pre-bedtime snack. Now, I know this isn't the best solution, but it's one more way to get a few extra calories in him before he heads off to dreamland and right now it's working.
I always aim for this snack to be as healthy as possible as well as low on the added sugar scale (certainly don't want a pre-bedtime sugar-high), however in a sleep-deprived-desperation I started to lean towards waffles because THEY WORKED! And some times you just have to do what you gotta do to survive! Right!?!
Though these waffles were organic my ever present mom-guilt started to creep in and in a way to push her out I thought "I can definitely make these more healthy!" So here you go… I now present to you Almond Flour Coconut Waffles!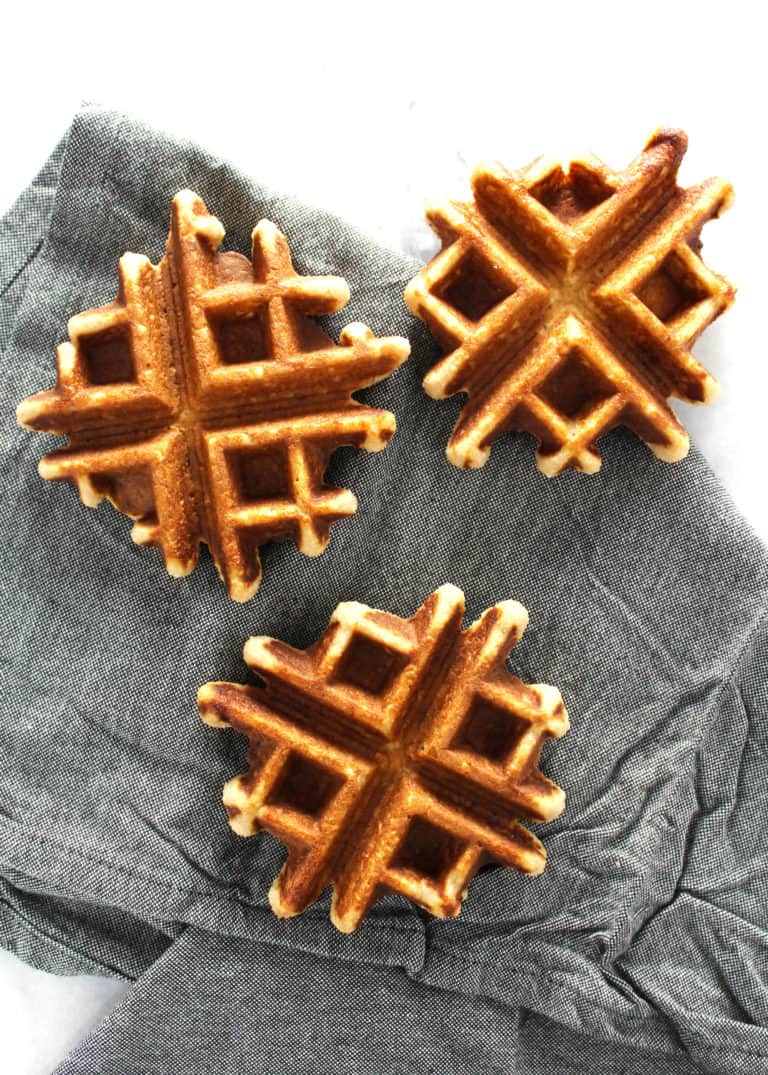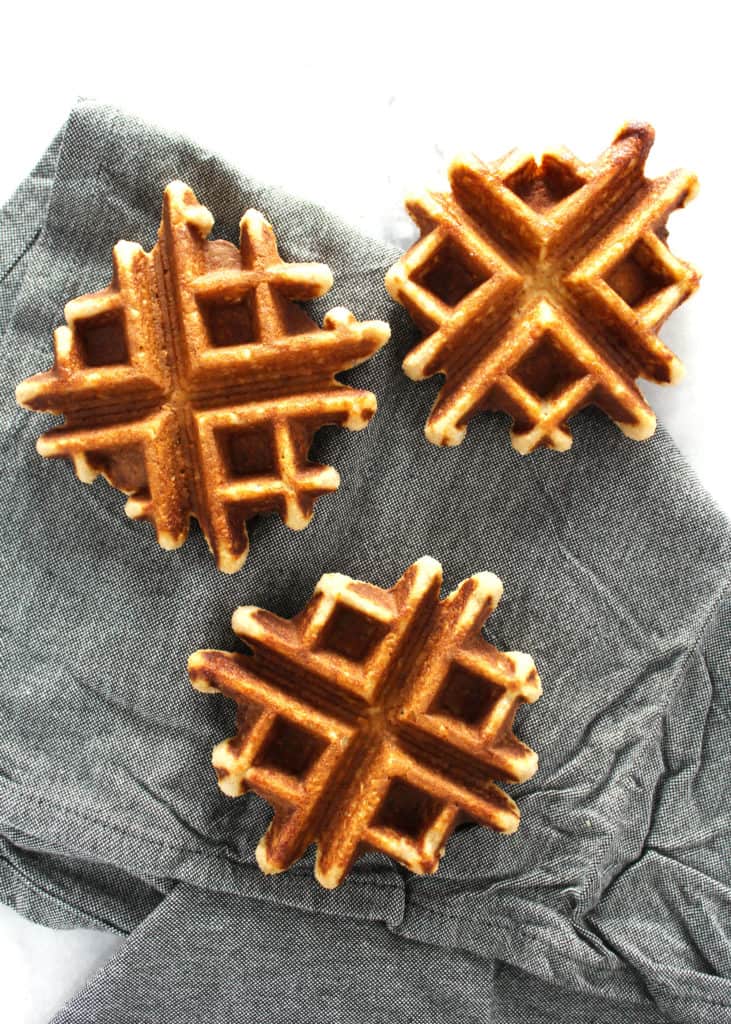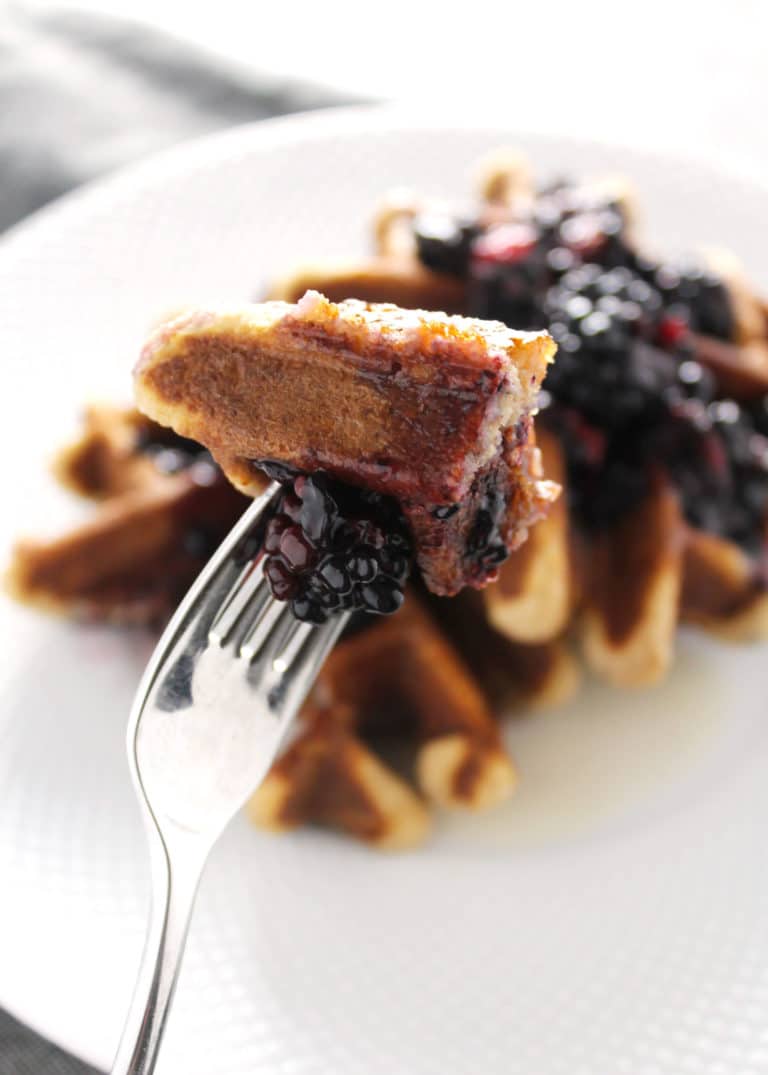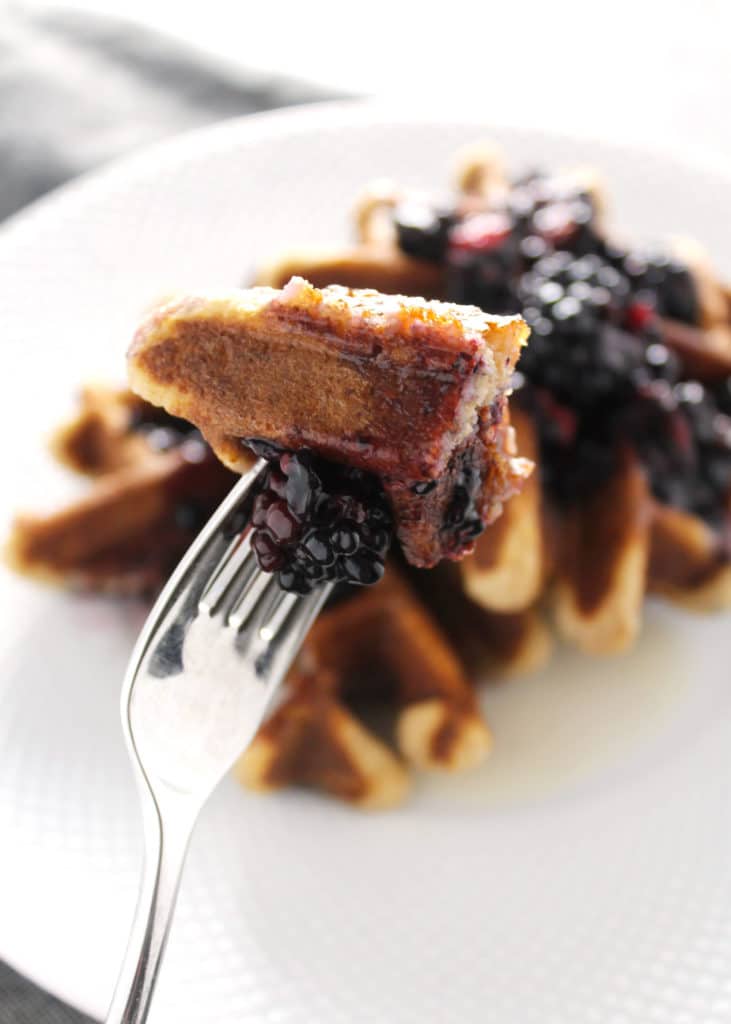 And the best part, well maybe the second best part because really my kid liking them and sleeping through the night is pretty awesome, but anyway the second best part is my husband and I think they taste amazing too. Hello Saturday brunch!!
These waffles are gluten-free and have the perfect amount of crisp, but also a sweet flavor due to the coconut addition. The Blackberry Jam? Well, it's only 2 ingredients so that's pretty sweet (pun intended!) too! Though I'm pretty sure most kids AND adults like waffles, I'm just giving you a solid confirmation here.
Now go make some!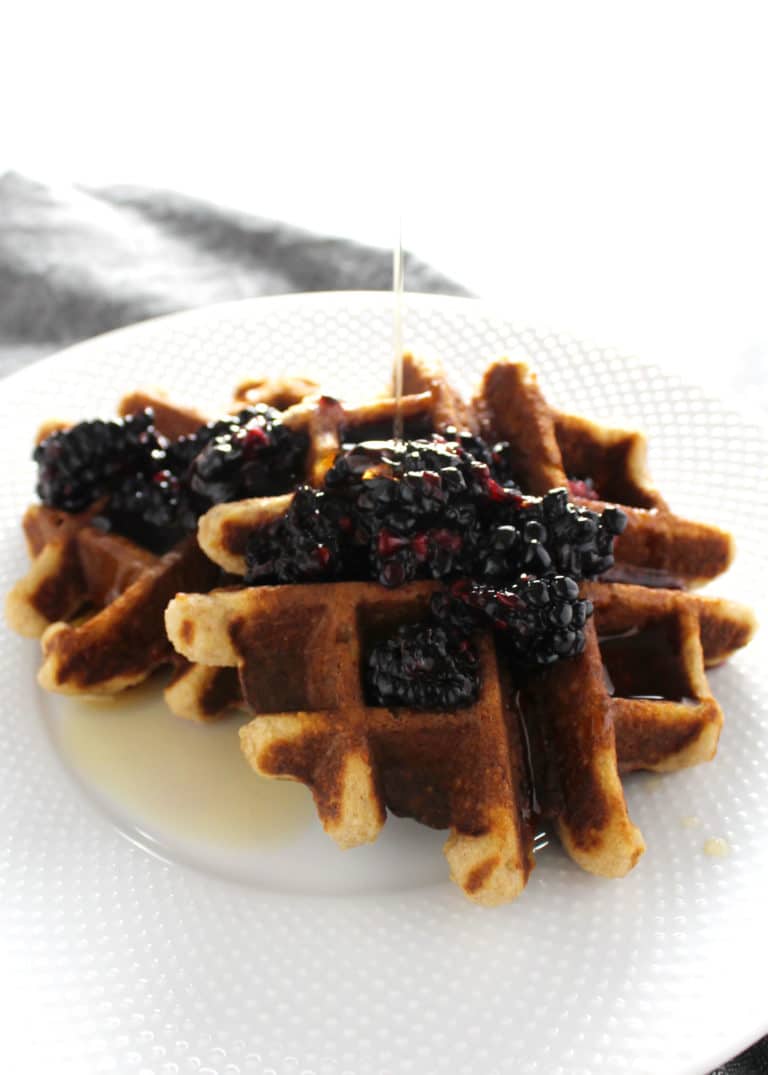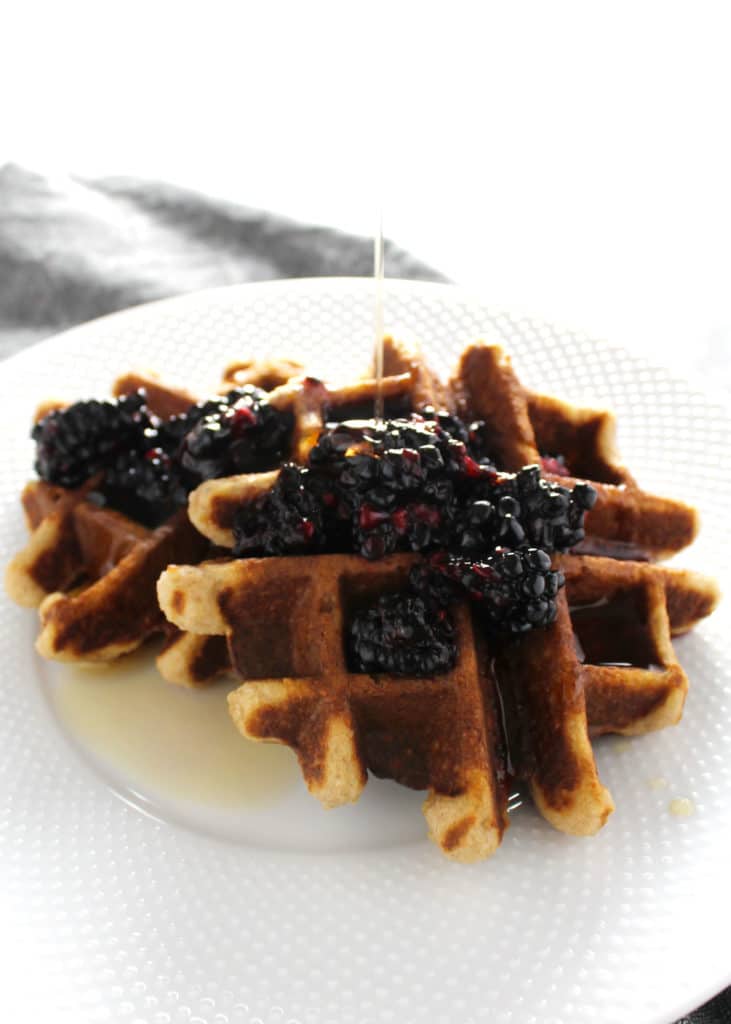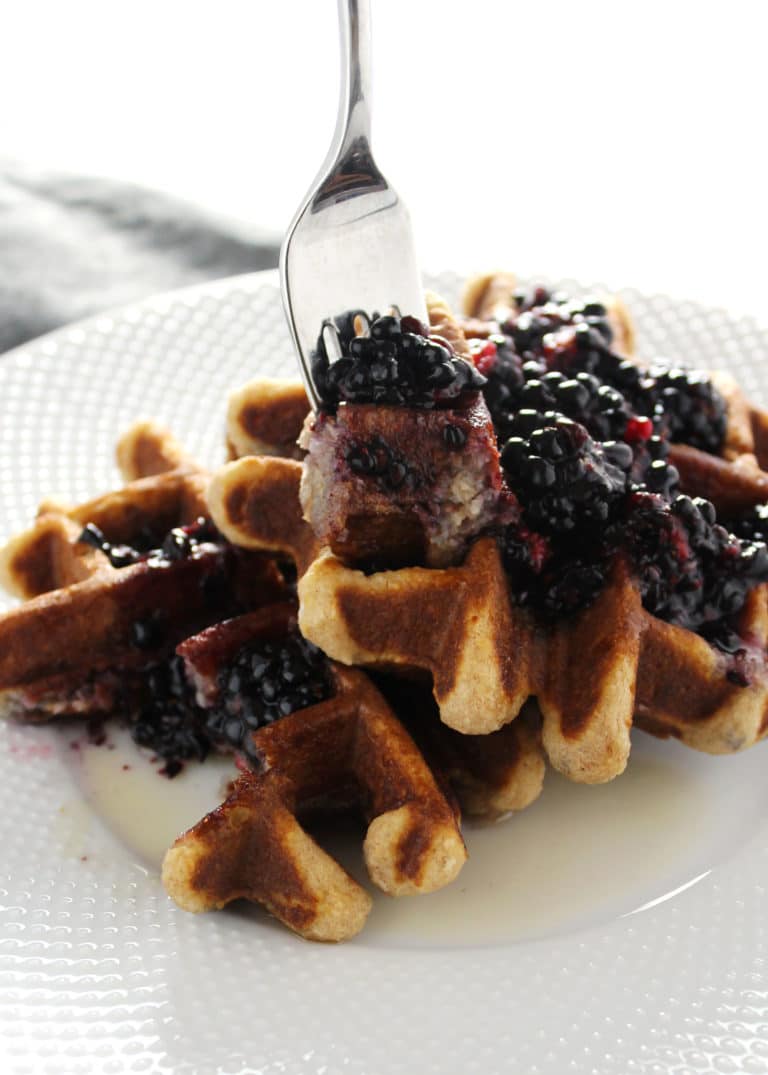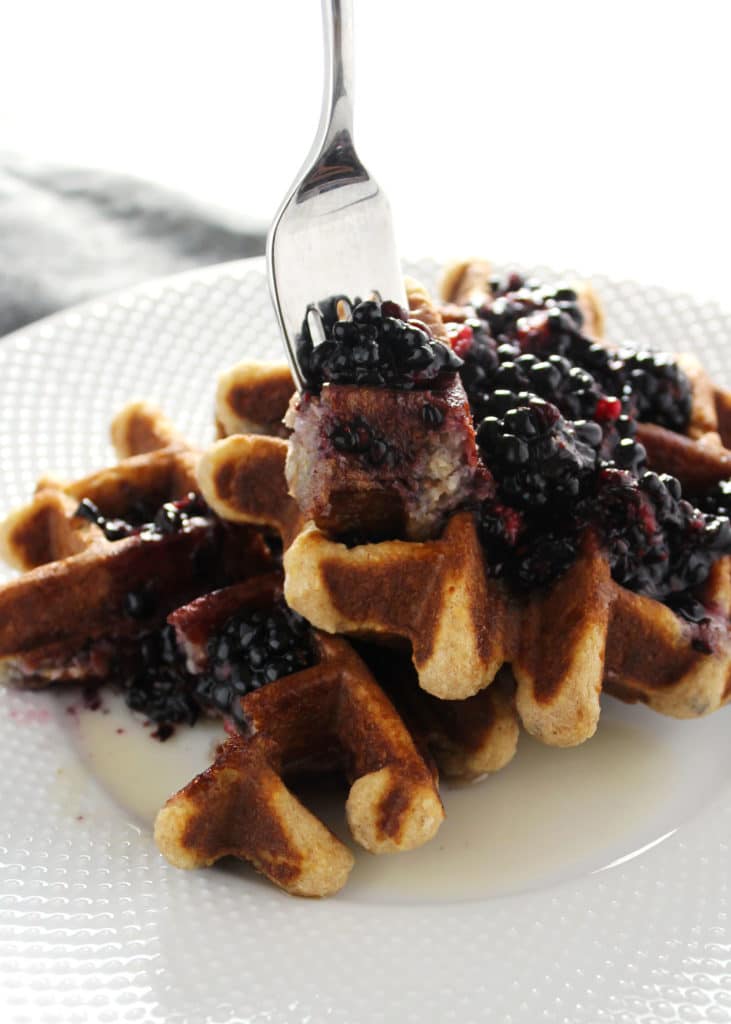 Print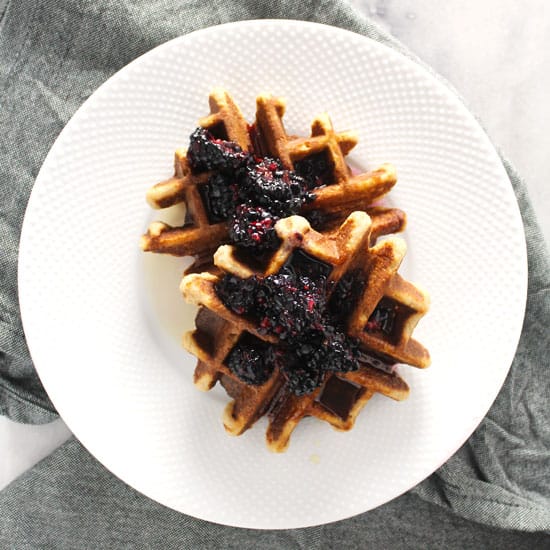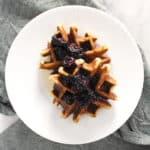 Almond Flour Coconut Waffles with Blackberry Jam
Author:

Prep Time:

15 Mins

Cook Time:

25 Mins

Total Time:

40 minutes

Yield:

6

Servings

1

x
---
Description
These gluten free Almond Flour Coconut Waffles are a perfectly healthy option for brunch or breakfast and the Blackberry Jam the perfect compliment.
---
Scale
Ingredients
Almond Flour Coconut Waffles
3 cups

Almond Flour (Meal)

1/2 cup

Unsweetened Shredded Coconut Flakes

2 tablespoons

Arrowroot Powder or Cornstarch

1 teaspoon

Baking Soda

1 teaspoon

Salt

1 teaspoon

cinnamon

4

large Eggs (whisked)

1/2 cup

Canned Coconut Milk

2 tablespoons

Honey

2 teaspoons

Vanilla Extract
Blackberry Jam
1/2 cup

Fresh Blackberries

1 teaspoon

Honey or Agave
---
Instructions
Preheat your waffle iron. In a large mixing bowl whisk the Almond Flour, Coconut Flakes, Arrowroot Powder (or Cornstarch), Baking Soda, Salt and Cinnamon until fully combined.
In a separate medium bowl, whisk the Eggs and then add in the Coconut Milk, Honey, and Vanilla Extract. Stir until completely mixed.
Pour the wet ingredients into the dry and stir. To make small mini waffles like the ones in the picture use a 1/4 cup measuring cup or to make full-sized waffles you the 1/2 cup measuring cup. Fill your measuring cup with the batter and pour onto your waffle iron. Cook until fully browned or your iron suggests they're done.
While you're cooking the waffles prepare the jam but using a fork to gently smash the Blackberries (you don't want them totally crushed). Then stir the Honey (or Agave) in with the blackberries. Place on top of the waffles. Done!
---
Notes
If you opt for the mini waffles you'll get about 12, but if you make full sized round Belgian-like waffles you'll get 6.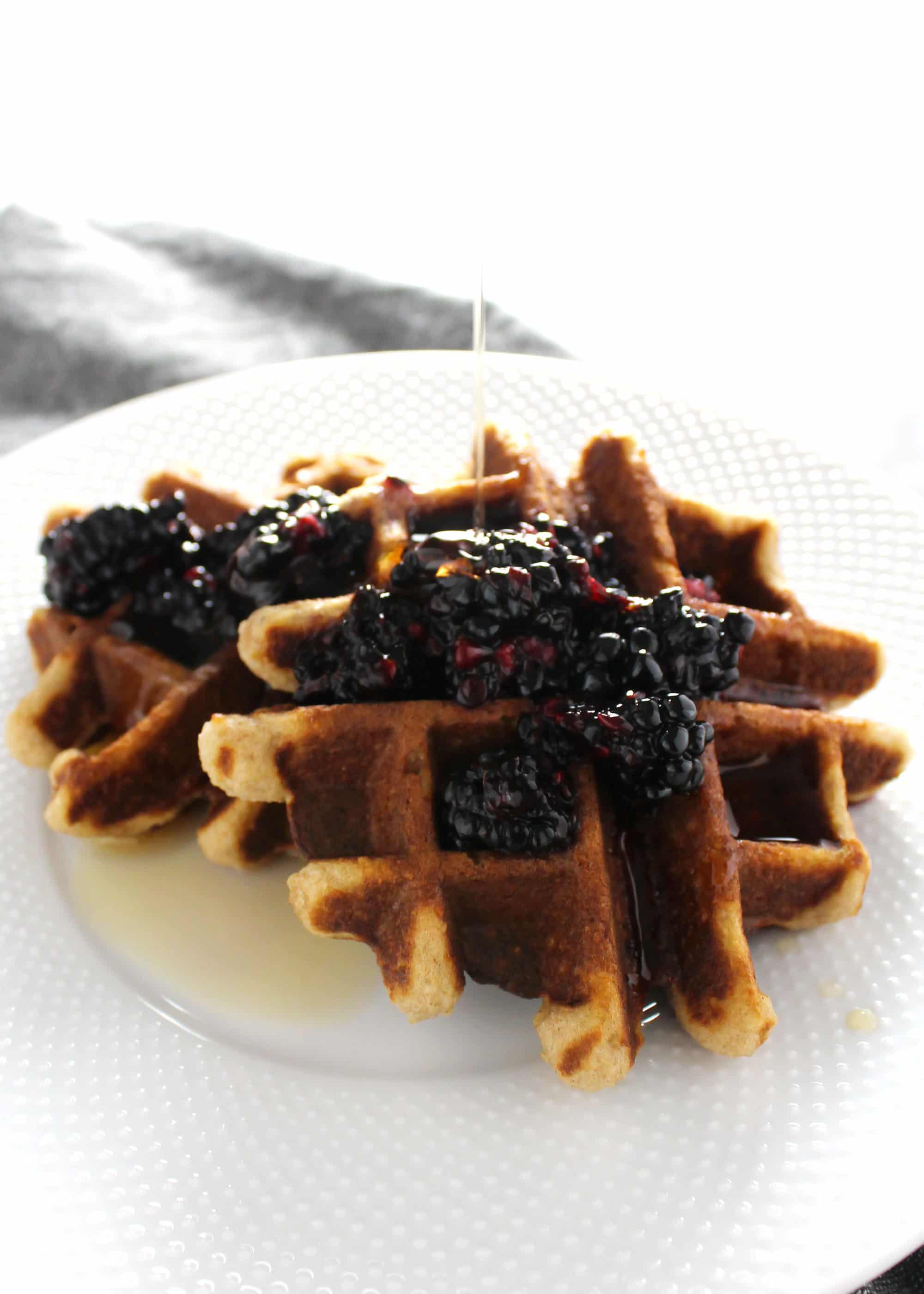 Ingredients
3

cups

Coconut Flour

1/2

cup

Unsweetened Shredded Coconut Flakes

optional if cutting down on carbs

2

tablespoons

Cornstarch

or Arrowroot Powder

1

teaspoon

Baking Soda

1

teaspoon

Salt

1

teaspoon

Cinnamon

4

large

Eggs

1/2

cup

Canned Coconut Milk

2

teaspoons

Vanilla Extract
Instructions
Preheat your waffle iron and spray it with cooking spray.

In a large mixing bowl whisk the coconut flour, coconut flakes, cornstarch (or arrowroot powder), baking soda, salt, and cinnamon until fully combined.

Using a separate medium-sized bowl beat the eggs, then add the coconut milk and vanilla, and whisk until mixed.

Pour the wet mixture into the dry ingredients and whisk until a smooth consistency is reached.

Scoop out 1/2 cup of batter using a measuring cup (or the cup supplied with the waffle iron) and pour it on the griddle. Cook until the waffle iron suggests it's done.
Nutrition
Serving:
1
serving
|
Calories:
413
kcal
|
Carbohydrates:
40
g
|
Protein:
14
g
|
Fat:
21
g
|
Saturated Fat:
18
g
|
Cholesterol:
124
mg
|
Sodium:
750
mg
|
Potassium:
141
mg
|
Fiber:
23
g
|
Sugar:
6
g
|
Vitamin A:
180
IU
|
Vitamin C:
1
mg
|
Calcium:
27
mg
|
Iron:
3
mg