Pillowy and good-for-you, thanks to the flaxseed, ginger, and dates, Applesauce Date Muffins are the perfect snack to nibble. With natural sweeteners, you won't need to feel guilty eating these in abundance.
If I could talk to my younger self I'd say, "Self, you really should sleep as much as you can. Go ahead and just sleep all day and night on the weekends too. Those nightclub nights are highly overrated. And you should spend as much time alone as possible." My younger self would likely respond, "Lady you are a nut," which I'd likely agree with and then ask her if I could join her one night at the club. However, at this point in my life I value sleep and alone time greatly.
Though I haven't quite achieved the sleeping as much as possible part (mostly due to my kids, but I'm working on it), I have found a balance for "me time." By taking a small, and I do mean small, piece of time out of my day where I am completely alone to do whatever I'd like with my time, is how I keep what little sanity remains in my life.
I always feel refreshed after my "me time" and mostly ready to take on the rest of the day. Usually during this time I'll read or catch up on some creative project, but I always have coffee or tea accompanied by a small healthy snack. One of my favorite healthy snacks has always been these Applesauce Date Tea Muffins.
The Applesauce Date Tea Muffins are really light in texture and not too sweet, which also means they're not filled with calories. They're the perfect snack to tie you over until dinnertime and you won't feel the least bit guilty for eating them.
What are your go to healthy snacks and have you tried them during a set aside time for yourself? Leave a comment below to share your recipes and how you find little bits of time.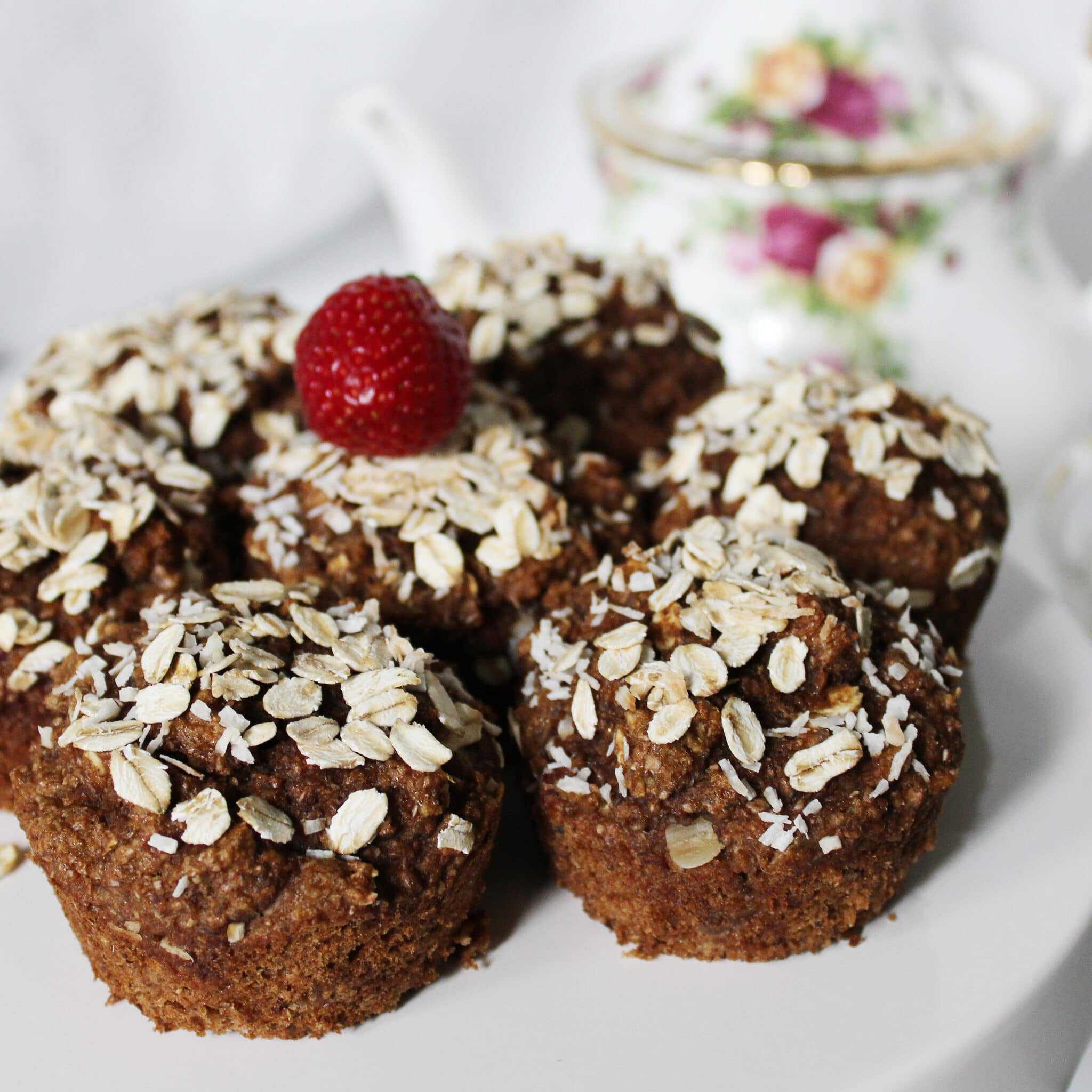 Ingredients
2

cups

Unsweetened Applesauce

1/2

cup

Dates

pitted and chopped

1

cup

Wheat Bran

1/2

cup

Buttermilk

1

large

Egg

2

tablespoons

Honey

3/4

teaspoon

Ground Ginger

1/2

teaspoon

Vanilla Extract

2/3

cup

Flour

2

tablespoons

Ground Flaxseed

1¼

teaspoon

Baking Soda

1/4

teaspoon

Salt

1/4

teaspoon

Ground Allspice

1/3

cup

Oats
Instructions
Preheat the oven to 375ºF and grease a 12-count muffin tin (I like to use coconut oil) or line with muffin liners.

Place the applesauce and dates into a small saucepan and heat over medium-high heat, stirring frequently for 15 to 18 minutes, until the mixture reduces. Remove from heat and let cool.

Transfer the cooled applesauce mixture to a medium mixing bowl and add the wheat bran, buttermilk, egg, honey, ginger, and vanilla extract. Whisk ingredients together until well combined.

In a separate bowl whisk the flour, ground flaxseed, baking soda, salt, allspice, and 1/4 cup of the oats. Once mixed add to the applesauce mixture and stir until well combined.

Spoon the batter into the prepared muffin tins filling to just under the edge. Sprinkle the remaining oats on top of the muffins and bake for 20 to 23 minutes or until a toothpick inserted into the center comes out clean. Let cool before removing from the muffin tin.
Nutrition
Serving:
1
muffin
|
Calories:
130
kcal
|
Carbohydrates:
28
g
|
Protein:
4
g
|
Fat:
2
g
|
Saturated Fat:
1
g
|
Cholesterol:
20
mg
|
Sodium:
217
mg
|
Potassium:
206
mg
|
Fiber:
4
g
|
Sugar:
13
g
|
Vitamin A:
61
IU
|
Vitamin C:
1
mg
|
Calcium:
32
mg
|
Iron:
2
mg