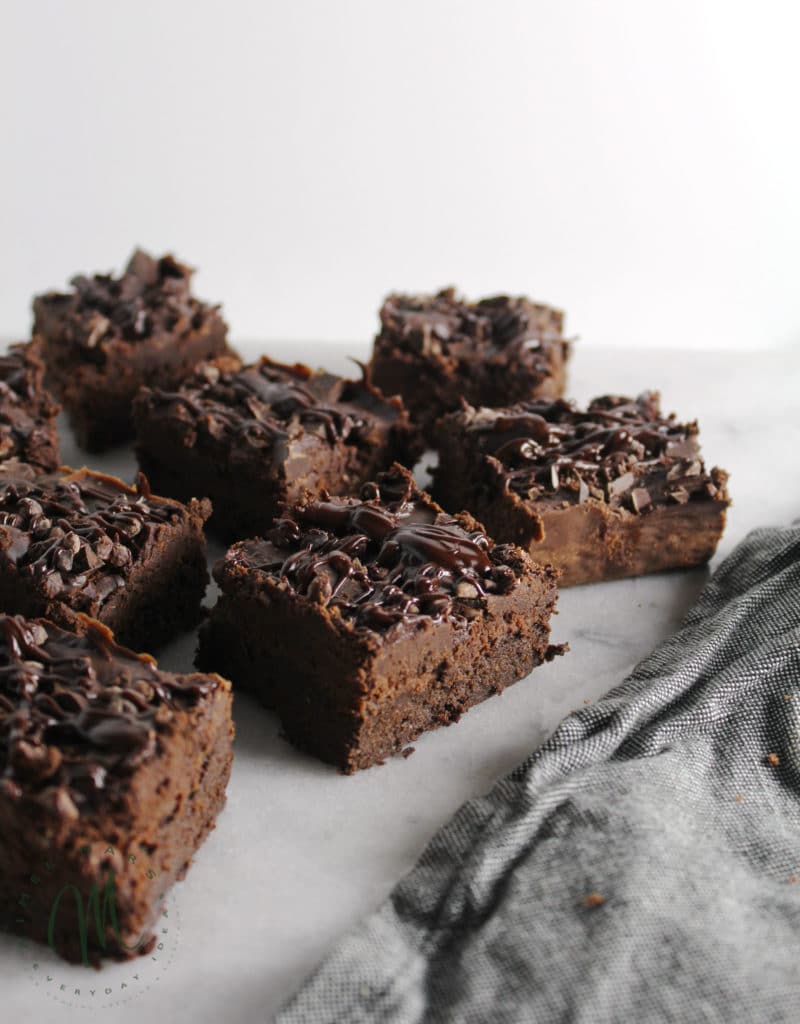 Avocado Fudge Brownies with Peanut Butter Ganache Topping or as some would say a "healthier" fudgy brownie?!?! Yes, please! ????????
On Monday I had the thought "Oh, I should make brownies!" Makes sense for a Monday right? I mean, I needed something sweet for my book club I was hosting that evening since the Valentines Day cupcakes and chocolate chip cookies weren't enough. So obviously this thought is valid!
Glad we're on track here…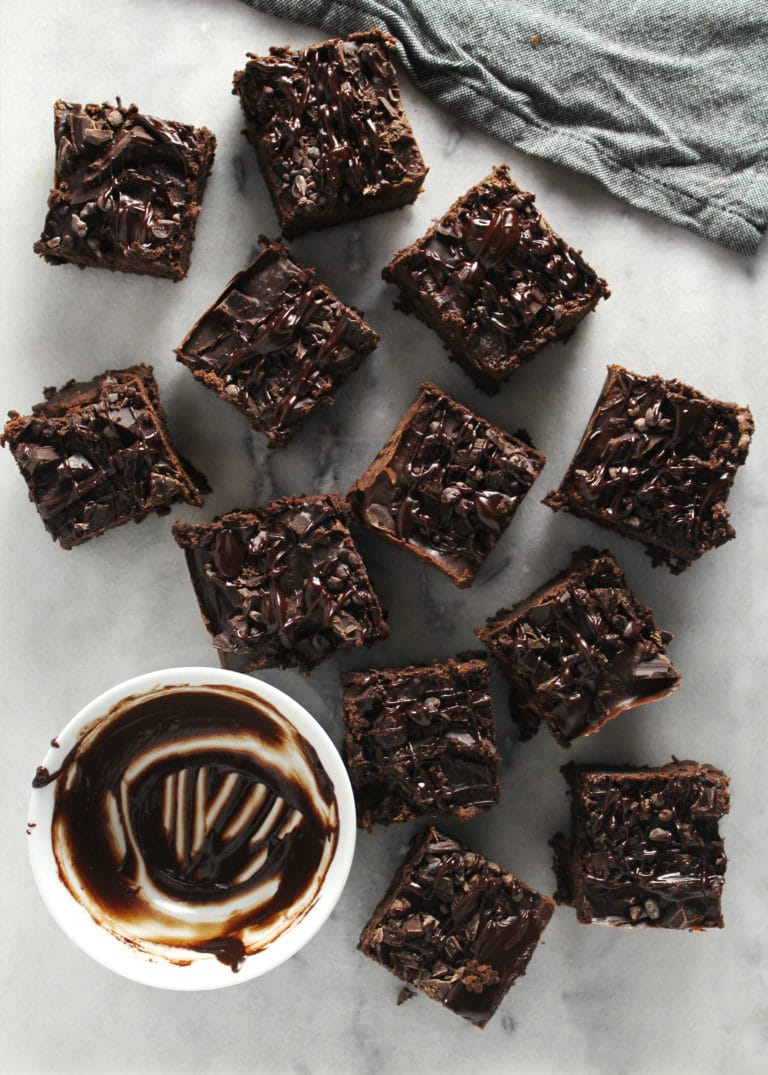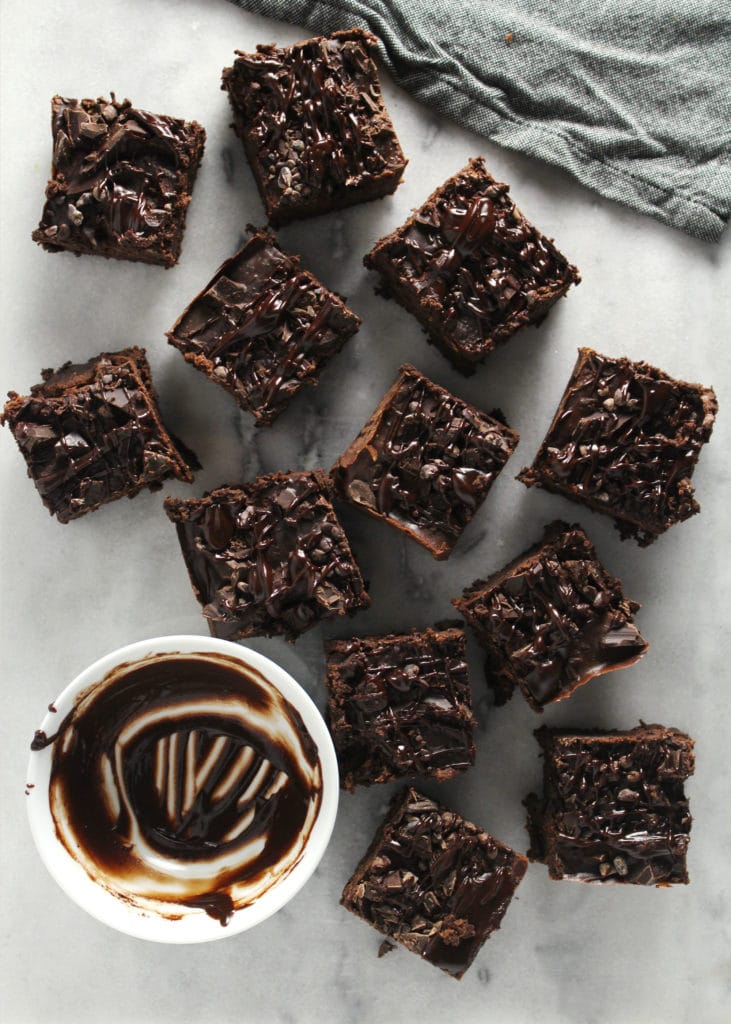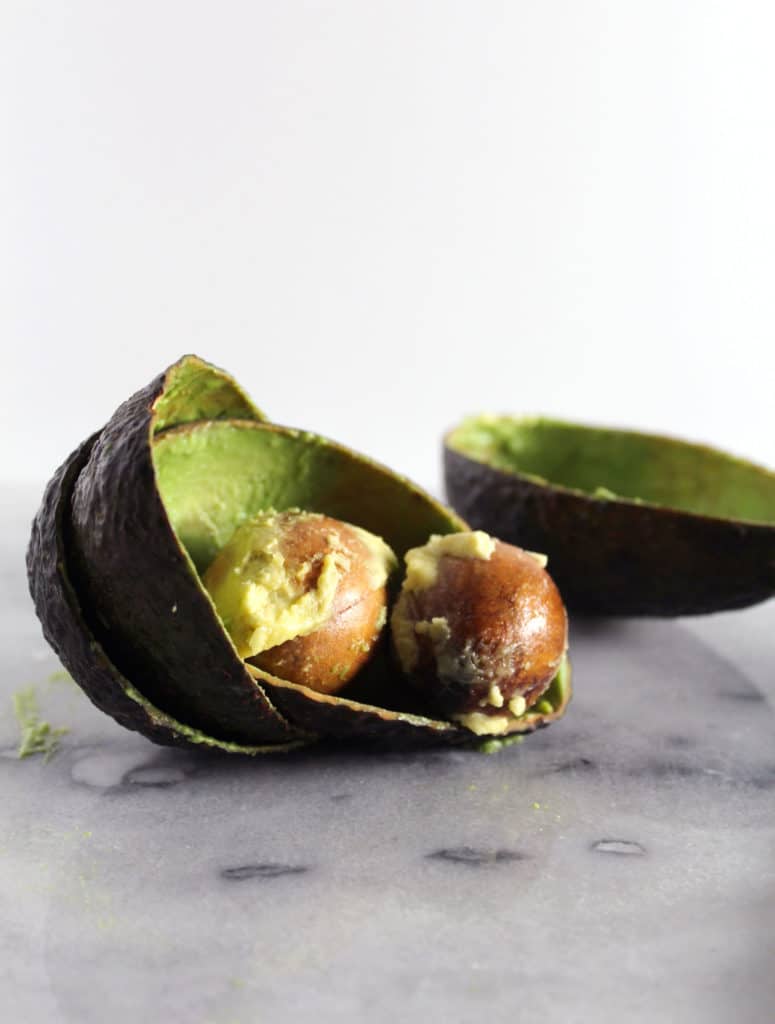 Every week I allow or rather indulge, myself in one and only one "cheat day" a week, which is usually on Saturday, not Monday. So this little fantastic idea of mine to make brownies (on top of the cupcakes and cookies that were going to be sitting in front of me later that evening) was somewhat of a challenge to myself.
An unintended challenge, but I tend to be pretty good at unintended self-sabotage at times.
However, I heard about these mythical sounding "healthy" brownies made with avocados and thought the other ingredients must be unicorn tears. Because healthy brownies?!? How?!?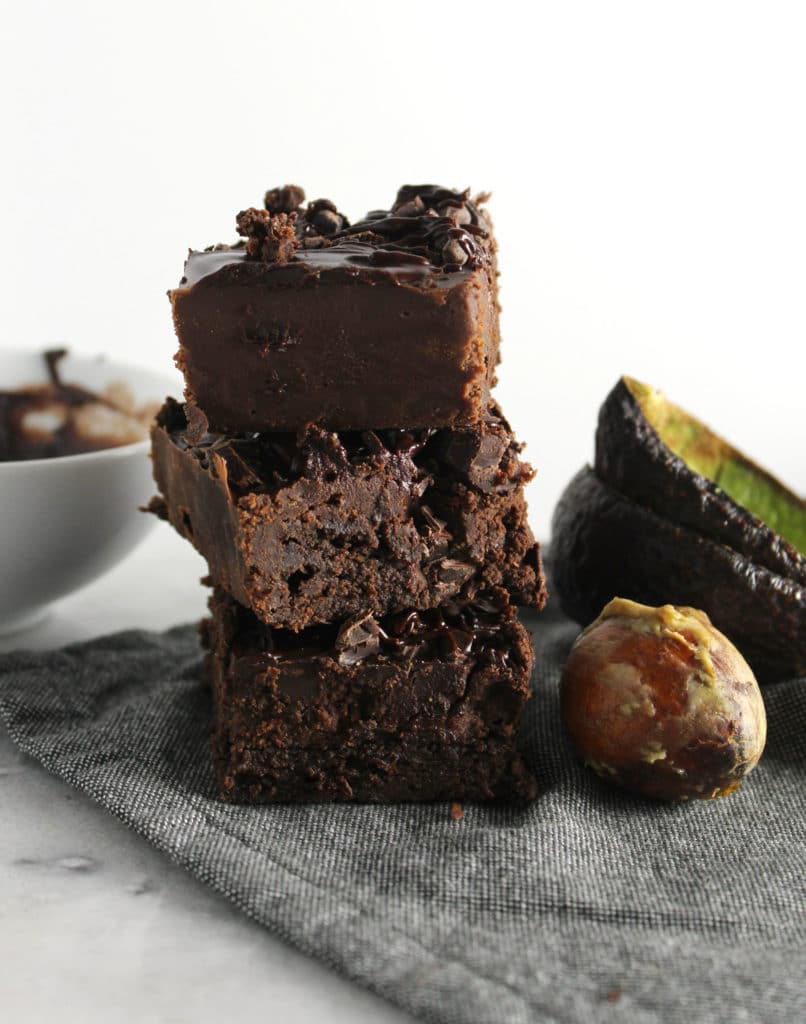 Well, friends, they do exist and you don't have to go to a forbidden forest to find them (maybe your local grocer, which in my case can sometimes seem like a forbidden forest for multiple reasons).
So back to my self-sabotaging thoughts… Obviously, I ended up making these brownies and yes I had the tiniest of bites during book club, but they're actually very rich in flavor so that tiny bite (okay, maybe two. Fine three!) I had was all I needed.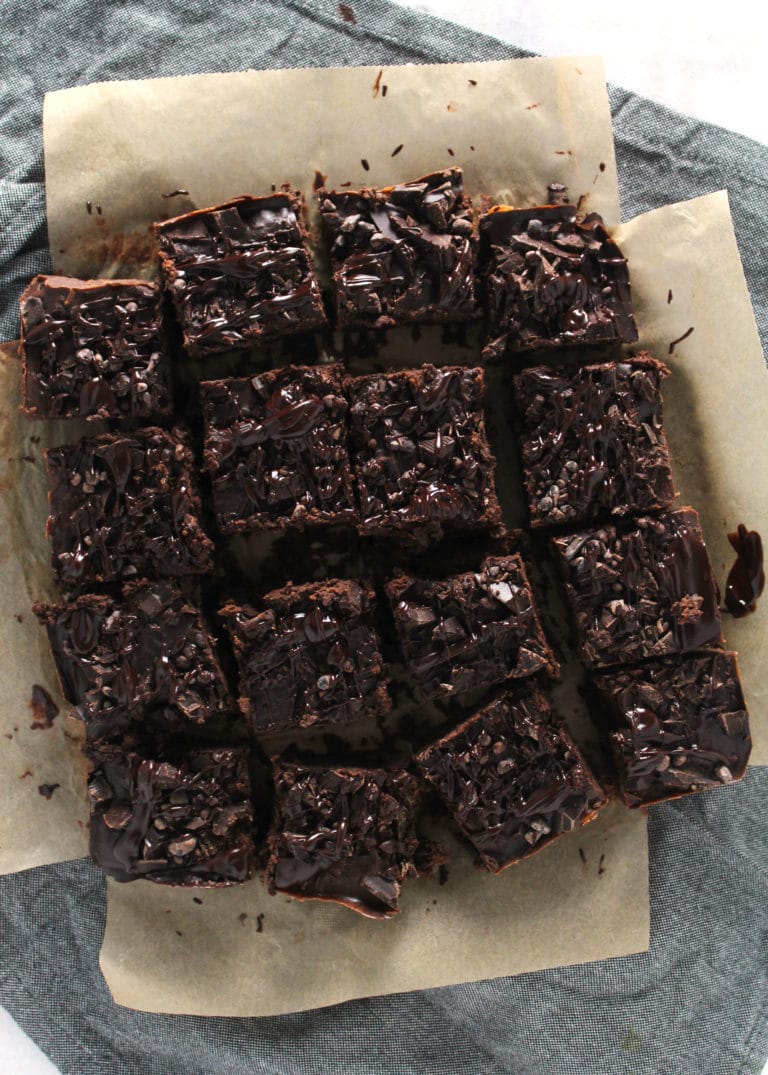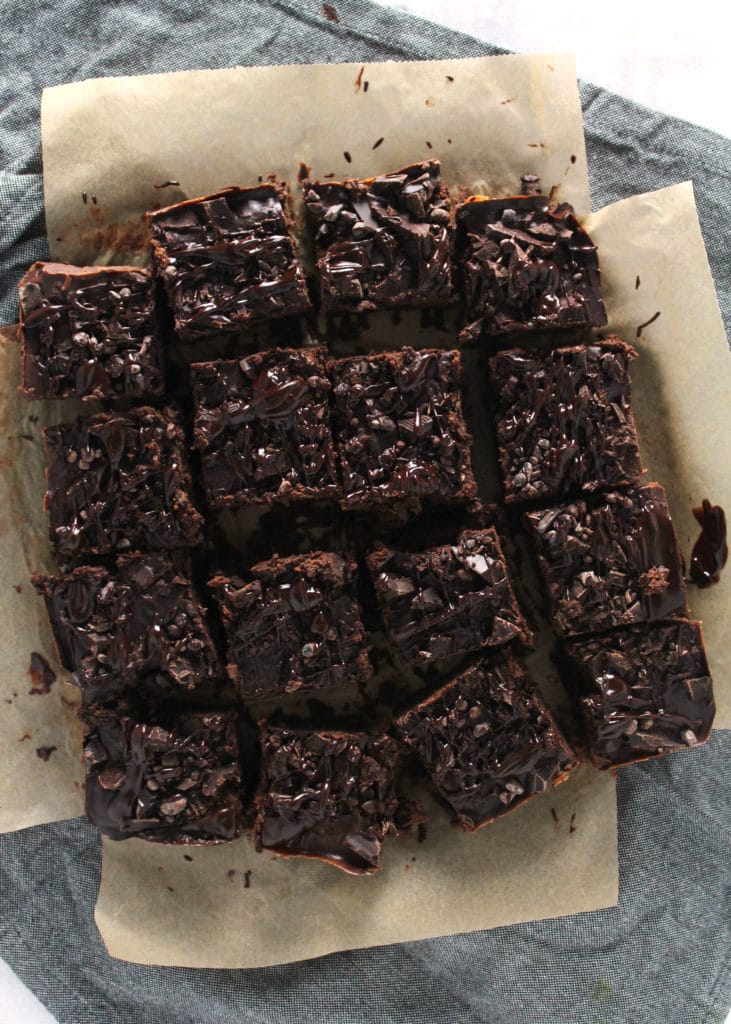 Secretly, I saved or rather hid, a few (I live with two little sugar-loving monsters and one large sized one in the form of my husband, so you do what you gotta do) for Saturday.
If you want to keep the calorie count low on these little squares of Heaven then you can leave off the Peanut Butter Ganache Topping. I know, I know! Life can be so unfair. Really, though I think you should indulge a little bit though and just top it off properly.
Unfortunately, I can't suggest creating an Avocado Brownie diet at this point (I'm still committed to finding a workaround, though), but I can say eat this guilt-free.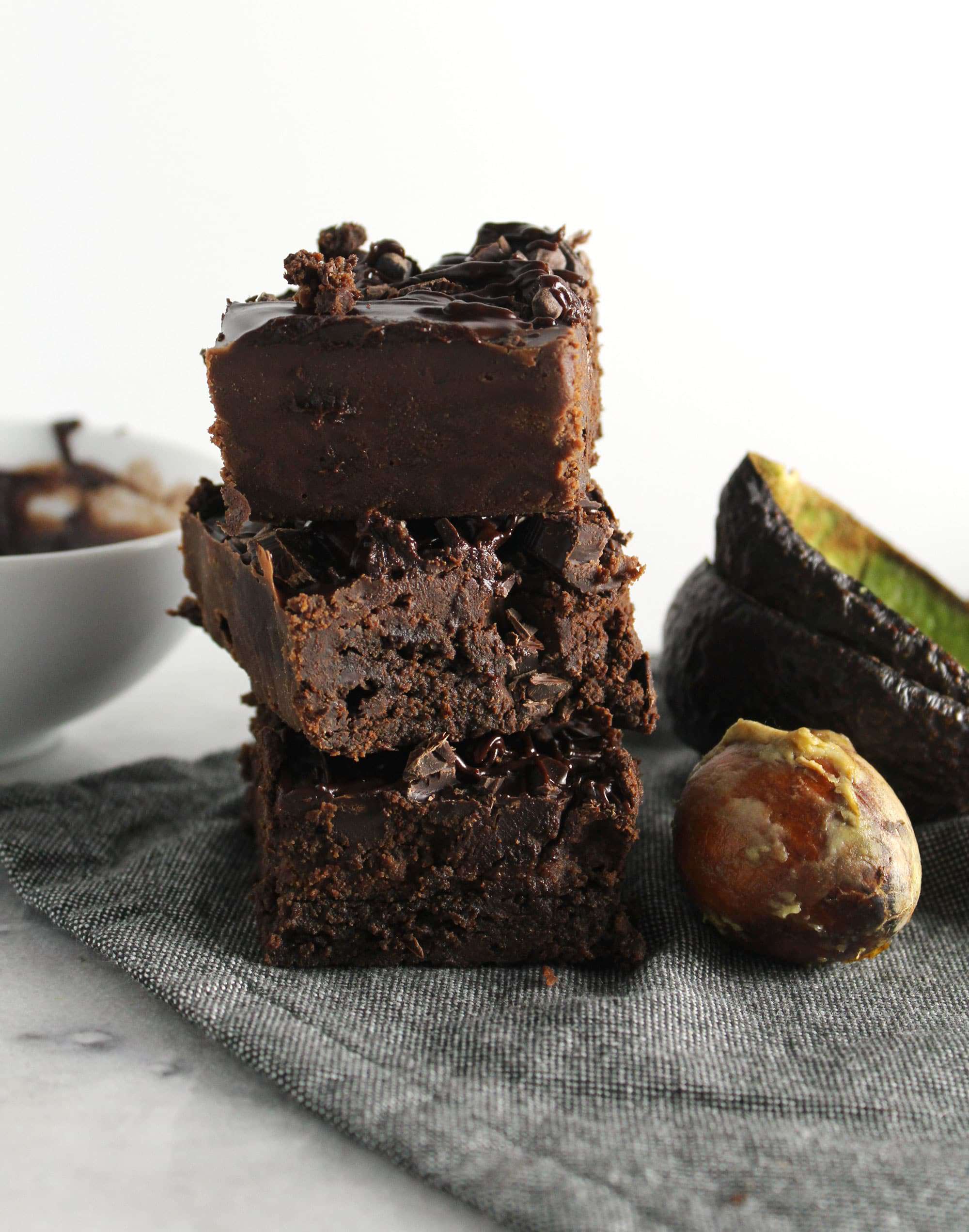 Ingredients
BROWNIES
4

ounces

Dark Chocolate

chopped

2

Avocados

pitted and skin removed

3/4

cup

Sugar

2

teaspoons

Vanilla Extract

2

large

Eggs

1/2

cup

Cocoa Powder

1/2

cup

Almond Meal

1/4

teaspoon

Salt
PEANUT BUTTER GANACHE TOPPING
1/3

cup

Maple Syrup

1/4

cup

Coconut Oil

2

ounces

Dark Chocolate

chopped

2

tablespoons

Peanut Butter

1/3

cup

Cocoa Powder
Instructions
BROWNIES
Preheat the oven to 350 degrees. Line an 8×8 baking pan with parchment paper, including the sides.

Melt 2 ounces of Dark Chocolate using a double boiler or the microwave, until smooth.

Place the Avocado, Sugar, and Almond Extract in a food processor or use an emersion blender to blend until ingredients are smooth. Pour in the melted chocolate and continue to blend until smooth. Next, add the eggs and blend again until well combined followed by adding the Cocoa Powder, Almond Meal, and Salt. Continue to pulse the ingredients until fully mixed. Stir in the remaining 2 ounces of Dark Chocolate.

Spread the brownie mixture into the prepared pan. Bake for 30 to 35 minutes. Cool before frosting.
PEANUT BUTTER GANACHE TOPPING
In a small saucepan, melt the Maple Syrup, Coconut Oil, Dark Chocolate, and Peanut Butter. Once smooth remove from heat and stir in the Cocoa Powder as well as a pinch of salt.

Pour the mixture over the cooled brownies. At this time add any additional toppings you like (I melted chocolate and drizzled it on top as well as chopped an additional 2 ounces of chocolate. Place in the fridge to set for 30 minutes to an hour.
Nutrition
Serving:
1
serving
|
Calories:
240
kcal
|
Carbohydrates:
25
g
|
Protein:
4
g
|
Fat:
16
g
|
Saturated Fat:
7
g
|
Cholesterol:
24
mg
|
Sodium:
60
mg
|
Potassium:
303
mg
|
Fiber:
5
g
|
Sugar:
17
g
|
Vitamin A:
70
IU
|
Vitamin C:
3
mg
|
Calcium:
36
mg
|
Iron:
2
mg