Last Updated on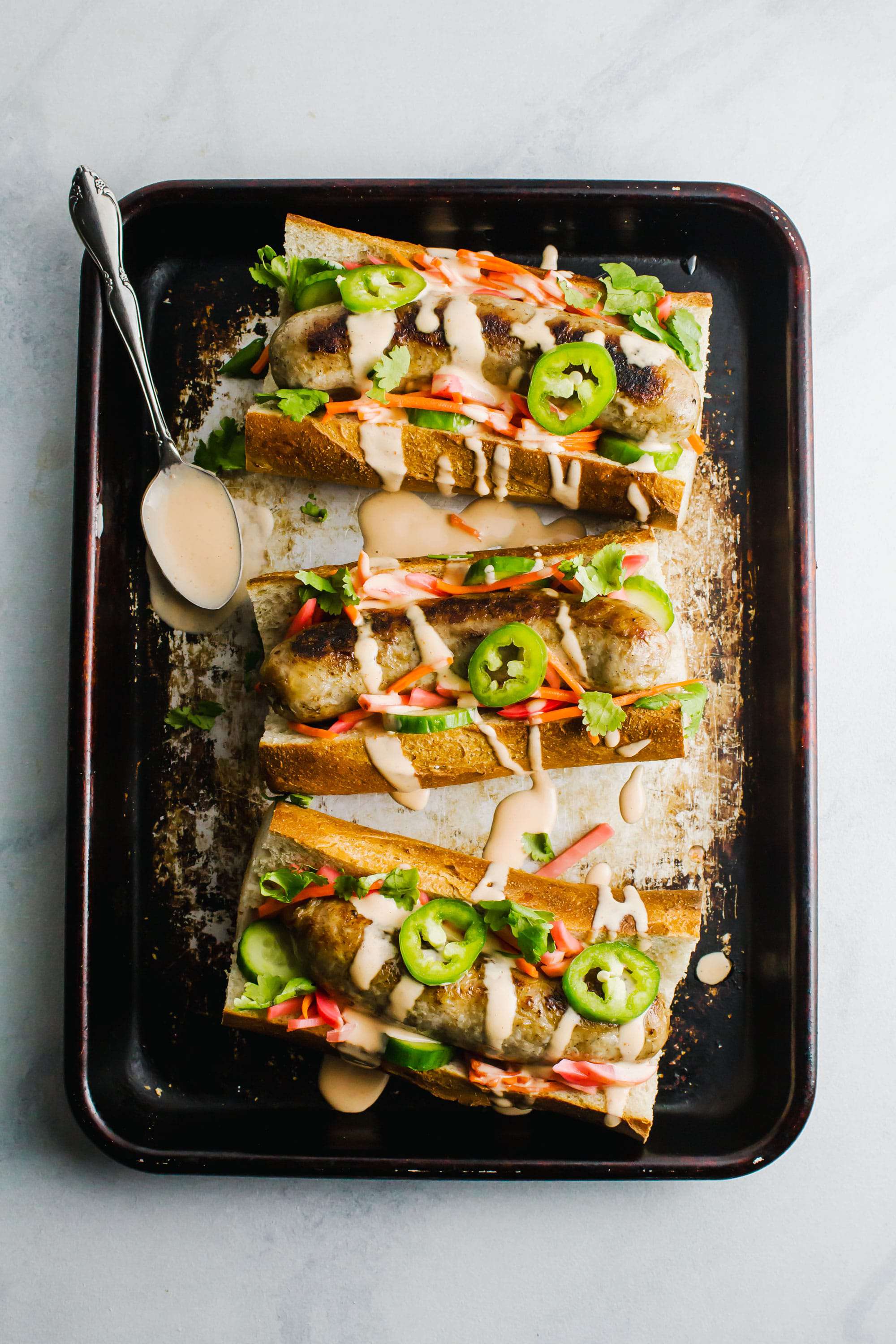 We are getting creative over here with Bahn Mi Brats and ever so slightly pushing limits… Small, limit-pushing only though cause I still have to feed the whole family who isn't always as adventurous as I am when it comes to food and flavors. (I'll get to my workaround for this meal shortly).
Just this past weekend I was chatting with girlfriends about how I come up with recipes and I think I've discovered my unscientific process, which ends up being a compilation of many recipes. Usually, it all starts with a craving that may or may not happen in the middle of the night and I want "insert random food" right then! Then I either go about my business, or fall back asleep, and begin to dream of whatever the random food is that piqued my cravings. Eventually, I'll search for recipes, maybe just get it from the store, or seek out the restaurant where such food can be consumed cause my craving never really does go away. They tend to magnify over time, and often I'll want to try my hand at my own version.
These Bahn Mi Brats are NO exception either. I'd recently seen a recipe for Bahn Mi Sandwiches and KNEW somehow I had to make some, but then I also saw a recipe for bratwurst dogs and my cravings kicked in. Instead of making two meals, I thought, let's combine them and well, here you have Bahn Mi Brats!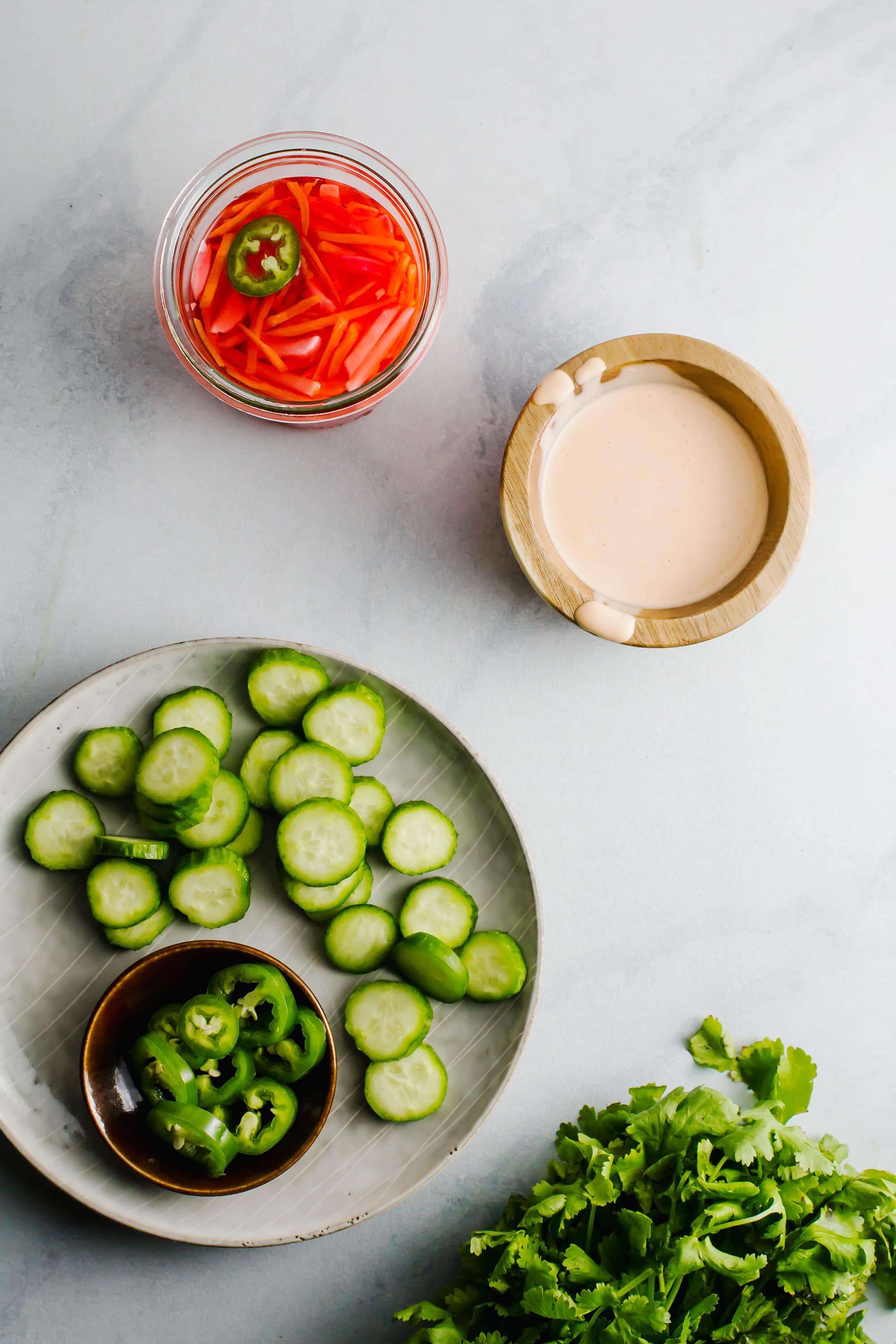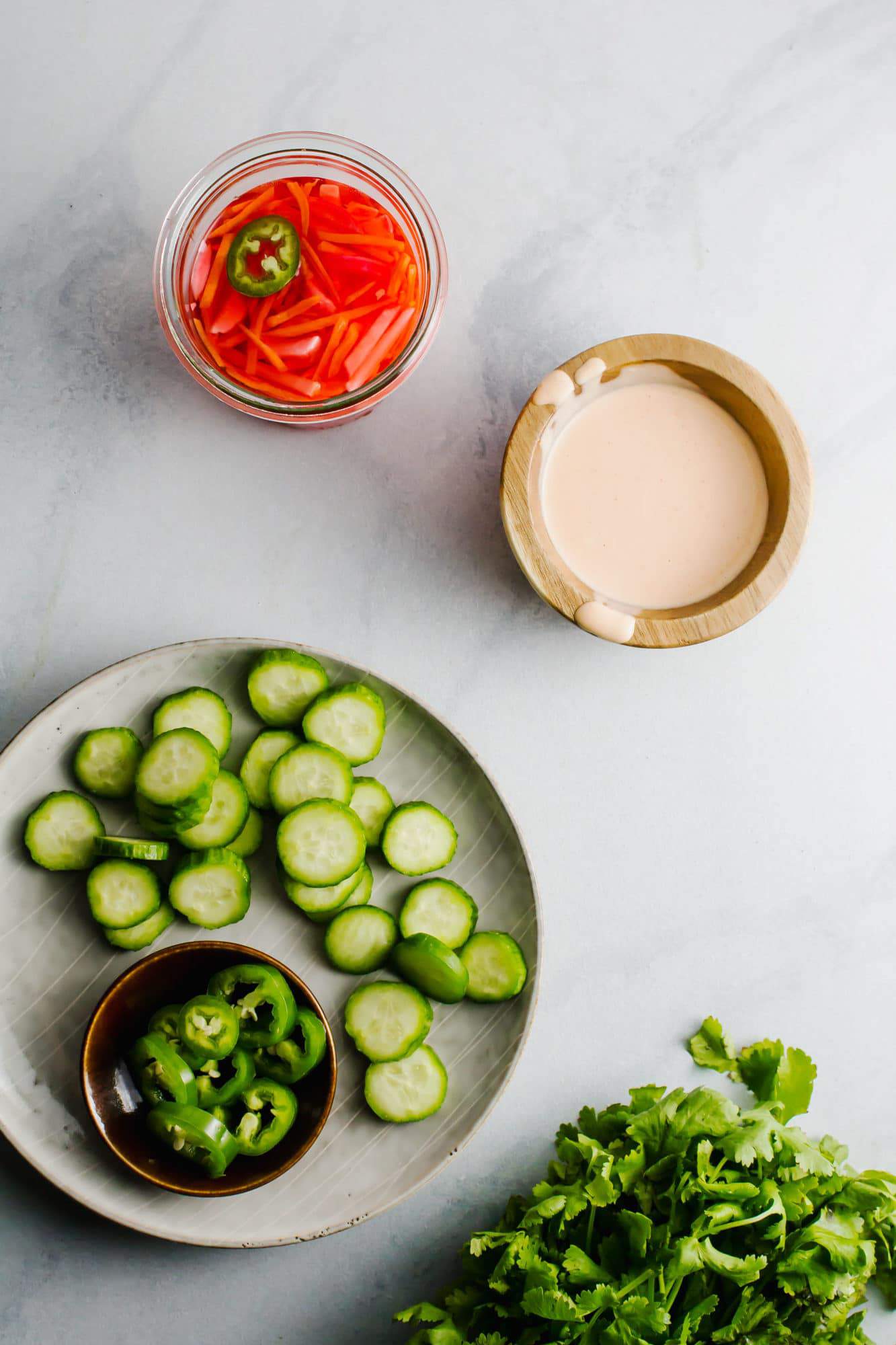 This simple no-nonsense recipe is best enjoyed back porch style with a side of something sparkling or fizzy, which basically is wine, champagne, or beer. You get me right? As the leaves are beginning to crisp and fall is in the air, along with busy weekends, football, and flavorful seasonal foods, I tend to want something fun and easy. Brats, with a Bahn Mi flavoring, fit the fall bill and check all the fun food boxes.
I got my kids in on the brat pandemonium (also known as Mom's getting all food cray again) happening in our house by serving them simply on the toasted baguette with sauces. In other words ketchup, mustard, and even some of the spicy mayo. The rest of us went all in on the Bahn Mi flavoring…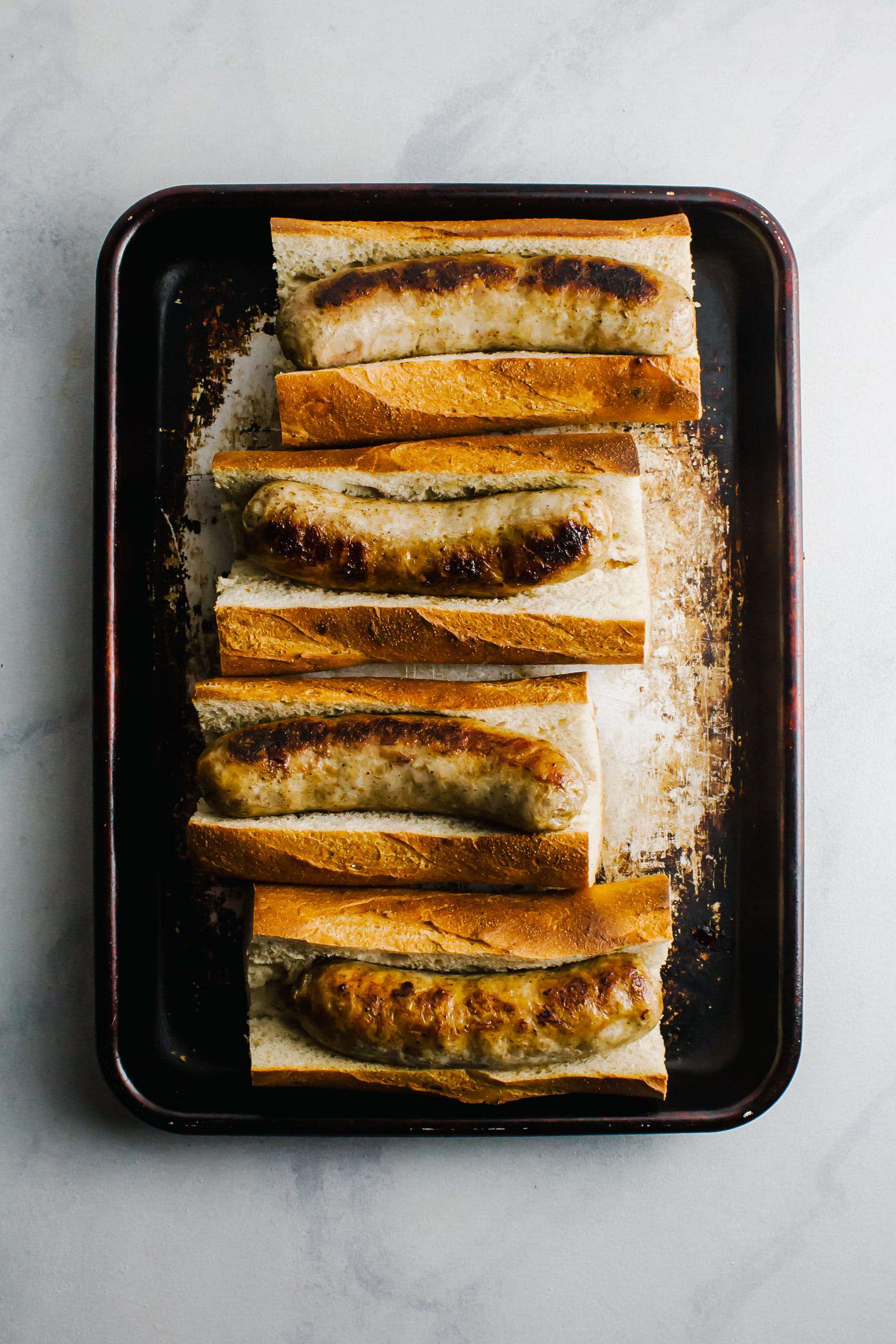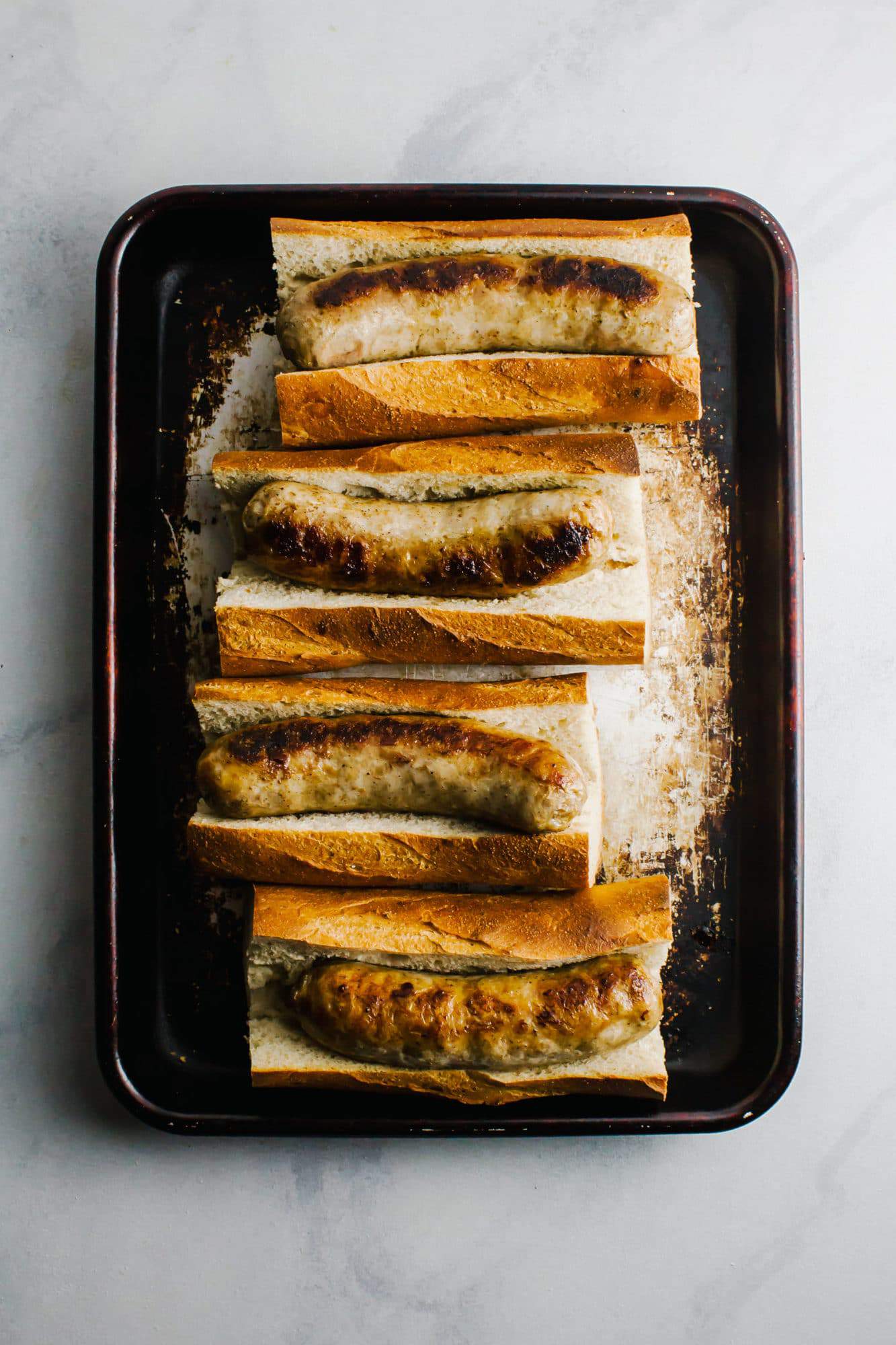 What is Bahn Mi
Well, at it's most basic Bahn Mi is a Vietnamese sandwich consisting of a baguette, some kind of meat (typically pork), pickled vegetables, chili peppers, and cilantro, however, there are many more combos and some even include patê. Basically, it's a flavor bomb of a sandwich and there's room for creativity.
What's in my Bahn Mi?
Toasted Baguette
Pork Bratwurst
Quick Pickled Carrots and Radishes
Mini Cukes
Topped with Spicy Mayo
Garnished with Jalapeno and Cilantro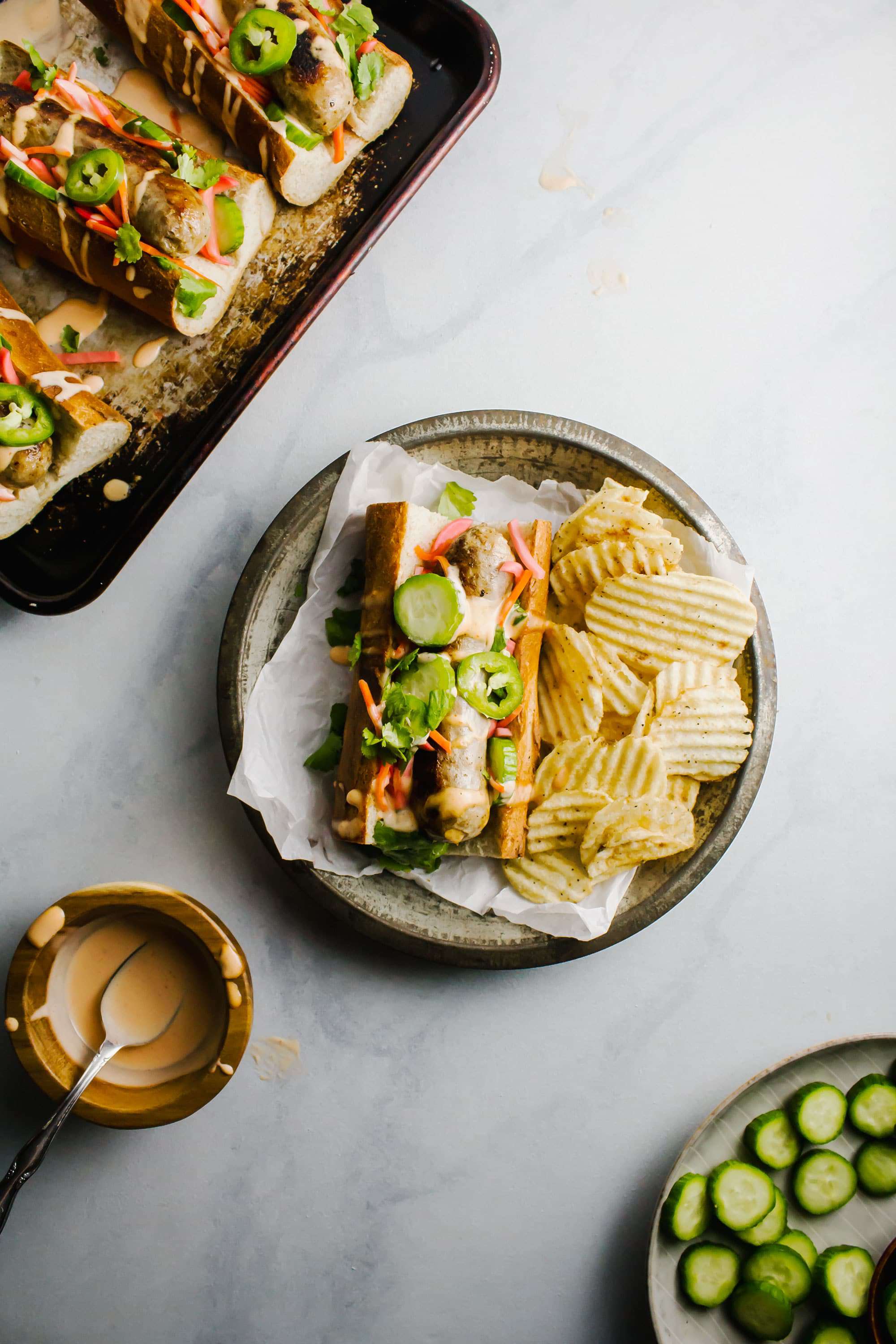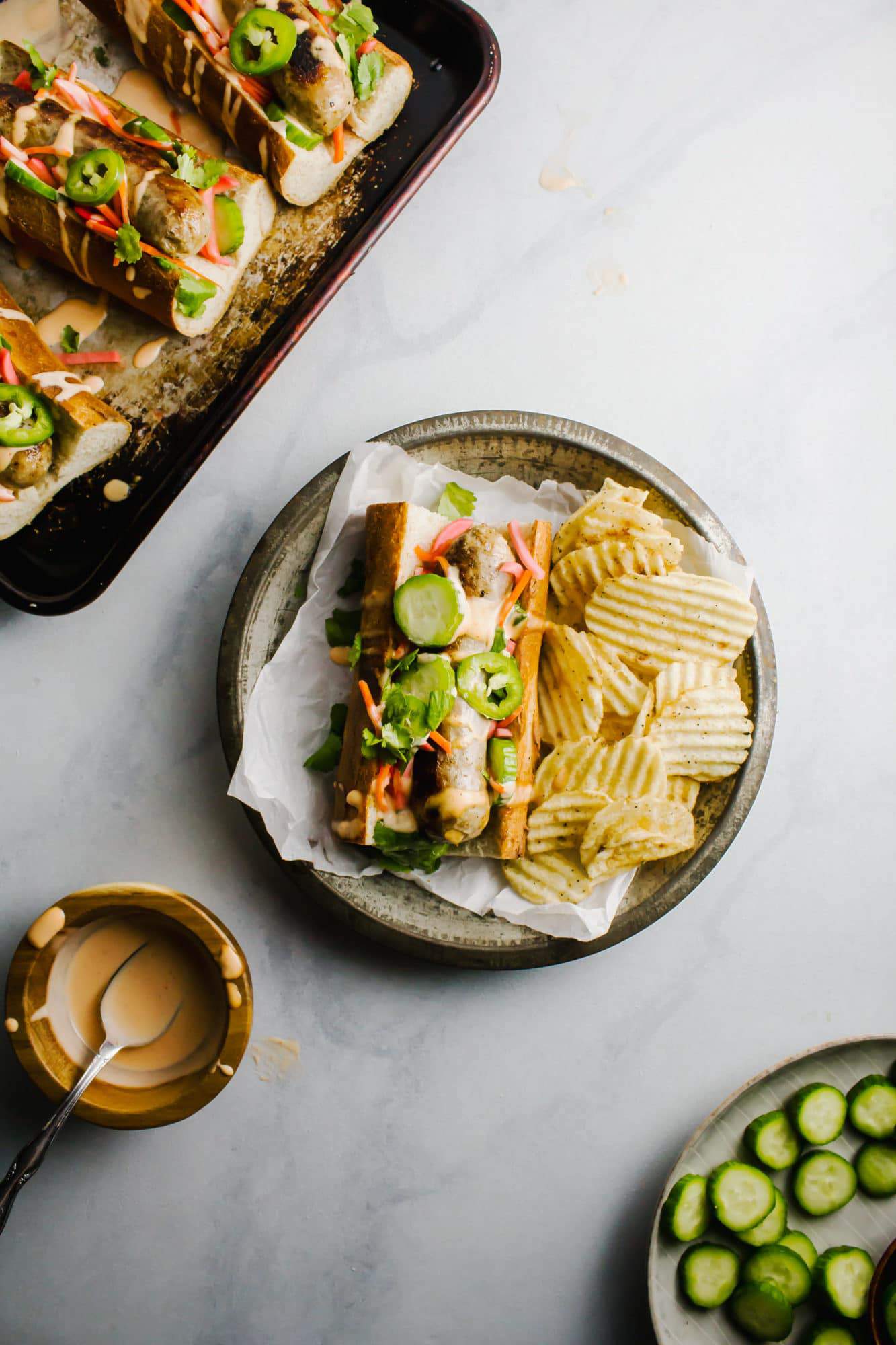 Quick Pickled Veggies
I hopped on over to Bon Appétit for advice on quick pickling the vegetables for this sandwich cause they know best. Traditionally you want to give the carrots and radishes some time to marinate here, preferably three days, but I get that's not always practical and if you could get by with making them 3 hours ahead you'll be in a good spot.
Print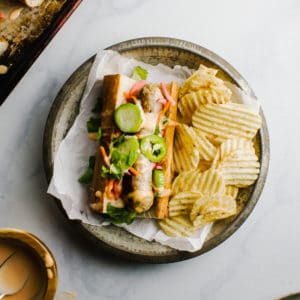 Bahn Mi Brats
Prep Time:

3 Hrs 15 Mins

Cook Time:

5 Mins

Total Time:

3 Hrs 20 Mins

Yield:

4

Servings

1

x
---
Description
Bahn Mi Brats are a flavorful combo inspired by the traditional Vietnamese sandwich and pairs perfectly with fizzy drinks and football.
---
Scale
Ingredients
BRATS
2

Baguettes, sliced into bun-sized pieces

2 teaspoon

s Oil

4

to

5

Pork Bratwurst

1

Mini Cucumber (aka Cuke)

1

small Jalapeno, sliced

1 tablespoon

 Fresh Cilantro
SRIRACHA MAYO
1/4 cup

Mayonnaise

1 tablespoon

Lime Juice

1 tablespoon

Sriracha Sauce
PICKLED VEGGIES
1/2 cup

Rice Vinegar

1 tablespoon

Sugar

2 teaspoon

s Salt

1/2 cup

Carrots, sliced

1/2 cup

Daikon Radishes, sliced
---
Instructions
Pickled Veggies: In a small bowl whisk the Rice Vinegar, Sugar, and Salt together until fully dissolved. Place the Carrots and Radishes into a Mason, Weck, or similar jar that can be sealed with an air-tight lid. Pour the vinegar mixture on top and seal. Allow vegetables to pickle for at least (if you can) 3 hours and up to 3 days before using.
Heat Oil in a large iron or heavy-bottomed skillet over medium heat and add the Bratwurst links. Cook for about 5 minutes, turning occasionally until each link is fully cooked or reaches an internal temp of 165 ℉.
While the brats are cooking whisk together the Mayonnaise, Lime Juice, and Sriracha in a small bowl and set aside. Slice the Baguettes into bun-length pieces and then slice down the center, without cutting all the way through the bread, to form a bun.
Place some of the pickled vegetables into each bun and top with a cooked bratwurst. Drizzle the Sriracha Mayo on top and layer with the mini Cucumbers, Jalapeno, and Cilantro.
---