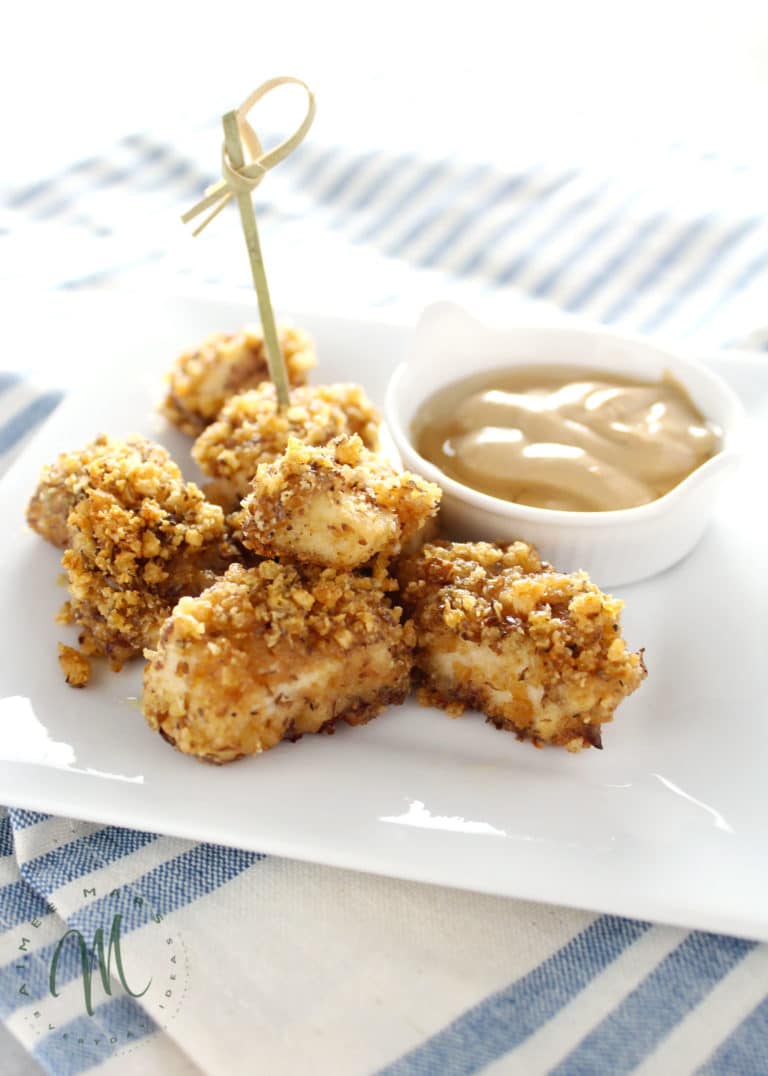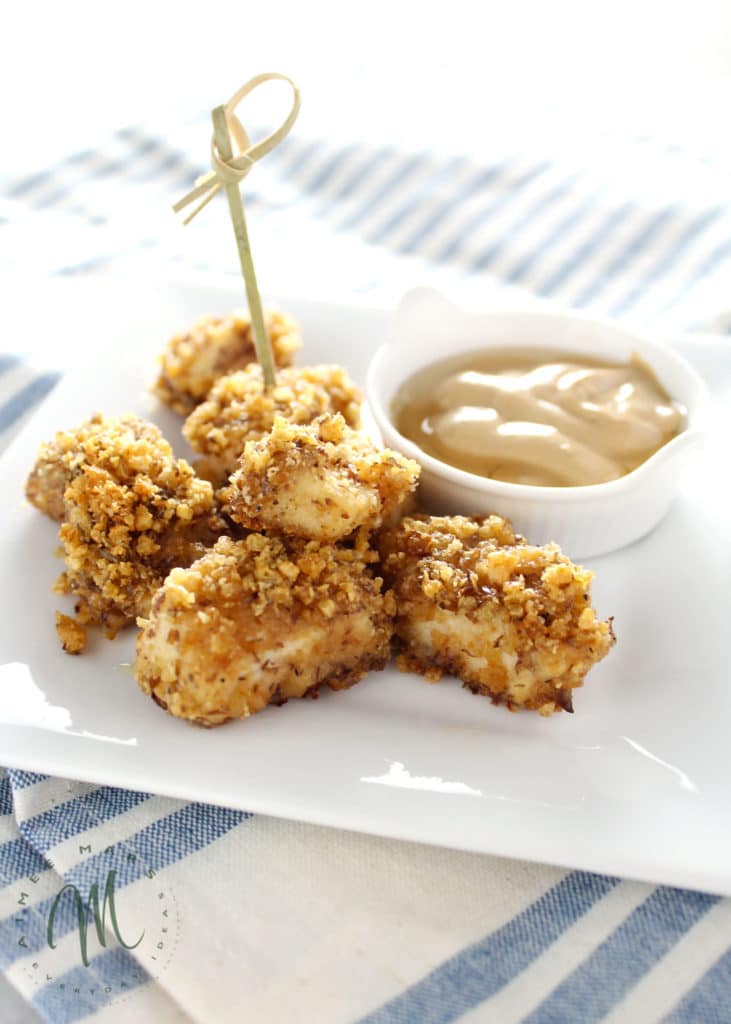 Soooo the whole getting your kids to eat healthy thing. Kind of a challenge #UnderstatementOfTheYEAR
Despite my very best efforts I've ended up with a picky-eater for a child… My son, oh how I love him, BUT this kid takes texture/picky eating to epic levels. One day he'll eat my Turkey & Egg Breakfast Casserole, and I mean gobble it up and then a couple of days later turn his nose up at it. He will NOT touch simple scrambled eggs though. Sigh.
He has no, as in NONE, interest in the usual go-to Mom-is-tired type foods like mac & cheese or pizza (what is wrong with this kid? Surely he's not mine?!?! Kidding… sort of.
I mean, I've read this book "It's Not About the Broccoli," which I may not totally be adhering to but I am trying, and I refuse to make separate meals for everyone. Er, what I means is I don't have the energy/patience it requires. In other words I've done my homework and I am putting forth effort towards change.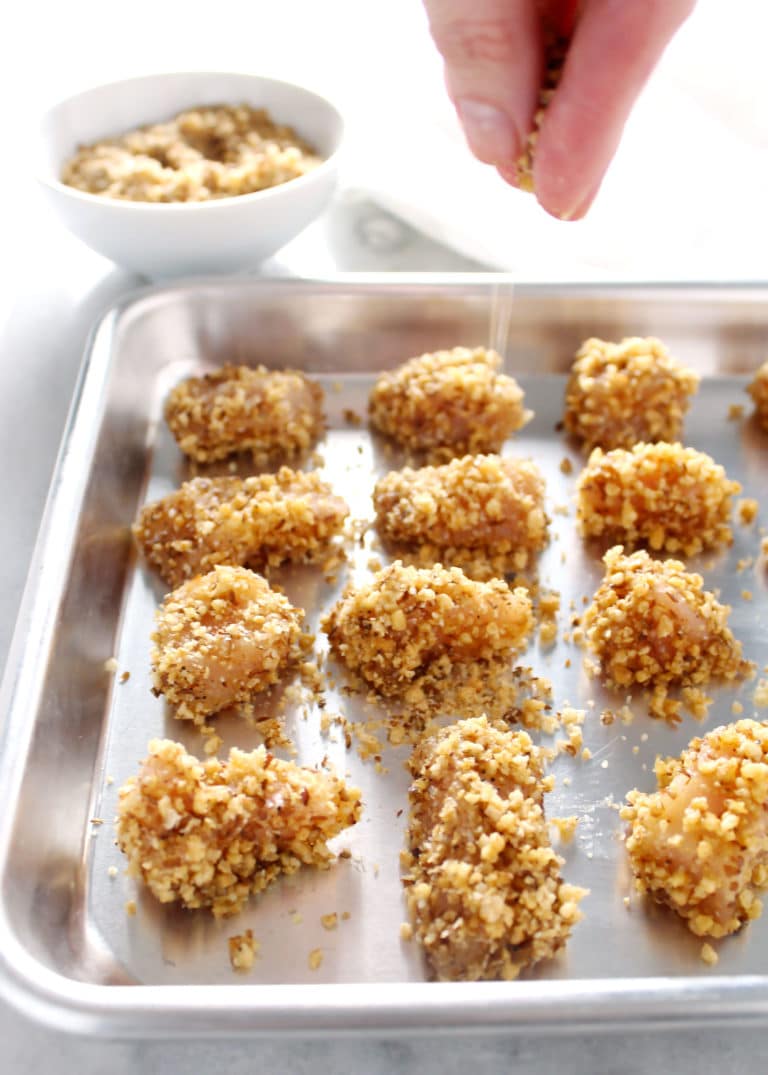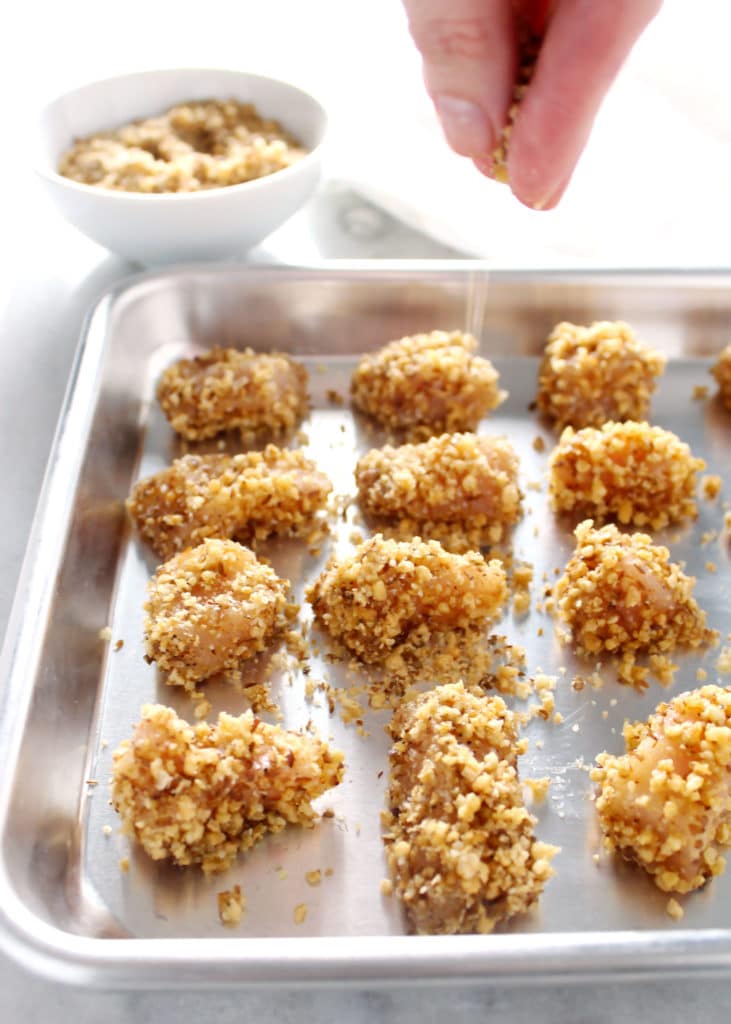 So I've had to get creative and approach the meal planning challenge he's throwing down like an American Gladiator (any 90's kids out there?!? Gah, I loved that show!). Anyway…
I had to find a solution and fast, because he was starting to wake up in the middle of the night hungry. And for the LOVE I am going to get sleep in 2017!! Then I would spend the following day playing food roulette in order to send him off to bed satiated.
I made a list of the foods he'll eat without fail and found a way to slightly tweak them so they're slightly different, but also tasty enough for the rest of the family to eat.
Insert Baked Chicken Nuggets…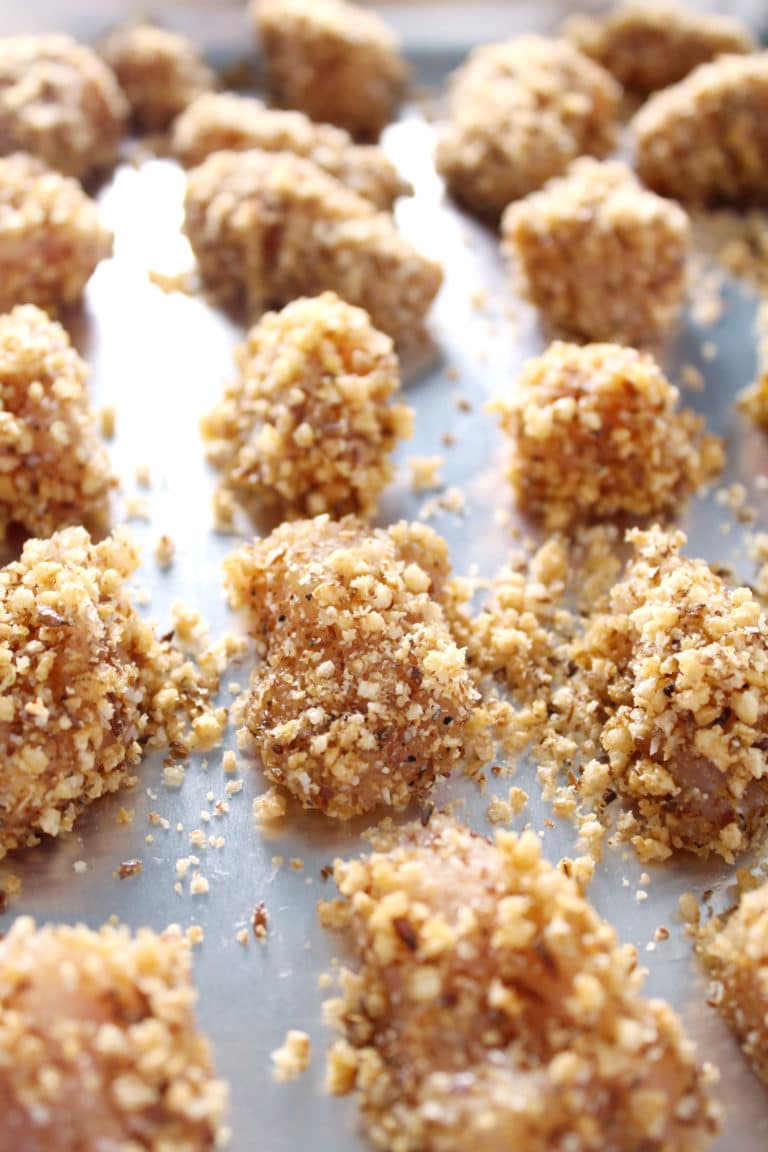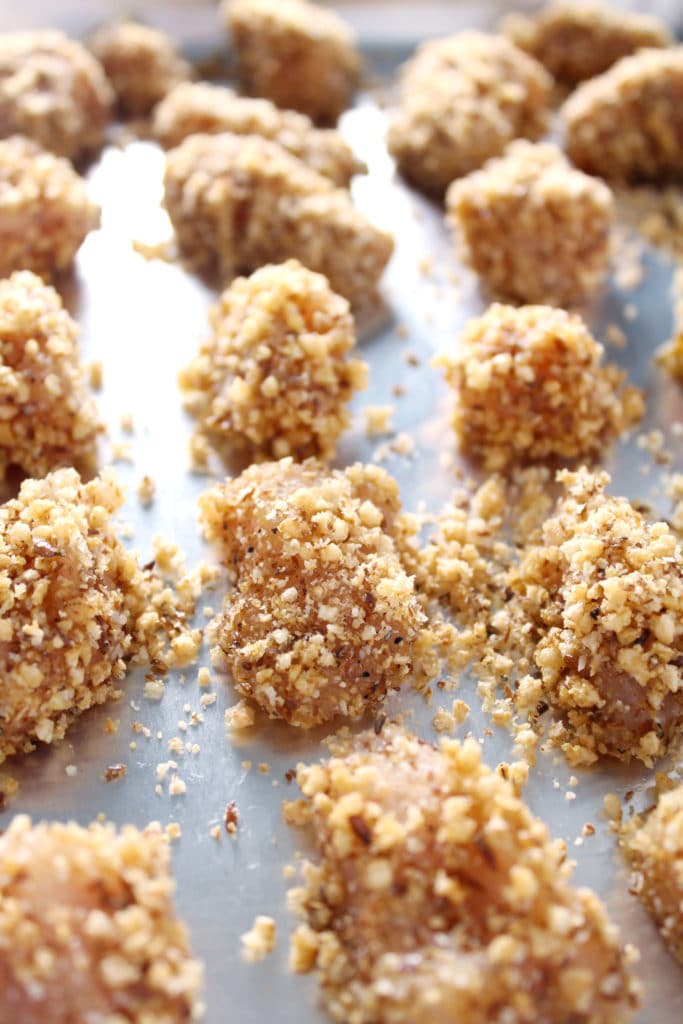 And who doesn't love chicken nuggets? I know somewhere, someone, has a kid who hates then (bless your heart!), but the ever long lines at the drive-thru tell me most people do.
These nuggets are simple. You cut them up, toss them with olive oil, roll them in the crumb mixture and bake them. DONE! And you can make enough to last all week. So how's that for the win?
They have just enough crunch thanks to the Brown Rice Breadcrumbs to resemble their less healthy (but oh so tasty) fried version.
Add your (or your kid's) favorite dipping sauce or two and you have yourself a healthy happy meal. #VirtualHighFive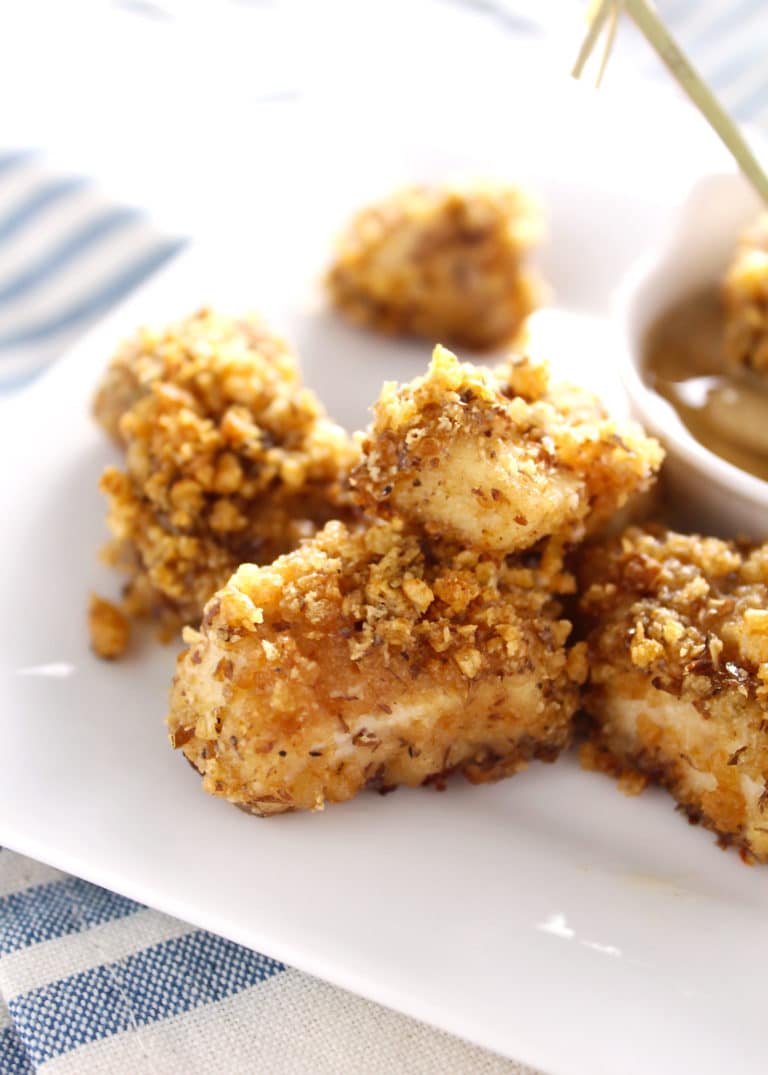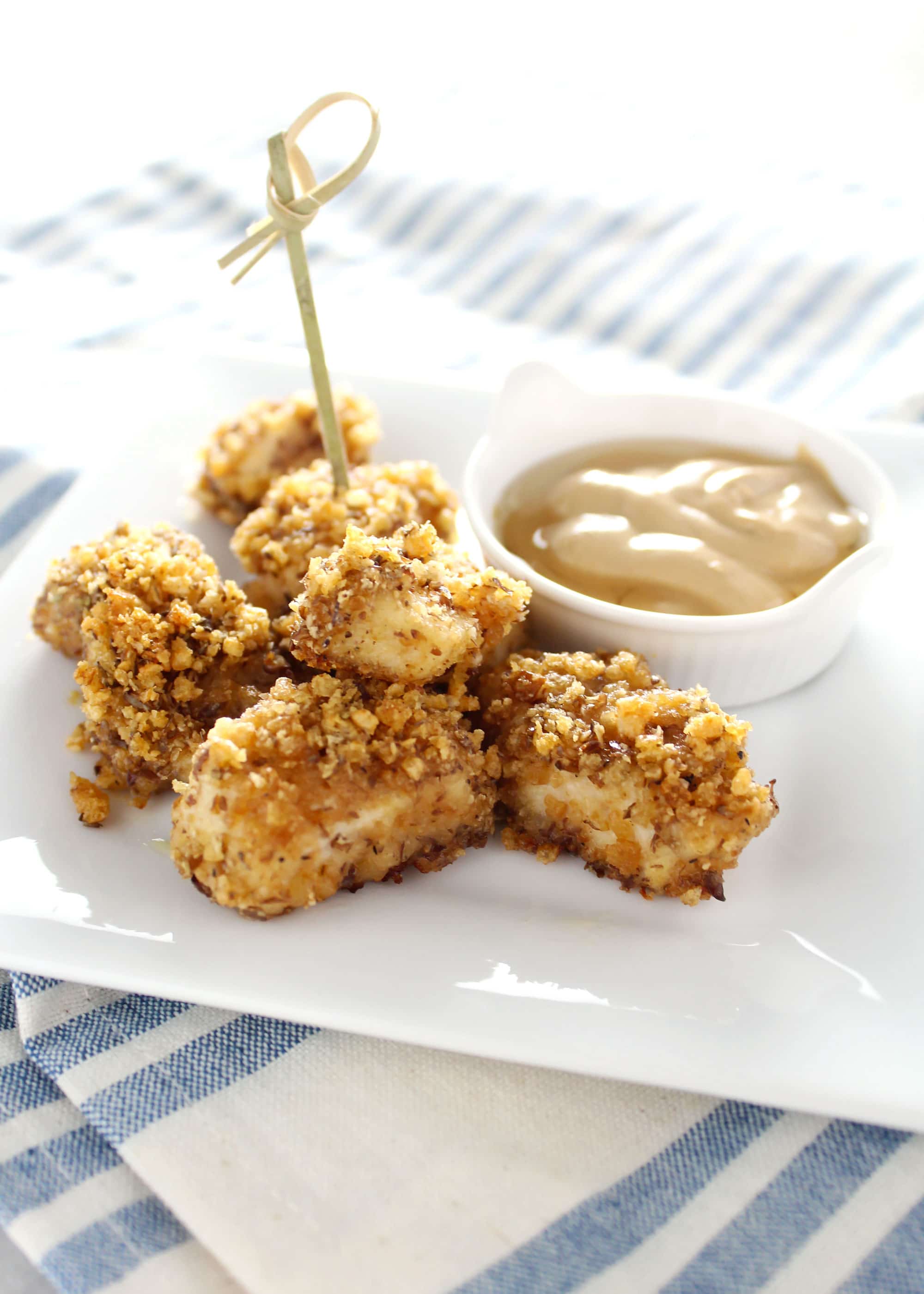 Parmesan Baked Chicken Nuggets
These Parmesan Baked Chicken Nuggets are a healthy option for your kid's lunch or dinner. Made of wholesome ingredients they're a dish everyone will enjoy.
Print
Pin
Rate
Ingredients
2

Boneless, Skinless, Chicken Breasts

1/4

cup

Oil

1

cup

Breadcrumbs

1/2

cup

Ground Flaxseed

1/2

cup

Shredded Parmesan Cheese

1/4

teaspoon

Garlic Powder
Instructions
Preheat the oven to 425 degrees. Slice the Chicken into small nugget-sized pieces.

Pour the Grapeseed Oil into a medium-sized mixing bowl, and toss the cut chicken pieces in the oil. In a separate small mixing bowl whisk the Bread Crumbs, Ground Flaxseed, Parmesan Cheese and Spices together.

Piece by piece, roll the coated chicken into the bread crumb mixture and lay on a rimmed baking sheet. Place in the oven for 10 – 12 minutes. Serve with favorite dipping sauce.
Notes
You can use whatever bread crumb version you like, but I use Ian's Organic Brown Rice Breadcrumbs, which have a similar texture to panko crumbs. I found them at my local grocery store, but here's a gluten-free version that
will work too.
If you make a large enough batch for the week make sure to toast them in the oven (or toaster oven) to reheat them instead of using the microwave. The crumbs will soften during fridge storage, but you can crisp them back up in the oven.
Nutrition
Serving:
1
serving
|
Calories:
180
kcal
|
Carbohydrates:
10
g
|
Protein:
10
g
|
Fat:
11
g
|
Saturated Fat:
2
g
|
Cholesterol:
18
mg
|
Sodium:
188
mg
|
Potassium:
174
mg
|
Fiber:
3
g
|
Sugar:
1
g
|
Vitamin A:
46
IU
|
Vitamin C:
1
mg
|
Calcium:
100
mg
|
Iron:
1
mg