Baked Popcorn Chicken… (pause for emphasis). Did you catch the irony? B-A-K-E-D! Friends, technically, this means it's not really all that bad, but let's be honest because if these are bad then I don't wanna be good. Are you with me?
We're gonna dunk these in a spicy mayo sauce too, which is next level bliss. (I'll insert another pause here so you can continue to salivate and write your grocery list for this recipe…).
Popcorn chicken, made famous by the legendary KFC, aka the fried cousin of this baked version, is a crispy, crunchy bite of chicken perfection and it's going to make your life happier.
Personally, I'm happier knowing I'm not racking up the calories with this recipe because I'm still clinging strong to my January resolutions, but also this is a kid-friendly dinner at its finest.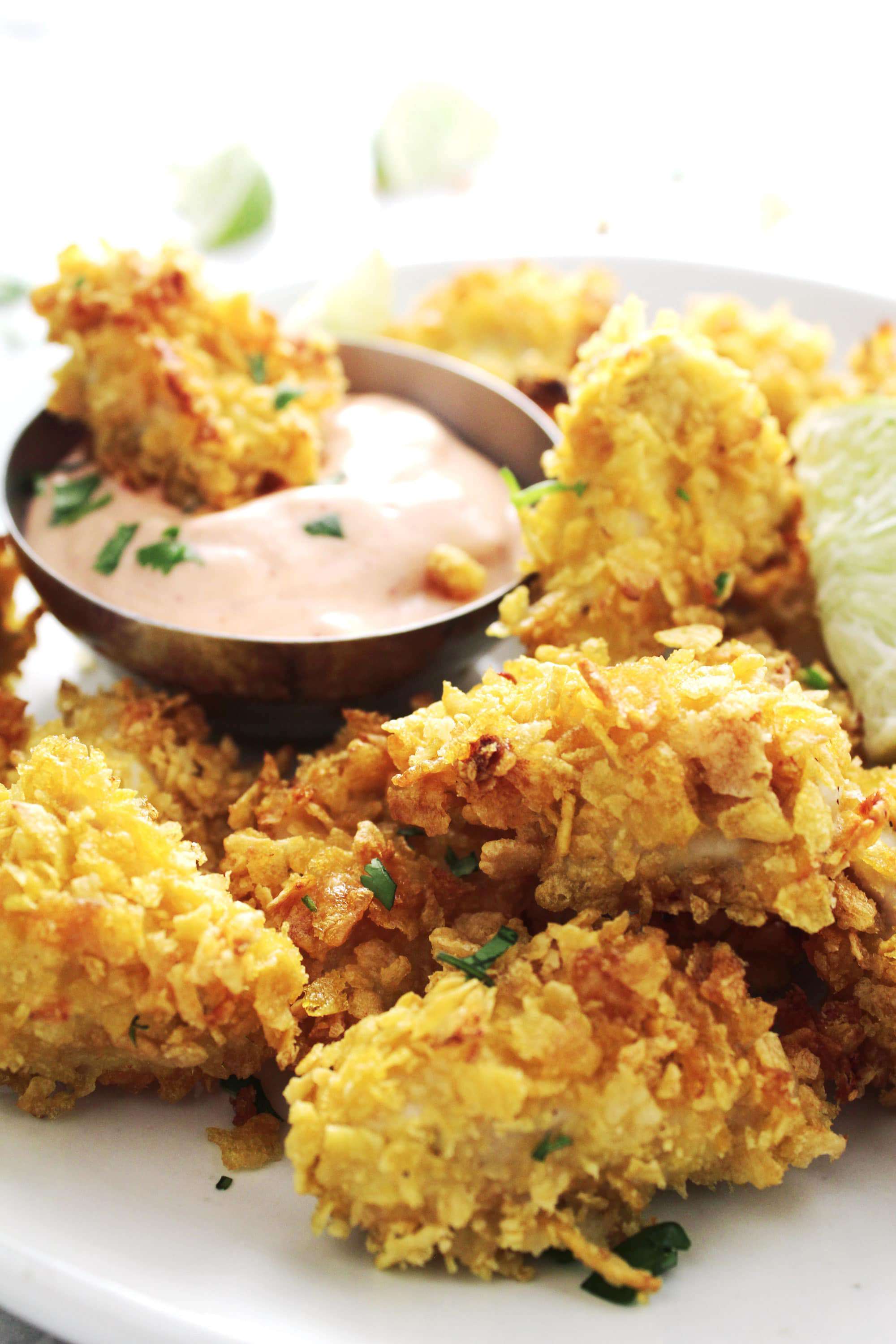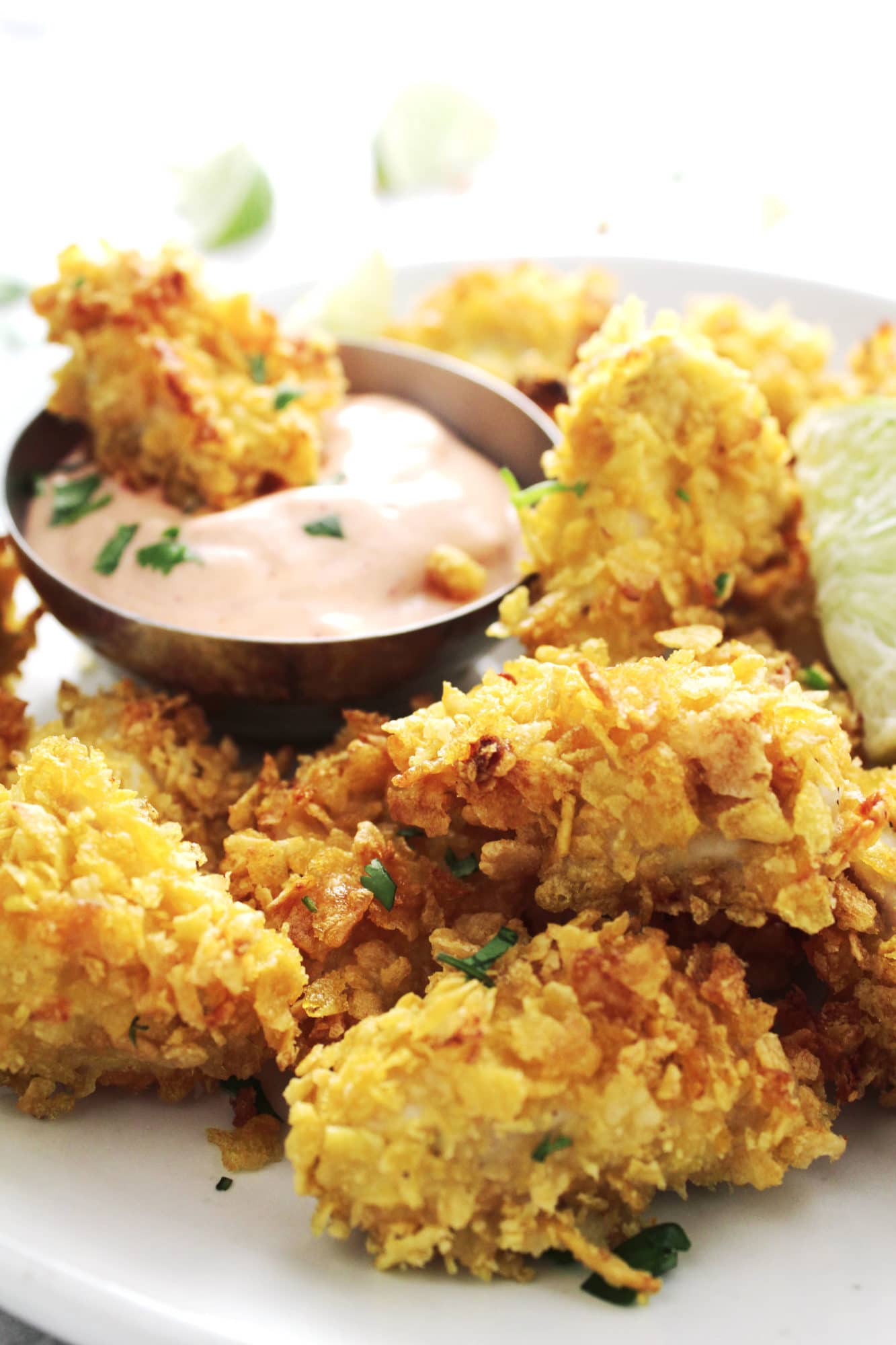 Let me continue to count the ways in which this meal will make your life happier, I believe we're on #4, but I'll recap:
This is popcorn chicken. Really, we could stop there…
This is BAKED popcorn chicken, meaning fewer calories, and a healthier nutrition label. Again, we could stop, but let's keep going.
Baked popcorn chicken is a tried and true kid-friendly dinner.
It's really easy to make this chicken!
I don't know about you, but this alone is enough for me to potentially make this meal once, maybe twice, a week, oh for eternity! Crazy, yes, smart, absolutely!
First: We're going to marinate the chicken in a buttermilk mixture seasoned heavily with spices, because some things just take time, but not too much time (we're talking 30 minutes if you have it).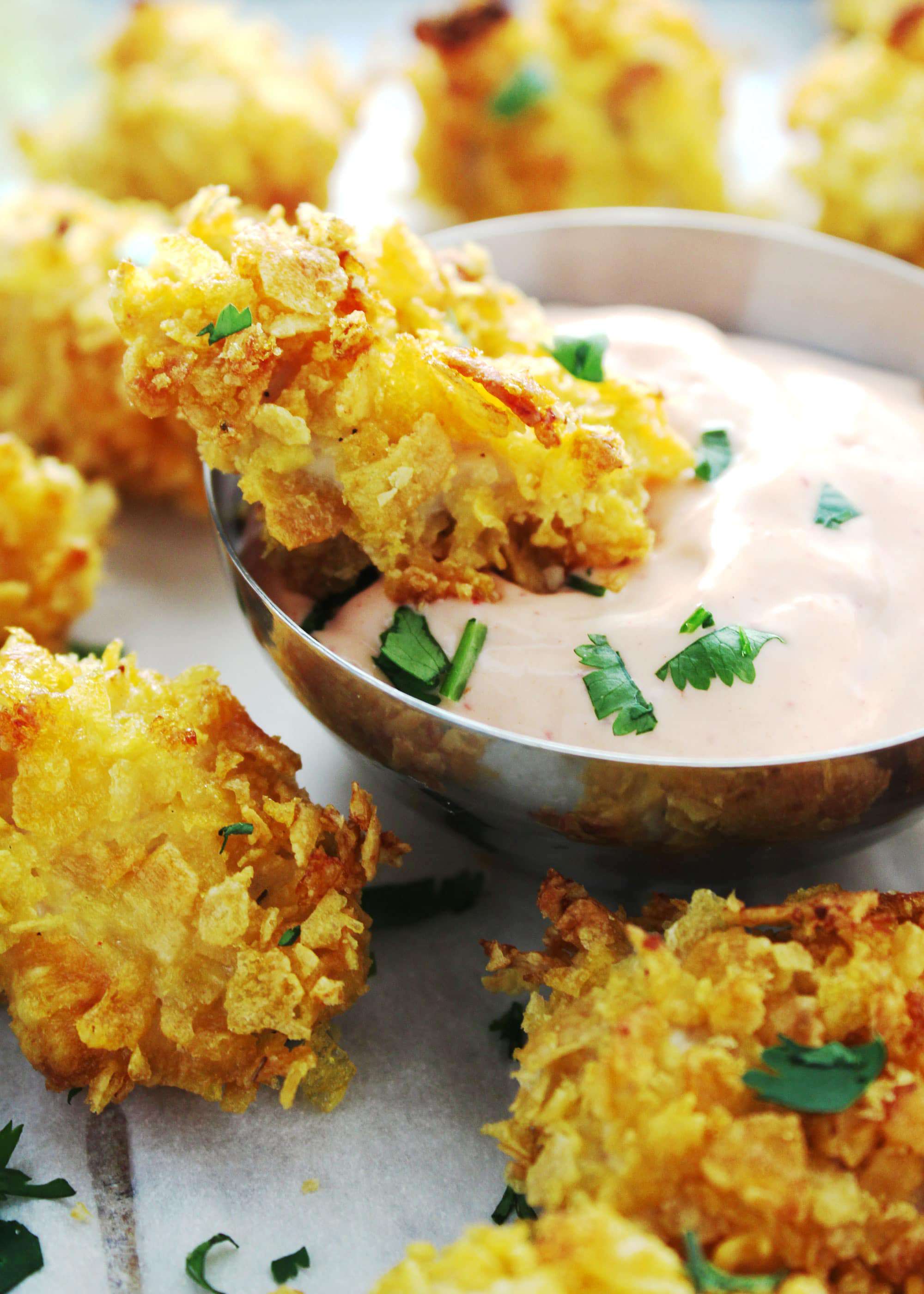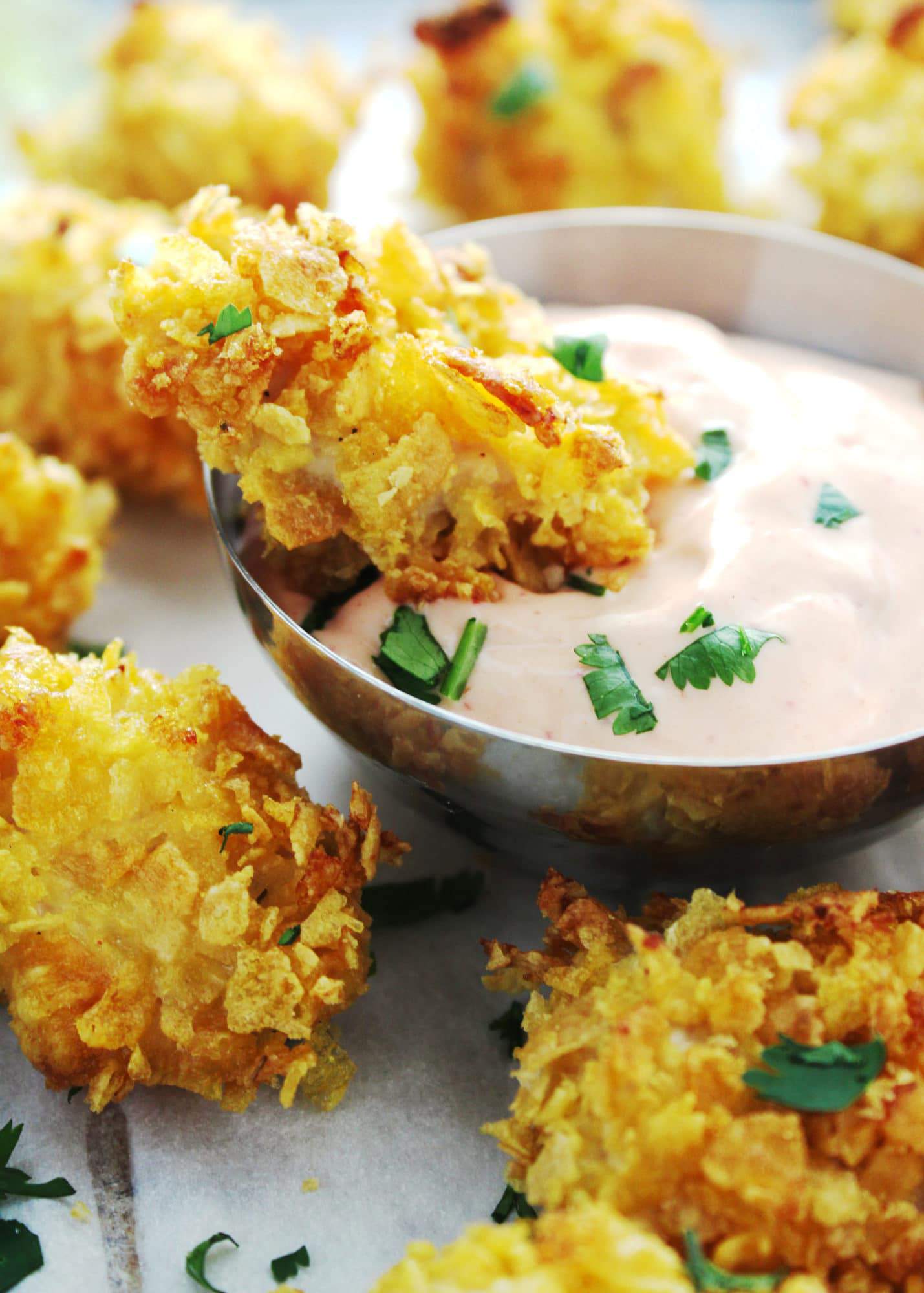 Second: We dredge the marinated chicken into crushed Cornflakes. Yes, the very same cornflakes you ate as a kid and still likely eat, but in organic form because you're a mature adult, and then drizzle some butter on top to add to the crispiness of it all. Bake. Done.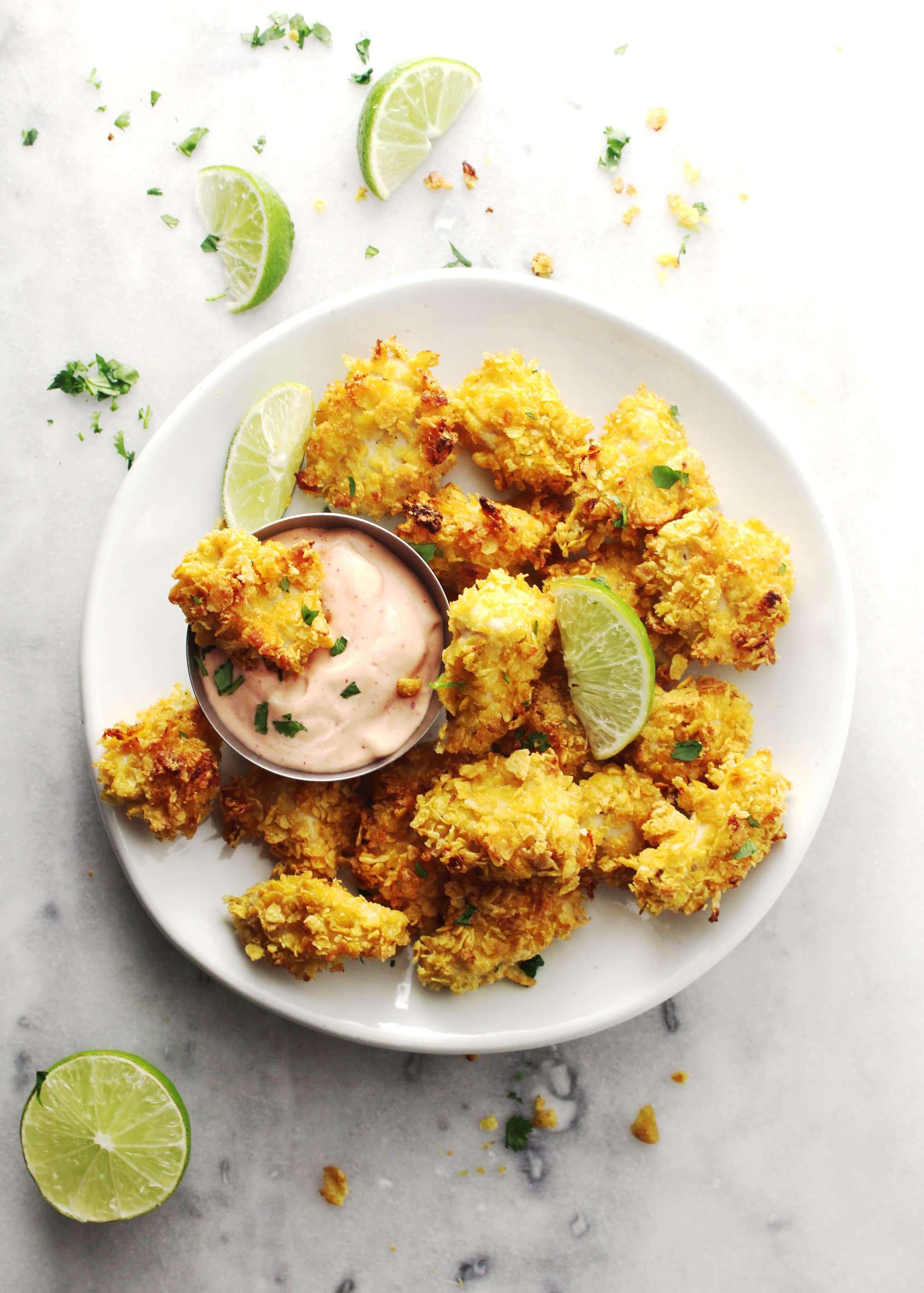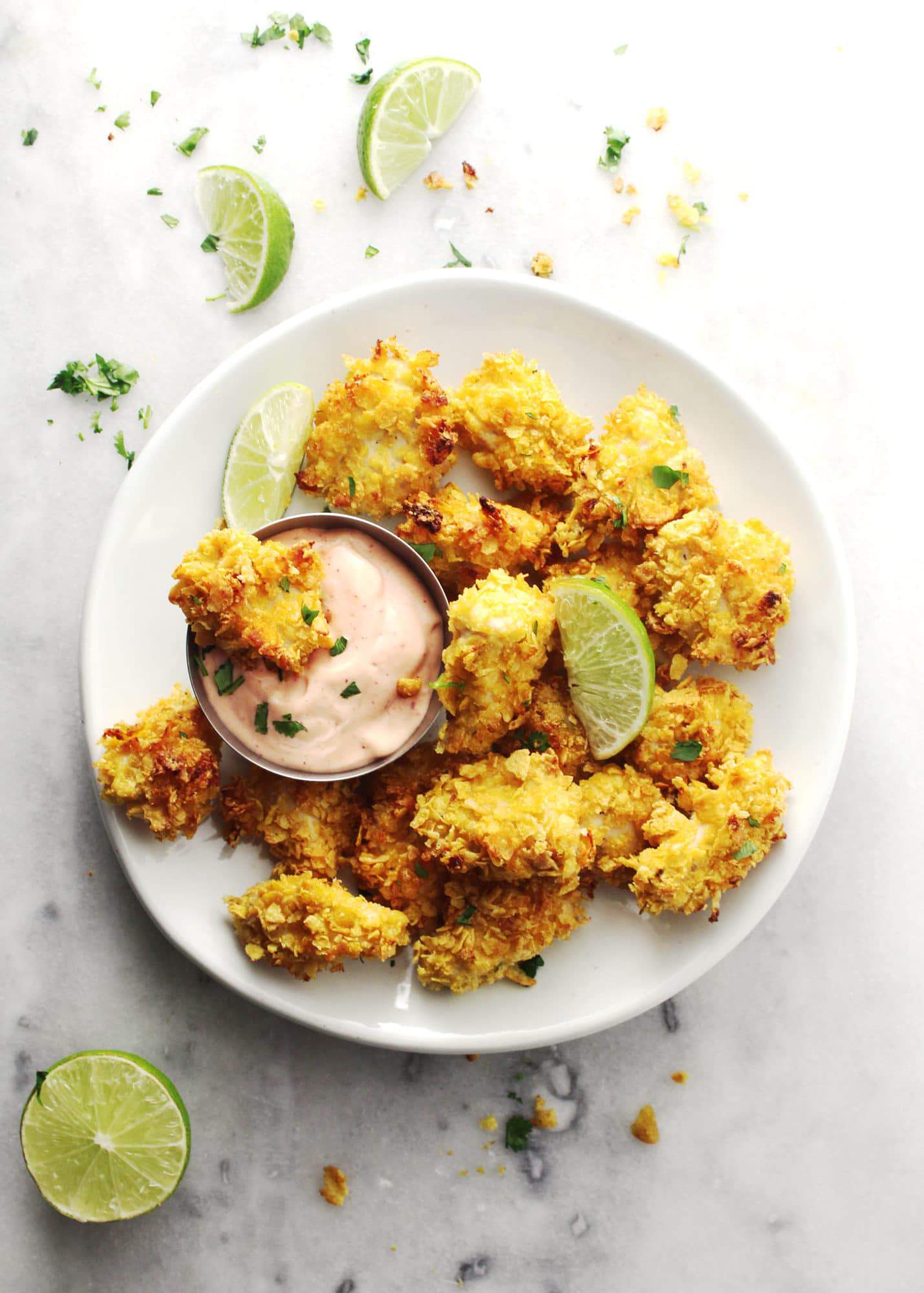 That's basically it if you only want semi-happiness, not next level happiness because if you're willing to take it to the next level there is one minor step left.
Finally: We're going to mix up some spicy mayo sauce to dip it all in because this equals TRUE HAPPINESS!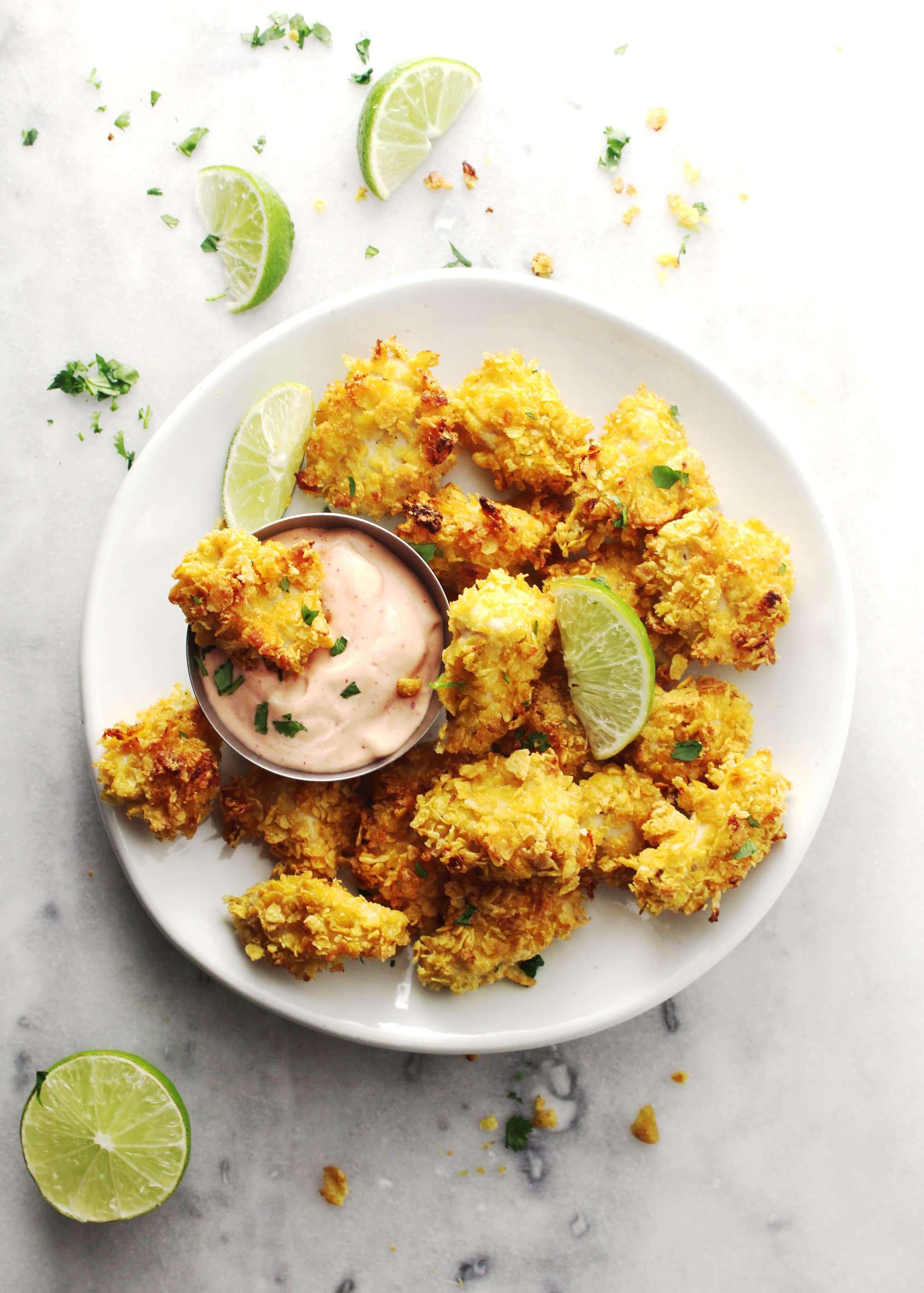 Ingredients
1

lb

Chicken Breast

cut into 2-inch sized pieces

2

cups

Buttermilk

2

tablespoons

Cornstarch

2

large

Eggs

3

Garlic Cloves

minced

1/4

teaspoon

Salt

1/8

teaspoon

Ground Black Pepper

1/8

teaspoon

Cayenne Pepper

optional

3

cups

Cornflakes

1/4

cup

Butter

melted
Instructions
Preheat oven to 400 degrees. Spray a cooling rack with nonstick spray and set on a baking sheet; set aside.

Dissolve the cornstarch into the buttermilk by whisking the ingredients together in a large mixing bowl. Add the eggs, garlic cloves, salt, pepper, and cayenne pepper and whisk until incorporated.

Add the chicken to the marinade and toss to coat. Cover and place in the fridge to marinate for 30 minutes.

Drain the chicken from the marinade and working in batches dredge the chicken in the crushed cornflakes, pressing to coat evenly. Set the chicken pieces on the prepared baking sheet

Bake the chicken for 20 to 25 minutes, removing halfway through to rotate them.
Nutrition
Serving:
1
Serving
|
Calories:
218
kcal
|
Carbohydrates:
14
g
|
Protein:
16
g
|
Fat:
10
g
|
Saturated Fat:
6
g
|
Trans Fat:
1
g
|
Cholesterol:
105
mg
|
Sodium:
347
mg
|
Potassium:
333
mg
|
Fiber:
1
g
|
Sugar:
4
g
|
Vitamin A:
562
IU
|
Vitamin C:
3
mg
|
Calcium:
84
mg
|
Iron:
4
mg