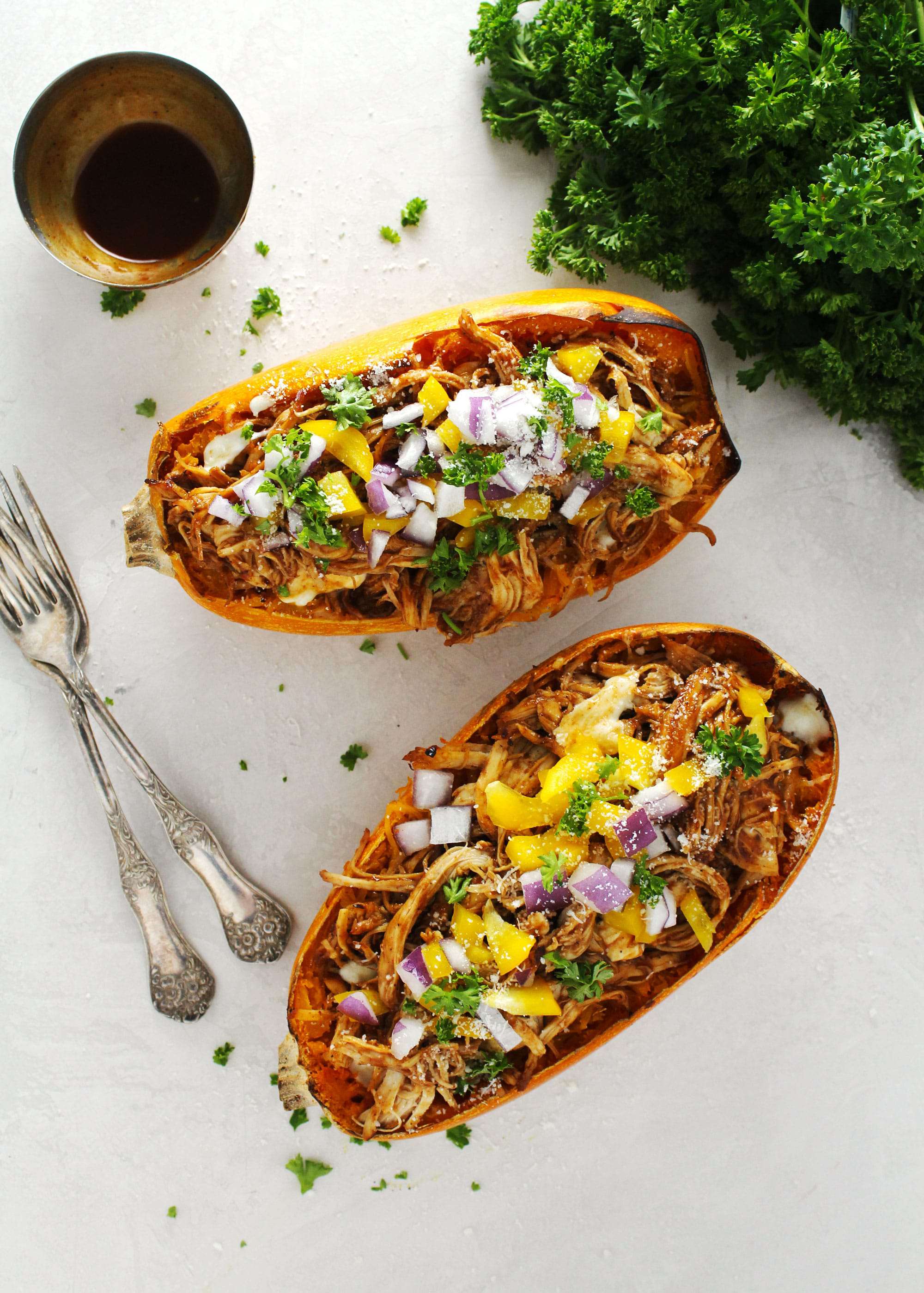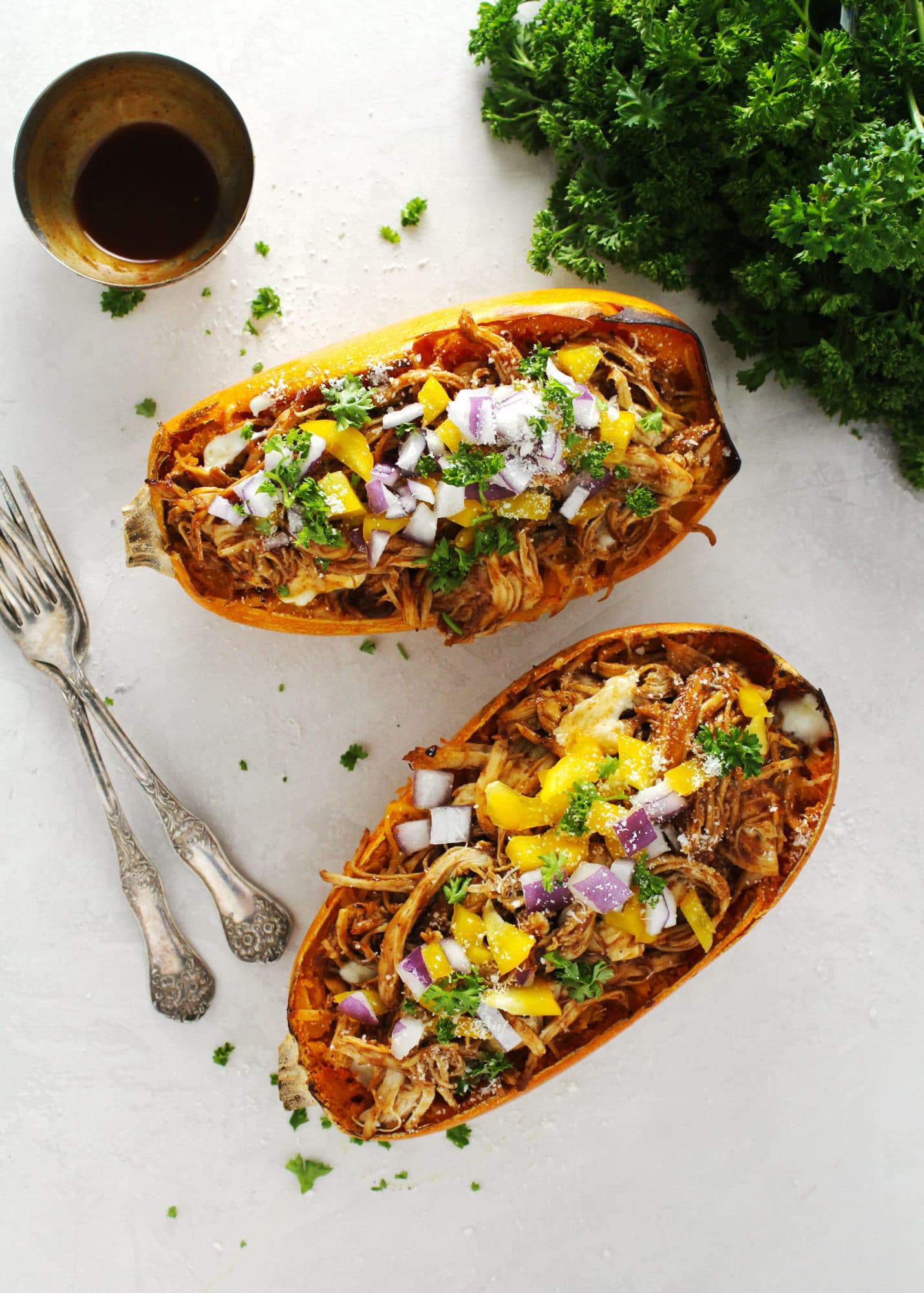 You know those dishes that taste absolutely amazing, but don't actually look all that appetizing, like the meatloafs and most casseroles of the world? Well, this Barbecue Stuffed Spaghetti Squash somewhat falls into the food realm.
Taste-wise these stuffed vegetables are out-of-this-world with their tangy flavored barbecue chicken mixed in with the melty mozzarella, topped with even more delicious vegetables. No one is going to deny those flavors! You're going to have to take my word for it and dig right in…
Beauty is on the inside here (life truths friends!). Let me show you:
Perfectly cooked with a slight crisp spaghetti squash
Barbecue chicken, which is always a good idea
CHEESE, mozzarella cheese!
Topped with even more vegetable
That's a whole lotta yumminess stuffed into one spaghetti squash no matter how it looks.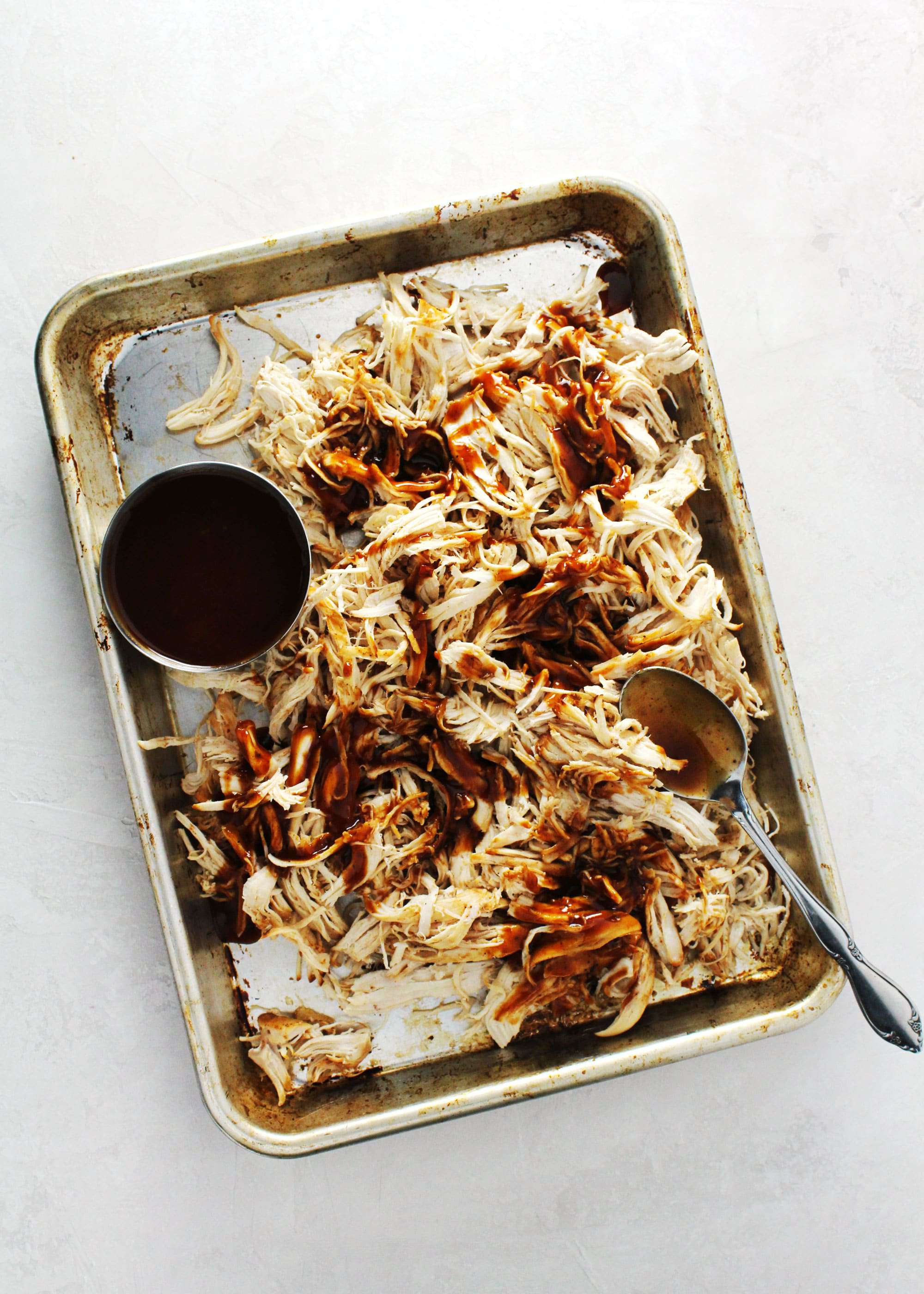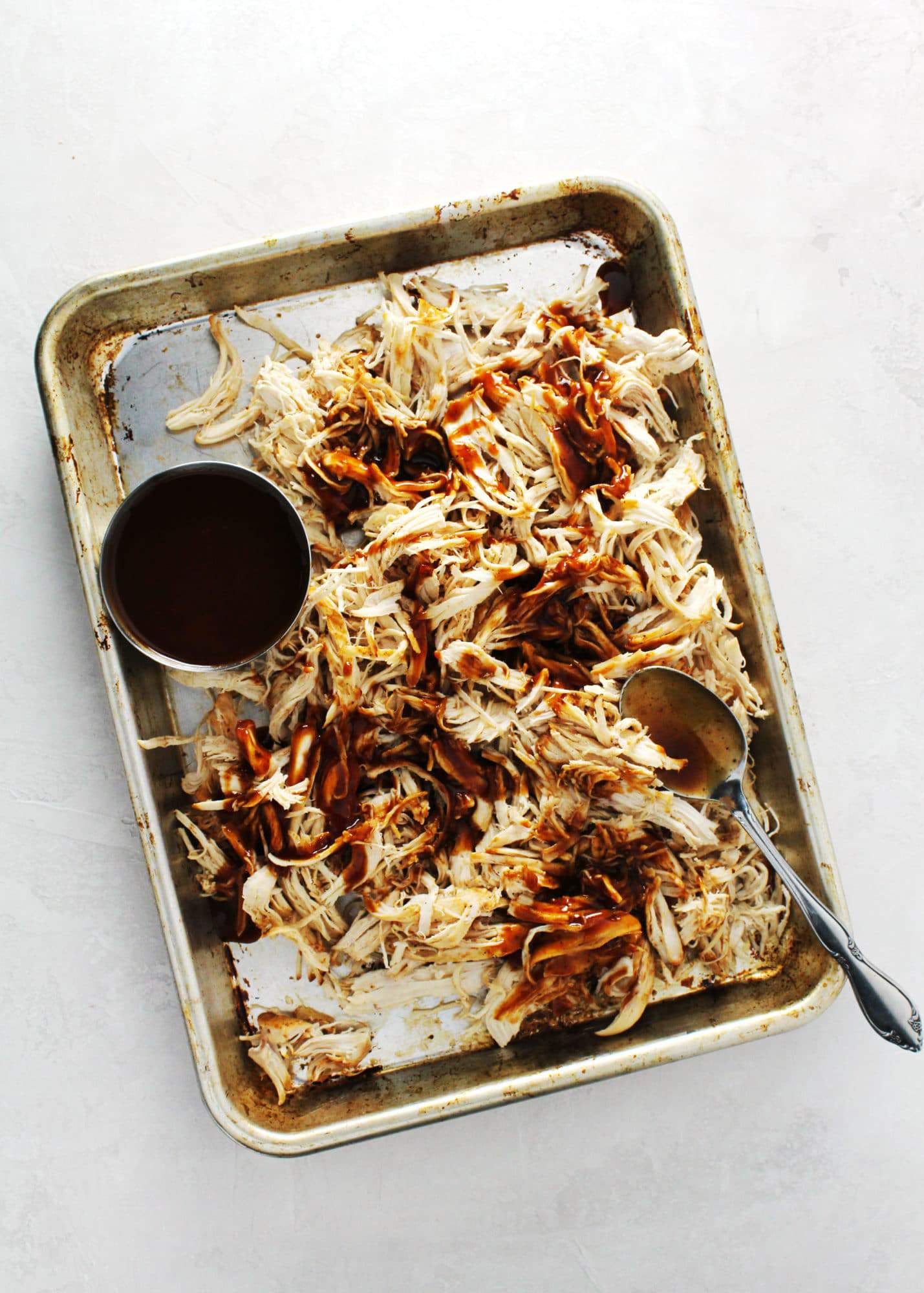 It all started when I went to buy the spaghetti squash in the first place and the only option available were some kind of brightly colored orange squash.
I had the color scheme all sketched out in my head for how these stuffed squash would look, but to my completely oblivious food blogging self (amateur alert!) there is a version of spaghetti squash known as "orangetti." Right. Basically, it's the EXACT same thing as it's yellow cousin, but just orange. I don't know.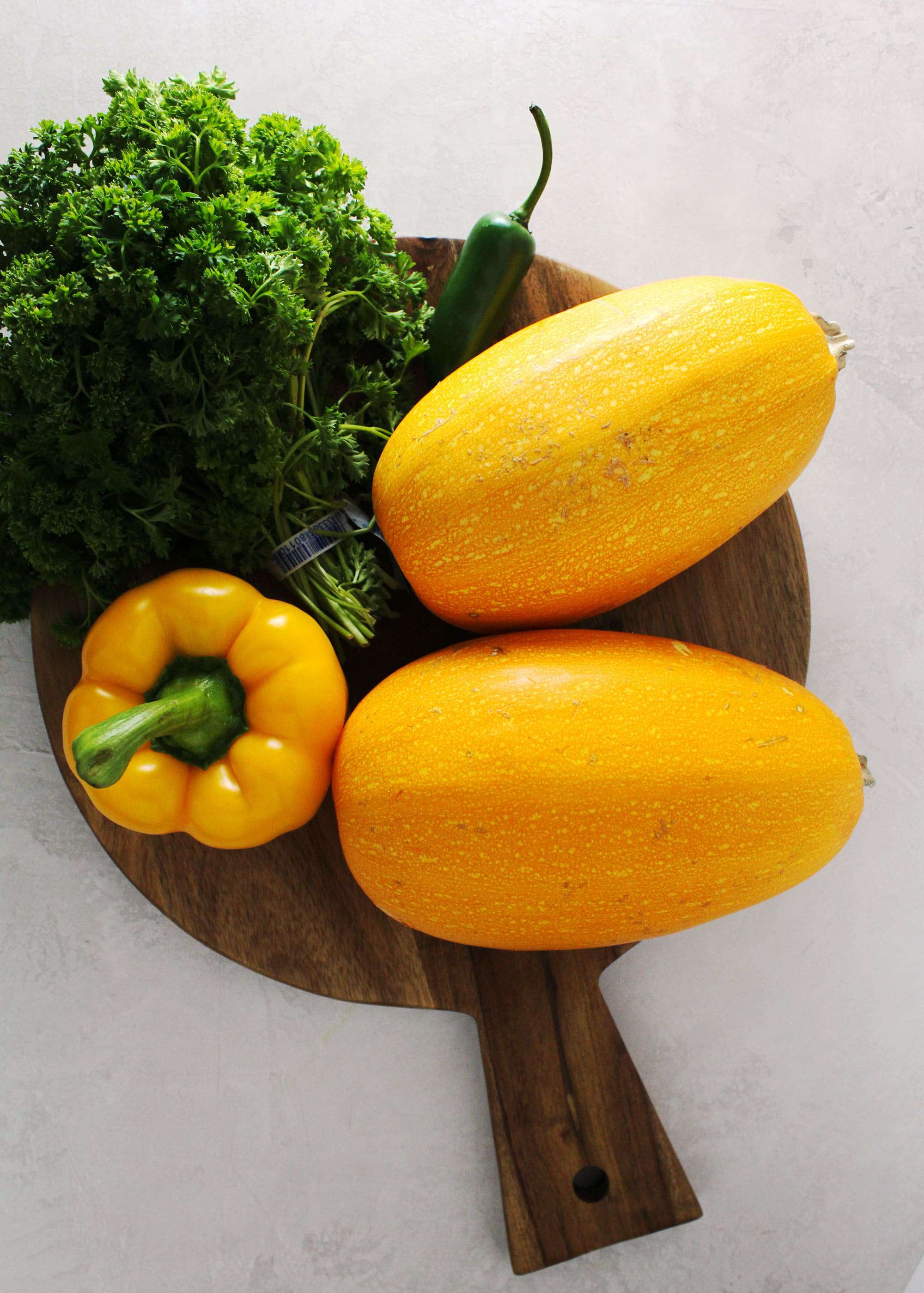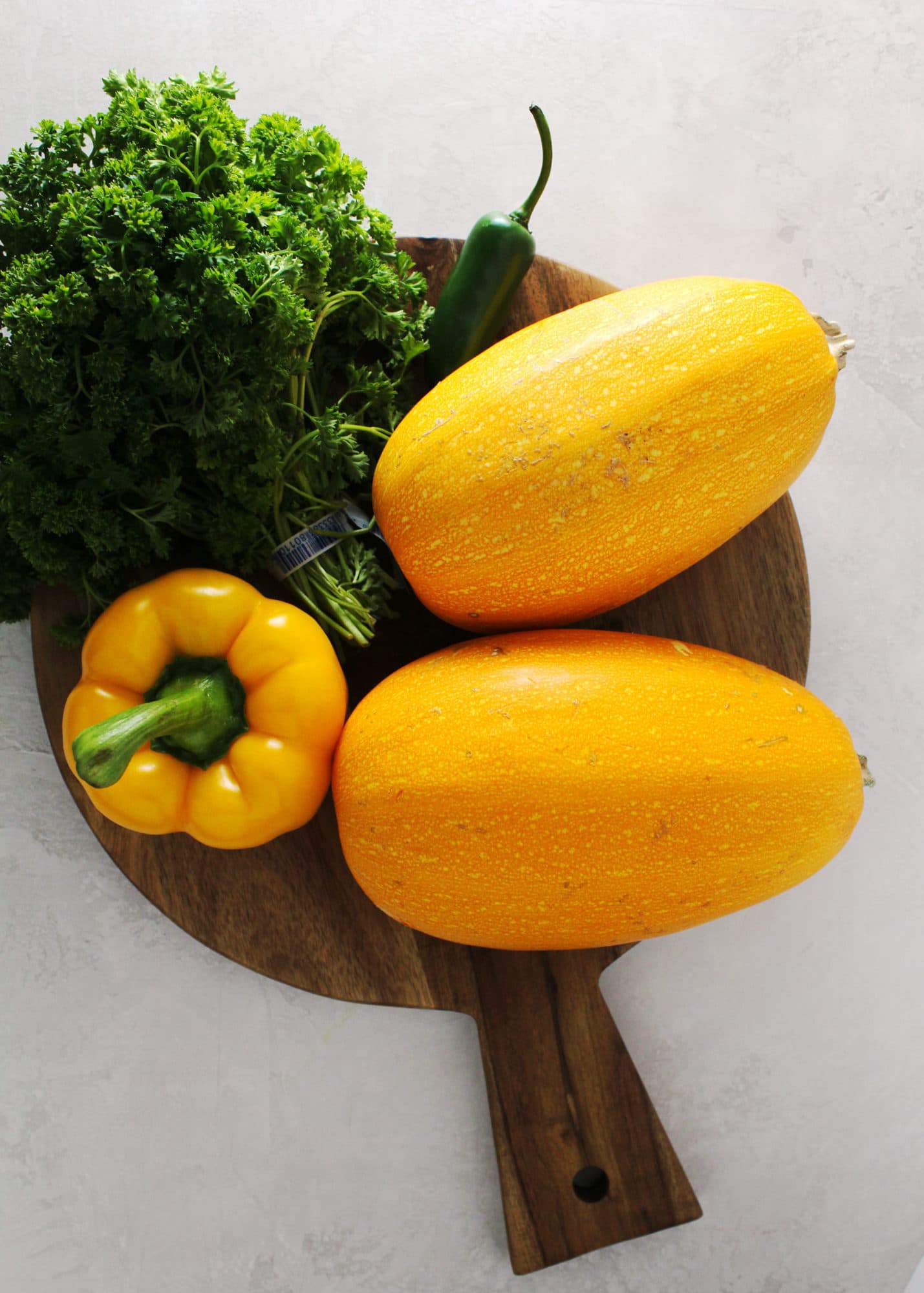 Well, then as I was setting up my photo shoot for this recipe I made another amateur move and sat the squash directly on my brand new Erickson Woodworks background and began shooting, only to find an annoying and completely unremovable orange stain afterwards.
So I became mad at this dish and thus decided to punish it by not posting it. Ha! I'll show you orangetti spaghetti squash, or whoever you are!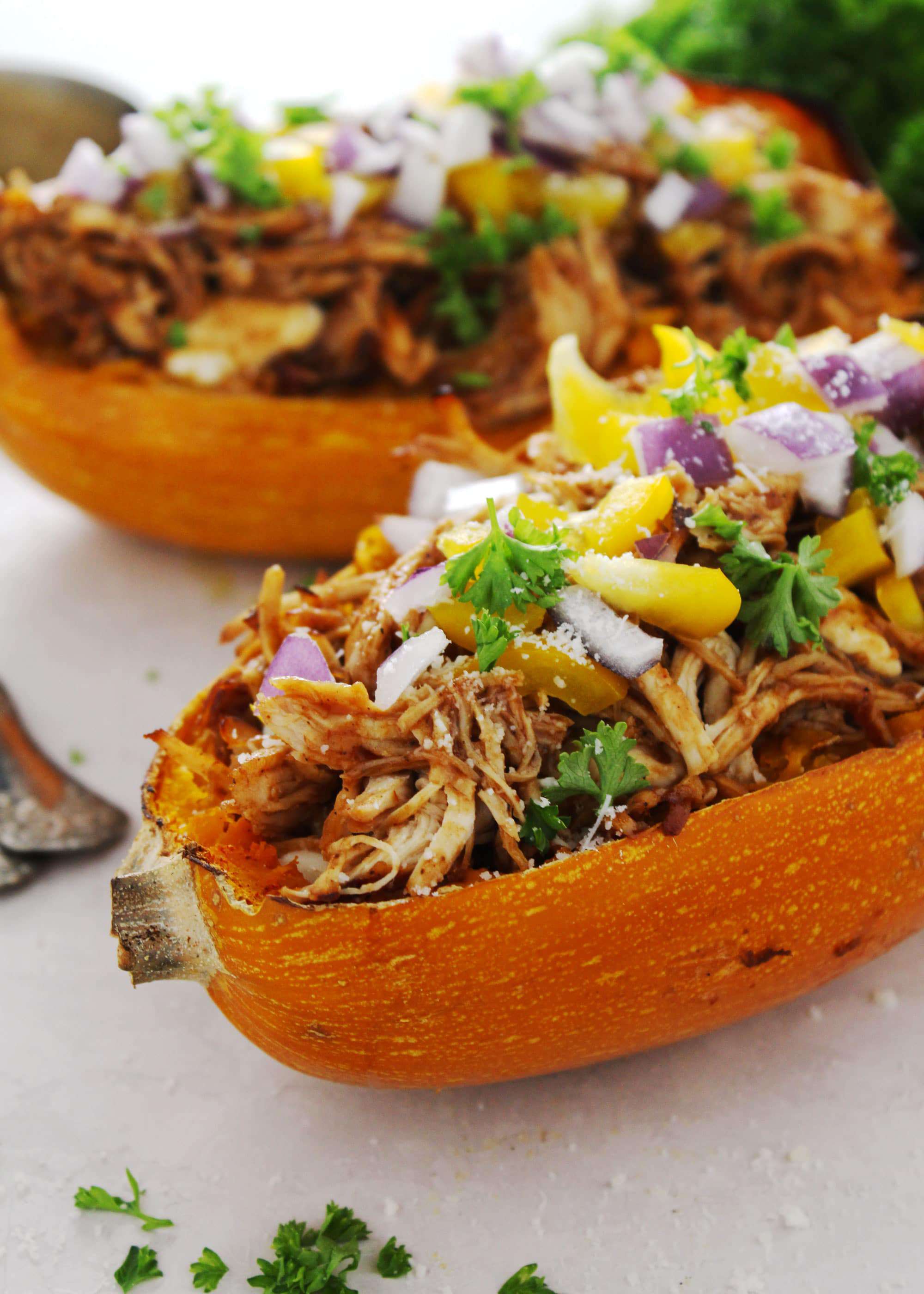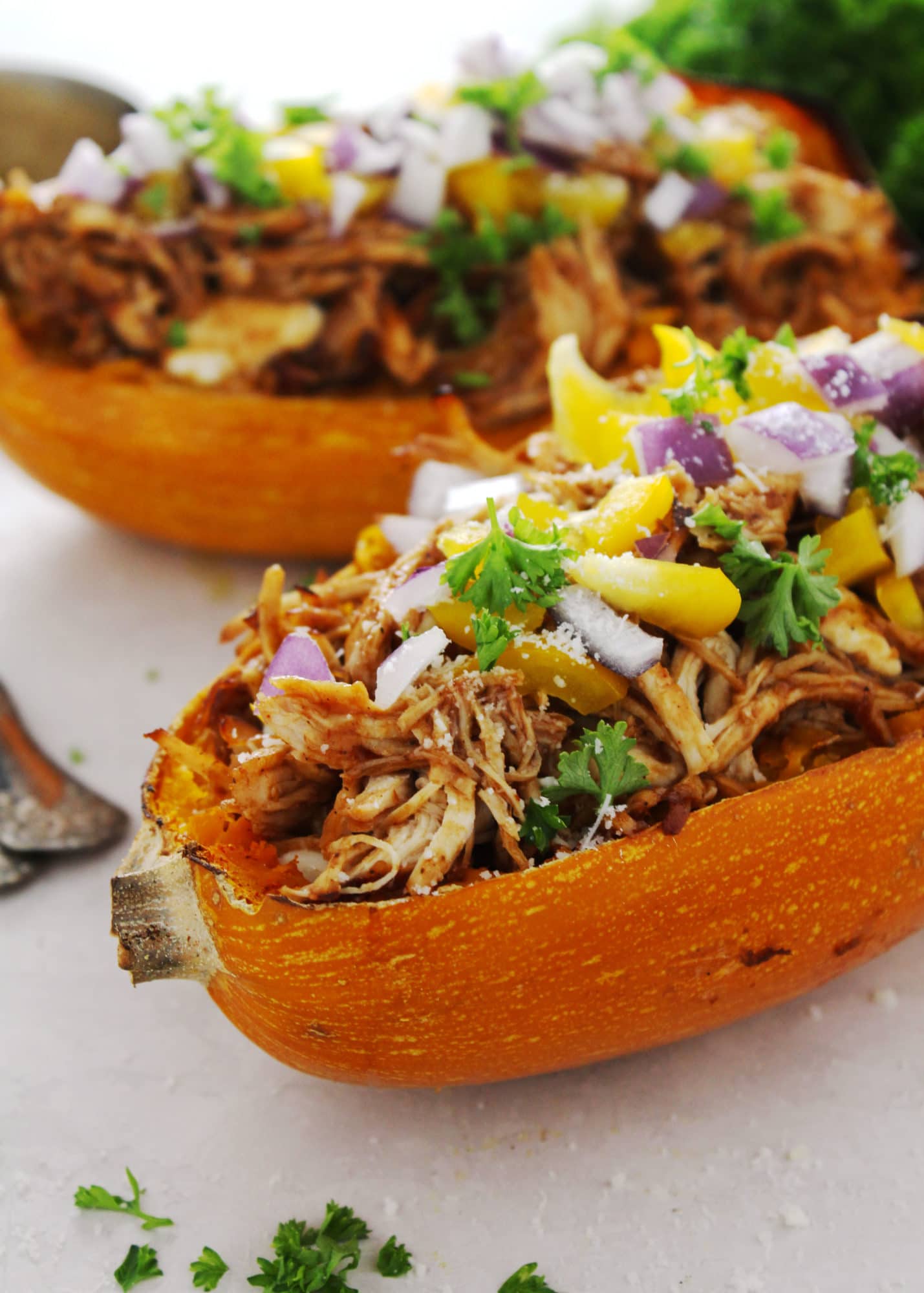 Then summer happened and vacations and I wasn't able to prepare as many recipes (or rather I ran out of energy to prepare such meals) for the blog and was sort of forced to pull this recipe out of the "dungeon of banished shoots."
I discretely posted one of the pics on Instagram asking if anyone would indeed be interested in this dish that brought me so much angst. Turns out there were many.
To those of you who said yes to this absolutely delicious meal, which I highly recommend making, just not shooting, here it is without further ado.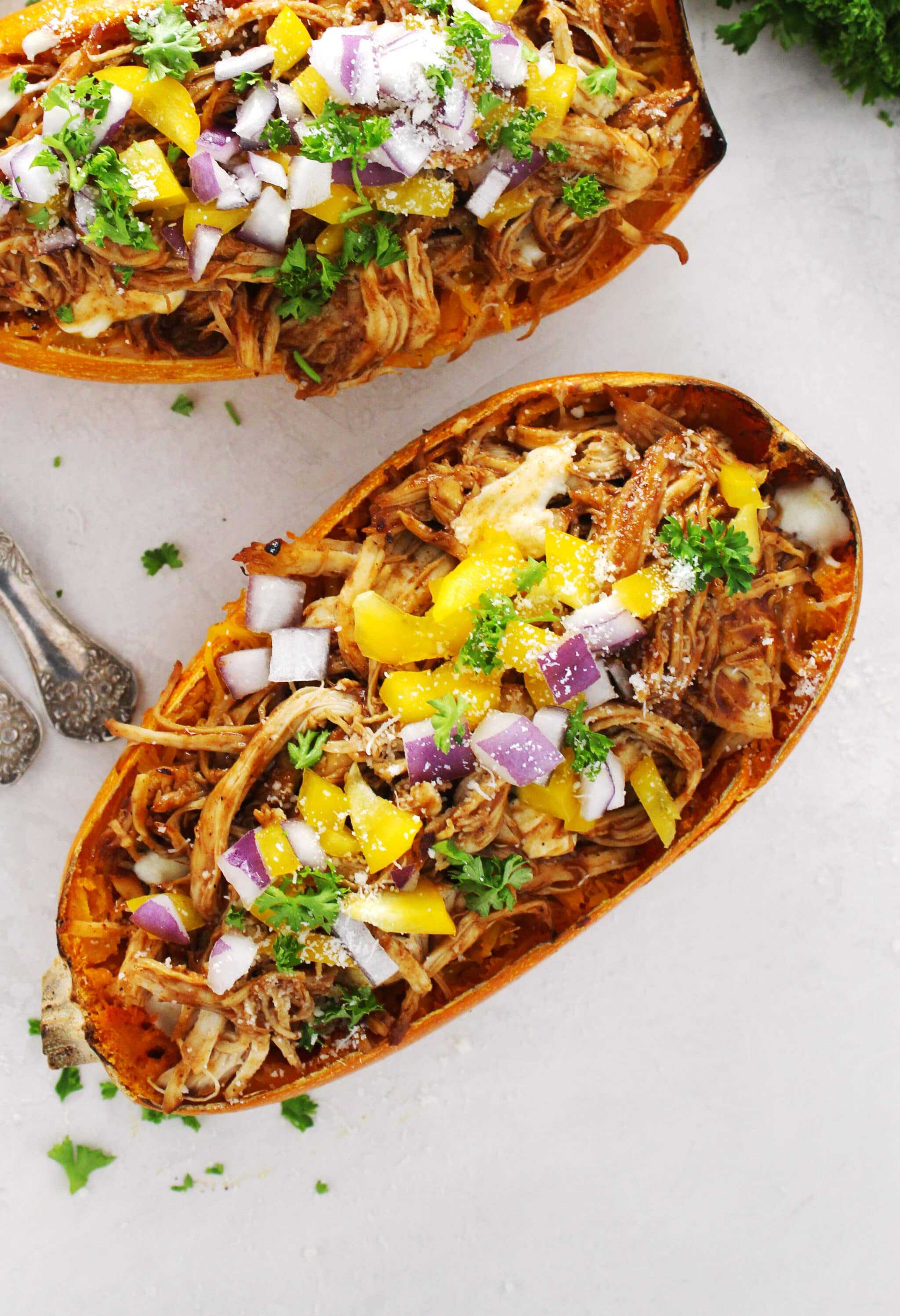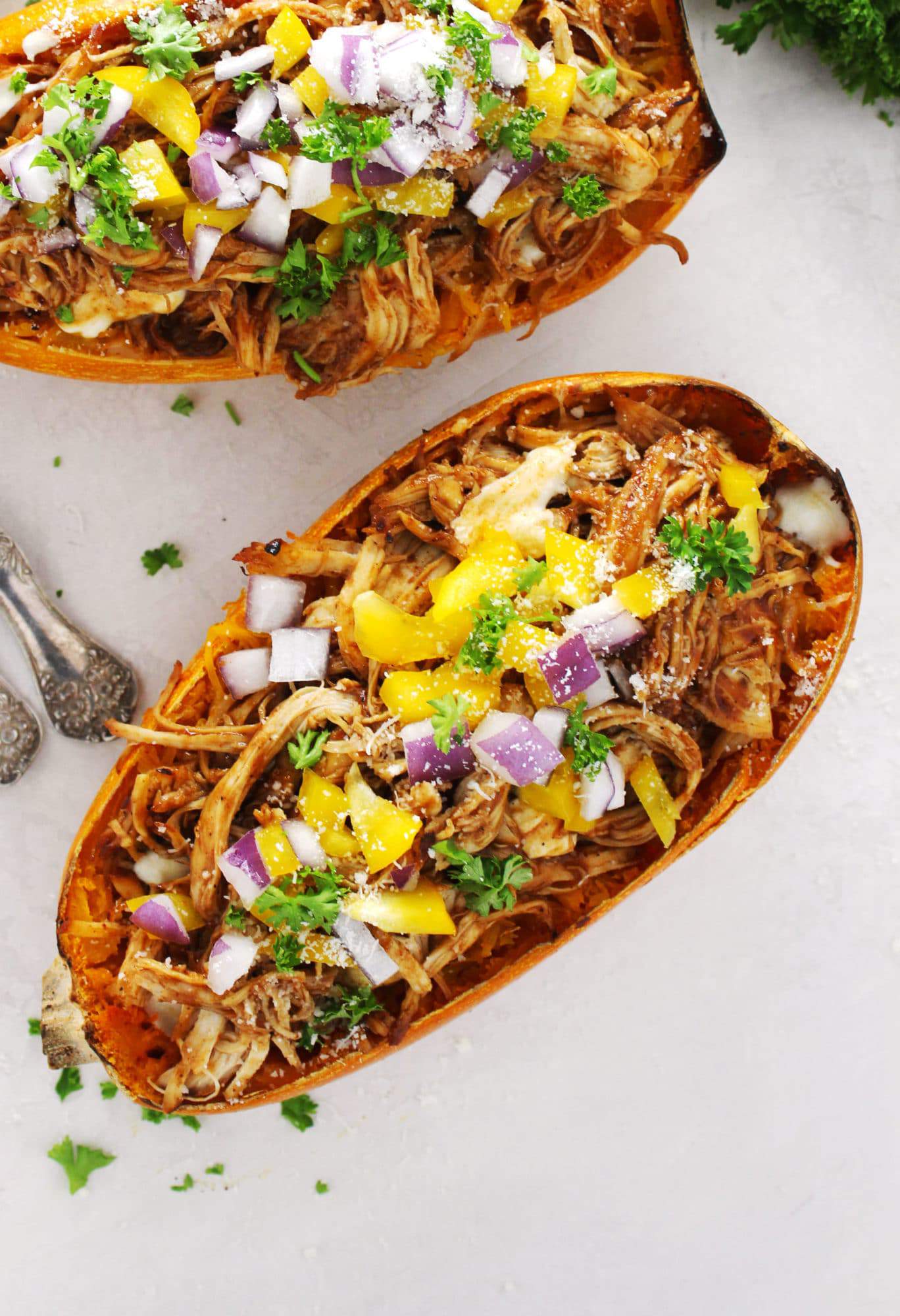 Remember, the beauty is on the inside friends!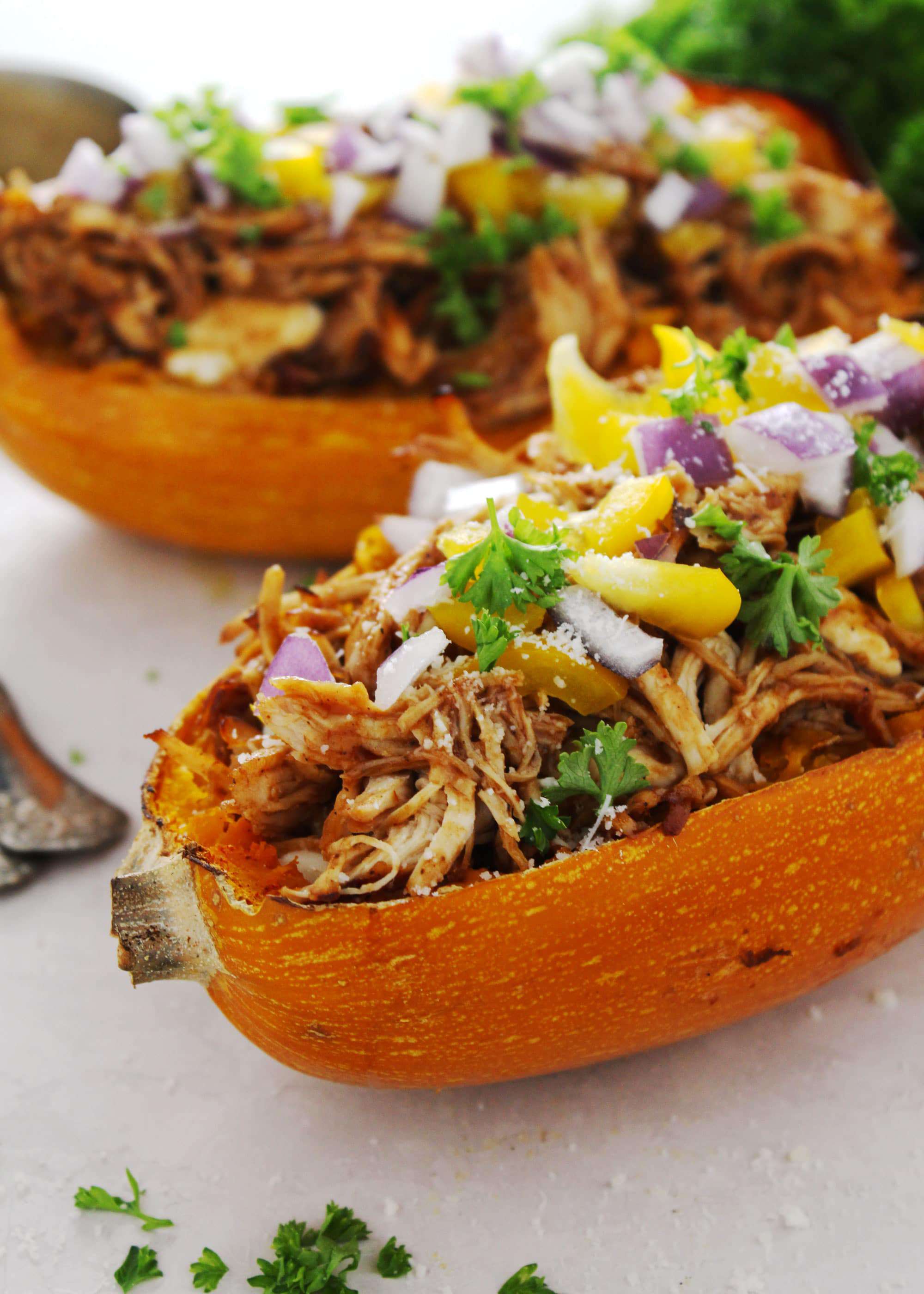 Ingredients
2

Spaghetti Squash

2

tablespoons

Olive Oil

2

cups

Rotisserie Chicken

1

cup

Barbecue Sauce

1/2

cup

Bell Pepper

diced

1/4

cup

Red Onion

diced

1/2

cup

Shredded Mozzarella Cheese
Instructions
Using a small knife carefully poke holes in the spaghetti squash all the way around. Place several paper towels in the microwave and lay the squash on top and heat for 10 minutes. Using an oven mitt rotate each squash to the other side and then cook again for an additional 8 minutes.

Slice the spaghetti squash in half and remove the center seeds with a fork. Drizzle with olive oil and place on a rimmed baking sheet to cook for about 5 minutes or until the edges begin to brown.

Using a fork strip the rotisserie chicken from the bone and place it into a medium-sized bowl. Toss the pulled chicken with the barbecue sauce.

Layer the barbecue chicken on top of the spaghetti squash and top with the chopped bell pepper, red onion, and mozzarella cheese.

Place the stuffed spaghetti squash back into the oven for another 3 to 4 minutes to melt all that cheese and toast the veggies on top (make sure to watch it so it doesn't burn).
Notes
Slow Cooker BBQ Chicken: Place all BBQ Chicken ingredients (Chicken Breast, Olive Oil, BBQ Sauce) listed above in a slow cooker and cook on high for 3 to 4 hours. Shred chicken using 2 forks. Stove Top BBQ Chicken: Heat medium skillet over medium-high heat and coat with Olive Oil. Place chicken breasts in skillet, cover, and cook 5 minutes. Turn chicken, replace the cover, and cook an additional 5 minutes. Once the chicken has reached an internal temp of 160 pour in the BBQ Sauce and cook an additional 2 minutes. Shred chicken using two forks.
Nutrition
Serving:
1
Serving
|
Calories:
604
kcal
|
Carbohydrates:
65
g
|
Protein:
40
g
|
Fat:
23
g
|
Saturated Fat:
6
g
|
Cholesterol:
125
mg
|
Sodium:
1316
mg
|
Potassium:
752
mg
|
Fiber:
8
g
|
Sugar:
38
g
|
Vitamin A:
1418
IU
|
Vitamin C:
35
mg
|
Calcium:
209
mg
|
Iron:
2
mg