Tender and juicy beef, marinated with bold flavor and stir-fried with crispy broccoli and sticky soy, sugar, and vinegar sauce. Making this Easy Beef and Broccoli Stir Fry Recipe is quick and simple.
Try this delicious 15-Minute Miso Glazed Shrimp Stir-Fry next.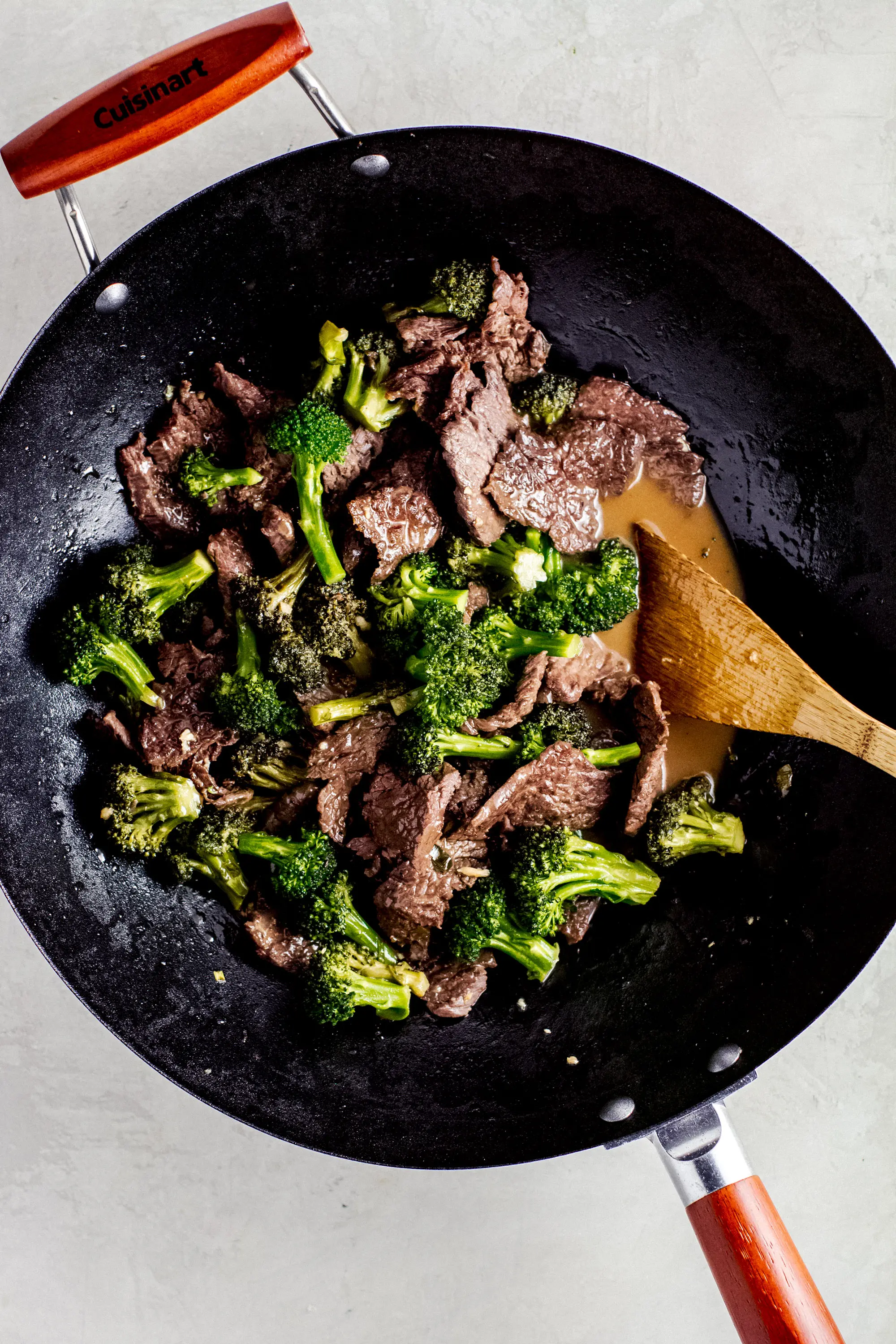 Beef and Broccoli Stir Fry
I've sat at my computer screen for 3 nights in a row. Three nights where I've willed the words to type themselves across the screen and land as profoundly as Carrie Bradshaw's eloquent thoughts click, click, clicking seamlessly across the page.
For three nights I've continued to stare at a blank screen wondering what on earth could I possibly say about beef and broccoli stir-fry that has any hint of significance, let alone have profound meaning.
This is, after all, a food blog and certainly not a reoccurring New York Times editorial column.
Significance can be an odd bird though because not only is it a feeling, it's also a concept. A yearning deep within us that brings up other feelings of insecurity bubbling to the surface. Certainly, there are times we view our significance as insignificant, if not often.
Truly though we are all significant.
Some are called to do great works and help thousands and millions, but others are called to do smaller acts of service, changing diapers, keeping the house in somewhat order, mustering up the energy to cook dinner.
Sometimes these callings are seasonal and sometimes they're life journies. Neither calling is insignificant and when you view your work through divine eyes rather than worldly eyes you'll notice the beautiful significance.
Recently, I pictured myself effortlessly tossing up simple and healthy stir-fry recipes for dinner. Beef and broccoli stir-fry, or any stir-fry for that matter, seemed a straightforward dish to prepare.
So I bought a wok! Obviously, I thought you need a wok to make a stir-fry (side note: you don't actually need a wok). Why then were my vegetables soggy, my meat leather-tough, and my sauce watery? I'd used my new wok for goodness sake!
Apparently, there are significant steps and techniques, while simple they are also important. Knowing which steak to use and how to cut it are crucial bits of information. Key ingredients in the marinade which significantly impact the taste are vital parts of the whole.
Knowing the exact amount of time to cook the vegetables is imperative for achieving the perfect texture. None of the steps techniques are complicated, but they are all important. Owning a wok turned out to be the least important of all.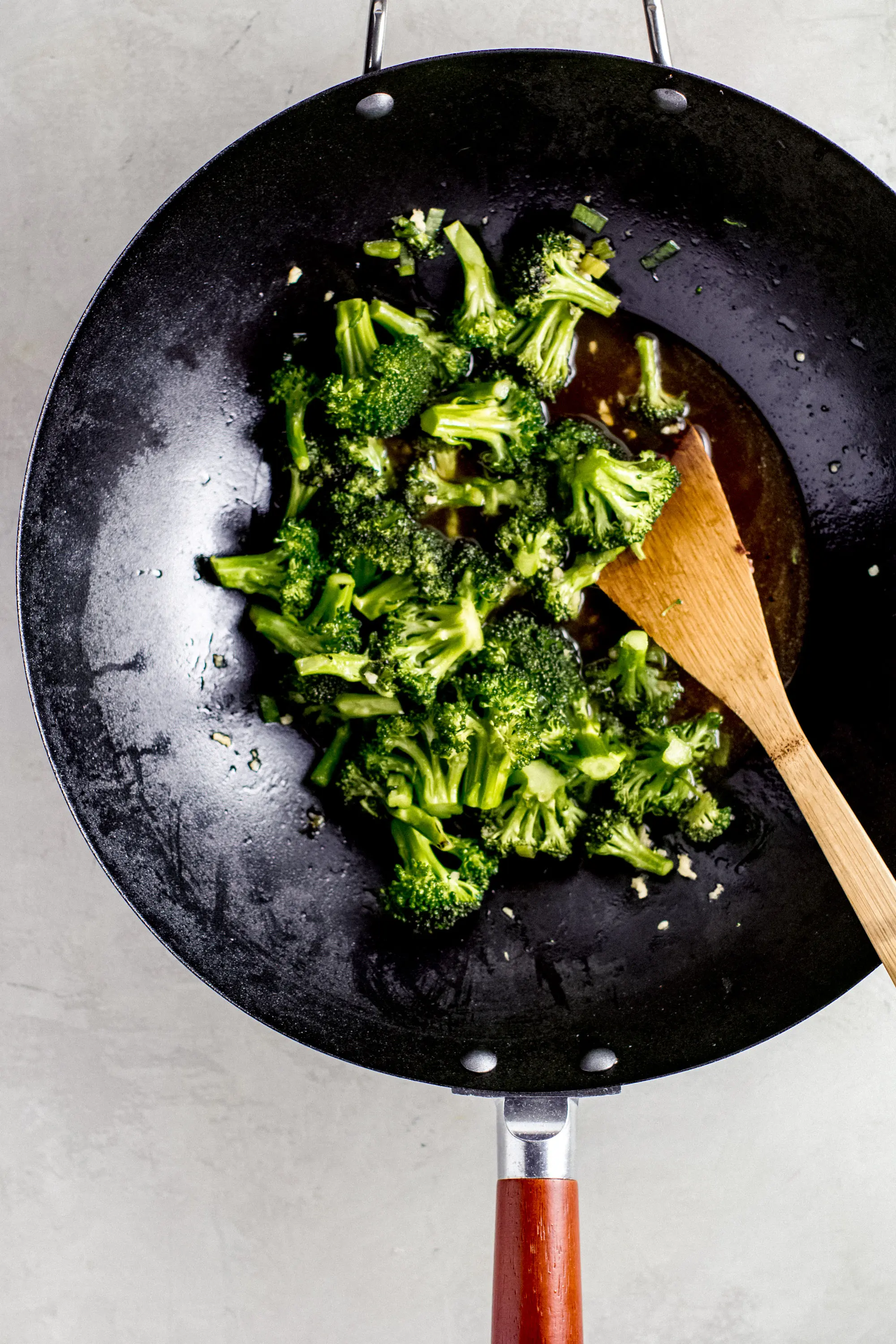 Tips for Preparing Stir-Fry
Stir-frys are generally quick in preparation and require you to stay near the skillet or wok while cooking.
Watching the vegetables and meat you're cooking will allow you to determine if they're turning soggy or starting to sear. In each case remove the ingredients and move on to the next step.
As with anything a little practice always helps. The more you attempt to make a stir-fry they better you'll get.
What if I don't have Peanut Oil
If you don't have peanut oil or have a peanut allergy then you can easily swap for another. Make sure the oil you choose has a smoke point. Some are listed below.
Grapeseed Oil
Avocado Oil
Almond Oil
Canola Oil
Safflower Oil
Stir Fry Marinade
As I suggested above there are key steps to achieving the perfectly tender pieces of stir-fried beef. Marinating it directly after slicing is step two after properly slicing it. A marinade comprised of soy sauce, rice wine or sherry, cornstarch, and baking soda to elevate the pH. It also flavors the meat while keeping it tender during the cooking process.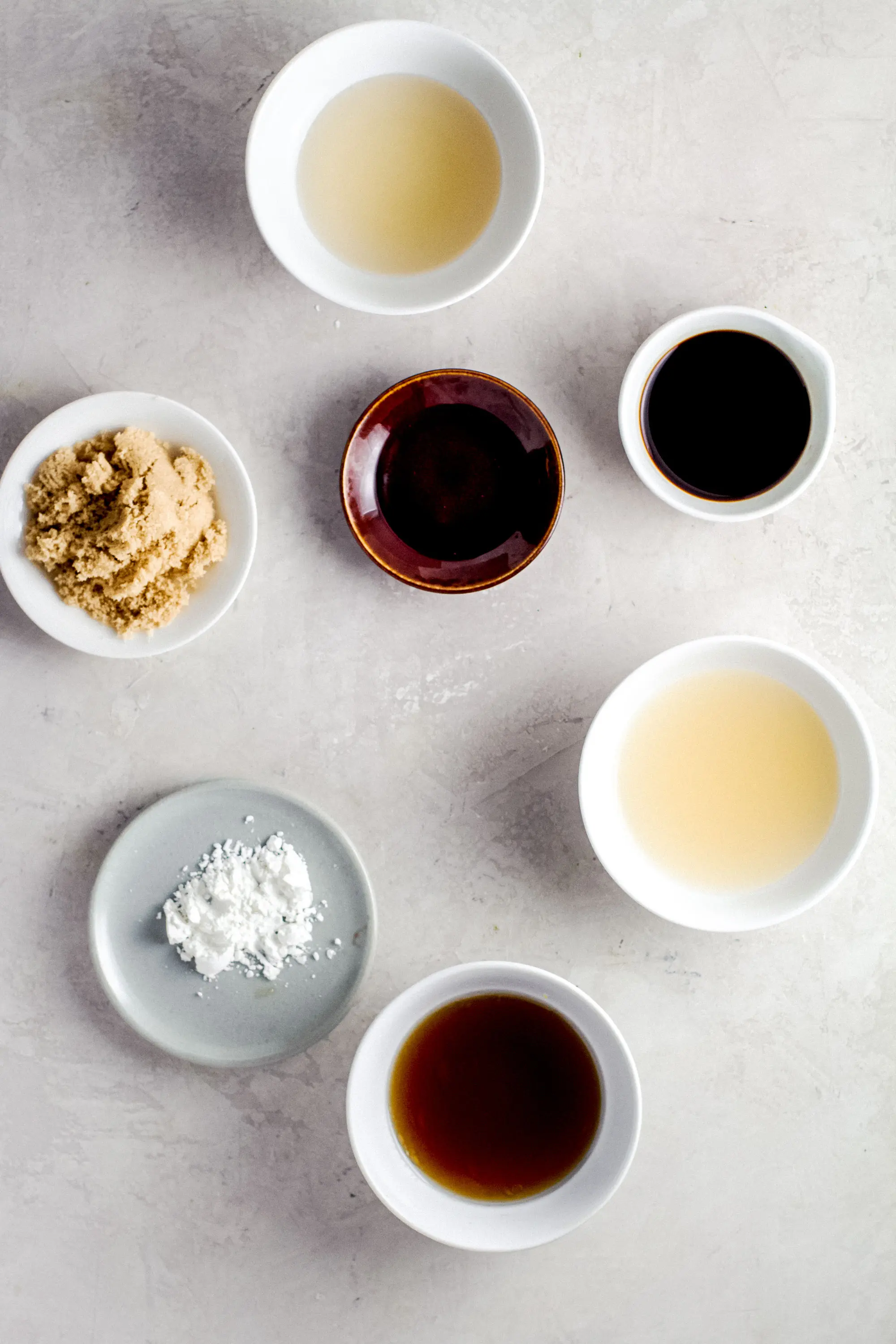 Which Type of Beef to Use
The type of steak you choose can and does come down to personal preference. Most stir-fry recipes will suggest flank steak. Flank steak soaks up marinades and looks nice when sliced thinly like all stir-fry meats should be, however it doesn't cook quite as tender as skirt steak.
Skirt steak has a loose grain and boasts an intense flavor, which makes it perfect for stir-frying. While the preference lies with you I personally prefer the skirt steak.
So why was my meat turning out with a leather-like consistency? It came down to how I was slicing it. Skirt steak will often come in a thin lengthy piece. Divide it by cutting with the grain of the meat (read: the lines), into 3 or 4 pieces. Next, turn the meat to the side. Starting from the right side of the meat cut against the grain at a 45-degree angle.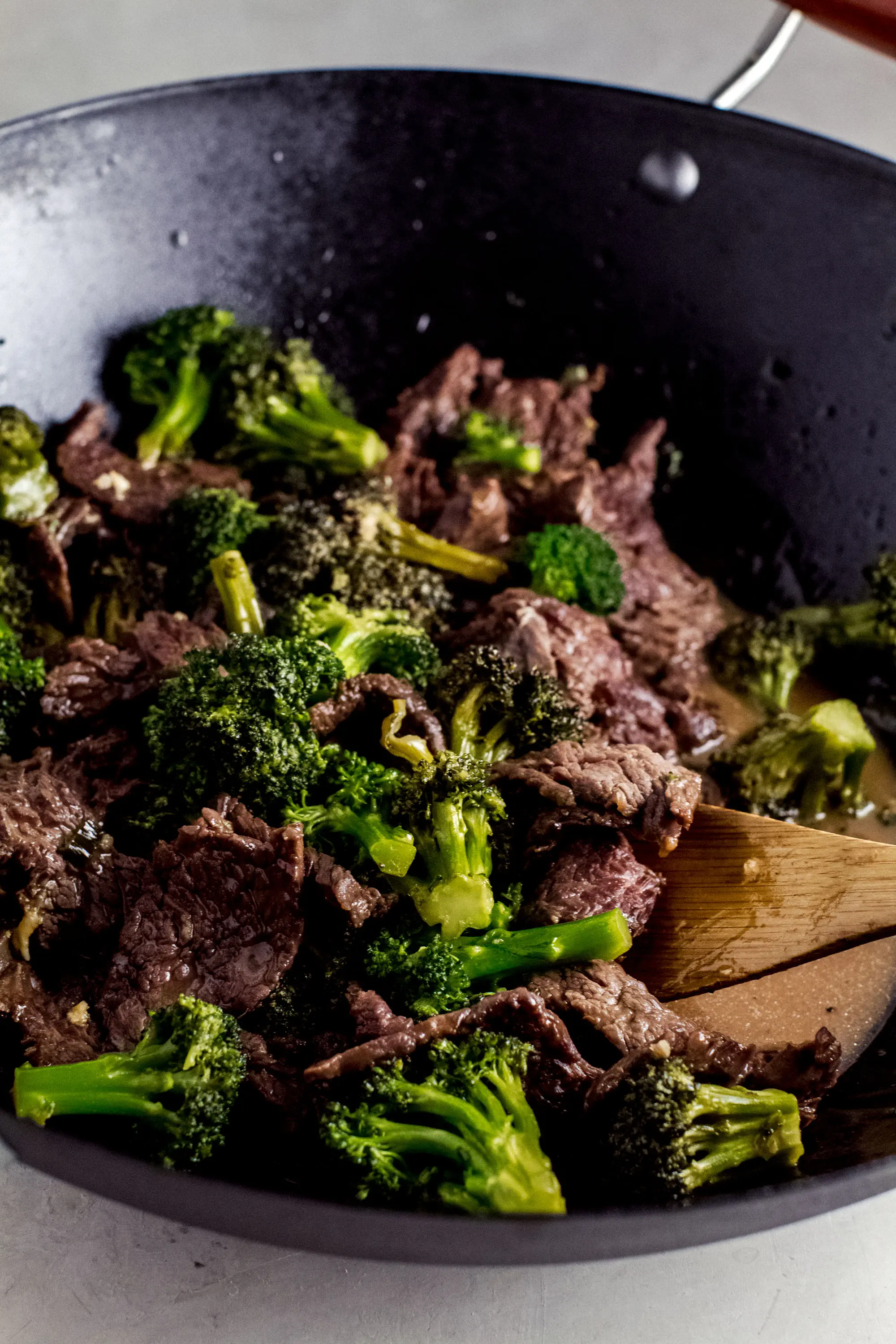 Other Recipes to Try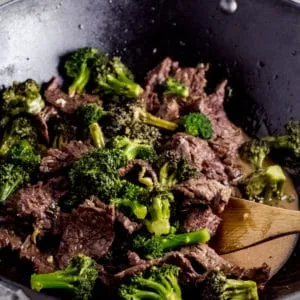 Easy Beef and Broccoli Stir Fry Recipe
Tender and juicy beef, marinated with bold flavor and stir-fried with crispy broccoli and sticky soy, sugar, and vinegar sauce. Making this Easy Beef and Broccoli Stir Fry Recipe is quick and simple.
Print
Pin
Rate
Ingredients
BEEF
1

lb

Skirt Steak

thinly sliced against the grain

1/2

teaspoon

Salt

1/2

teaspoon

Brown Sugar

1

teaspoon

Soy Sauce

1

teaspoon

Rice Wine Vinegar

1/2

teaspoon

Sesame Oil

1/8

teaspoon

Baking Soda

1/2

teaspoon

Cornstarch
STIR-FRY
2

tablespoons

Soy Sauce

2

tablespoons

Rice Wine Vinegar

1/4

cup

Broth

chicken or beef

1/4

cup

Oyster Sauce

2

tablespoons

Brown Sugar

1

teaspoon

Sesame Oil

1

teaspoon

Cornstarch

3

tablespoons

Peanut Oil

1

lb

Fresh Broccoli Florets

3

Garlic Cloves

minced

2

Scallions

green parts only chopped
Instructions
BEEF: Mix the Salt, Brown Sugar, Soy Sauce, Rice Wine Vinegar, Sesame Oil, Baking Soda, and Cornstarch together in a medium-sized bowl and add in the Skirt Steak. Toss to coat and set aside for 20 minutes.

STIR-FRY SAUCE: In a small bowl whisk the Soy Sauce, Rice Wine Vinegar, Broth, Oyster Sauce, Brown Sugar, Sesame Oil, and Cornstarch and set aside.

Heat 1 tablespoon of oil over high heat and place half of the beef in the wok (or skillet) in a single layer. Cook without moving for 1 minute to brown, toss and continue to cook stirring frequently for an additional 1 to 2 minutes. Remove and set aside in a bowl. Repeat this step by adding another 1 tablespoon of oil and the remaining beef.

Place the final 1 tablespoon of oil to the wok. Add in the Broccoli and cook, tossing frequently for 1 minute. Next, add the Garlic Cloves and Scallions, and cook for an additional 1 minute. Pour the reserved sauce mixture into the skillet and cook for about 5 minutes, until sauce thickens (pay attention to the broccoli and if it becomes tender before the sauce has thickened use a slotted spoon to remove and set aside in a bowl).

Place the beef back into the wok and toss to mix and coat with the sauce. Garnish with additional scallions or sesame seeds.
Nutrition
Serving:
1
Serving
|
Calories:
367
kcal
|
Carbohydrates:
18
g
|
Protein:
29
g
|
Fat:
21
g
|
Saturated Fat:
5
g
|
Cholesterol:
71
mg
|
Sodium:
1482
mg
|
Potassium:
734
mg
|
Fiber:
3
g
|
Sugar:
9
g
|
Vitamin A:
798
IU
|
Vitamin C:
103
mg
|
Calcium:
78
mg
|
Iron:
3
mg