I've rounded up my very best Apple Crisp Recipes, as well as a few apple-related recipes like apple crumble and apple cobbler. From classic to healthy, and slow cooker to the skillet you'll find all the best ways to make the delicious dessert.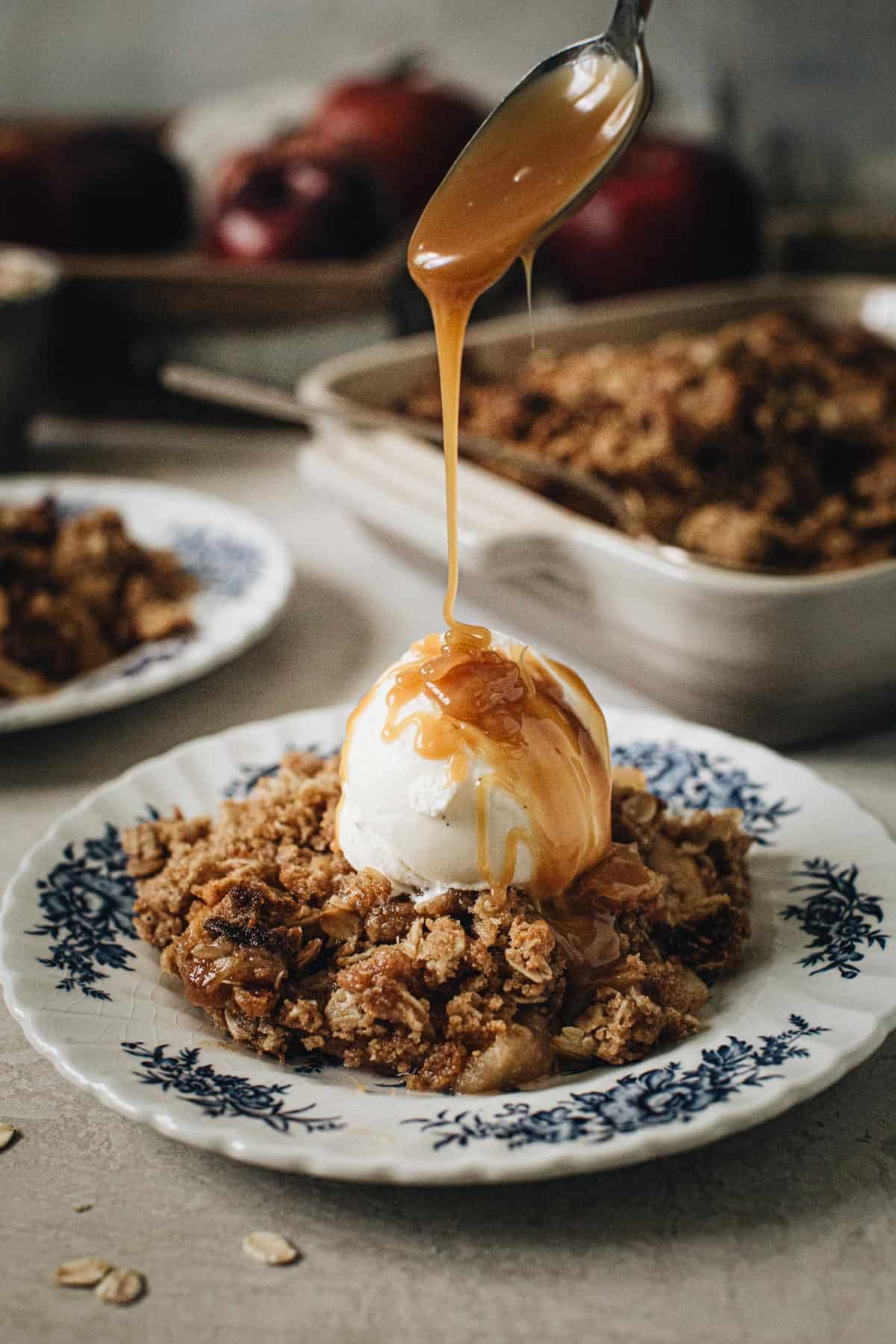 What Makes These Recipes Great
Crispy and crunchy toppings spiced with cinnamon, nutmeg, and more mixed together with a sugary buttery topping over tender sweetened apples make this dessert a classic favorite. Often served during the fall months, this dessert is one that can be enjoyed all year long.
Whether you're looking for the ultimate apple indulgence or would prefer something healthy, vegan, or even gluten-free you'll definitely find something here.
There's also more than one way to prepare apple crisp. You can bake it, prepare it in the skillet or even the slow cooker or Instant Pot. I've got the best versions of each of these recipes included.
My Favorite Old-Fashioned Apple Crisp Recipes
Old Fashioned Apple Crisp. A crispy, crunchy, brown sugar and oat crumble on top of cinnamon soft baked apples. Serve with vanilla bean ice cream drizzled with a decadent caramel sauce for a delicious treat.
Easy Apple Crisp. The topping gets simply sprinkled on top for a beautiful, buttery crisp top that more even more addicting.
Slow Cooker, Instant Pot, Skillet and Other Methods
Crisps are extremely versatile and there's more than one way to cook them, none of which are wrong, so choose whichever works for you. You can also use homemade apple pie filling as a delicious base with extra surrounding sauce.
Slow Cooker. Use your slow cooker to make this dessert slow-cooked to crispy perfection. This recipe will scent your house all day long.
Instant Pot. Quickly made and uses simple pantry ingredients.
Skillet. Want to make apple crisp even better? Build it in an oven-safe skillet and you can go straight from sautéing your apples to baking the whole thing in the oven without dirtying an extra pan.
Sheet Pan Apple Crisp. Using a rimmed baking sheet rather than a deep baking dish means the ratio of apples to a crisp is essentially 50-50, achieving the ideal ratio for topping lovers.
Apple Crisp for Two. When all you need is a small dessert for two, whip up this homey apple crisp. Apples and the smell of cinnamon mean fall baking at its best! This Betty Crocker version is perfect for a date night in.
Recipe Variations
Apples pair perfectly with other flavors and fruits. While simple is sometimes best these recipe variations are too delicious to pass up.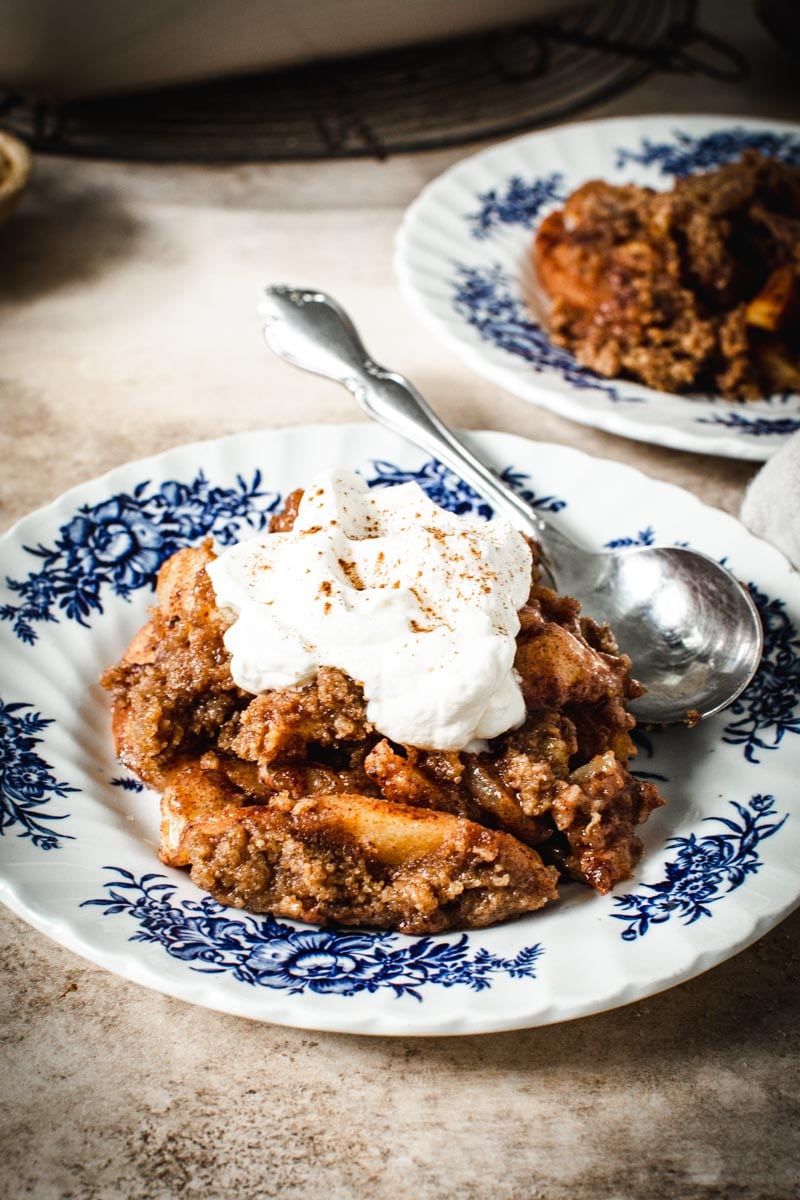 Caramel Apple. The perfect combination of tart apples with an irresistible brown sugar crisp topping.
Rhubarb and Apple. Honeycrisp and Golden Delicious apples hold their shape well and won't get too mushy after baking. Brown sugar lends a deep molasses flavor to the topping.
Cinnamon Apple Pear. Brown sugar, cinnamon, oats, and fresh fruit come together in this buttery and irresistible apple pear crisp.
Cranberry Apple. A sweet and tart fruit flavoring with a soft, buttery oat crumbles on top for the perfect combination. This is a sweet and savory dessert that will be a family favorite during the holidays!
Healthy Versions
Indulging in a dessert doesn't mean you have to compromise your diet whether you're trying to eat healthily or have food sensitivities such as gluten or dairy. Below are some delicious options to try, which sometimes are better than the classic versions.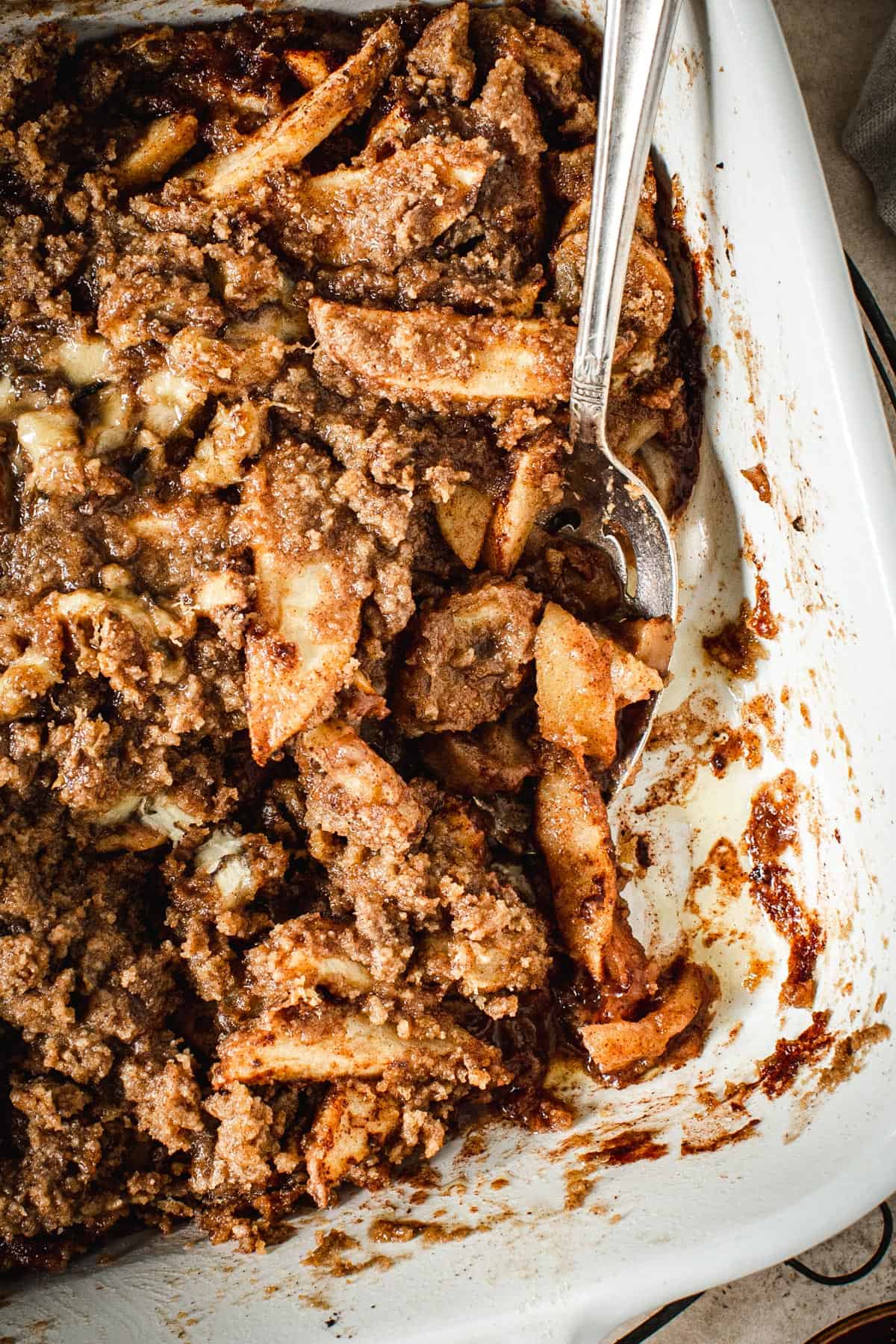 Vegan. Naturally sweetened and made in 1 bowl! Tender, caramelized apples under a crispy pecan-oat topping. Fall dessert perfection.
Gluten-Free. Covered in an irresistible oat, almond meal, and pecan topping. This dessert is perfect for the holidays!
Sugar-Free. Naturally sweetened with maple syrup instead of sugar and topped with a crunchy oat pecan topping.
Topping for Apple Crisp
Most crisp recipes are topped with an oat and butter mixture, which creates a crispy top layer that coats the fruit base. There are, however, more toppings to consider, which can elevate your dessert to another level of delicious bliss.
Whipped Cream
Vanilla Ice Cream
Caramel Sauce
Chocolate Sauce
Nuts
Not Crisp: Delicious Related Recipes
Baked Apple Crumble. A crunchy cinnamon topping covers this decadent, but healthy crumble without Oats. Rich caramelized apples and banans swirl the bottom. Devour it as a dessert, breakfast, or for an afternoon treat.
Apple Dump Cake. The perfect fall treats filled with apples and a spice cake topping. Making this delicious cake, similar to a crisp or crumble, is quick and easy you just dump it all in and bake it.
Easy Baked Apples. Sweet and tart apples are sweetened with brown sugar and flavored with warm fall spices. These tender apple slices make their own caramel sauce during baking that is perfect for drizzling over the top.
There are also many apple crisp-inspired recipes such as apple crisp bars, apple crisp cheesecake, and apple crisp pie. If you love this classic dessert then I highly recommend working your work through all these other versions as well.
WHAT'S THE DIFFERENCE BETWEEN A CRISP, CRUMBLE, AND COBBLER?
Crisps crumbles and cobblers are all fruit-based desserts that are topped with a pastry-like layer. During the baking process, the fruit bubbles into the pastry layer creating a delicious dessert
What is Cobbler?
The top layer of a cobbler usually consists of a biscuit dropped over the fresh fruit, which creates a cobbled road-like texture. Cake batter can also be used for this dessert as well.
Crisp Dessert
The lines begin to blur a little with a crisp and crumble, with the crumble name coming from England. They both have crumbly toppings that bake over the fruit layer. Crisp is more reminiscent of granola baked over fruit and it mostly contains oats.
What is Crumble?
Similar to a crisp the crumble has a similar streusel-like topping baked over fruit. Crumbles though don't often contain oats and are a combination of flour, sugar, and butter with additional ingredients mixed in.