Whether you're practicing Meatless Monday or just enjoy eating vegetarian these delicious Chickpea Zucchini Fritters a great meal option.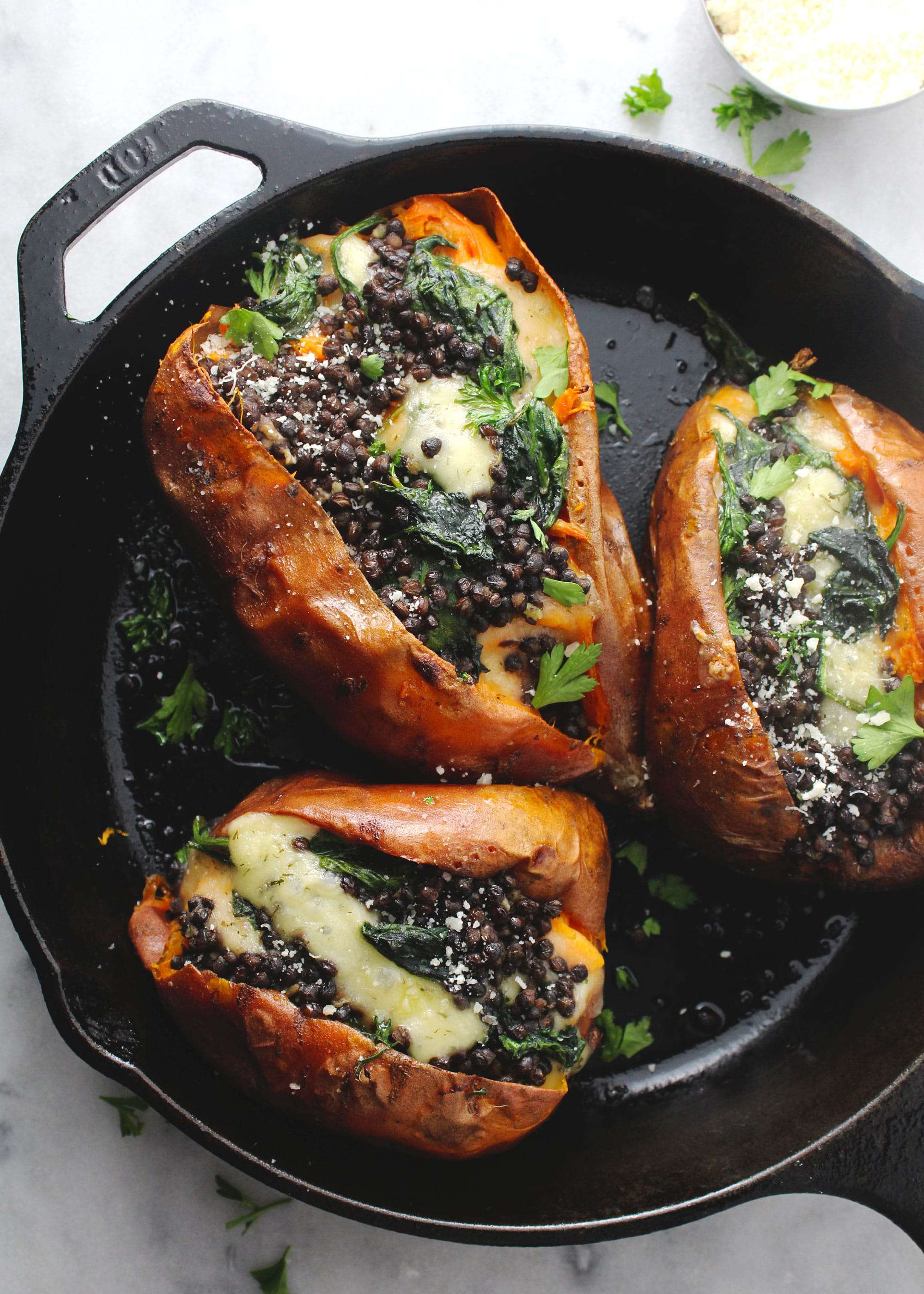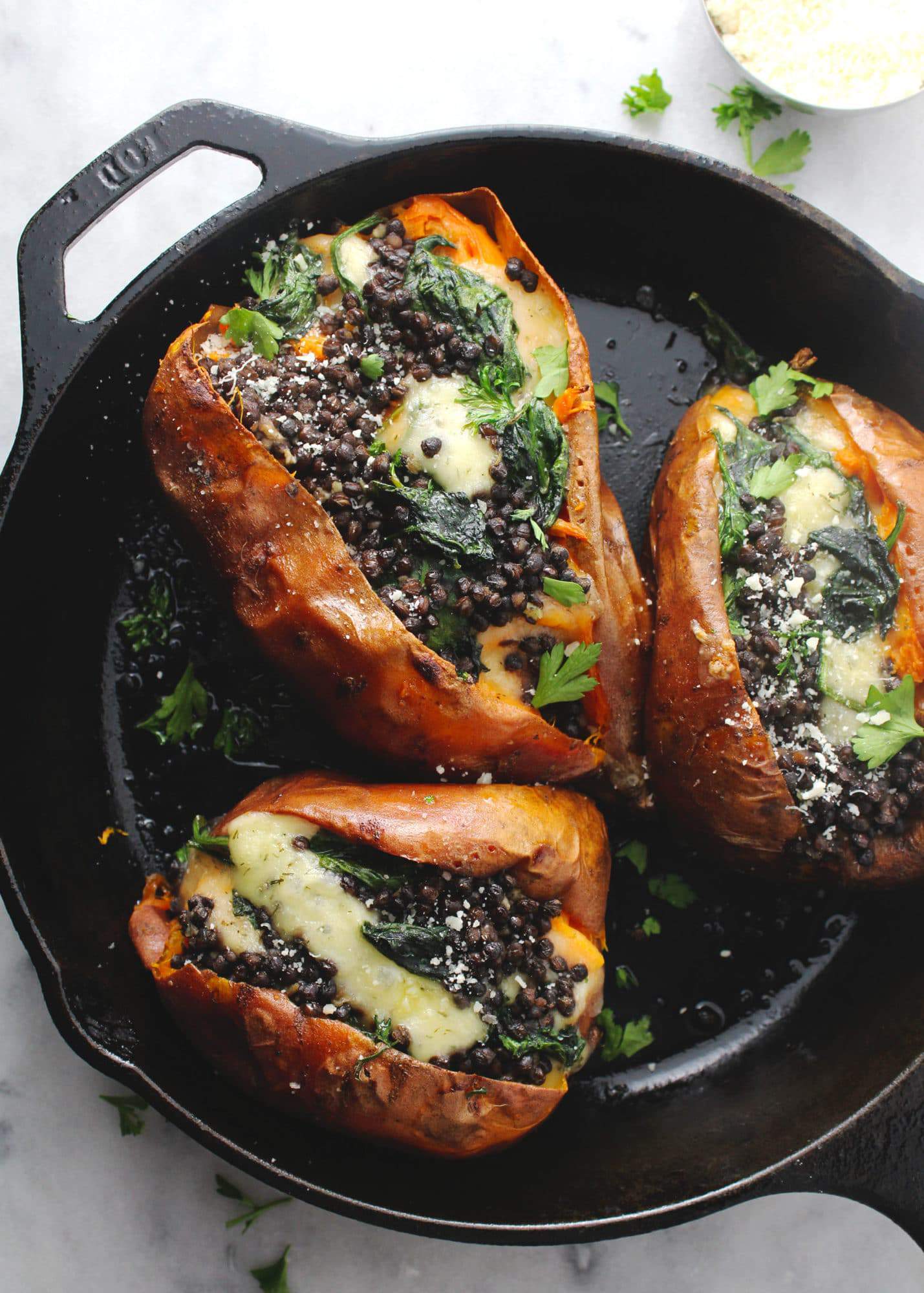 Guys…
I honestly think I could describe the amazingness that is these vegetarian loaded sweet potatoes in emojis and call it a very good day! A very good day friends, because this meal is what my healthy vegetarian dreams are made of…
Let's chat sweet potatoes cause I understand quite a few of you are not fans and I'm thinking we need to work on this because you really are missing out on life (potentially I'm a little dramatic) and I truly don't want you to miss out. Would you, could you, like them if they were covered in cheese? Try them and you may! Would you eat them with some creamed spinach here or some garlic roasted lentils there??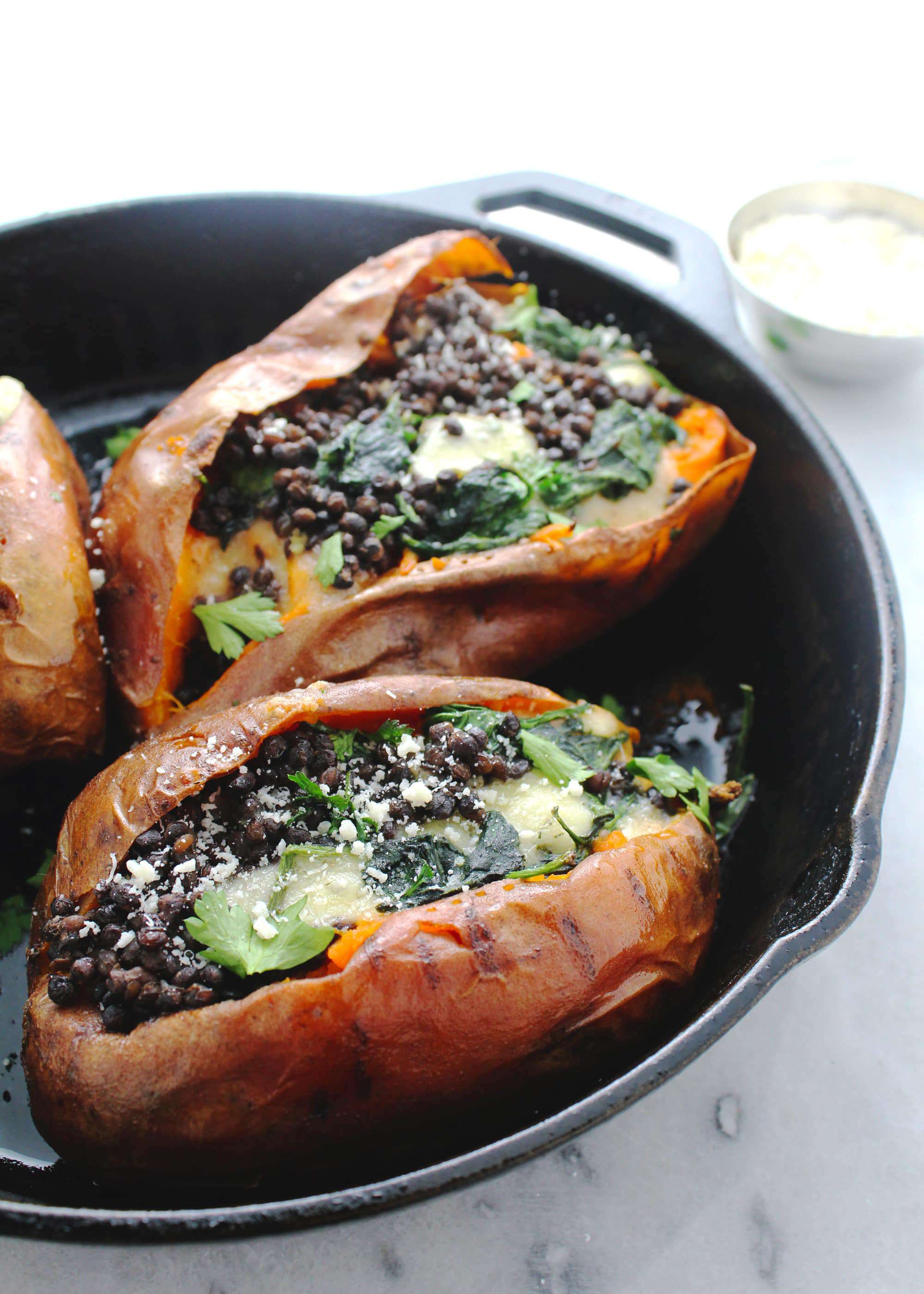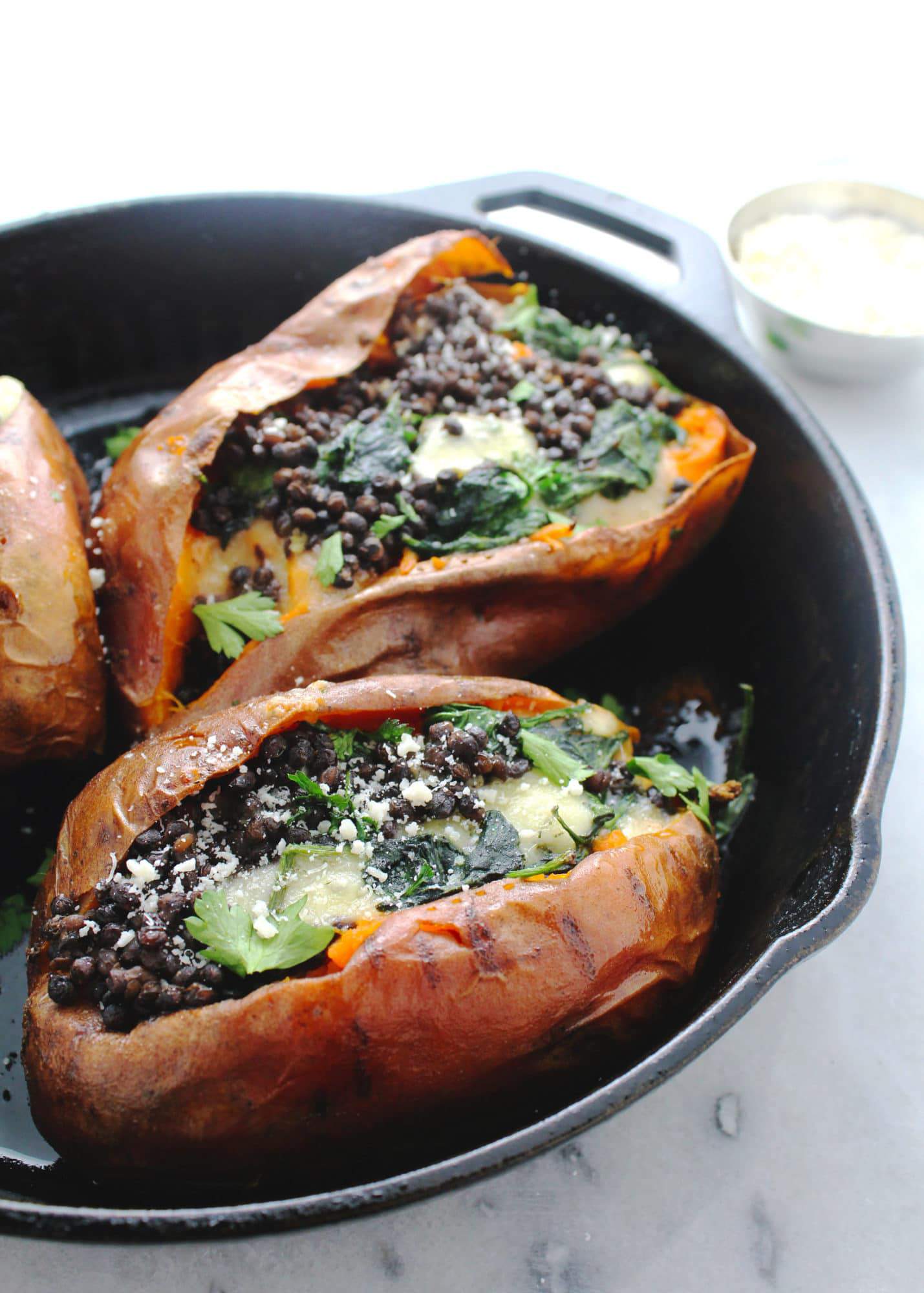 I understand your pause. I was once hesitant about the loaded sweet potato, after all, they are technically "sweet" and thus I deemed them a more dessert-like food, but then two things in my life happened to change this state. One event happened in a different life when I lived in NYC and lived and breathed fashion as a designer.
Back at the beginning of the food truck revolution (I said this was a different lifetime) around lunchtime, a potato truck parked conveniently outside my office. My friends and I would line up to devour all kinds of loaded potato options, me walking away with my white russet potato topped with traditional broccoli and cheese. Then one day I lost my mind and got crazy! I asked for a sweet potato (gasp!) and let me just say it rocked my world. Rocked!!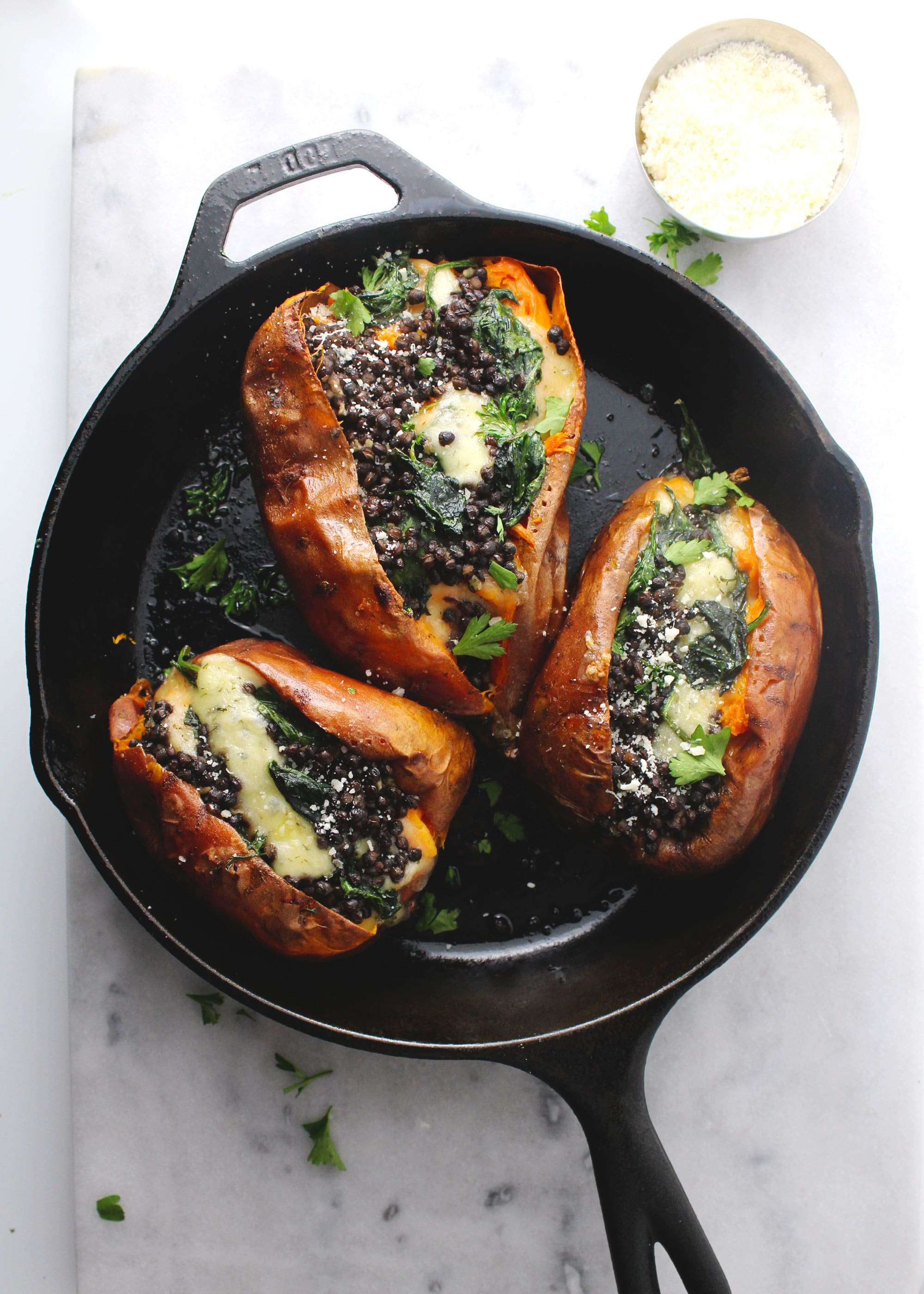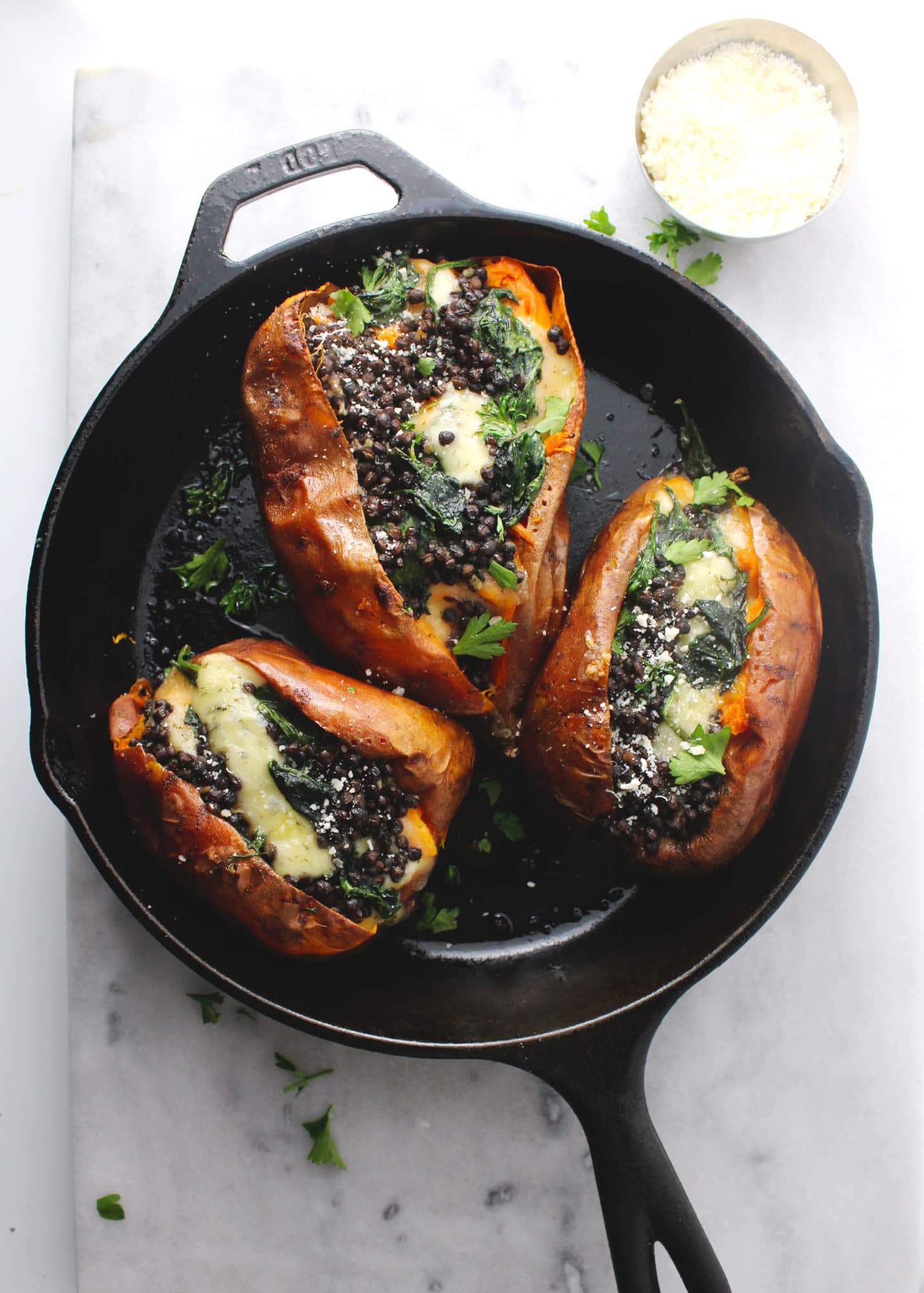 Fast forward to the current life where we were lucky enough to indulge in one of those rare couple date nights in downtown Charleston. We dined at Scarecrow (if you haven't been stop everything and make a reservation or book a trip here), which is a fire-roasted, smokey, lumberjacks dream of a restaurant, and has a great shareable menu. One such item we devoured that evening what their fire roasted loaded sweet potatoes. After taking my first bite you could practically see the lightbulb icon appear above my head as I realized I should be eating these on a very regular basis.
There you have my sweet potato journey, which is really only just beginning. Really and truly I'm all about loading these delicious root vegetables up so expect much more such posts…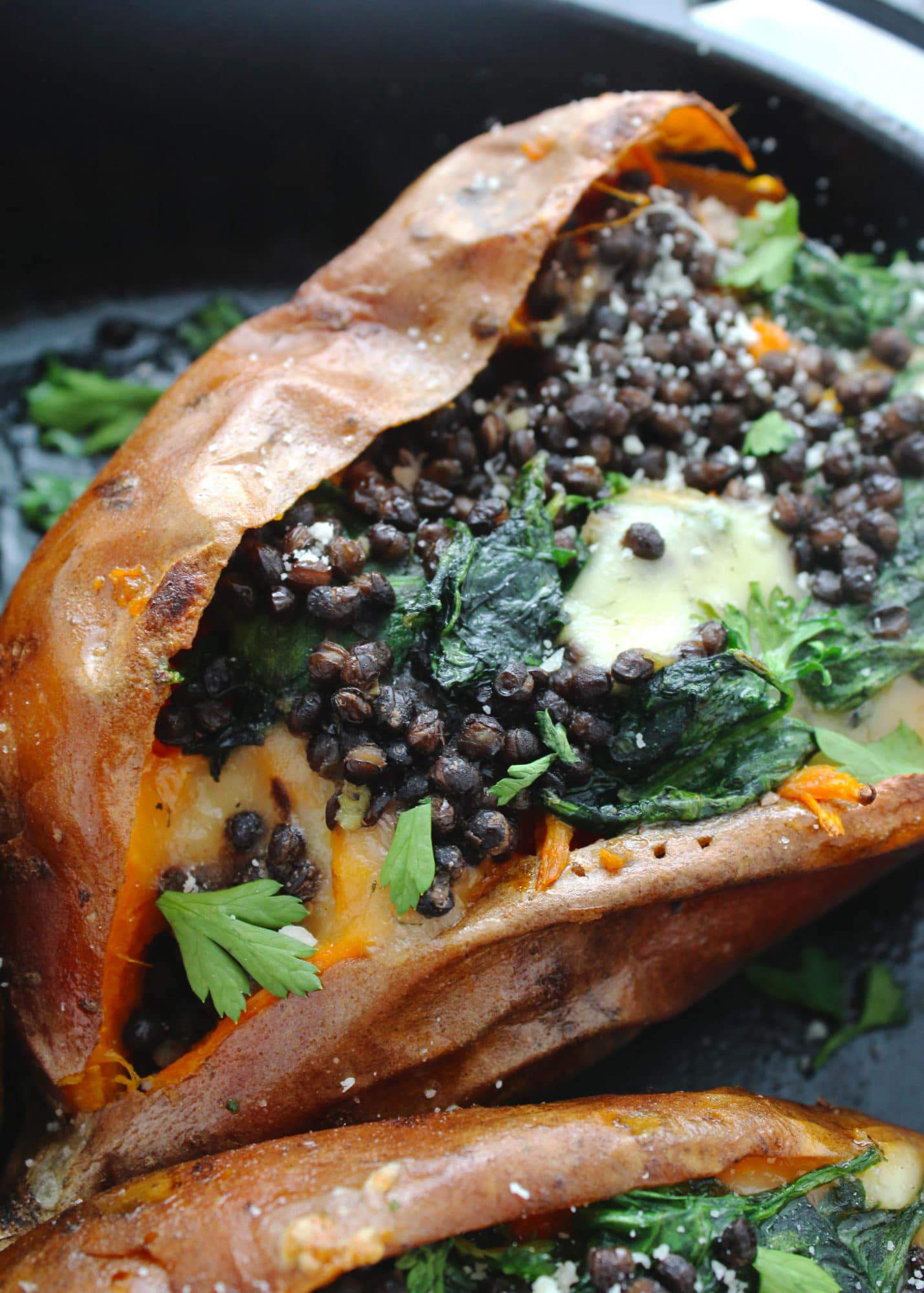 Print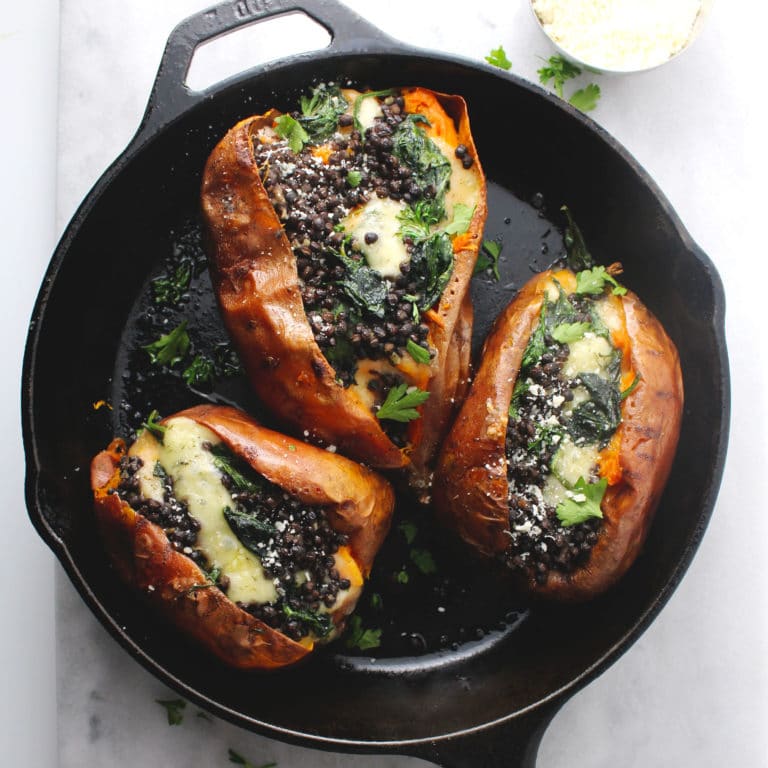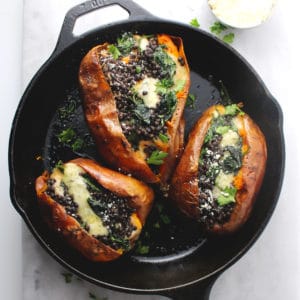 Best Ever Vegetarian Loaded Sweet Potatoes
---
Description
Loaded with Havarti cheese, creamed spinach, and garlic roasted lentils, these baked sweet potatoes really are the best ever.
---
4

medium-sized Sweet Potatoes

2 tablespoons

Olive Oil, divided (+ more for brushing the potatoes)

2 cups

Baby Spinach Leaves

1/4 cup

Heavy Cream

4 oz

Havarti Cheese (or more, your choice!)

1 cup

Black Lentils

3

Garlic Cloves, minced
Additional Garnishes
Parsley
Grated Parmesan Cheese
---
Instructions
Preheat the oven to 475 degrees. Piece each Sweet Potato a couple of times using a fork and then coat with Olive Oil and lightly salt. Cover with foil and place in the oven to cook for 80 to 90 minutes.
While the potatoes are in the oven prepare the Spinach by heating 1 tablespoon of Olive Oil and the Heavy Cream in a medium-sized skillet over medium heat (wait to start this process until the potatoes have about 15 minutes left to cook). Add the spinach to the skillet and toss to coat. Continue cooking until the leaves begin to wilt. Remove the creamed spinach from the skillet and set aside.
Add the last tablespoon of Olive Oil to the same skillet and allow to heat slightly over medium heat. Place the minced Garlic into the skillet and cook until fragrant, about 1 minute. Pour the Lentils into the skillet and toss to coat with the garlic and oil. Cook for about 3 to 5 minutes.
Once the potatoes have finished cooking remove from the oven and set the temp to broil. Slice the potatoes open and use a fork to fluff the insides. Layer the Havarti Cheese on top and continue to layer with the creamed spinach and lentils. Place the loaded potatoes into an oven-safe skillet or on a rimmed baking sheet back into the oven to allow the cheese to melt all the layers together, about 2 minutes. Top with additional toppings such as parsley and grated parmesan cheese.
---
Notes
For this recipe, I used canned lentils, which I swear by to save time. So far the only place I've seen them at is Whole Foods. If using dried lentils go ahead and prepare them according to the package directions and then start the roasting process listed above.
My potatoes were on the fat and medium to small size and I cooked them for 80 minutes. If your potatoes are larger I would err on the side of 90+ minutes.