Black Bean & Sweet Potato Tacos with Dairy Free Lime Cream are a meatless, easy, and dairy-free weeknight meal idea that is perfect for the entire family. These delicious tacos are packed with roasted sweet potatoes, black beans, avocado, and drizzled in a tasty lime sauce.
If you're preparing for a taco night then add this Jamaican Jerk Chicken Tacos and these Hawaiian Chicken Skillet Fajitas to your future menus.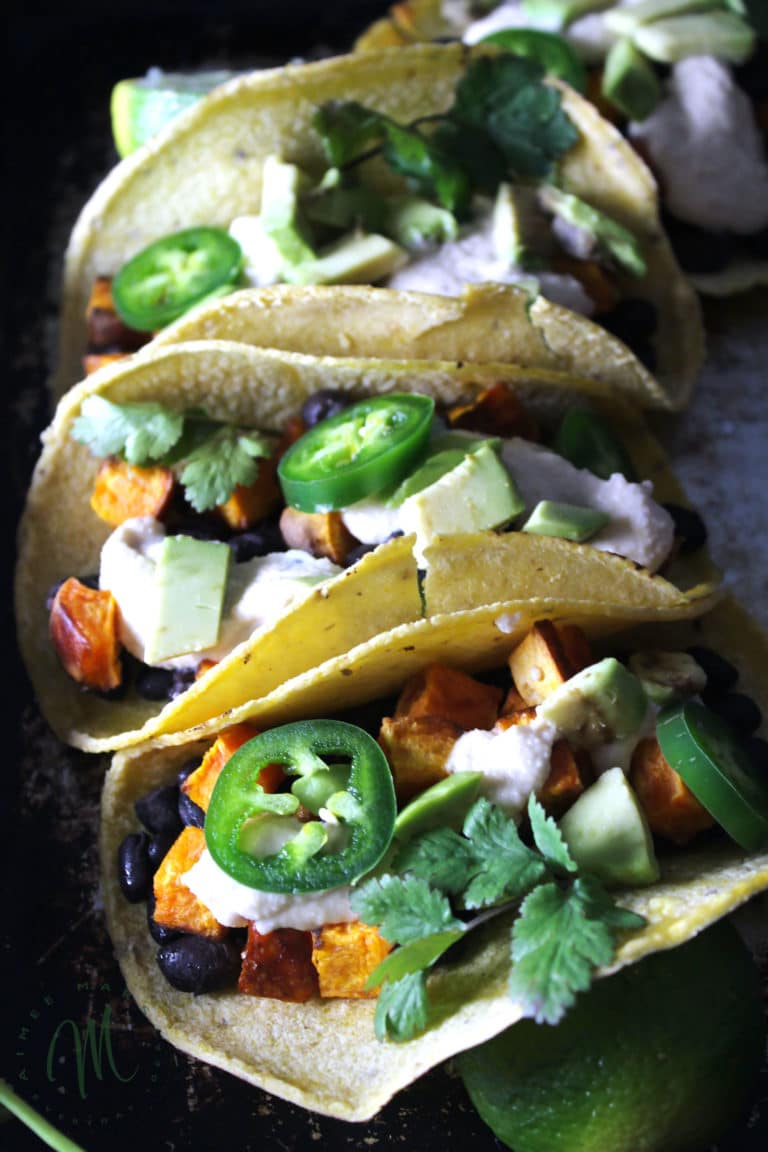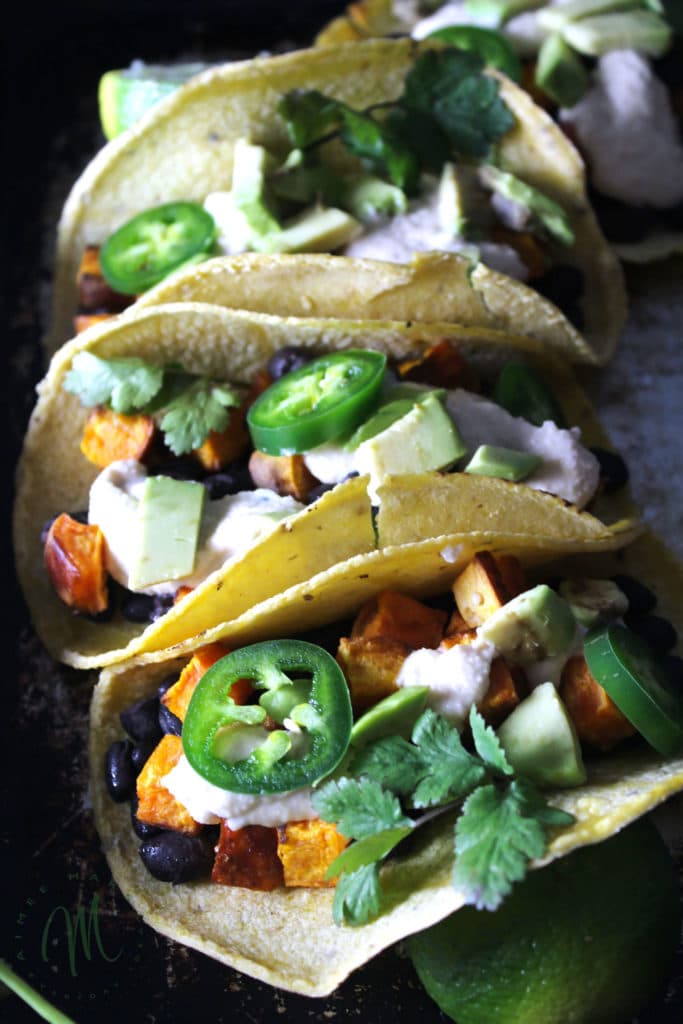 So my Husband, this upstate New York (as in the Adirondacks upstate, not Westchester for those of you who are locals to the area) guy ends up meeting me, a Southern girl to the core who loves all things city, especially New York City and also where we met.
It was love at first latte in a city Starbucks (If you're single and searching  I recommend the coffee bar…). This is where the love story begins…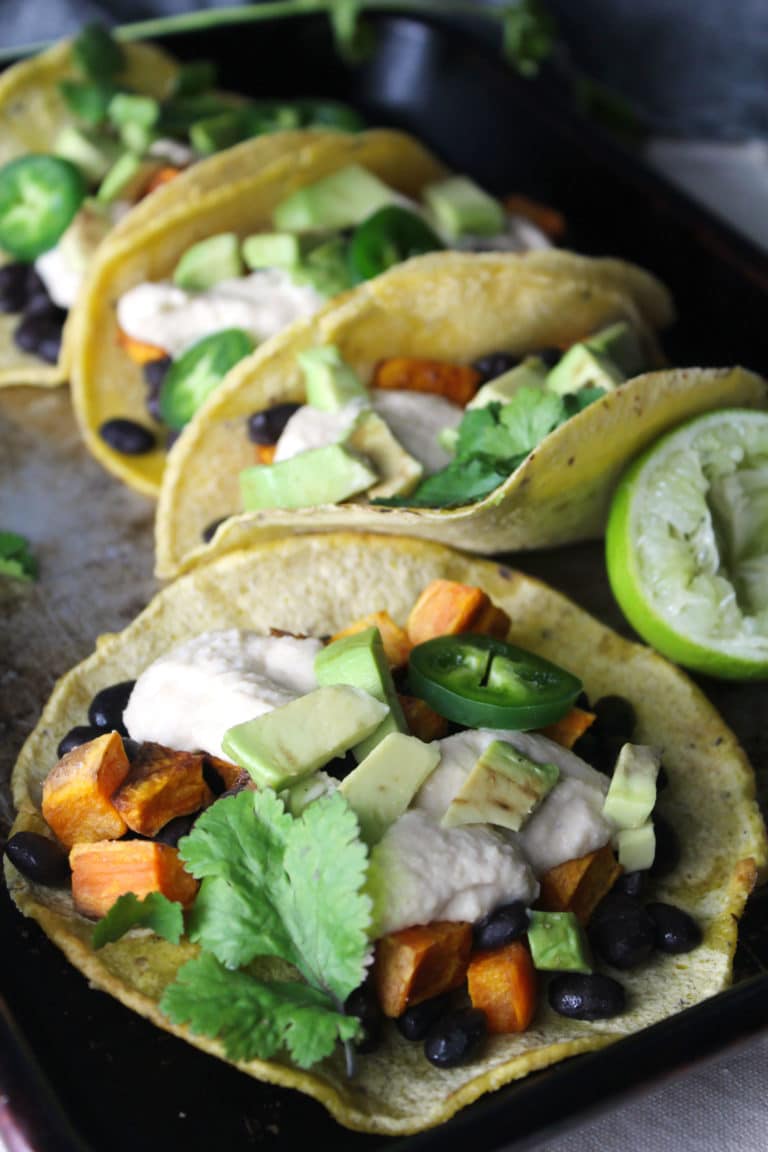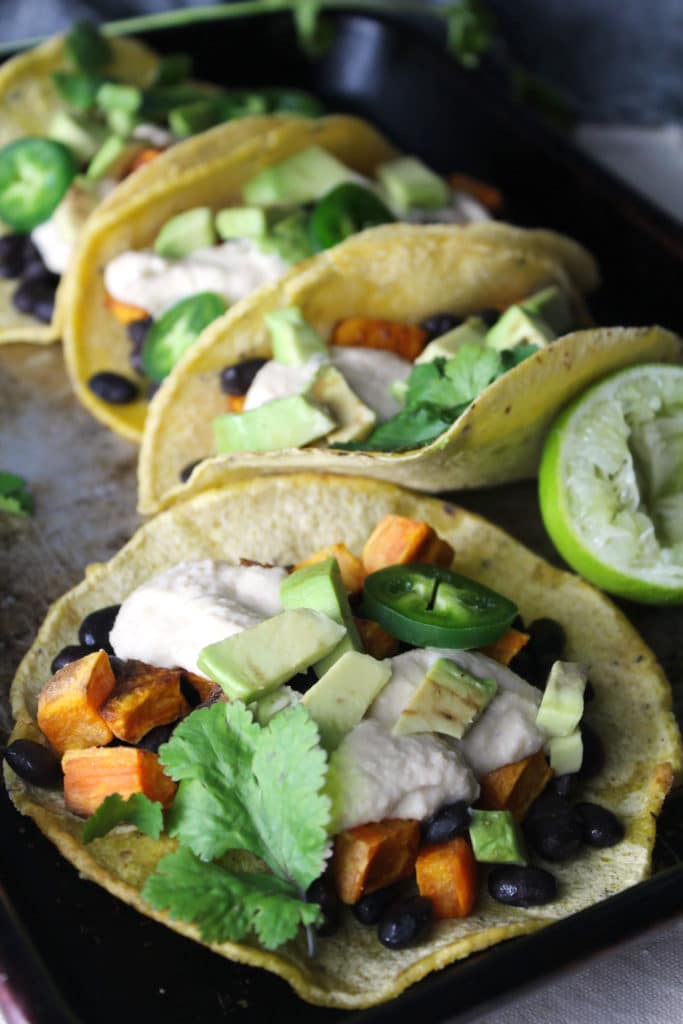 We start dating, he says he couldn't be further from wanting anything serious and I say "whatever." We continue to date. I genuinely mention wanting to watch college football all day one Saturday in August and he practically proposes.
Then, in an effort save money, we stay in some nights and I begin cooking. Instead of eating the usual bagel and cream cheese (dinner of champions y'all!) or cereal I actually start to prepare real meals.
The way to a man's heart is through his stomach, right??
I start with meat and potatoes type dishes because an upstate NY guy + 6′ 7″ athlete = protein and carbs for dinner. Right? So then boy is happy, the girl is happy, boy proposes to girl, they get married, have two kids, one dog, and eat dinner every night… true story!
And there you have the abbreviated version of our love story…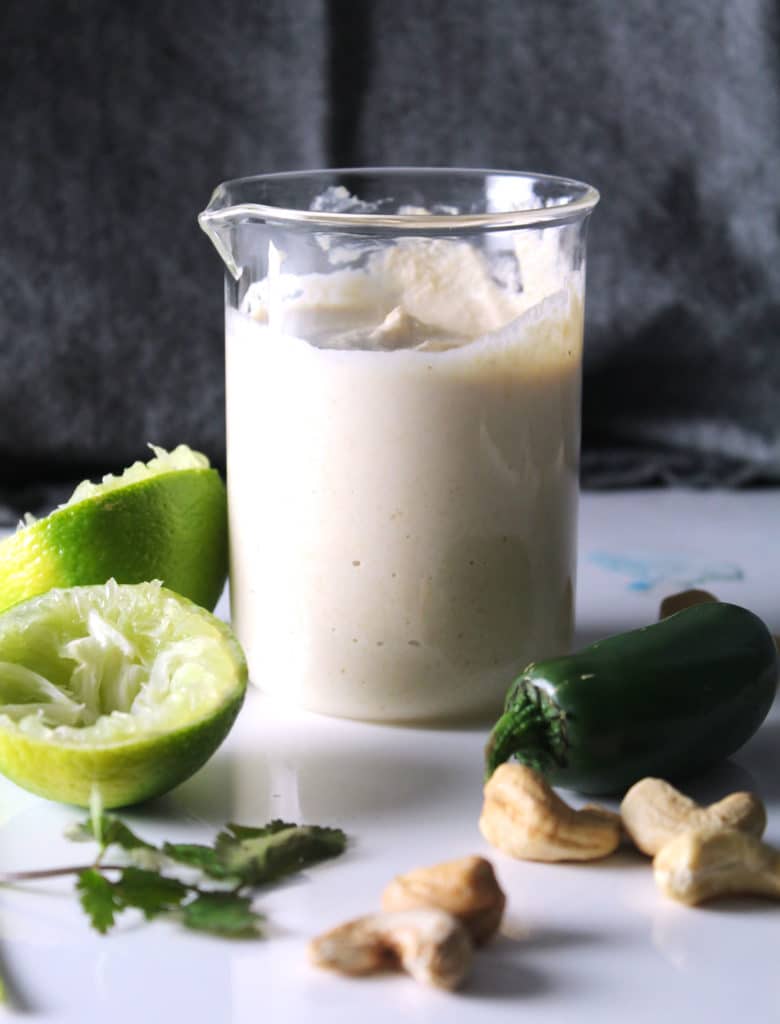 So here we are years later and meat and potatoes are kind of a thing in our house. Like an every night for dinner kind of thing… This southern girl, me, who likes all things city also likes her veggies and meatless meals. You can see where this marital bliss is going…
Enter, "difference over the dinner table!"
The struggle is real y'all.
Sooooo real…
If this is where your marriage also starts to heat up, and not in a steamy-bow-chicka-bow-wow way, then don't worry. I have a solution to your situation! It's called Black Bean & Sweet Potato Tacos.
Stay with me…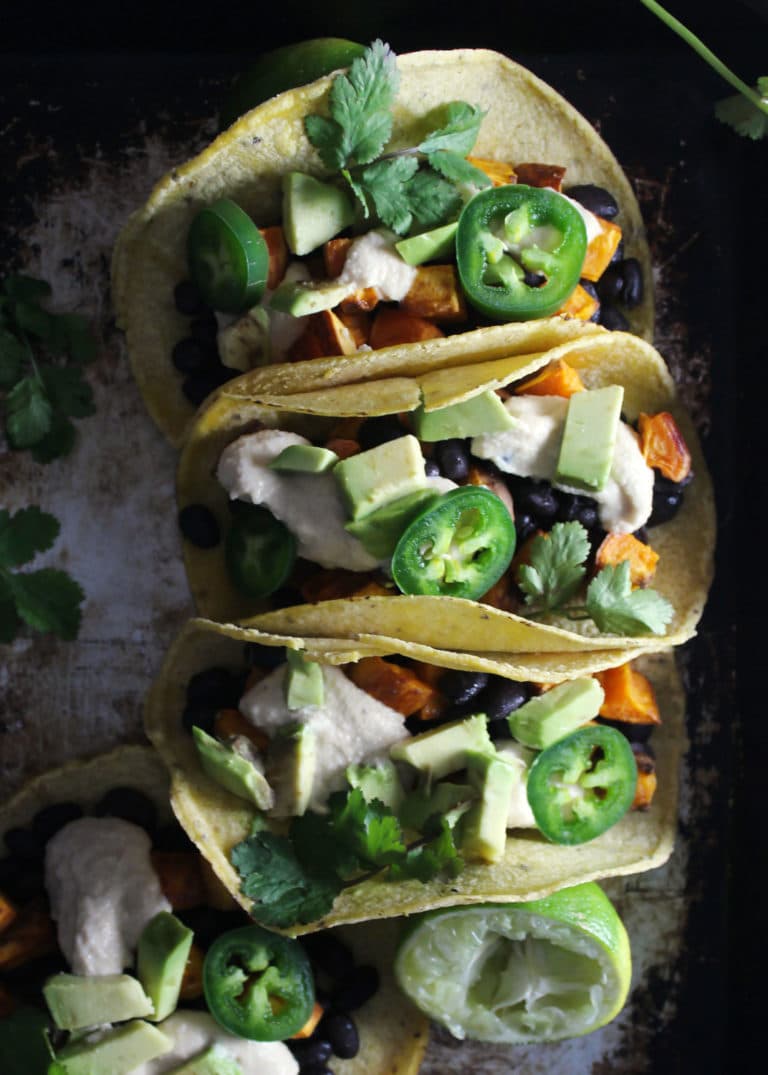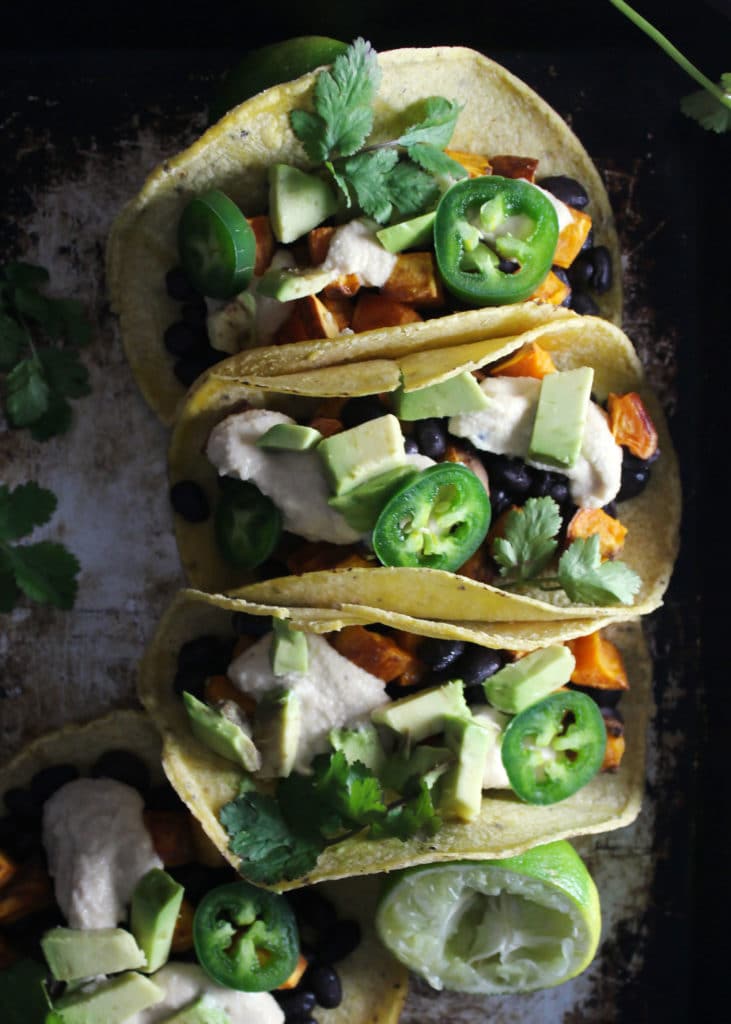 You've got your protein (hello black beans), you've got your carb (oh hi there corn tortillas) and bonus there's a starch (here's lookin' at you sweet potatoes) all thrown together in one lovely taco and topped off with nice little vegan dairy-free lime crema sauce. But you don't need to mention "vegan" to your meat-loving lover, he won't know the difference. Yes, I get that there is no meat in these tacos, but you're not going to notice! Trust me.
Want to go crazy? Then throw on some avocado and jalapenos and if you really want to spice things up in a good way then top it off with some chili peppers, which are apparently an aphrodisiac (You can blame Reader's Digest if that doesn't work out. Worth a shot, though, right?).
This dinner is easy and everyone is happy. Even the little ones love it as I'll deconstruct the tacos for them and they can mix it all together as they please.
Dinner bliss.
Marriage saved.
You're welcome!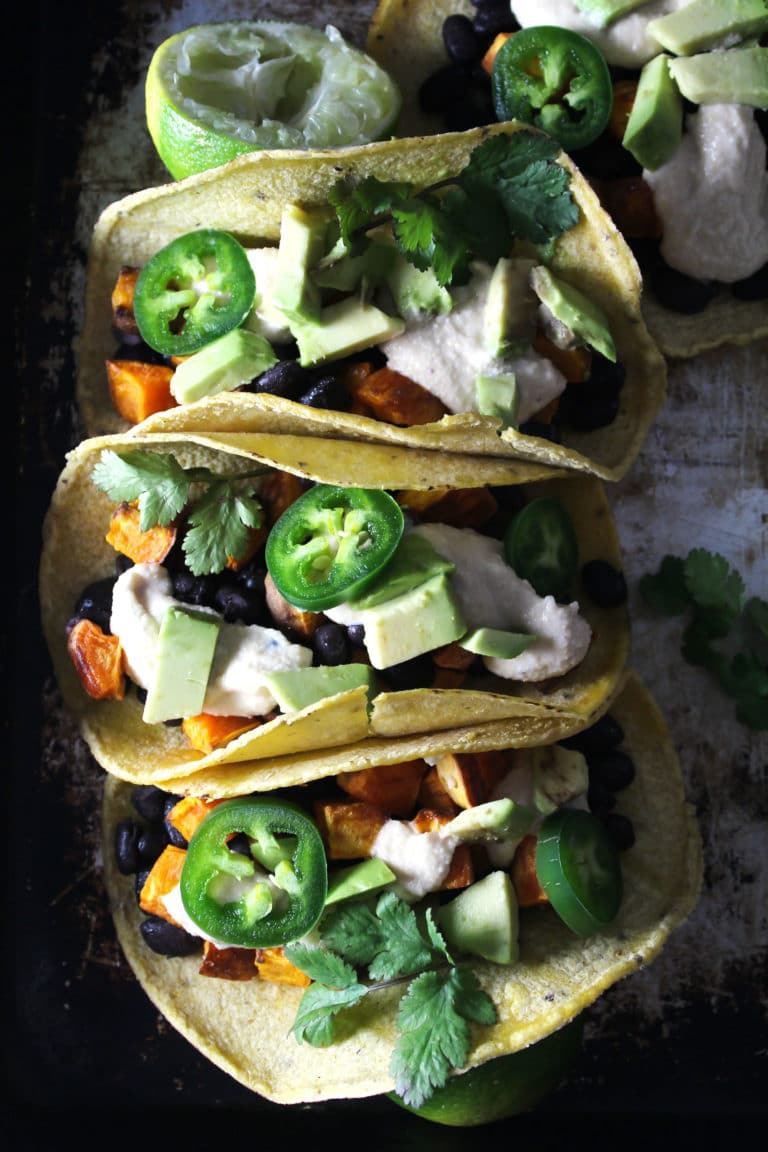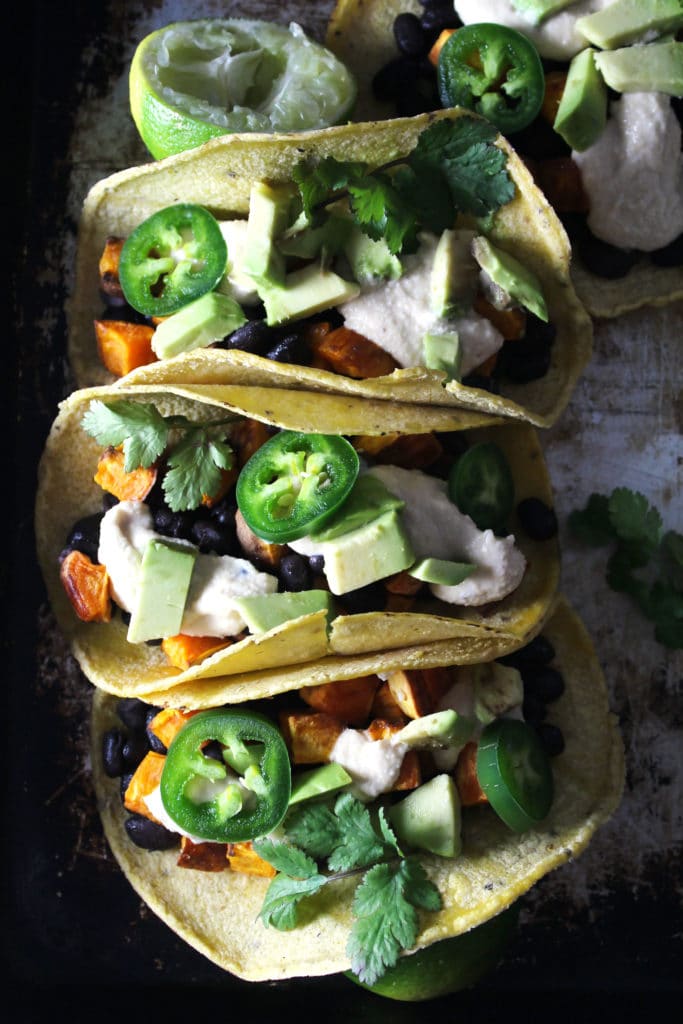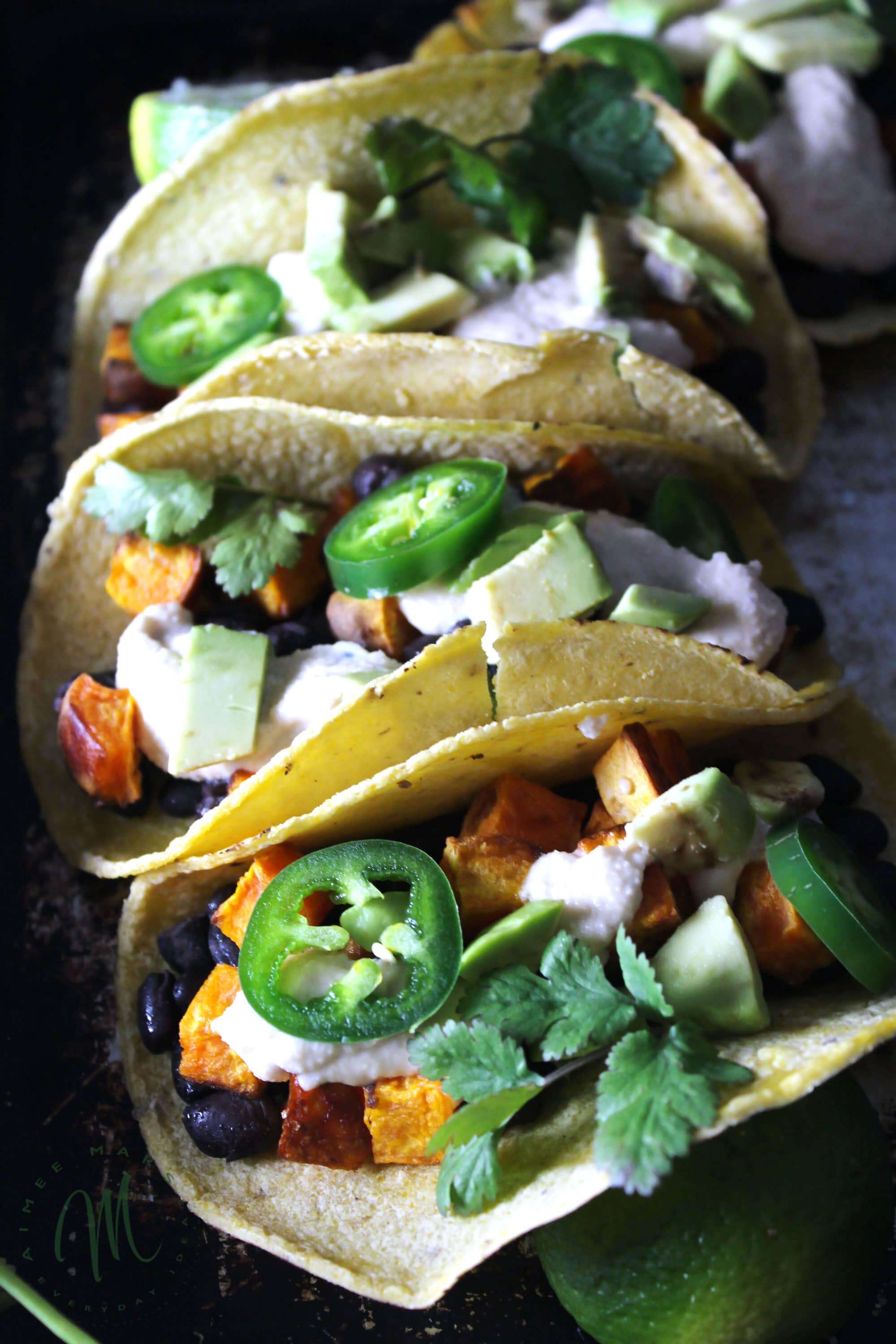 Ingredients
1

large

Sweet Potato

peeled and cut into cubes

2

teaspoons

Oil

1

15-ounce

Can of Black Beans

drained and rinsed

1

Avocado

1/4

teaspoon

Cumin

8

Corn Tortillas

1/2

cup

Dairy-Free Lime Crema
Instructions
Preheat the oven to 475ºF. Place the cubed sweet potato on a rimmed baking sheet and toss with oil. Sprinkle with salt and cook in the oven for 25 to 30 minutes or until the edges begin to crisp.

While the sweet potatoes are cooking heat the black beans in a medium saucepan over medium heat, for about 5 to 8 minutes. Remove from heat and stir in the cumin.

Reduce the oven heat to 350ºF and wrap the corn tortillas in foil. Place them in the oven for 10 minutes to heat.

Arrange the tacos by layering the roasted sweet potatoes, black beans, sliced avocado, and drizzling with dairy-free lime crema.
Nutrition
Serving:
1
Serving
|
Calories:
304
kcal
|
Carbohydrates:
46
g
|
Protein:
6
g
|
Fat:
13
g
|
Saturated Fat:
2
g
|
Sodium:
94
mg
|
Potassium:
651
mg
|
Fiber:
9
g
|
Sugar:
5
g
|
Vitamin A:
12132
IU
|
Vitamin C:
8
mg
|
Calcium:
75
mg
|
Iron:
2
mg