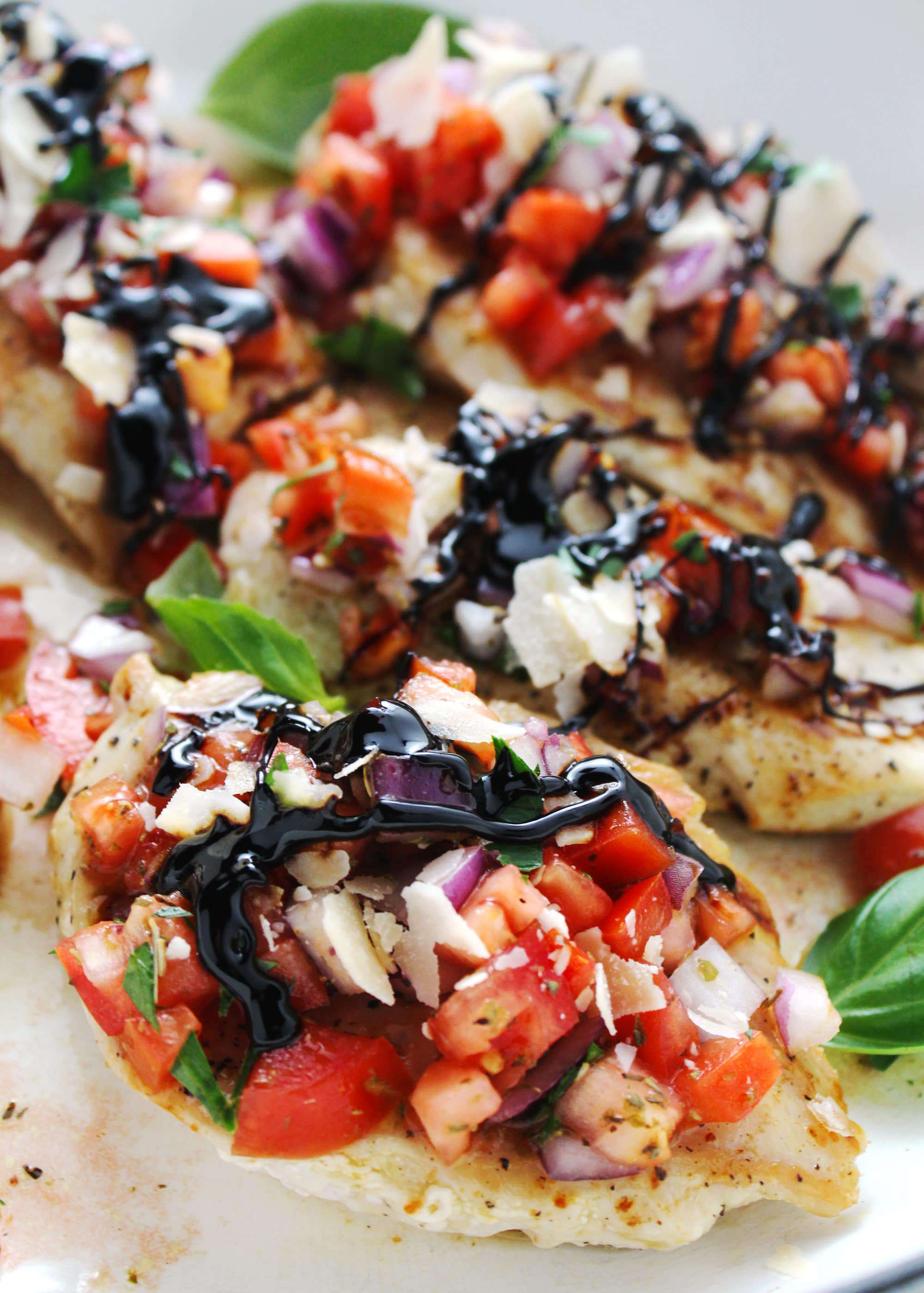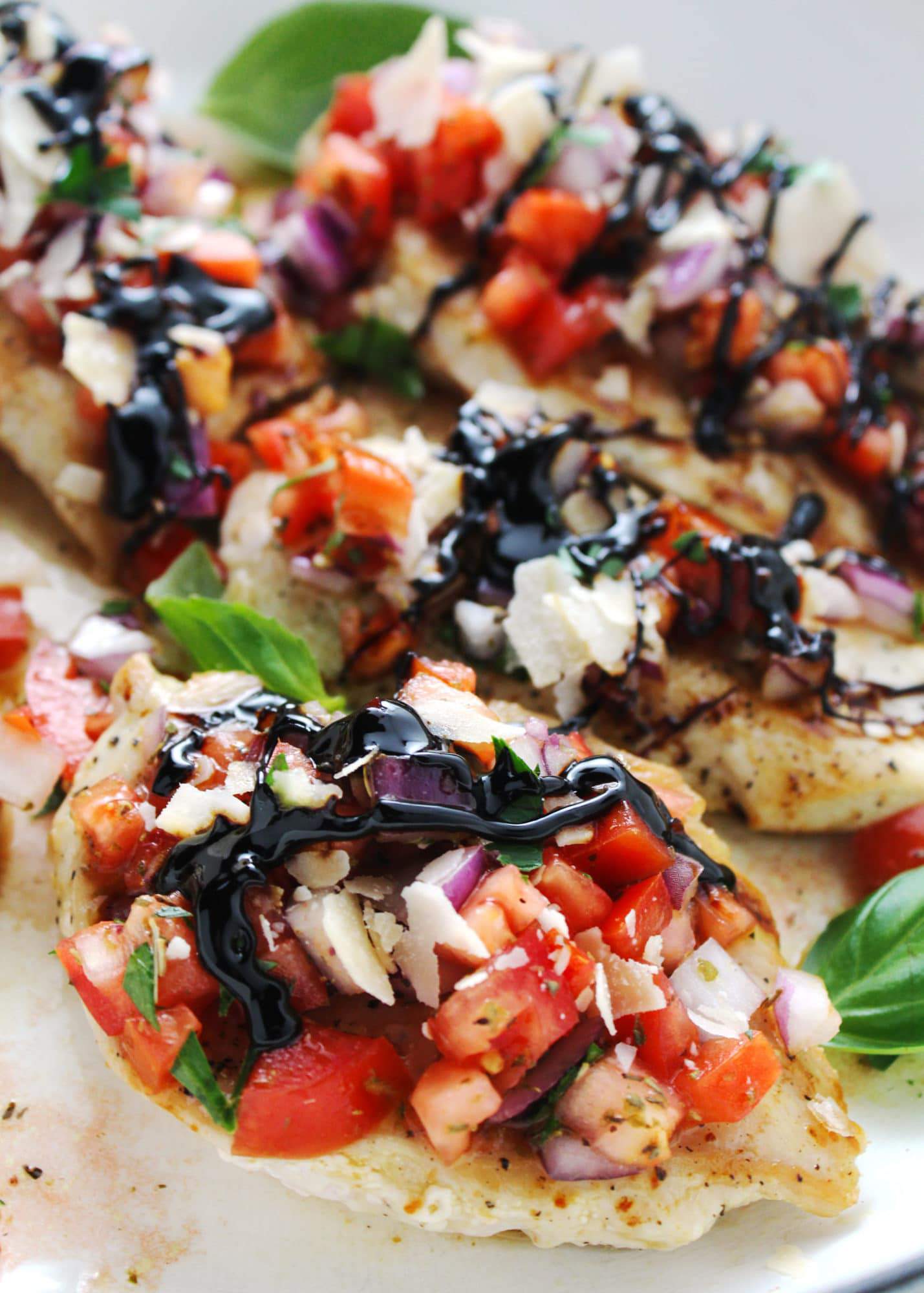 Here, we do easy. Bruschetta Chicken is one of those easy meals in life that you're not going to regret making… Let's discuss!
There are times in my life where I know EXACTLY what I'm doing, most times, however, I'm just winging it and to be perfectly honest that's likely the state of life I'm most comfortable residing in (where are my people at). One thing is for certain though, I know how to properly pronounce "bruschetta."
According to the random Italian's hanging out on my friend's rooftop terrace, overlooking Houston Street in Manhattan, I'd been pronouncing it incorrectly up until they'd invited us to join them in their Sunday celebration. They were having wine and appetizers, one of which was, yep, you guessed it, bruschetta. There's so little I remember specifically about this memory in my life, but I do know it was a perfectly cloudless day, hence the rooftop gathering, and I do know it's the exact moment I properly learned to pronounce bruschetta.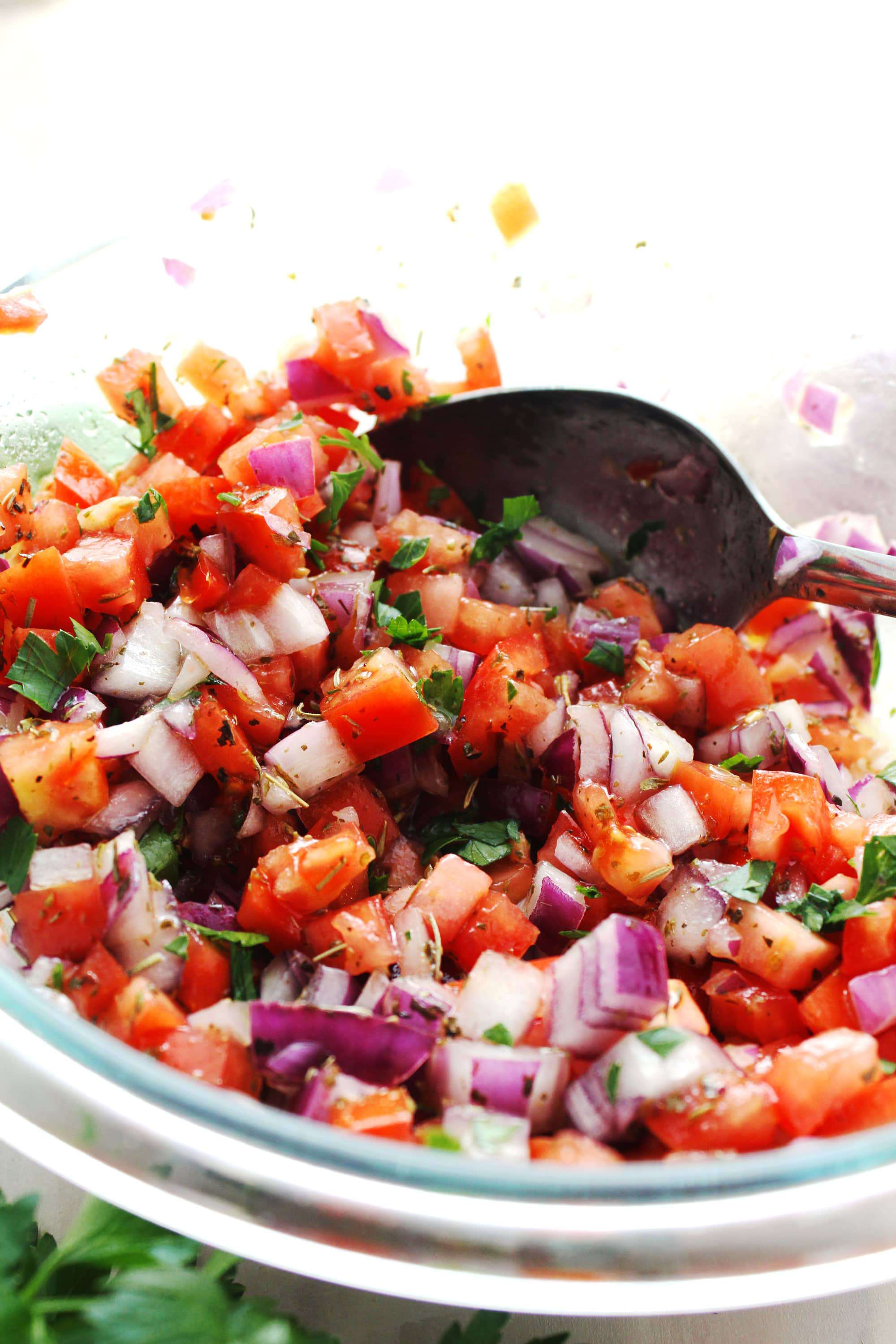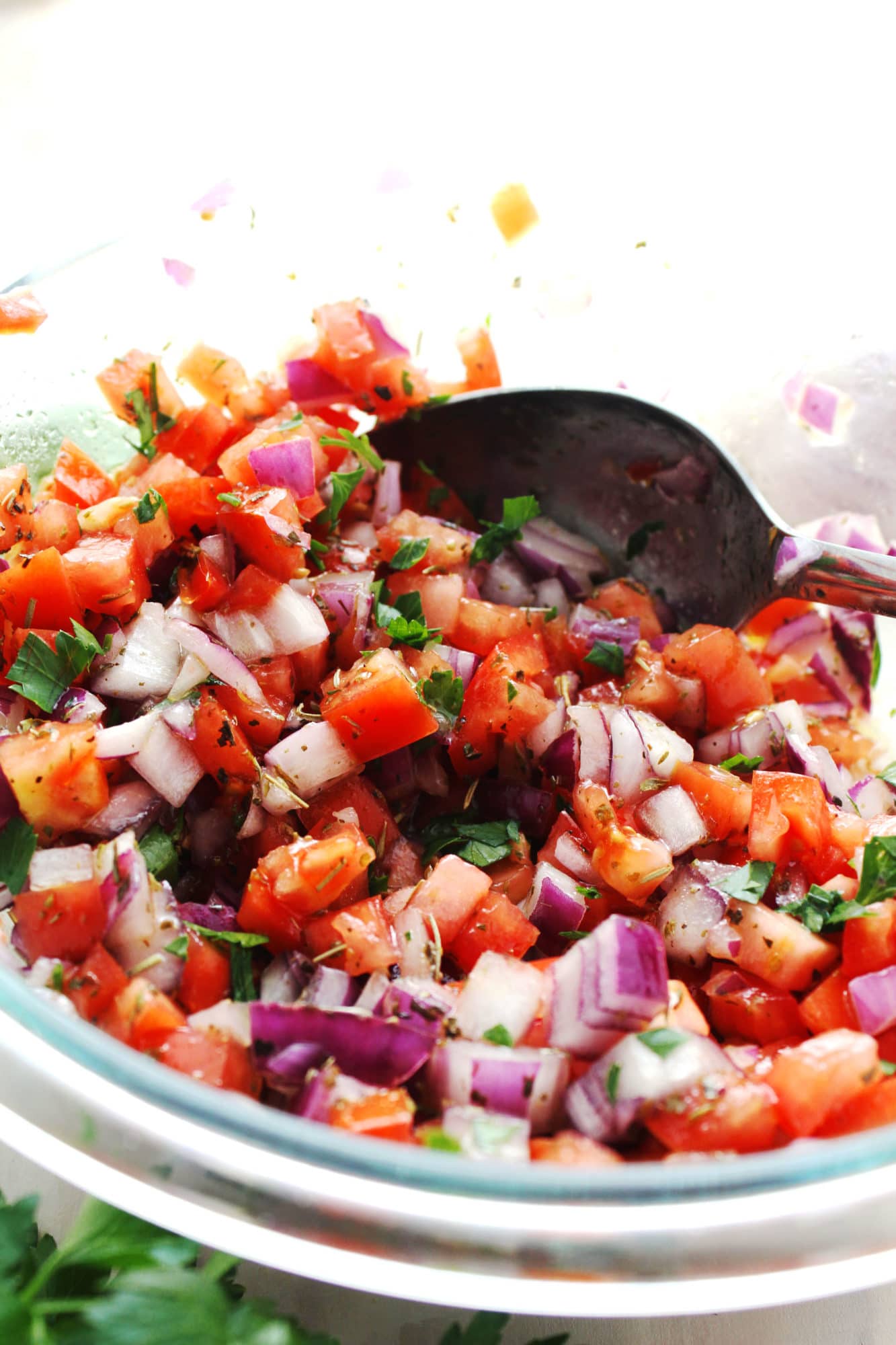 Since we're getting technical, Wikipedia describes it as an "antipasto from Italy consisting of grilled bread rubbed with garlic and topped with olive oil and salt. Variations may include toppings of tomato, vegetables, beans, cured meats, and cheese." Here, I'm swapping out the bread for the chicken to make this into a full-on meal, so again technically not an antipasto, but we're going to keep the mainstays of:
garlic
olive oil
tomato
vegetables
cheese
spices
All ingredients that are pretty much good on top of anything and what's great is there's room for "variations" as so suggested by Wikipedia. Variety is the spice of life, is it not (somebody important said that I just don't know who)? Switch up some vegetables or change out the cheese. You do you here.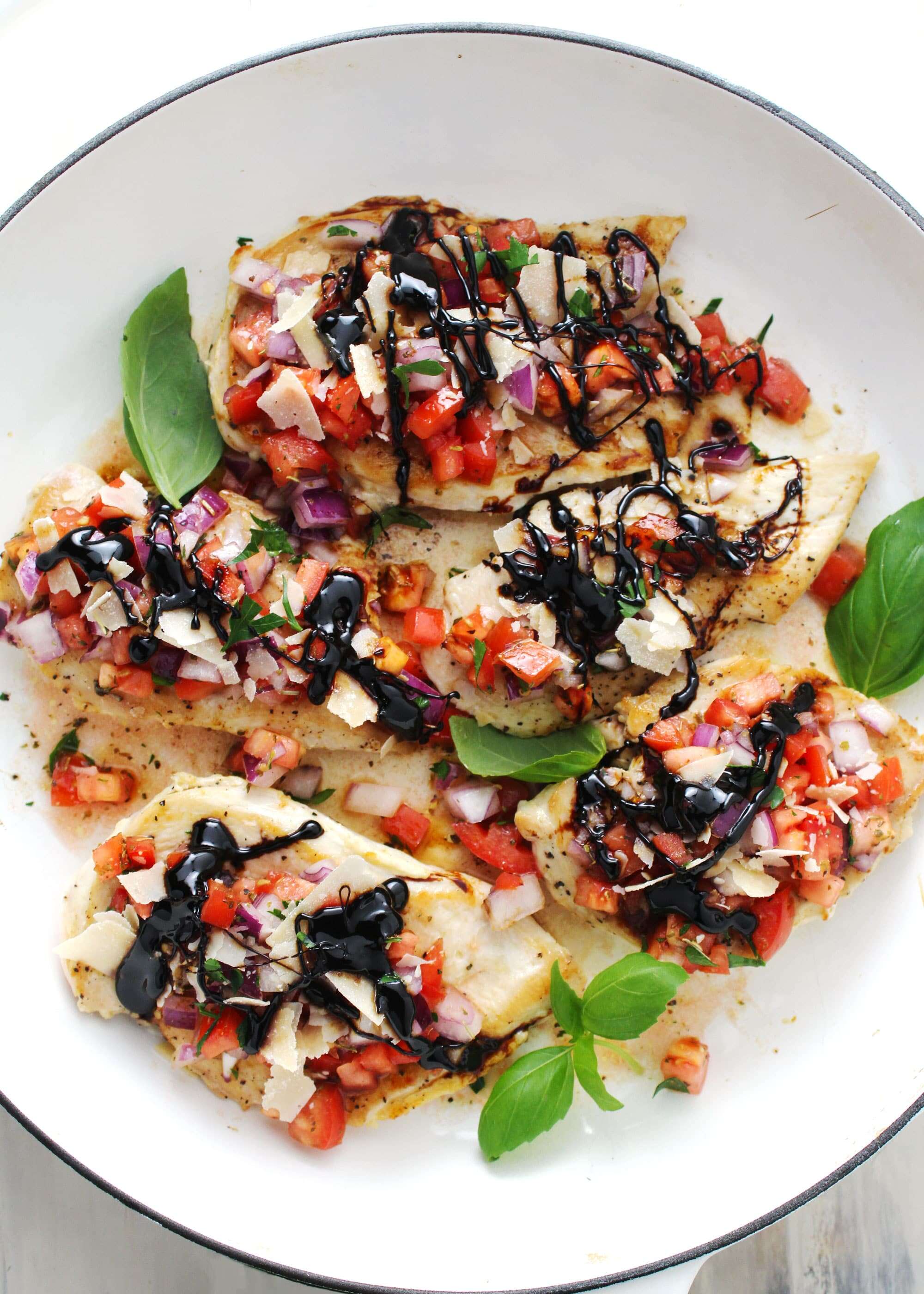 As for the spices I've got some shredded parsley and VERY fresh basil. So fresh in fact I cut it off my basil plant, which I have named Basel and is pronounced with an English accent, that I was forced to purchase because the grocery store was out of the pre-cut kind. So far he is doing great… Stay tuned as I'm totally winging that…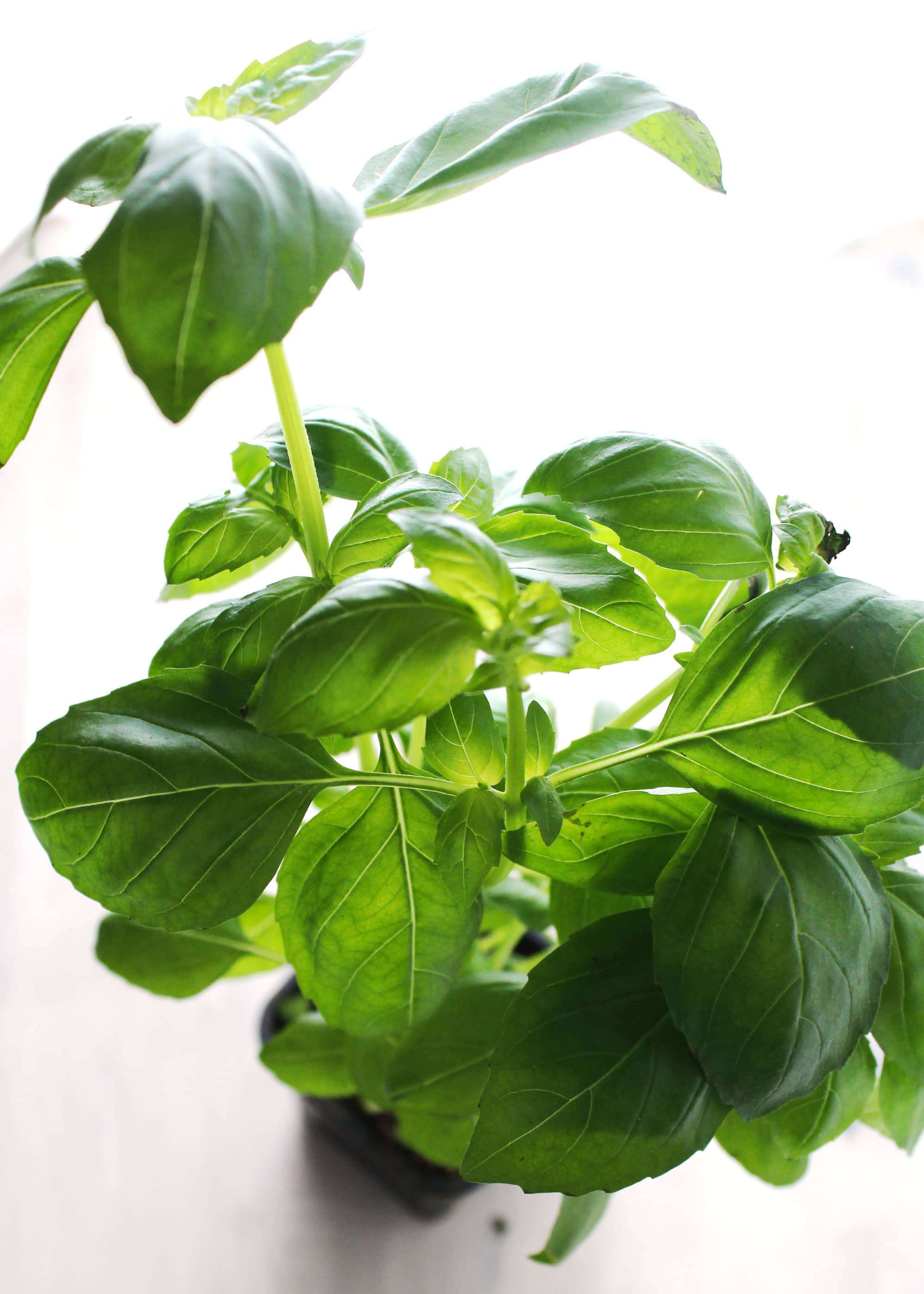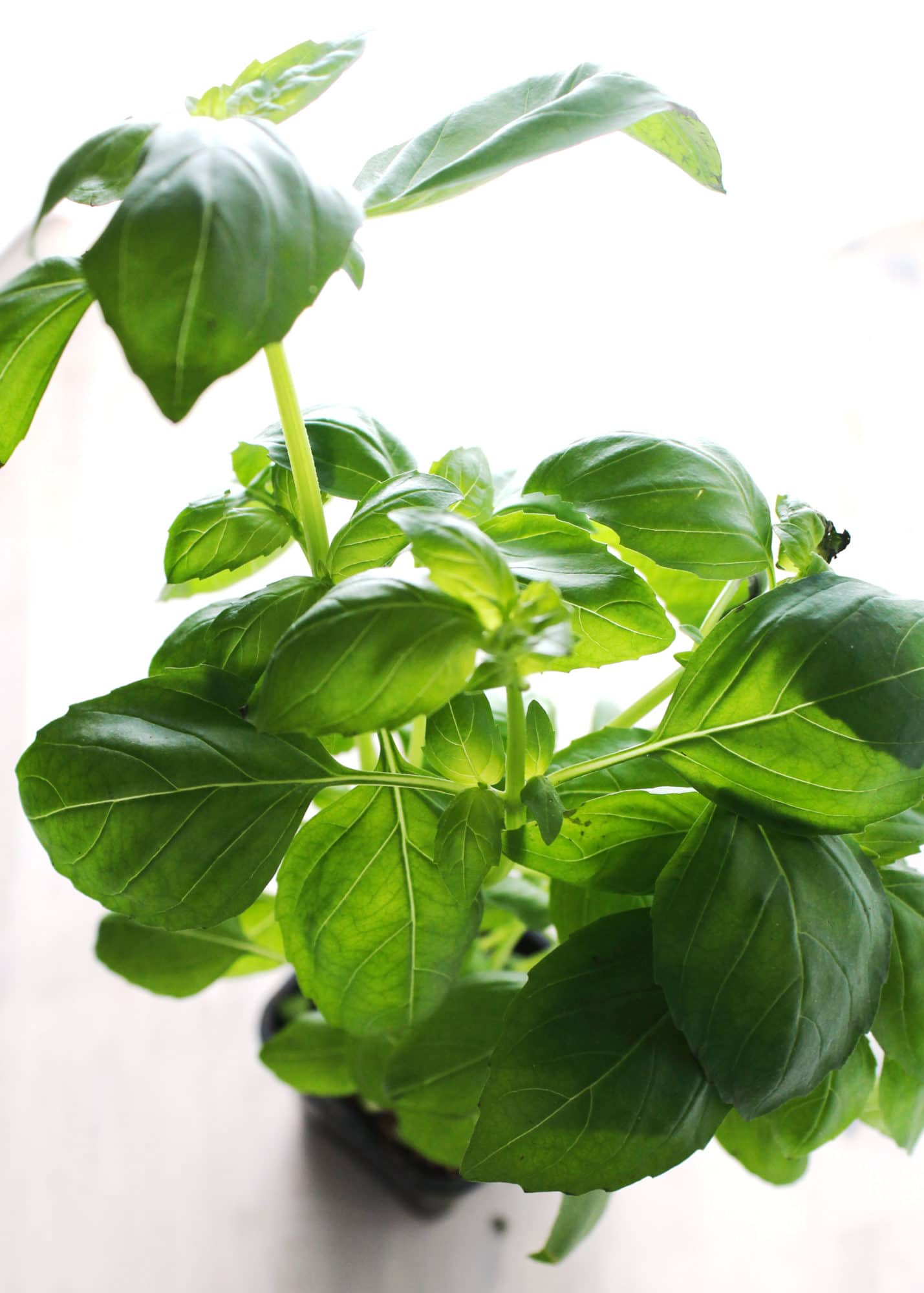 Bruschetta itself pretty simple and so is bruschetta chicken. Once you cook the chicken and prep the balsamic glaze you're going to be one happy eater.
Print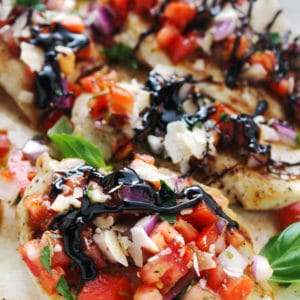 Bruschetta Chicken
---
4

Boneless, Skinless, Chicken Breast

3 teaspoons

Italian Seasoning

1 tablespoon

Olive Oil
Bruschetta
4

Plum Tomatoes, chopped finely

1/2

Red Onion, chopped finely

1/4 cup

Fresh Basil or Parsley, shredded (or both)

2 tablespoons

Olive Oil
salt and pepper, seasoning
Balsamic Glaze
1/2 cup

Balsamic Vinegar

3 teaspoons

Brown Sugar
Garnish
---
Instructions
Chicken: Heat Olive Oil in a medium skillet over medium-high heat and season both sides of the Chicken with the Italian Seasoning and Salt and Pepper. Add the chicken to the prepared skillet and cook on each side for 6 to 7 minutes or until the internal temp reached 160 degrees.
Bruschetta: While the chicken is cooking, chop the Tomatoes, Onion, and Basil and place in a medium bowl. Add the Olive Oil and Salt and Pepper then toss to coat evenly. Layer the mixture on top of each cooked chicken breast.
Balsamic Glaze: Whisk the Balsamic Vinegar and Brown Sugar together in a small saucepan and bring to a boil over high heat. Allow mixture to boil for 1 minute and then turn heat to low and simmer for an additional 5 to 7 minutes, or until the vinegar begins to thicken. Pour over each chicken breast and garnish with Shaved Parmesan Cheese.
---