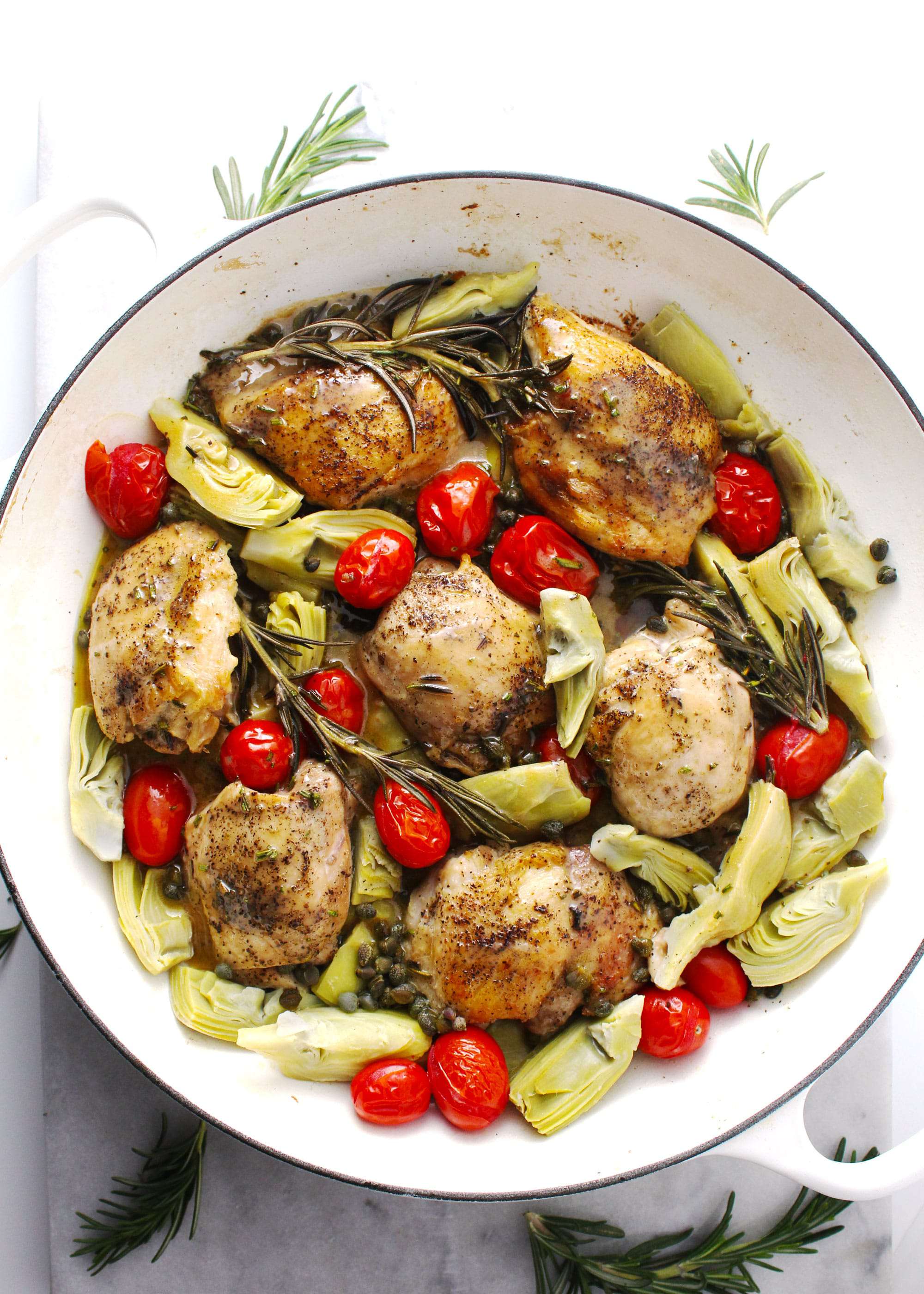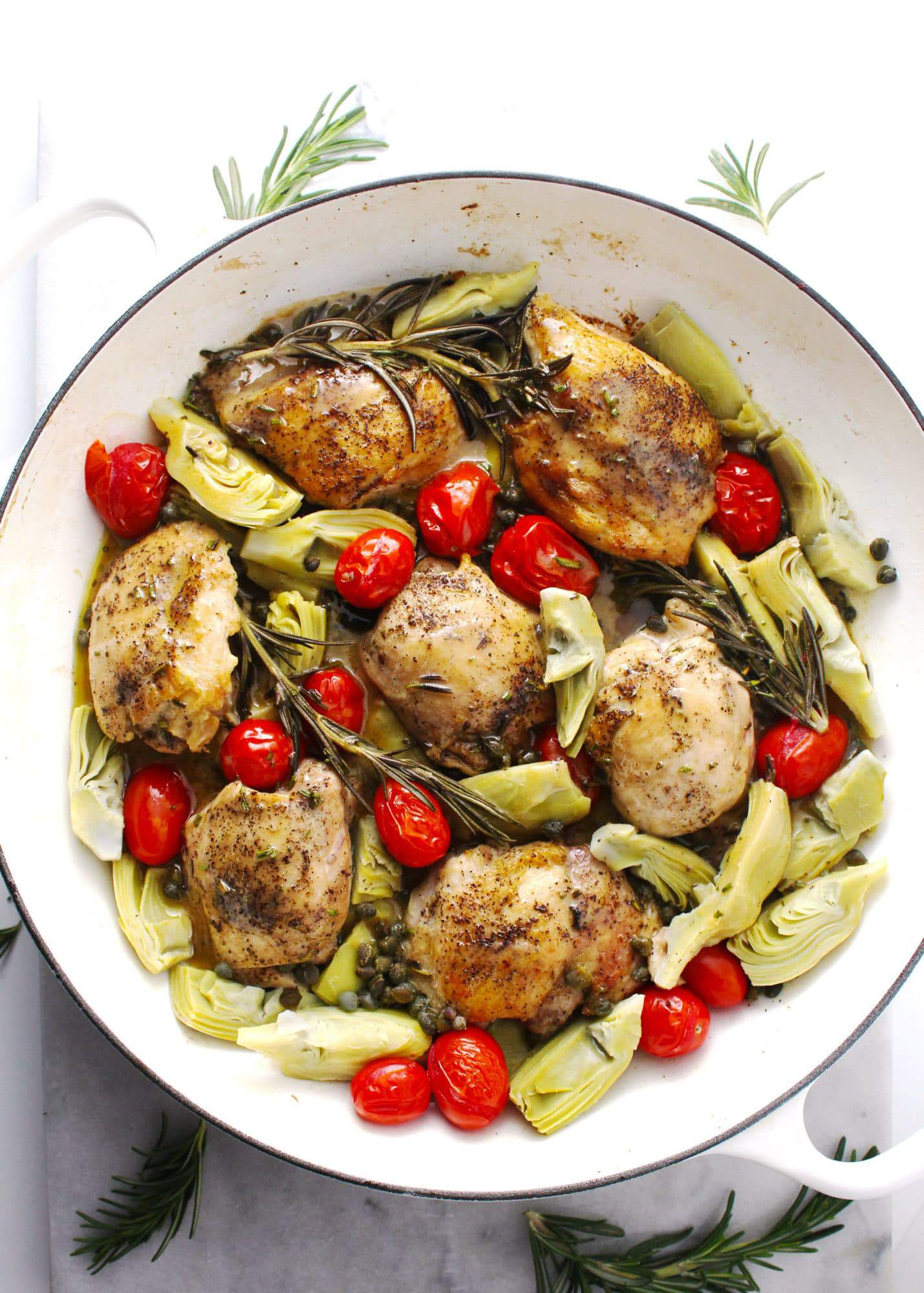 How pretty is this Charred Rosemary Vinaigrette Chicken, and it sounds so fancy! It's not, you know I don't do fancy around here, but I do love when something simple, hello one pot (skillet) meal, looks impressive, and in my completely biased opinion, this looks impressive.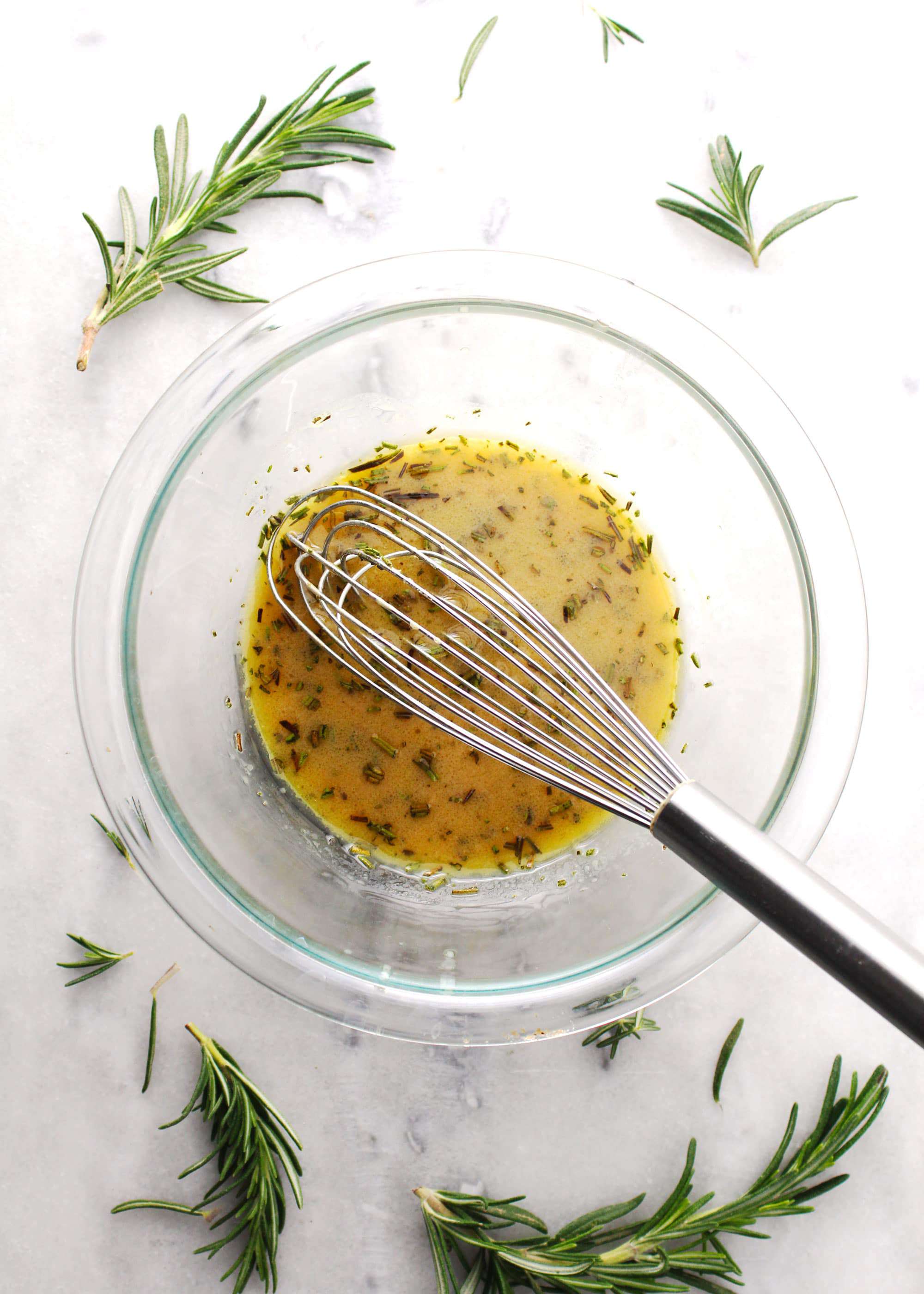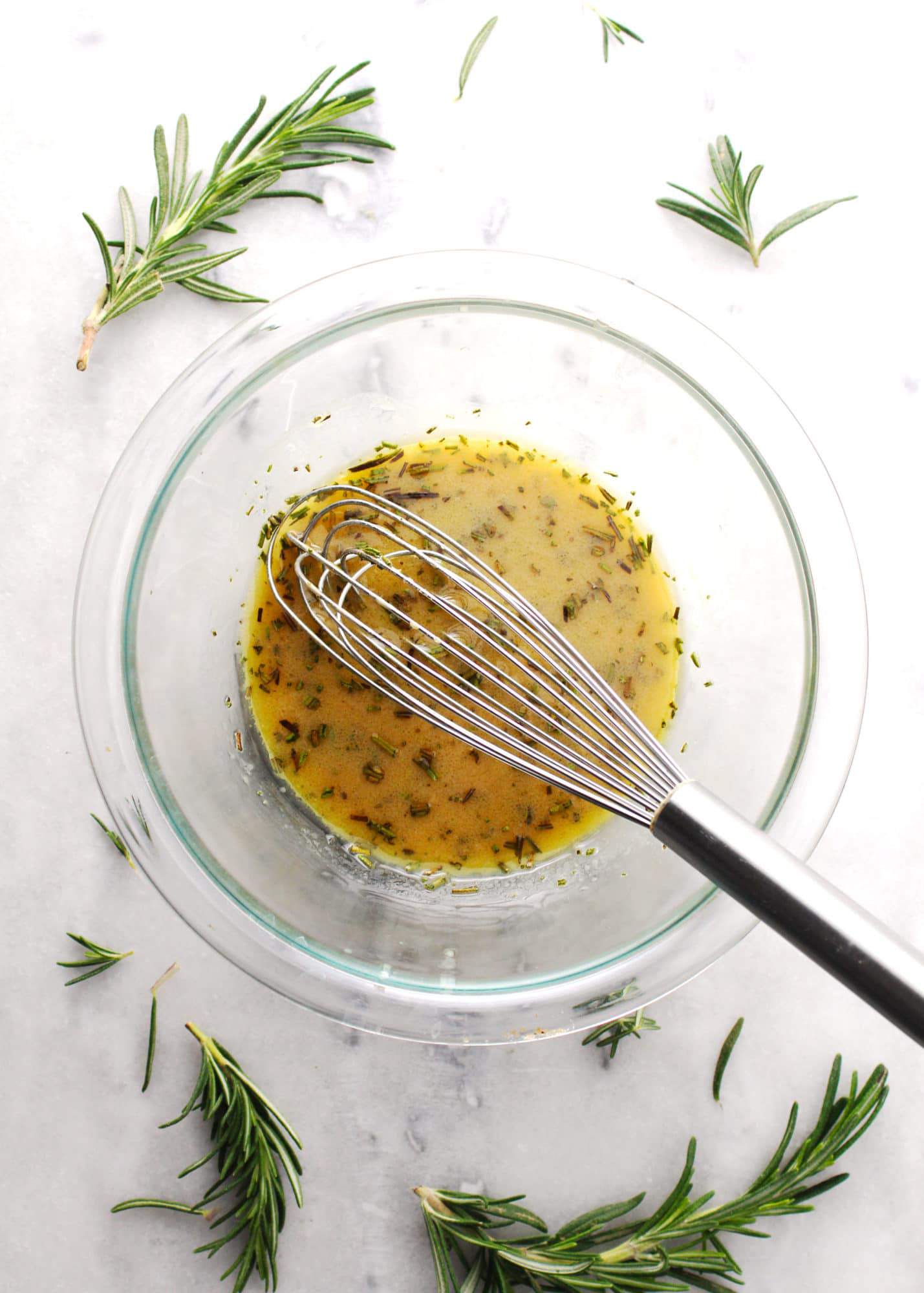 Let's chat about the simplicity of this recipe because here's what it looks like:
Char up some Rosemary in the oven, easy enough.
Whisk together the vinaigrette, no problem.
Then sauté and bake it all in your skillet! Done and done.
Since we're full swing into the new year I'm really into one pot, or in this case skillet, meals because there are endless possibilities (especially when chicken is involved), but mainly because of that whole EASY thing. The flavor combo of this charred rosemary vinaigrette chicken is obviously a HUGE bonus, but it feels kind of new.
This isn't some standard lemon and pepper seasoning we've got going on here. We've got charred rosemary (never have I ever done this), dijon mustard, maple syrup (yas!), and the obvious oil to make the vinaigrette. Then we're gonna drizzle that all over some chicken mixed with cherry tomatoes, artichoke hearts, and capers! FUN!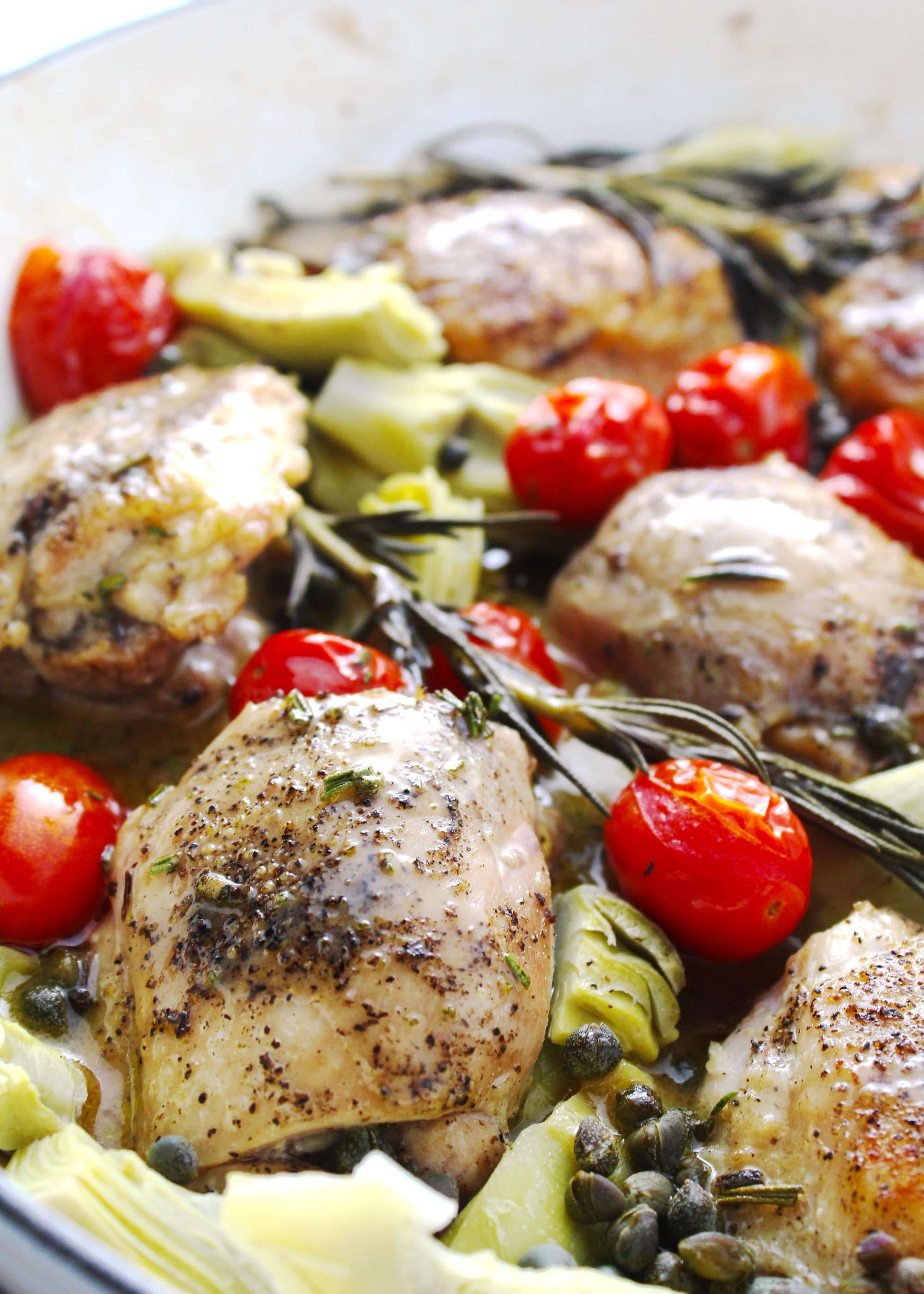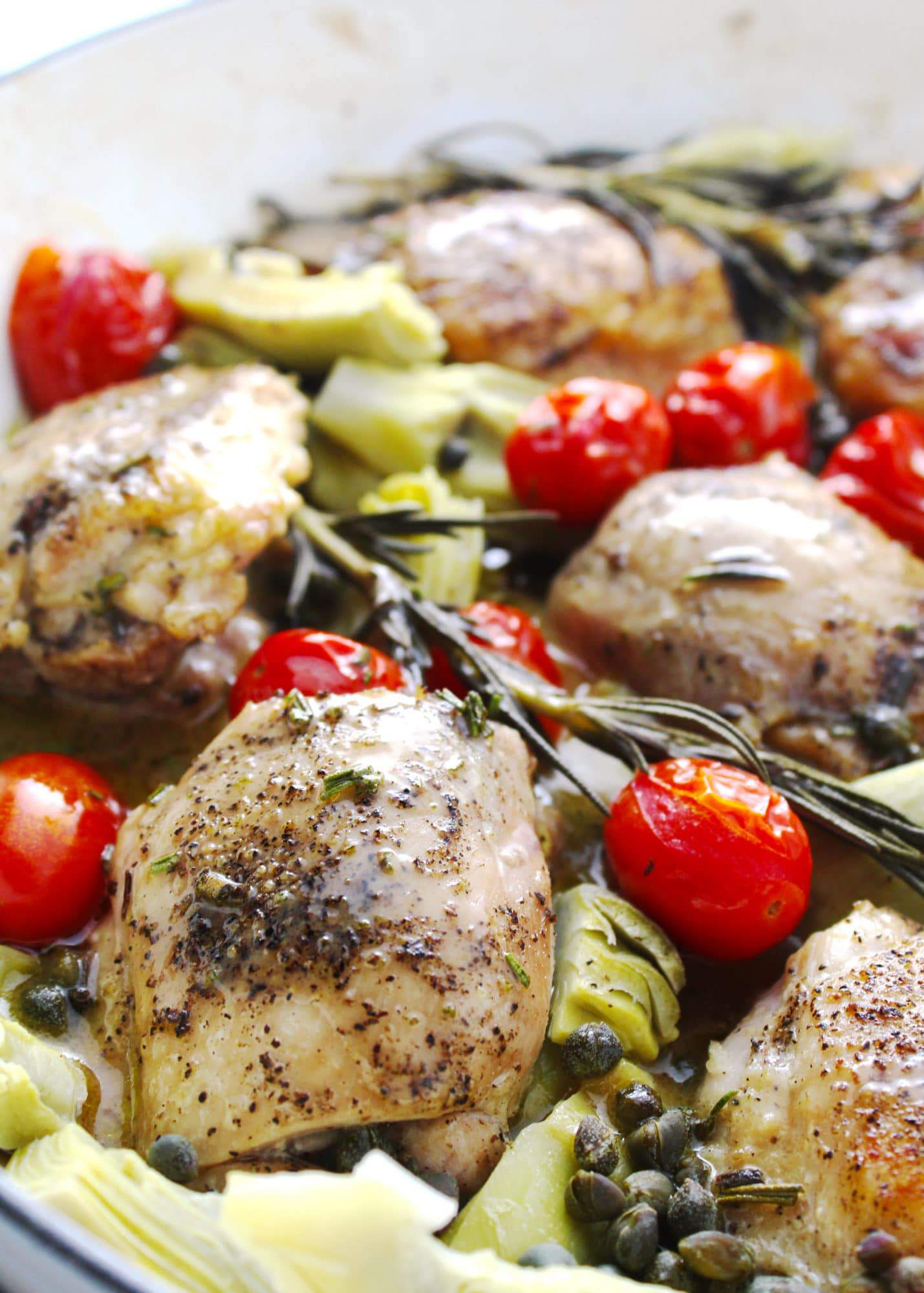 Speaking of flavors, after I roasted the rosemary in the oven my house smelled divinely of, well, rosemary! Huge win on my part and if I hadn't killed my rosemary plant several years ago I'd be making this a daily scent. Stick to what you know, right?
I went for the obvious rice pairing on this meal and I'm not mad about it, but I do think it would be better on top of some mashed potatoes, maybe even a little prettier, it's possible.
Full transparency has always been my goal here and I feel it's necessary to say DO THE MASHED POTATOES (the food not the dance, or you could do both #winning) especially if this is a date night meal, and you should definitely do this for your next date night. Make life legendary, right?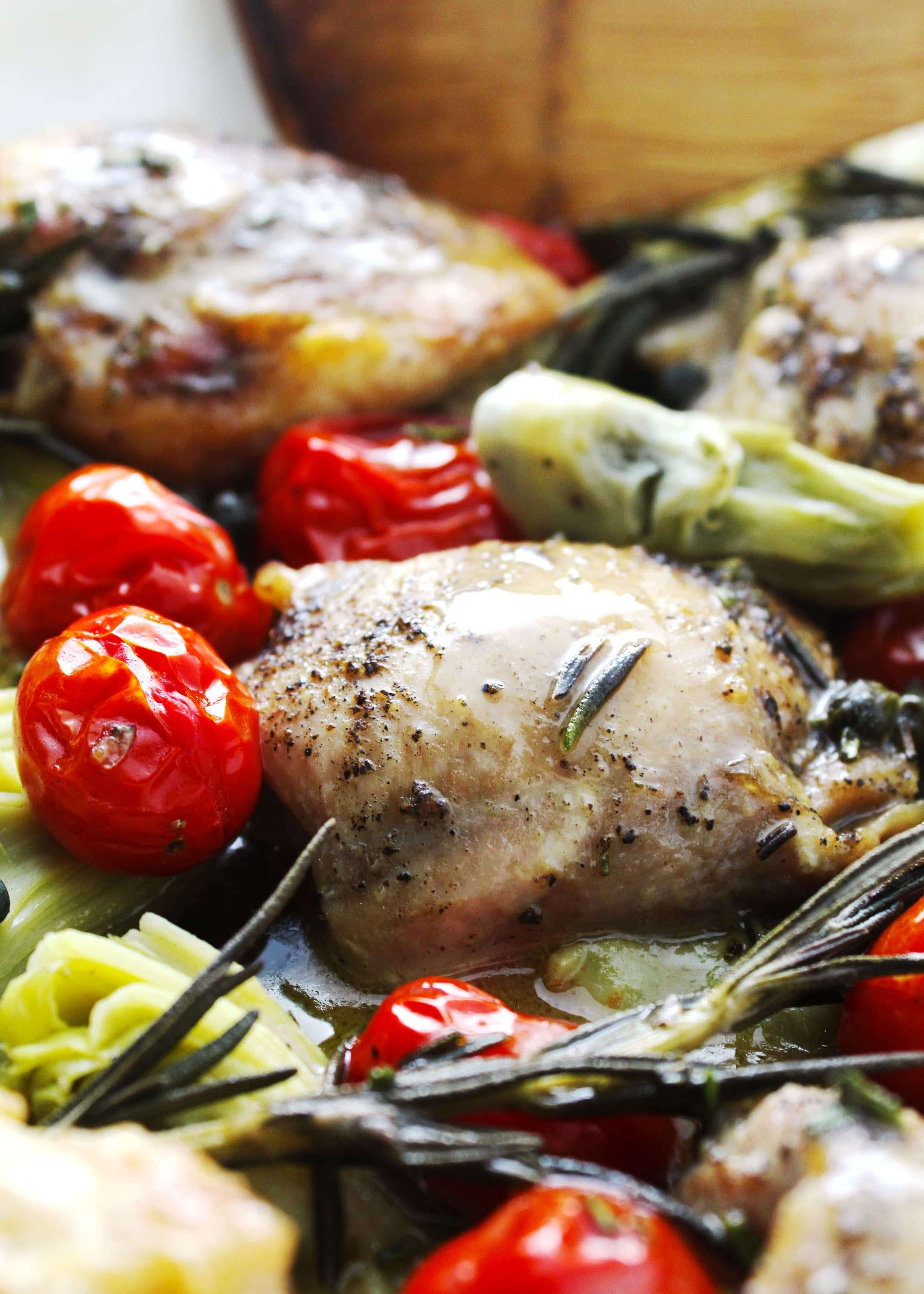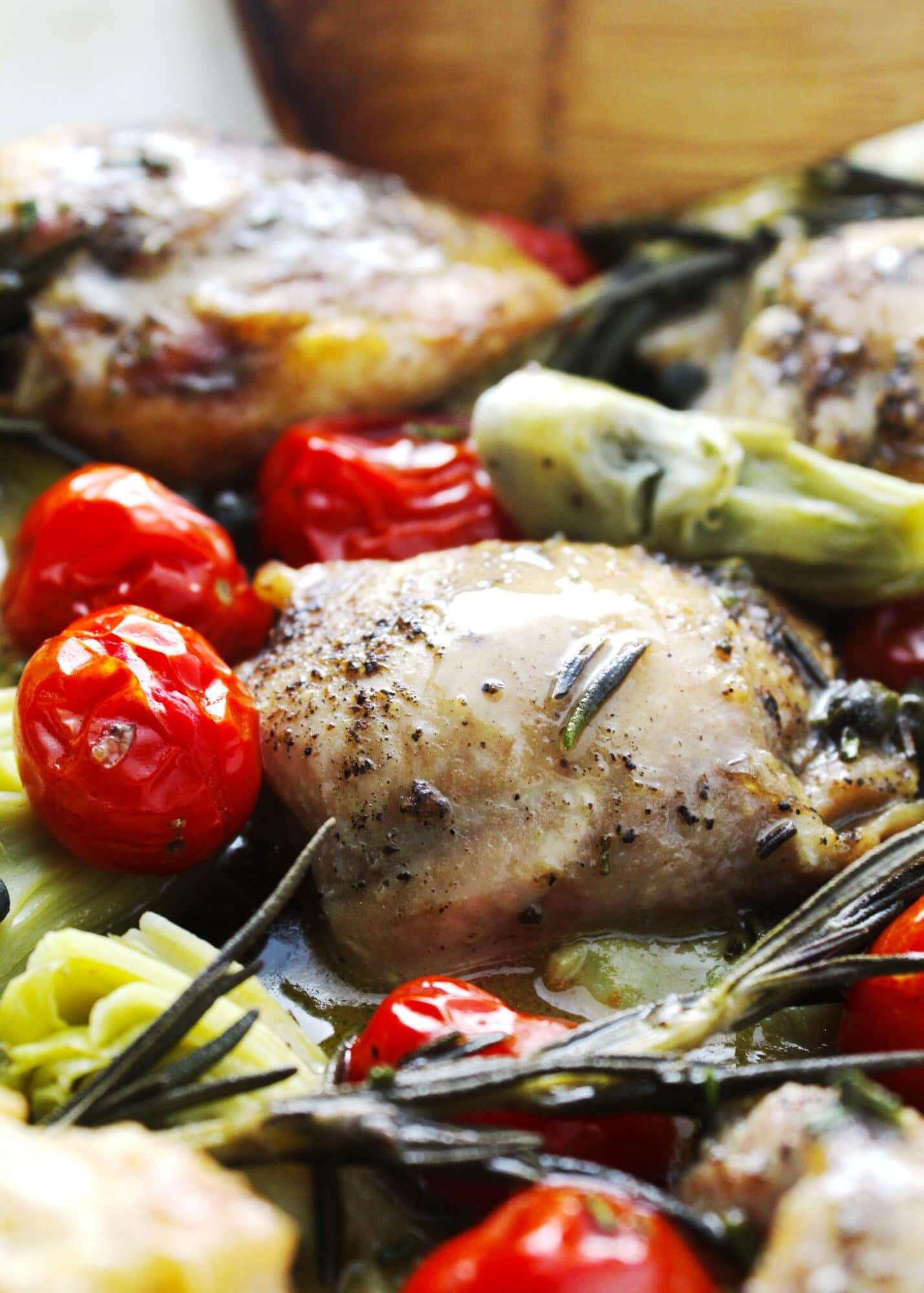 The boneless, skinless, chicken thighs here are a time/life saver and really they're just easy. My low on energy life needs easy when it comes to dinner, perhaps my sanity does too, but these thighs really soak up the rosemary vinaigrette flavor and create a drippy, almost syrupy like sauce the meat and vegetables (I know, I know tomatoes are a fruit) swim in.
You may want to skip using a fork altogether with this chicken and embrace licking clean your sticky fingers.
Now, add this recipe to your meal plan for the week.
Ingredients
4

Springs Rosemary

3

tablespoons

Red Wine Vinegar

1

tablespoon

Dijon Mustard

1

tablespoon

Maple Syrup

1/4

cup

Olive Oil

8

Boneless, Skinless, Chicken Thighs

1

pint

Cherry Tomatoes

10

ounces

Frozen Artichoke Hearts

1/2

cup

Capers
Instructions
Preheat the oven to 375 degrees. Roast 2 of the Rosemary Sprigs directly on the oven rack for 5 minutes, until edges have browned. Carefully, strip the leaves off and then finely chop them; discard stems.

In a small bowl whisk together the Vinegar, Dijon Mustard, Maple Syrup, 1/4 cup Olive Oil, and crushed Rosemary. Season with Salt and Pepper.

In a large heavy-bottomed (oven-safe) skillet, heat about 1 tablespoon of Olive Oil over medium-high heat. Season both sides of chicken with salt and pepper and cook for 6 minutes per side. Remove from skillet and set aside on a plate.

Drain about half of the leftover oil from the skillet and add the Cherry Tomatoes, Artichoke Hearts, and Capers. Nestle the chicken back into the skillet, top with the remaining Rosemary Springs, and pour the vinaigrette on top. Cover and place in the oven to roast for 15 minutes, or until chicken reaches an internal temp of 165 degrees. With about 2 minutes to go remove the lid from the skillet and set the oven to broil.
Nutrition
Serving:
1
serving
|
Calories:
461
kcal
|
Carbohydrates:
15
g
|
Protein:
47
g
|
Fat:
24
g
|
Saturated Fat:
4
g
|
Cholesterol:
215
mg
|
Sodium:
898
mg
|
Potassium:
999
mg
|
Fiber:
5
g
|
Sugar:
6
g
|
Vitamin A:
801
IU
|
Vitamin C:
32
mg
|
Calcium:
64
mg
|
Iron:
4
mg