Cheesy Frito Pie is one delicious dinner made in minutes everyone in the family will love. By picking up some pre-cut ingredients you'll have this easy dinner on the table in no time.
Crunchy Frito corn chips covered in cheesy goodness are the stars of this super easy casserole-style dish. Nestled in between the two Frito layers is an enchilada beef mixture with a homemade pico de gallo tossed inside. Cheesy Frito Pie boasts a delicious flavor but comes with a very simple prep. Some similar recipes include this Cheesy Mexican Skillet or even this Beef Burrito Skillet.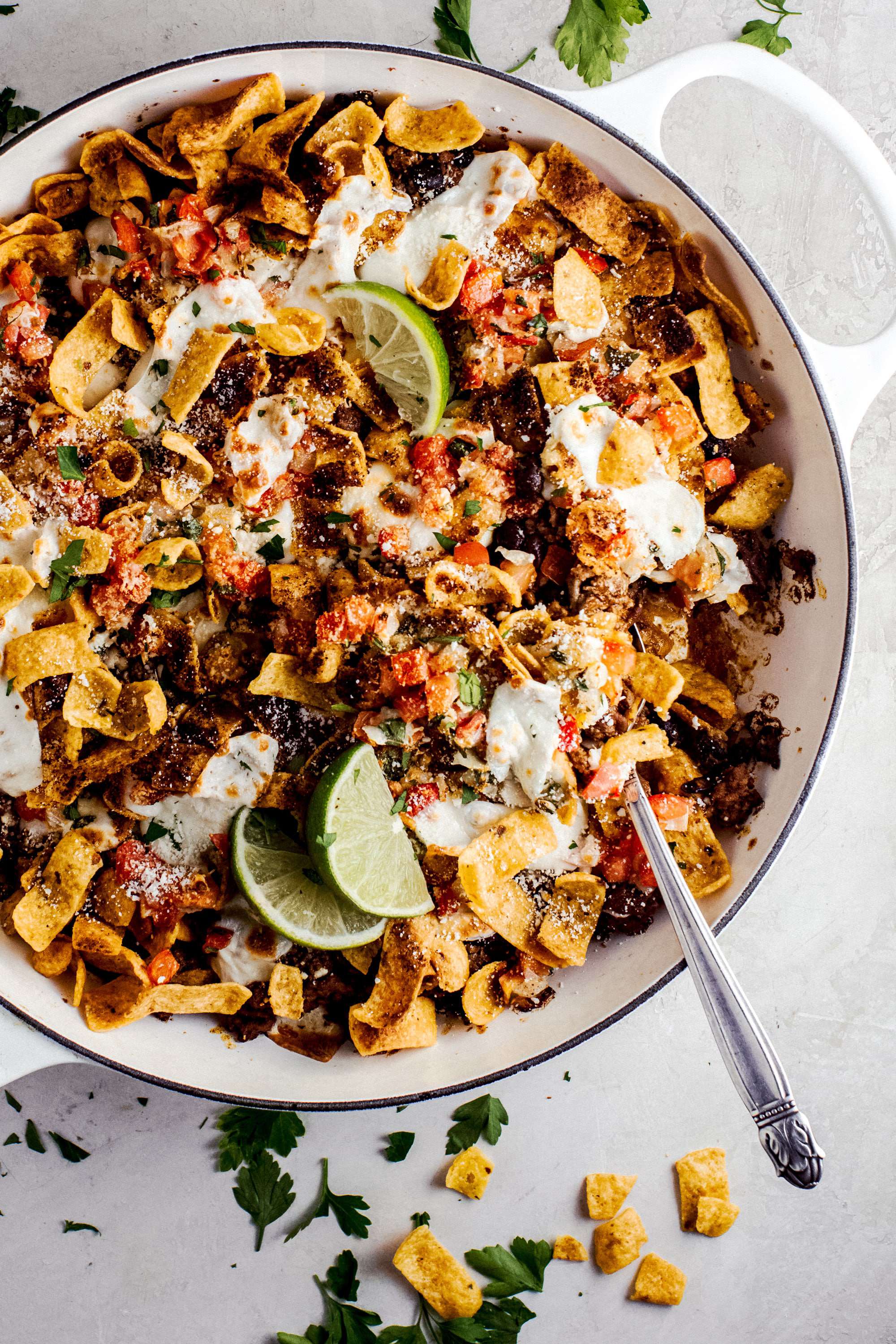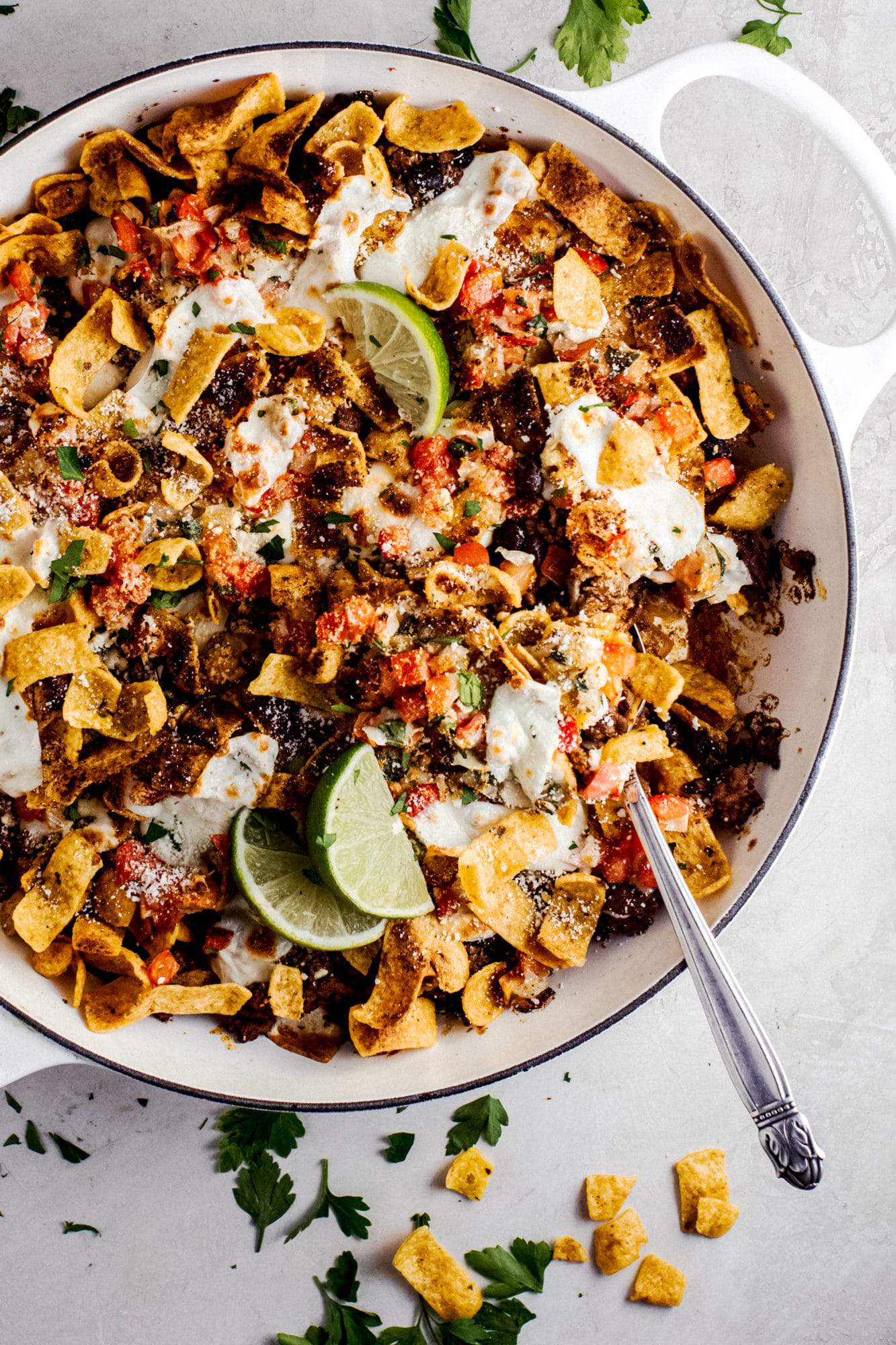 Cheesy Frito Pie
Despite the ever hectic and often chaotic mess of my mind, I often get recipes stuck in the cobwebs of my brain that randomly pop back up. The most recent recipe appearance from the doldrums is a chili cheese recipe that requires of all things a bag of Fritos! I'm sure some kid in an 80's lunchroom thought this combo to be brilliant, I'll concur, and thus a new American favorite was born. Ranking right up there with pretzels on peanut butter and jelly sandwiches, ranch dressing on pizza (square lunchroom-style preferable), and dare I suggest the ever weird, yet delicious, peanut butter on old school bologna. Don't knock these crazy culinary concoctions until you've tried them, friends!
This Frito chili cheese recipe came about back during the Christmas holidays when we were home visiting my family. It was something my mom had pulled together, inspired by Pinterest, for a simple chili night. I personally opted out of the Fritos at the time (after downing way too many sugared cookies) and silently vowed to bring them back in a recipe for later. Later has arrived!
Yes, I'm serving chips for dinner!
While I strive to be the family who toasts celery juices and yearns for meatless Monday's, I also want to have some "cool mom" tendencies when it comes to food. Ice cream shop for dinner? Sure! Snacks only suppers? Why not? Chips that bring about childhood nostalgia as the main ingredient? Absolutely! While Dr. Oz or Dr. Hyman won't likely condone Frito's as being healthy anytime soon this skillet pie isn't actually all that bad. A freshly made pico de gallo, black beans, and ground beef are some of the wholesome ingreidn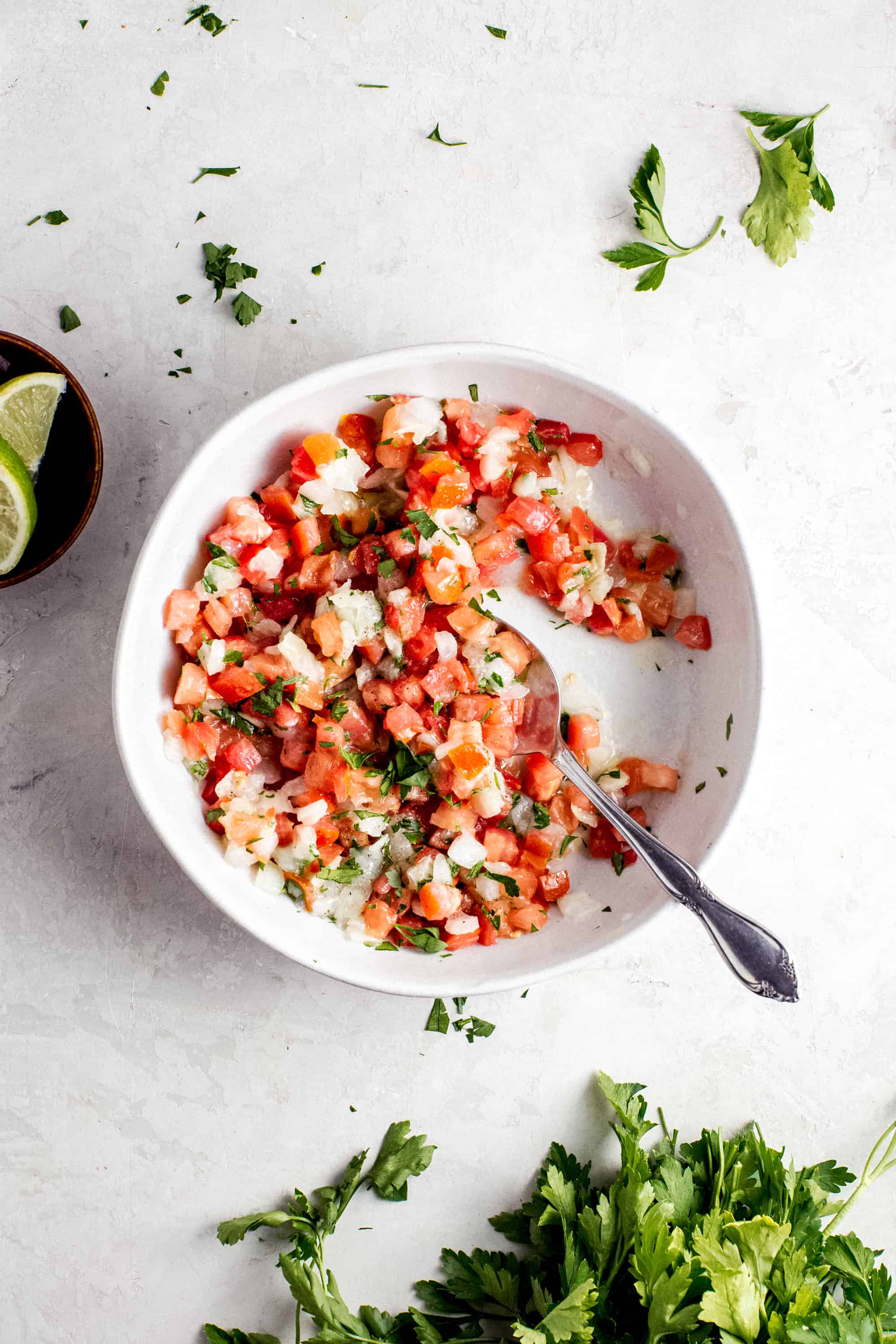 How to Make Cheesy Frito Pie
While I do love and enjoy the art of slow living I do not enjoy chopping onions and am far too minimalist to purchase the heinous "onion goggles." Therefore, I am subject to purchase pre-cut vegetables from time to time, and pre-cut onions always. Sometimes you need slow living and sometimes you need to just hurry up and get dinner on the table. This Cheesy Frito Pie is, what I like to call, one of those "quick and done" dinners.
Sometimes my slow living self and New York City minute self are at odds with one another so instead of opting for the pre-mixed taco seasoning, which you can easily do, I decided to make my own. Often, I'll make a large batch and store it in a spice jar for later use (recipe for a full batch is below).
First, prepare the taco seasoning and the quick pico de gallo mix and set aside.
Brown the beef and add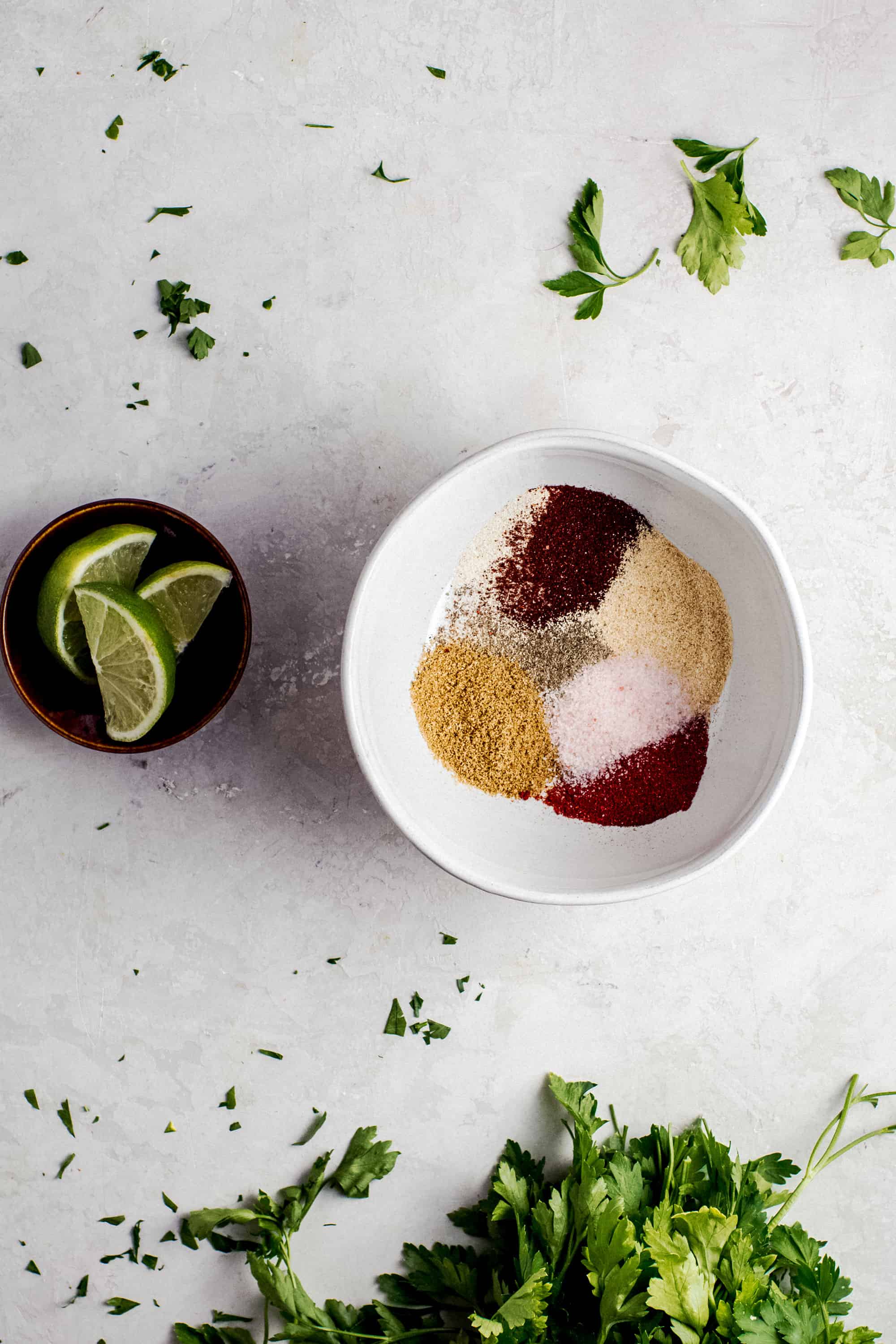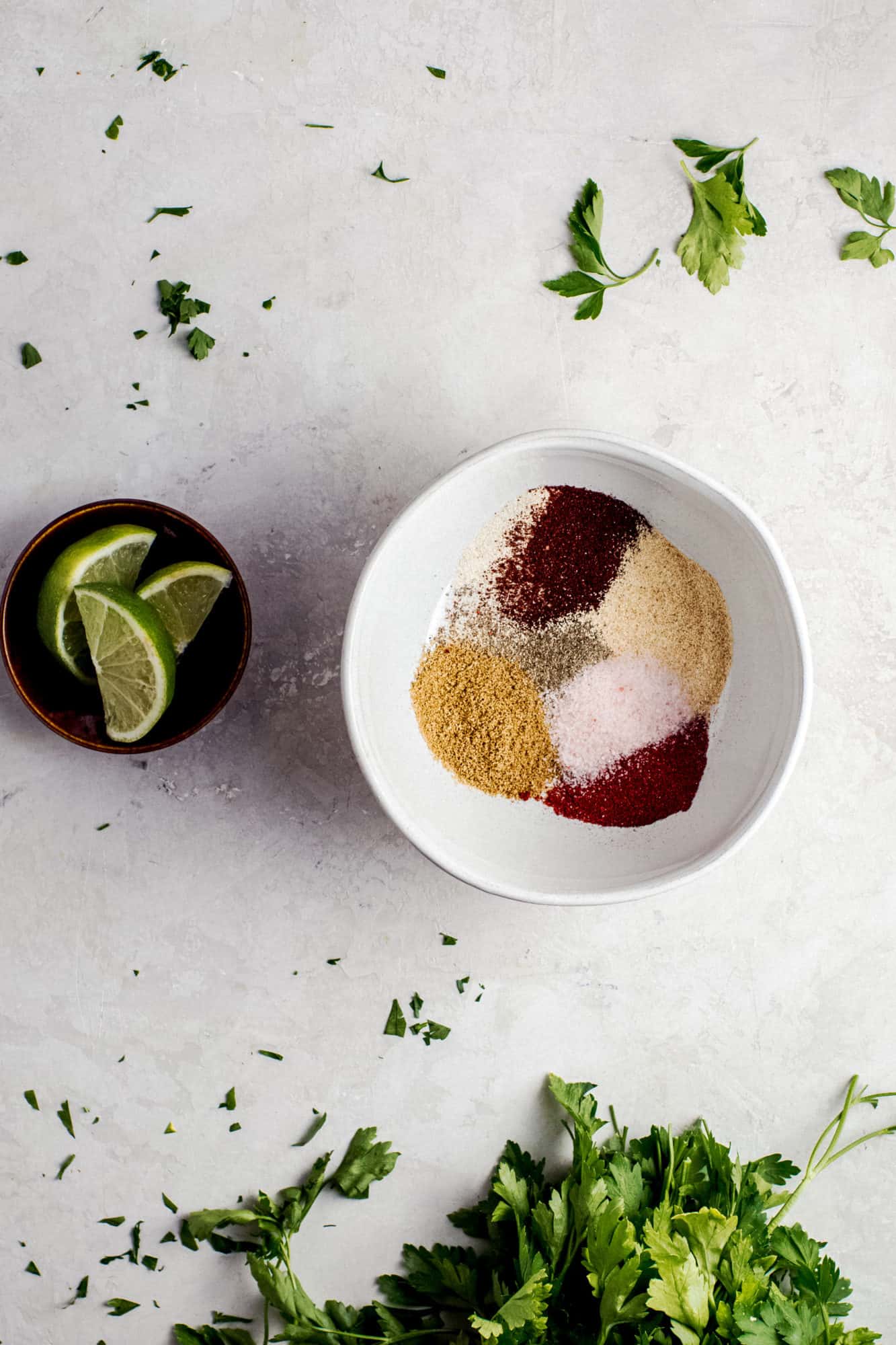 Why is it Called Pie?
Honestly, I have no idea other than guessing it's due to the ever-delicious layers of cheesy Fritos that the enchilada beef mixture sits between. Pie it is…
Homemade Taco Seasoning
Now that I've purchased my own set of glass spice jars to organize my pantry, The Home Edit style, I'm intrigued to make my own spice blends such as taco seasoning. For the cheesy Frito pie, a mild taco seasoning is involved, but you can kick it up a notch if you like with some more chili powder and paprika. If you'd like to make enough to keep on hand for another dinner use the following measurements:
1 tablespoon Chili Powder
1 tablespoon Cumin
2 teaspoons Onion Powder
2 teaspoons Garlic Powder
1 tablespoon Salt
2 teaspoons Paprika
1 tablespoon Ground Black Pepper
To add a little spicy heat increase the Chili Powder and Paprika by 1 tablespoon each.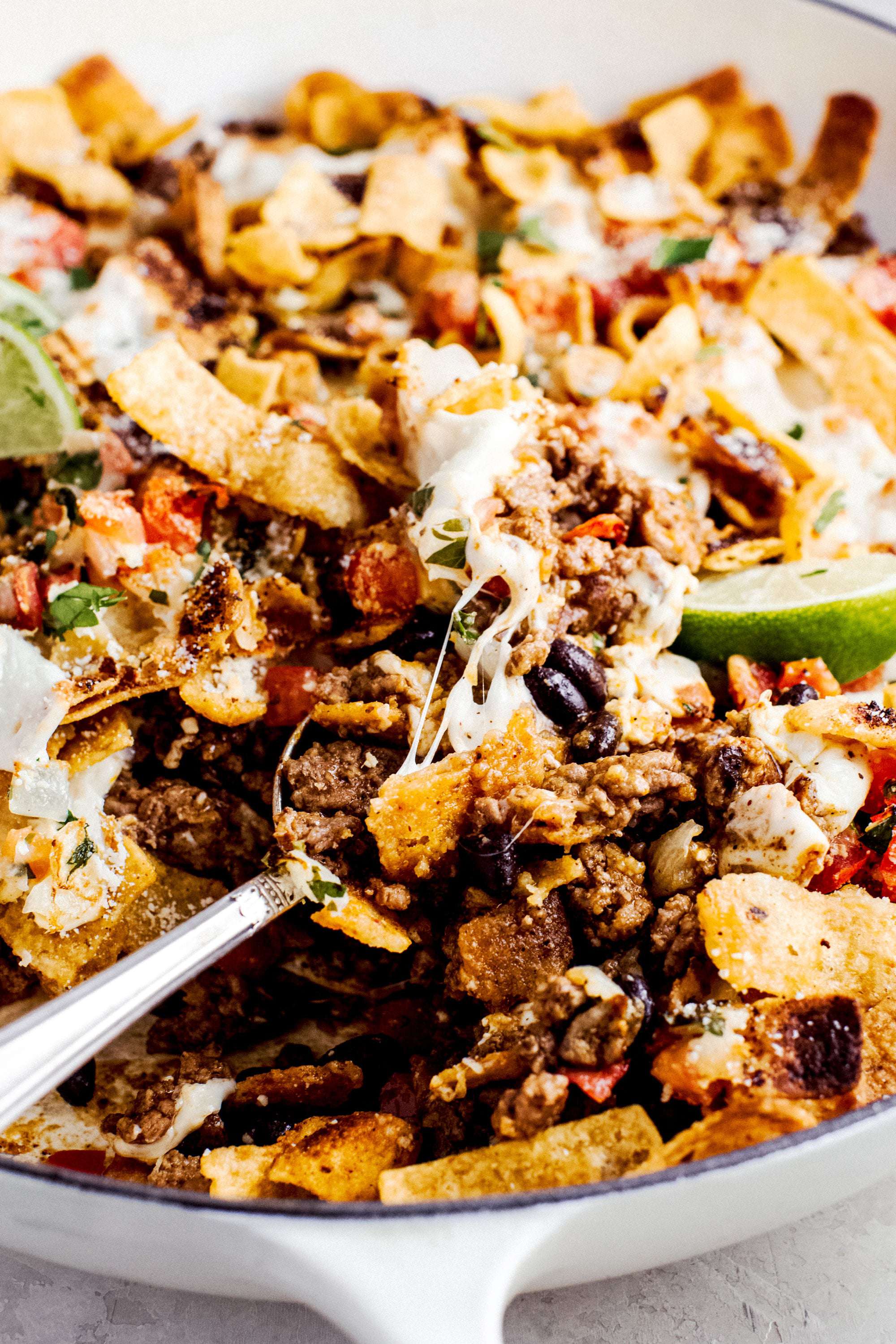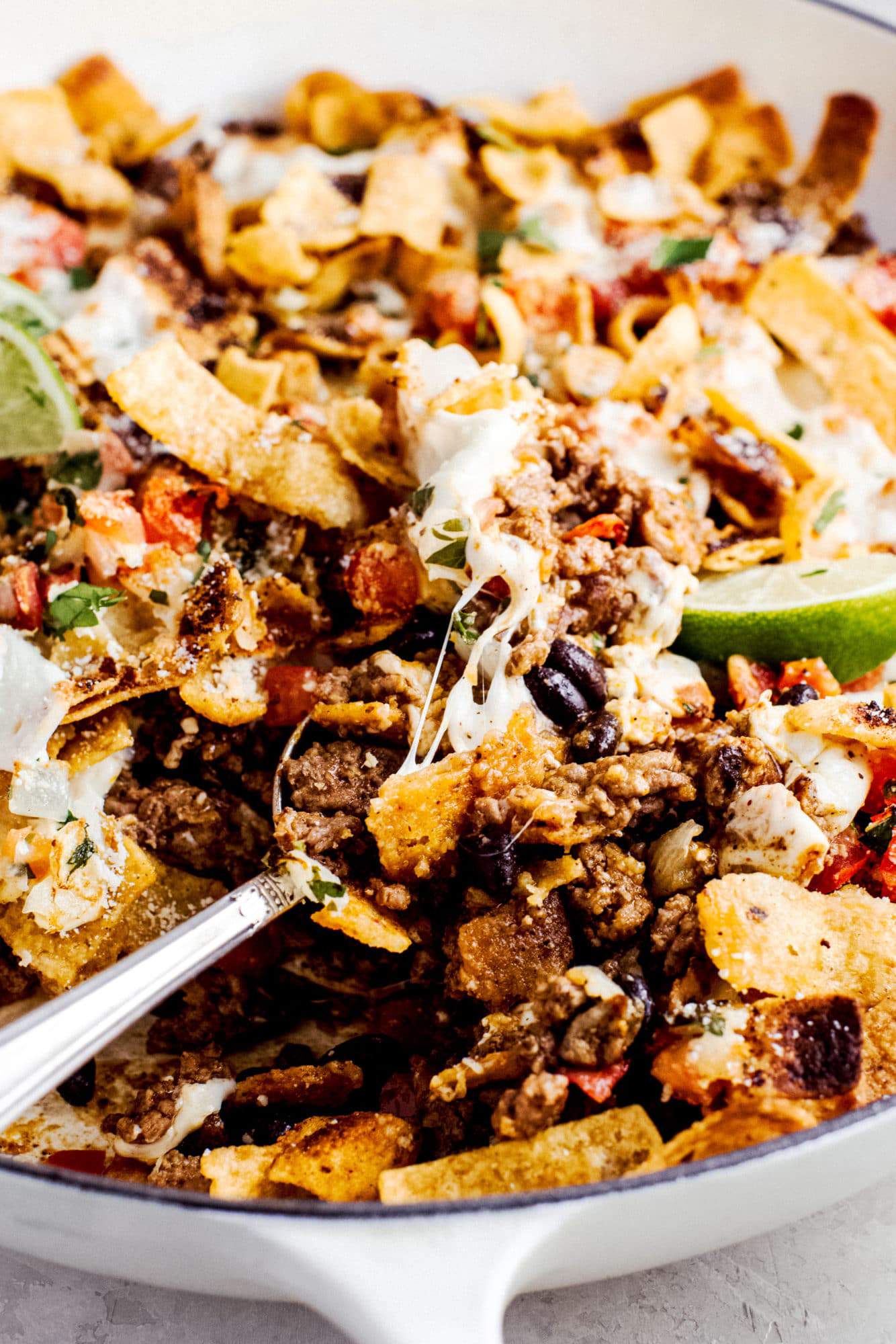 If you're looking for more easy skillet meals then try out these recipes and make dinner a breeze!
Buffalo Chicken and Rice Skillet
Chicken Verde Enchilada Skillet
Easy Lemon Garlic Skillet Chicken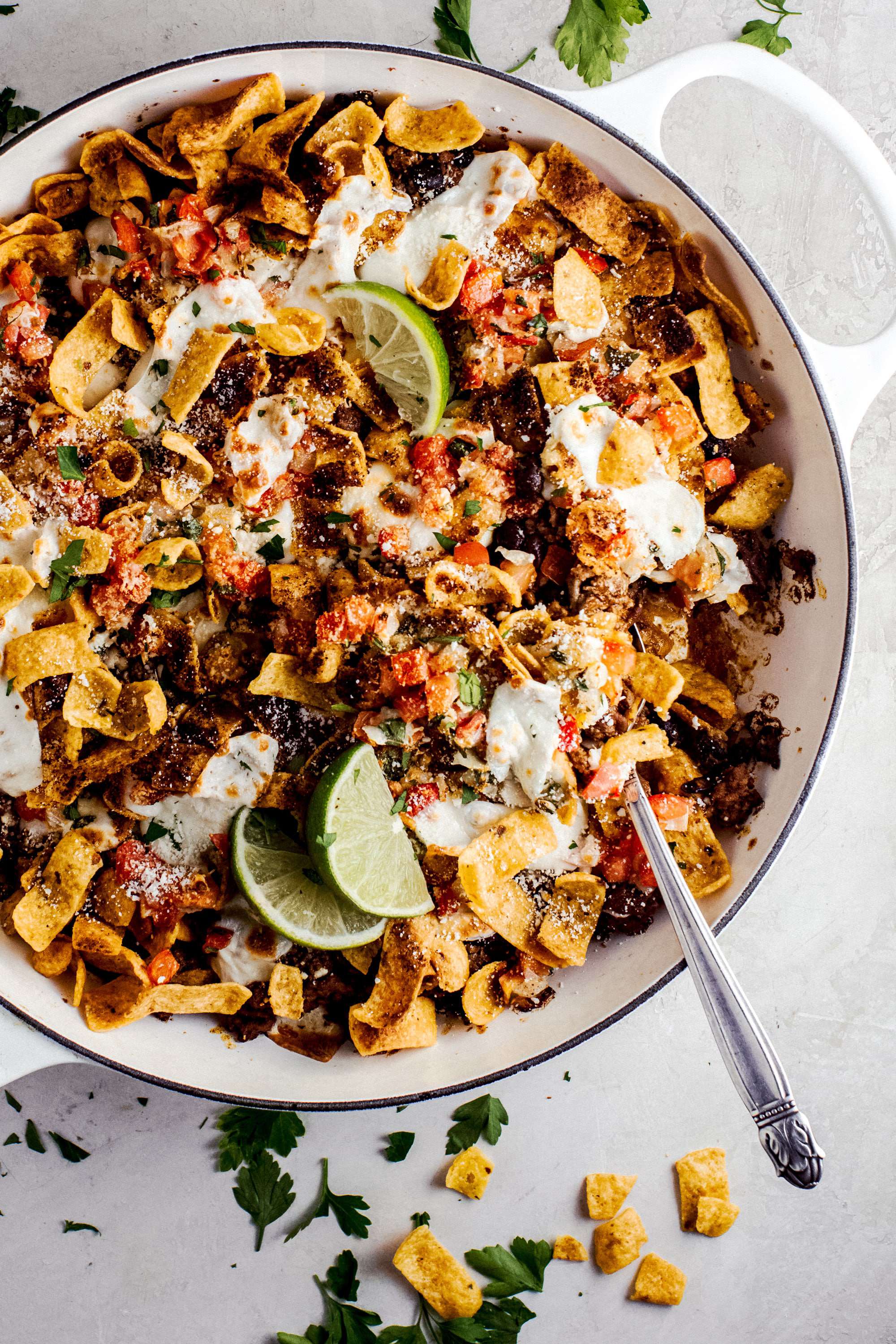 Ingredients
TACO SEASONING
1/2

teaspoon

Chili Powder

1/2

teaspoon

Cumin

1/2

teaspoon

Onion Powder

1/2

teaspoon

Garlic Powder

1/2

teaspoon

Salt

1/2

teaspoon

Paprika

1/2

teaspoon

Black Pepper
CHEESY FRITO PIE
1

lb

Ground Beef

1

cup

Chopped Onion

1½

cups

Tomatoes

chopped

1

tablespoon

Olive Oil

2

tablespoons

Fresh Parsley

19

ounces

Enchilada Sauce

15

ounces

Black Beans

9.25

ounces

Fritos Chips

2

cups

Mexican Shredded Cheese

1/4

cup

Cotija Cheese

or grated parmesan
Instructions
Preheat the oven to 350 degrees ℉ and spray or grease an oven-safe large (12-inch at least) skillet with oil.

Prepare the taco seasoning by mixing all the spices together in a small bowl. In another small bowl mix the Chopped Onions, Tomatoes, 1 tablespoon of Olive Oil, and Fresh Parsley and set aside.

Place a separate skillet over medium-high heat on the stove and brown the Ground Beef, breaking apart into small bits. Add the taco seasoning, tomato mixture, Enchilada Sauce, and Black Beans and stir to combine. Cooking for about 4 more minutes or until the sauce begins to thicken.

As the beef mixture is cooking layer the bottom of the prepared skillet with Fritos and top with 1 cup of the Mexican Shredded Cheese. Once finished, pour the beef mixture over the chip layer and sprinkle the remaining 1 cup of Mexican cheese on top. Add the Cotija or other grated cheese next. Place in the oven and bake for 20 minutes until cheese is bubbly.

Serve with Sour Cream.
Nutrition
Serving:
2
cups
|
Calories:
758
kcal
|
Carbohydrates:
58
g
|
Protein:
34
g
|
Fat:
44
g
|
Saturated Fat:
16
g
|
Cholesterol:
100
mg
|
Sodium:
1606
mg
|
Potassium:
695
mg
|
Fiber:
11
g
|
Sugar:
10
g
|
Vitamin A:
1485
IU
|
Vitamin C:
11
mg
|
Calcium:
404
mg
|
Iron:
5
mg