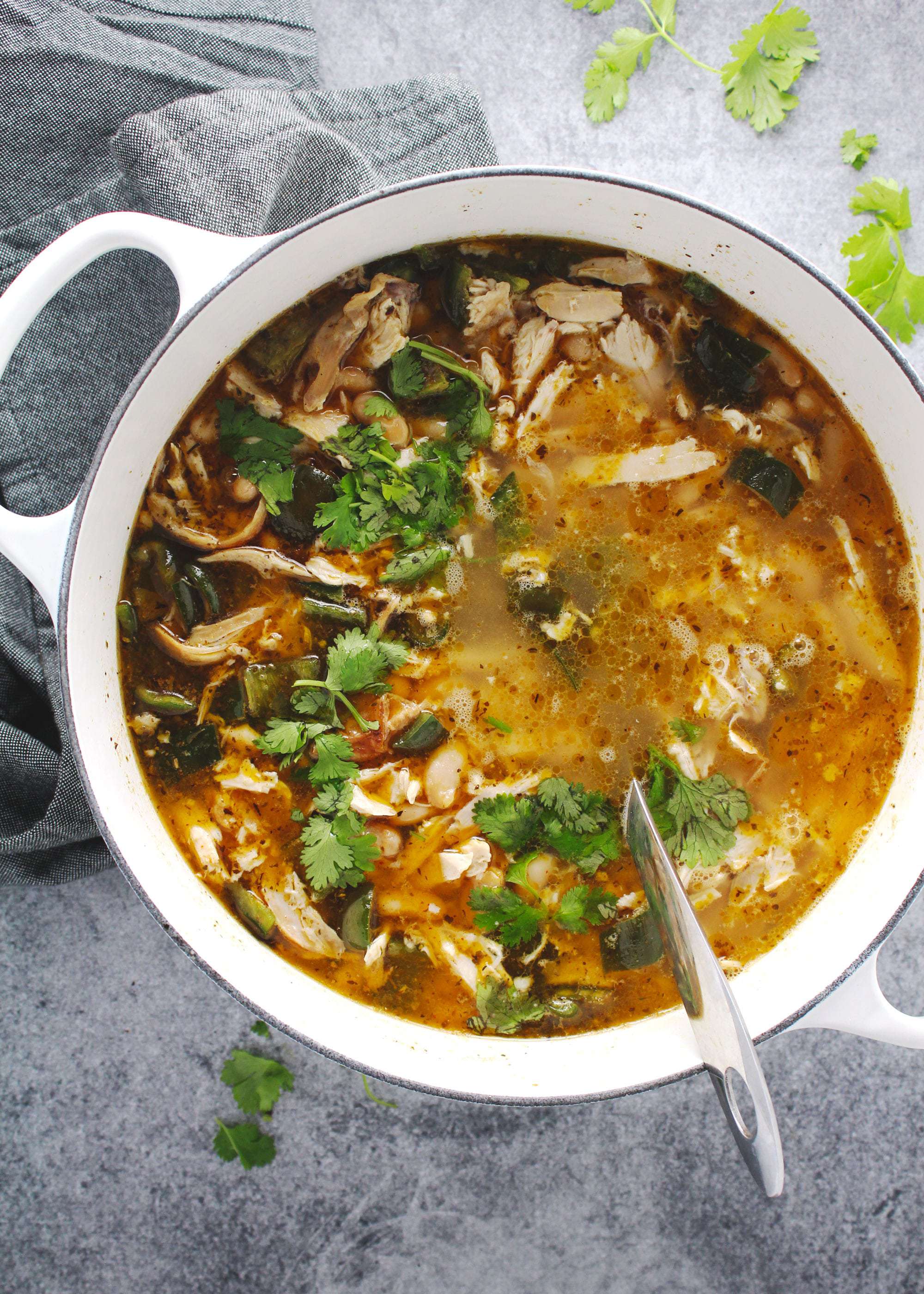 So yes, I know, it's not quite time for stew type weather, especially here in Charleston where I think we may have had one brisk morning the other day but was brought back to reality when I realized it was 70 degrees. My frame of weather reference has shifted slightly since living in NYC. But school is getting back in session and that usually means heartier, healthier and easy dinners and this stew is light.
It's a double duty dinner even! What's that you ask? What's a double duty dinner? Let me introduce you to this Chicken Chili Stew because you can enjoy it for one or two nights (depending on your appetite and or family size) and then turn it into a different dinner entirely of Chicken Chili Nachos. Therefore you have a, wait for it… double duty dinner!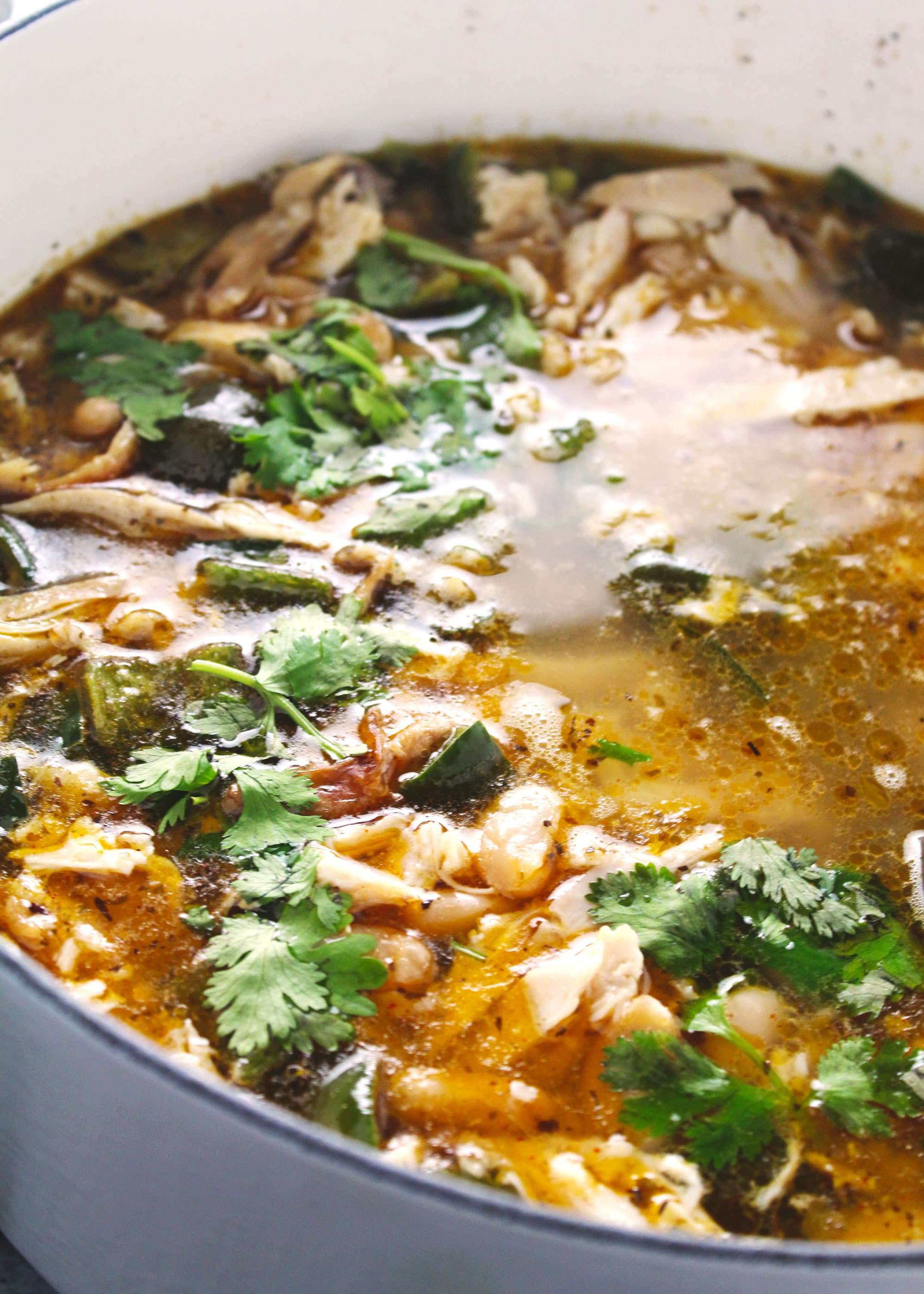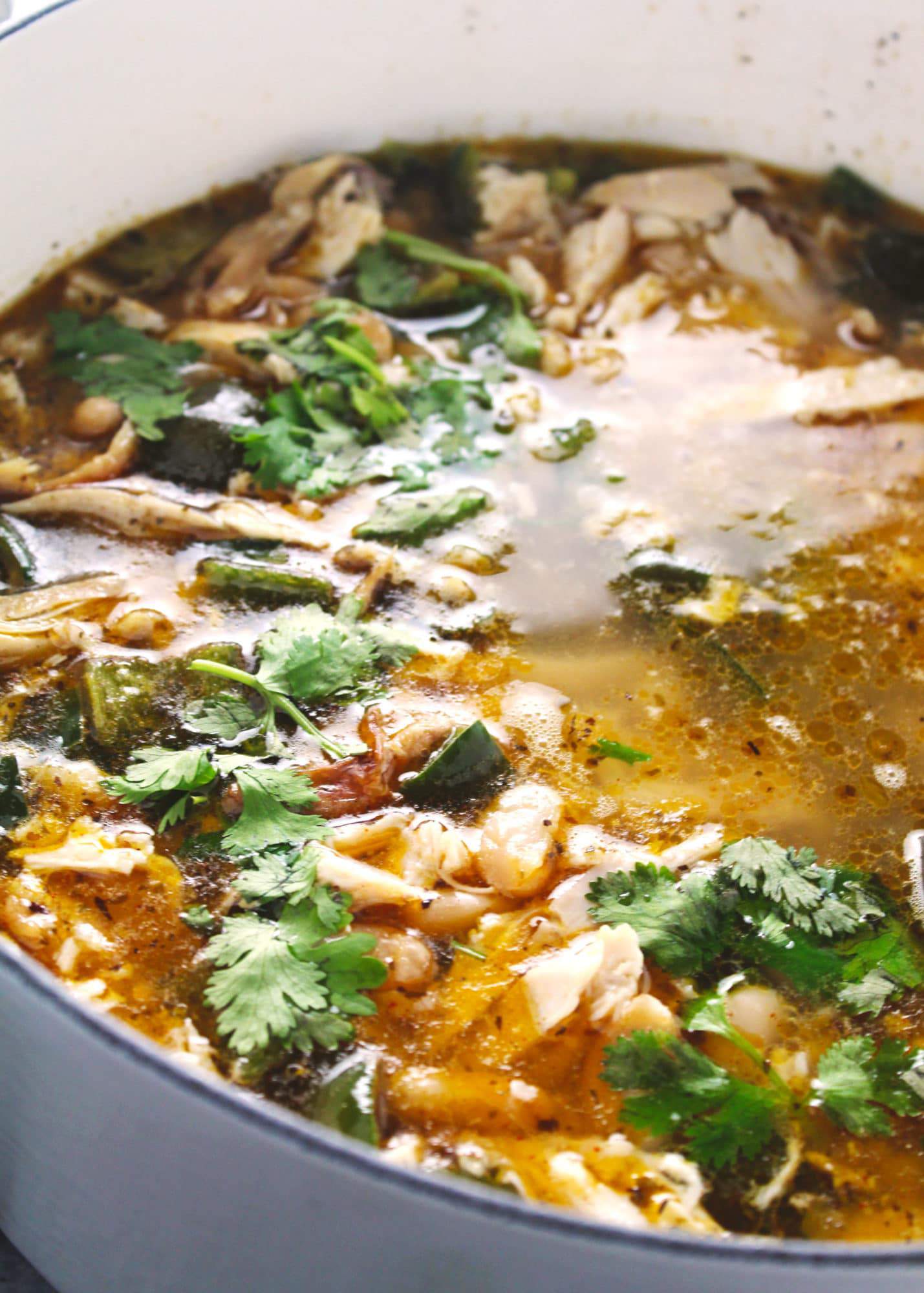 In passing I'd mentioned to Jonathan I was making Chicken Chili Stew for dinner this week and his response was, "wait, I'm not going to get any of it" because he was traveling this week. My response, "au contraire, this dinner is going to last for several nights and then be turned into nachos (if you'll stop eating the tortilla chips I just bought straight from the dwindling bag ????).
Chicken Chili Stew is a winner, winner, chicken type dinner that I think keeps on winning. We'll start at the beginning… First, it's made of clean unprocessed ingredients, which lands it the label of clean eating and second, because it's a broth based stew, it's naturally low in calories and makes for a light meal. Thirdly, this recipe makes a LOT of stew, for a low cost, and so, of course, you're probably going to get tired of eating it for an entire week, and therefore you can either freeze the leftover for later or turn it into an entirely new meal such as Chicken Chili Nachos (I'll show you how in the recipe card below).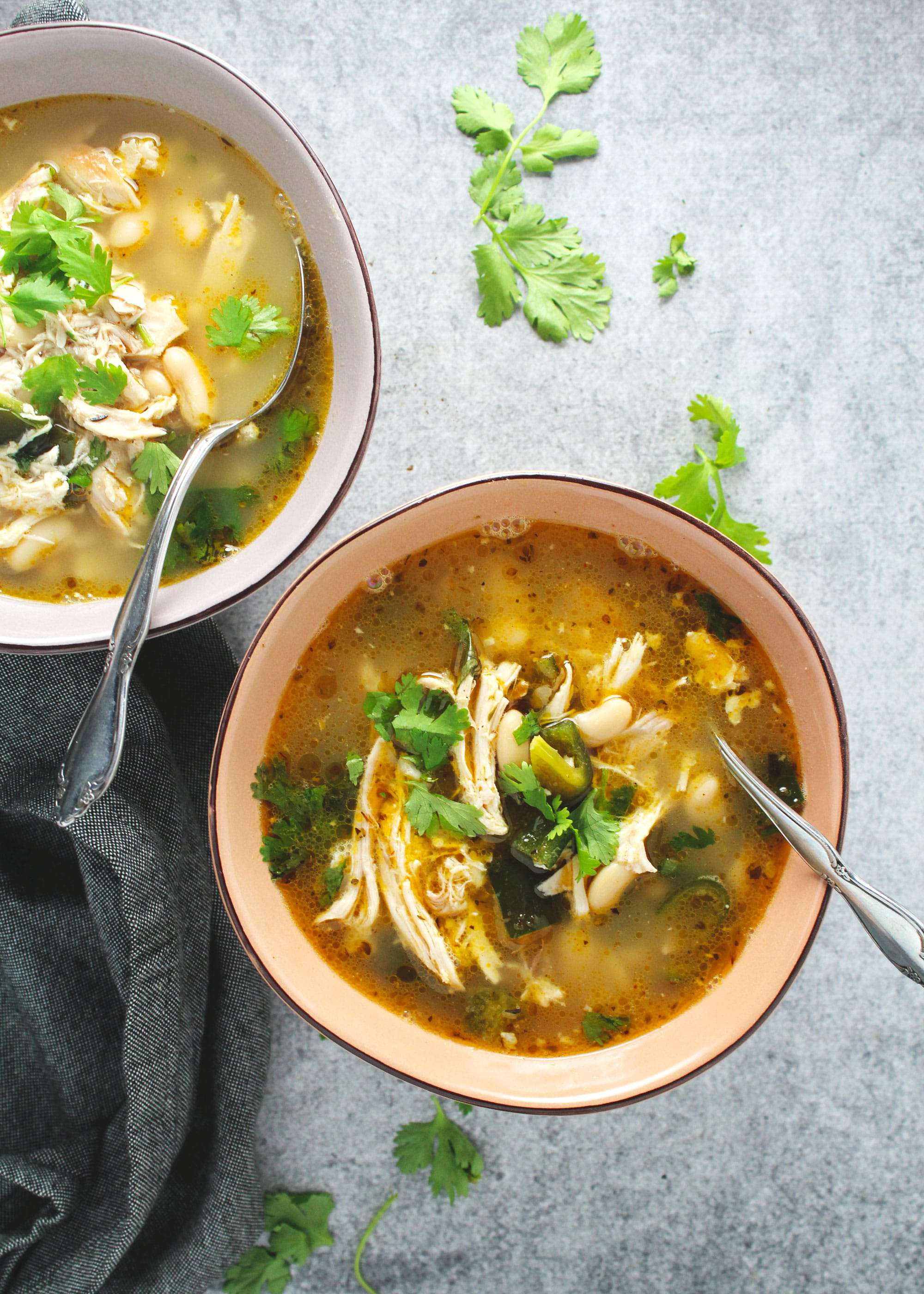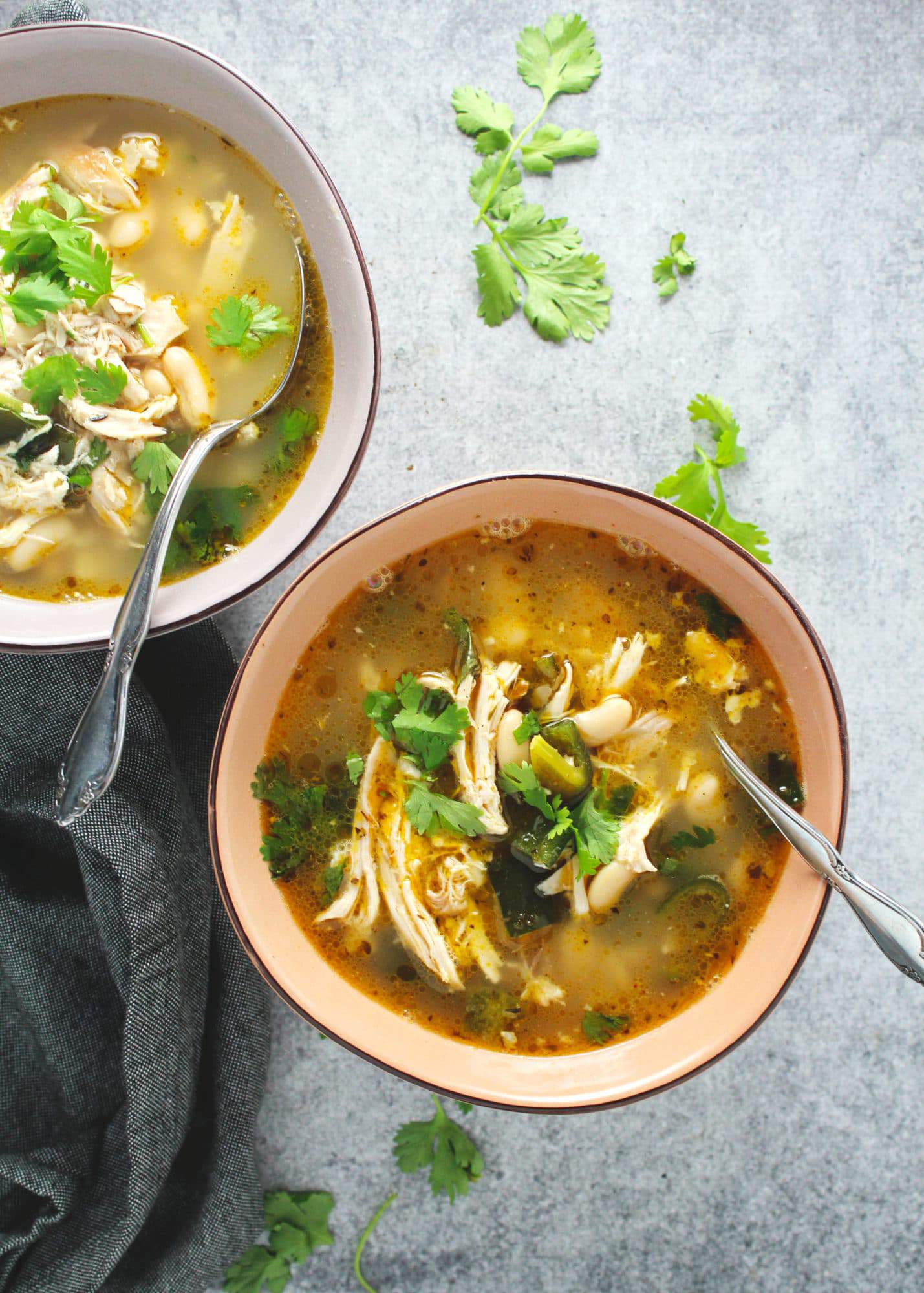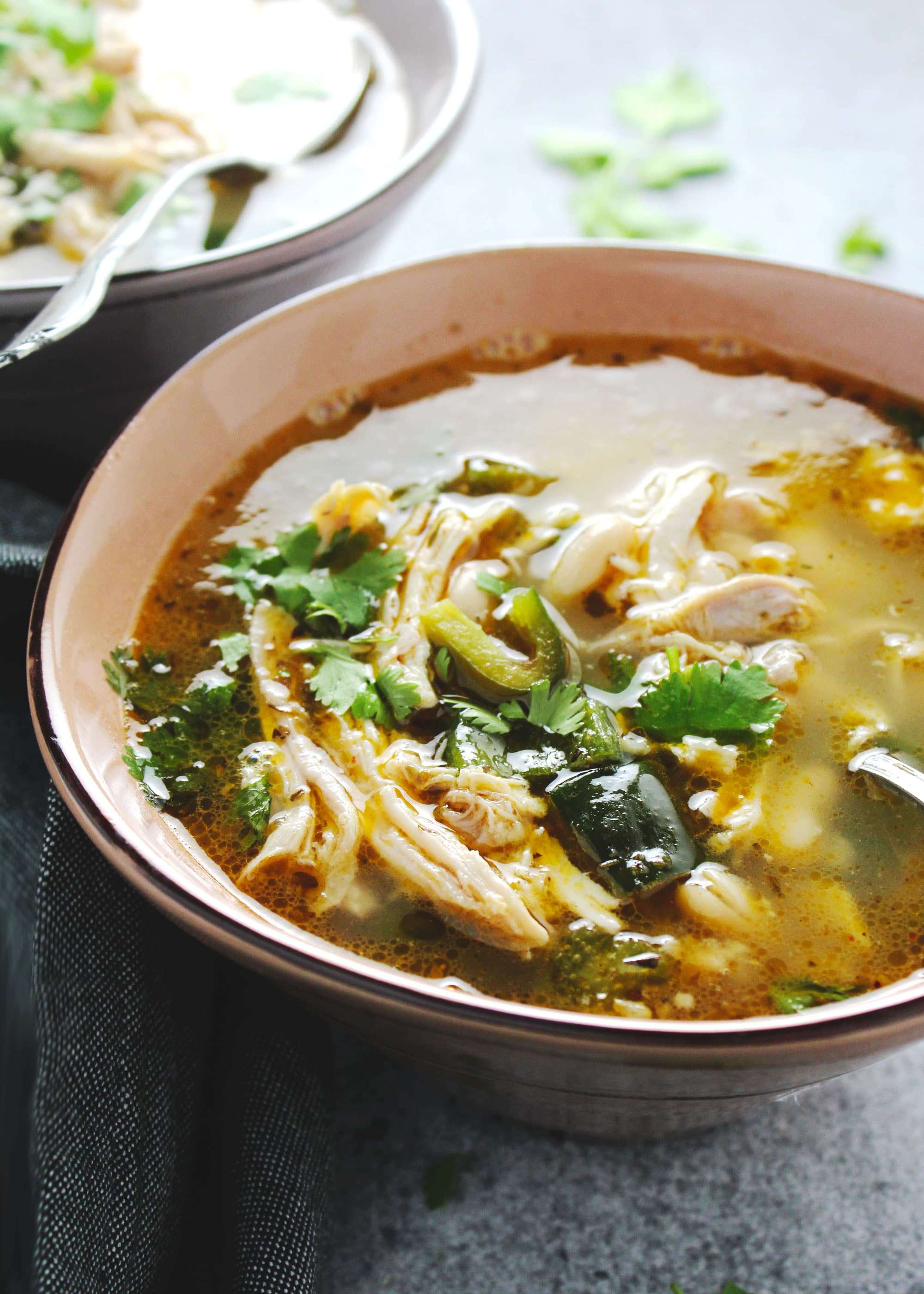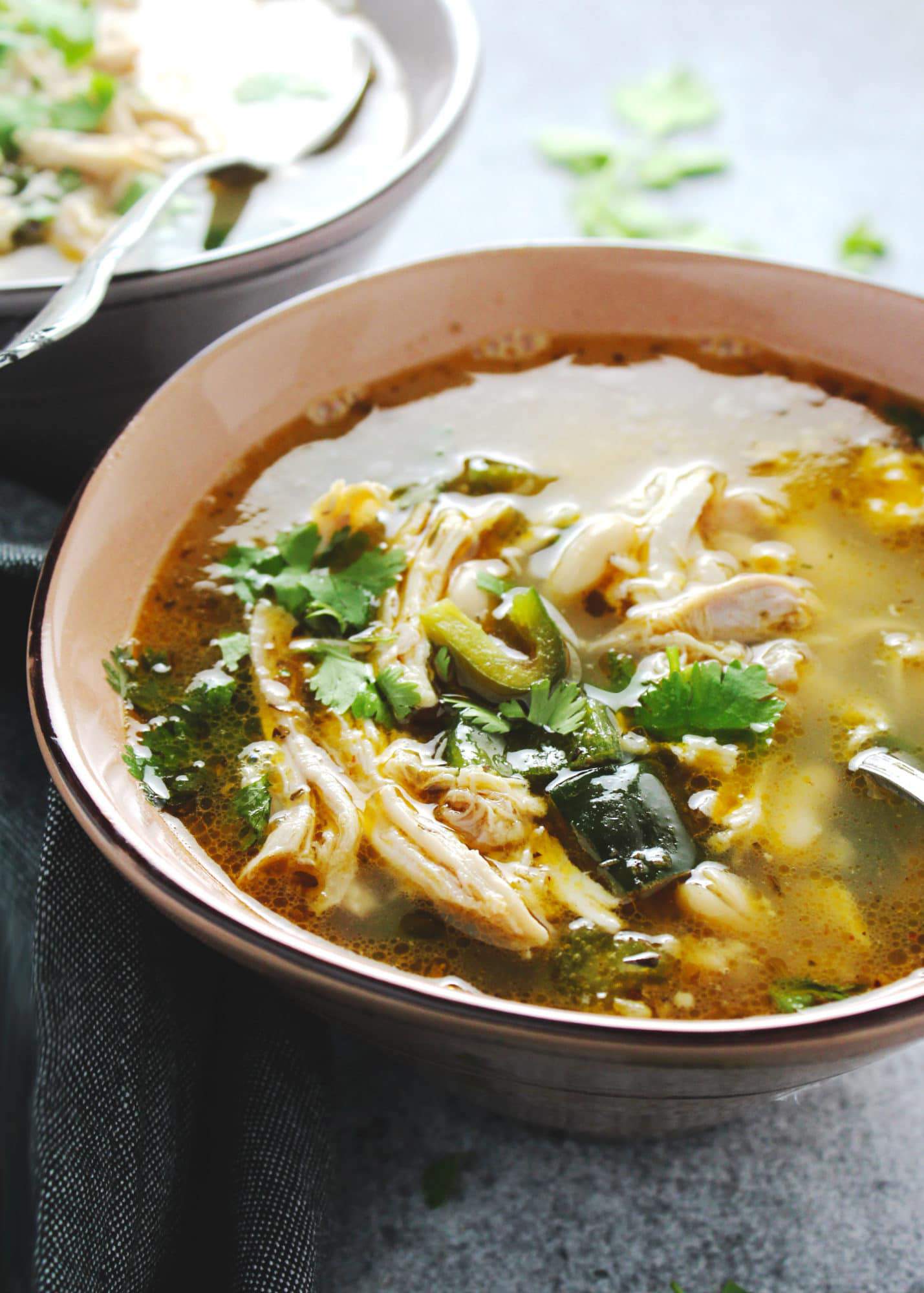 Guys! Nachos! For dinner! Hi, ???? #Winning everyone is happy about this meal. Husband, kids, me cause everyone is happy, and even the dog for all the ground scraps she's getting due to said kids. So, how should you meal plan with this dinner? Make it on Wednesday, enjoy it again on Thursday and turn it into nachos on Friday, but, wait for it… on Saturday make it a Chicken Chili Burrito Bowl (#MindBlown)!
This stew is unbelievably versatile and a great way to get many, many, meals out of one initial recipe. And that friends is how we're going to transition into the new school year and (pretend) fall here. Our meals are going to go further, meaning last longer (kind of sort of meal prep), and be a little heartier and loads healthier. Back to school… We are ready!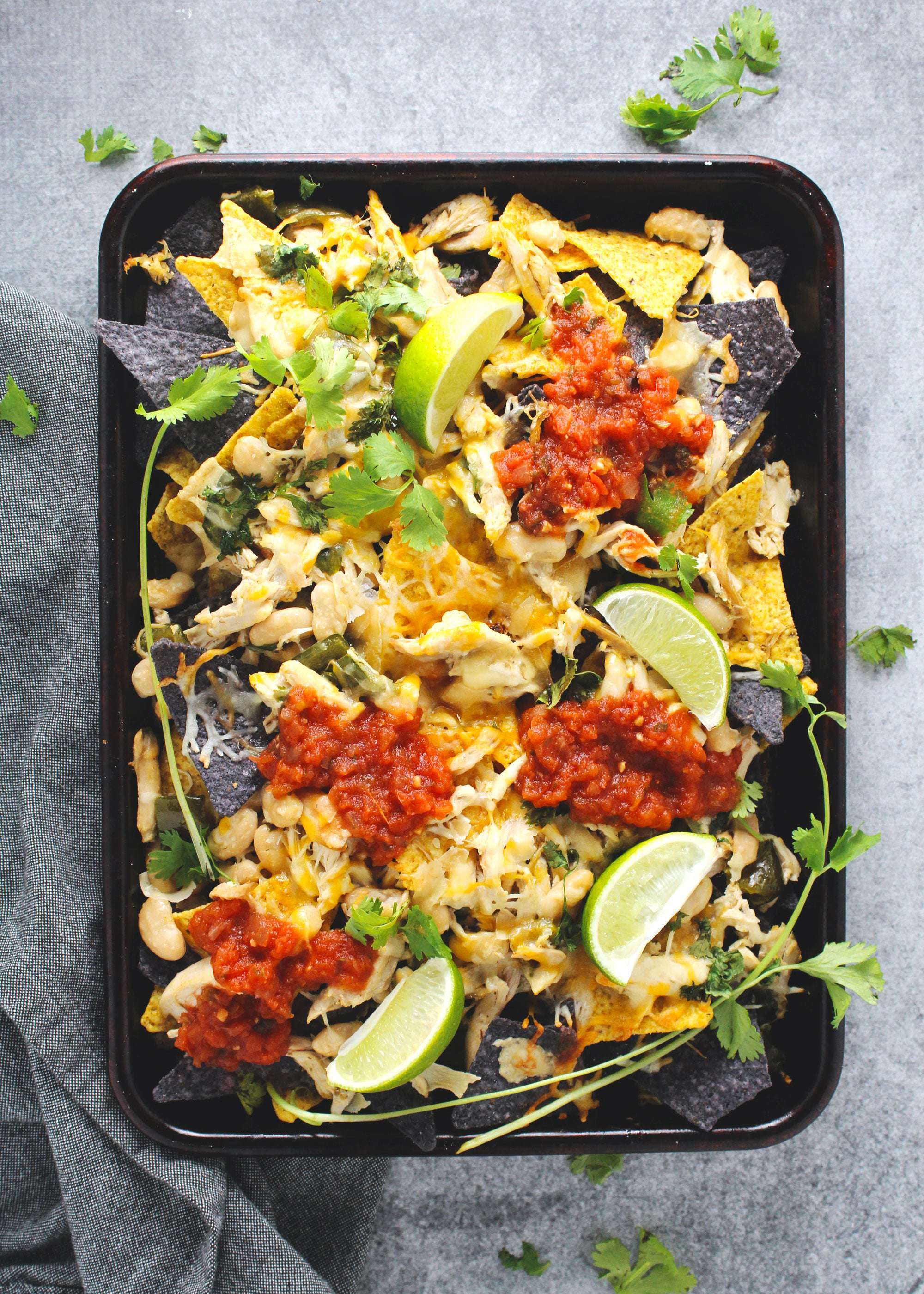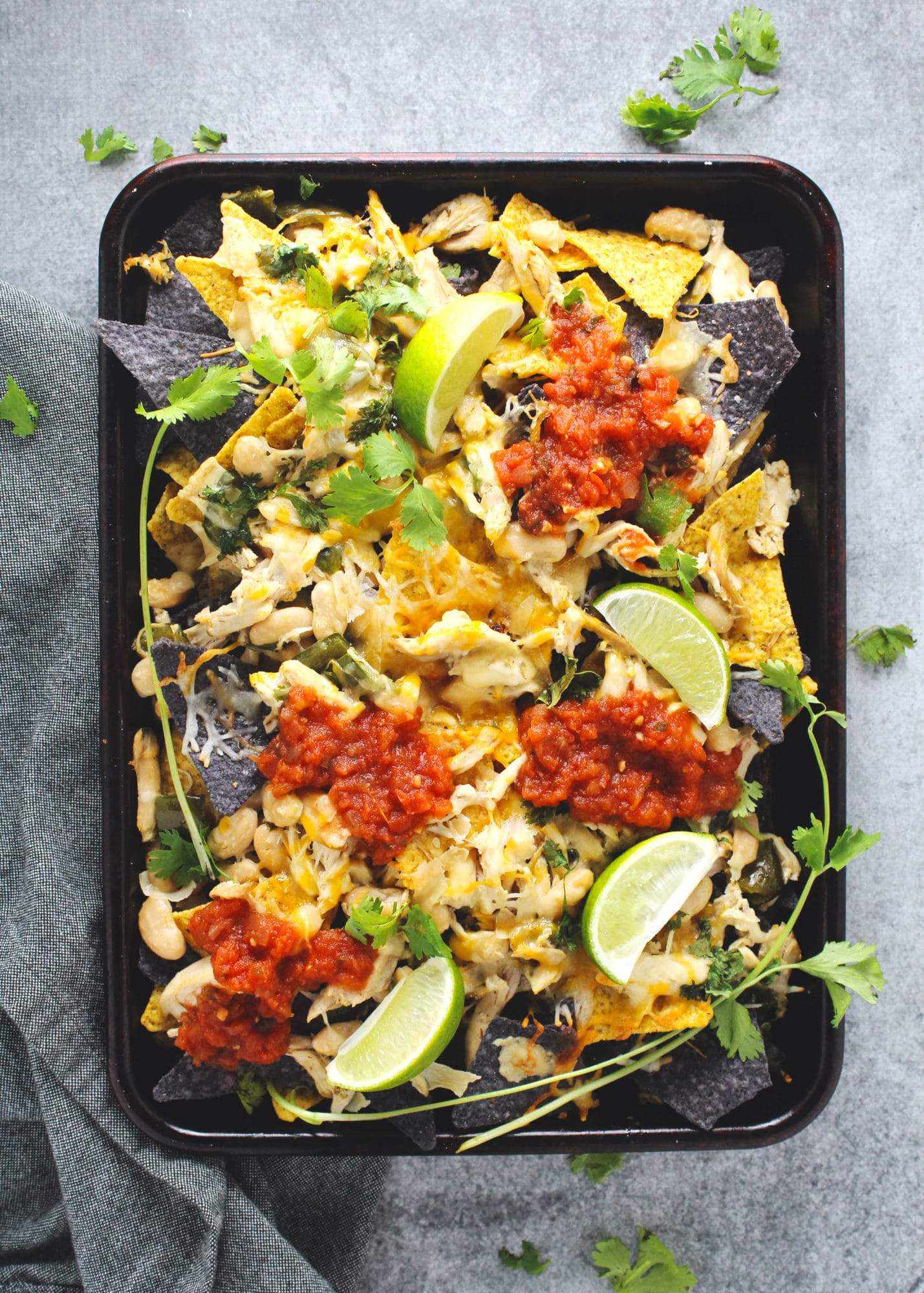 Print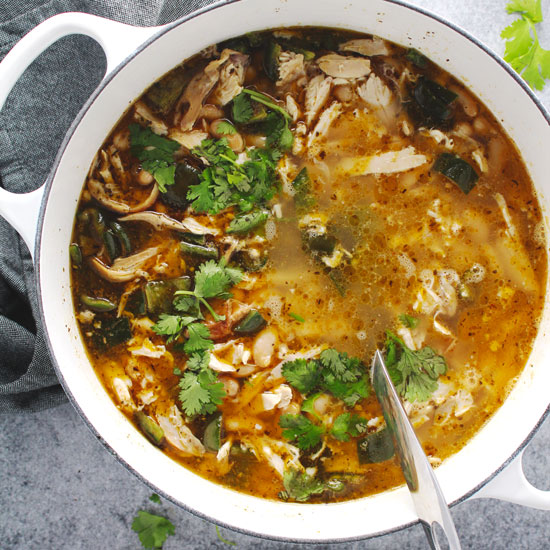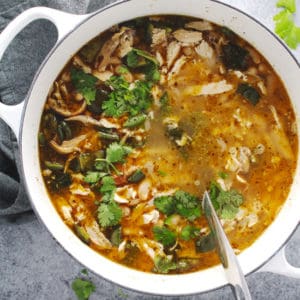 Chicken Chili Stew
Author:

Prep Time:

20 Mins

Cook Time:

20 Mins

Total Time:

40 minutes

Yield:

8

Servings

1

x
---
Description
This Chicken Chili Stew is low-sodium, gluten-free, and clean eating, as well as a versatile meal that can easily transition into nachos or a burrito bowl if you're looking to get more meals out of this one recipe.
---
Chicken Chili Stew
1 tablespoon

Olive Oil

3

Poblano Chiles, ribs and seeds removed, chopped into small squares

1

large Onion, chopped

4

cloves Garlic, minced

4 cups

Low Sodium Chicken Broth

2 cups

Water

1 tablespoon

Oregano, dried or fresh

1 tablespoon

Chili Powder

2

Rotisserie Chickens, cooked (from the grocery deli), removed from bones

3

cans Cannellini Beans, rinsed and drained
Cilantro for serving
Chicken Chili Nachos
1

bag Yellow Corn Tortilla Chips

1 cup

Shredded Mexican Blend Cheese

2 tablespoons

Shaved Asiago Cheese (optional)

1/4 cup

Mild Salsa
Cilantro for serving
---
Instructions
Heat the Olive Oil over medium heat in a dutch oven or stock pot. Add the Poblano Chiles, Onion, and Garlic. Toss to coat in the oil and let cook until the ingredients become fragrant, which is about 3 minutes.
Add the Chicken Broth, Water, Oregano, Chili Powder, Rotisserie Chicken, and Cannellini Beans to the pot and stir to mix. Season with salt and pepper for more flavoring. Increase heat to high and bring to a boil. Once the stew reaches a boil, reduce heat to low and cover. Simmer for 20 minutes, covered. Serve with Cilantro.
Chicken Chili Nachos
Preheat the oven to 375 degrees.
Place a large layer of Tortilla Chips on the bottom of a rimmed baking sheet. Use a slotted spoon to remove, or drain completely, the leftover chicken chili stew and place on top of the chips.
Sprinkle the nachos with Cheeses and place in the oven to heat for 10 minutes.
Top the nachos with Salsa and Cilantro.
---
Notes
If you also want to go the Burrito Bowl route then drain the Chicken Chili Stew. Toss in some cooked black beans and serve over prepared rice. Add some avocado and sour cream. Done!