A comforting and healthy soup that comes together in minutes! This Chicken Tortilla Soup is packed with shredded chicken, diced tomatoes, black beans, and sweet corn as well as tasty spices of garlic and cumin.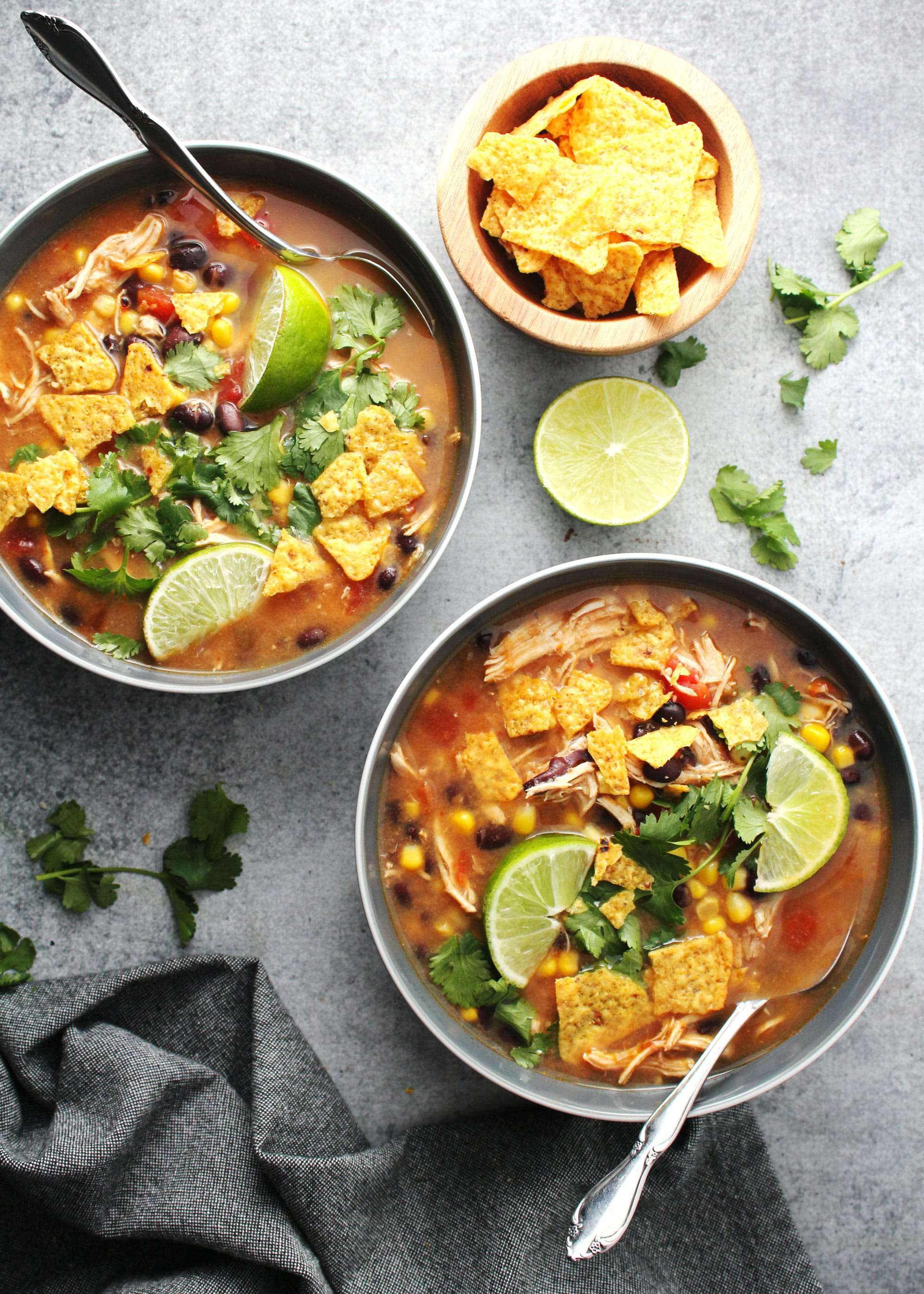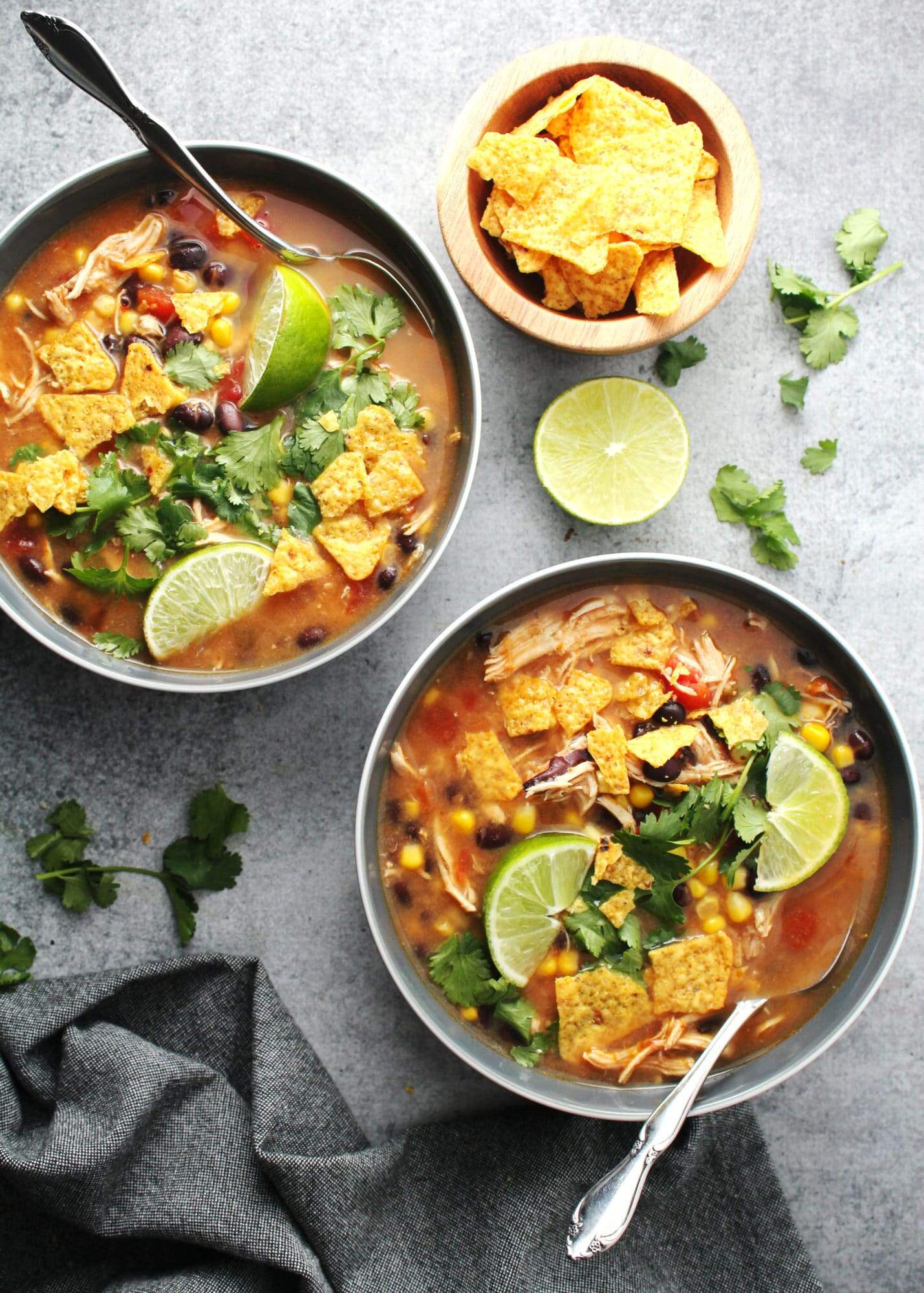 There's never too much of a good thing right..? Maybe… In the case of this Chicken Tortilla Soup, which is bomb.com, that's exactly (sort of) what happened.
I took a little stroll down food memory lane, such a happy place, and found myself reminiscing about these Lighter Chicken Enchiladas I used to make when Jonathan and I were first married. You know, back when you're really trying hard to impress your new hubby with your lack of culinary skills, but you still try? Yeah, those days…
Well, the enchiladas were a hit and I'd completely forgotten about them until recently. When I made them, I got a bit carried away and made more enchilada chicken than I had tortillas, which is kind of a food bloggers dreams, cause you're all "oooohhhh, what I can I use to make with these leftovers…?!?!"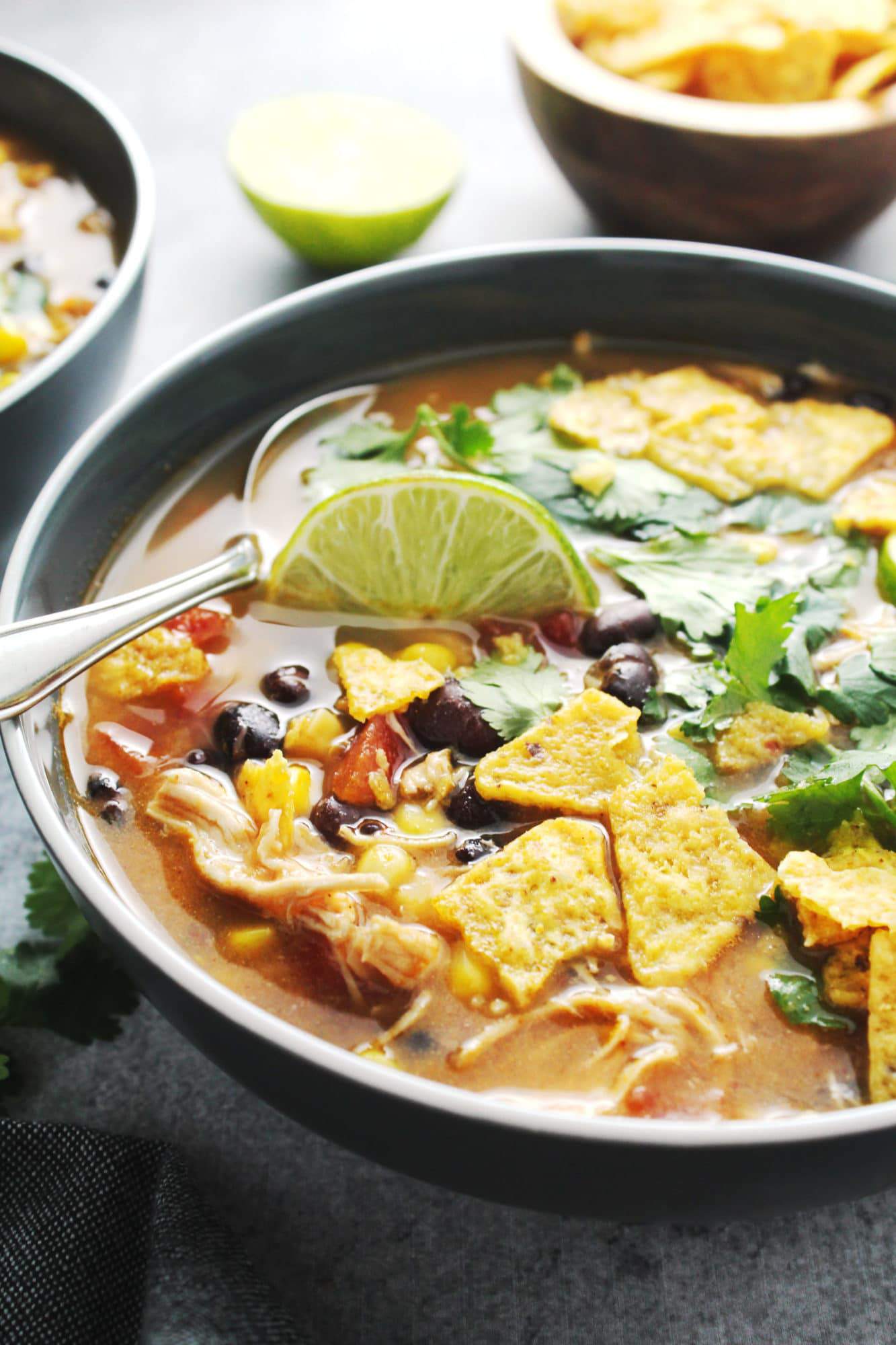 So that happened, and then this chicken tortilla soup happened. Since there's still snow happening in many areas currently I figured we could still get away with a soup recipe before spring is in full force everywhere.
Really, a tortilla soup pairs nicely with the obvious chips and salsa but most importantly, and this goes for those in the still snowy areas, a fresh margarita (maybe two if we're talking over a foot still).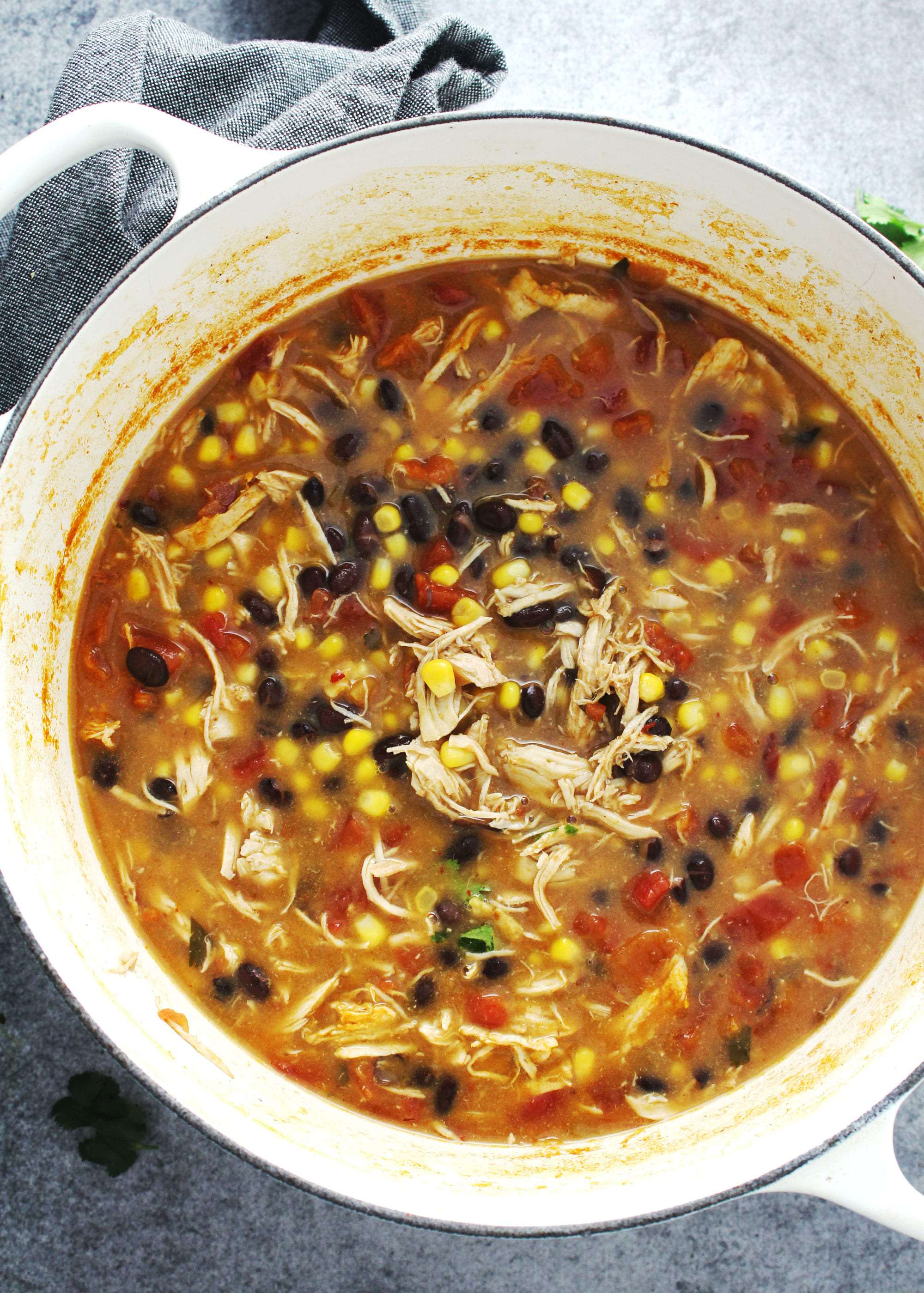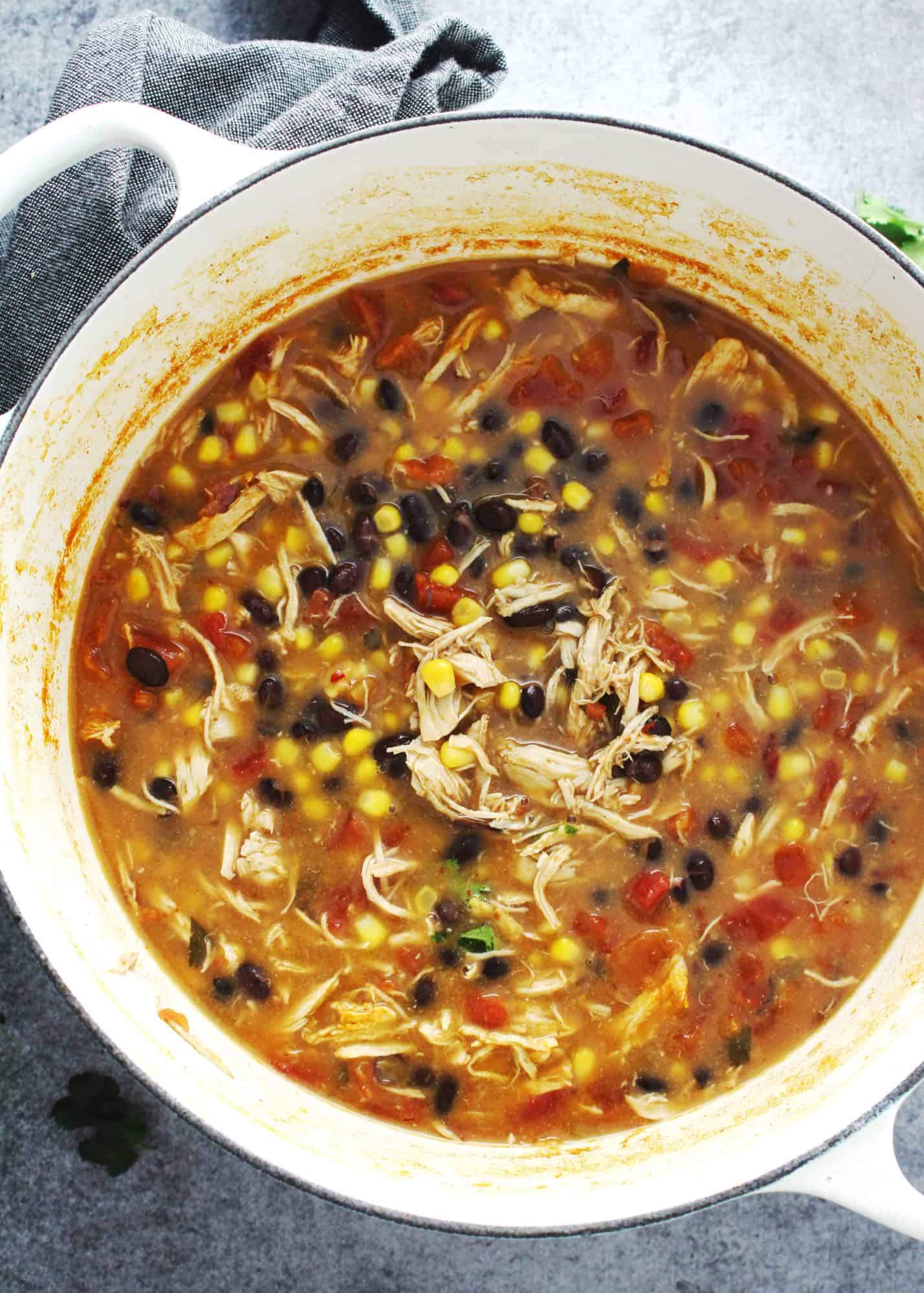 We're talking pretty basic ingredients here such as chicken, diced tomatoes, black beans, chicken broth, corn, you've heard of it all. You probably have all of it in your pantry, fridge, or freezer now so let's get started. Really, you're gonna just dump it all in a stockpot and basically be done with it.
I say basically because there is that whole cooking-the-chicken and shredding it part, but if you're a super savvy grocery store shopper then you've already thought to pick up a rotisserie chicken and are well on your way to making this into a 15 minute or less recipe.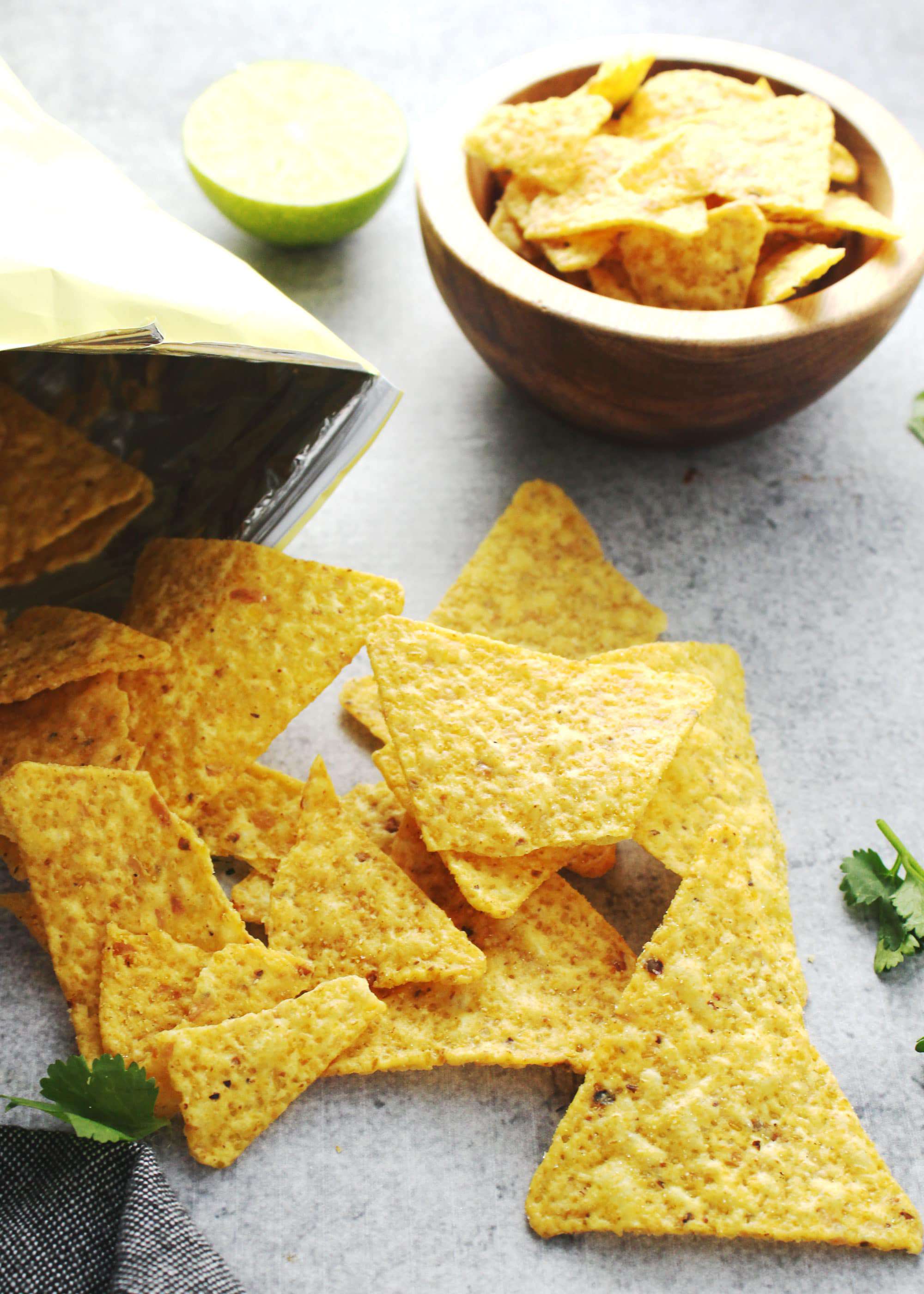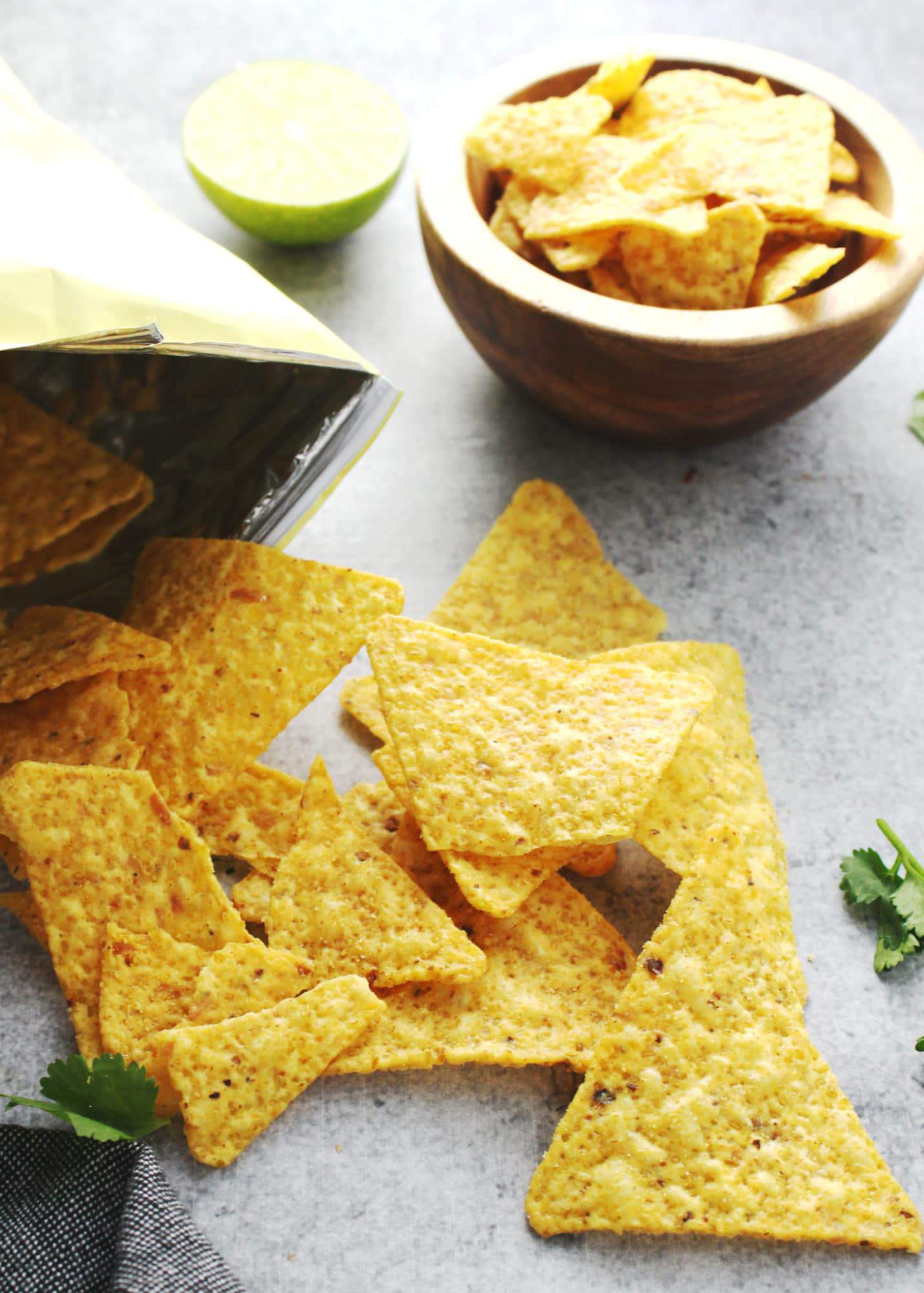 I'm just thinking of this now, but I highly recommend really crushing up as many tortilla chips as possible and stirring it right into the stockpot, only for you to then, once again, crumble more tortillas on the top of your soup as a garnish. Maybe get fancy and add a lime wedge, idk, or save those for the margaritas.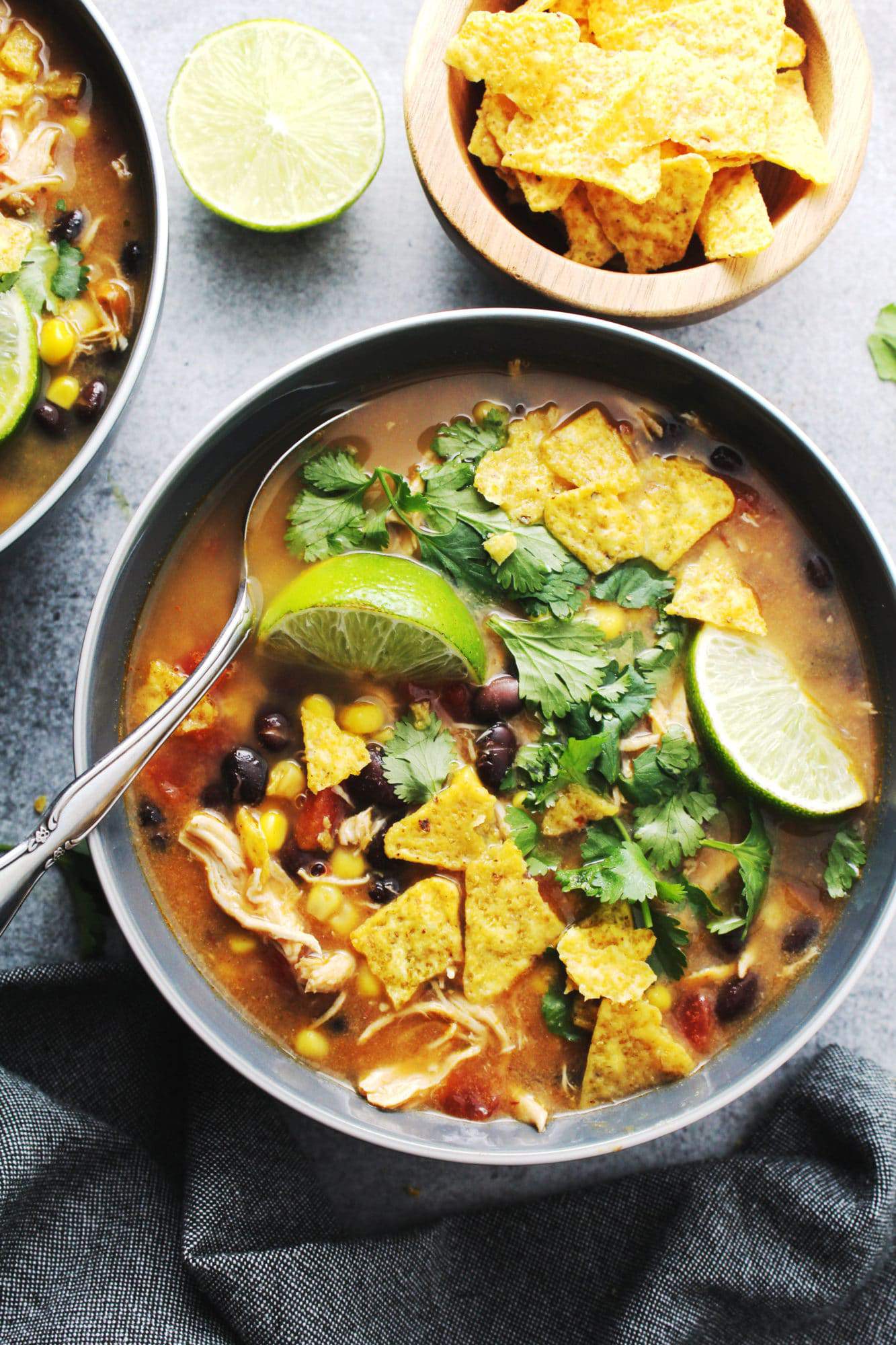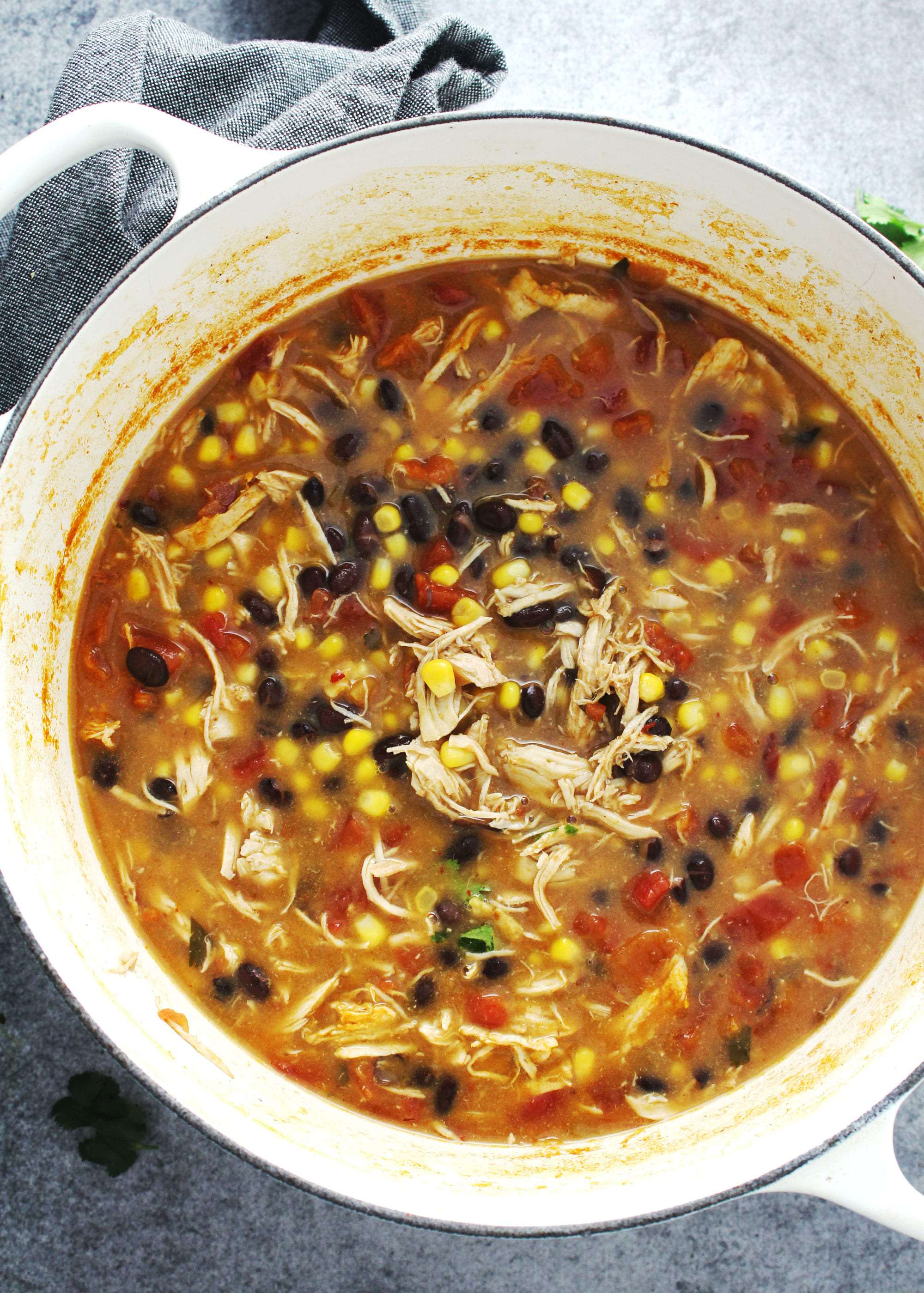 Ingredients
1

lb

Chicken Breast

1

tablespoon

Olive Oil

4

Garlic Cloves

minced

1

teaspoon

Chili Powder

2

14.5 ounce

cans Diced Tomatoes

2

15 ounce

Black Beans

drained and rinsed

2

14.5 ounce

cans Chicken Broth

10

ounces

Frozen Corn

1

teaspoon

Salt

1/2

teaspoon

Ground Black Pepper

1

cup

Tortilla Chips
Instructions
In a large skillet with a tight-fitting lid, bring 1-inch salted water to a boil and add the chicken. Cover; reduce heat to medium-low. Simmer 5 minutes; remove skillet from heat. Let chicken steam, covered, until opaque throughout, 12 to 14 minutes. Transfer chicken to a medium bowl; shred with two forks.

In a large stockpot or dutch oven heat olive oil over medium heat. Add the minced garlic and chili powder and cook for 1 minute, or until fragrant.

Pour the diced tomatoes, black beans, chicken broth, corn, and season with salt and pepper. Bring to a boil and then reduce to a simmer, cook for 5 more minutes.

Serve with tortilla chips on top.
Nutrition
Serving:
1
Serving
|
Calories:
252
kcal
|
Carbohydrates:
25
g
|
Protein:
19
g
|
Fat:
9
g
|
Saturated Fat:
1
g
|
Trans Fat:
1
g
|
Cholesterol:
48
mg
|
Sodium:
566
mg
|
Potassium:
479
mg
|
Fiber:
3
g
|
Sugar:
1
g
|
Vitamin A:
125
IU
|
Vitamin C:
5
mg
|
Calcium:
45
mg
|
Iron:
1
mg