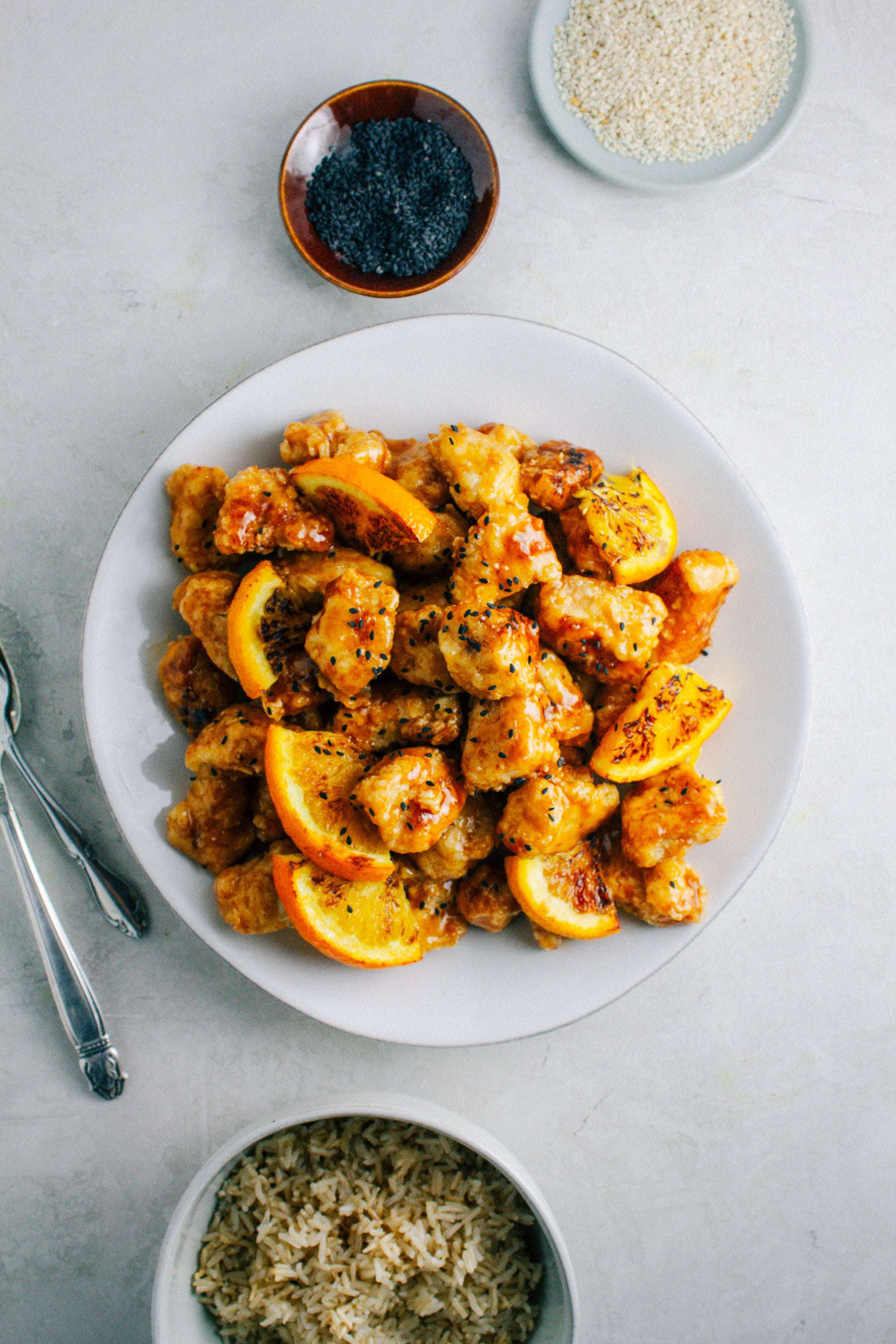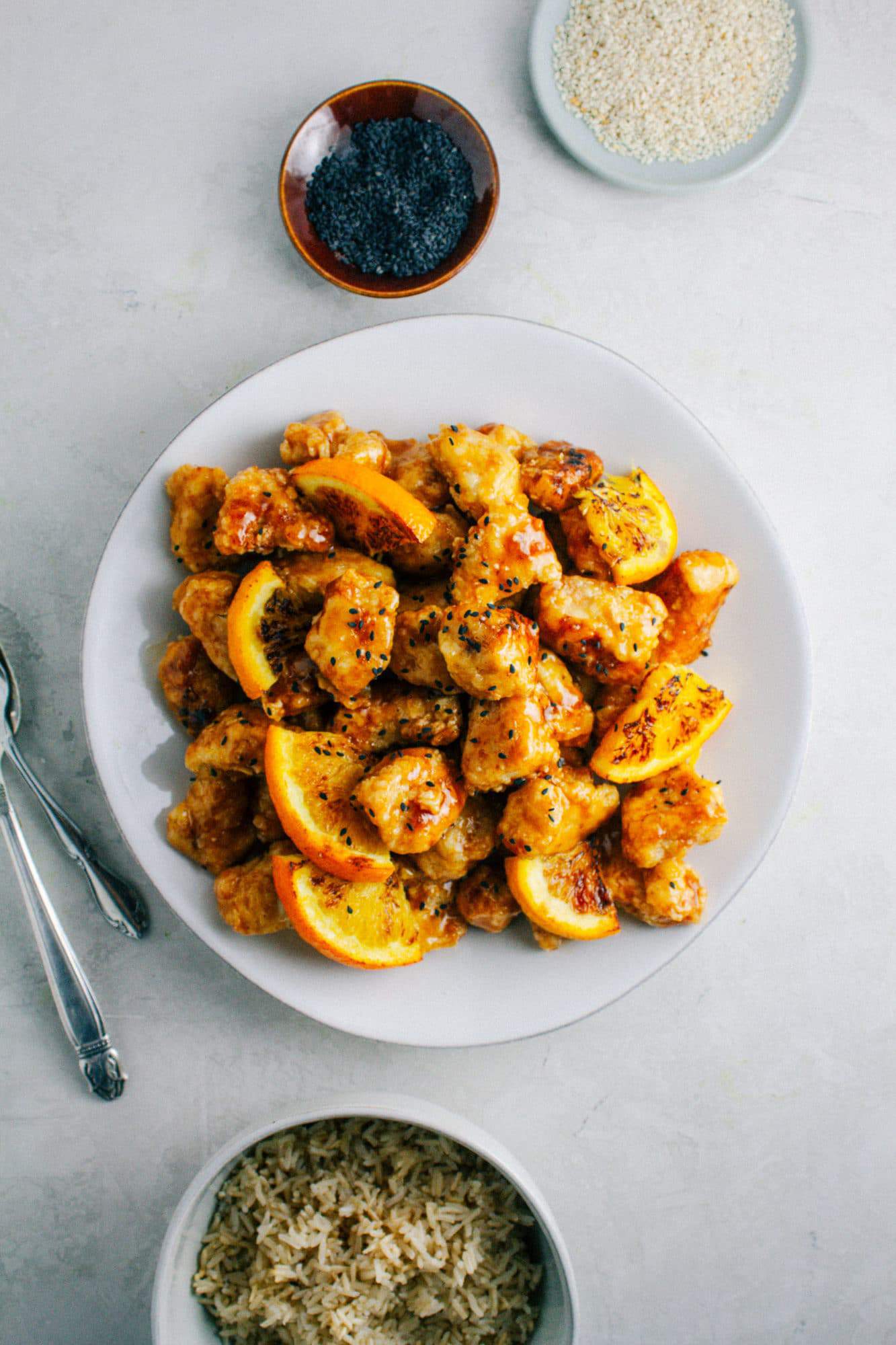 Okay, so let me clear up some confusion… No, I did NOT join those of you who are enduring (and I say that with the utmost admiration) a "dry" January. I DID, however, clear out all gluten (except for the massive Benny Palmetto cheese pizza slice and Apple Tarte sliver straight from the French bakery in town that I ate at book club last week), dairy, and basically anything with weird ingredients I can't pronounce (aka processed foods).
Instinctively I began to crave all foods that fall under these categories and are not limited to ones that contain MSG. Hence the need to recreate a much healthier version of Chinese Take Out Orange Chicken.
ALL CRAVINGS (for Chinese take out) HAVE BEEN SATISFIED!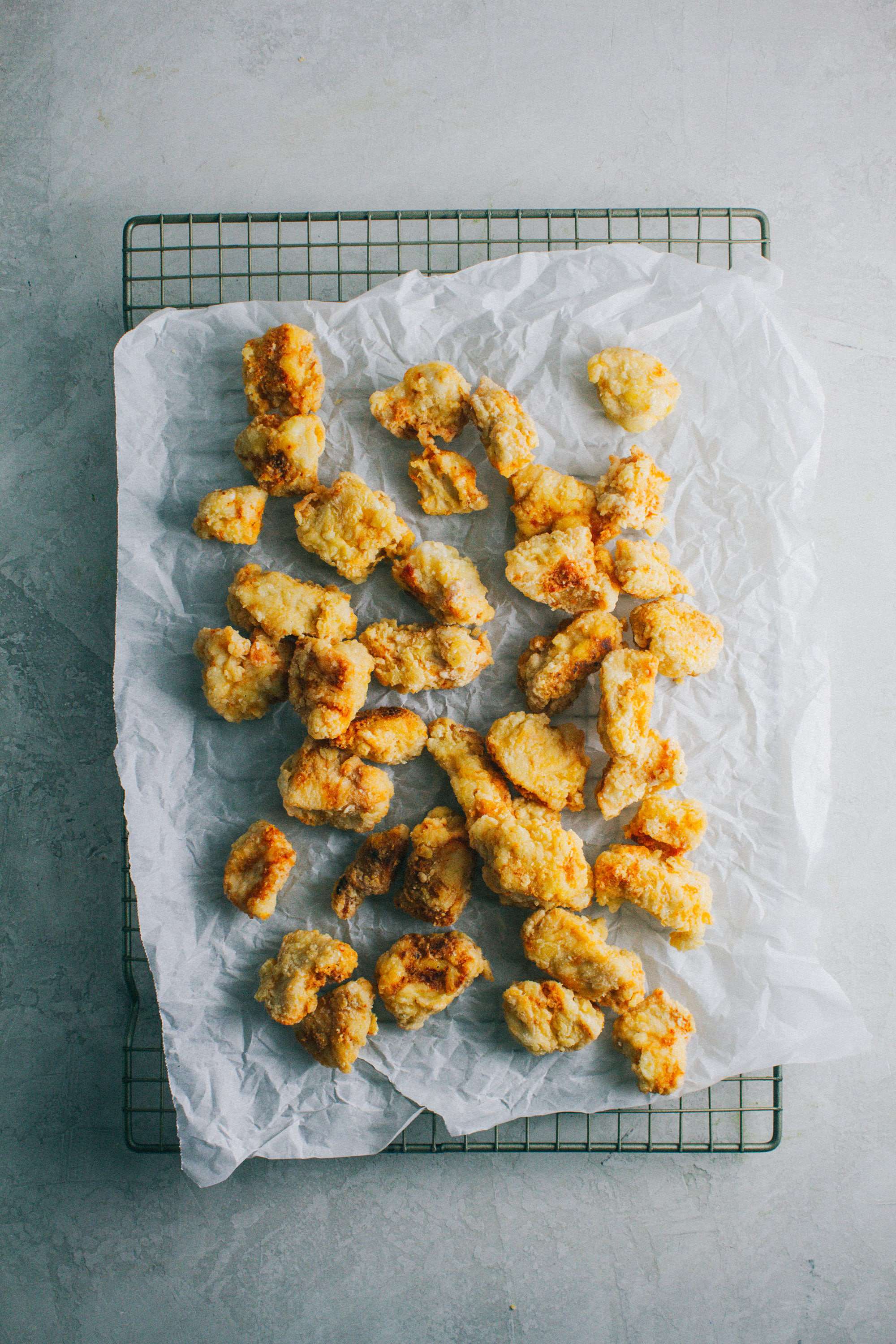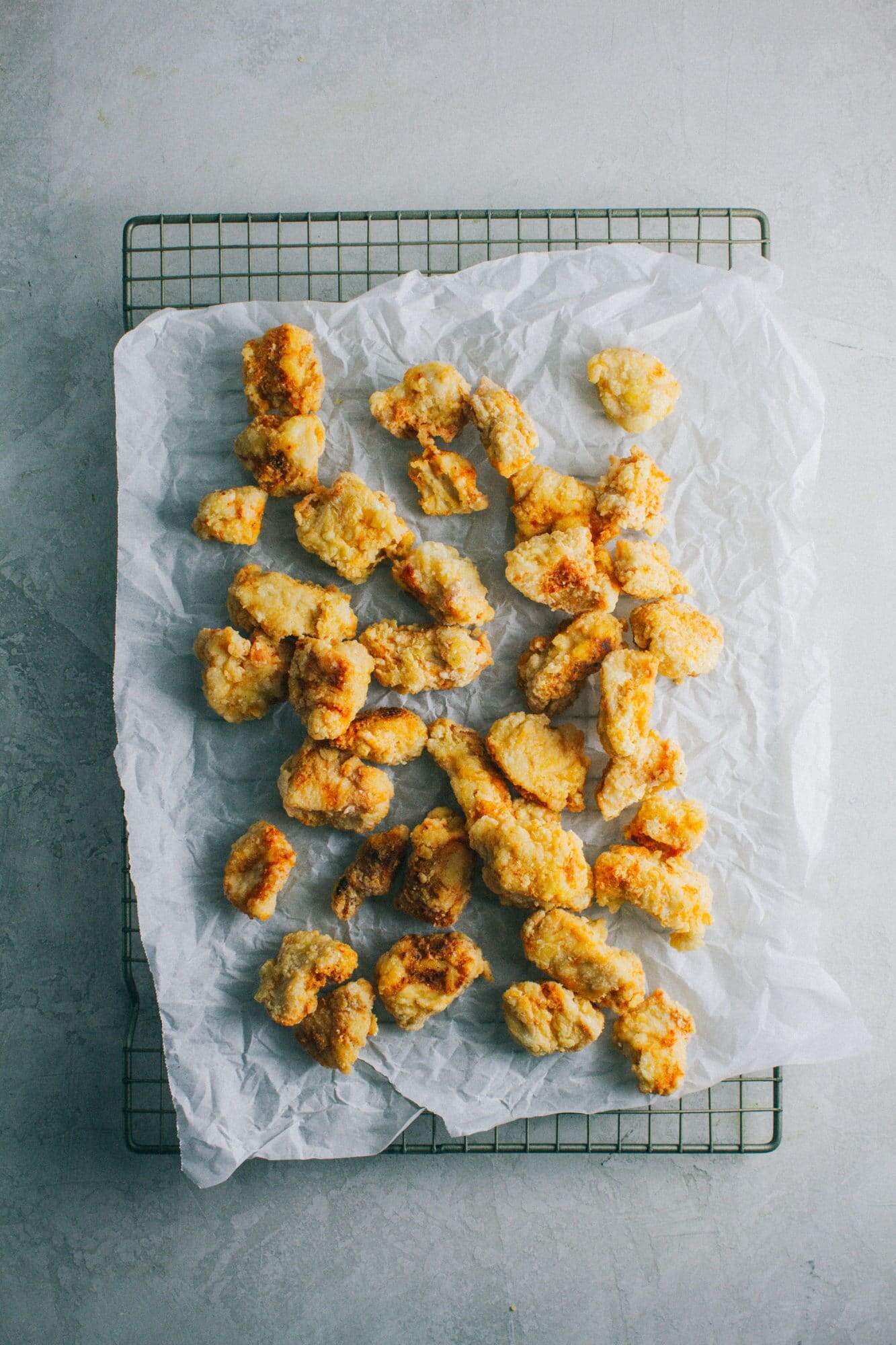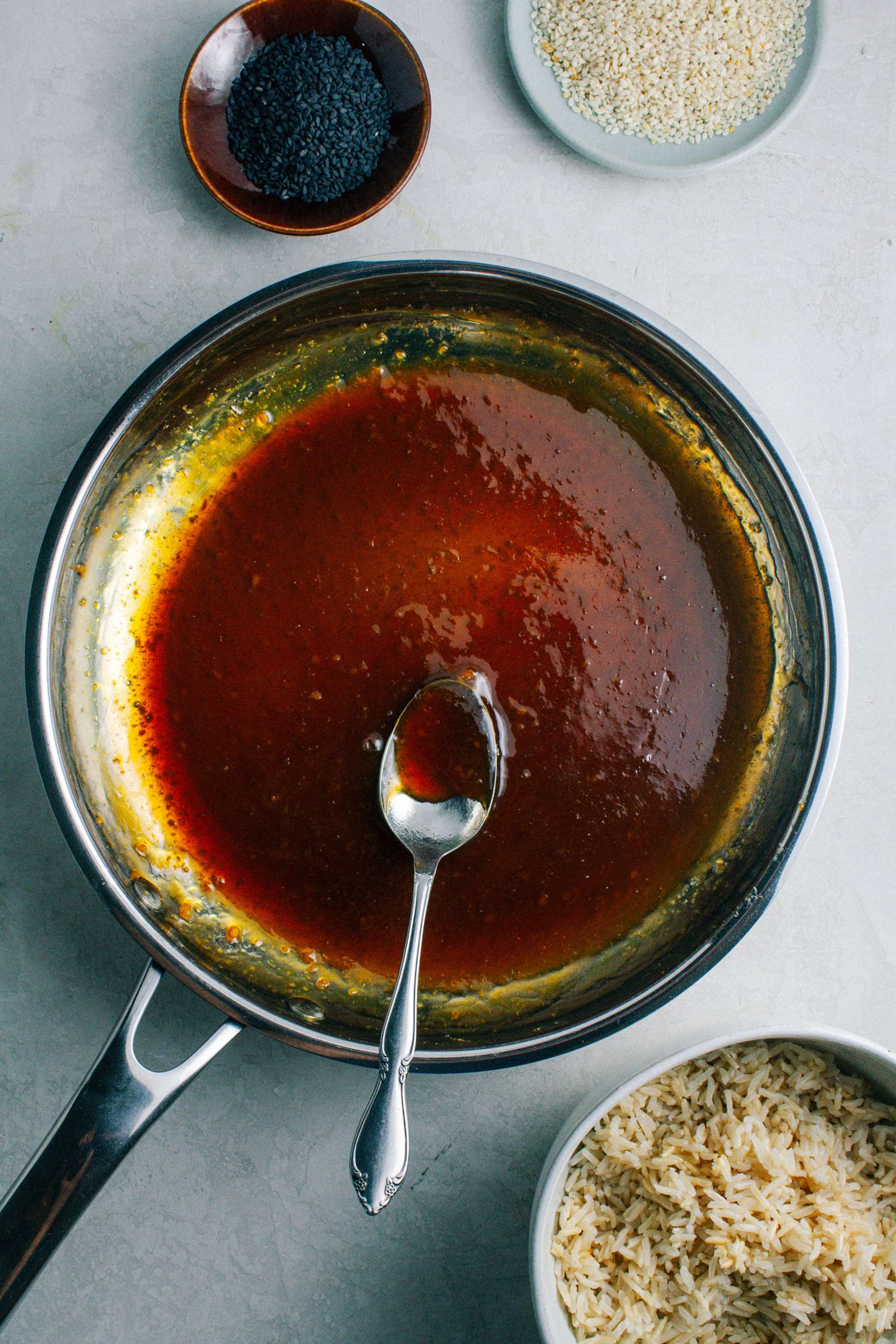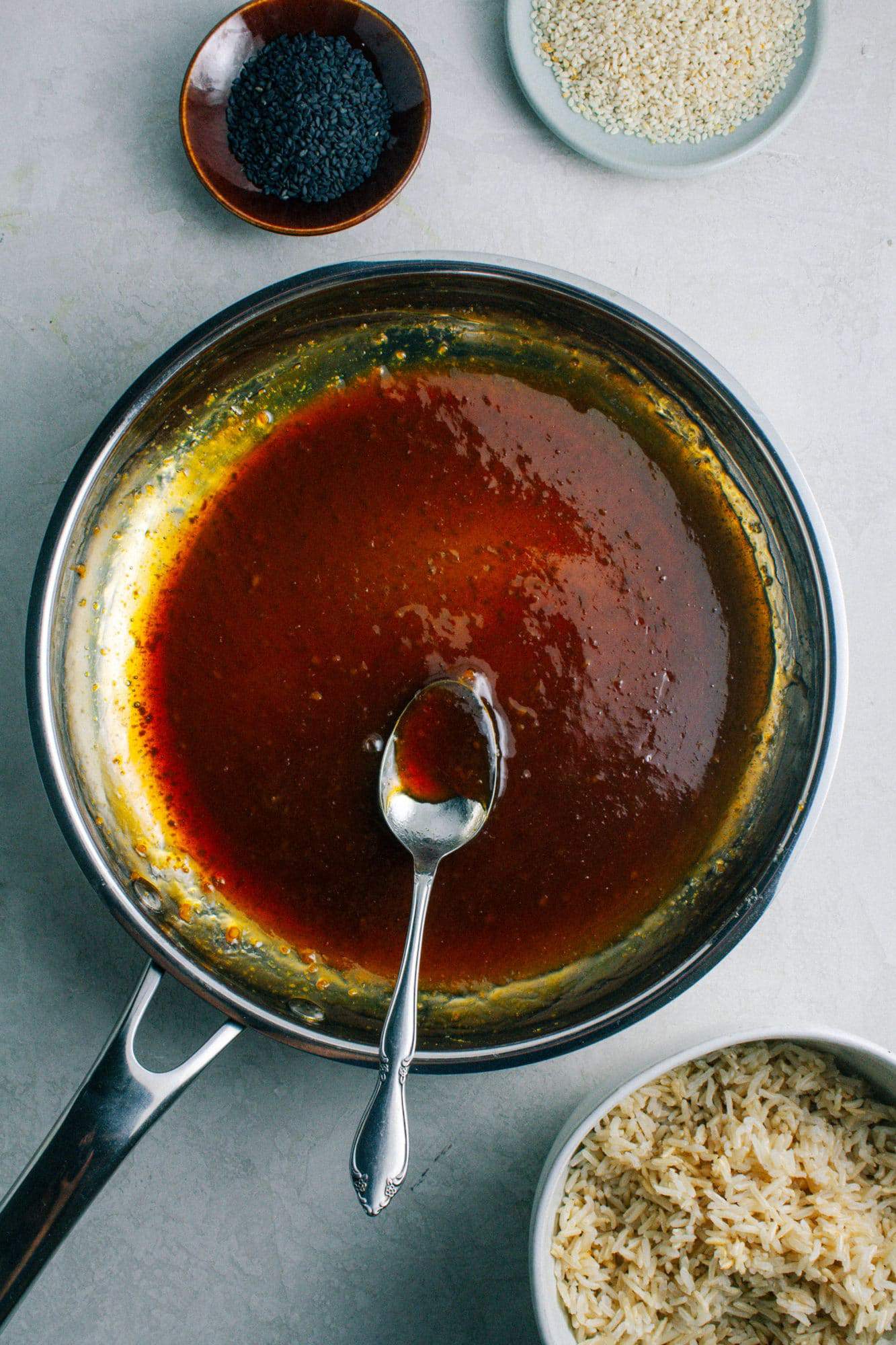 Personally, I feel the need to chat any longer about such a delectable dish could be stopped right here allowing you time to hit up the grocery store for the ingredients and then time to prepare… I will continue to entice you with this delicious sticky orange, slightly fried (but healthy fried) chicken, with just the perfect amount of crunch.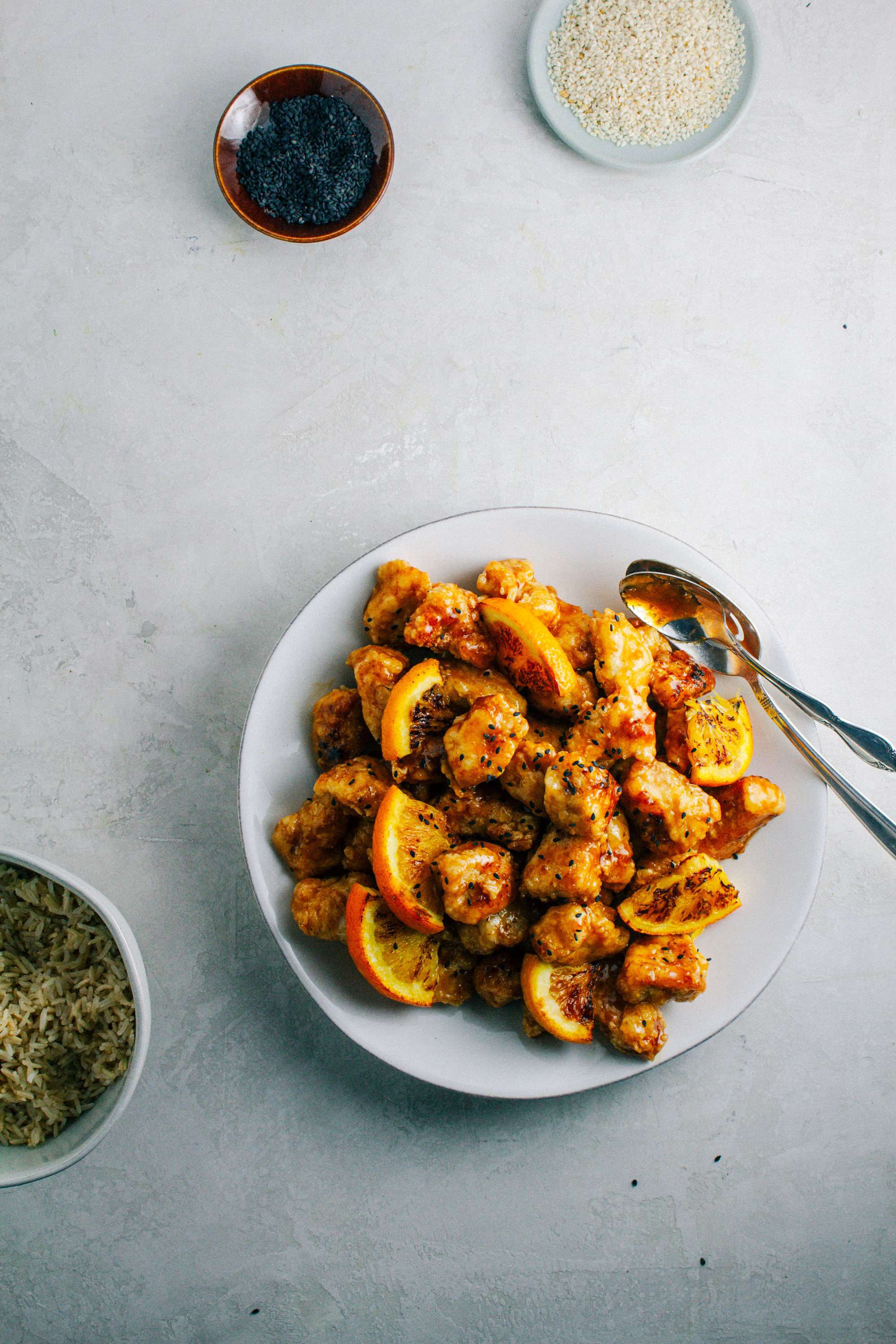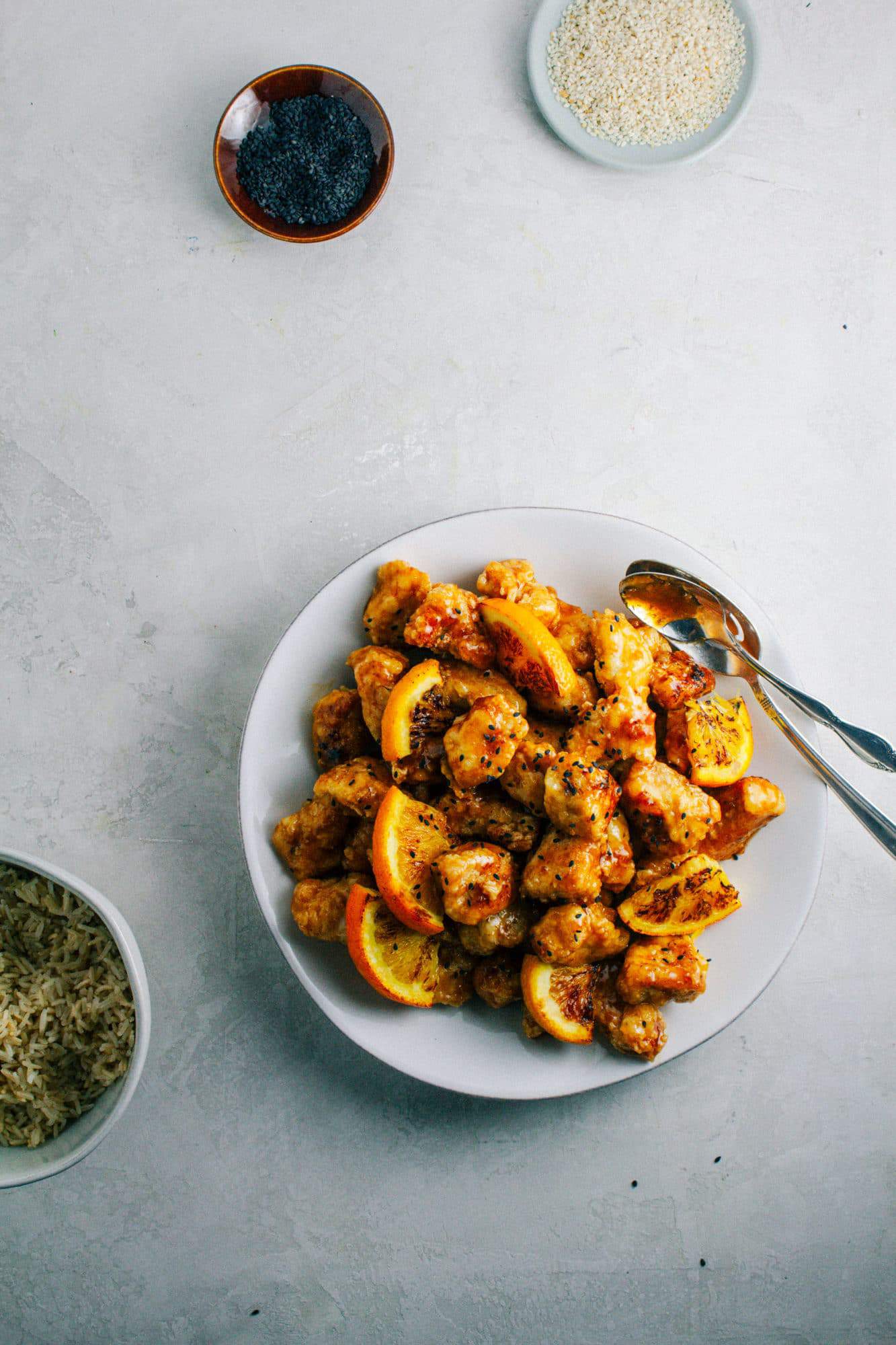 A HEALTHIER FRY
Does frying food in January freak you out? Let me ease your fears because this is a gentle fry, which basically means you've got a bit of heated oil in the skillet you're using to cook the battered chicken. There is no dropping the gluten-filled chicken bits into a vat of oil for frying here. Did I mention this is a gluten-free dish? It is!
The set up is simple with 2 bowls, one with an egg wash and the other with a cornstarch/gluten-free flour combo. Dip chicken in each. Then heat 1 cup of oil (one with a high boiling point such as grapeseed oil) in a heavy-bottom skillet. The oil covers the bottom of the skillet and helps to give the batter on the outer layer of the chicken that crunch you want to achieve for this Orange Chicken. This process of frying is a MUCH healthier version and tastes, in my opinion, better.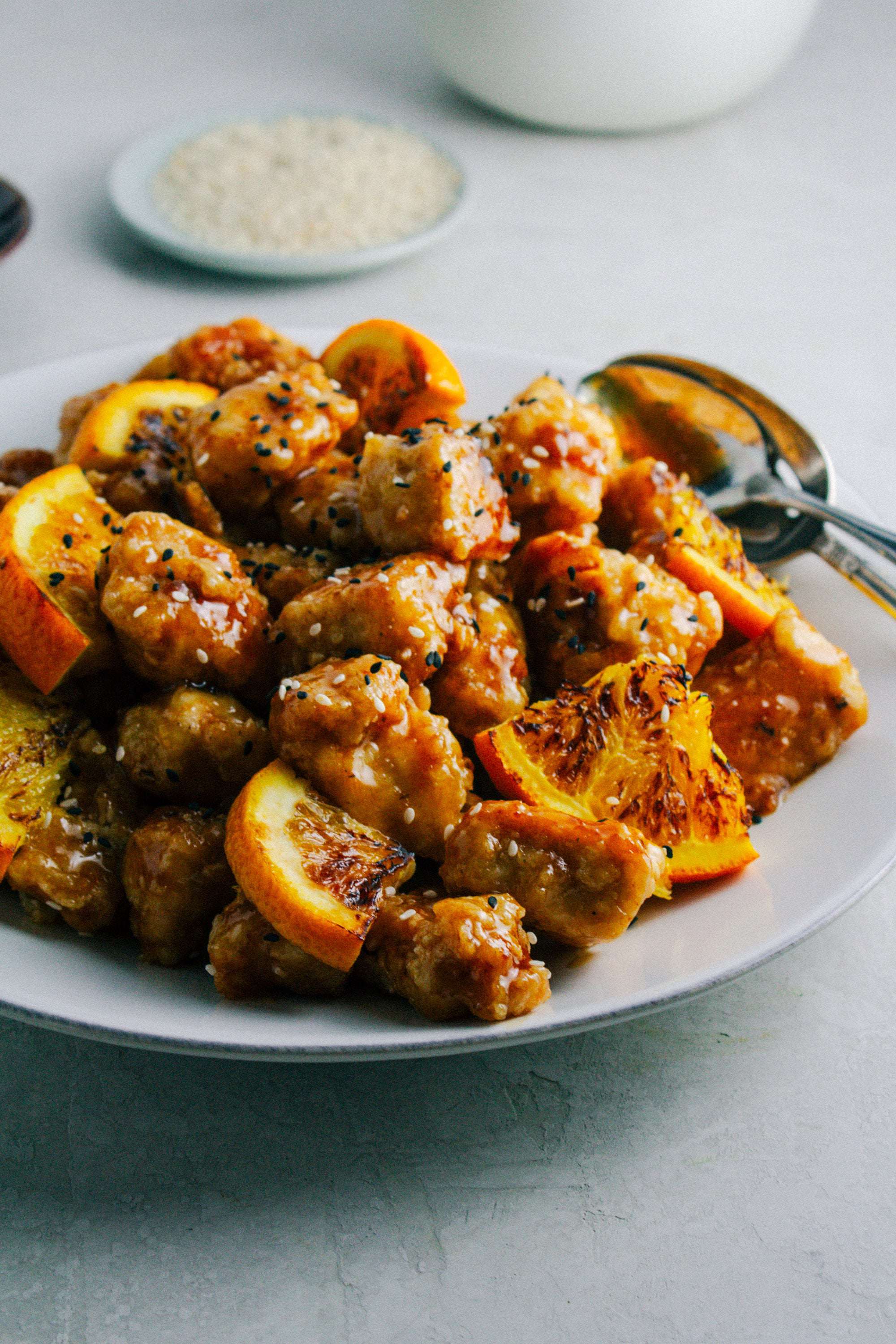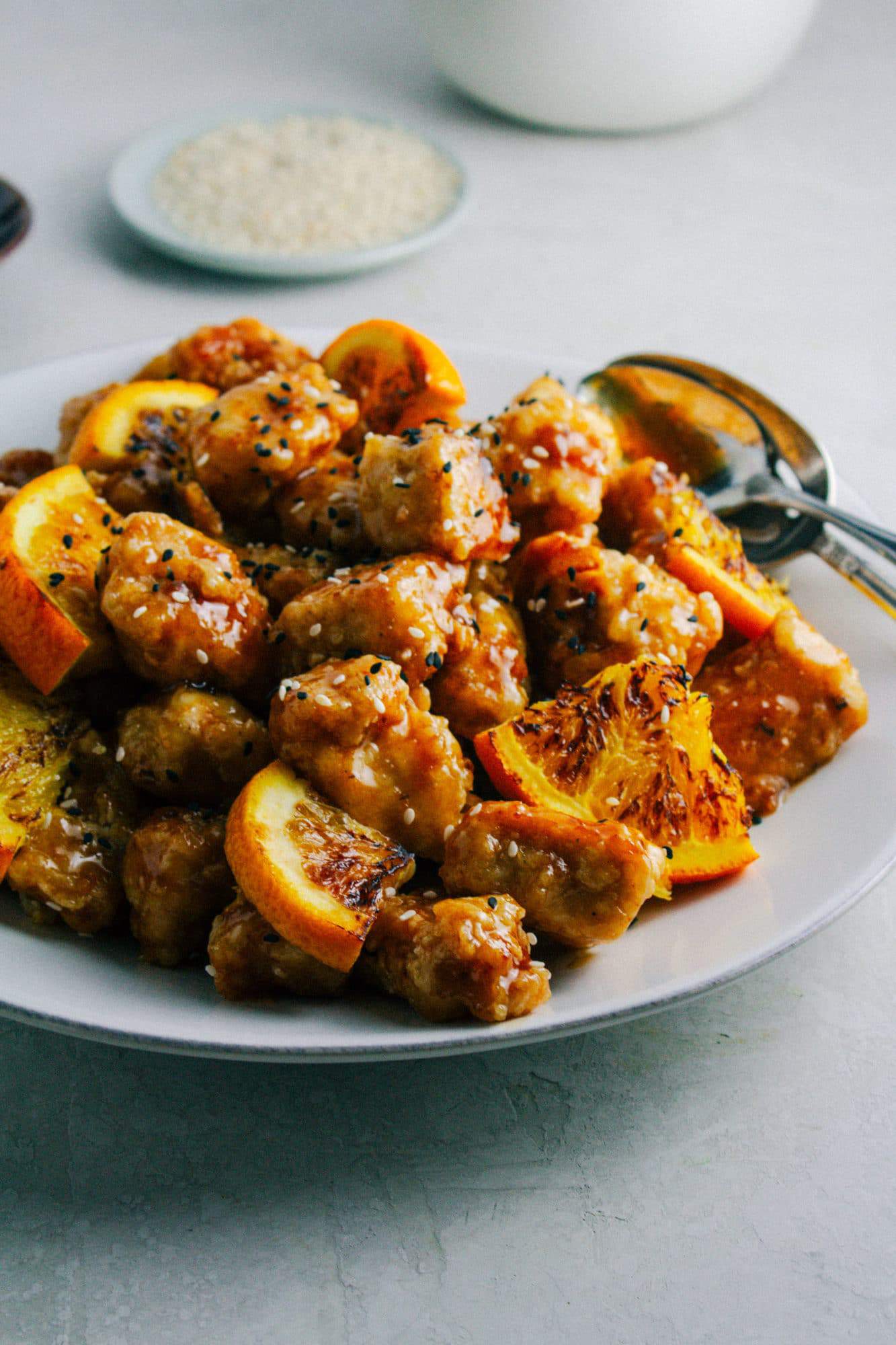 Are your cravings for Chinese take-out kicking in? Specifically for Orange Chicken? Have I eased your frying fears? I'll stop, really, so you can head to the grocery store and get going on this recipe… Please report back!
Print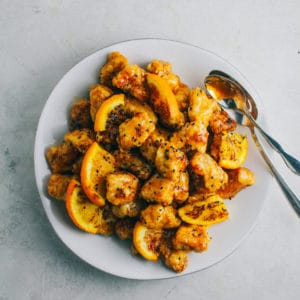 Chinese Take Out Orange Chicken
Prep Time:

25 Mins

Cook Time:

20 Mins

Total Time:

45 Mins

Yield:

4

Servings

1

x
---
Description
Healthier Chinese Take Out Orange Chicken with the perfect amount of crunch paired with the sticky orange sauce.
---
Scale
Ingredients
CHICKEN
2

lbs Boneless, Skinless, Chicken Breasts

1

Egg

1 teaspoon

Salt

1/2 teaspoon

Black Pepper

2 tablespoons

Grapeseed Oil (or other oil with a high boiling point)

1/2 cup

Cornstarch

1/4 cup

Gluten Free Flour (I used Tapioca Flour)

1 cup

Oil (with a high boiling point)
SAUCE
1 tablespoon

Cornstarch

2 tablespoons

Rice Wine Vinegar

1/4 cup

Water

1 teaspoon

Sesame Oil

3 tablespoons

Soy Sauce

1/2 cup

Sugar

10 tablespoons

White Vinegar
Zest from

1

Orange
GARNISH
Sesame Seeds
Sliced Green Onion
---
Instructions
Chicken: Slice the Chicken into small 1 to 1 1/2-inch sized pieces. Whisk the Egg, Salt, Black Pepper, and Oil in a shallow medium-sized bowl and set aside. In a separate shallow medium-sized bowl mix the Cornstarch and Gluten Free Flour.
In an iron skillet or heavy bottomed pan heat the 1 cup of Oil to about 350 to 375 degrees.
Working in batches prepare the chicken, by first dredging the pieces in the egg wash bowl and then dousing them with the flour mixture. Gently place them in the oil and let cook for about 4 to 5 minutes or until chicken has reached an internal temp of 165 ℉, toss while cooking occasionally. Remove cooked pieces to a wire rack and repeat until all chicken pieces are cooked.
Sauce: Whisk all the ingredients for the sauce together in a small bowl and pour into a saucepan set over medium-high heat. Bring sauce to a boil and reduce heat to medium. Continue to cook for an additional 10 to 12 minutes, whisking occasionally, until the sauce thickens.
In a large bowl toss the cooked chicken with the sauce until evenly coated. Garnish with Sesame Seeds and sliced Green Onion.
---