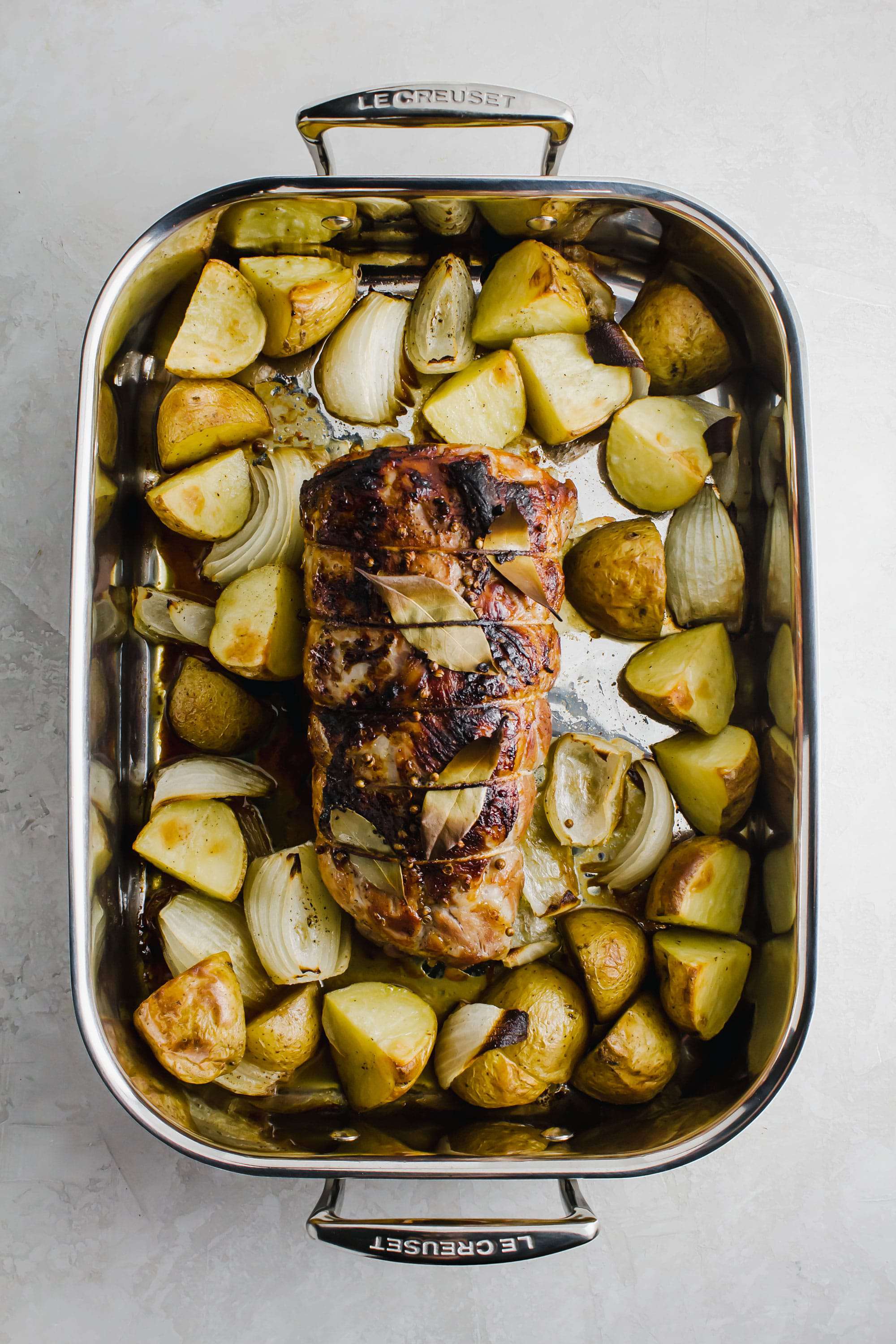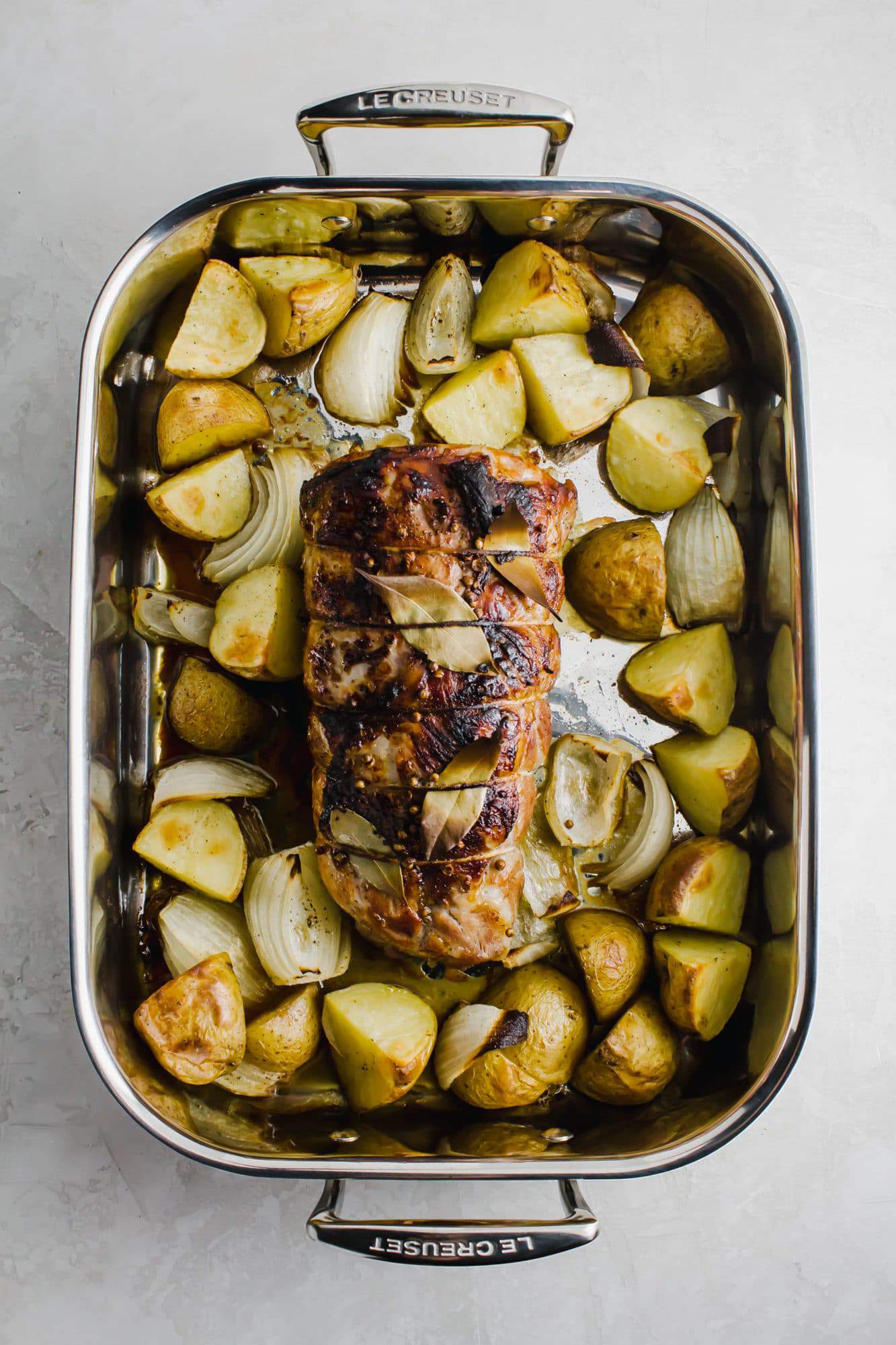 As fall slides into the Holiday/winter season dinners like this Cider Brined Pork Roast are dinner perfection, even if they take a little time to eat. These are the kinds of meals where leftovers are welcomed by all.
I'll admit, I've never actually used a roasting pan and before testing out this recipe I'd never "brined" meat. Since it's the Christmas season it seemed like the perfect time to learn.
Surprisingly, this was all WAY easier than I'd initially thought, even if it took a little longer to prepare. Making this recipe was sort of like meal planning. You start one step one day and finish it the next for one really tasty meal you can enjoy more than once.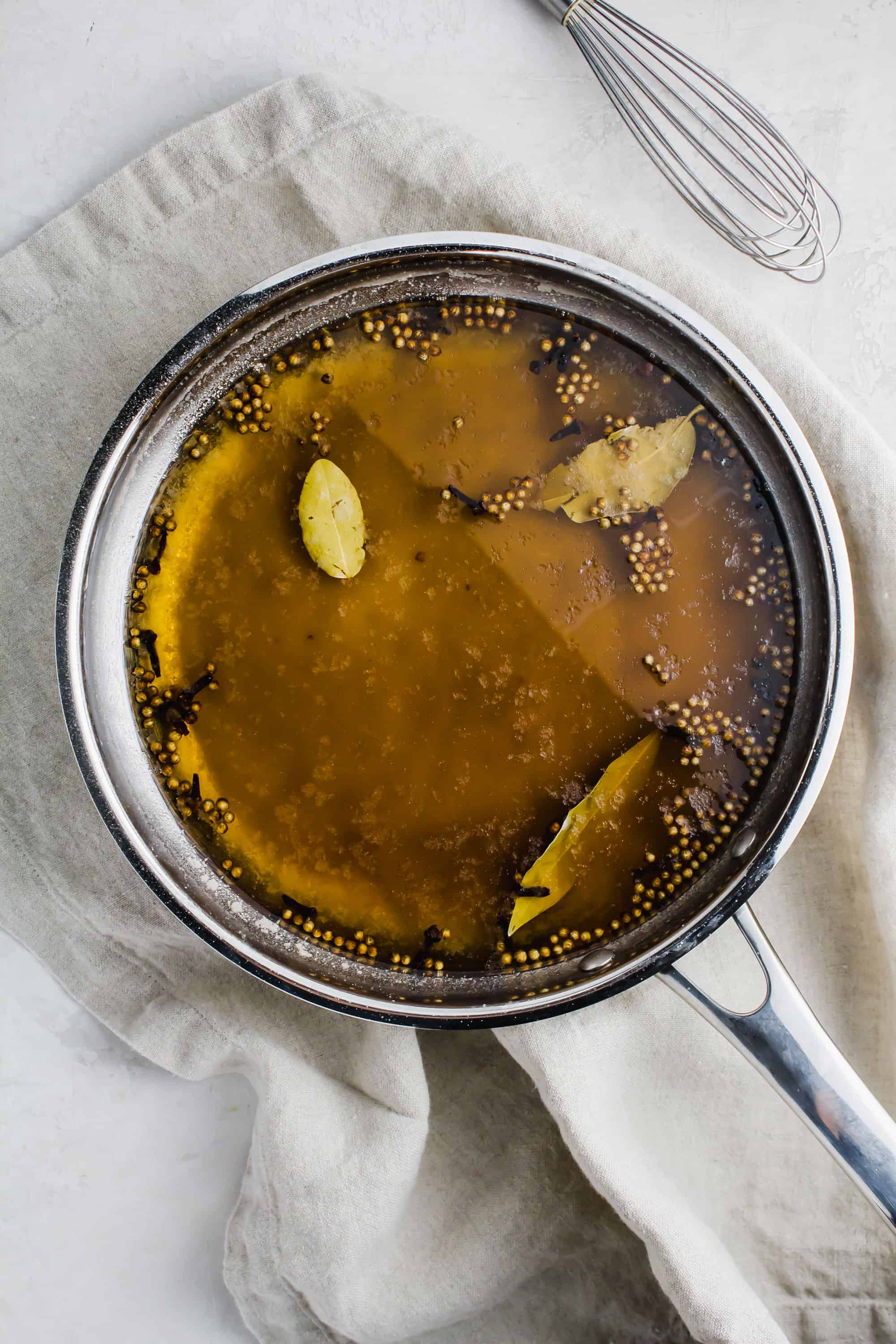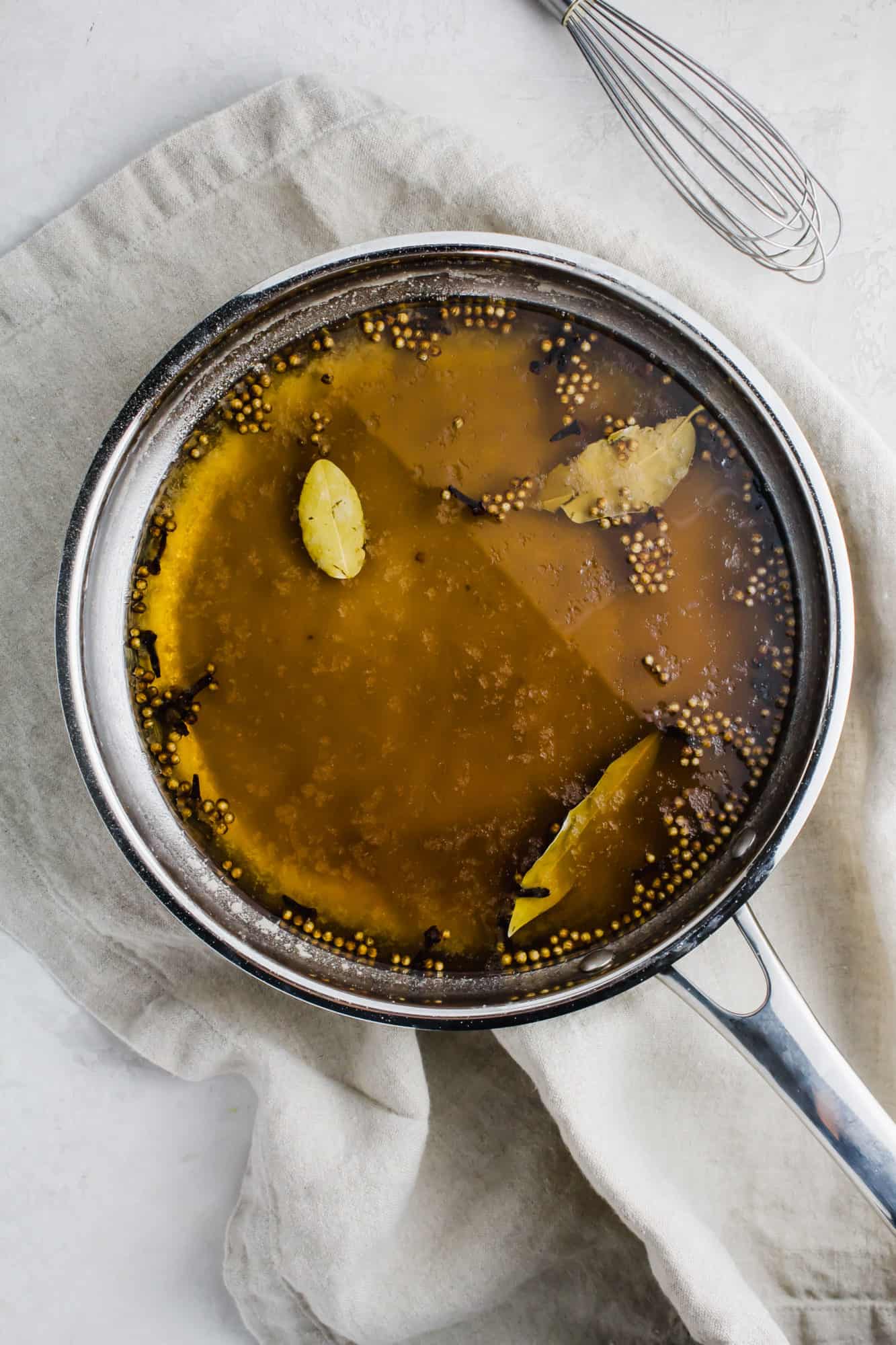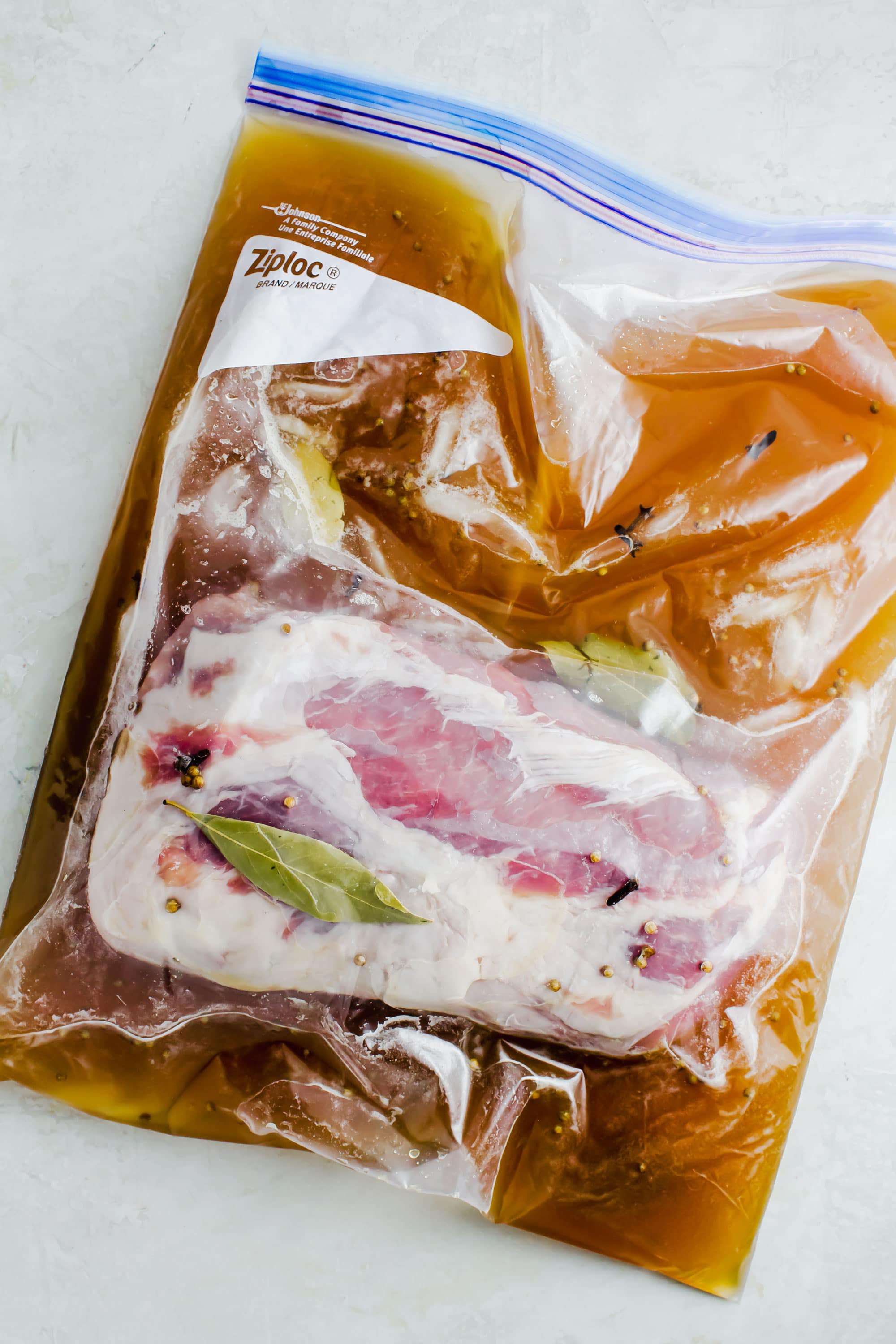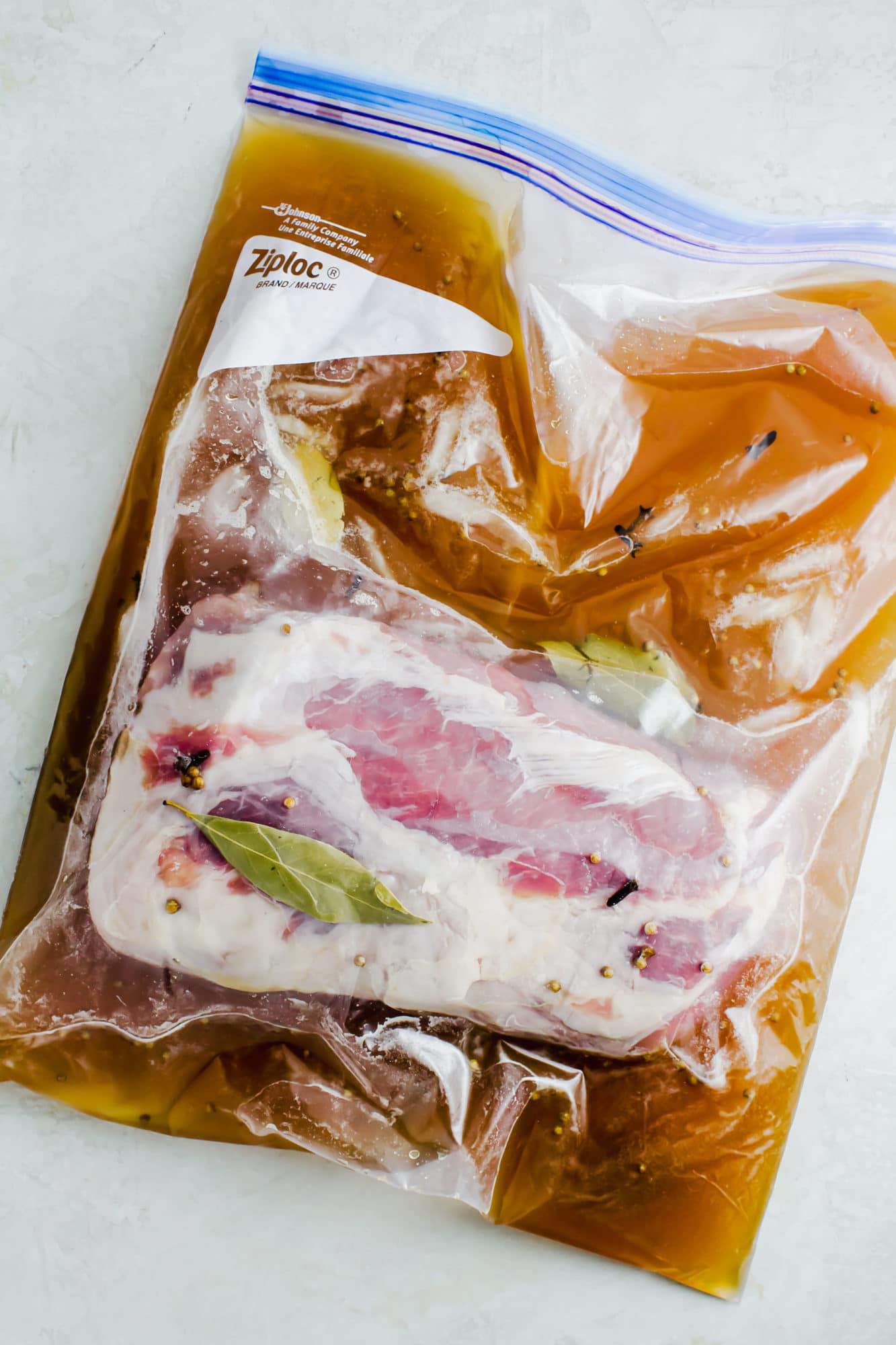 Taking my time is exactly what I need right now because…
The moment has approached where I "think" I may be done ordering Christmas gifts, but history tells me something is forgotten, usually something big. Something I've completely forgotten and will likely require expansive overnight shipping to recoup.
With the way this season has gone, having two kids in school and being apart of other activities, I'm no fool as to think I've got it all together THIS early either. This is the girl after all who just yesterday packed her car up at Target while sipping her White Chocolate Mocha (and belting N'SYNC's Merry Christmas, Happy Holidays), only to merrily drive off and realize 5 minutes later her purse was still in the shopping cart parked at Target.
Right now though it seems as if I've made a list and checked it twice, and I might just be ahead. In an attempt to NOT get "ahead" of myself, I'm slowing it down as the kids are out of school, and this means slowing down my cooking too.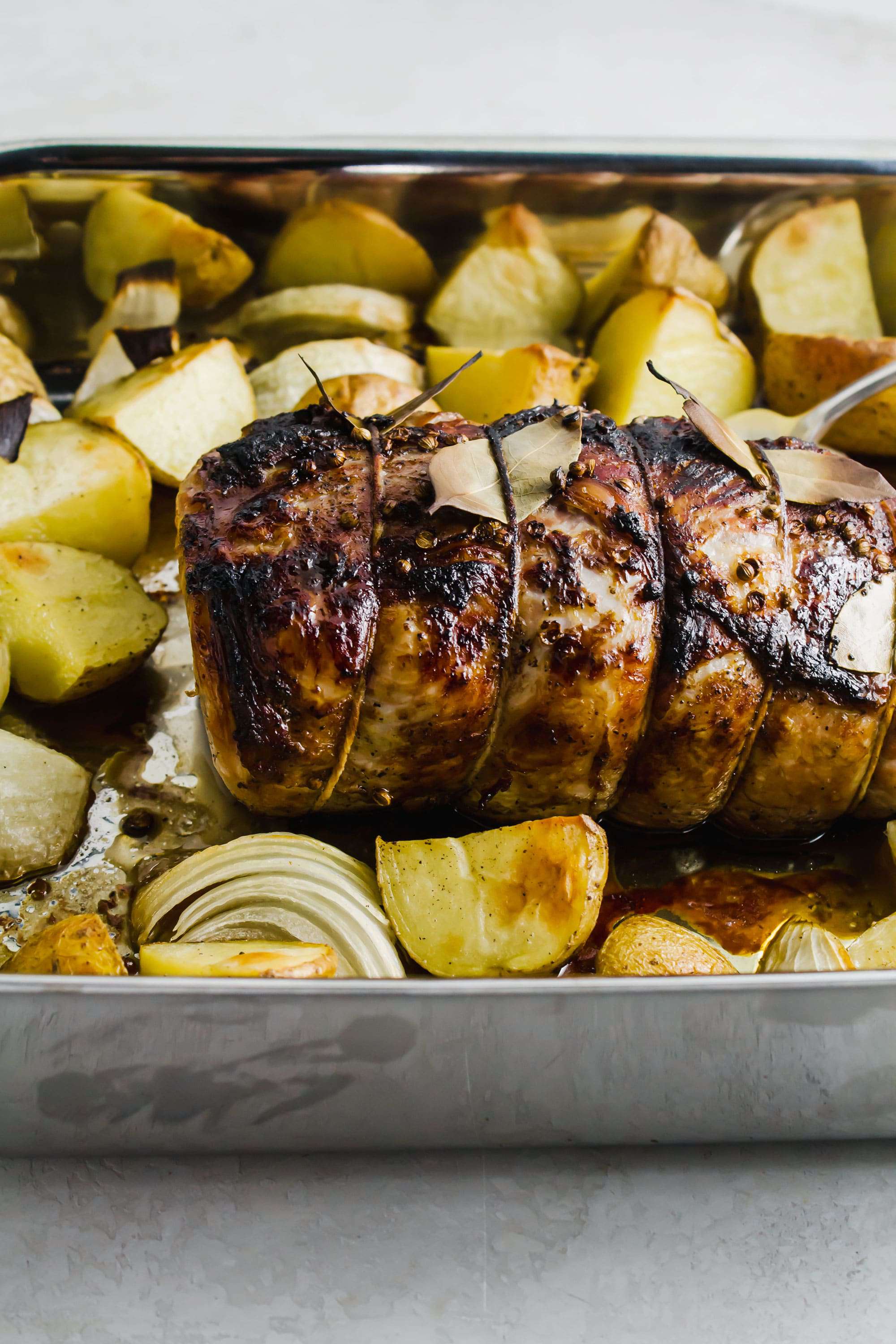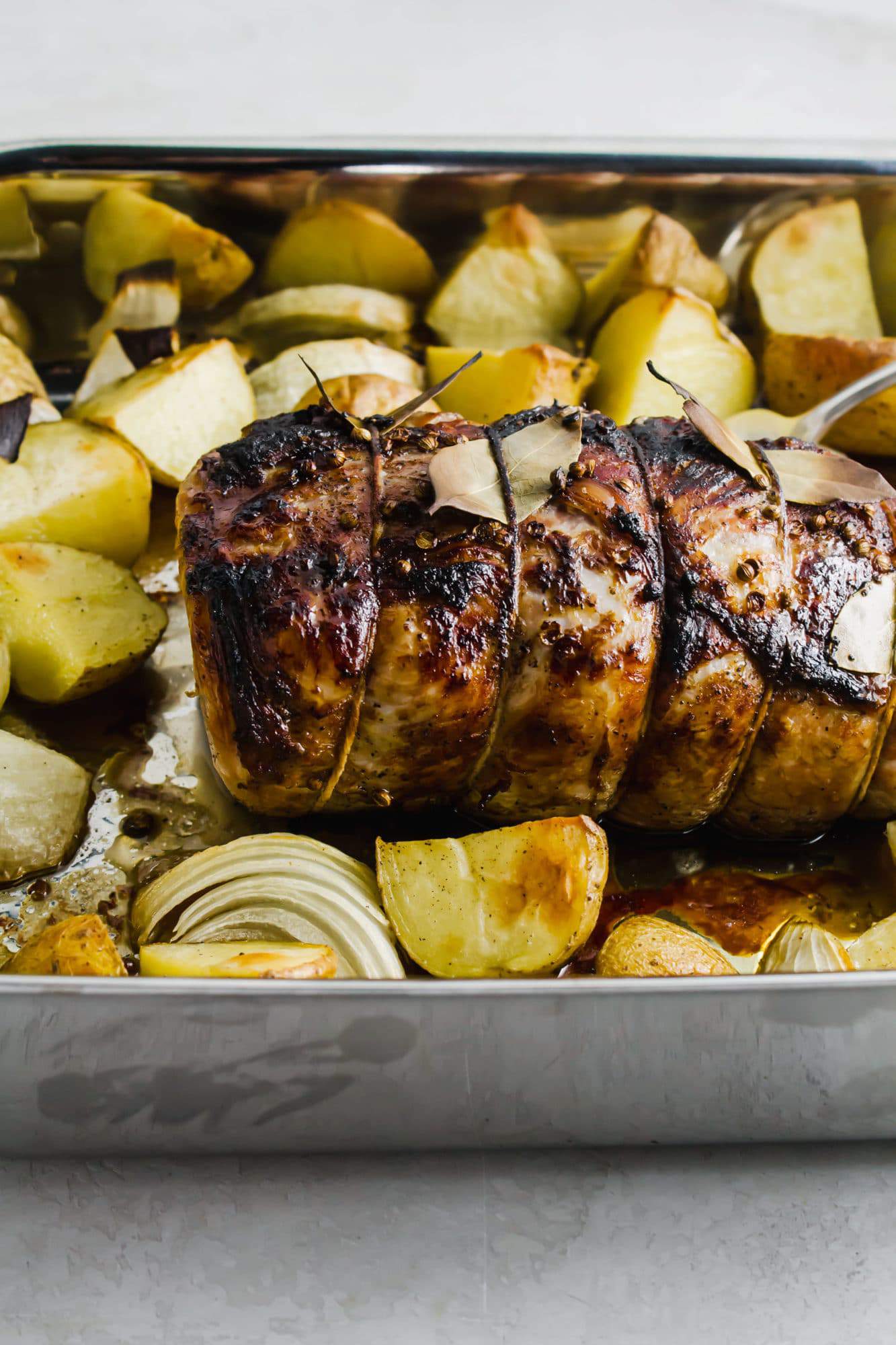 What is Brining?
Whenever I hear the word "brine" I think turkey and Thanksgiving, and that's because it's a great way to marinate meat you plan to slow cook. Plain and simple to brine is to soak in or saturate with salty water, which adds huge amounts of flavor to your meat. A brine actually saturates the meat where a marinade just coats the outer layer.
The brine in this recipe is made up of the following ingredients:
Brown Sugar
Salt
Bay Leaves
Coriander Seeds
Whole Cloves
Apple Cider
So yes, this recipe requires 1 cup of brown sugar and salt, but the meat won't be cooking in it rather it will "brine" in it overnight. The salt actually tenderizes and seasons the meat, the cider, and coriander add additional flavor while the sugar caramelizes the exterior. The brining liquid is discarded when it's time to prepare the meat for cooking.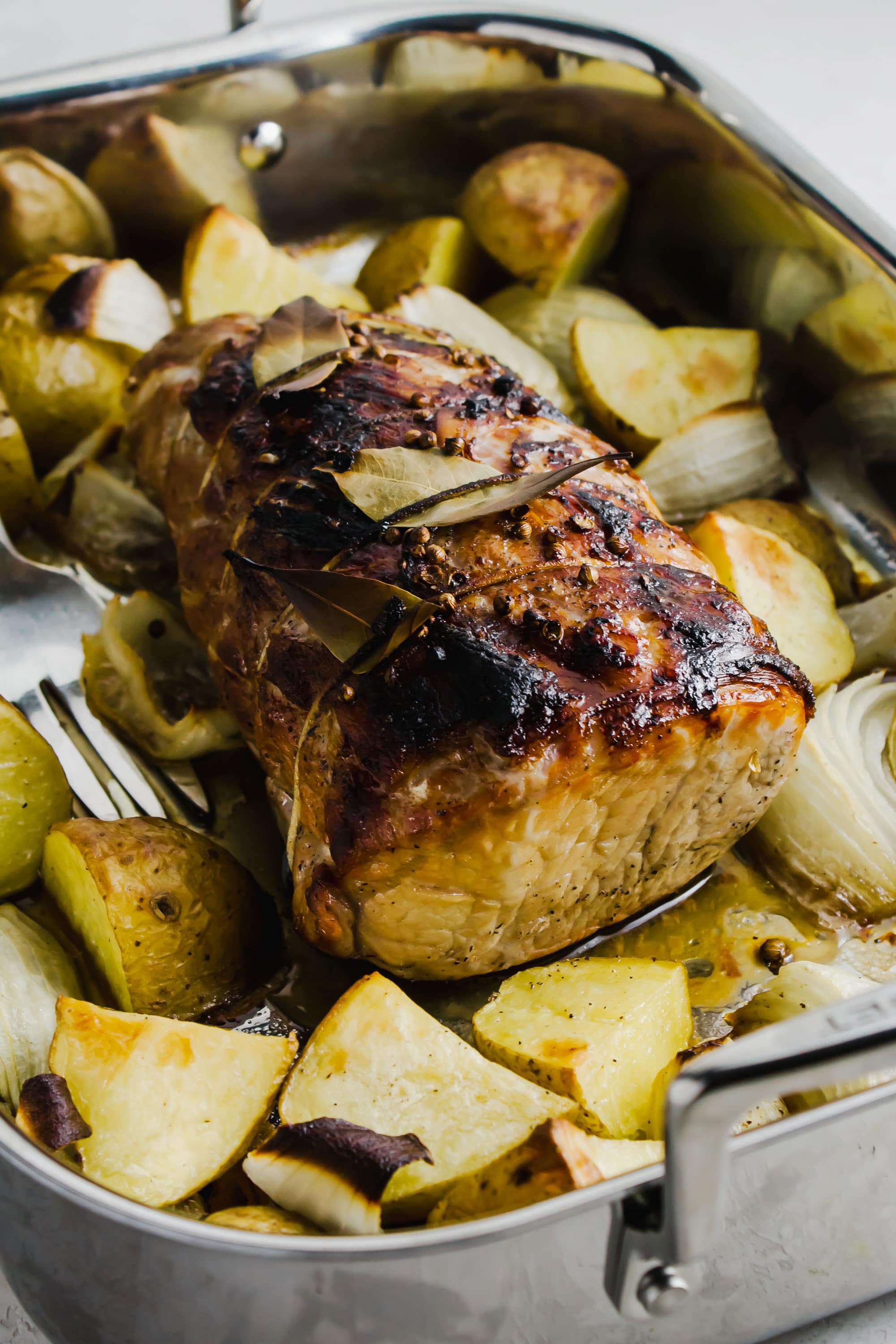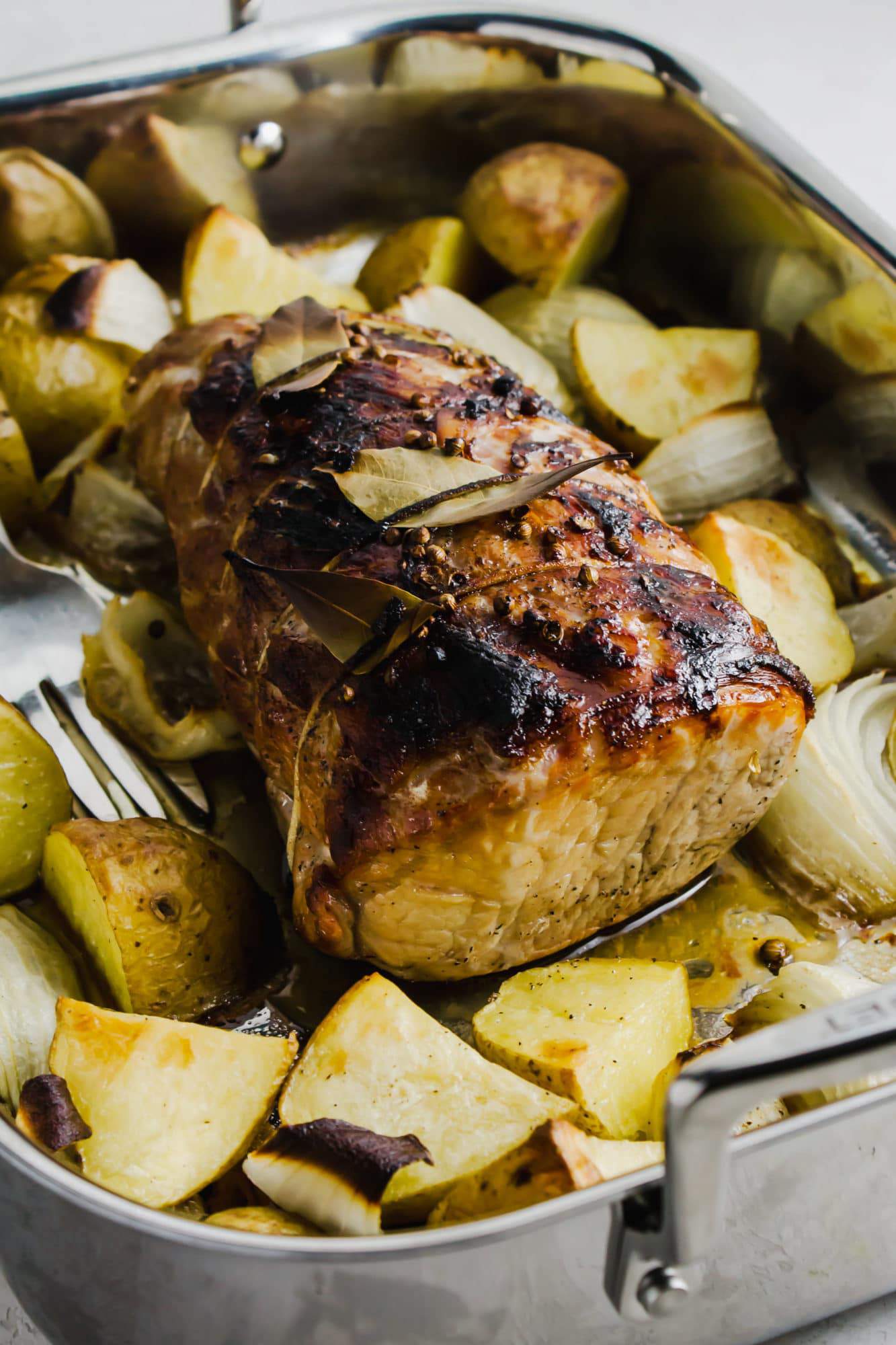 Roasting…
Once the pork loin has brined overnight, or 8 hours, remove it from the liquid and sear it in oil on all sides before placing it directly in your roasting pan. I say "directly" because you won't need the rack for this cooking method. Nestle the potatoes and onions around the pork after you've sliced and seasoned them with oil, salt, and pepper.
To roast is to cook it in a dry heat, often at a lower temperature, but here we're using 425℉ for 60 to 75 minutes. Once the meat reaches 140℉ remove it from the oven to sit for 30 minutes where it finishes cooking.
Believe me, I get a completely CRAY Christmas schedule, and I'm telling myself to SLOW DOWN like the old lady who was yelling at me in the Hobby Lobby parking lot (even though I was going 10 mph and creeping over a speed bump…), but slower cooked meals this time a year add to what makes it all so special.
Enjoy a slow-cooked meal with your family!
Try These Slow-Cooked Recipes Next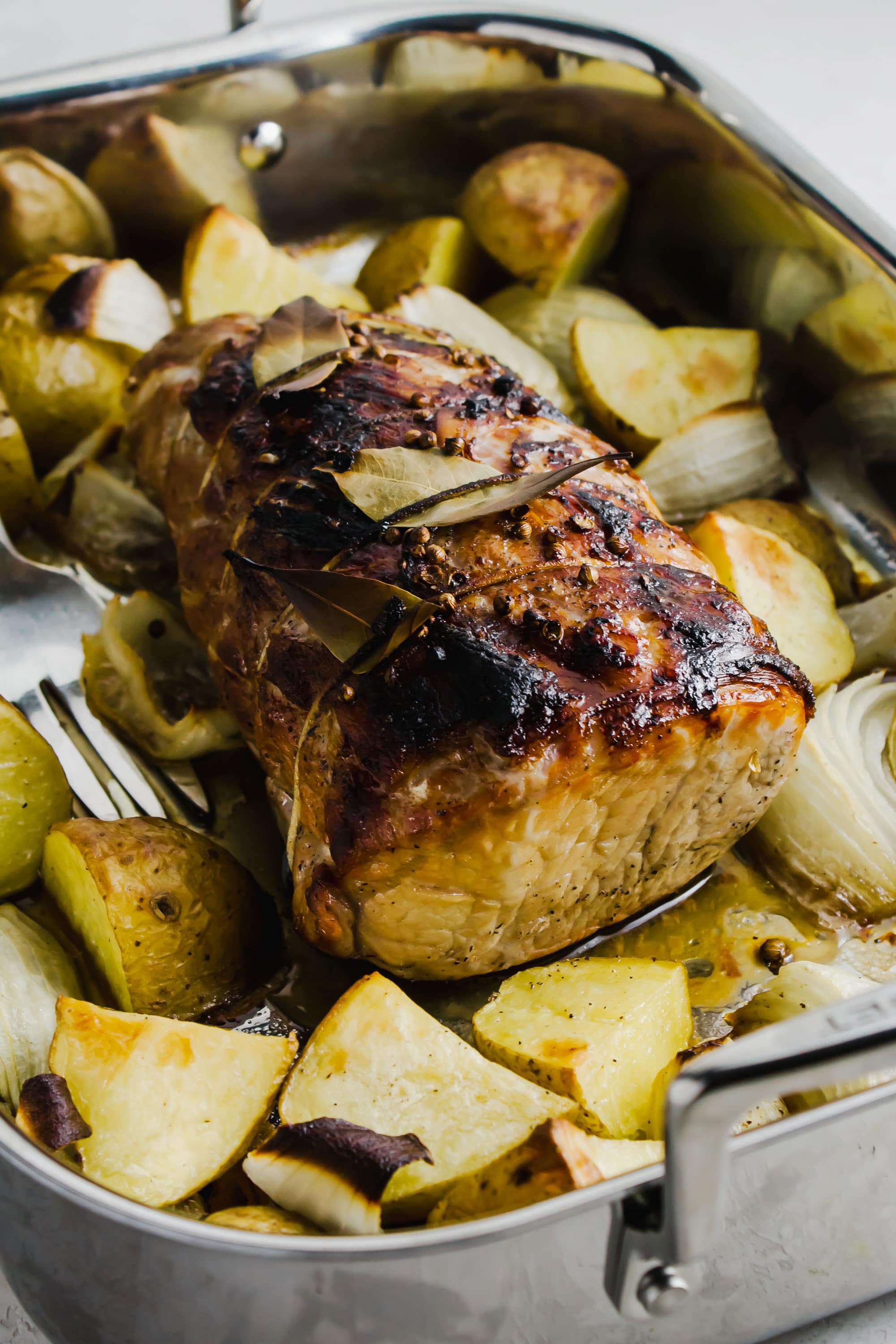 Ingredients
BRINE
1

cup

Light Brown Sugar

1

cup

Salt

8

Bay Leaves

3

tablespoons

Coriander Seeds

divided

2

teaspoons

Whole Cloves

2

cups

Water

1

quart

Apple Cider
ROAST
5

lb

Pork Loin Roast

6

Yukon Gold Potatoes

quartered

3

Yellow Onions

quartered

5

tablespoons

Olive Oil

divided
Instructions
Brine
Bring the brown sugar, salt, bay leaves, 1 tablespoon coriander seeds, whole cloves, and 2 cups water to a boil in a medium saucepan. Reduce heat to a simmer and stir occasionally, until sugar and salt dissolve.

Pour brine in a large bowl along with 2 cups of ice and the apple cider and let cool.
Roast
Place the pork loin and brine in a 2-gallon bag and seal. Chill in the fridge for a minimum of 8 hours or overnight.

Remove the pork from the brine when ready to cook, pay dry with paper towels, and let sit for 1 hour.

Toss potatoes and onions with 1/4 cup olive oil and season with salt and pepper.

Place the rack in the lower third of the oven; preheat to 425 ℉.

Crush the remaining 2 tablespoons of coriander seeds with a mortar and pestle or the side of a chef's knife. Rub pork with salt, pepper, and crushed coriander. Tie kitchen twine around the meat at 1-inch intervals.

Heat the remaining 1 tablespoon of olive oil in a large skillet and brown the pork on the sides, about 8 to 10 minutes.

Transfer pork to roasting pan and place potatoes and onions around the meat. Tuck additional Bay Leaves into the twine on top. Cook for 60 to 75 minutes or until the pork reaches an internal temperature of 140 ℉.

Remove from oven and let sit for 30 minutes before slicing.
Notes
You can brine the pork up to 2 days before cooking. Keep chilled.
Nutrition
Serving:
2
ounces
|
Calories:
976
kcal
|
Carbohydrates:
90
g
|
Protein:
89
g
|
Fat:
28
g
|
Saturated Fat:
6
g
|
Trans Fat:
1
g
|
Cholesterol:
238
mg
|
Sodium:
19082
mg
|
Potassium:
2458
mg
|
Fiber:
6
g
|
Sugar:
54
g
|
Vitamin A:
15
IU
|
Vitamin C:
40
mg
|
Calcium:
130
mg
|
Iron:
5
mg