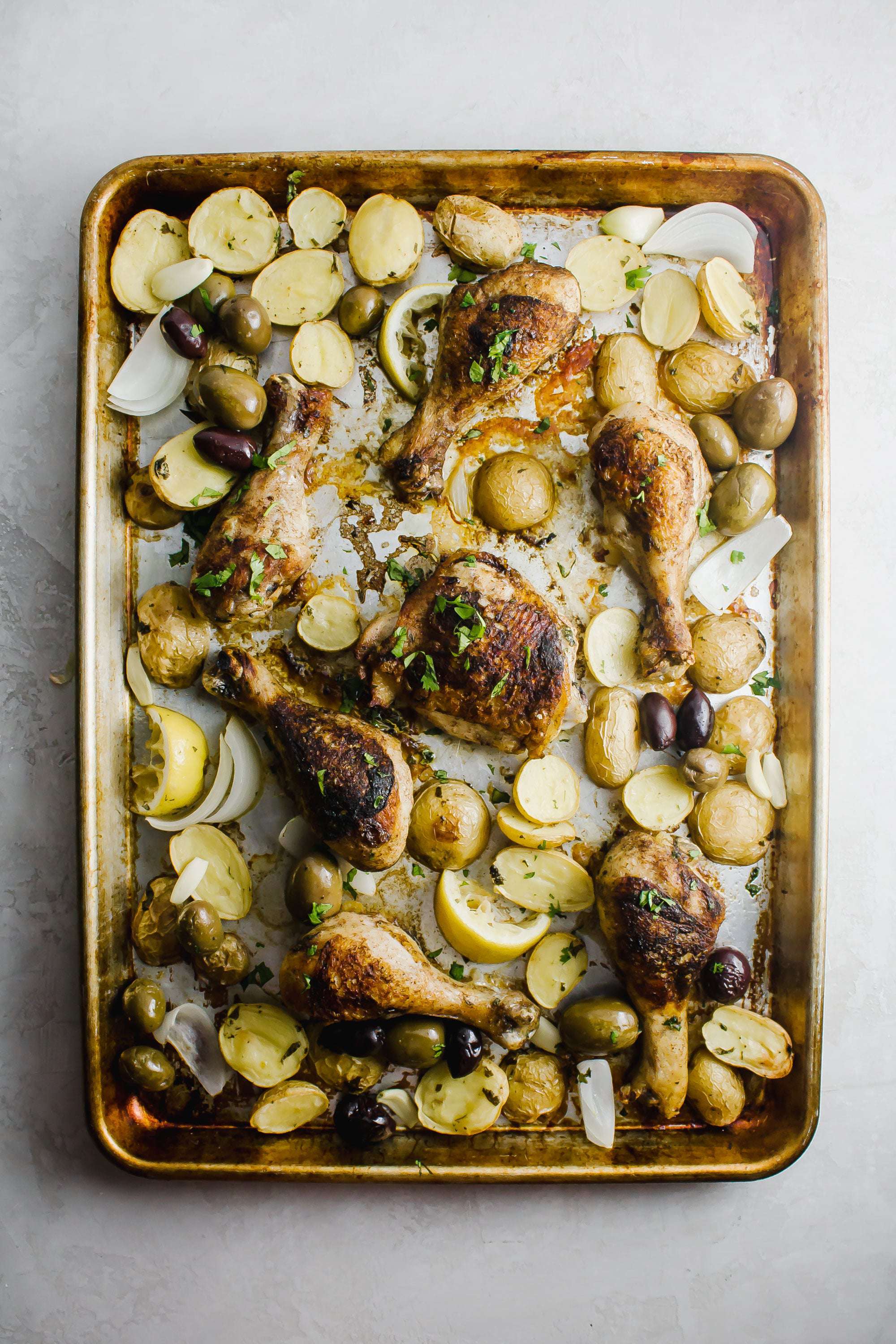 Crispy Mediterranean Spiced Chicken is my preference, BUT you can drop the pre-crisping for an even easier sheet pan only dinner, because hello, school is back in session, summers coming to a close, and we could ALL use a simple healthy dinner. Really, though I think you should keep the crisp, that's just me…
Me in all my frustrated glory!
I'm trying to find my groove and all I seem to be doing in ending up in the exact spot… What? Exactly… I've come to accept I'm largely an introvert who tries, I really do, to push myself to have an extrovert like tendencies, achieve balance if you will. Therein lies the problem with sentence one of this weird paragraph, which is cryptic and the meaning often hidden.
What is the same spot I'm standing in and how long have I been standing there? Weight loss, body image, self-control, exercise, and health. This has been the underlying issue that prevails my thoughts for really the past 20 years or so, but recently, within the past 3 years I keep finding myself in the same mental state (or with the same box of cookies in my hand), workouts started and stopped, and diets that begin on Sunday and crash by Thursday. It's been a tiring 3 years. I want it to end, to finally gain control over this area of my life.
Here it is Thursday and I've once again crashed and burned. In order to pull me out of the mental bum that I've fallen into did what any sane person would and did a little retail therapy. I figured if I'm buying workout clothes I'll be more motivated or at least I'll feel like I look good. Then I bought a new water bottle. Motivation to drink more water, right? Then I decided I'm going to pick up some blender bombs at that new smoothie place and enjoy delicious smoothies for lunch. Lastly, I'm going to start (again) the BBG workout program via the Sweat app, and I'm cutting dairy and gluten for a week (baby steps).
I really want to rock these goals cause I'm tired of talking about NOT meeting them! Let's get back to talking about this sheet pan chicken dinner now…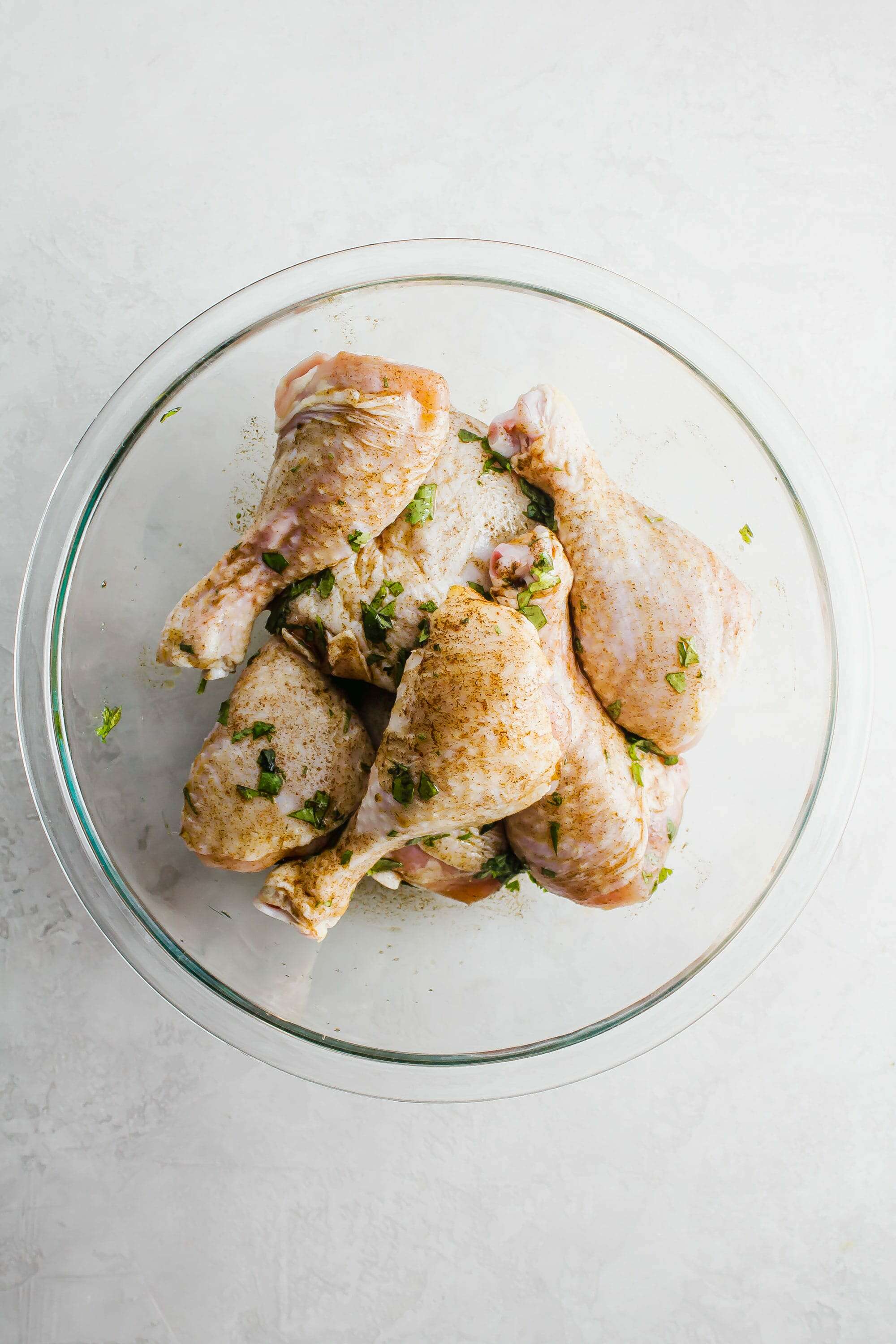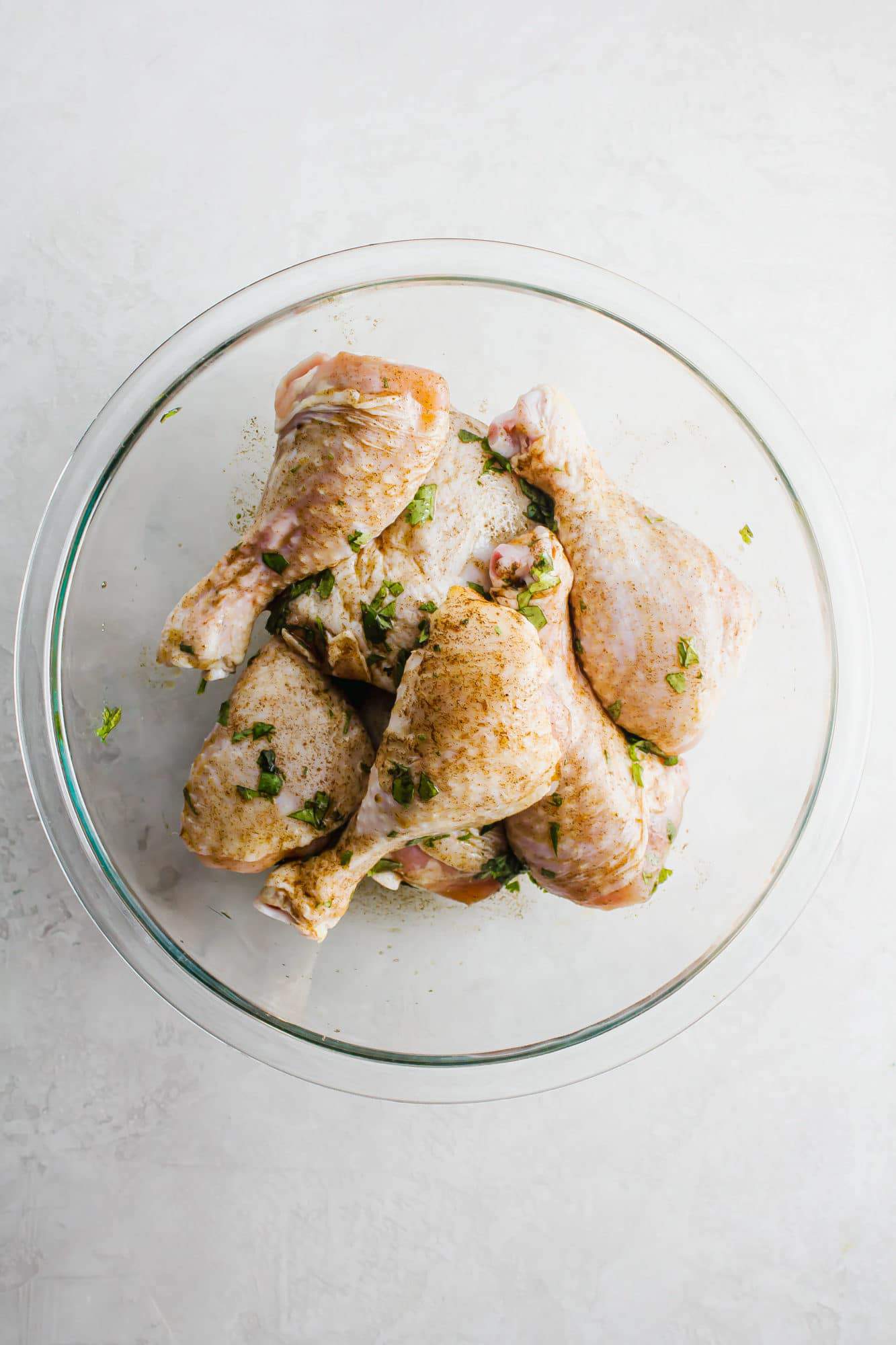 So to Crisp or Not to Crisp?
This is entirely up to you and how much time you have to prepare dinner. To achieve the amazing outer crisp of the chicken just marinate it for about 15 minutes and then brown it on all sides in a skillet. Transfer to the baking sheet with the potatoes (already in the oven) and your practically done.
I say practically because you still have to toss the onions and olive on the tray, but that's it. Swear!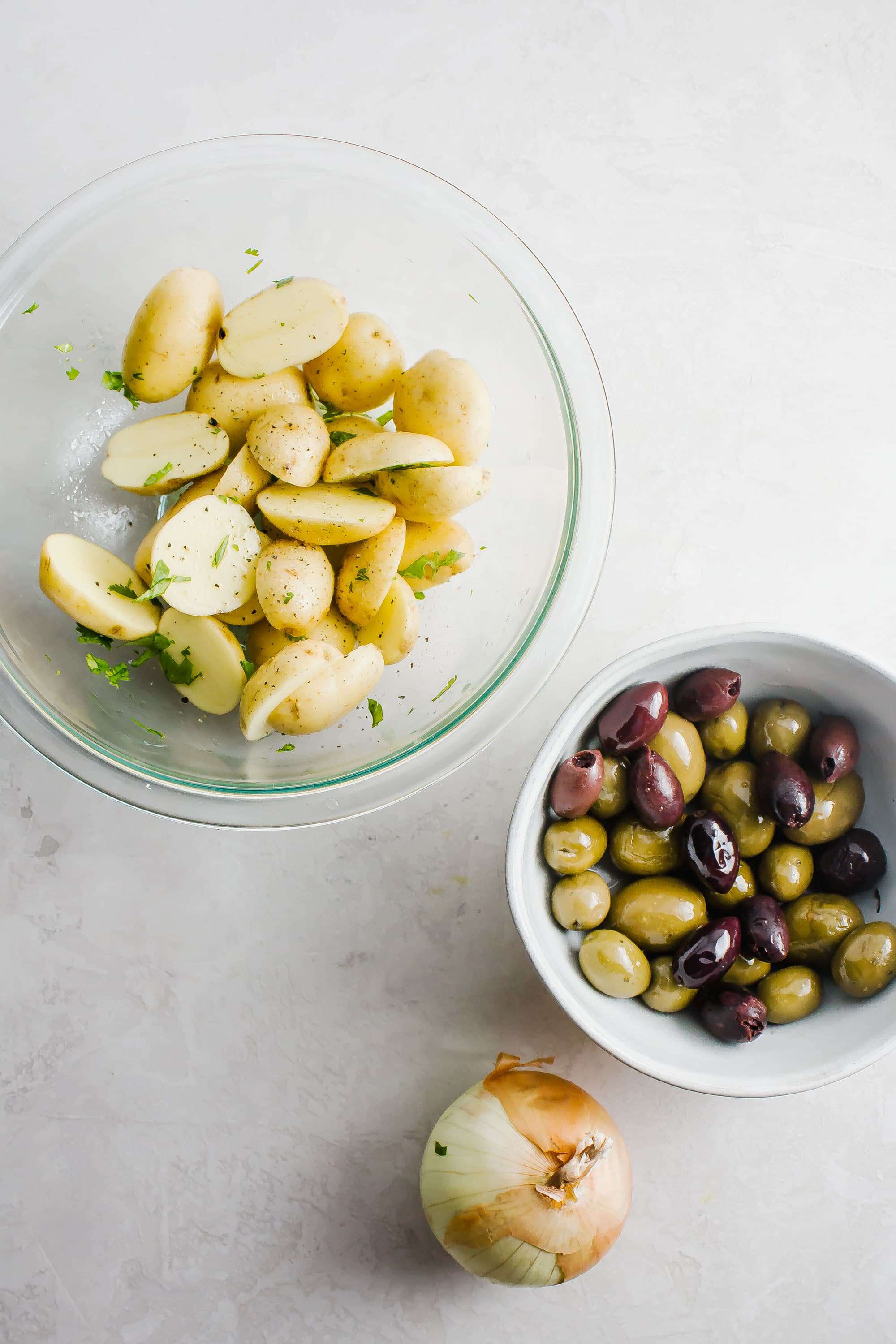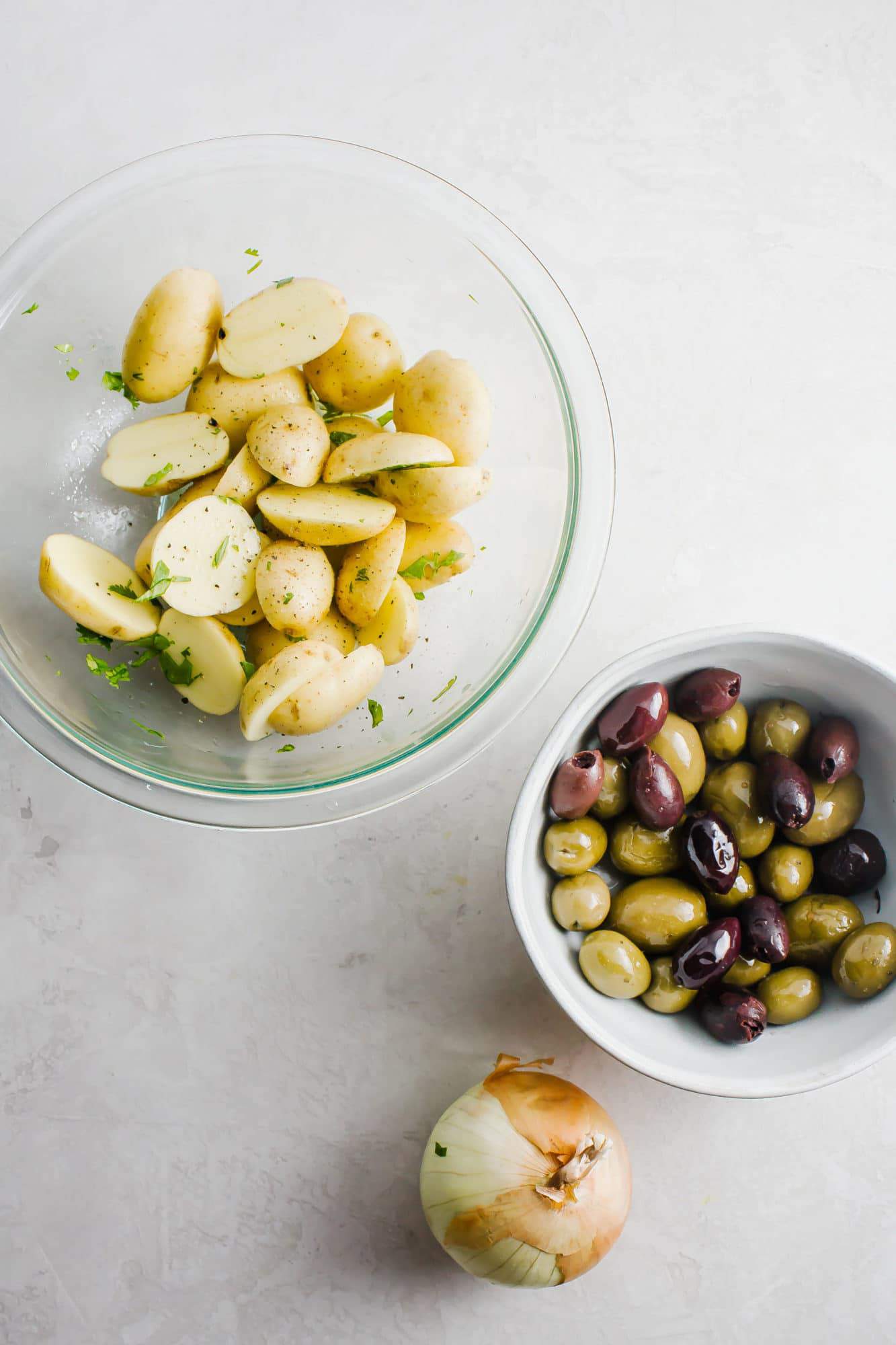 I'm a huge fan of "all-in-one" type recipes, which result in a full dinner and nothing else needed. Often I'll make a super yummy meat or fish and am like "well, now what am I supposed to pair this with?" Salad again! This Mediterranean spiced chicken is one of those dinners that has it ALL!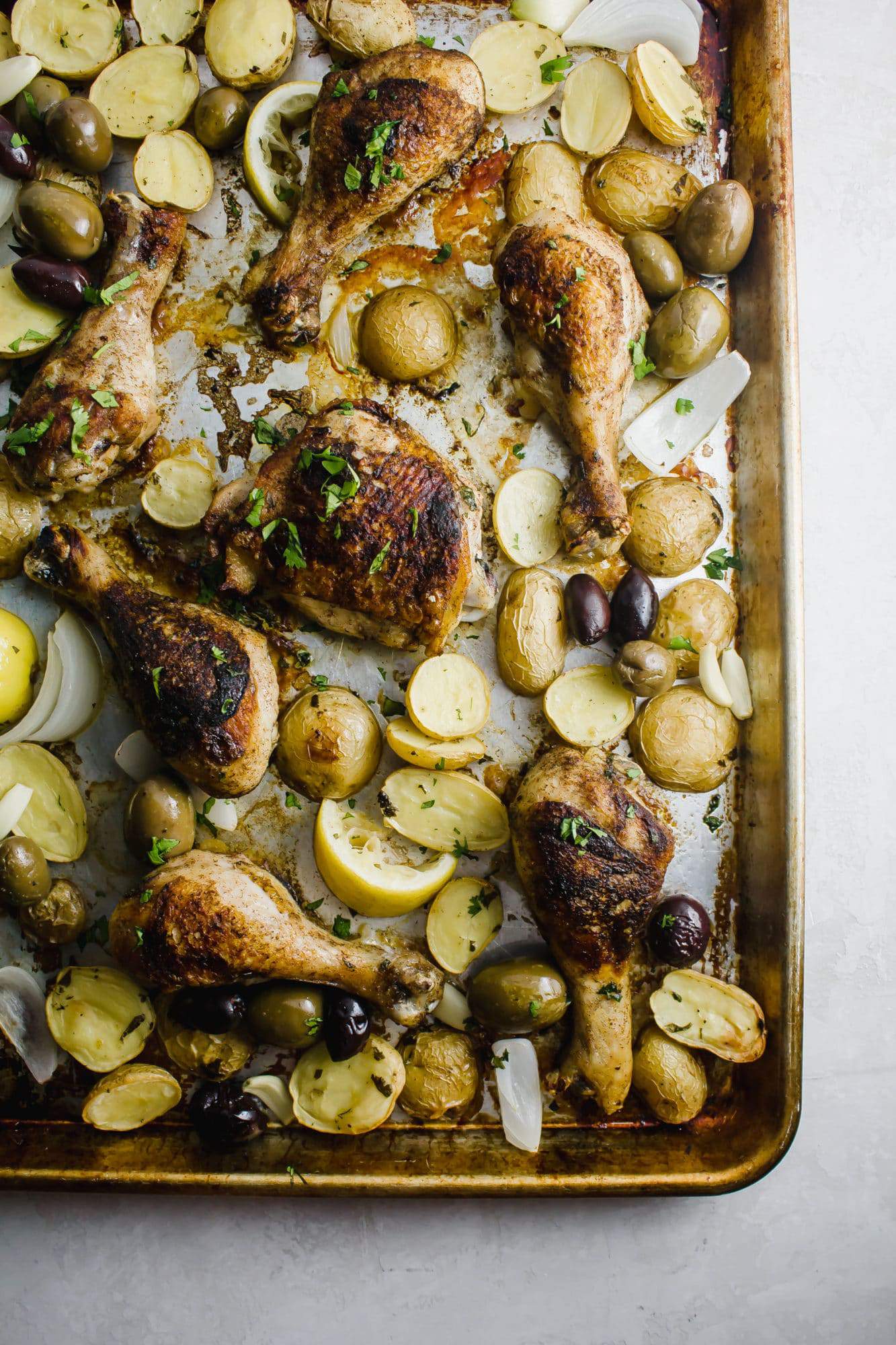 Challenge Anyone?
Crispy Mediterranean Spiced Chicken falls until the dairy-free and gluten-free delicious umbrella, and likely many of my future recipes will too because this time I'm going to do this. After all, I'm putting it in writing and isn't that one of the main keys to success? Oh, I should enlist a challenge too… To complete, without missing a single workout, then entire BBG Program. Anyone with me? Want to up the stakes maybe with a giveaway? I'm game, just leave a comment to share your thoughts.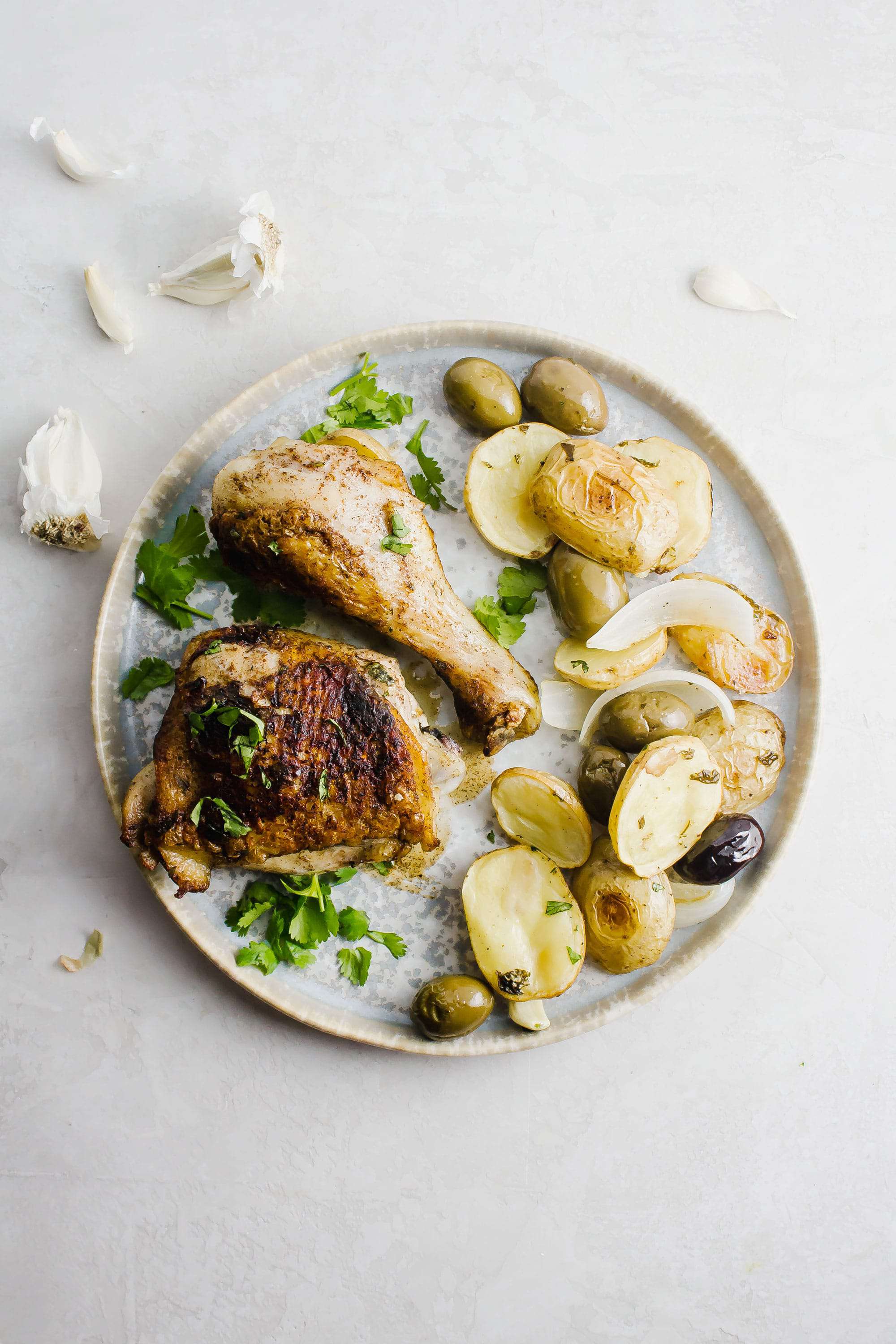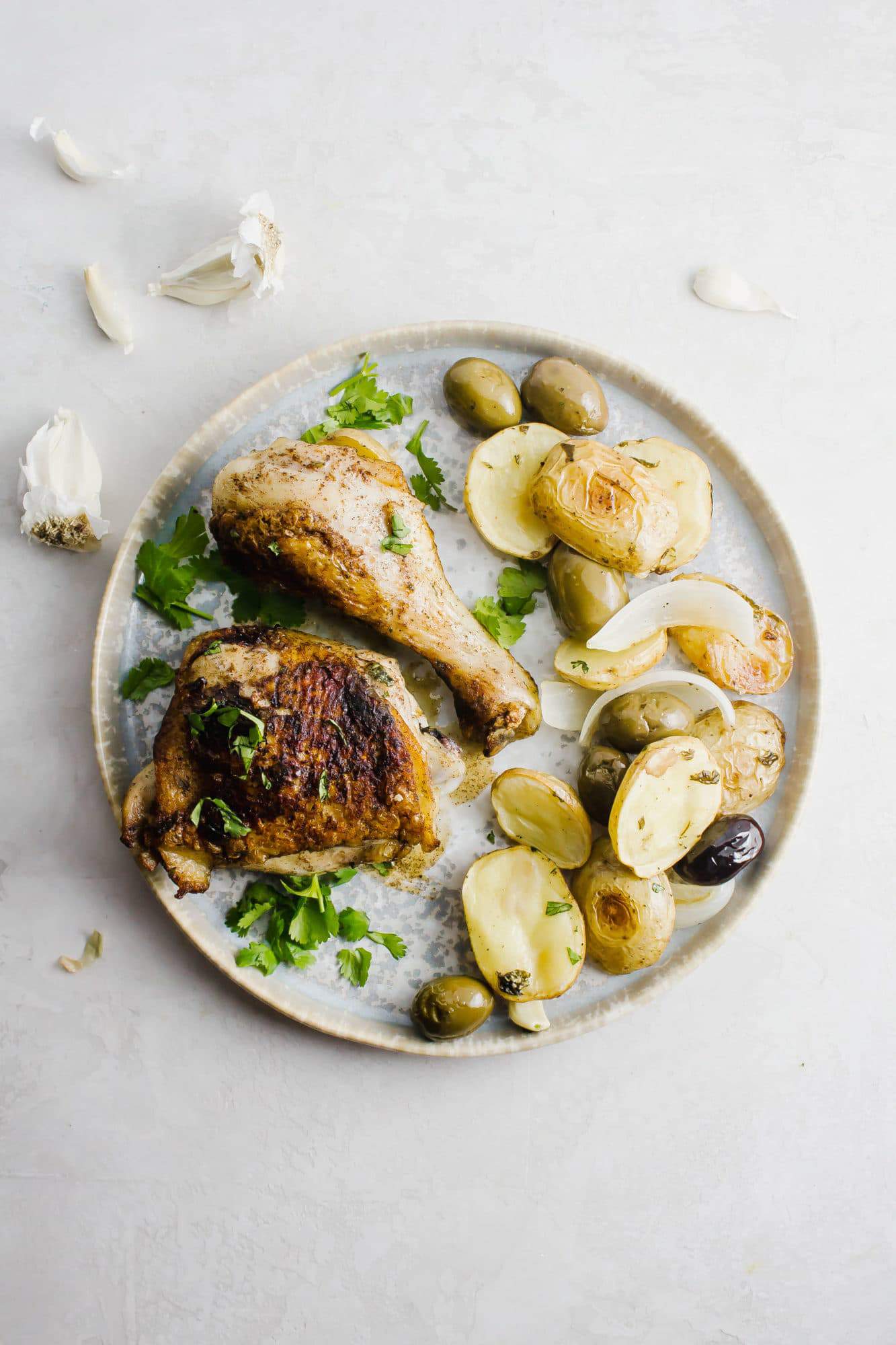 Ingredients
Marinade
1/2

teaspoon

Paprika

1/2

teaspoon

Allspice

1/2

teaspoon

Ground Nutmeg

1/2

teaspoon

Cardamom

2

tablespoons

Parsley

finely chopped

1/4

cup

Olive Oil
Potatoes
1

lb

Fingerling Potatoes

halved

2

tablespoons

Olive Oil

1

tablespoon

Parsley

chopped

2

tablespoons

Fresh Lemon Juice
Chicken
3

lbs

Chicken Thighs

1/2

medium

White Onion

sliced

1/2

cup

Cerignola Olives

or other green olive

8

Garlic Cloves

Salt and Pepper
Instructions
Marinade
In a large bowl mix the olive oil, paprika, allspice, nutmeg, cardamom, and parsley. Season both sides of Chicken with salt and pepper and place in the marinade. Toss to coat evenly. Marinate for 15 minutes at room temperature or up to 2 hours covered in the fridge.
Potatoes
Preheat the oven to 375℉. In a medium-sized bowl mix the olive oil, parsley, and lemon juice together and toss with the halved Potatoes. Lay potatoes on a rimmed baking sheet in a single layer and cook for 15 minutes.
Chicken
While the potatoes are cooking heat a large castiron pan, non-stick frying pan, or grill over medium-high heat. Add the chicken thighs and drumsticks in a single layer with space between them. Cook on each side for 5 minutes.

Nestle the browned chicken in between the potatoes and place back in the oven to cook for 30 minutes. Pour any leftover marinated on top of the chicken pieces.

Add the onion slices, olives, and garlic cloves to the rimmed baking sheet and cook for an additional 15 minutes or until the chicken reaches an internal temp of 165℉ and is no longer pink in the center and the outer layer of the potatoes are crispy.
Notes
To find Cerignola Olives check out your grocery store's olive bar. I've seen these at stores such as Whole Foods, Publix, and Fresh Market.
Nutrition
Serving:
1
serving
|
Calories:
706
kcal
|
Carbohydrates:
17
g
|
Protein:
39
g
|
Fat:
53
g
|
Saturated Fat:
12
g
|
Trans Fat:
1
g
|
Cholesterol:
222
mg
|
Sodium:
357
mg
|
Potassium:
842
mg
|
Fiber:
3
g
|
Sugar:
1
g
|
Vitamin A:
475
IU
|
Vitamin C:
22
mg
|
Calcium:
48
mg
|
Iron:
3
mg