Last Updated on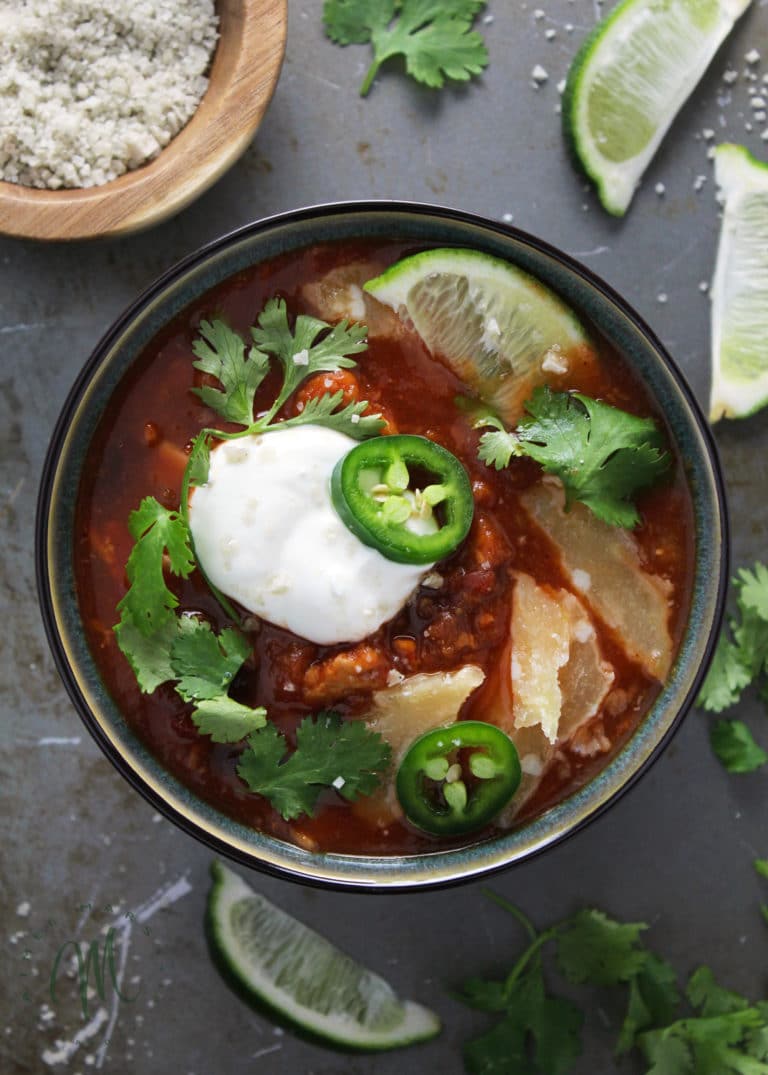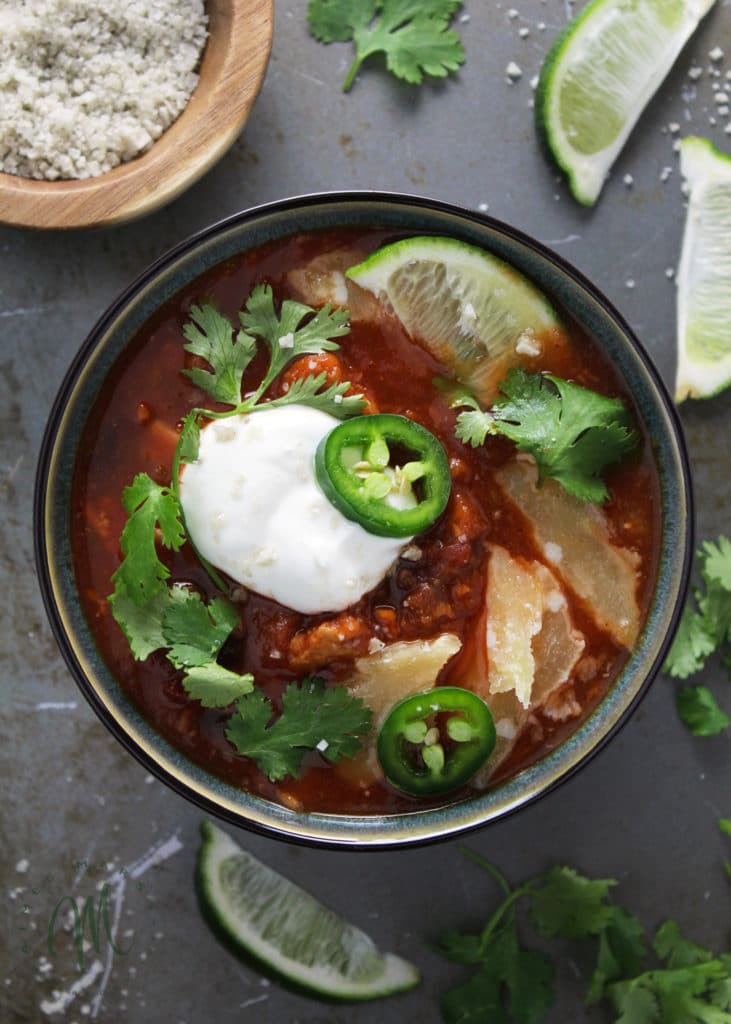 Hello, Friends! Allow me to introduce you to this magic meal. Yep, it's magical. It's magical because it's EASY, it tastes AMAZING, it's HEALTHY, and it falls under many dietary categories such as clean eating, paleo, gluten free, etc. Pretty magical huh?
I've been making a version of this chili since Jonathan and I married, sans onions because you know he hates them ???? (How? I don't know… My MIL confirms it's not their fault so we can't figure it out.), however, this decadent dish, the very one in the pics, is swimming with them! And I'm all ????????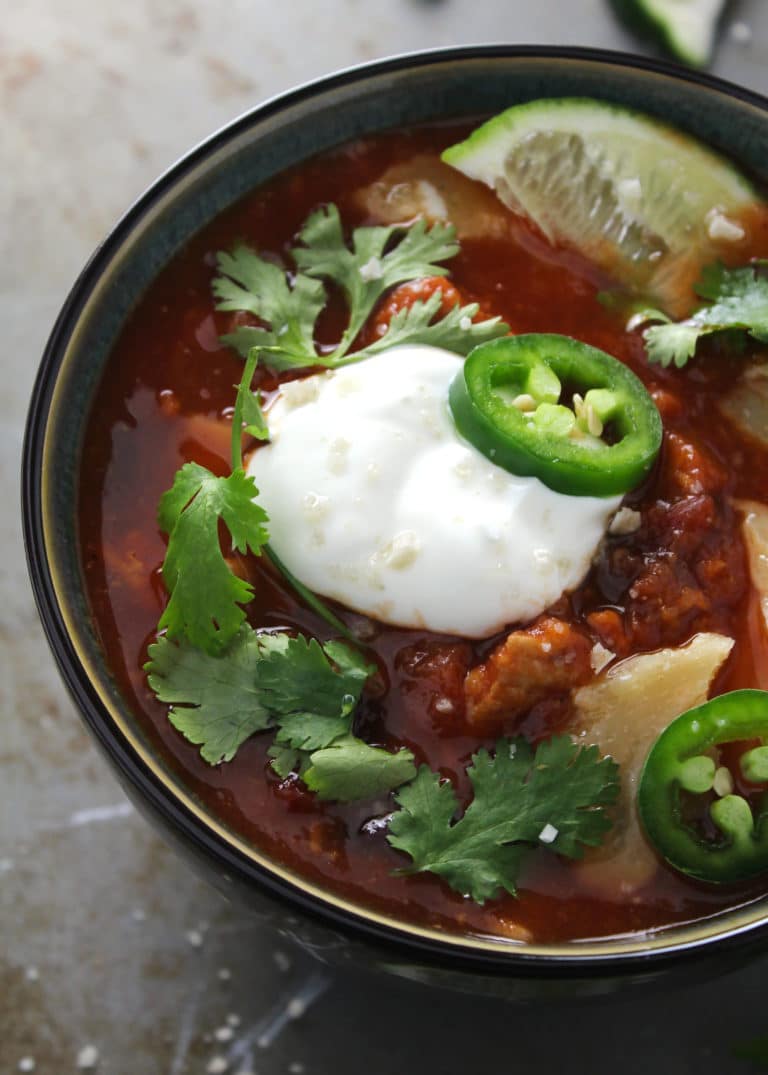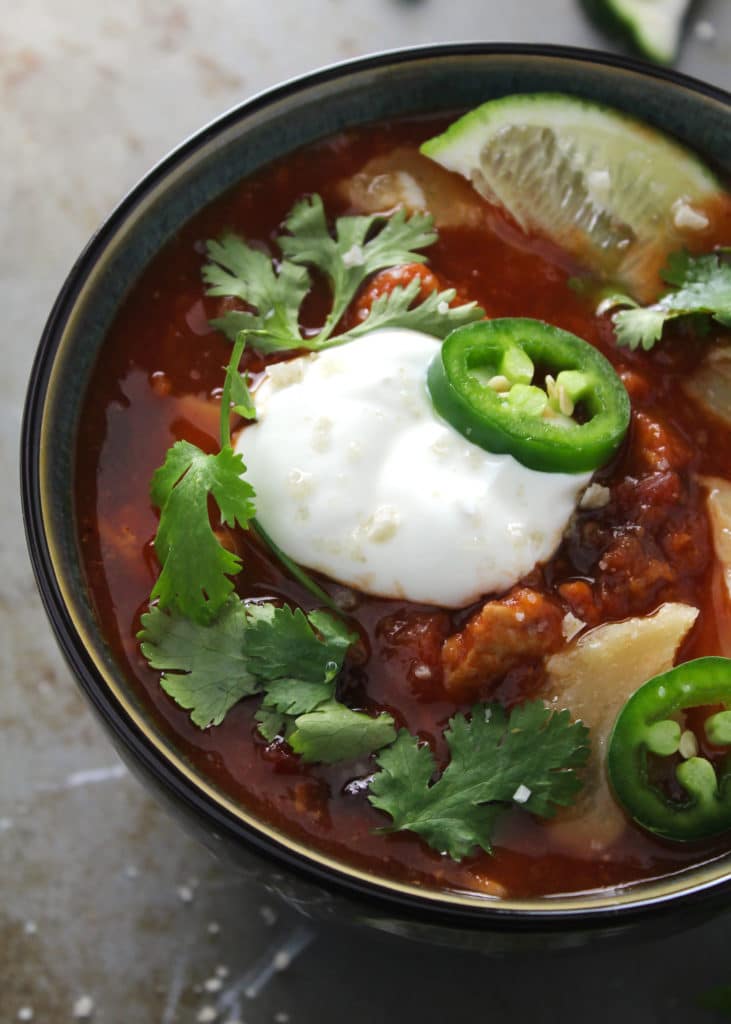 How can this be when Hubs is ????????‍♂️ when it comes to onions? Well, he was heading out of town, which is pretty much the only way I get to enjoy onions (and zucchini, and bell peppers, and leafy greens like bok choy and Brussels sprouts… okay Babe, I'll get off your case, just seeing how often you read around here ????).
I started preparing this crockpot dish early Monday morning and cheerfully chopped my onions into perfect sized crunchy bliss and tossed them into the bowl along with the rest of the ingredients to simmer throughout the day. Just as my kitchen was starting to fill with the homey aroma of chili goodness Jonathan calls to say he's canceled his trip up north due to Snowpocalypse 2017 that was apparently going to rain down later that evening.
I'm all ???????? again because hubby is staying home and just as I hang up the phone scents of my hearty dinner waft through the air and trigger my "Uh, now what do I do about dinner," side of the brain. My peaceful and happy dinner with the kid's image immediately popped (which I know was hardly reality anyway, and would get popped long before the table was even set, but a mom can dream). I'd literally just fist-bumped myself for finishing dinner at 10 am and was now at a meal loss.
I'd already gotten away with a recent dish loaded with onions by grating them up into mush, which is a miserable experience and you do NOT want to do it right after you've applied smoky eye makeup (yeah, learned that the hard way), and the onions in this recipe were sizable chunks. Crunchy, perfectly flavorful, onion chunks. In other words, there was NO way I was getting away with passing off this dish as onion-free.
Sigh…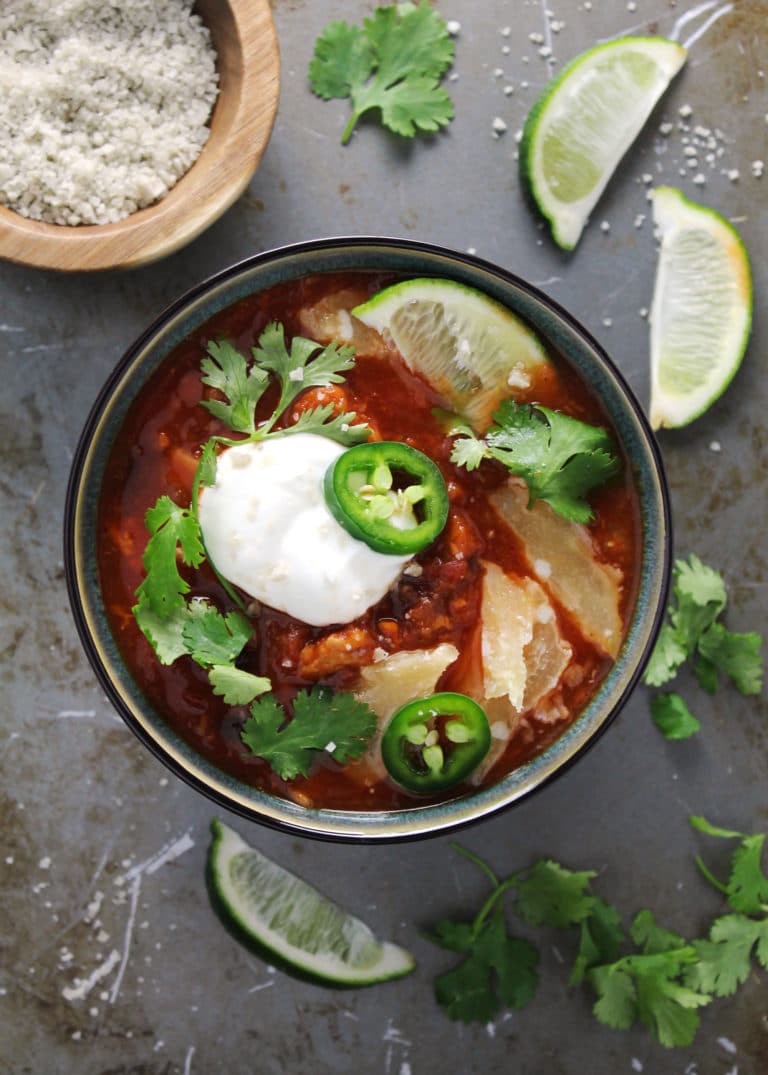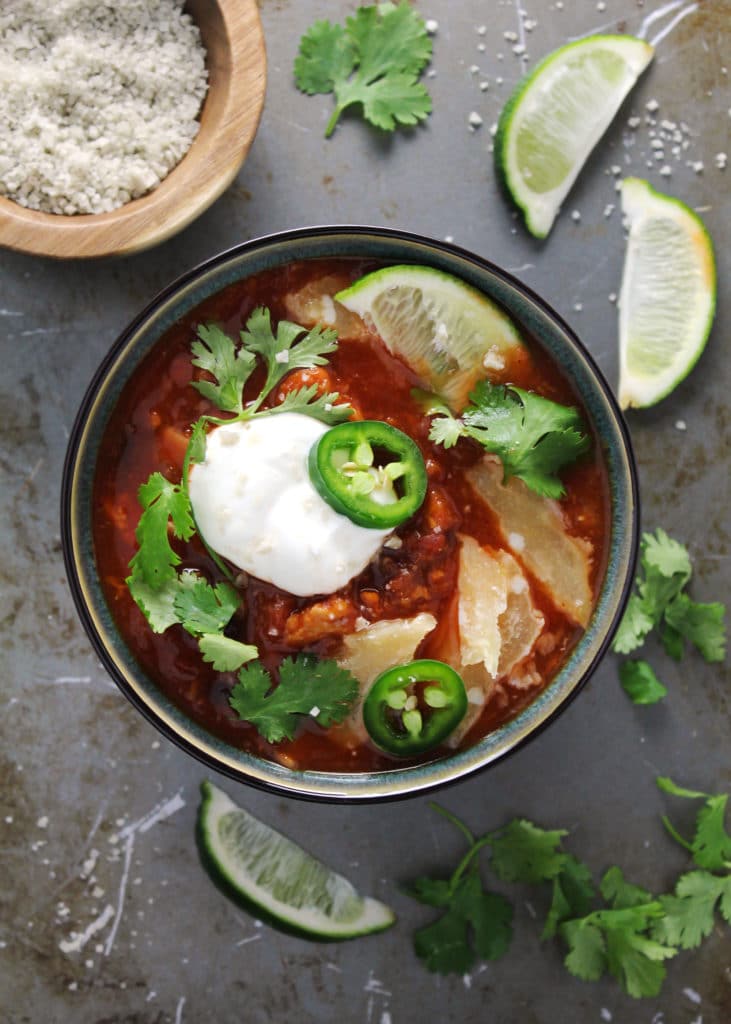 Well, I served up the dinner that evening with a smile and per usual he was all ????????‍♂️ but he did eat a good amount of it despite his distaste for onions. I did have to make him a separate dinner, though. The kids loved it so much so the asked for seconds and thirds!! ????????
So this chili has a sweet and spicy kick to it, which in my humble opinion is the perfect transitional winter to spring meal. The weather is still all over the place (hello it was 80 degrees here yesterday) and so it makes a great slow meal as we all adjust to those daylight savings times. The little bit of spice helps with those springtime colds that annoyingly pop up and I've found it to be incredibly soul-soothing. In fact, I even gave a huge bowl to my neighbor who was dealing with said springtime colds.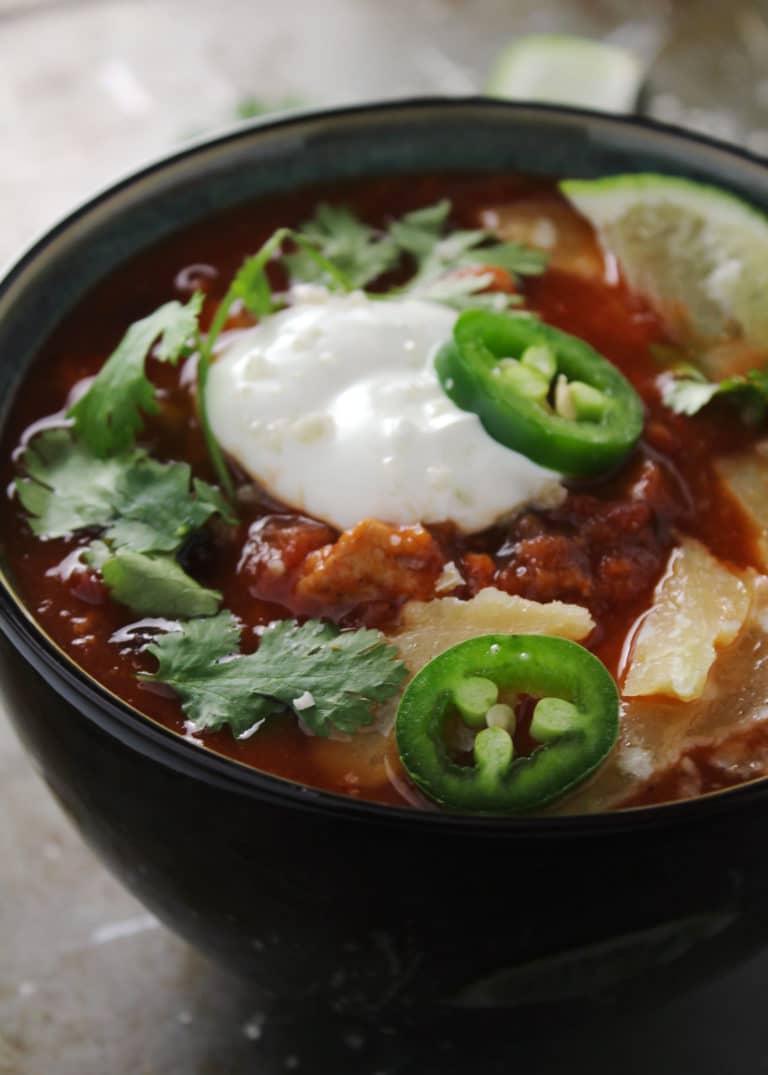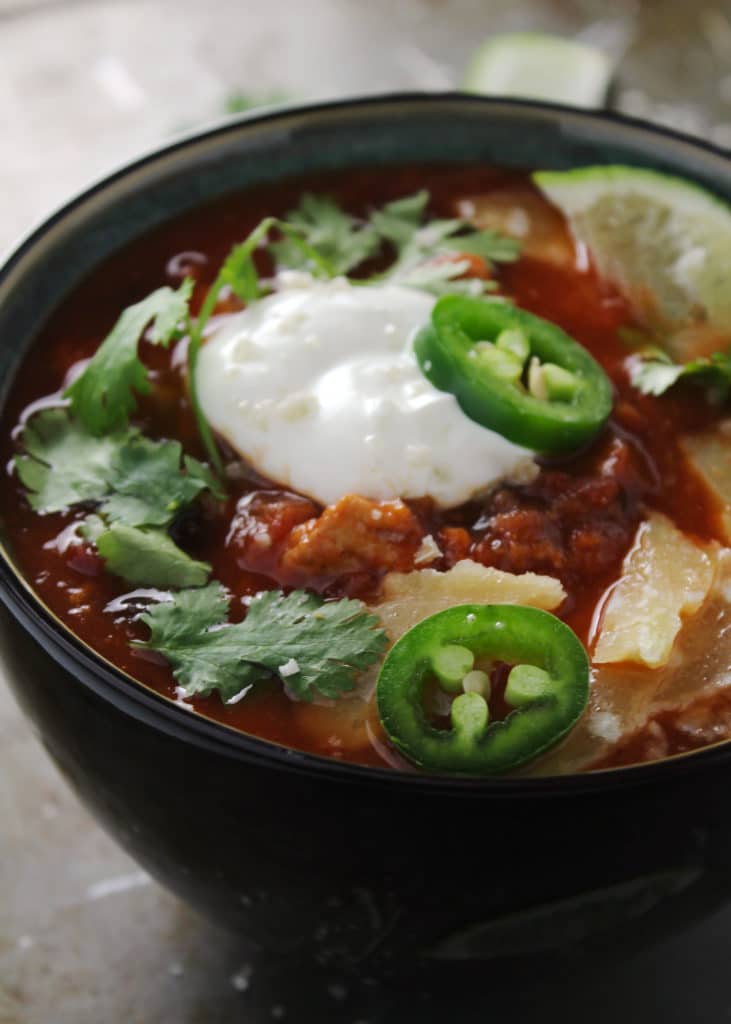 Like I said this has also been one of my go-to recipes through the course of my marriage (sans onions) because it's great for meal prep. You can make a huge crockpot of the chili at the beginning of the week and enjoy every night because you'll have all that extra time from NOT having to cook dinner. And do me a favor and add some extra onions to enjoy for me…
Print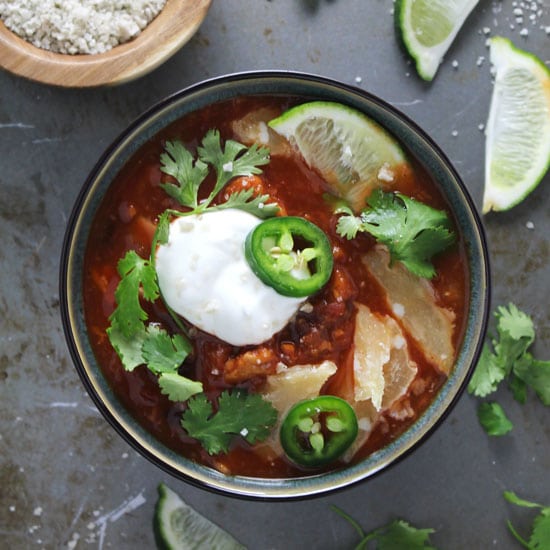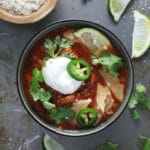 Crockpot Sweet Potato Turkey Chili
Author:

Prep Time:

15 Mins

Cook Time:

5 Hrs 30 Mins

Total Time:

43 minute

Yield:

8

Servings

1

x
---
Description
This Crockpot Sweet Potato Turkey Chili is slightly sweet and has a slight spice to it. The gluten-free dish is soul-soothing and great for meal prep.
---
Scale
Ingredients
4

Garlic Cloves (minced)

1 tablespoon

Coconut Oil

1

large Onion (diced)

2

pounds Ground Turkey
Salt and Pepper

1

large Sweet Potato (peeled and chopped)

28 ounce

s Crushed Tomatoes (

1

can)

1 cup

Tomato Sauce

15 ounce

Dark Red Kidney Beans (

1

can)

15 ounce

Kidney Beans (

1

can)

3 tablespoon

s Light Brown Sugar

2 teaspoon

s Chili Powder

2 teaspoon

s Cumin
---
Instructions
Heat the Coconut Oil in a medium-sized skillet over medium-high heat. Add the minced Garlic Cloves cook until they slightly brown and become fragrant about 2 minutes. Place Ground Turkey in the skillet to brown the meat. Season with Salt and Pepper and 1 teaspoon of Chili Powder.
Bring 2 to 3 quarts of water and the peeled and chopped Sweet Potatoes to a boil and let cook, uncovered, for 25 to 30 minutes, or until the potatoes become soft. Drain water.
Place the browned garlic and turkey mixture into your crockpot and top with the sweet potatoes. Next add the Crushed Tomatoes, Tomato Sauce, both Kidney Beans, Light Brown Sugar, 1 teaspoon Chili Powder, and the Cumin. Cover and turn the crockpot setting to low and cook for 5 hours or high and cook for 2 hours. Stir occasionally.
---
Notes
Chili is one of those dishes you can continue to season throughout the cooking process. With this particular dish, I often like to check on it add more of each of the spices as I go. You can also add additional spices such as Garlic Powder, Onion Powder (which I do when the hubby is eating it), and even cinnamon.