This easy skillet chicken dinner is a perfect clean eating meal you can make in less than 30 minutes and use to keep the whole family happy and full.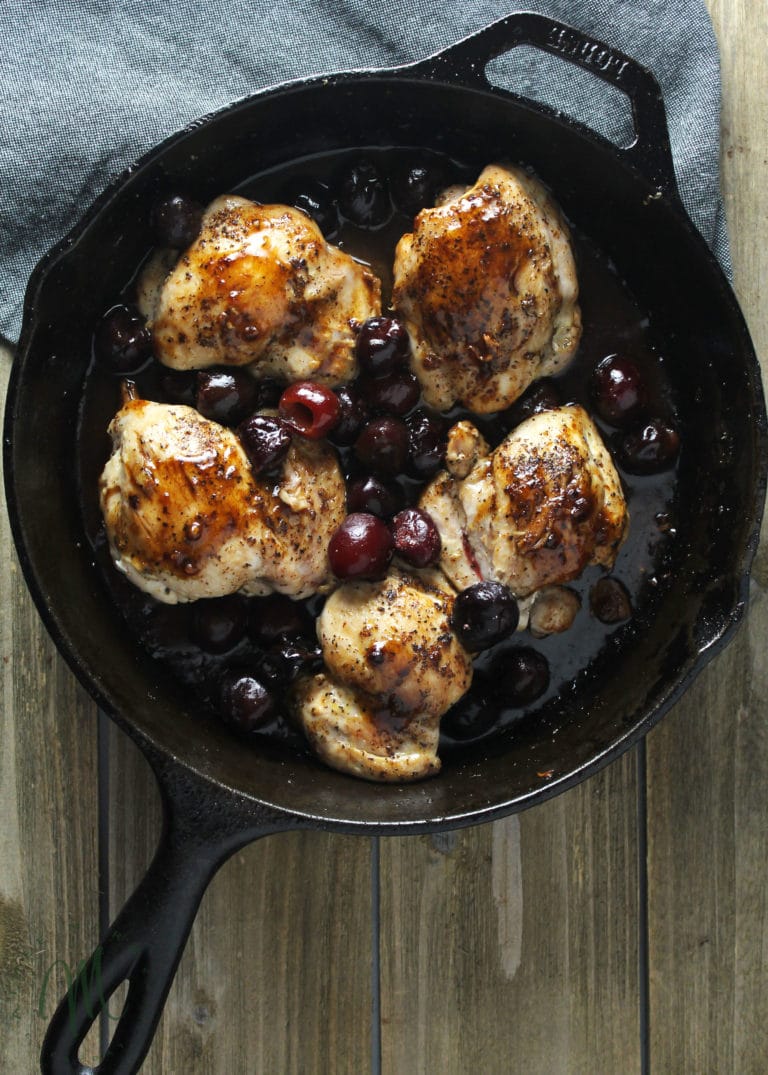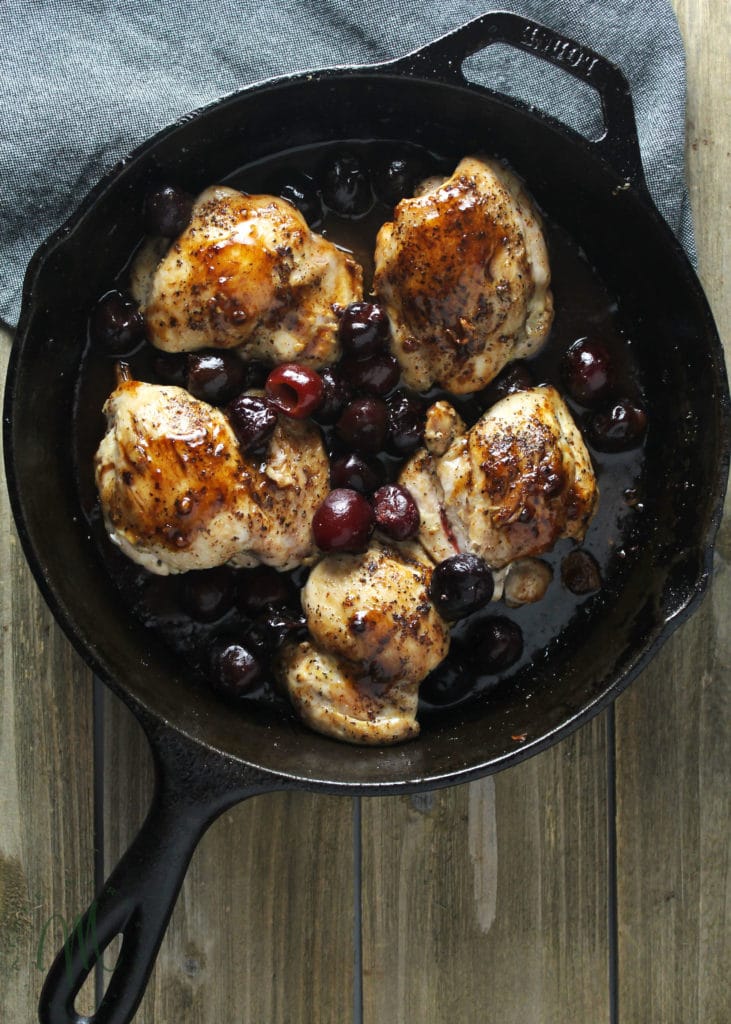 Just the other day I was chatting with my Sister-in-law about Clean Eating and really how to do it when you have kids. Cause let's be honest, kids make cooking anything a challenge and if that drive through window was serving up all organic, grass-fed, stuffed with veggies and tastes like sugar type food then I'd do it daily, multiple times even. Alas, this place does not exist…
So this means most food has to come from my kitchen ????????
It comes from my kitchen while I've got one toddler painting the bathroom with toilet water and the other holding on to my leg screaming because I won't let him eat the dog food.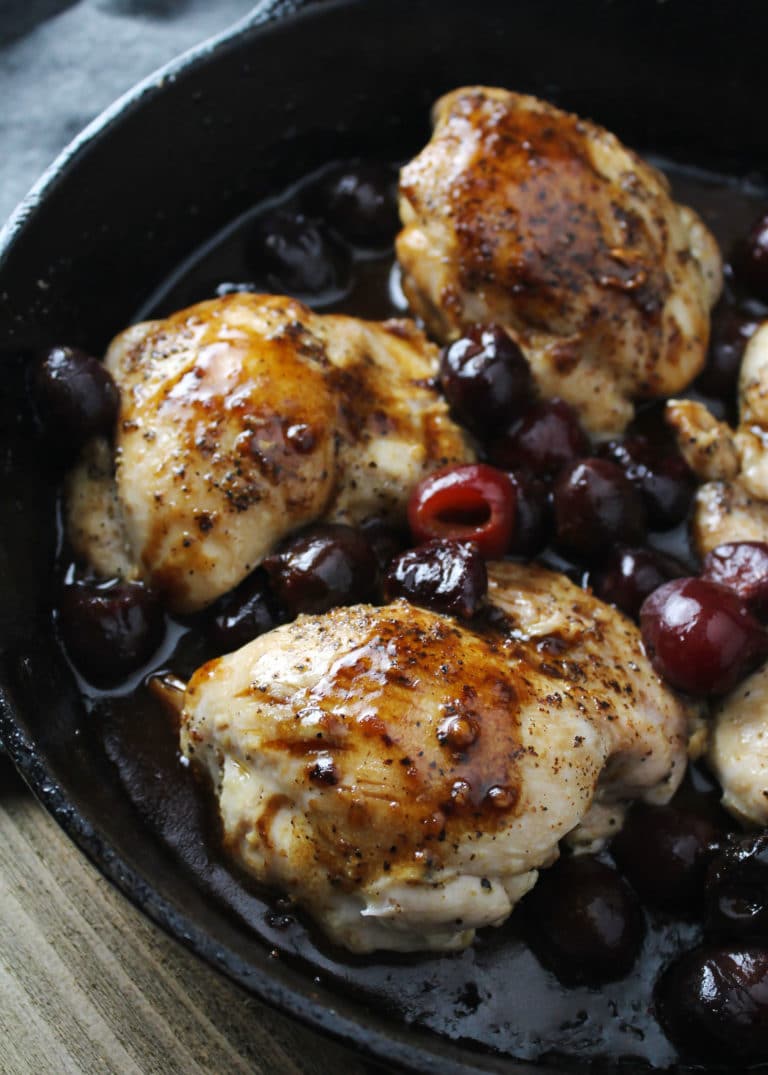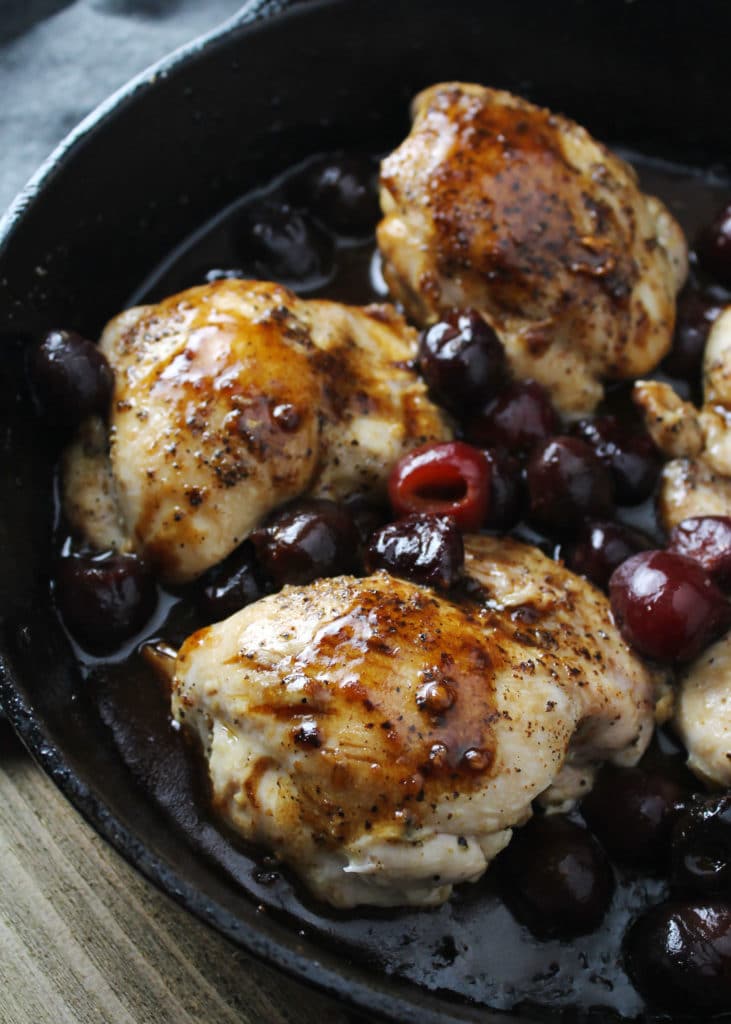 In order to survive the daily struggle of life that is so real here, we live in the space of 80/20 when it comes to clean eating. What I mean is that 80% of what we consume is clean, wholesome, and for the most part organic and healthy. The other 20% is what I refer to as less-than-healthy, which some days can slide to the 30% and even 50% (And oh yeah there are totally days that fall into the 100% non-healthy too. It happens, I mean you saw this cake post right?). Other 20% type foods are those snacks I'm tossing in the back of the car to keep tantrums at bay such as Organic Cheddar Bunnies or Pea Chips.
Sometimes this 80/20 rule will apply to a single meal such as this Easy Skillet Chicken with Bacon Balsamic Reduction, which sounds WAY fancier than it is, but tastes fancy! Aside from the balsamic vinegar, and barely even that, there isn't anything processed in this meal so it falls into the clean eating category, however, the bacon grease used in the reduction sauce and the couscous aren't very high on the healthy foods list. That's where the 80/20 comes into play.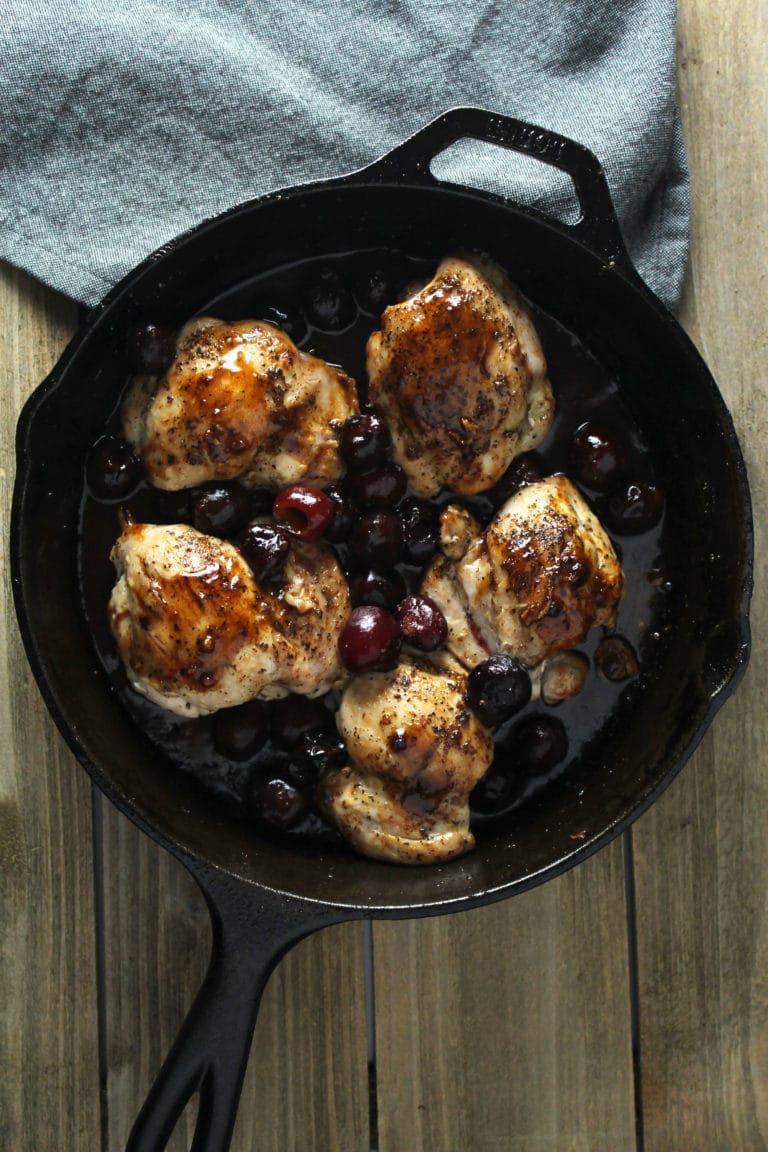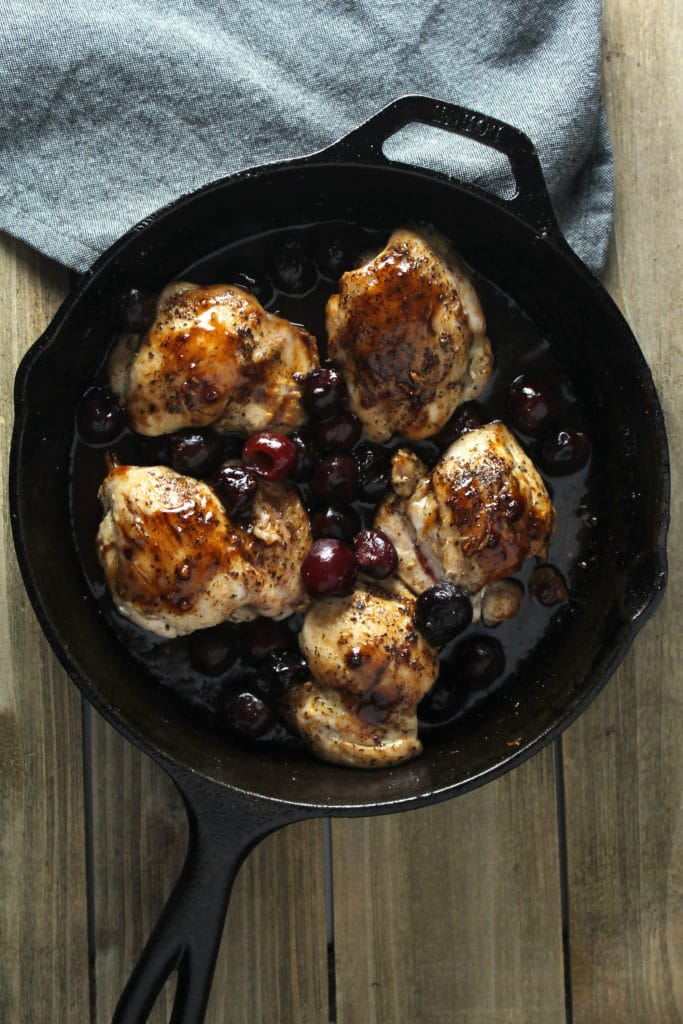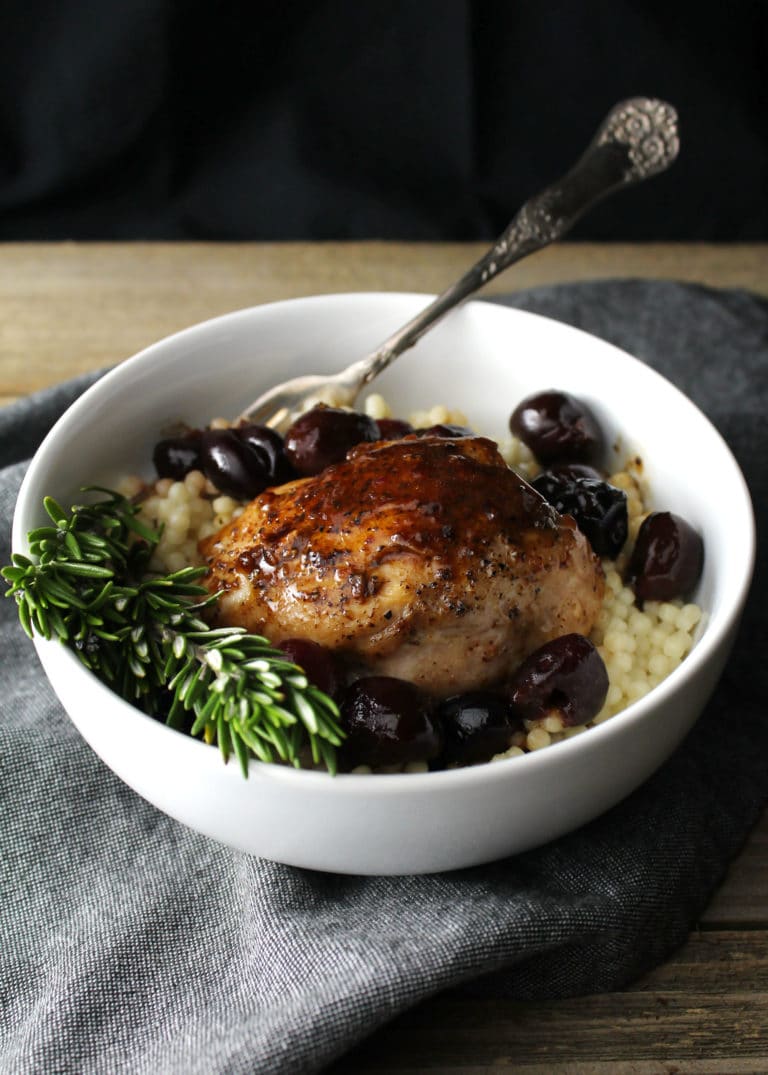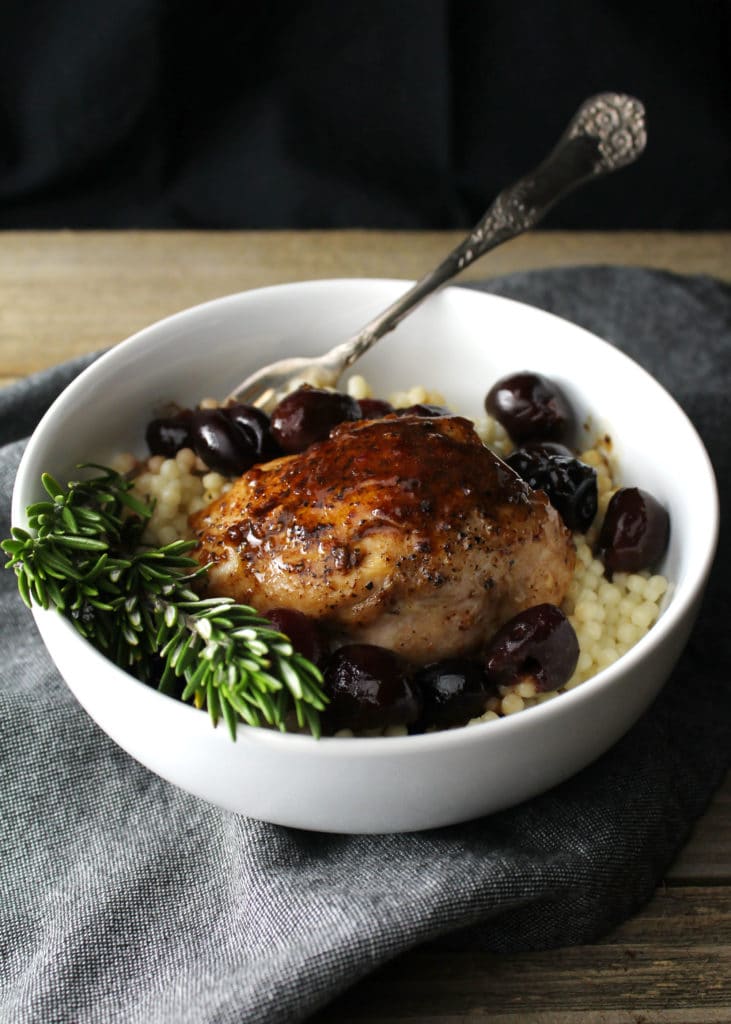 There are those days it seems the stars align and I have a bit more time to cook dinner, but often I need quick, easy, and healthy. This easy skillet chicken meal is just that E to the Z! In fact, it's so easy, I actually created it on the fly and made it before the kids realized they hadn't been fighting for 25 minutes. Hive five y'all! Just before realization hit and all hell broke loose dinner what on the table, their attention diverted. And I deserve a glass of wine…
If you're wondering where to start with clean eating dinners then here is a good recipe to get you going.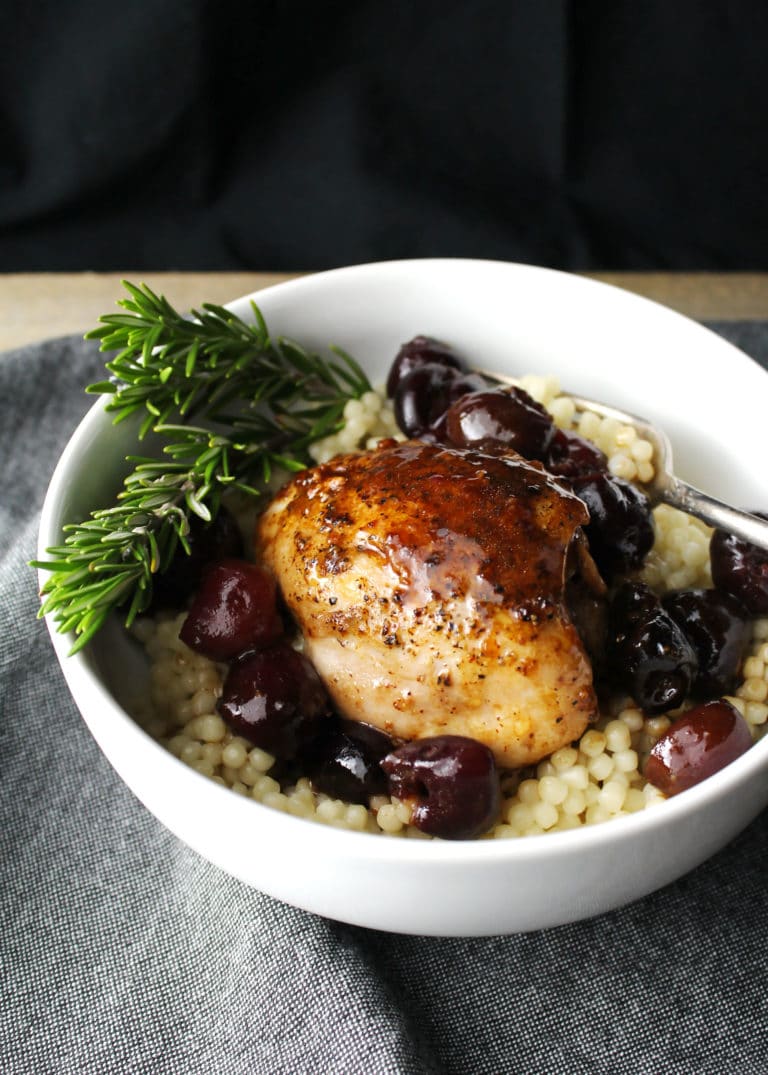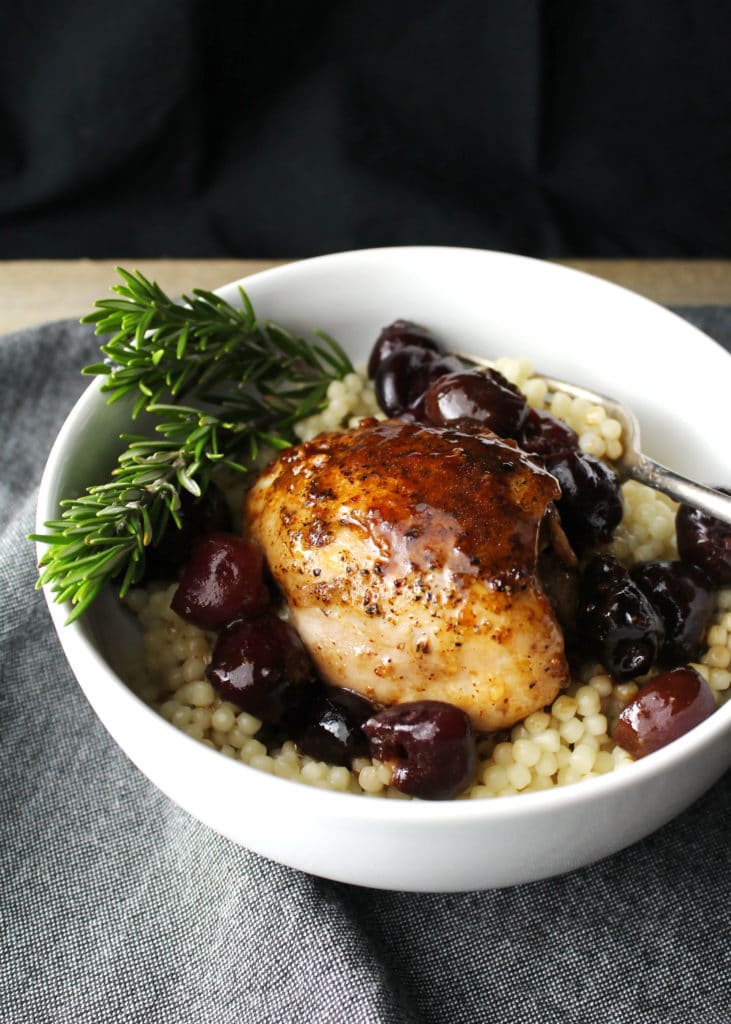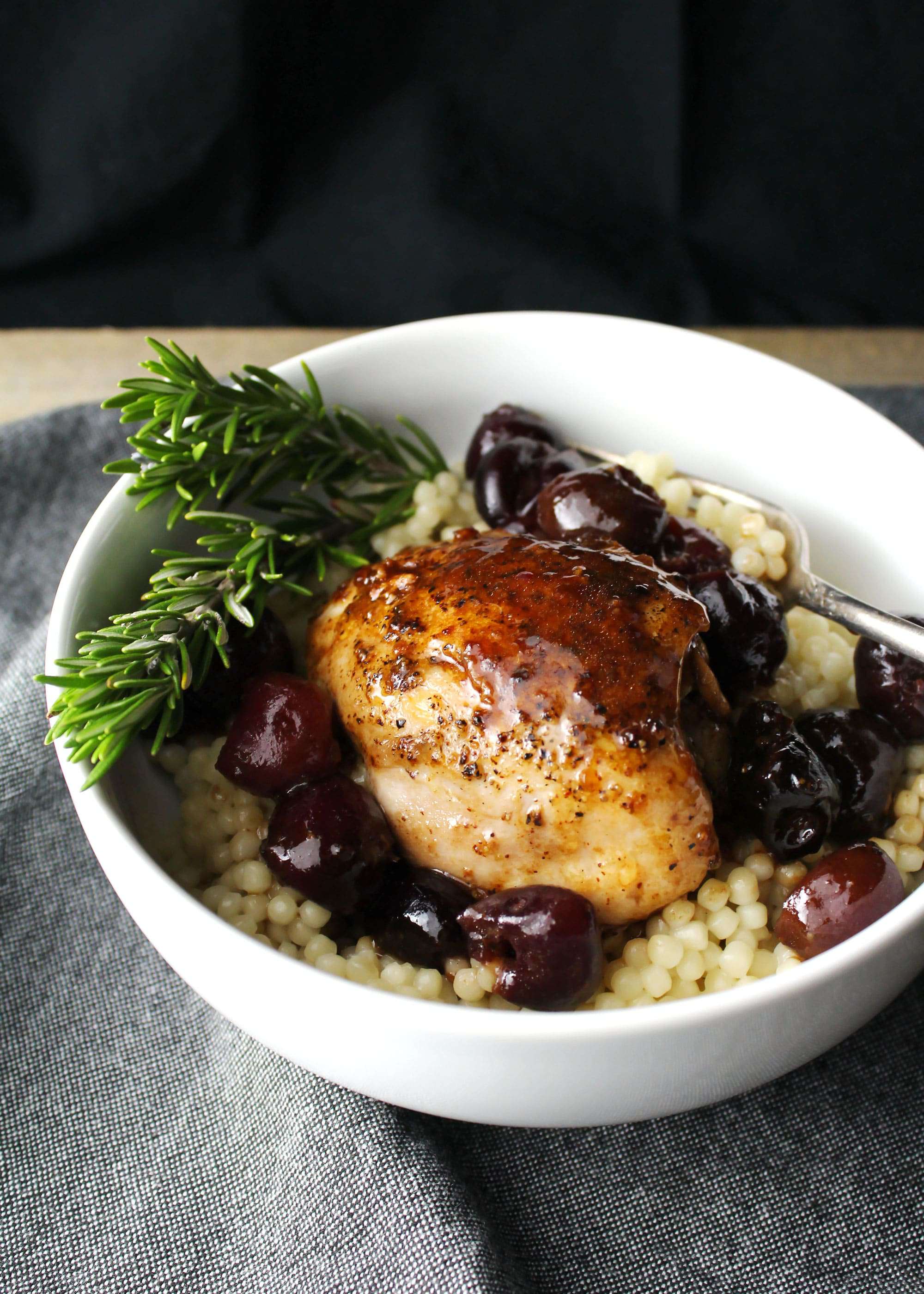 Ingredients
2

tablespoons

Extra Virgin Olive Oil

2

lbs

Boneless, Skinless, Chicken Thighs

1

teaspoon

Chili Powder

1

teaspoon

Thyme

1

tablespoon

Bacon Grease

1/4

cup

Balsamic Vinegar

2

teaspoons

Cornstarch

1/2

cup

Cherries

pitted

2

cups

Pearl Couscous
Instructions
Preheat the oven to 400ºF.

Heat a heavy-bottomed skillet over medium-high heat and add the olive oil. Sprinkle the Chicken with the Chili Powder, thyme. Add each piece of chicken to the skillet and fry on each side for a couple of minutes, until golden brown. Remove from skillet and place on a plate (the chicken will fully cook once put in the oven later).

Turn the heat down and add the Bacon Grease, Balsamic Vinegar, which will bubble and fizz, and Cornstarch. Stir to combine and let simmer until the sauce begins to thicken slightly. Add the Chicken back to the skillet and top with the Cherries. Bake in the oven for 20 minutes.

Remove skillet from oven and baste with sauce and cook for an additional 5 minutes.

While the chicken is cooking in the oven prepare the Couscous according to package directions.
Nutrition
Serving:
1
serving
|
Calories:
477
kcal
|
Carbohydrates:
49
g
|
Protein:
37
g
|
Fat:
14
g
|
Saturated Fat:
3
g
|
Cholesterol:
146
mg
|
Sodium:
152
mg
|
Potassium:
509
mg
|
Fiber:
3
g
|
Sugar:
3
g
|
Vitamin A:
151
IU
|
Vitamin C:
1
mg
|
Calcium:
30
mg
|
Iron:
2
mg