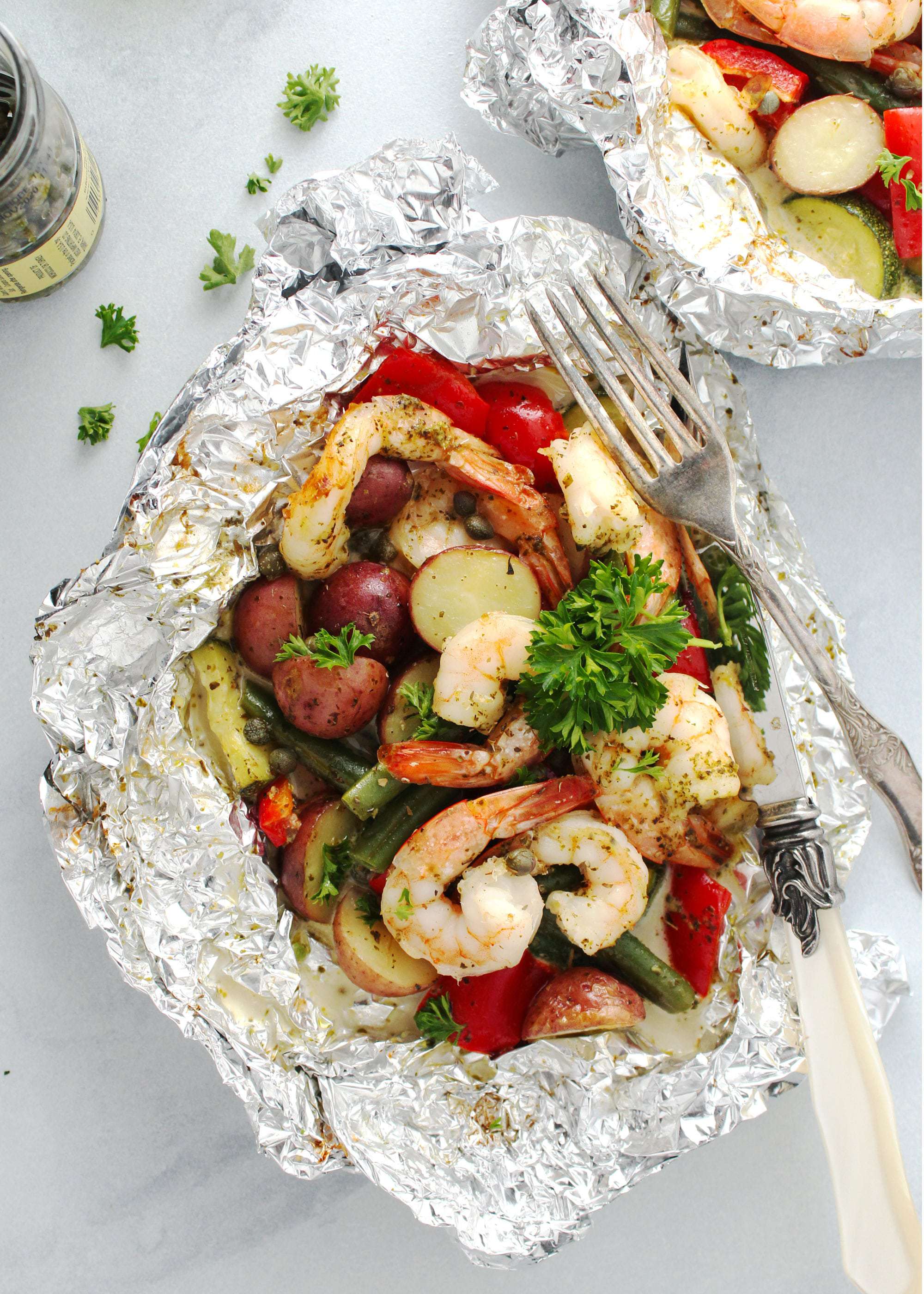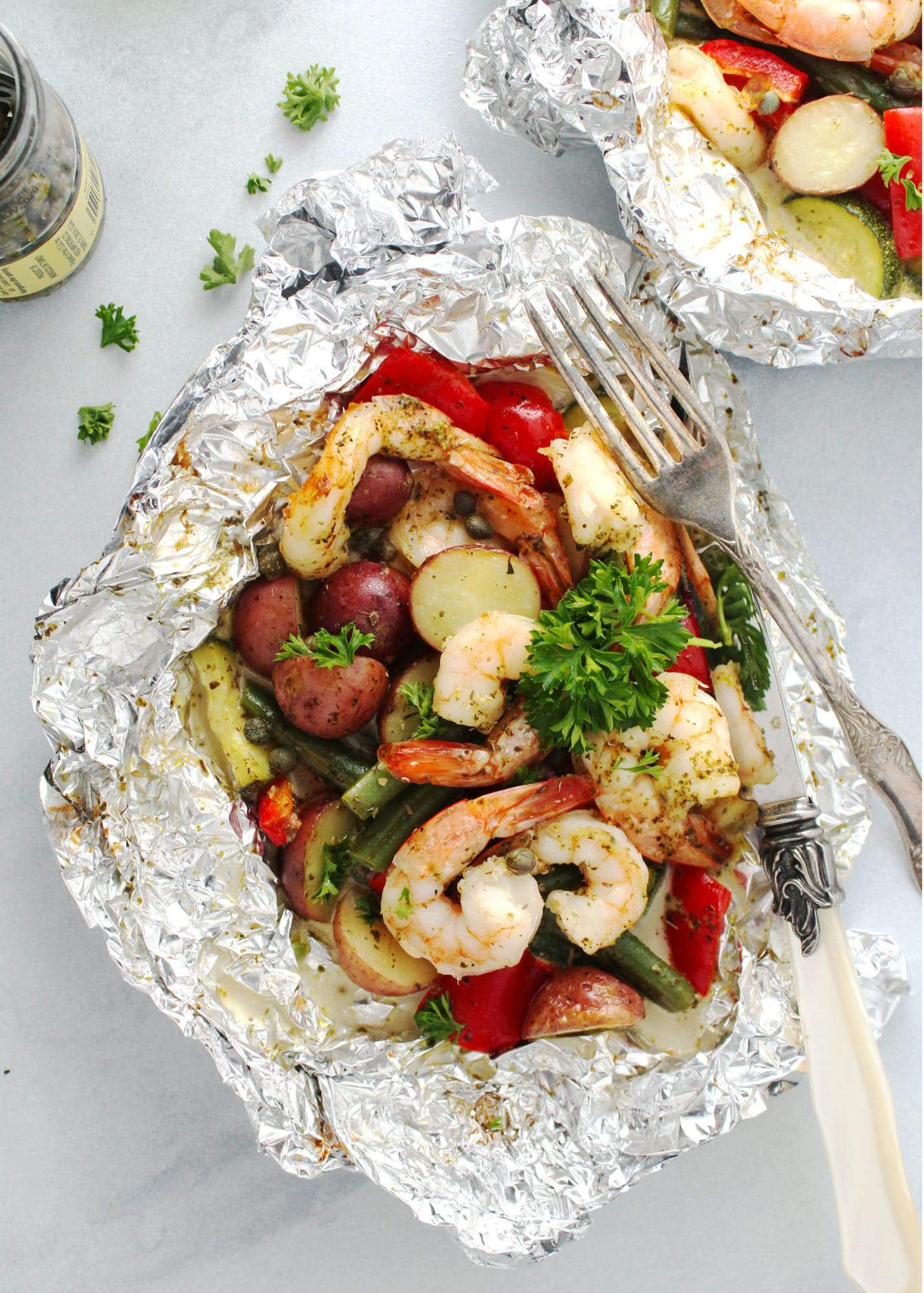 Foil pack creamy pesto shrimp is your new dinner friend, it's that easy friend, you always know you can count on to be there for you when you're losing your mind. LIke right around dinner time when everyone is staring at you wondering what you're going to cook.
It's Thursday, of Spring Break (meaning my kids have reached an all-time peak of annoyance with each other), and I'm headed out for the evening. #MomWin I may sprint to the car, with half my makeup on, potentially unbrushed teeth (depending on if I remember to do so or potentially get interrupted 5000 times while trying to get ready) and may have to text Jonathan to toss the keys out the door because I, yes, forgot them and don't want to relive the "mommy is leaving meltdown" that has probably stopped within the 5 seconds after I've left.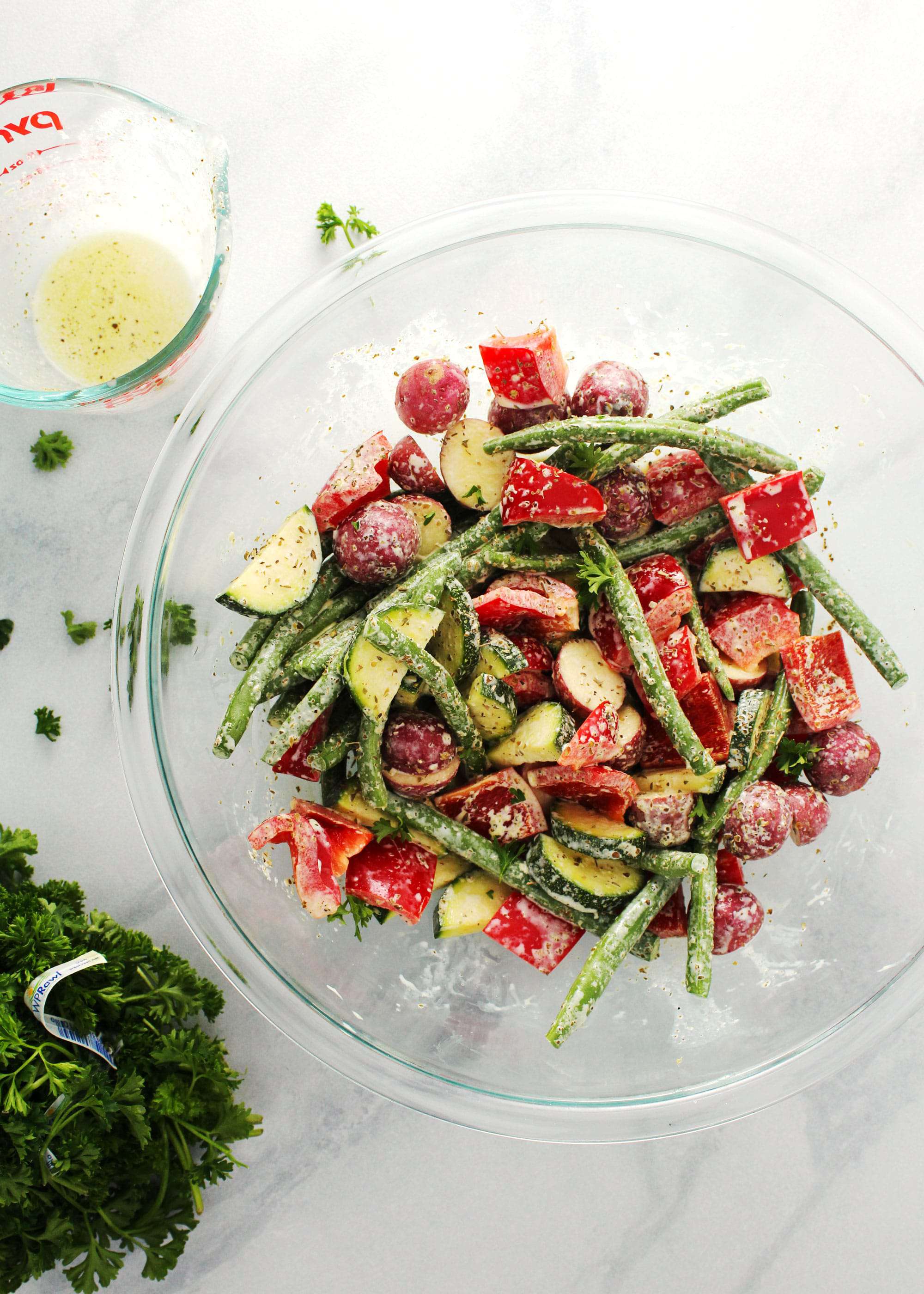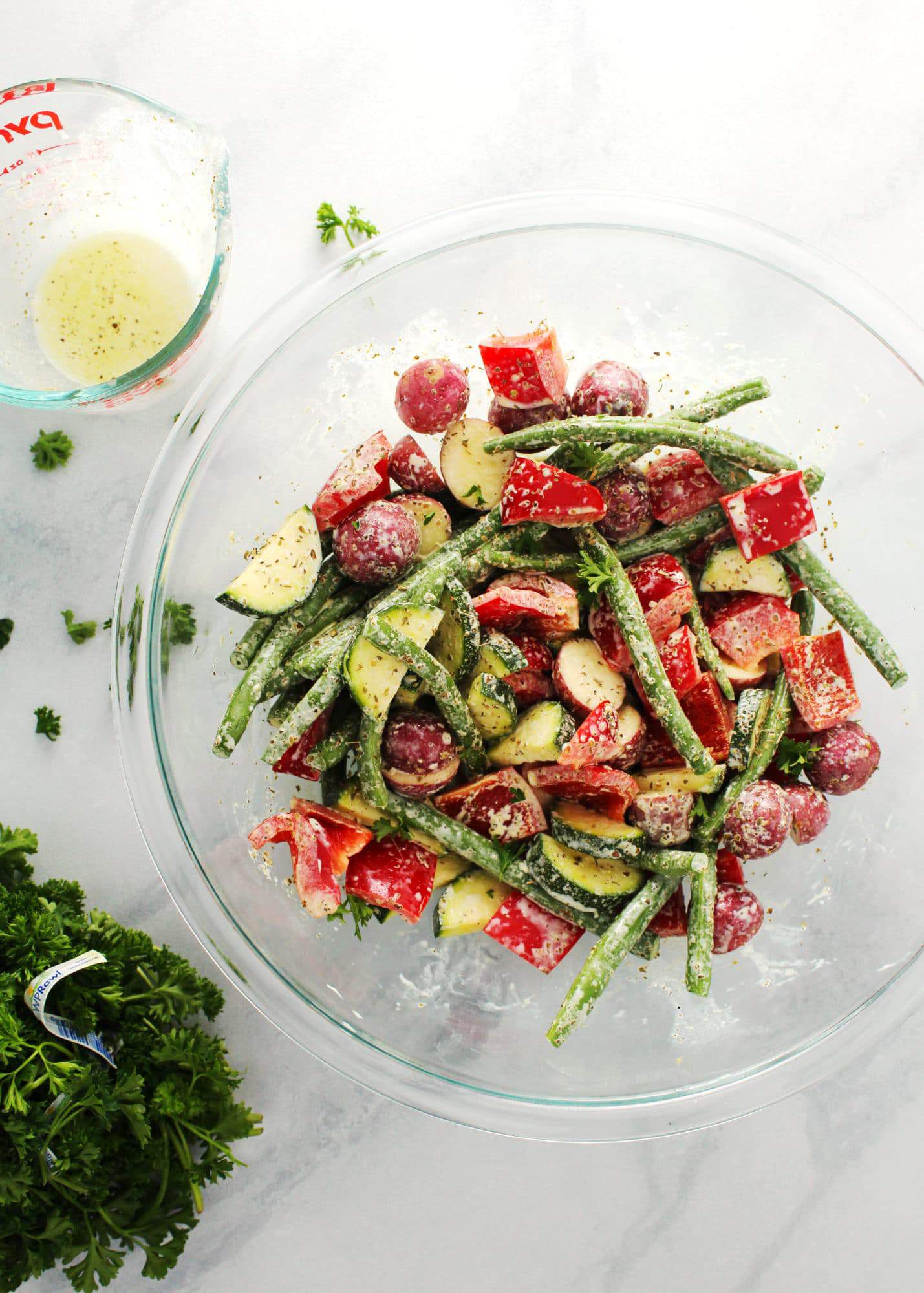 On such evenings as this I tend really want a dinner that requires little effort, meaning 0, and since I can no longer get away with making my beloved Amy's Family Size Vegetable Lasagna ("Lasagna for dinner, AGAIN?!?!?" I get it, I get it) I've had to find something else equally easy as opening a box and inserting it into the oven. Hello, foil packs!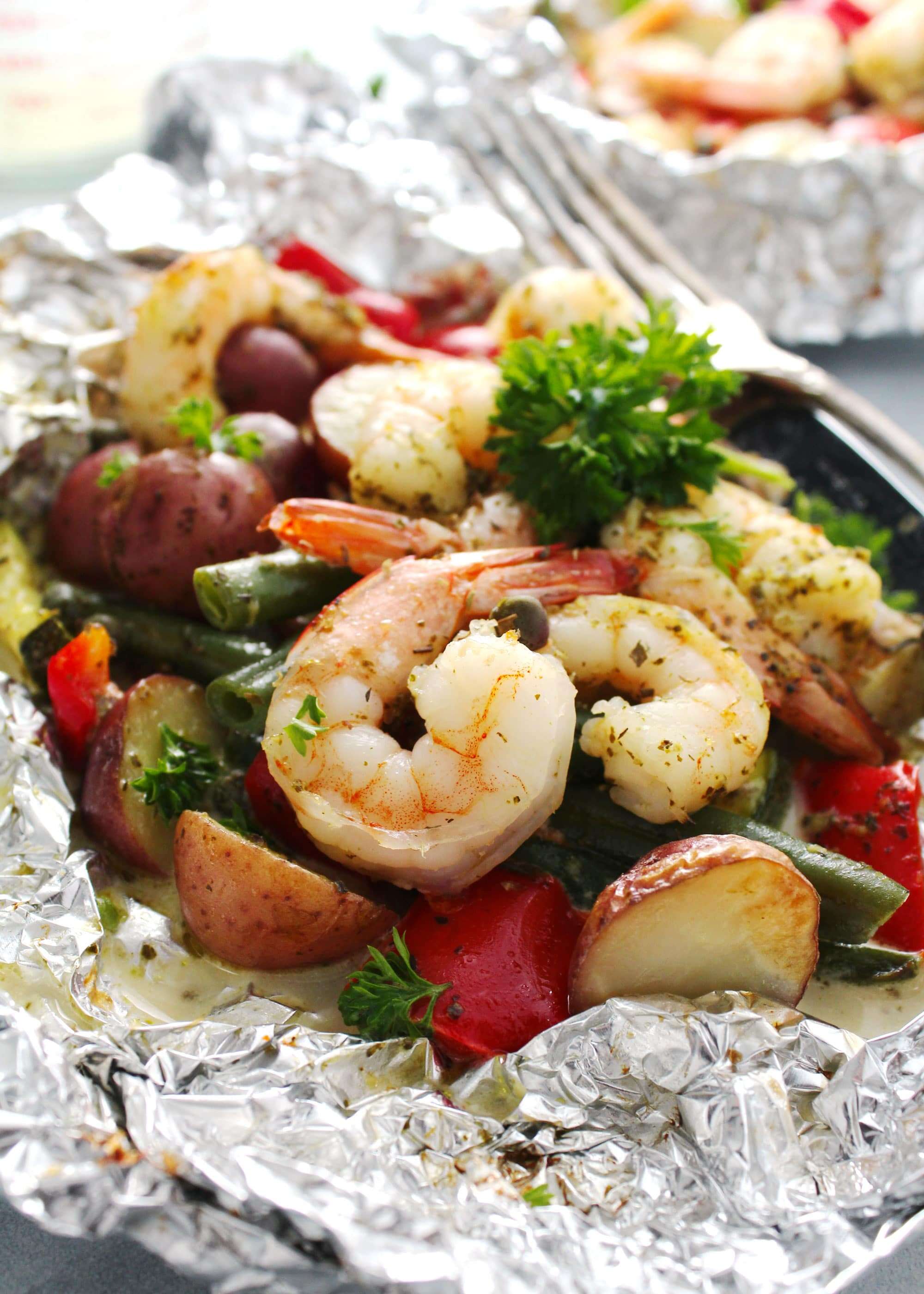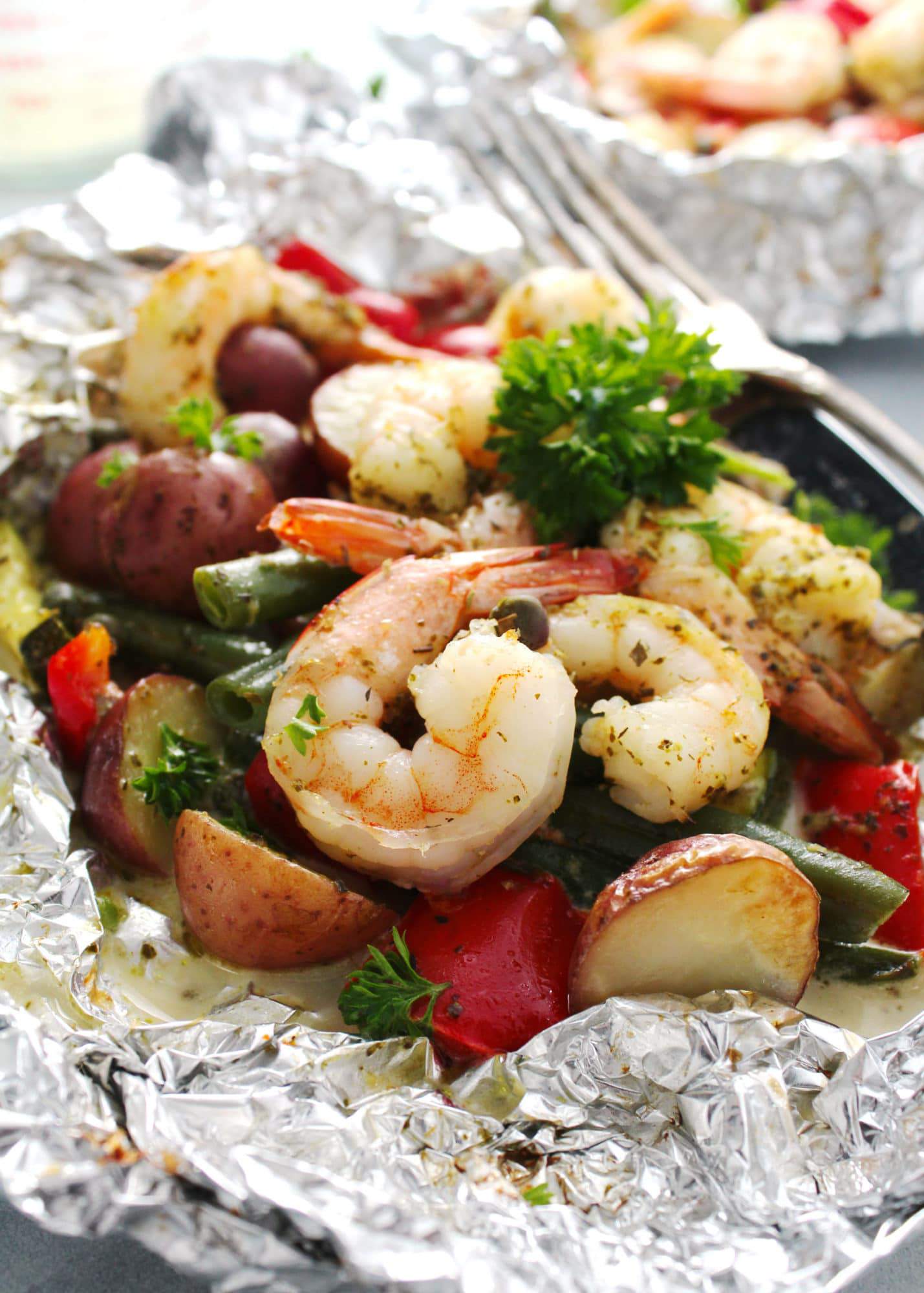 All we're working with here is an easy mixture of vegetables and potatoes, shrimp, and a creamy pesto (read: pesto sauce and heavy cream, that's it!) sauce, which you're just gonna mix all together and place in a foil pack, which you then, you guessed it, insert into the oven. Almost, almost, as easy as the frozen lasagna.
It's a perfectly complete meal and you're going to get tons of vegetables and shrimp at a low-calorie cost and your picky kids can have shrimp and potatoes. Everyone wins. Mom, you officially have the evening off…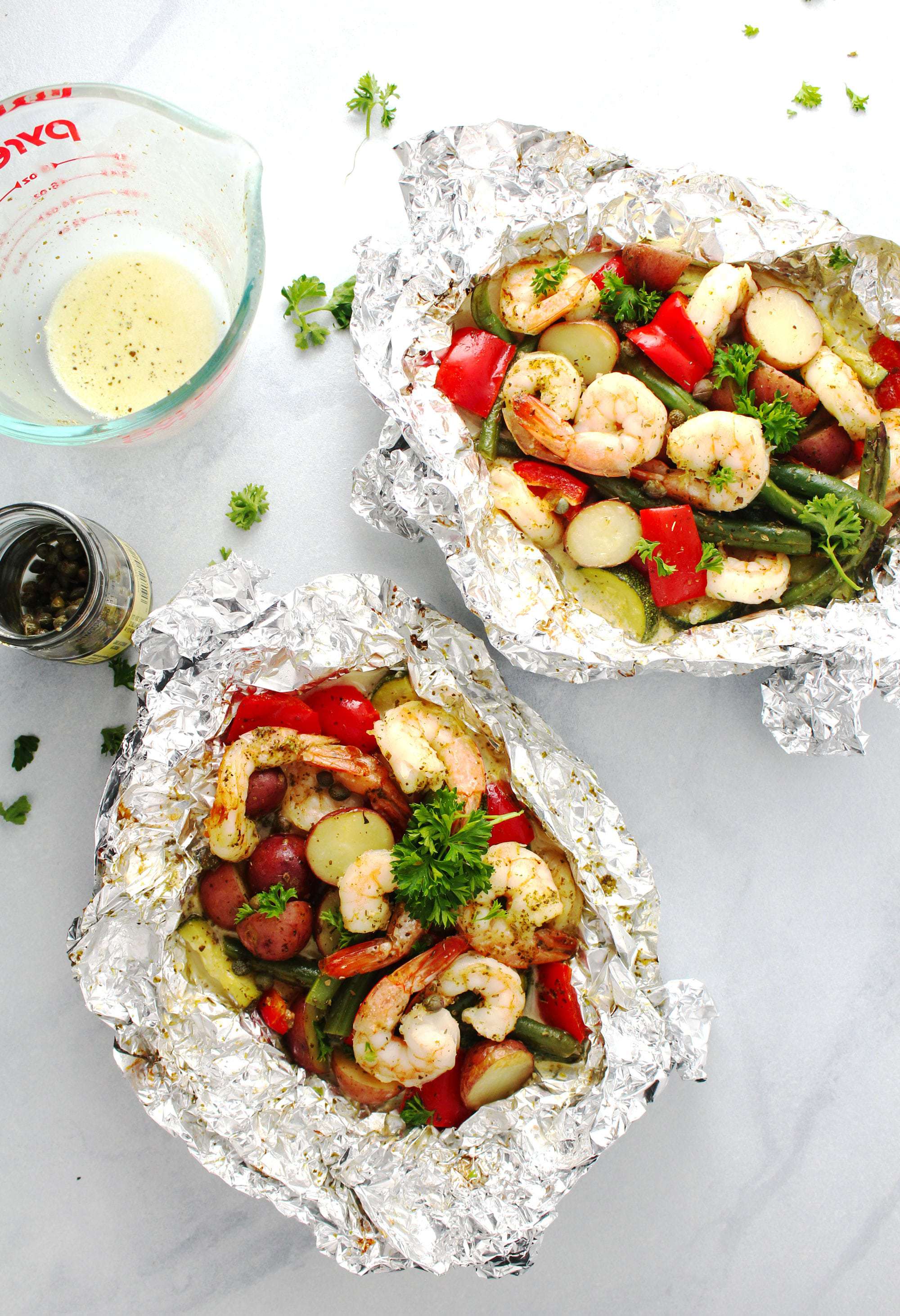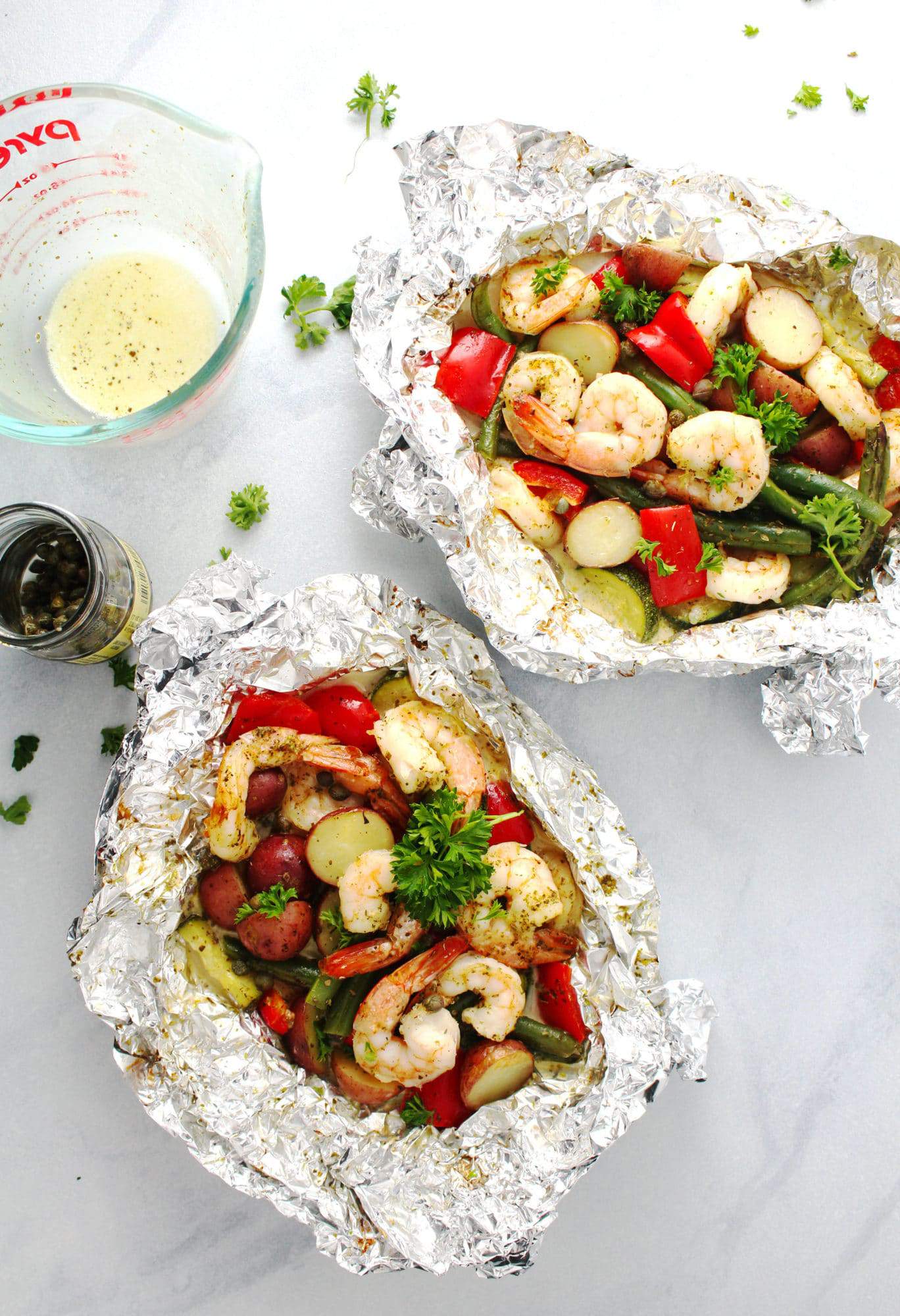 Print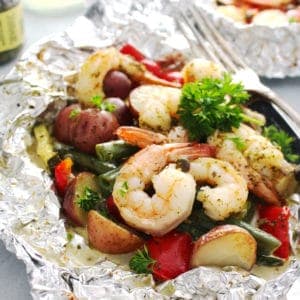 Foil Pack Creamy Pesto Shrimp
Prep Time:

15 Mins

Cook Time:

35 Mins

Total Time:

50 Mins

Yield:

4

Servings

1

x
---
Description
An easy mixture of vegetables and potatoes, shrimp, and a creamy pesto (read: pesto sauce and heavy cream, that's it!) sauce, which you're just gonna mix all together and place in a foil pack, and insert into the oven for an easy weeknight healthy dinner win.
---
Scale
Ingredients
1

lb Jumbo Shrimp, thawed (tails on or off)

1

lb super small Red Potatoes

2 cups

String Beans

1

large Red Bell Pepper

1

medium Zucchini

4 tablespoons

Basil Pesto

1/2 cup

Heavy Cream (or milk)

2 teaspoons

Oregano
Garnishes (optional)
Fresh Chopped Parsley
Shredded Parmesan Cheese
---
Instructions
Prep: Preheat the oven to 425 degrees. Prepare your vegetables by slicing the Red Potatoes in half (or quarter them if bigger than 1/2-inch in diameter), chopping the ends off the String Beans, slicing and seeding the Bell Pepper, and slicing the Zucchini. Place all vegetables and potatoes in a large bowl.
Sauce: Whisk 2 heaping tablespoons of Basil Pesto together with the Heavy Cream and pour over the vegetable mixture. Toss to coat evenly.
Shrimp: Toss the Shrimp with the remaining 2 tablespoons of Basil Pesto in a separate medium sized bowl and set aside.
Set-up: Tear 4 rectangular sized sheets of aluminum foil and set out side by side (you want the sheets long enough to fold over the ingredients and fold the ends together). Evenly divide the vegetable mixture between the 4 sheets. Layer the pesto shrimp on top of the vegetable stacks. Fold the long sides of the foil sheet toward the center and fold together. Then bring the other edges toward the center and fold together tightly. Place in a single layer on the oven rack and cook for 35 minutes.
---
Notes
The potatoes take the longest to cook, which is why you want to choose the smallest ones available (I purchased a bag of potatoes, which were all fairly small). If your oven is properly calibrated these shouldn't take longer than 35 minutes to cook.
You really want to avoid removing these from the oven to check them because you'll lose all the steam, which cooks the ingredients. However, to check the packets choose only ONE packet to test. If the potatoes are soft and the shrimp is pink all the way through, then they're done. If not add an additional 5 minutes to the cooking time and another 5 minutes on top of that to the one packet you checked. Repeat as necessary.
---
Nutrition
Serving Size:

1 foil pack

Calories:

475

Sugar:

4g

Sodium:

760mg

Fat:

19g

Saturated Fat:

8g

Carbohydrates:

42g

Fiber:

11g

Protein:

34g

Cholesterol:

216mg