I love the spicy tangy flavor of this Harissa Roasted Chicken dish that makes the perfect low-carb weeknight clean eating meal.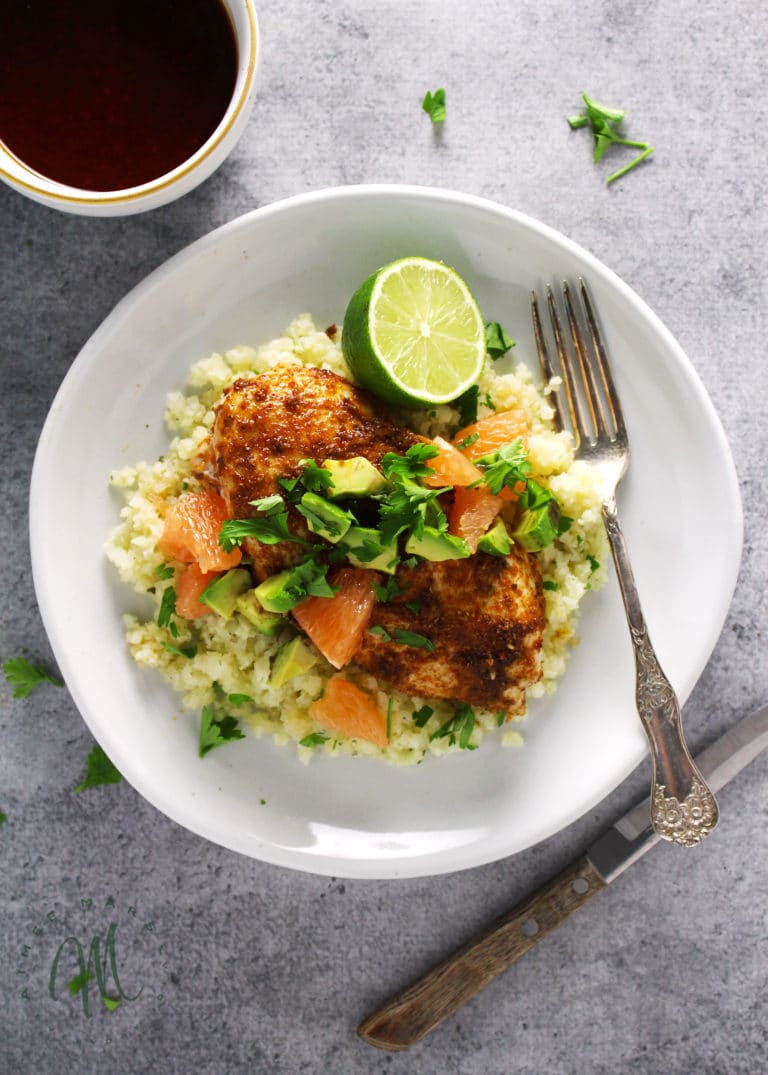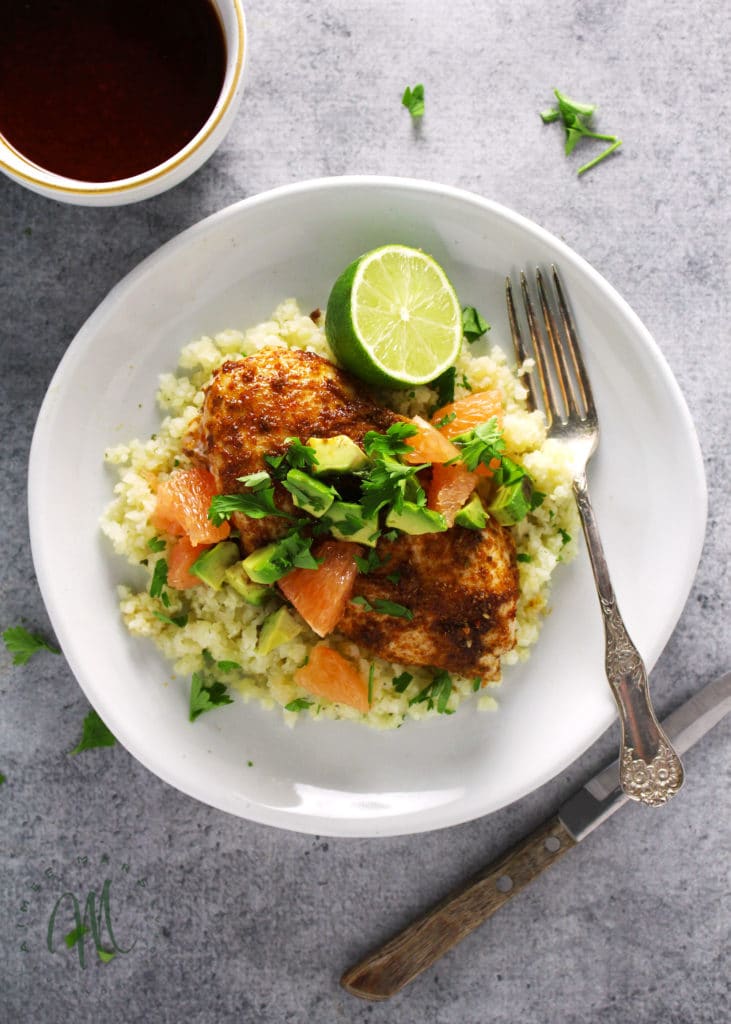 I first made this recipe what now feels like a million years ago. I had just learned about "clean eating" and this was one of the first recipes I, knowingly, made in that realm.
And then I never made it again…
Until now! I didn't place this recipe in the dusty archive files because it was bad, but rather because I was missing proper kitchen utensils.
Let me explain…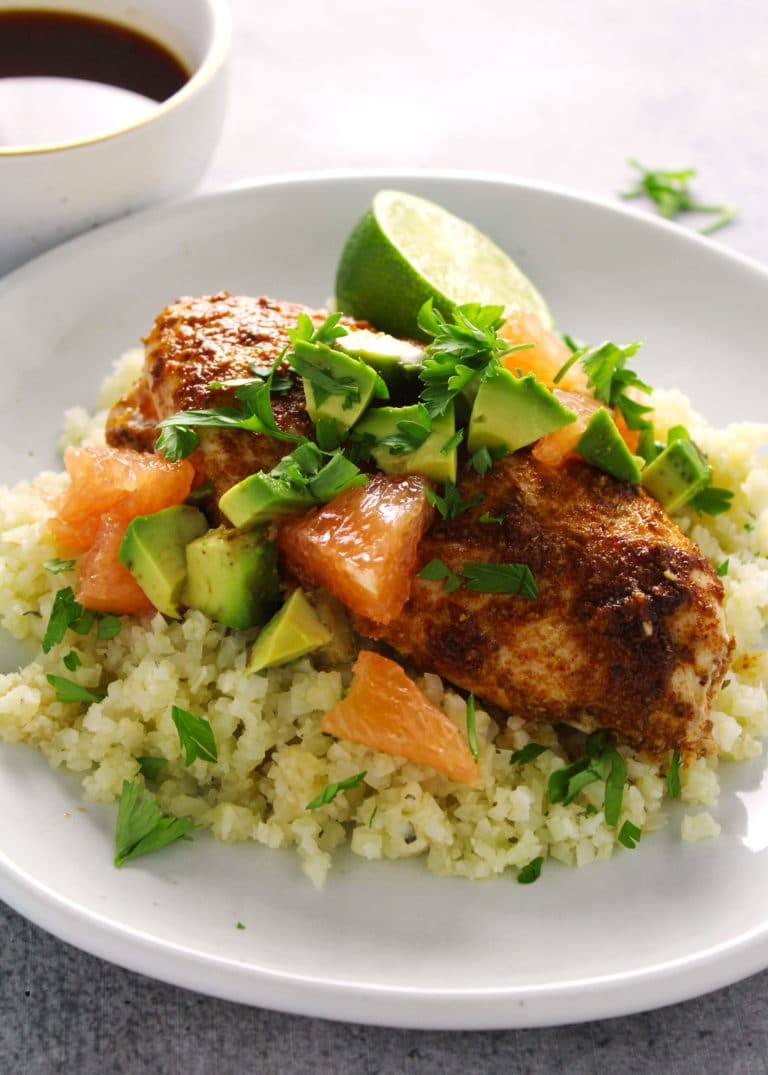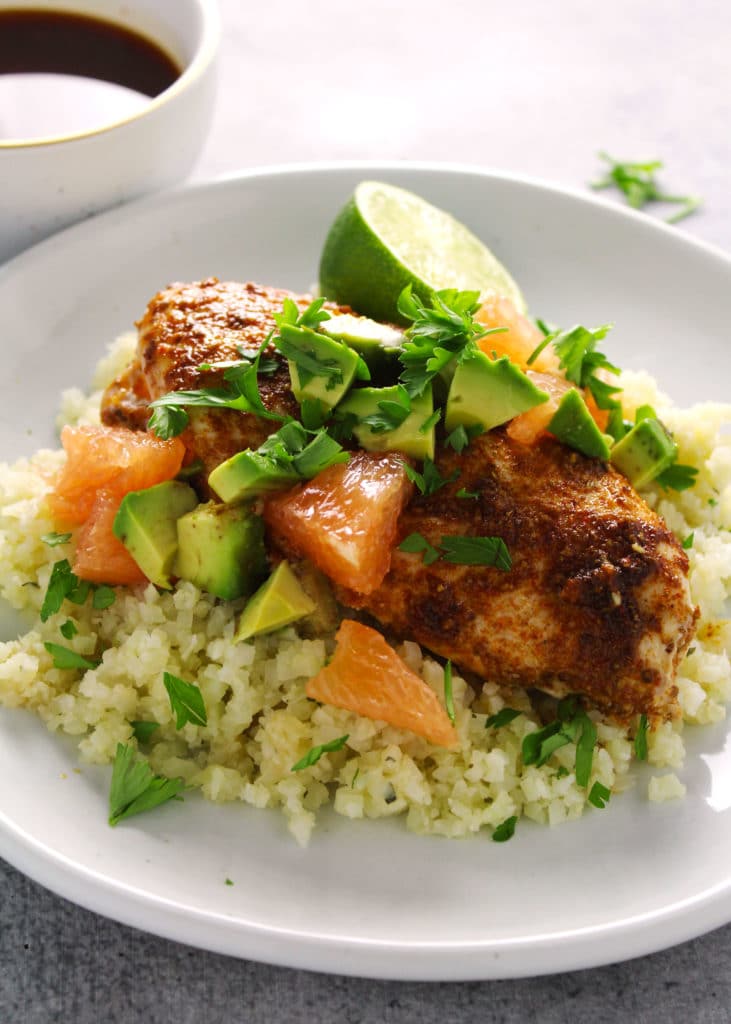 First, we'll start with the Harissa rub. To make, and there are easier ways to prepare, but this is the most flavorful, you start with actual spice seeds. You roast the seeds and then ground them up. And therein lies the problem… Grinding.
When I prepared this meal over 3 1/2 years ago I didn't own a food processor or coffee grinder, because I lived in Manhattan and unless your name is Bloomberg you don't really have the kind of space that allows for such "frivolous" appliances, and in some case your current appliances are even used in fact for storage.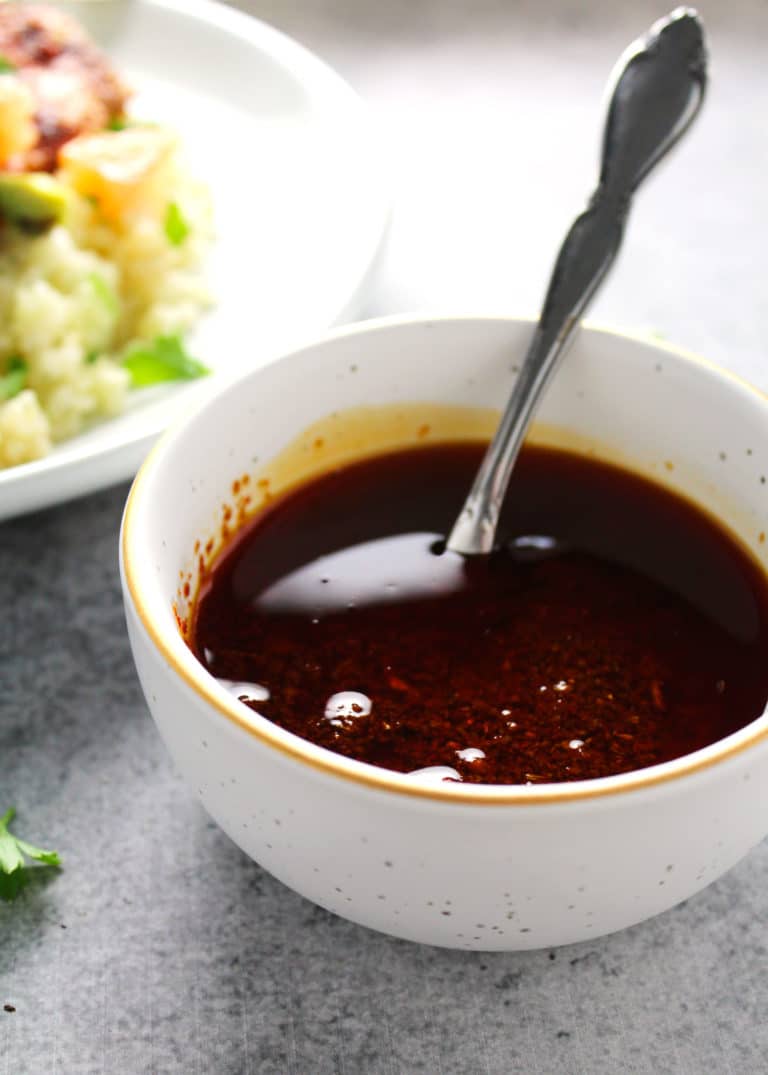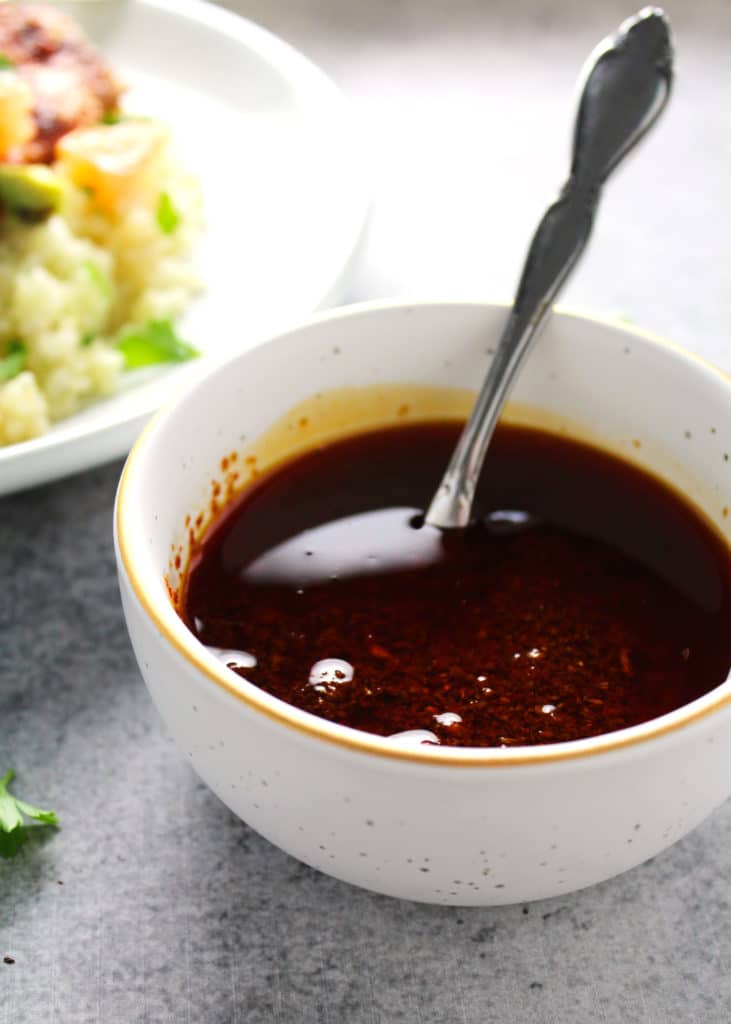 So without such common kitchen appliances how did I prepare this meal? A baby food processor! How did I have room for this but not others? Well, in short, I didn't and it didn't remain for very long, mainly because it broke and secondly because I found other ways of making our babies food.
Now years later I am equipped with not only a food processor but also a coffee grinder, which is perfect for this meal prep.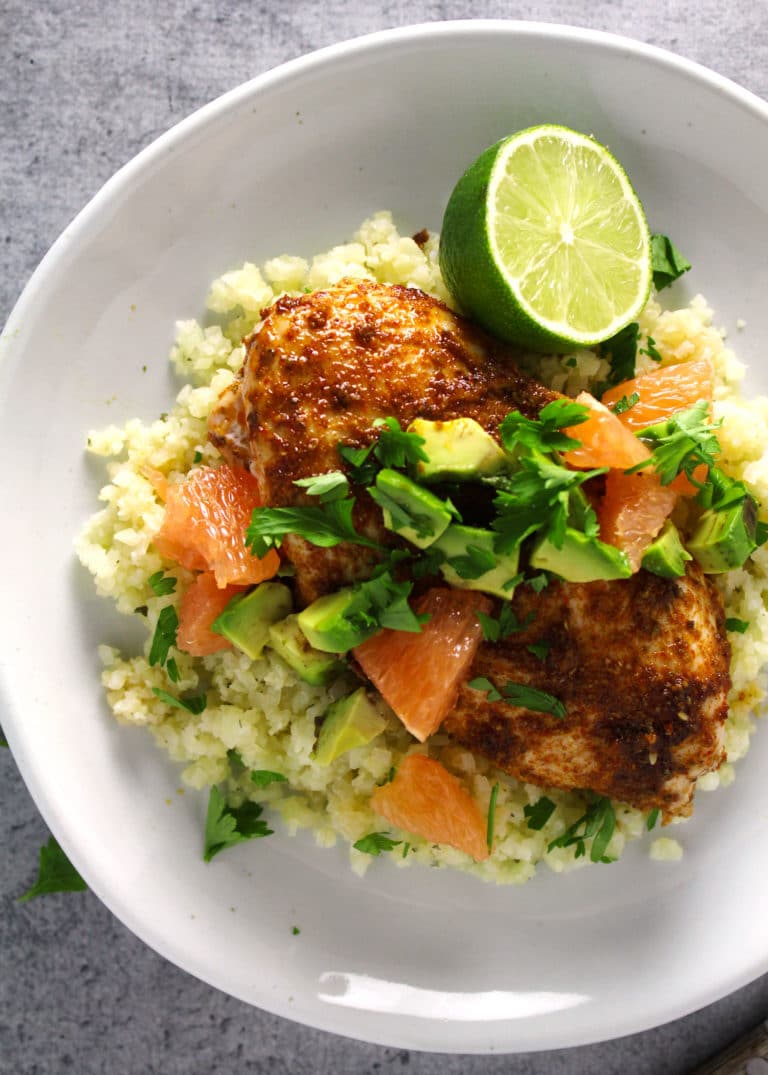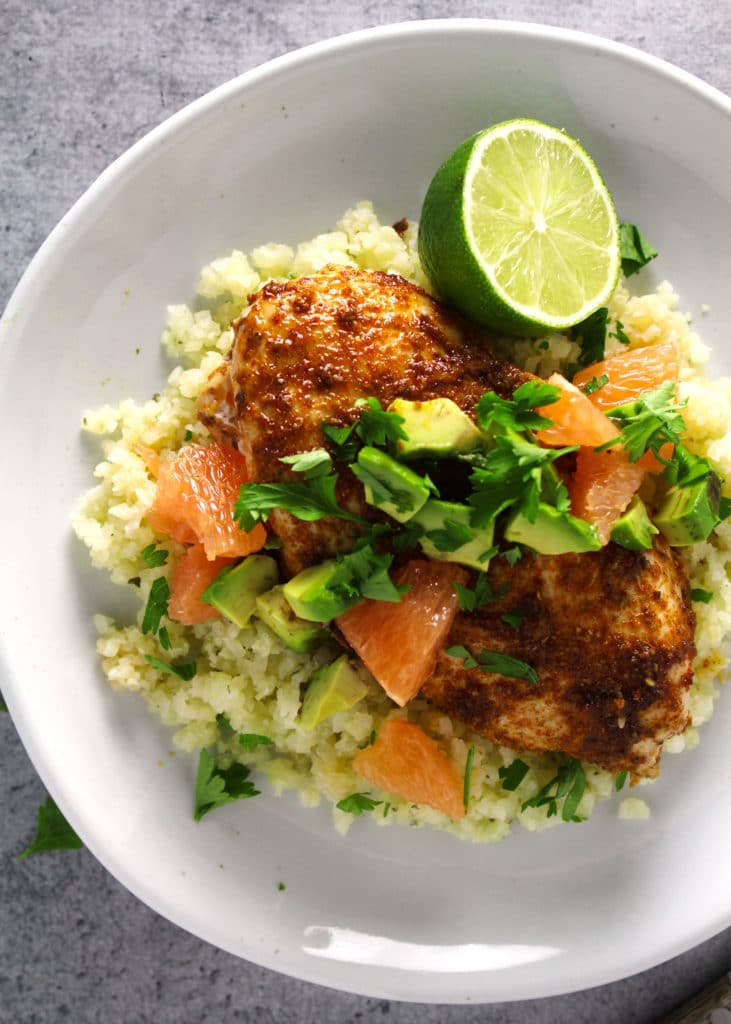 Going back to this harissa rub though because that is in fact why we are here… It's kind of spicy, I'm not going to lie, but not "slap your grandmama spicy" because of Jonathan, my husband ate 3 servings of this chicken! ????
He is NOT a spice guy and anything above a mild isn't out of the question so if he can take the mild heat this chicken is putting off then I think just about everyone can.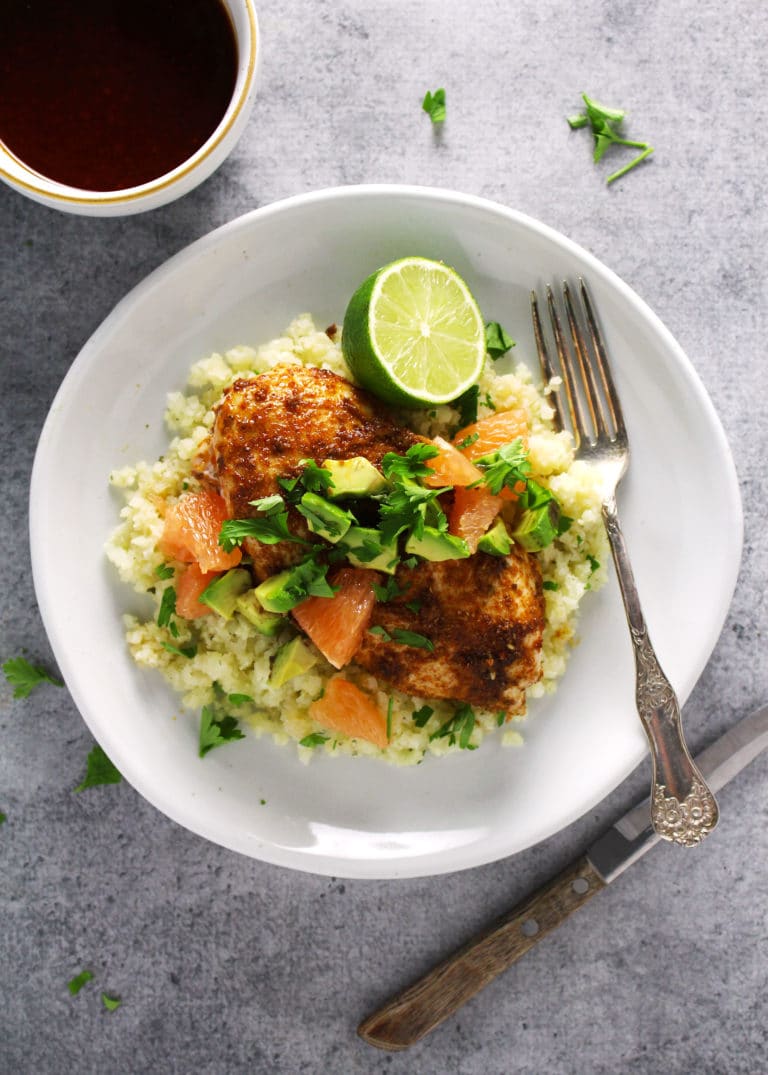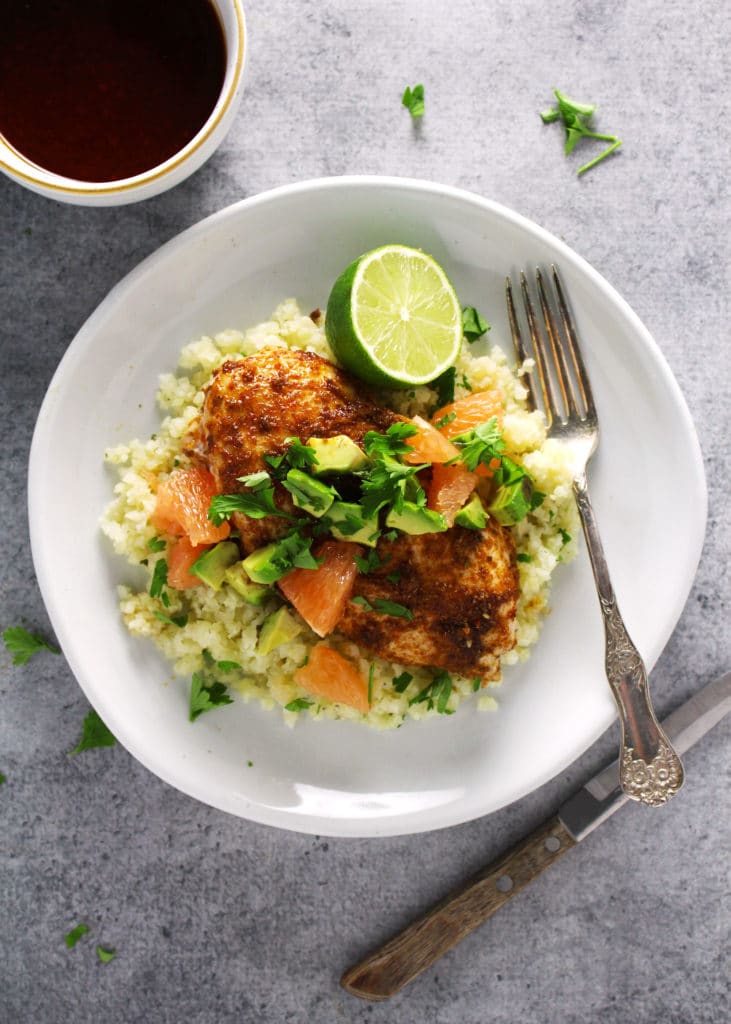 This is an entire meal though friends! I'm not going to leave you hanging! This chicken is sitting pretty atop some cilantro lime cauliflower rice, which you need in your life now, and topped with avocado and grapefruit slices. Hello, clean eating meal and welcome to dinner.
And if I could make the suggestion to prepare an entire batch of this chicken and cauliflower then you have dinner (or lunch!) for the week. I may have just bought you some time!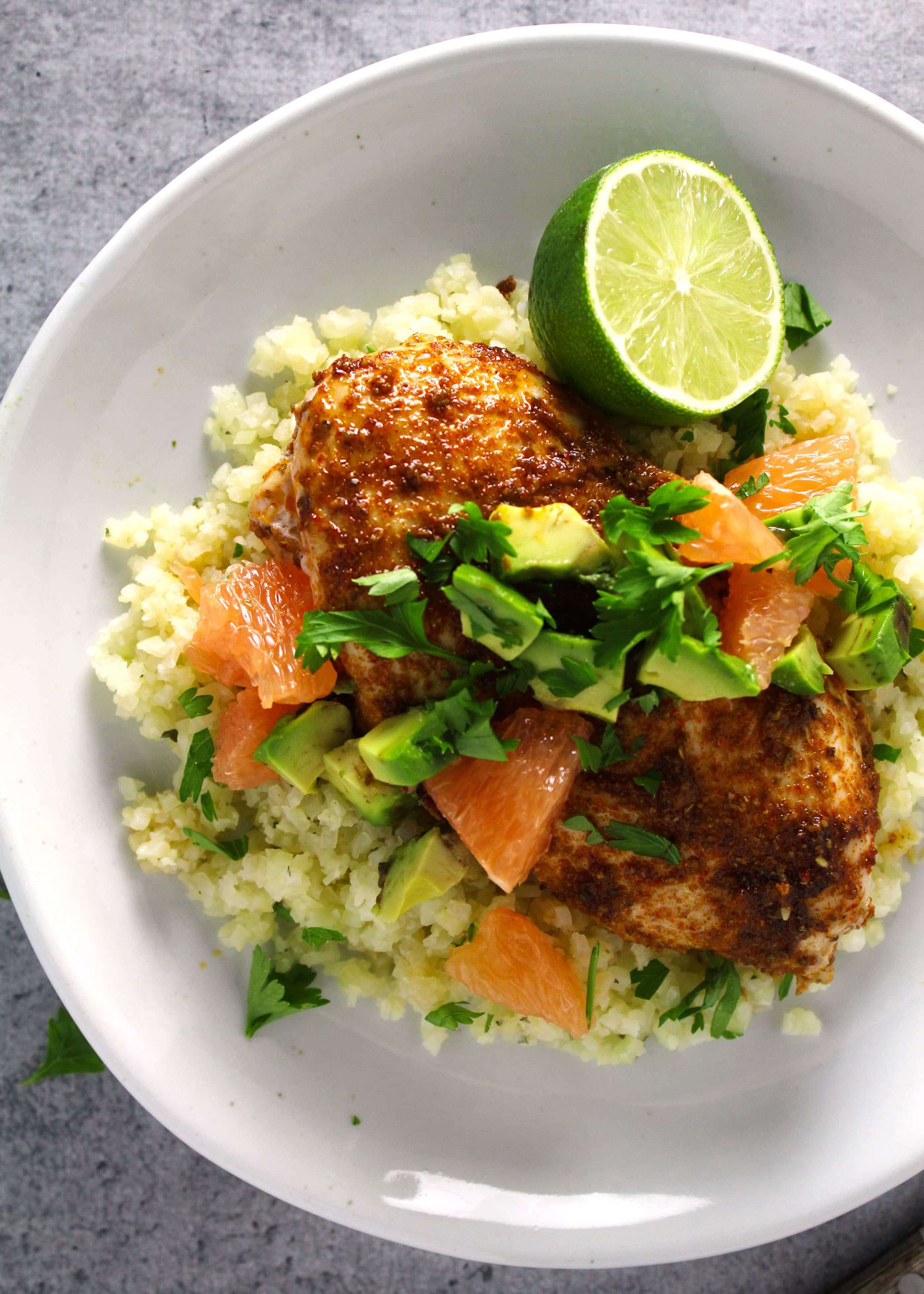 Ingredients
Harissa Rub
1

teaspoon

Cumin Seeds

1/2

teaspoon

Caraway Seeds

1/2

teaspoon

Coriander Seeds

1/2

teaspoon

Anise Seeds

1/2

teaspoon

Fennel Seeds

2

tablespoons

Paprika

1

teaspoon

Ground Cayenne

1

teaspoon

Red Chili Flakes

2

Garlic Cloves

minced

1½

tablespoons

Fresh Lime Juice

1/4

cup

Olive Oil

1/2

teaspoon

Salt
Chicken
2

lbs

Boneless, Skinless, Chicken Breast

1

Grapefruit

sectioned

1

Avocado

pitted and sliced

2

tablespoons

Olive Oil

divided

2

cups

Cauliflower

riced

1

Lime

juiced

2

teaspoons

Fresh Cilantro

1

tablespoon

Olive Oil
Instructions
Preheat the oven to 400 degrees.

Place the cumin, caraway, coriander, anise, and fennel in a small skillet and roast over medium heat until the seeds become fragrant. About 1 to 2 minutes. Remove from the stove and place in a coffee grinder or food processor and grind the seeds until they reach a powder-like substance.

Place the ground seeds and the sweet paprika, cayenne, red chili flakes, garlic, lime juice, 1/4 cup of olive oil, and salt into a small bowl and whisk together until well combined.

Rub about 1 tablespoon of Harissa on each Chicken breast (for a stronger flavor let sit for 2 hours or in the fridge overnight, but not necessary). Place on a rimmed baking sheet lined with parchment and roast for about 20 to 25 minutes or until chicken reached 160 degrees.

While the chicken is roasting place the frozen cauliflower rice in a medium saucepan and steam until soft. Add the fresh lime juice, cilantro, and 1 tablespoon of olive oil.

Layer each plate with the cilantro lime cauliflower rice and place a chicken breast on top. Decorate the rest of the plate with sliced avocado and grapefruit.
Nutrition
Serving:
1
serving
|
Calories:
617
kcal
|
Carbohydrates:
19
g
|
Protein:
52
g
|
Fat:
38
g
|
Saturated Fat:
6
g
|
Trans Fat:
1
g
|
Cholesterol:
145
mg
|
Sodium:
585
mg
|
Potassium:
1472
mg
|
Fiber:
8
g
|
Sugar:
7
g
|
Vitamin A:
2981
IU
|
Vitamin C:
60
mg
|
Calcium:
75
mg
|
Iron:
3
mg