Around that time when spring slides into summer and dinners get lighter and easier to prepare Hawaiian Chicken Skillet Fajitas are a recipe, you'll want to keep on repeat. With a tangy-sweet kick from the Hawaiian inspired marinade and the crunchy sauteed onions and peppers all wrapped in a toasted tortilla your spring and summer will be deliciously epic.
Looking for more easy spring into summer-type dishes? Then try out this Easy Lemon Garlic Skillet Chicken or this Blacked Fish Sandwich. These Sheet Pan Salsa Verde Chicken Fajitas are also delicious.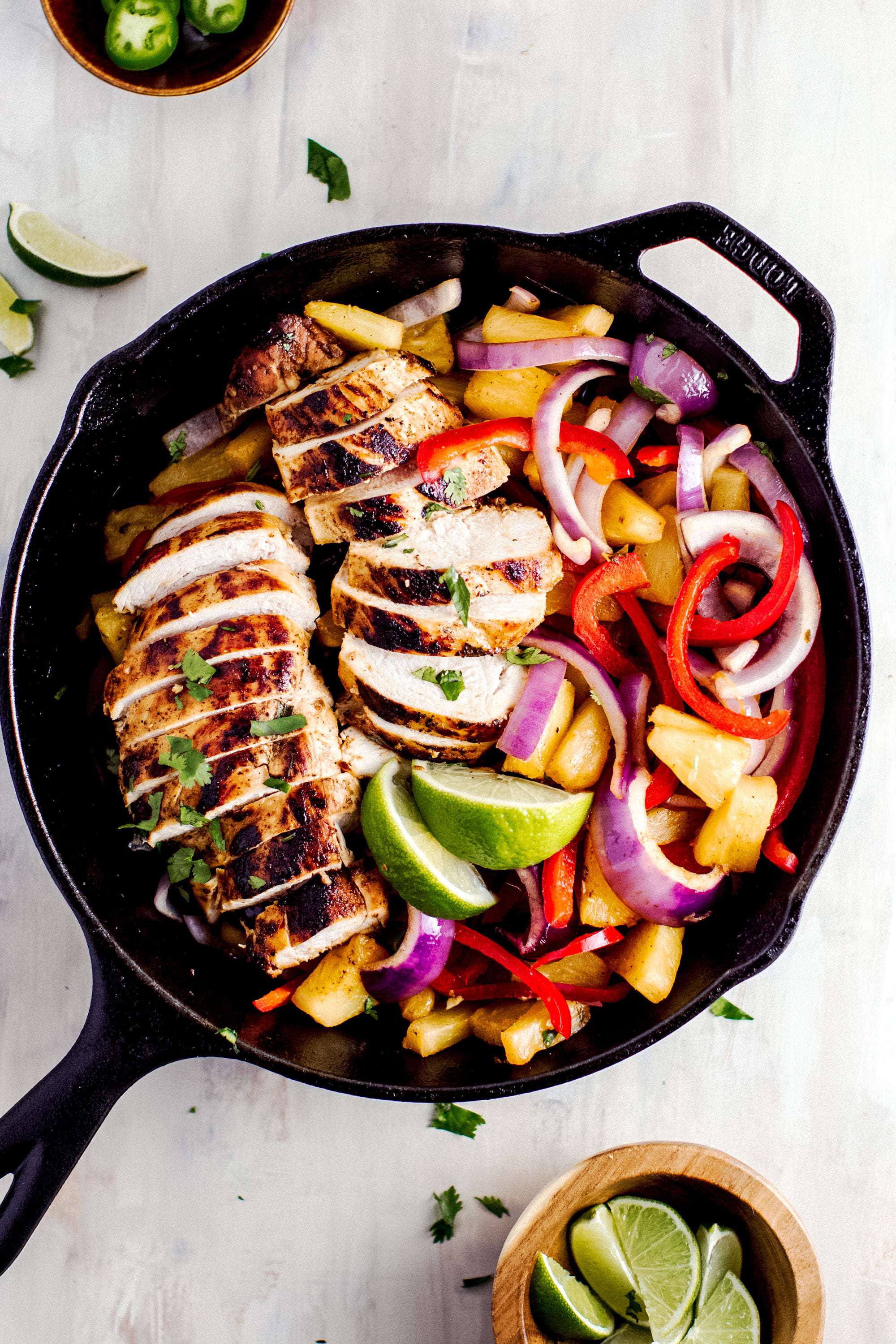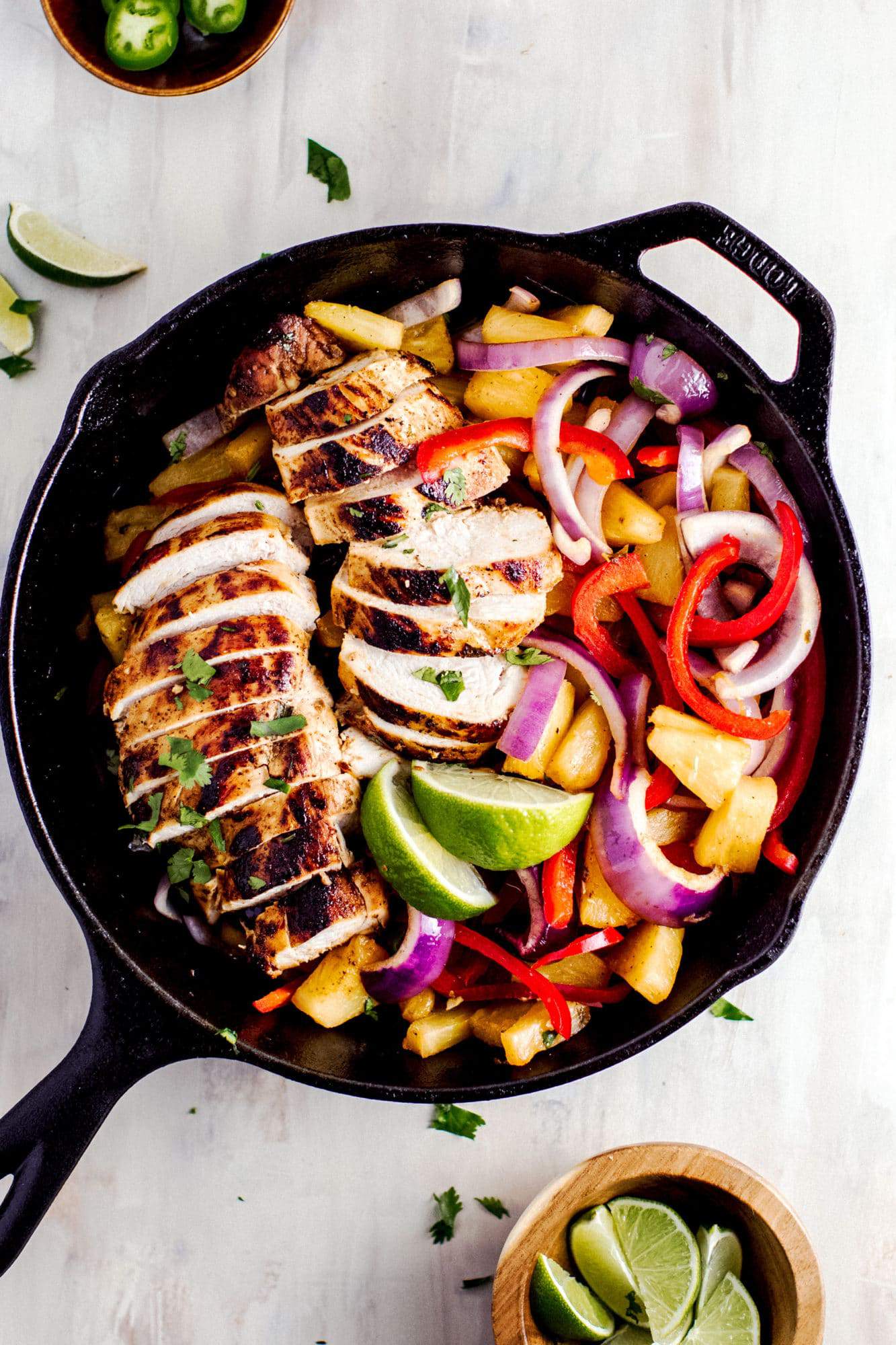 Hawaiian Chicken Skillet Fajitas
The temperatures are rising, the flowers are blossoming, and thoughts of spending tons of time in the kitchen start to evaporate with future heat waves and summer Fridays in mind. It's that time of year when we essentially start to lose time. I personally begin to crave lighter meals, possibly loaded with seasonal veggies and ones that don't require pushing buttons on my oven. Fajitas are the fun festive meal including all of my cravings, and these Hawaiian Chicken Skillet Fajitas add a tropical touch to those lazy summer nights.
The sweet and tangy marinade made up of pineapple juice, soy sauce, hoisin sauce, brown sugar, and a drop of oil is one key element in setting these fajitas out from all the others. The other factor is the sauteed pineapple for a perfectly tangy and juicy finish.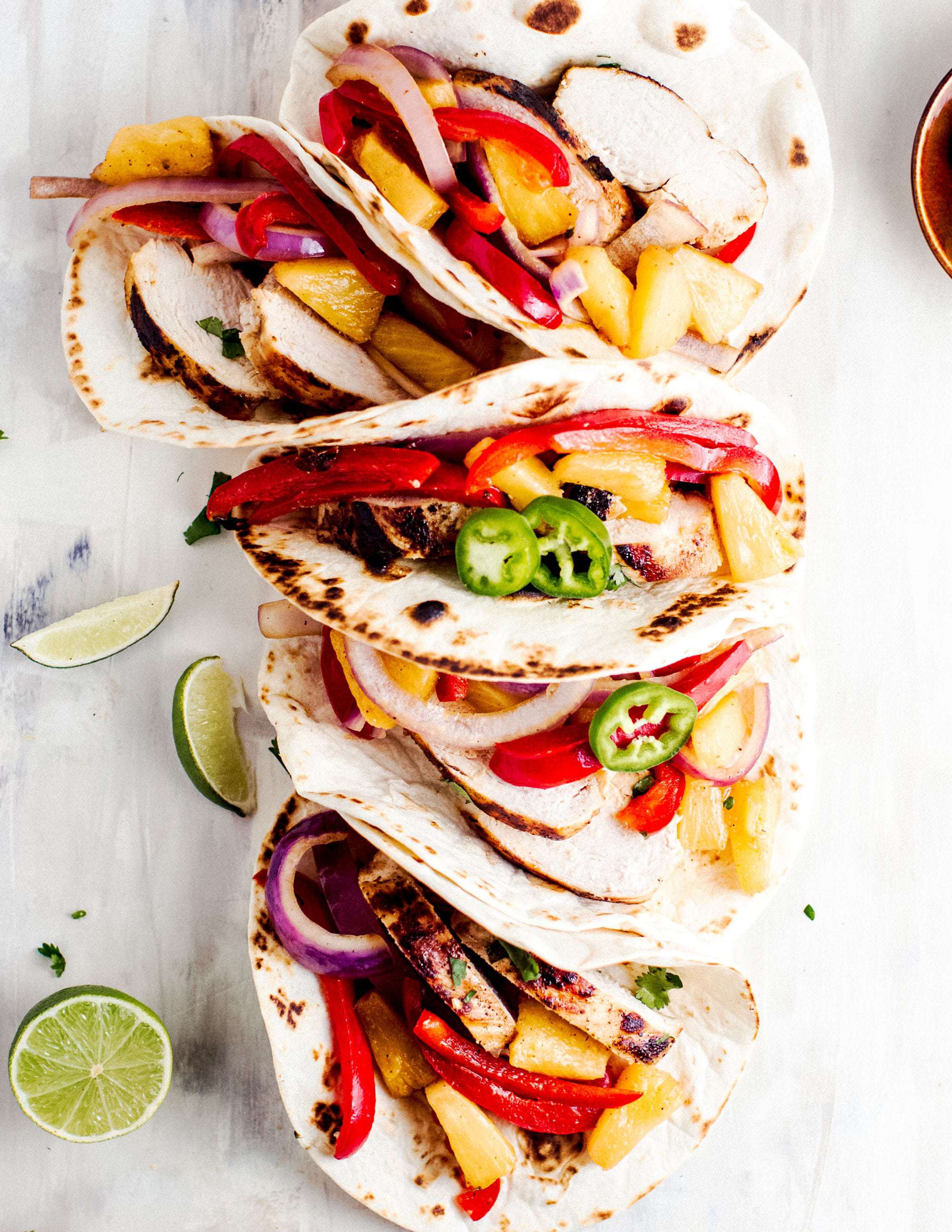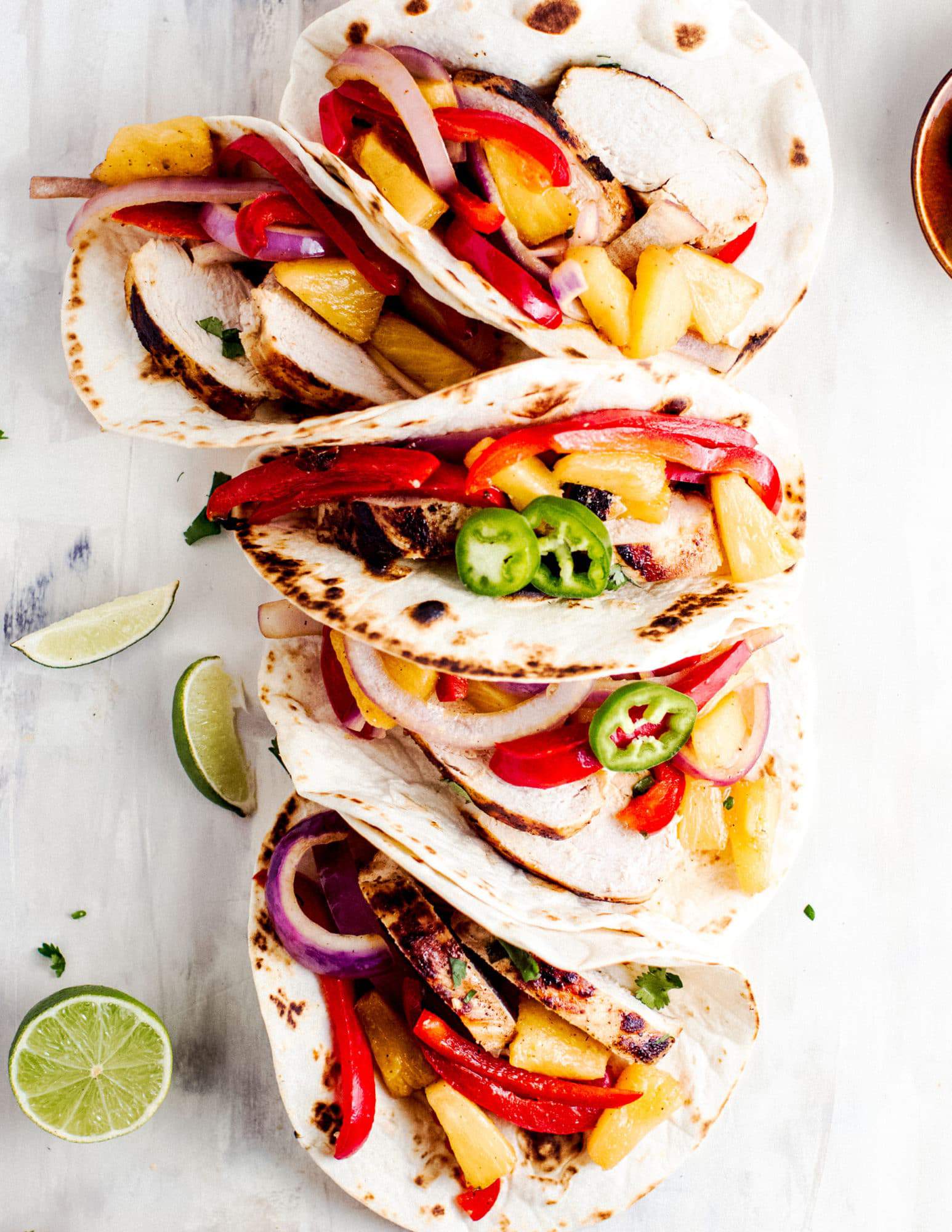 How to Make the Perfect Fajitas
Marinating the chicken first is absolutely important and may I suggest making a double batch of the marinade and letting twice the amount of chicken soak it up overnight (even up to a couple of days). Not only will you end up with perfectly seasoned chicken for these Hawaiian Chicken Skillet Fajitas, but you'll have additional leftovers for even simpler dinners later in the week.
Prep your fruit and vegetables. Slice and dice them to perfection and then saute them. An iron skillet with a small amount of oil works best. Make sure to gently saute them, tossing them continuously. You definitely don't want to end up with mushy fajita add-ins.
Sear and cook the chicken in the same iron skillet. Brown the meat evenly on each side for about 5 minutes. The chicken should reach the safe temperature of 165 ℉. Add the marinade to the skillet when cooking the chicken for extra Hawaiian flavoring. Slice and set aside for assembly.
Perfect fajitas also have perfectly heated (kind of toasted) tortillas, which can be heated in a very hot skillet. No oil is needed, but you do need to watch these closely so they don't burn.
Begin your fajita assembly line with sliced chicken. Then add the sauteed fruit and veggie mix, and then your toppings, which is where you do you.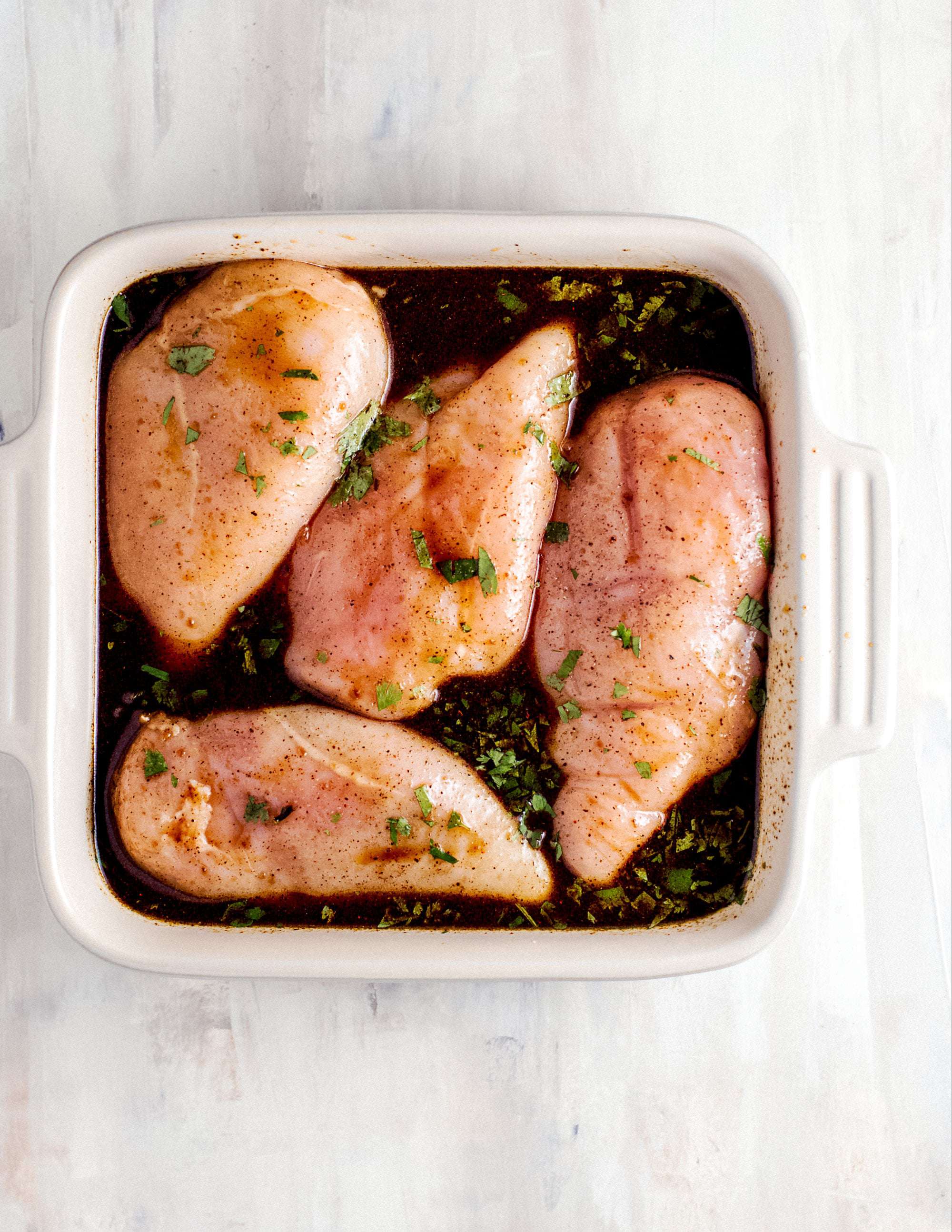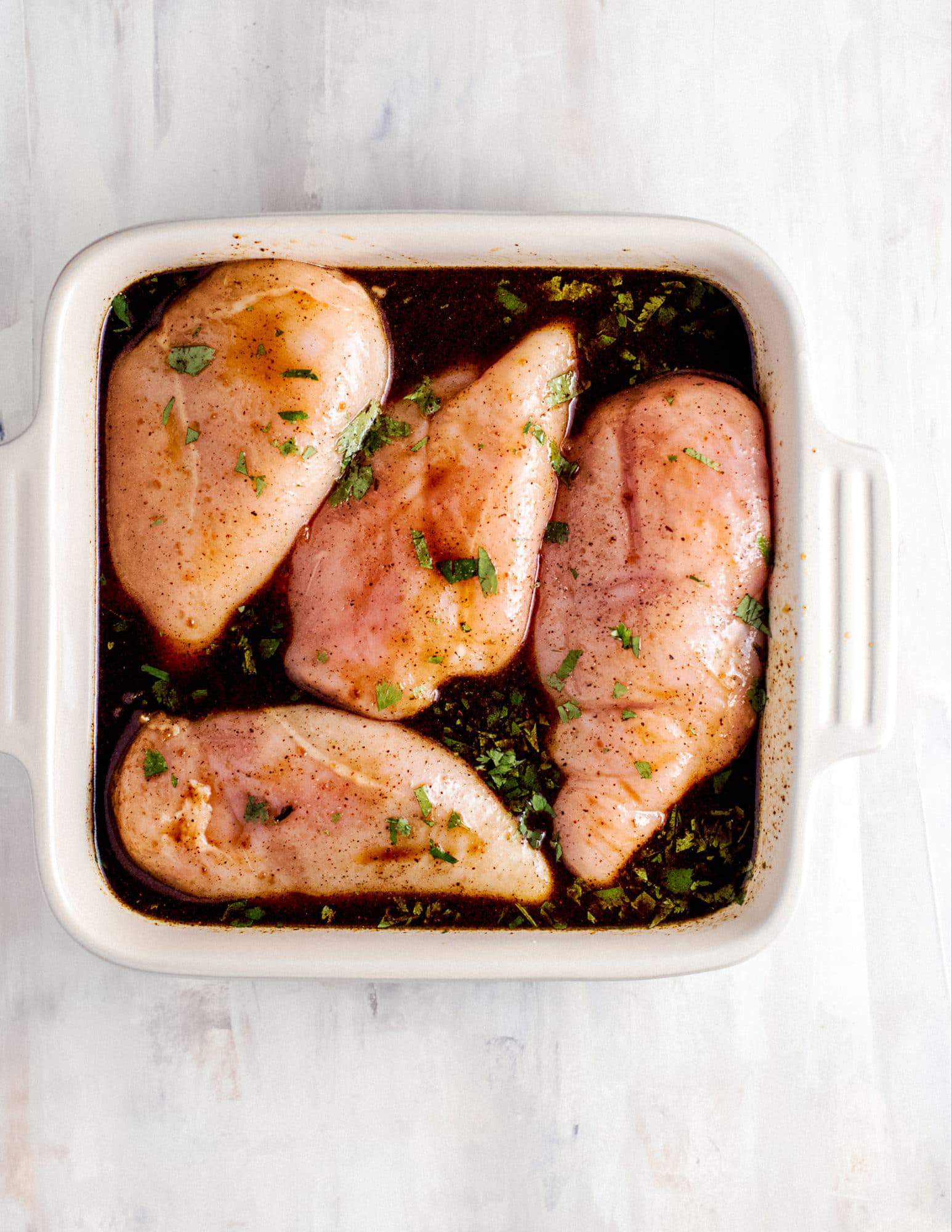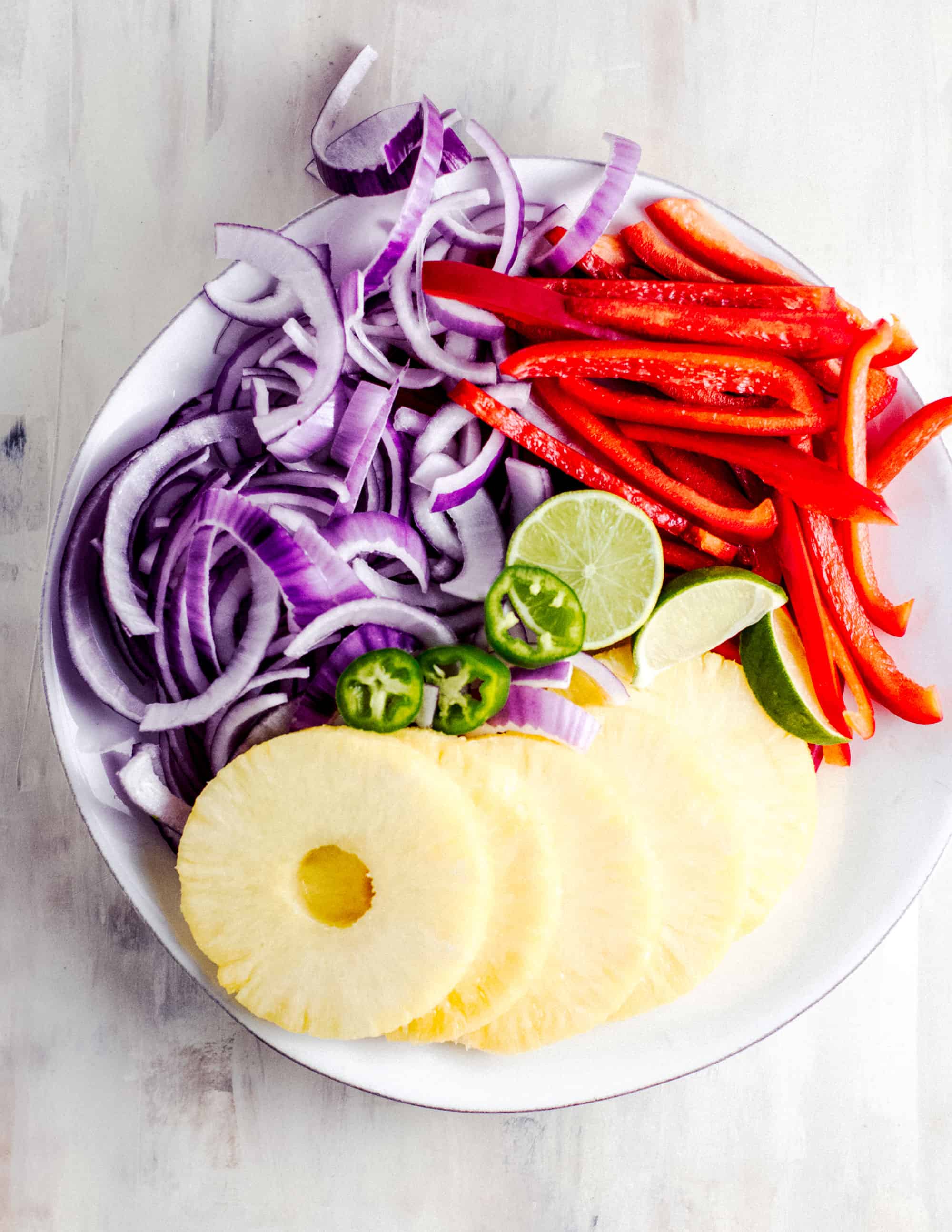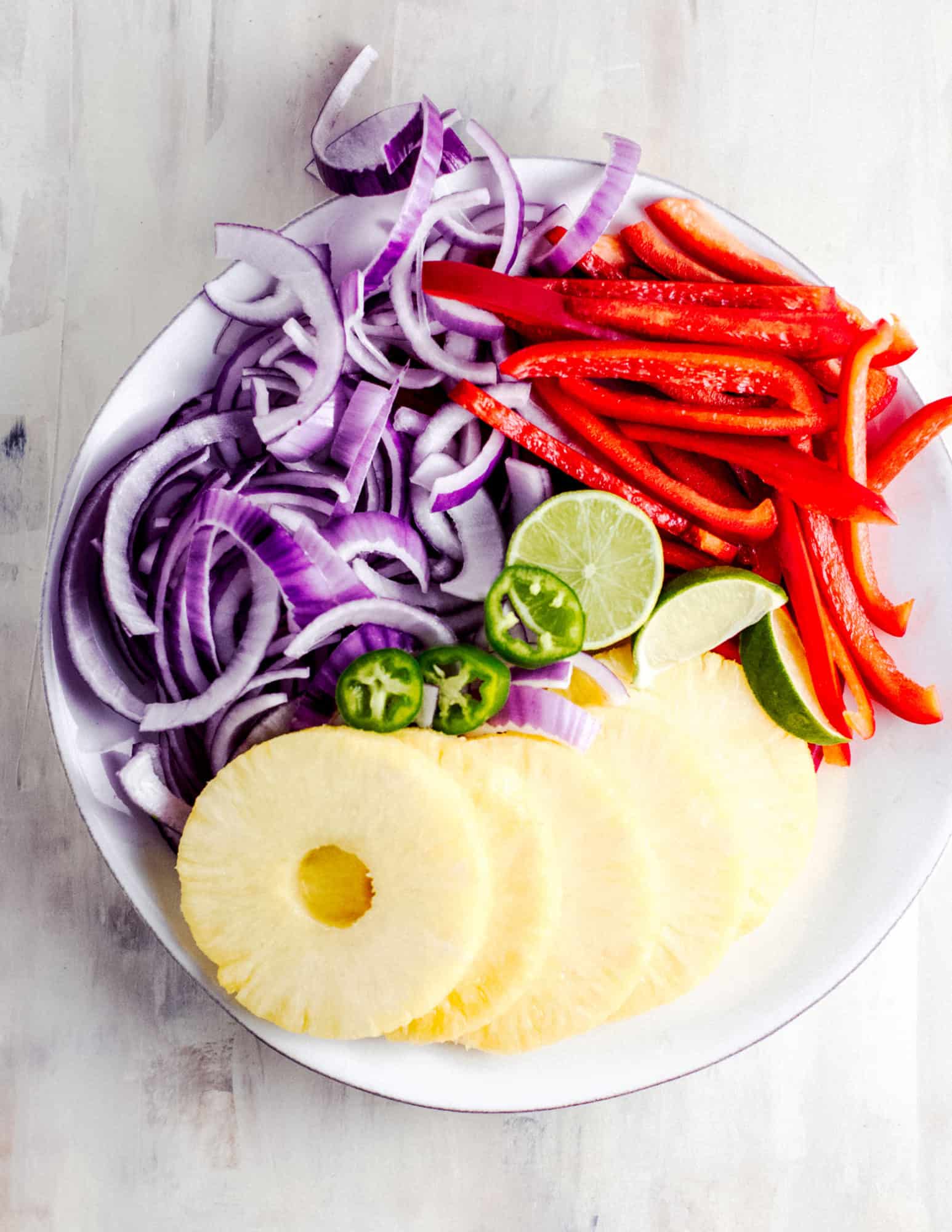 What Toppings are Best with Hawaiian Chicken Skillet Fajitas?
Avocado or Guacamole
Sour Cream
Shredded Mozzarella Cheese
Jalapeno, fresh or pickled
Cilantro
Feel free to lose your inhibitions here. You won't find any judgment from me…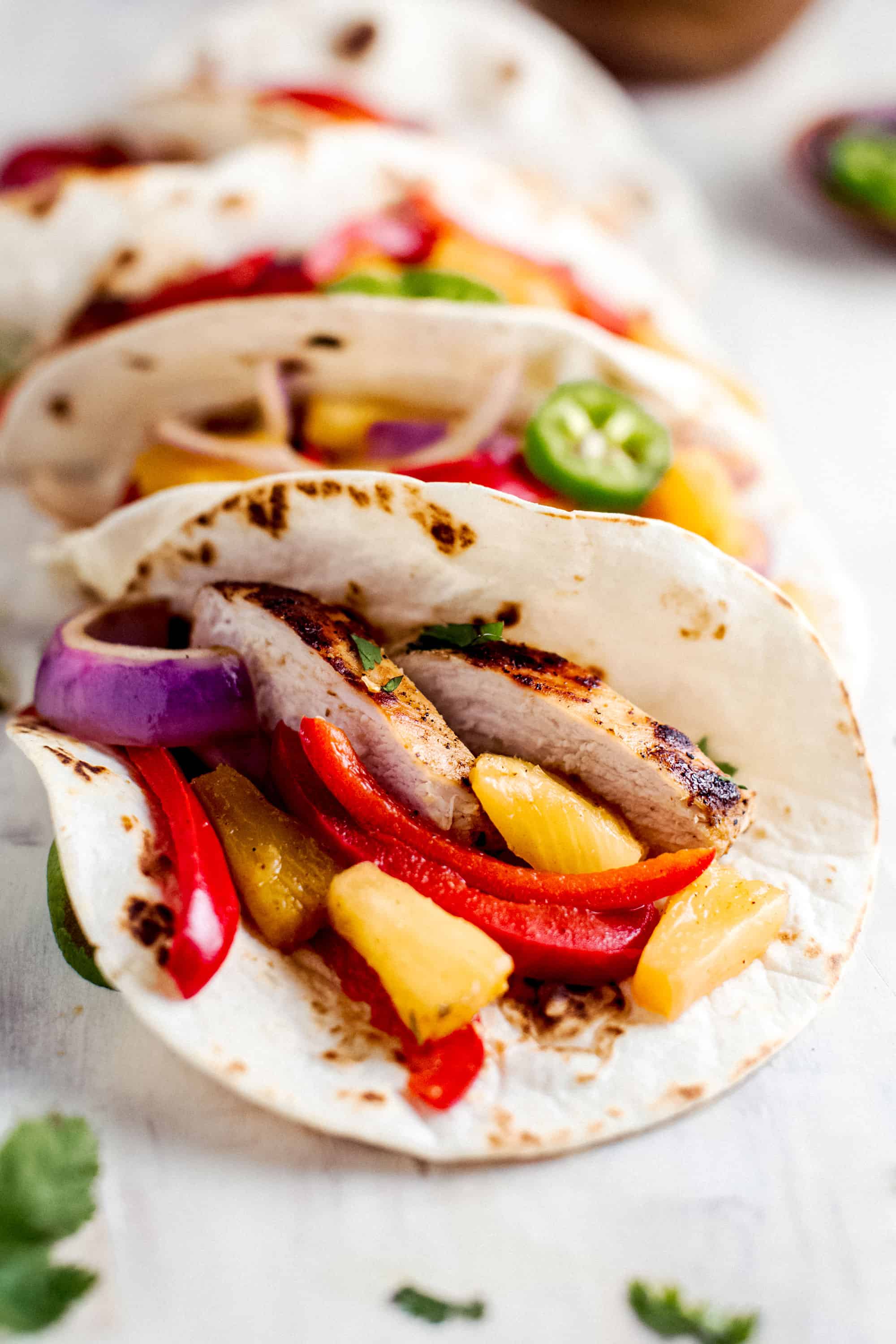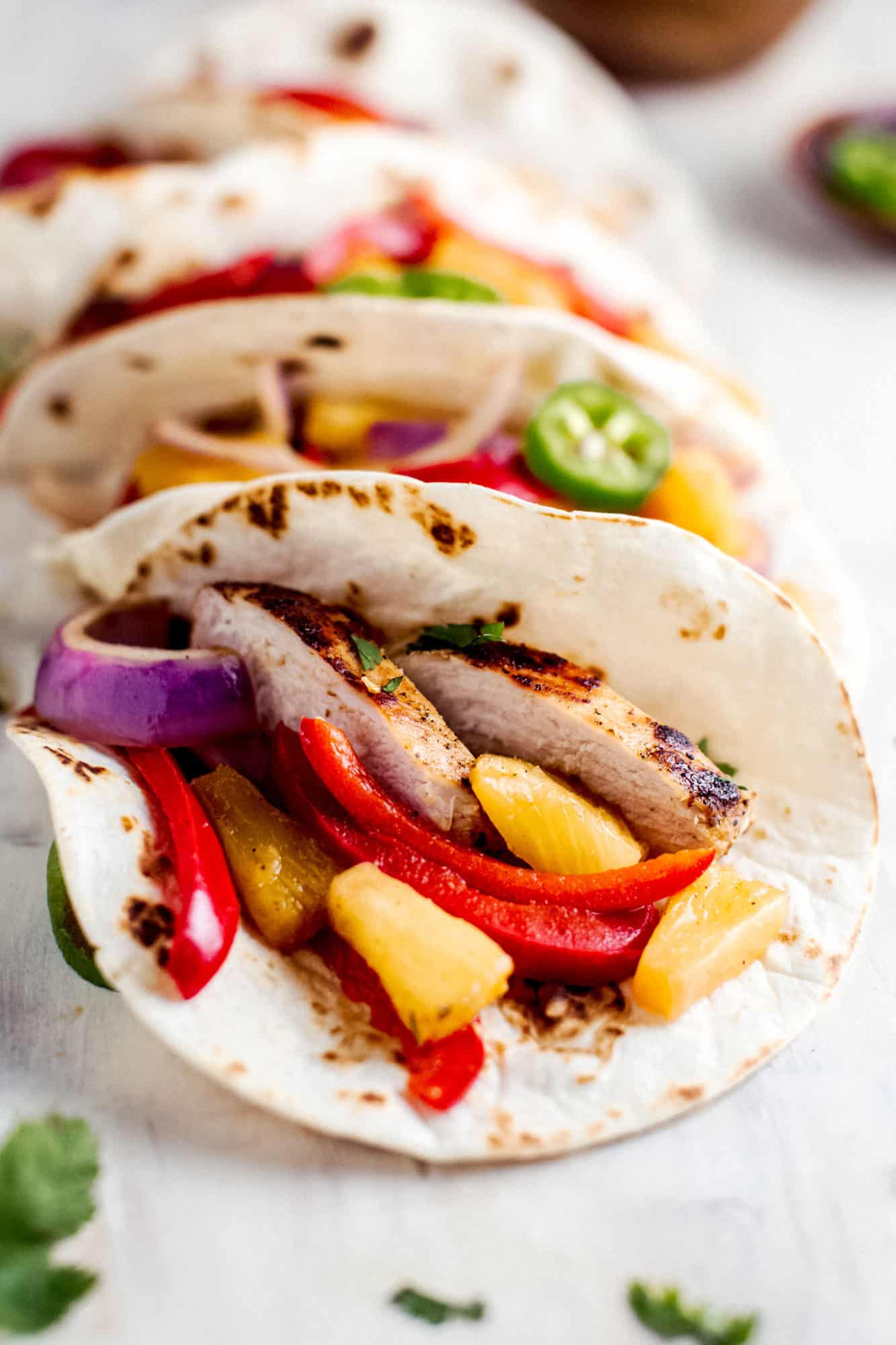 GIVEAWAY with JORD Watches
This giveaway is now over. Now that images of poolside sipping and simple lighter foods are dancing through your mind, you've probably already slipped into a dreamy timeless state. There's no need to actually lose time. I have a special giveaway for you that will help you keep track of those minutes and hours ticking away. I've partnered with JORD Watches.
Often when I'm preparing meals the stove timer is set. I'm researching or reading a recipe on my phone, and the microwave is constantly in use. It's easy to lose track of the actual time and so I rely on the classic time-telling wristwatch. I am also quite a watch fanatic, yet I don't own many because of my high standards. These standards were set in place long ago at one of my very first jobs in New York City. I worked for a luxury watch brand. I learned so much fascinating knowledge about watches in general, which came at the price of having high standards.
When I opened my Fieldcrest JORD watch I was blown away at the craftsmanship and unique design. Their watches are made of wood! Not only is that insanely unique, but it's beautiful.
How Do You Enter?
This contest is currently closed.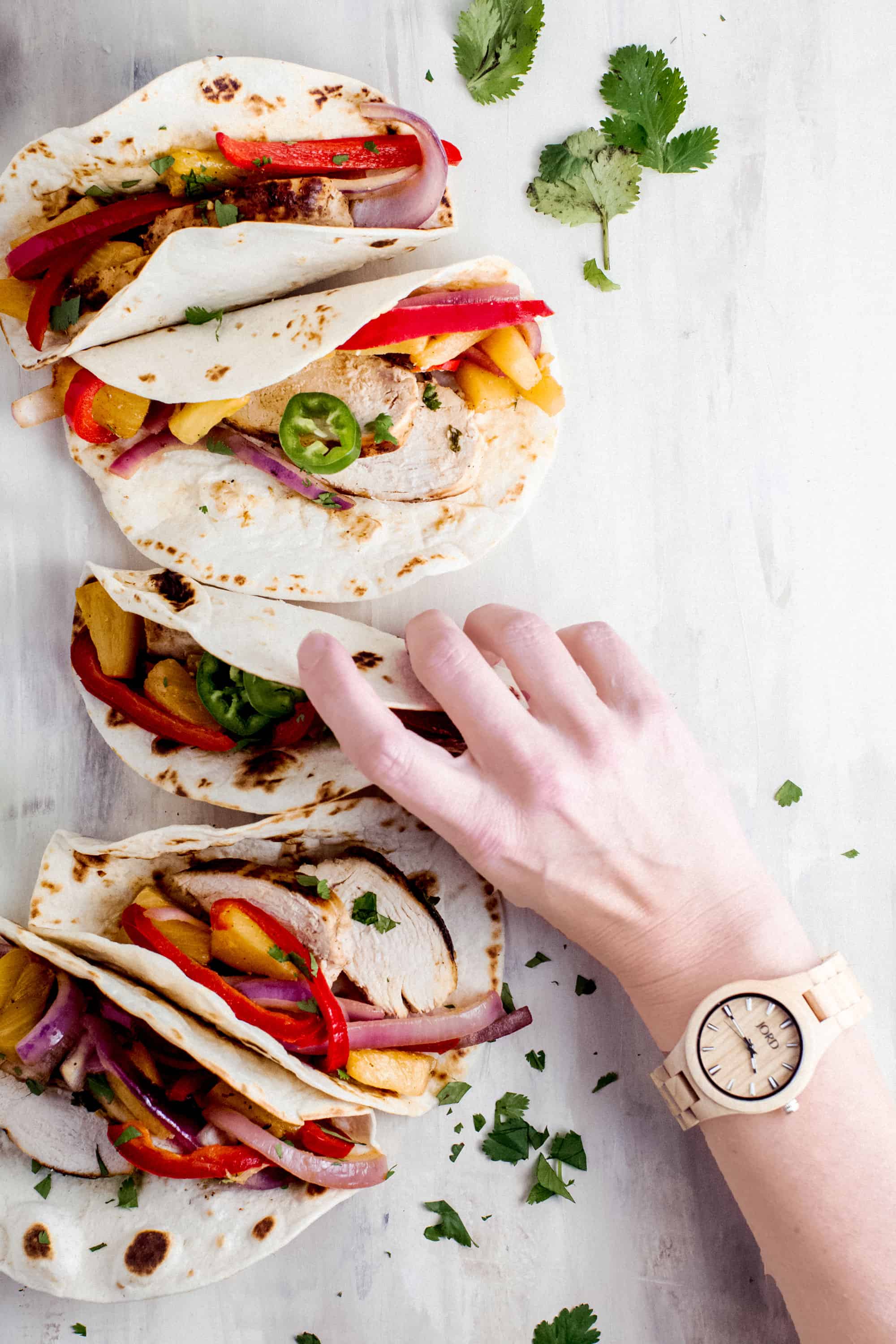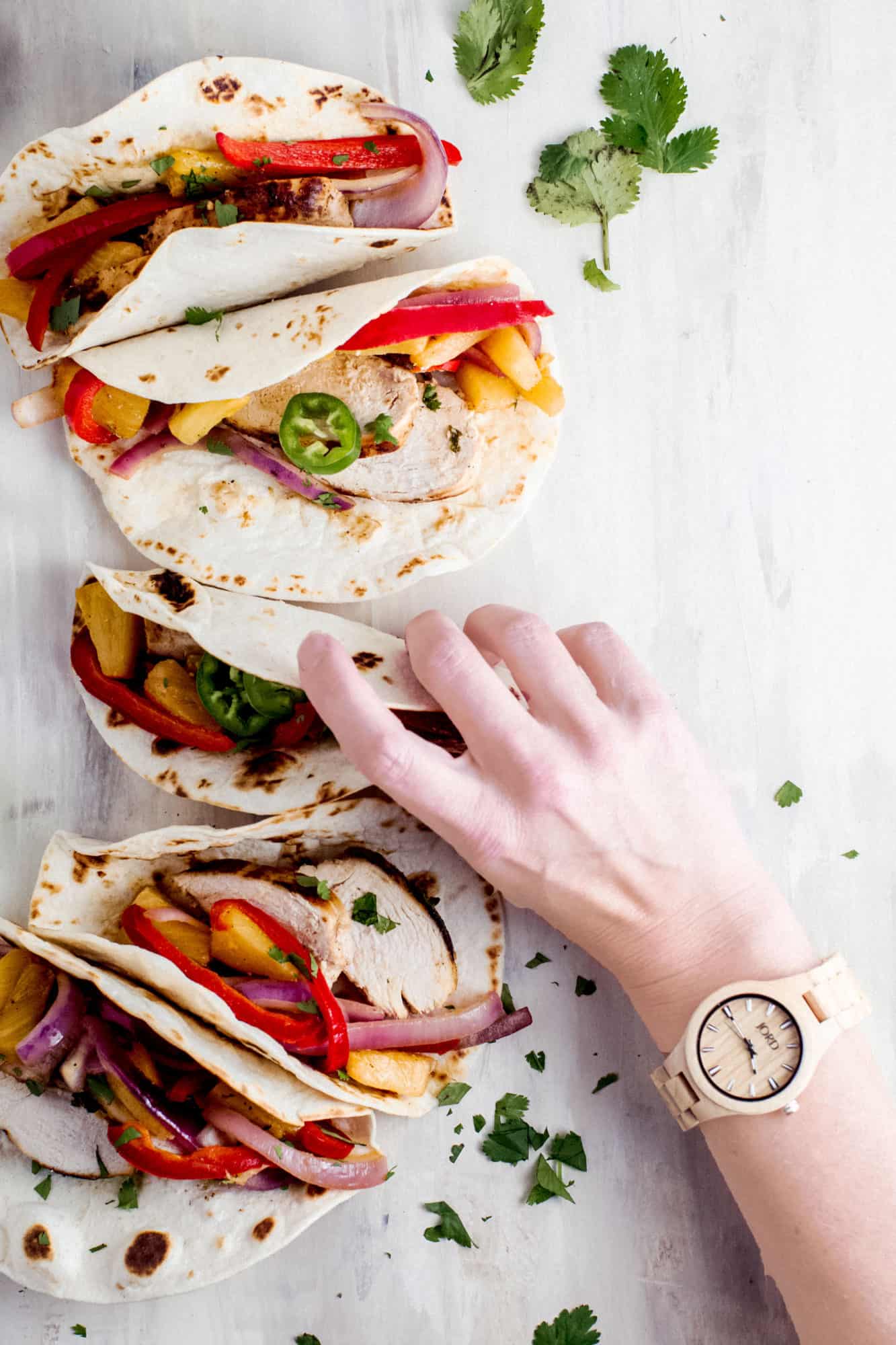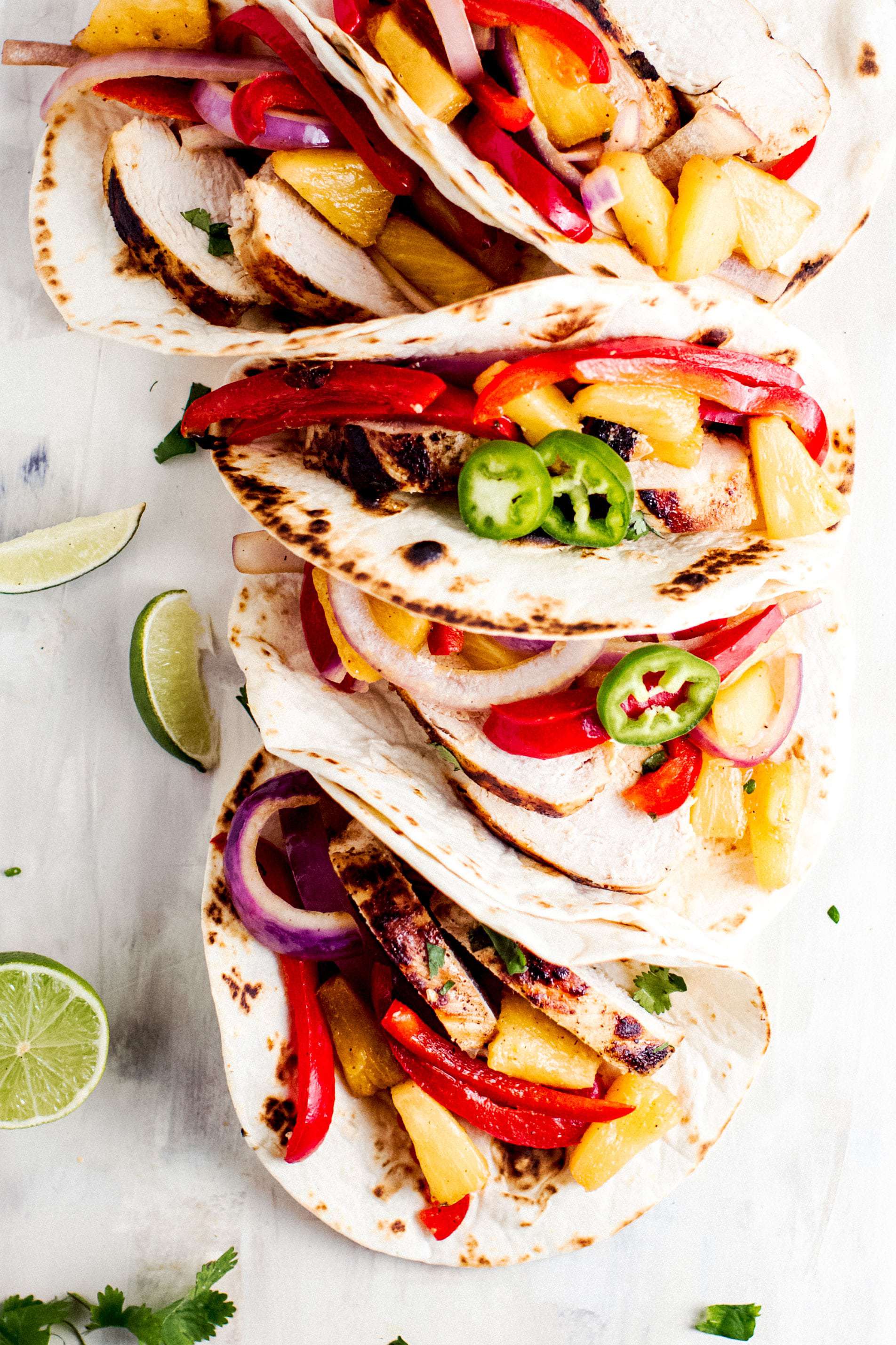 Ingredients
MARINADE
1/3

cup

Pineapple Juice

2

tablespoons

Soy Sauce

2

tablespoons

Hoisin Sauce

1

tablespoon

Brown Sugar

2

tablespoons

Oil

2

teaspoons

Cumin

1

teaspoon

Chili Powder

2

tablespoons

Fresh Cilantro
FAJITAS
1½

lbs

Chicken Breast

1

medium

Red Onion

sliced

1

medium

Red Bell Pepper

seeded and sliced

2

cups

Pineapple

8

small

Flour Tortillas
Instructions
Marinade: Arrange the Chicken Breast is a shallow dish. Whisk all the ingredients for the marinade together in a small bowl and pour on top of the chicken. Cover and let marinate in the refrigerator for 4 to 6 hours, or a minimum of 30 minutes at room temperature.

Chicken: Set a large cast-iron skillet or nonstick skillet over high heat and allow the pan to heat for several minutes. Add 1 teaspoon of oil and place the Chicken Breast into the skillet, cooking on each side for 3 to 5 minutes, or longer depending on the thickness of the chicken. Before flipping the meat to the other side to cook pour in the marinade. Remove chicken and set aside to slice once slightly cooled.

Fruit and Veggies: Scrape the browned bits off the bottom of the pan or clean completely and return to the high heat and add an additional teaspoon of oil. Place the Red Onion, Red Bell Pepper, and sliced Pineapple into the heated skillet and cook for about 3 minutes tossing as necessary. Don't overcook the fruit and veggies to avoid them becoming mushy.

Tortillas: In a clean nonstick skillet, while the chicken and veggies mixture is cooking heat the Tortillas on each side over high heat.

Assembly: Top each warmed tortilla with the chicken fajita mixture and garnish with Cilantro and sliced Jalapeno or desired toppings.
Nutrition
Serving:
2
tortillas
|
Calories:
548
kcal
|
Carbohydrates:
56
g
|
Protein:
43
g
|
Fat:
16
g
|
Saturated Fat:
3
g
|
Cholesterol:
109
mg
|
Sodium:
1255
mg
|
Potassium:
996
mg
|
Fiber:
4
g
|
Sugar:
20
g
|
Vitamin A:
1205
IU
|
Vitamin C:
83
mg
|
Calcium:
104
mg
|
Iron:
4
mg