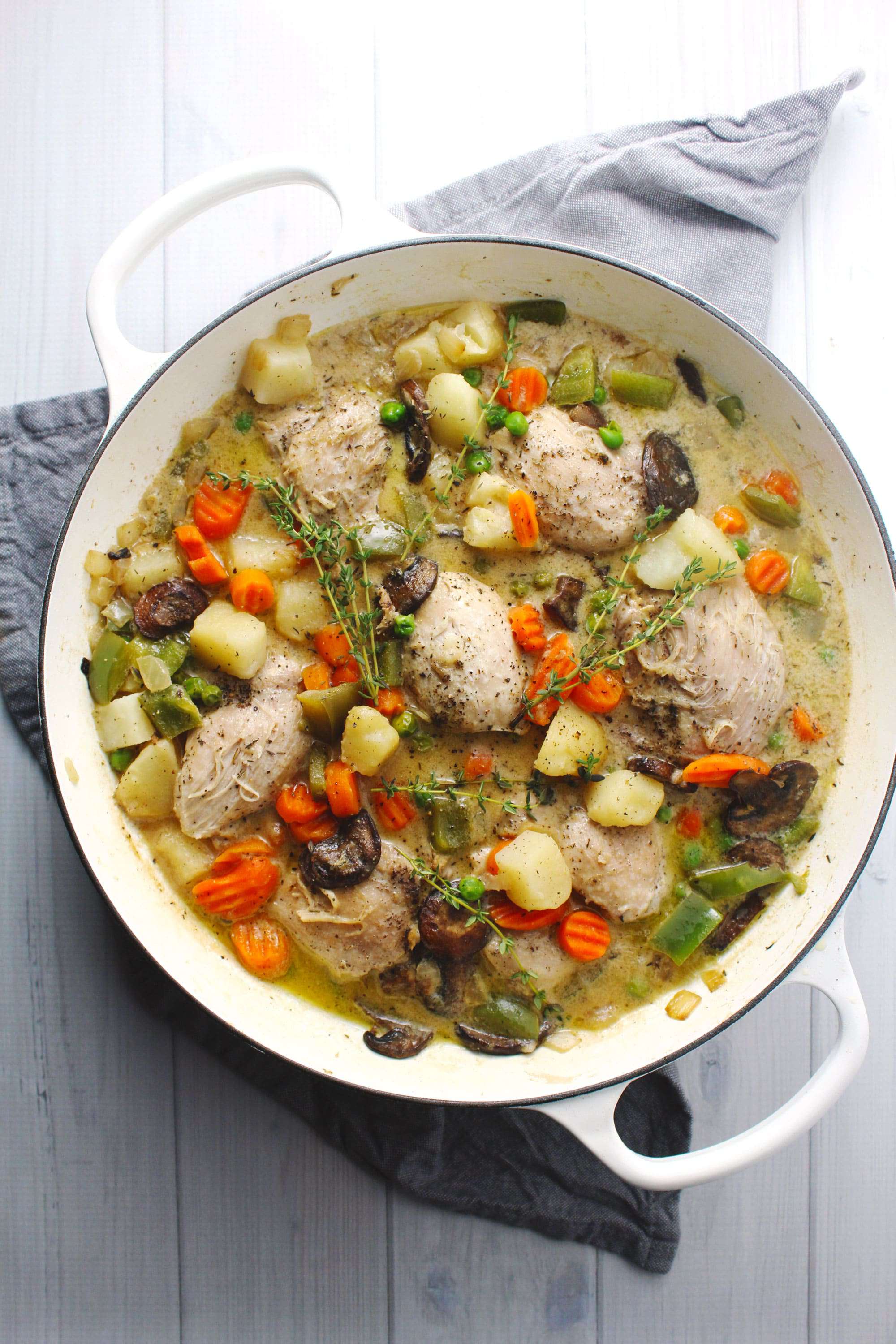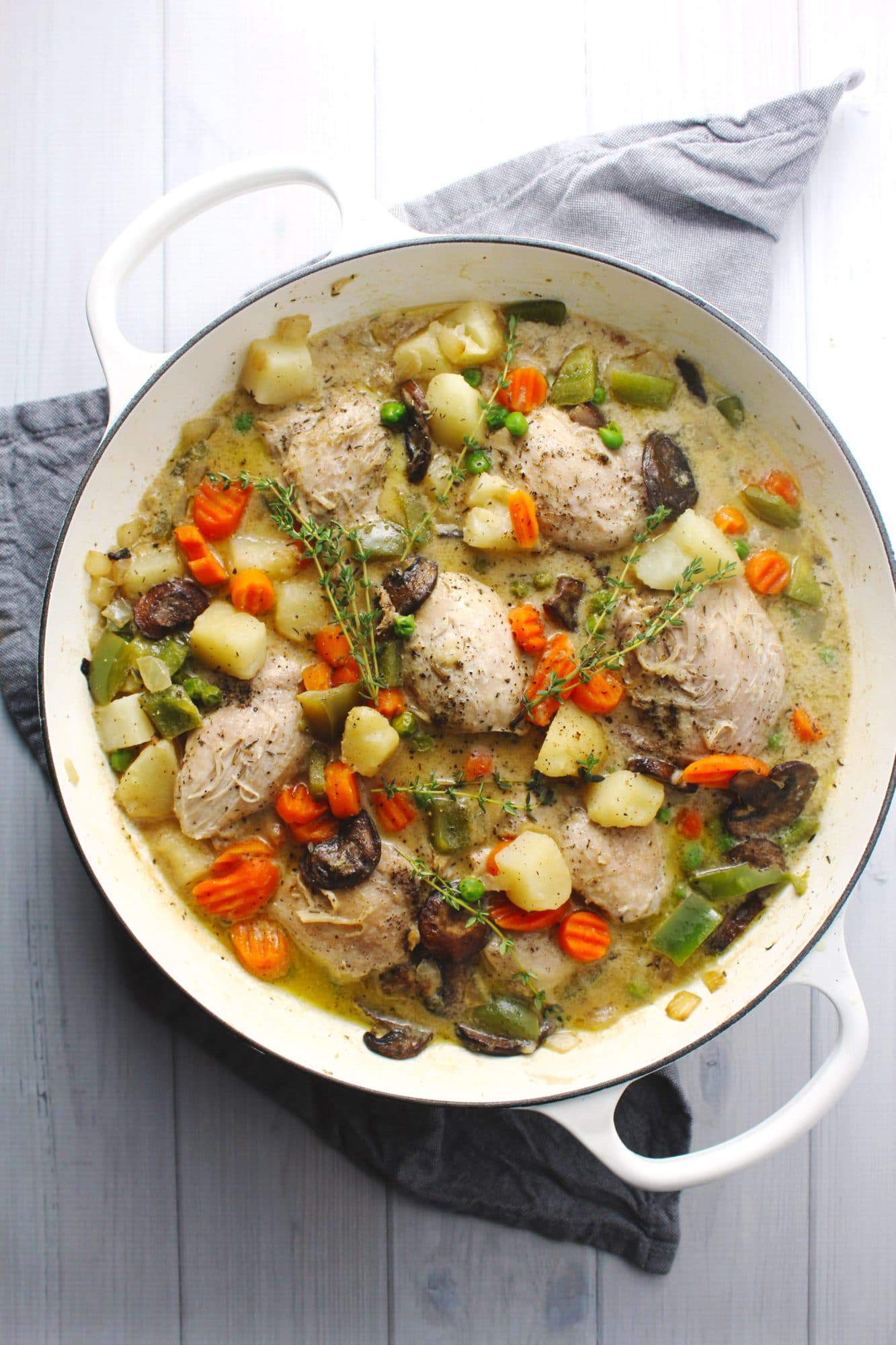 Chicken for dinner, again…? I get it! Fret not friend cause this chicken is not only easy but tastes unbelievably heart-warming and hearty. AKA the perfect fall dinner.
Now, I'm no country girl. Despite being born and raised in the great state of Alabama, I don't do country. I'm a city girl through and through. I am also the black sheep of the family (a label I bear proudly) however, I respect the country lifestyle and certainly love to devour country-inspired food.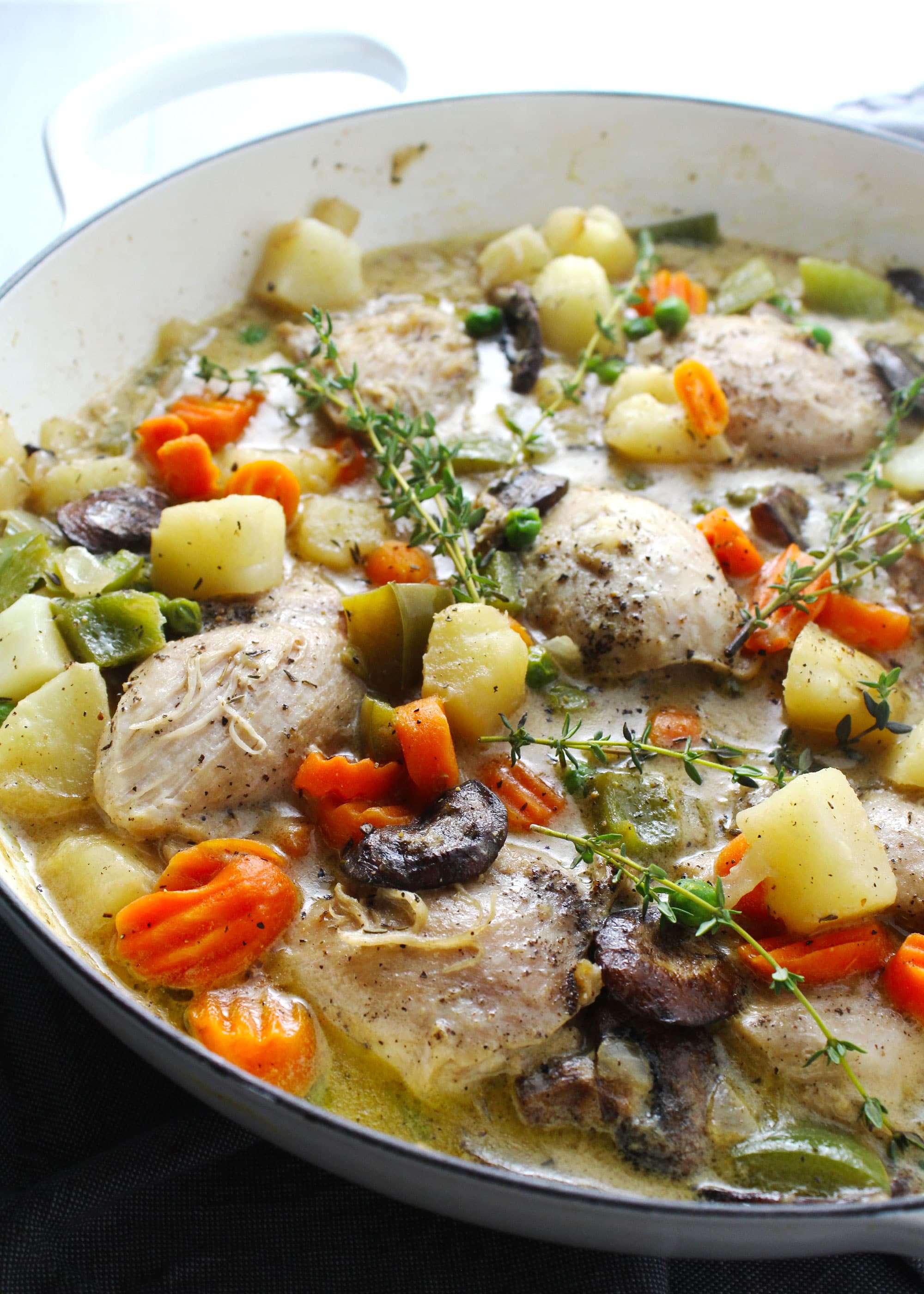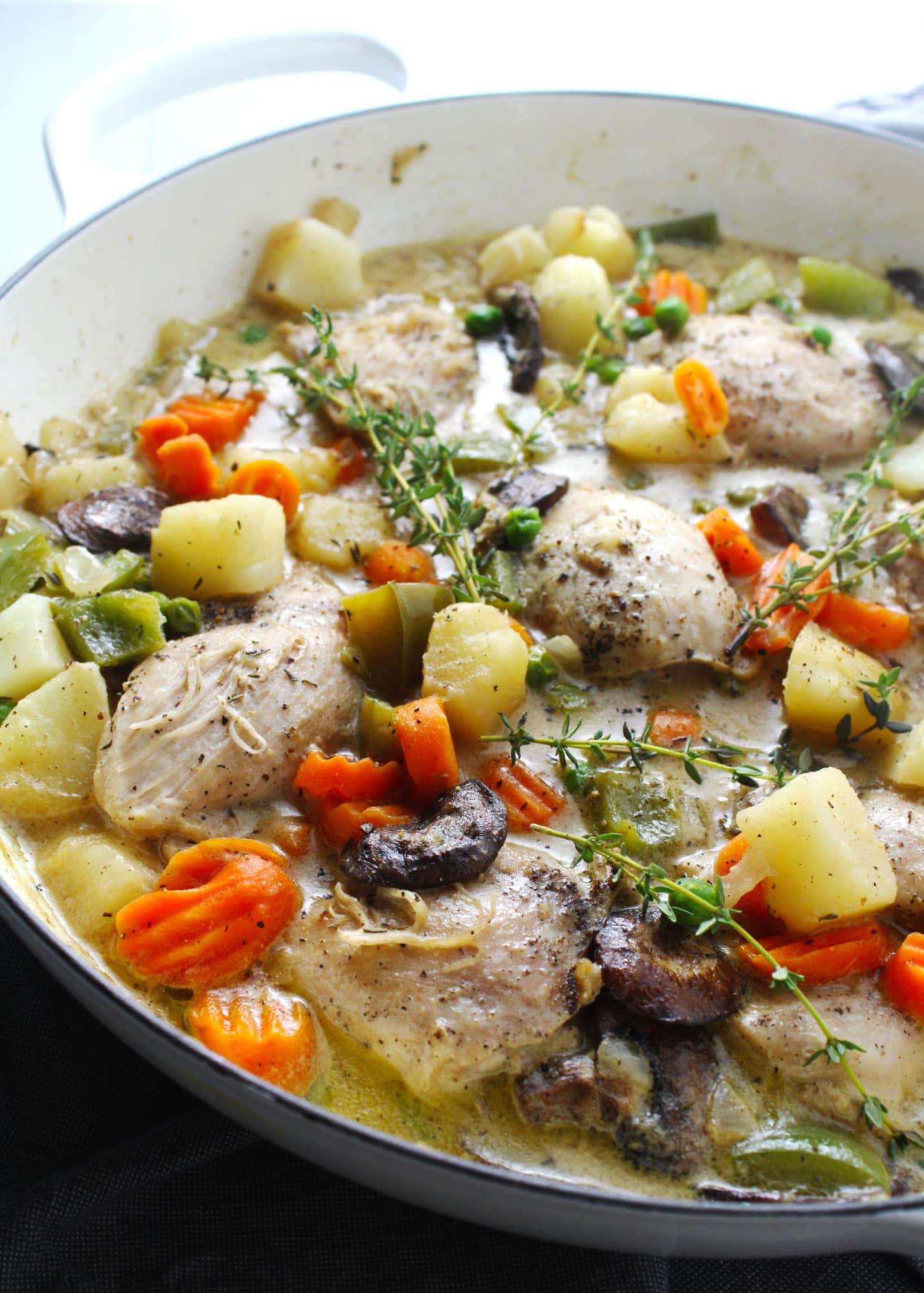 The problem with these type of hearty dishes or what's great about them rather is their buttery, creamy, and overall abundance to fill you up, way up. They're not so good at helping you maintain a slim waistline, which is all going to change with this healthy country chicken skillet.
Having eaten many a country type dish I feel slightly qualified to take on healthifying (new word ????????) a few recipes and this chicken skillet is where I'm gonna start.
See there's no flour in this dish and there's NO cream, which is generally key ingredients of country-esque (another new word!) recipes, HOWEVER, you wouldn't know in taste alone. It's good friends, really good. The flour is replaced with arrowroot powder (or you could use cornstarch) and the cream with full-fat coconut milk.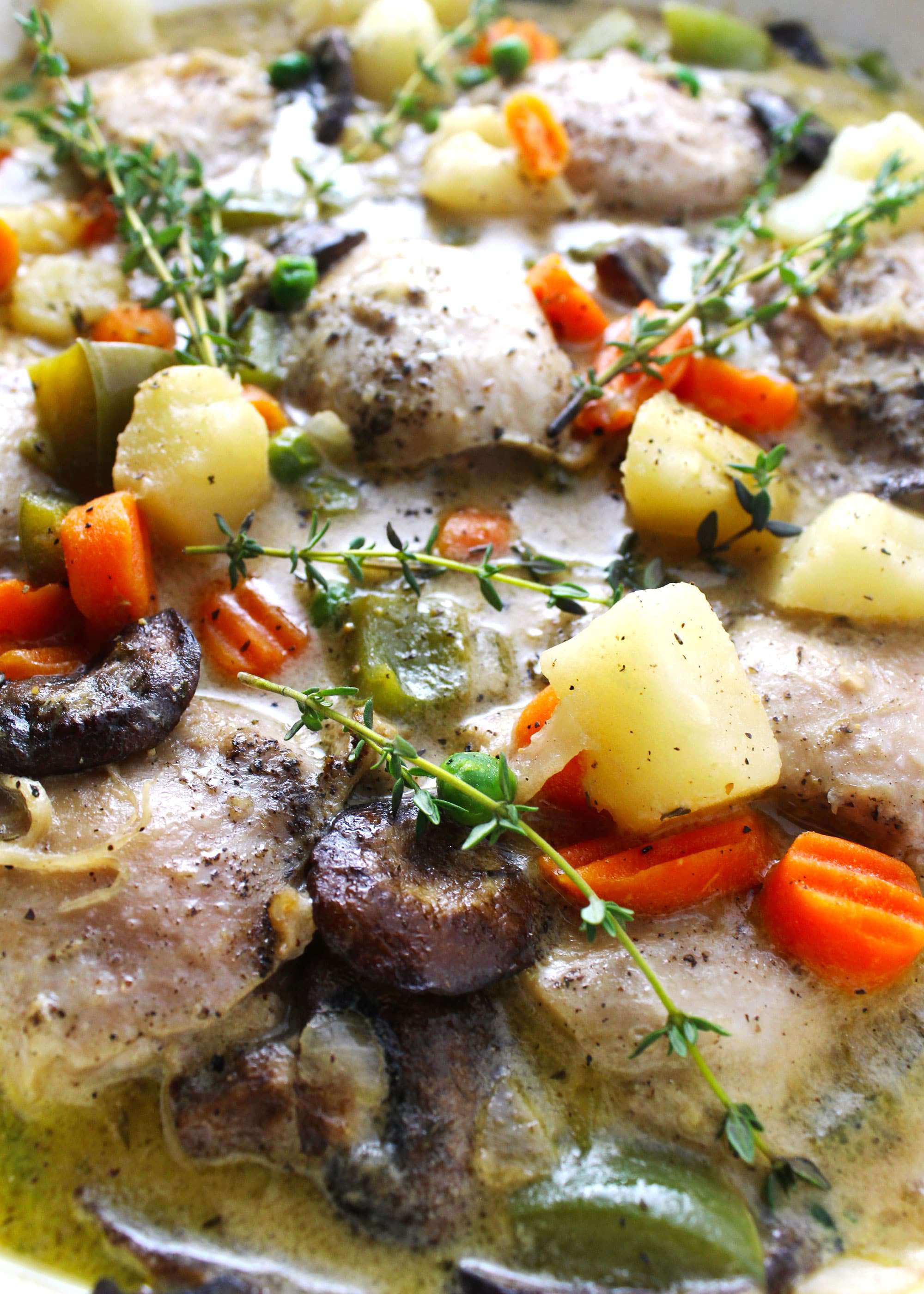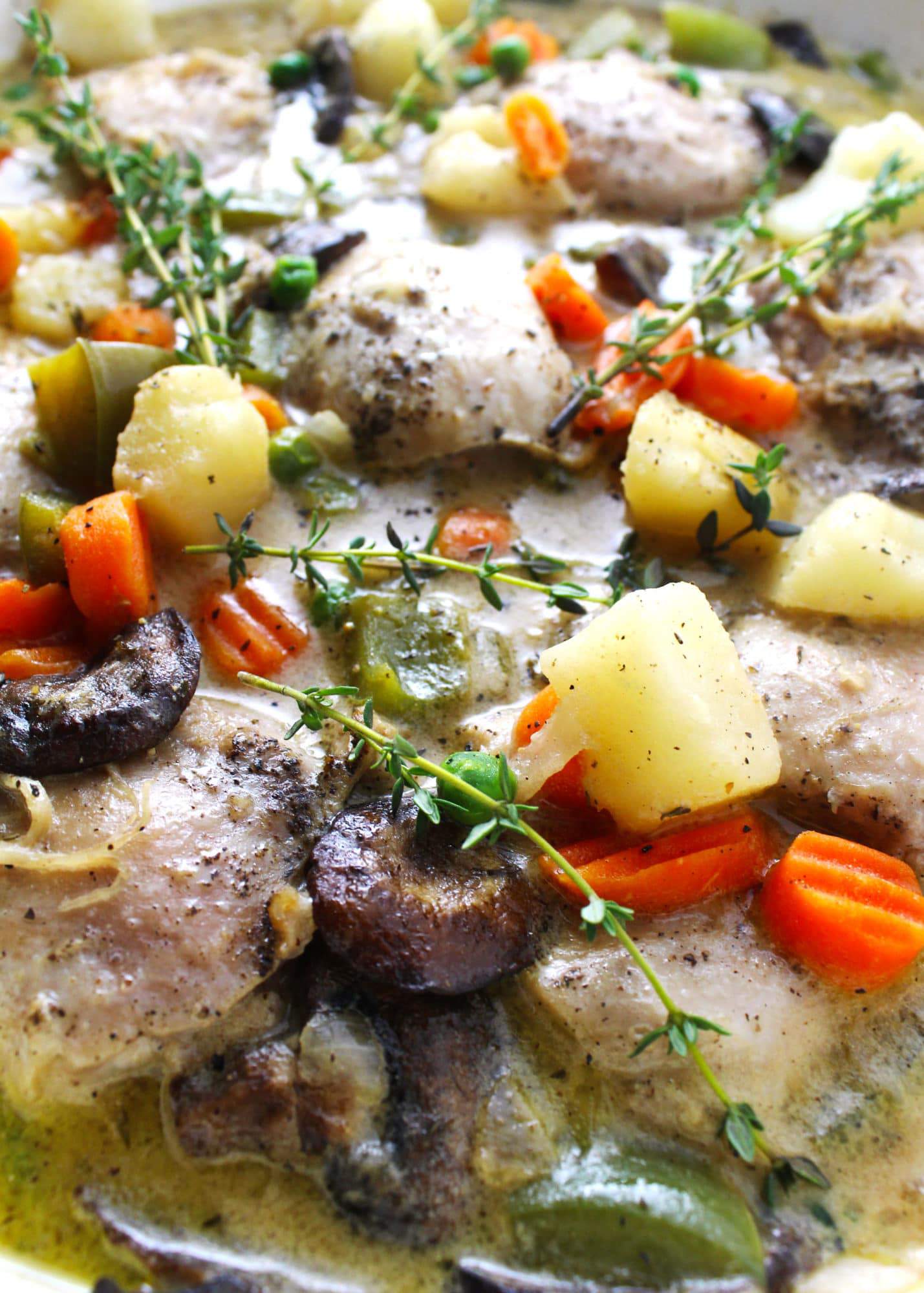 You still get the hearty and creamy taste minus the dairy and refined carbs. There's still the starchy/carby potatoes, but we don't want to get crazy here. This is at the heart of it all a meat and potatoes dish.
So you see, I've gone a little country here and maybe a little city too, but it works and it works for your dinner. Everyone big and small in my family ate this dish and it even has onions and bell peppers, which are on the "NO!" list. There you have it friends, a winner, winner chicken dinner!
Print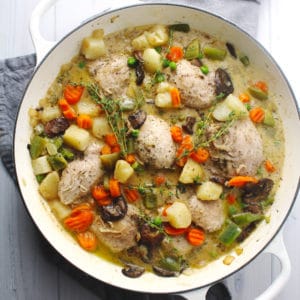 Healthy Country Chicken Skillet
Author:

Prep Time:

10 Mins

Cook Time:

25 Mins

Total Time:

35 Mins

Yield:

4

Servings

1

x
---
Description
This recipe for Country Chicken Skillet is a healthy take on a hearty meal. It's packed with vegetables and covers the meat and potatoes country basis.
---
1

medium Potato, peeled and diced

8

Boneless Chicken Thighs

2 tablespoons

Olive Oil (or Coconut Oil)

4 ounces

Sliced Mushrooms

1/2

medium Green Bell Pepper, diced

1/2

medium Onion, diced

1 cup

Frozen Peas and Carrots

1/2 cup

canned Coconut Milk

3/4 cup

Bone Broth or Chicken Broth

1 tablespoon

Dijon Mustard

1 teaspoon

Corn Starch or Arrowroot Powder

1 teaspoon

Dried Thyme
Salt and Pepper for seasoning
---
Instructions
Place peeled Potatoes into a pot and cover with water. Bring water to a boil and cook for 20 minutes.
Heat Olive Oil (or coconut oil) in a large skillet over medium-high heat for 3 minutes. Season both sides of the Chicken with salt and pepper and place in the skillet. Cook each side of the chicken for 4 minutes or until browned. Remove chicken and set aside.
Add the Mushrooms, Bell Pepper, Onion, Peas, and Carrots to the same skillet and toss. Drain the potatoes and add to the skillet as well. Cook for 5 minutes or until the vegetables begin to soften, stirring occasionally.
In a medium bowl mix the Coconut Milk, Broth, Dijon Mustard, Corn Starch, and Thyme until blended and pour into the skillet. Add the cooked chicken back to the skillet and lower the temp to medium. Cover and cook for about 10 additional minutes or until the vegetables have cooked completely and the chicken temperature reaches 160 degrees.
---