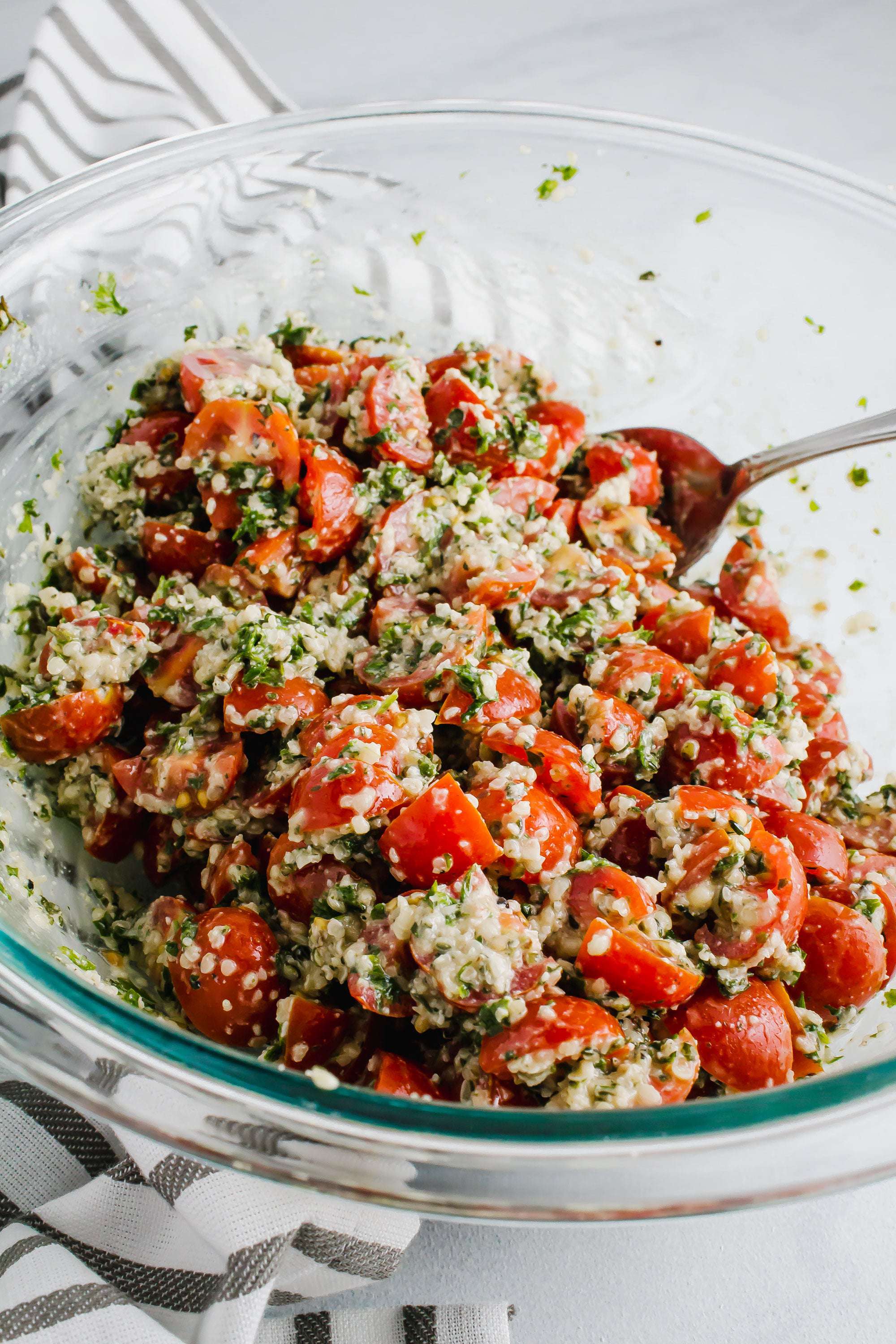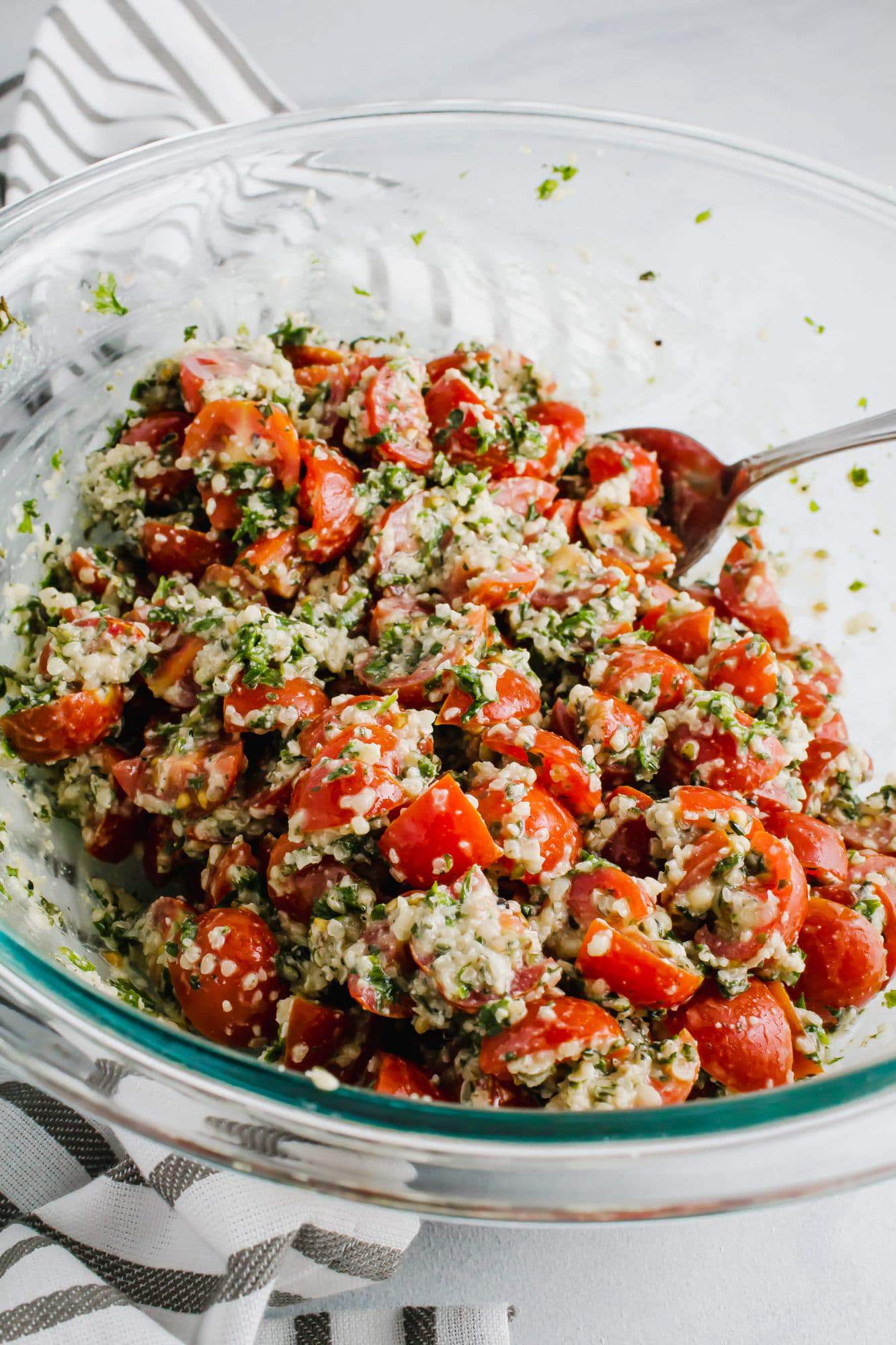 Hemp Seed Tabbouleh
I could probably live off of snack foods alone and lead a VERY happy, and full life, however, as a stay-at-home mom I often don't snack (or eat for that matter, which is why I'm still confused as to how I haven't lost the holiday weight yet, but that's a different post).
When I'm eating healthy, and I am currently, I've found preparing a ton of snack foods to be intimidating and so I just end up sticking to carrots and hummus. After a couple of weeks though carrots and hummus become a bit lackluster and I'm no longer snacking and eventually become hangry while cooking dinner like a mad woman.
I haven't reached the point of banishing carrots and hummus from the house, BUT with this being a new year and all I'm trying to move forward with healthy snack options. I'm staring you in the face intimidation!
While I've found some great and even healthy pre-packaged snack options at places like Costco, sometimes I do want a fresh ingredient snack.
When I lived in New York City just around the corner from our Upper East Side apartment was the most heavenly bagel shop. I often crossed the street to avoid the decadent gluten-filled aromas wafting from their doorways.
Like all good NYC deli's and bagel shops, they had refrigerated containers (containers you often have to stare at while standing in line to pay) filled with the most amazing salads such as macaroni, potato, and even tabbouleh.
I always loved to get a small container of the tabbouleh or one of the other salads, which I'd later enjoy with some sort of chip, but mostly pita chips. Tabbouleh, being a fresh ingredient mixture is fairly healthy to start, but anytime I can add a little crunch and some additional health benefits I'm all in.
This Hemp Seed Tabbouleh is the healthy, strong, 6-pack ab sister to the classic tabbouleh.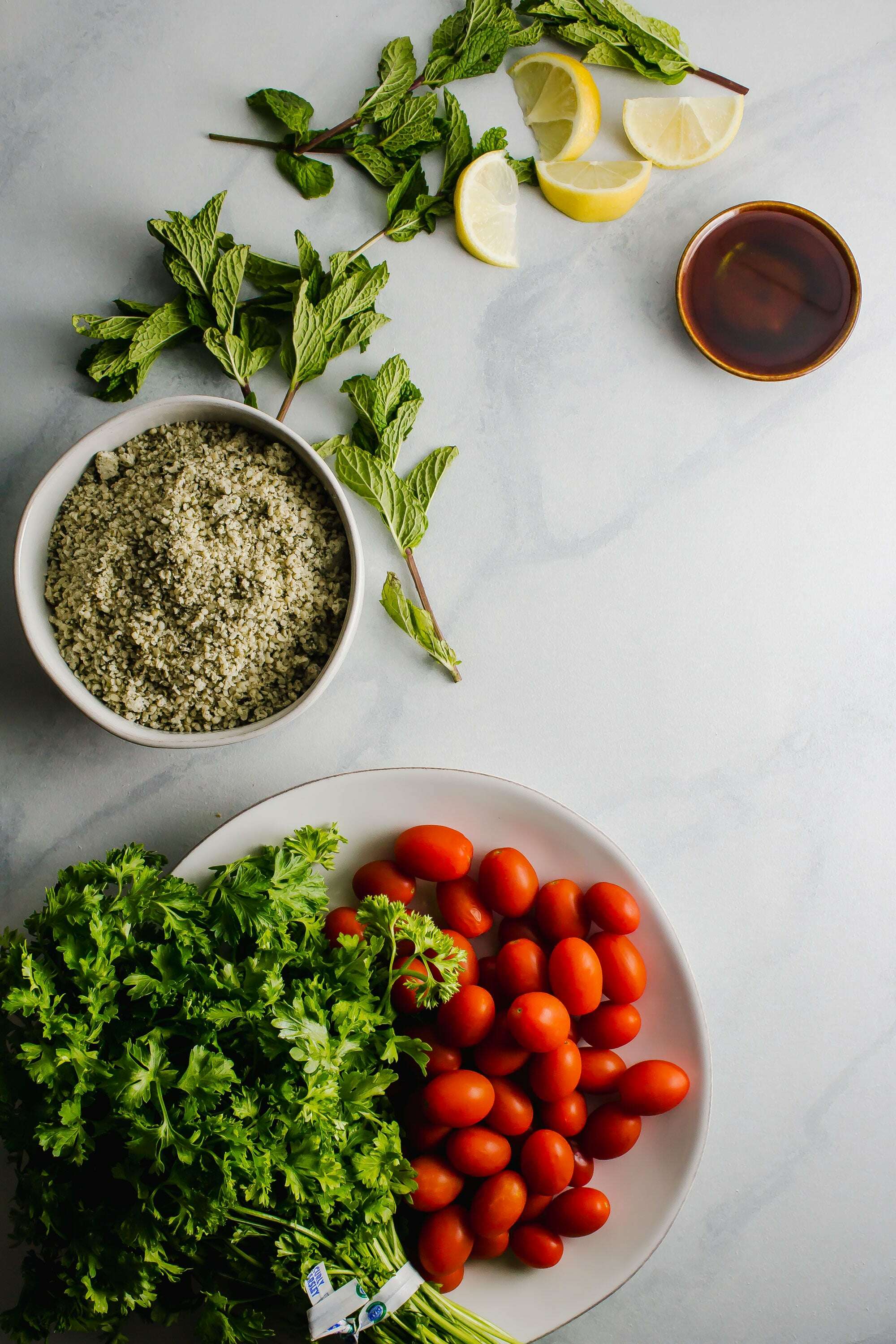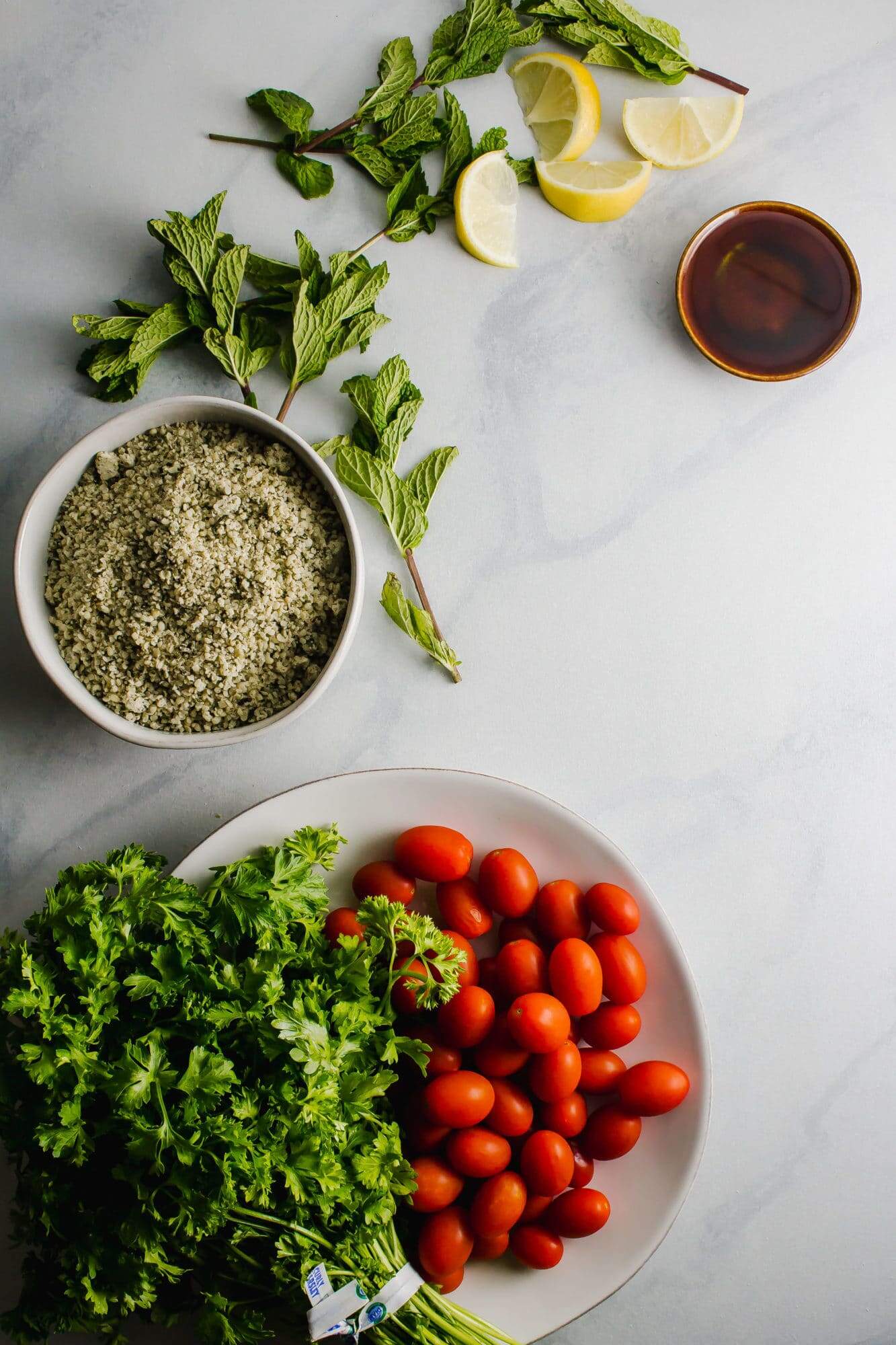 What is Tabbouleh?
Pronounced TEH-boo-Le. Is defined by Google as an Arab salad of cracked wheat mixed with finely chopped ingredients such as tomatoes, onions, and parsley. Swap the cracked wheat and gluten for the hemp seeds and cauliflower and a whole host of healthy ingredients come flooding in your life.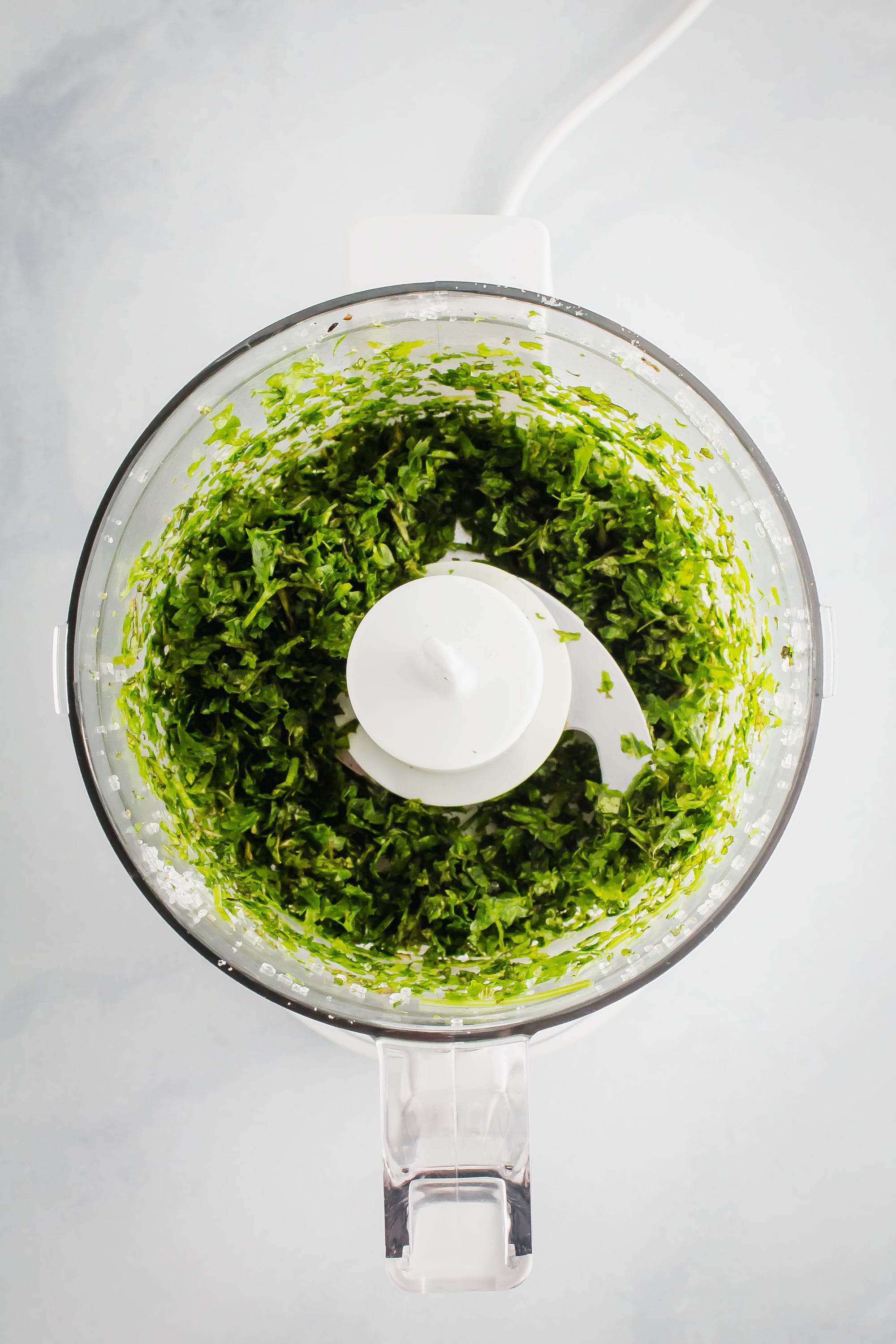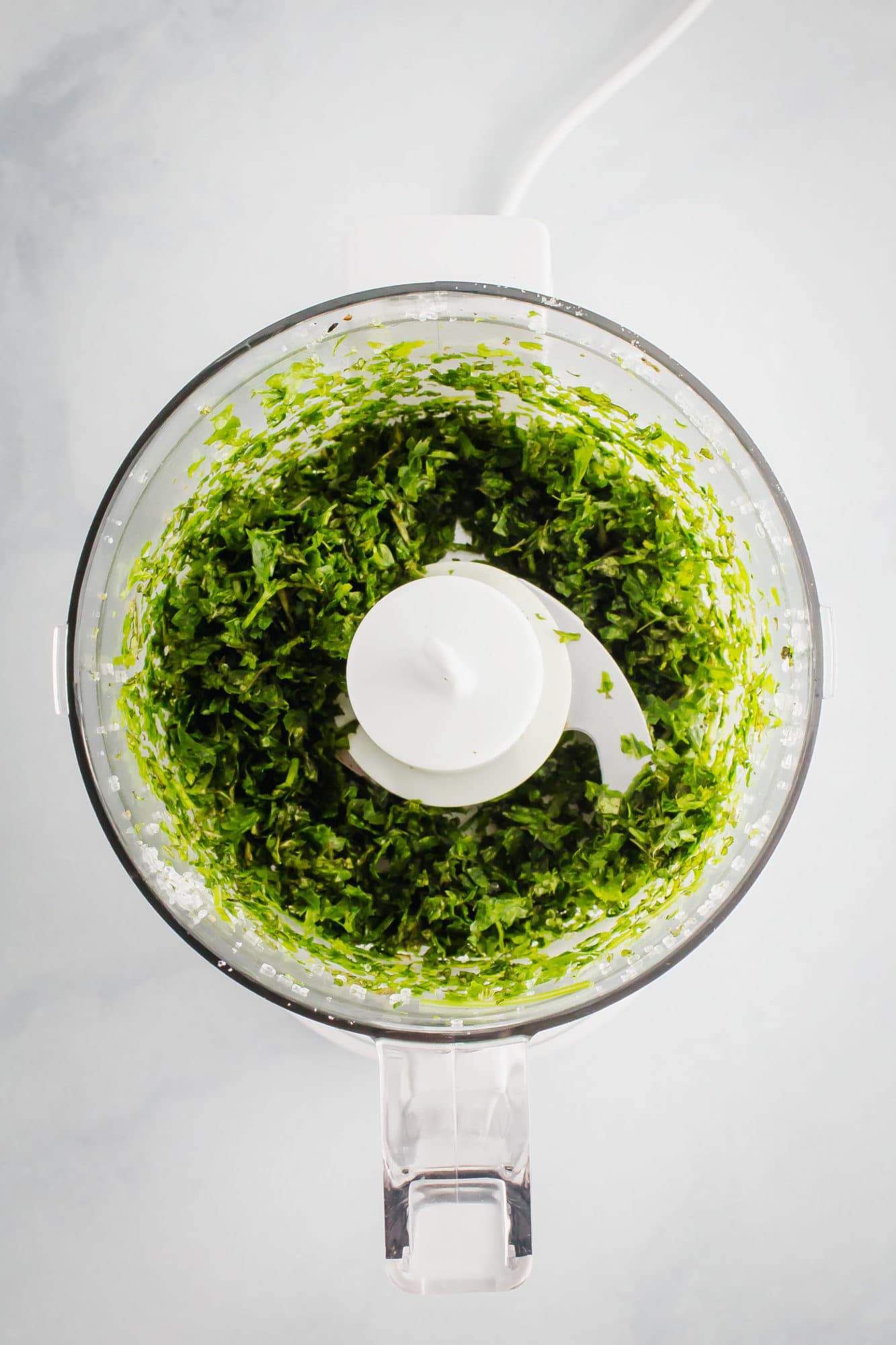 Health Benefits of Hemp Seed Tabbouleh
As stated the health benefits along from downing some Hemp Seed Tabbouleh is enough to get me diving straight into the bowl with a spoon.
Cauliflower is high in fiber, a good source of antioxidants, and its a great low carb alternative to rice.
Hemp Seeds are a good protein source, fiber-rich, protect the brain, boost heart health, reduce inflammation, improve skin conditions, ALL GOOD THINGS!
Parsley is high in vitamin K, which is good for bone health.
Tomatoes are beneficial for heart health and skin health
Cucumbers help with hydration, are good for the skin, contains antioxidants and honestly so much more.
I mean, why even bother with a facial at this point when you can just eat Hemp Seed Tabboulah.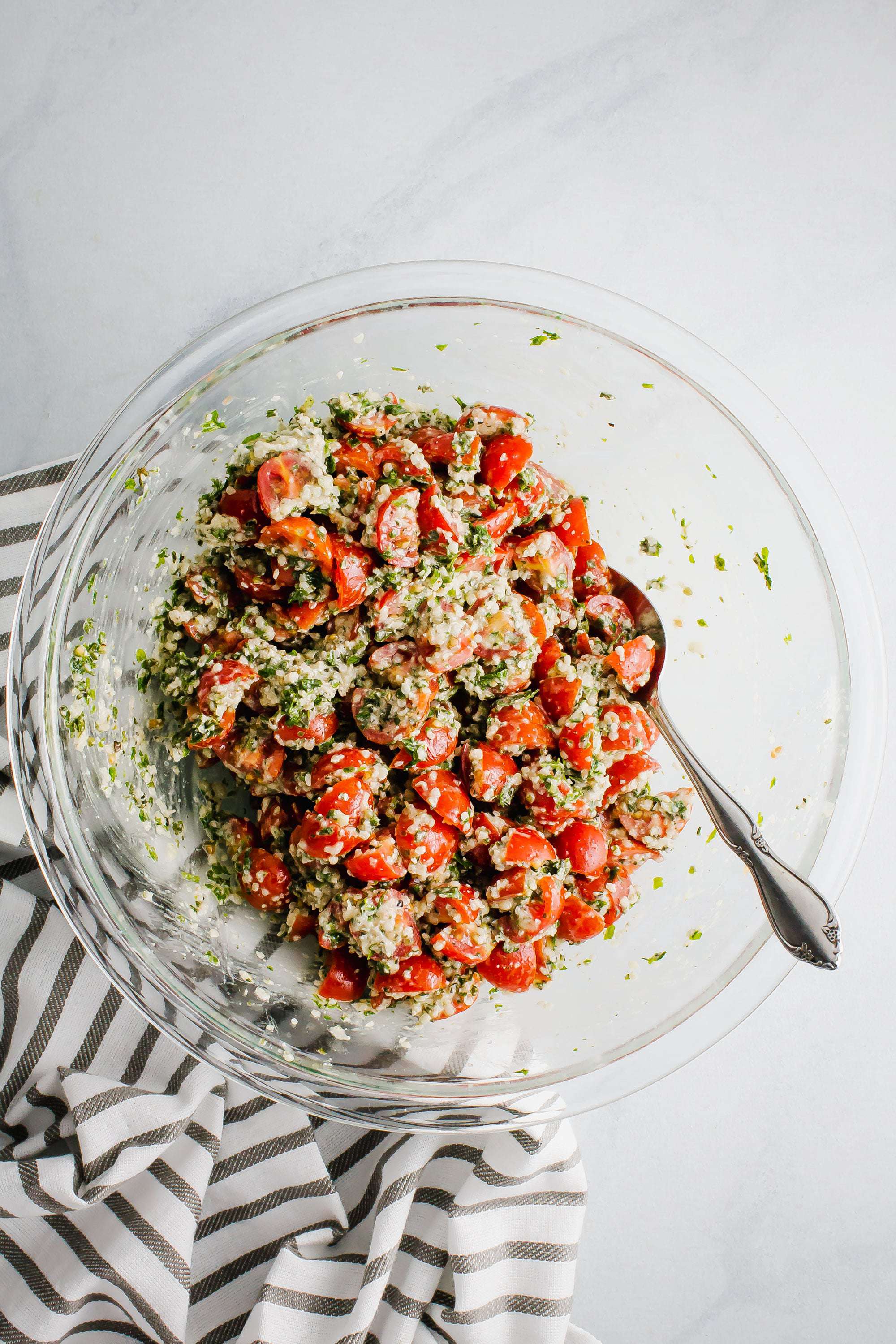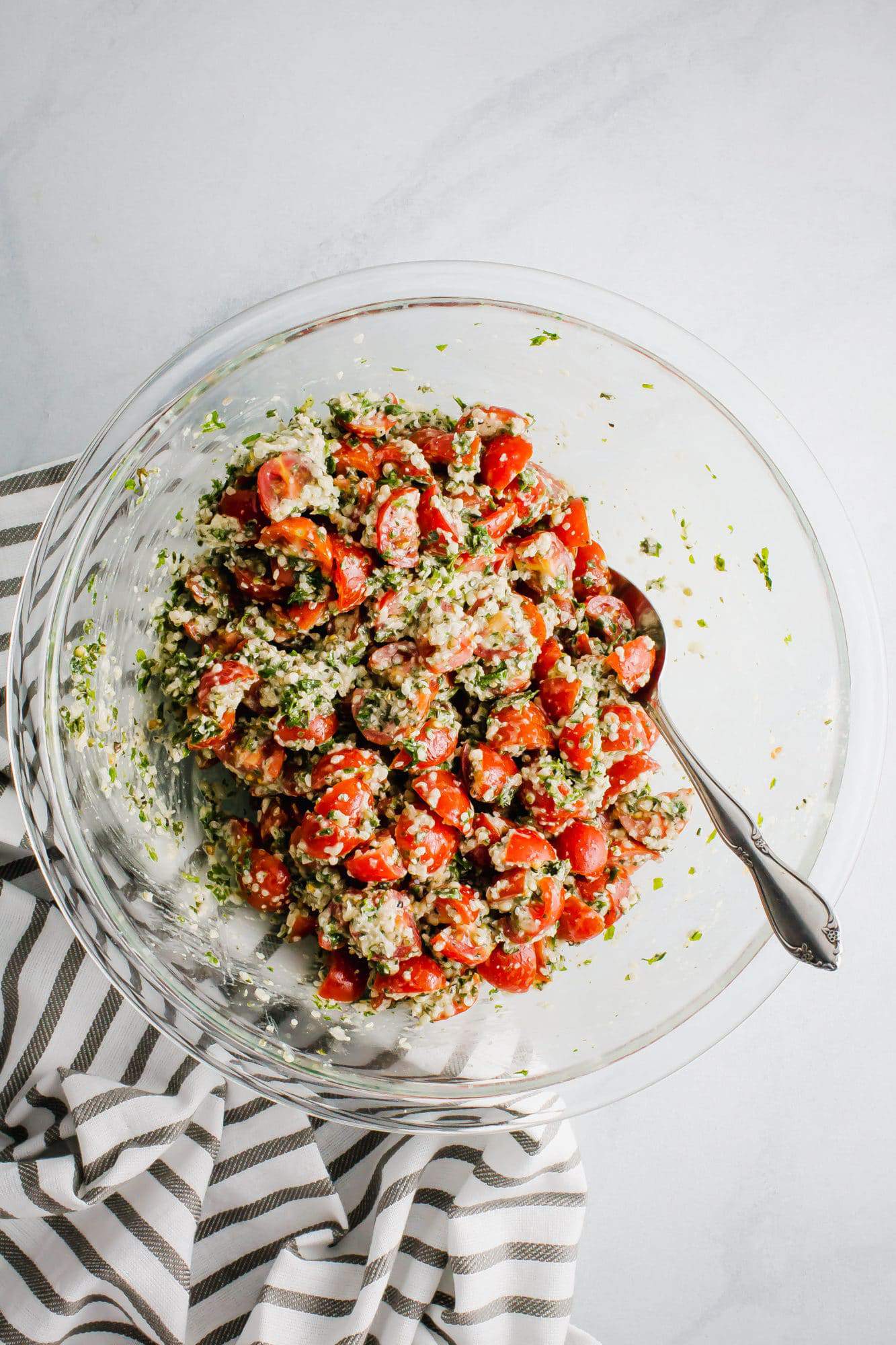 How to Choose a Good (Safe) Extra Virgin Olive Oil
Heat, light, and age all affect the polyphenol content of olive oil and so immediately you can rule out plenty of bottles in the store if they are NOT dark green as to appear almost black. The green shade is a protectant of harmful light exposure. Next up, cold-pressed is best aka "extra virgin," which is exactly the same thing. The reason being that heat, as I mentioned are bad for the olive.
Something important to note is only freshly pressed olives to create a green oil, and often it soon turns gold in the bottle. If the olive oil on the shelf pours out green it likely has added chemicals to keep that color (chemicals you don't want to intake.
Make sure to check the country of origin! Many countries such as Spain, Greece, Tunisia, Turkey, and even California sell quality olive oils, however, be leary of those that claim it's Italian. Read the fine print on the back to ensure both the olives and the oil come from Italy and not multiple countries.
To recap look for:
A dark green, almost black bottle.
Stick with cold-pressed/extra virgin olive oils.
Check the country of origin, especially if you're trying to buy Italian olive oil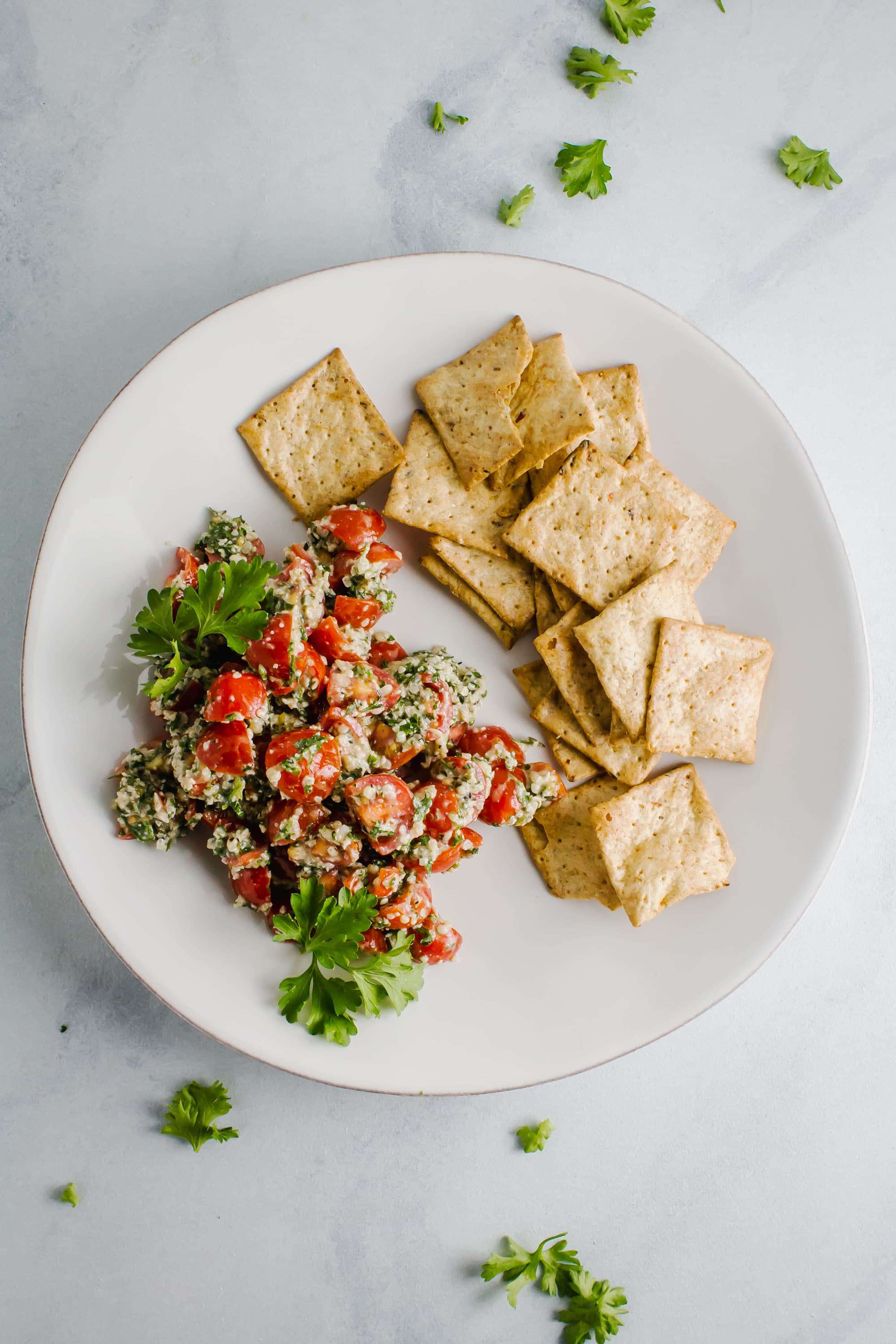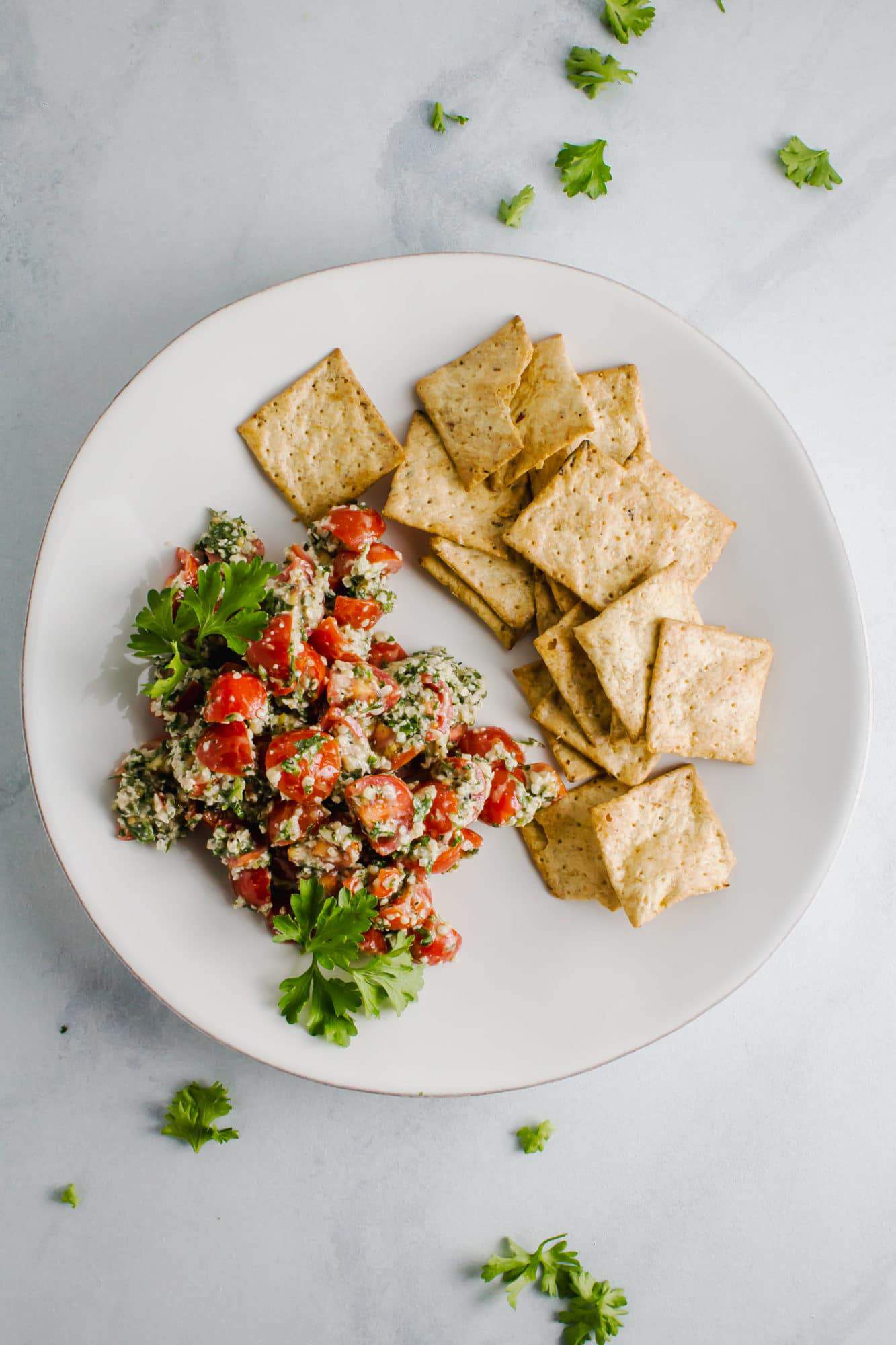 So if you're searching for a snack other than carrots and hummus, and one with the added benefits of a health spa than whip up a batch of this Hemp Seed Tabbouleh with your Extra Virgin Olive Oil savvy self!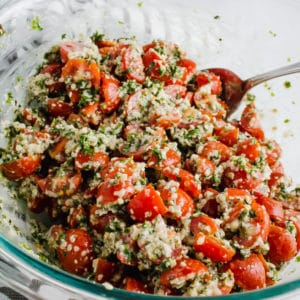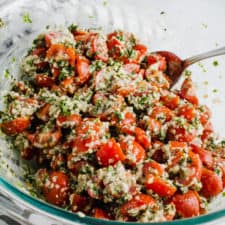 Hemp Seed Tabbouleh (Grain Free)
Hemp Seed Tabbouleh is a gluten-free, low-carb, spreadable dip snack loaded with health benefits. With wholesome ingredients such as a mixture of vegetables, hemp seeds, and healthy fats you'll be doing yourself a favor by snacking on this spread.
Print
Pin
Rate
Ingredients
2

cups

Riced Cauliflower

not frozen

1/4

cup

Hemp Seeds

1

cup

Parsley

chopped

4

Roma Tomatoes

diced

1

Cucumber

diced

1

Shallot

minced

3

Garlic Cloves

minced

1/4

cup

Extra Virgin Olive Oil

1

teaspoon

Lemon Zest

1/4

teaspoon

Salt
Instructions
Mix all the ingredients listed together in a large bowl and refrigerate for up to 2 hours prior to serving. Serve with your choice of crackers or vegetables.
Notes
Often with Riced Cauliflower being so mainstream you can find cauliflower already riced in the produce section of your grocery store near the cut or spiralized vegetables.
Nutrition
Serving:
1
tablespoon
|
Calories:
41
kcal
|
Carbohydrates:
2
g
|
Protein:
1
g
|
Fat:
3
g
|
Saturated Fat:
1
g
|
Sodium:
31
mg
|
Potassium:
100
mg
|
Fiber:
1
g
|
Sugar:
1
g
|
Vitamin A:
316
IU
|
Vitamin C:
12
mg
|
Calcium:
13
mg
|
Iron:
1
mg