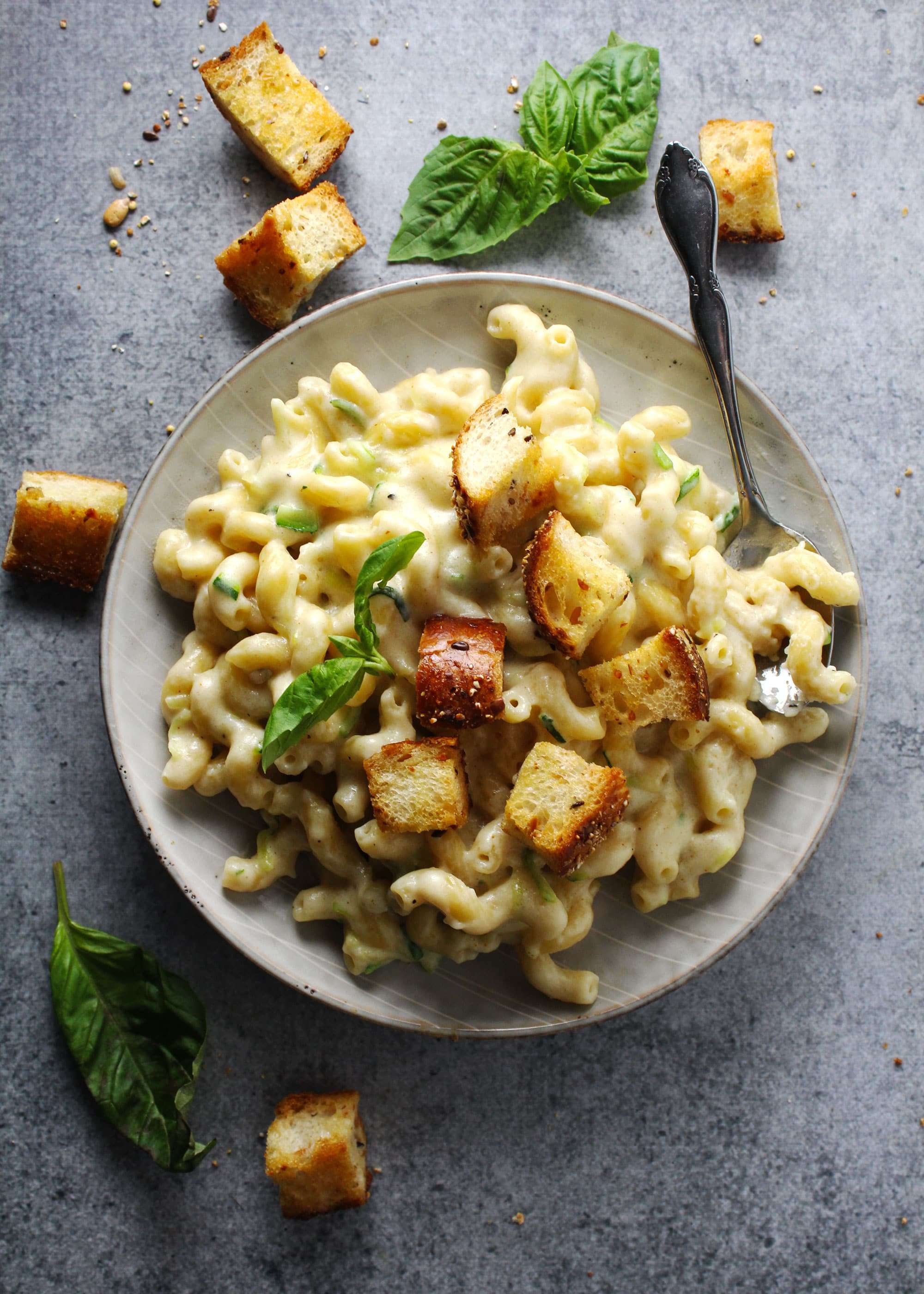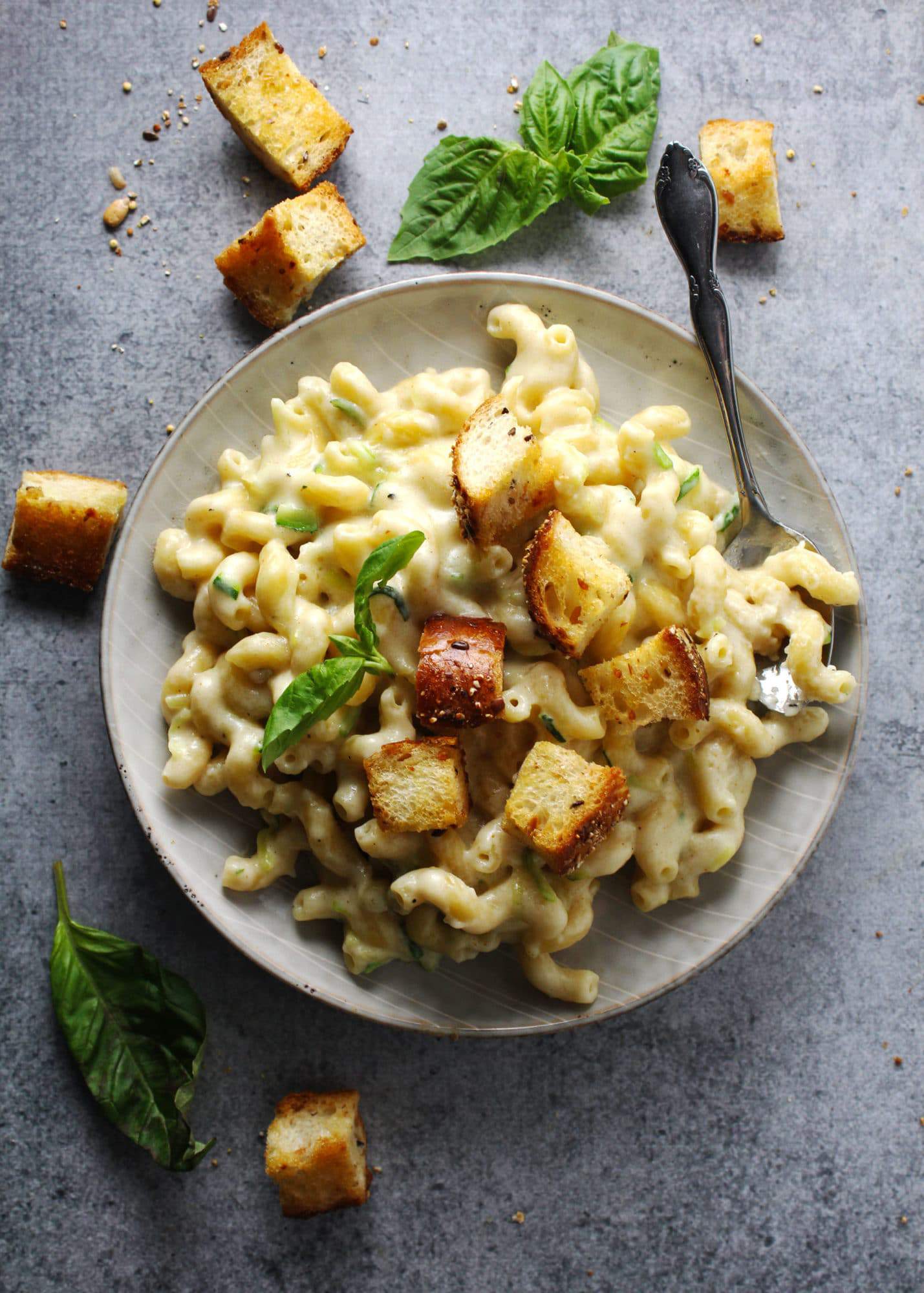 I'll confess I made this dinner for myself. Perhaps it was caving to my daughter's constant pleas for mac and cheese or my lack of willpower to say no to all good things filled with cheese, sugar, and good ole carbs this time of year. This creamy, cheesy goodness happened and it's a good thing, a very good thing.
Did I say "good" enough, because really I should be saying "great" or "amazing," maybe even "magical," because this is what's happening in this recipe today. There are 2 types of cheese here (two friends, you read that right) melted into a creamy, slightly runny cheese sauce that has the potential to cause daily cravings, much like my daughter is experiencing. Speaking of kids, or adults currently consuming too much sugar (Hi!!), it also has some hidden zucchini even the pickiest of eaters can't detect.
Disclaimer: Yes, you can see the flecks of zucchini in the photos, however, this was intentional for the sake of photography. I'll show you how to make the veggie COMPLETELY undetectable in the recipe below. Moms I got you. ????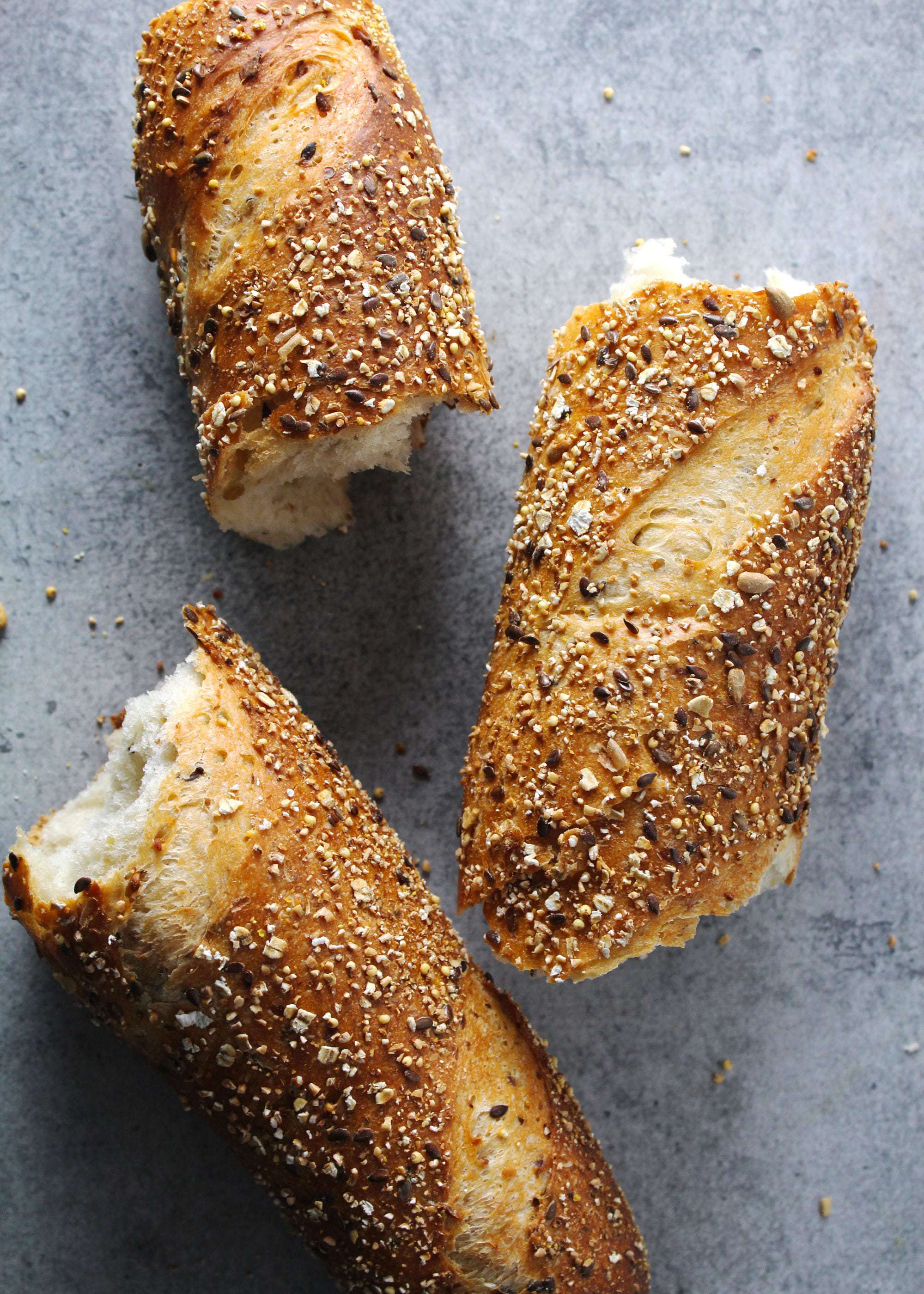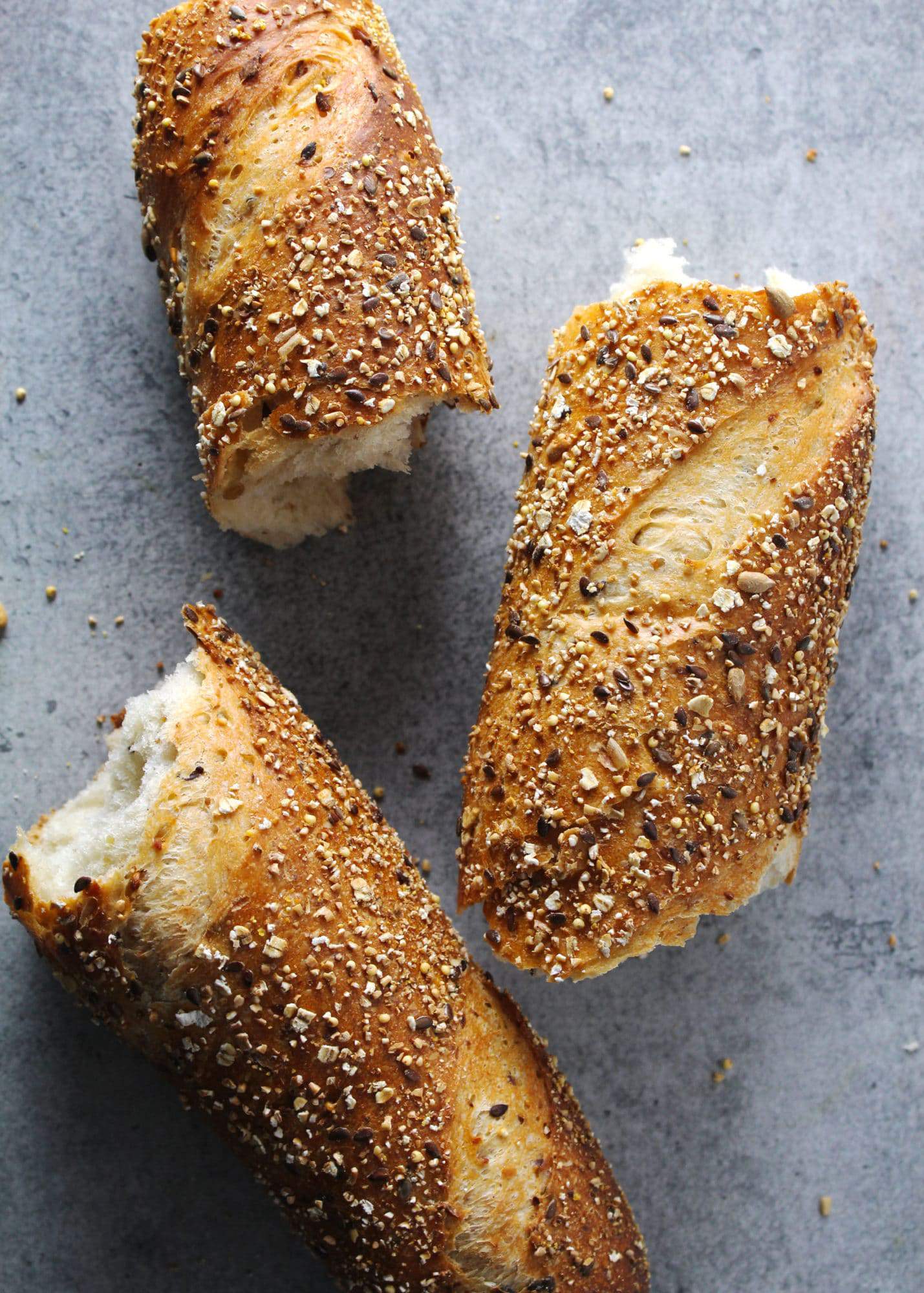 Currently, my status is "remains in sweatpants or leggings (athleisure, right?!?), once again" and a heaping portion of this hidden zucchini mac and cheese pairs nicely with such attire. We've reached a point in the year, or rather the end of the year, where hectic schedules and parties are in abundance and my energy to dress up and prepare meals is focused entirely around these bigger events. Therefore, the day-to-day becomes an afterthought and comfy clothes and comfort food comes into play.
Obviously, there's a time and place for boxed mac and cheese, I get a chaotic life, but really this is easy. I only do "easy" this time of year. While this recipe isn't quite as easy to prepare as the box style mac, it's still easy and you'll be rewarded with enough food to feed a family of 4 for 2 nights, or a family of 3 for potentially 3 nights, or just feed a family of 8 (God bless you!).
See we're working with one pot for this dinner (or lunch, or hey just go for it for breakfast), and that's the kind easy my overloaded Christmas-cluttered mind needs, craves, right now. The sauce cooks the noodles for you, no straining needed! A sauce that actually helps you cook friends, that's exactly what I'm talking about. Thank you sauce!!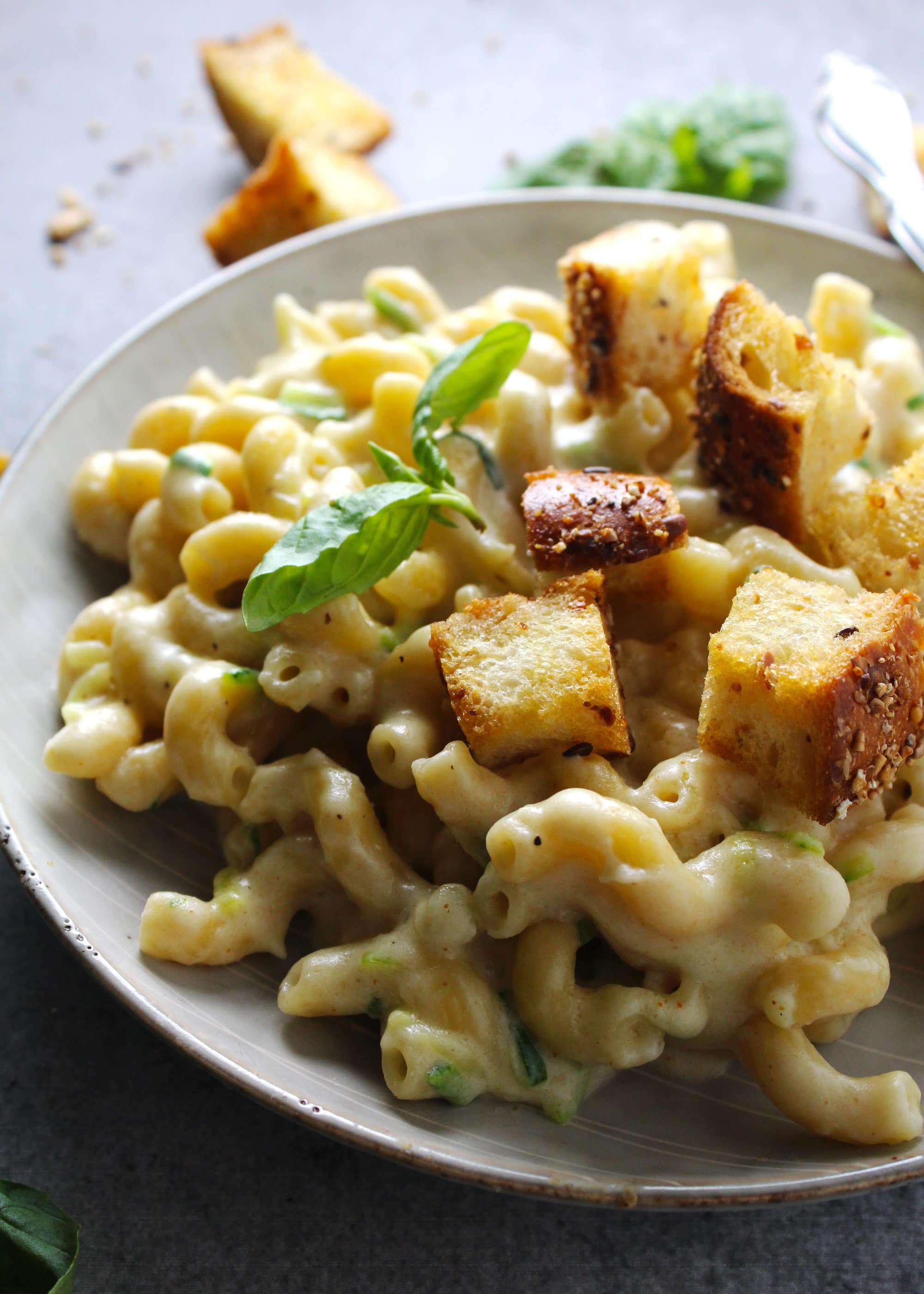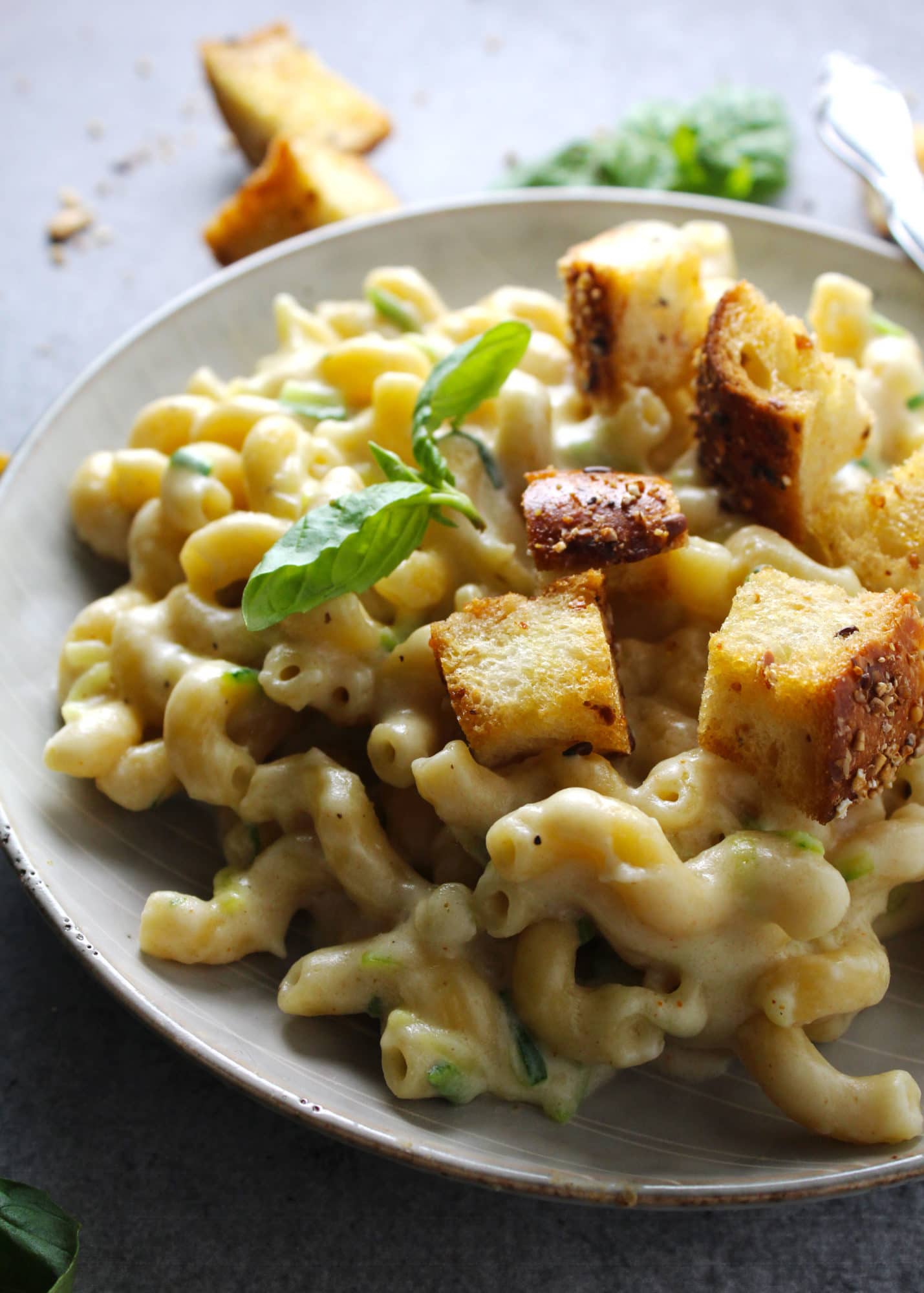 There is one other thing we need to address and that's these super easy (I wouldn't lie to you) croutons that I really think you need to make alongside this mac and cheese. This will technically remove the "one pot" label on this meal, but it's kind of a crucial aspect, and again it's super easy. All you're really doing is slicing the baguette, tossing it with oil and baking it. See, easy!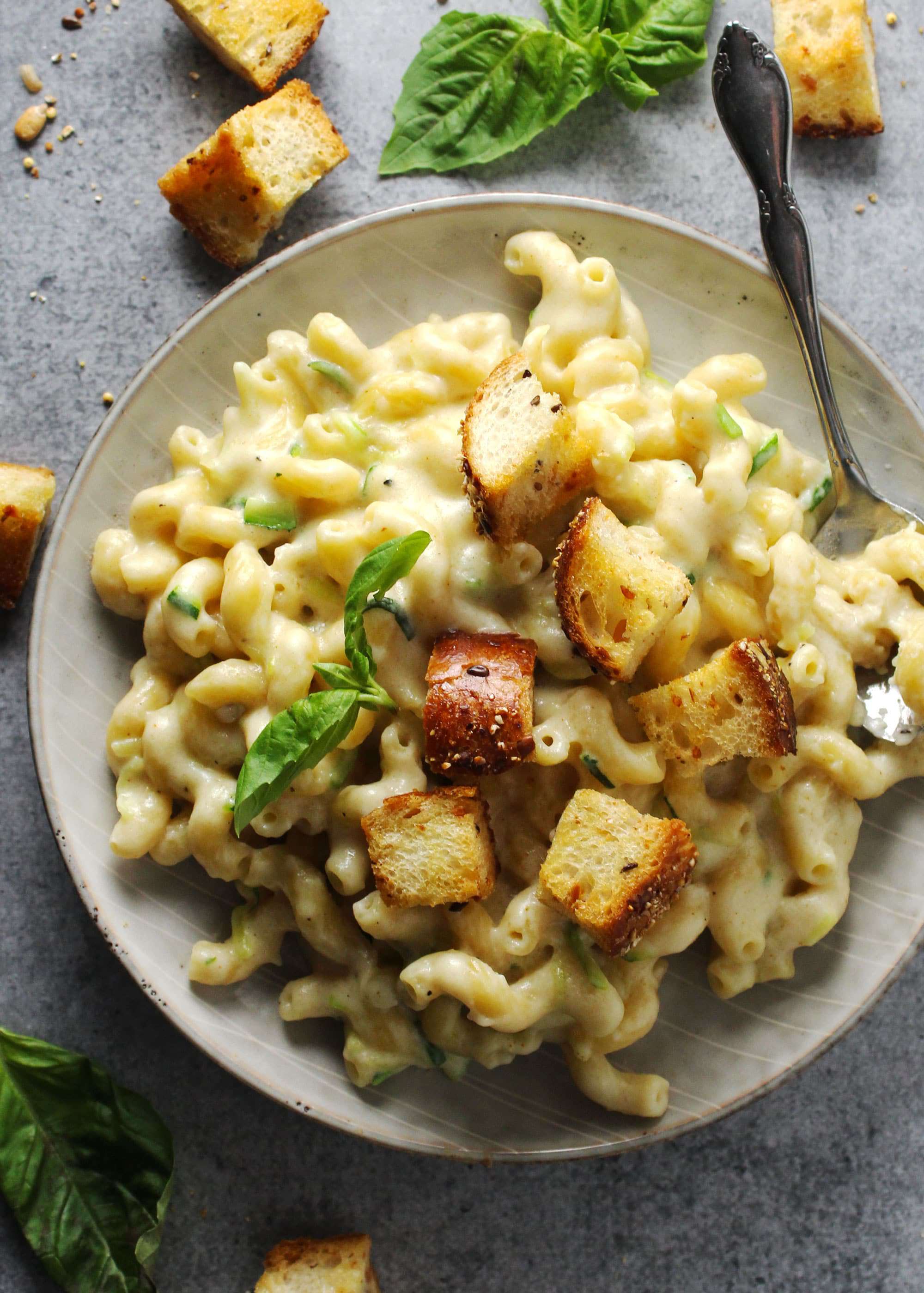 And another thing… Mentioned above, but this meal is best enjoyed while wearing sweatpants (maybe, potentially, even eaten straight from the pot, this is a no judgment zone!).
Print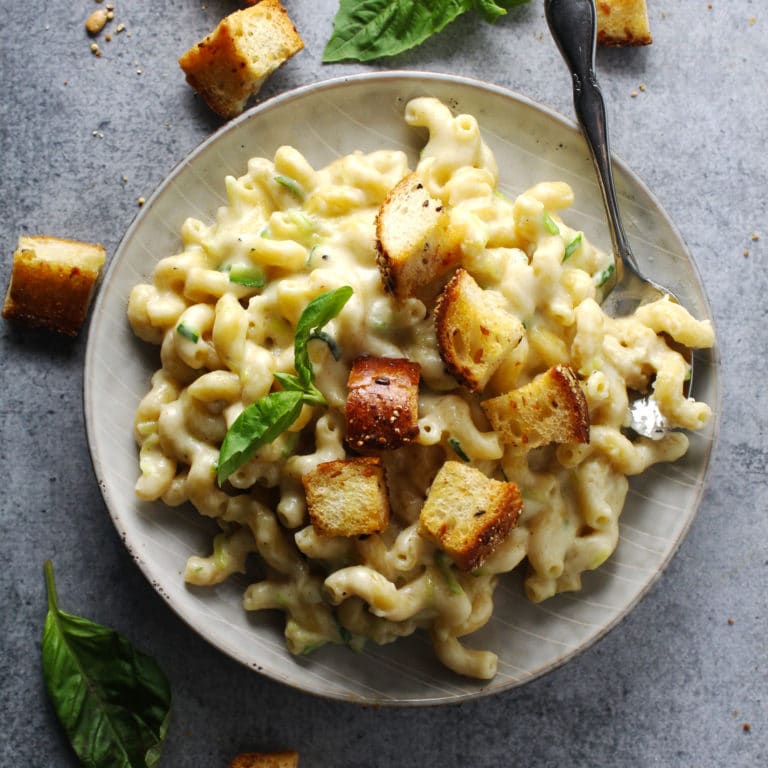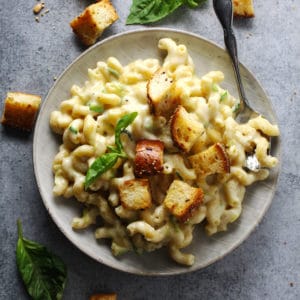 Hidden Zucchini Mac and Cheese
Author:

Prep Time:

5 Mins

Cook Time:

18 Mins

Total Time:

23 Mins

Yield:

6

Servings

1

x
---
Description
A super tasty comfort food favorite mac and cheese dinner for both kids and adults with hidden zucchini that even the pickiest eaters will eat.
---
Scale
Ingredients
Mac and Cheese
4 tablespoons

Butter

1/4 cup

All-Purpose Flour

3 cups

Whole Milk

2 cups

Water

1

pound Macaroni Pasta

2

medium Zucchini, grated

3 cups

Shredded Cheddar Cheese

1 cup

Gouda Cheese

1/2 teaspoon

Garlic Powder
Salt and Pepper to taste
(optional, but highly recommended) Croutons
1

deli-style Baguette

2 tablespoons

Olive Oil
Sea Salt to taste
---
Instructions
Melt the Butter in a large stockpot over medium heat. Whisk in the Flour until it begins to bubble and reduce heat to medium-low, continue to cook for 1 additional minute. Gradually, whisk in the Milk, Water, and Pasta. Increase the temp to medium-high and bring the mixture to a boil, stirring frequently, continue to cook until the pasta is al dente, about 15 minutes. If needed add an additional 1/4 cup of water if the mixture begins to dry and the pasta has not yet finished cooking.
Once the pasta is al dente, stir in the Zucchini, both Cheeses, Garlic Powder, and Salt and Pepper. Stir until the cheese is fully melted and combined with the pasta.
BAKED CROUTONS
Preheat the oven to 350 degrees. Slice the Baguette into 1-inch cubes and toss with Olive Oil. Season with a little Salt and place on a rimmed baking tray. Cook for 15 minutes or until the edges turn golden brown.
---