This dairy-free delightful frozen smoothie is the perfect start to a healthy morning. Despite its bright green color, this Simple Green Smoothie doesn't even taste the least bit green, which is why it's great for a beginner. It's called simple because it only contains 5 ingredients, but 5 filling and healthy ones.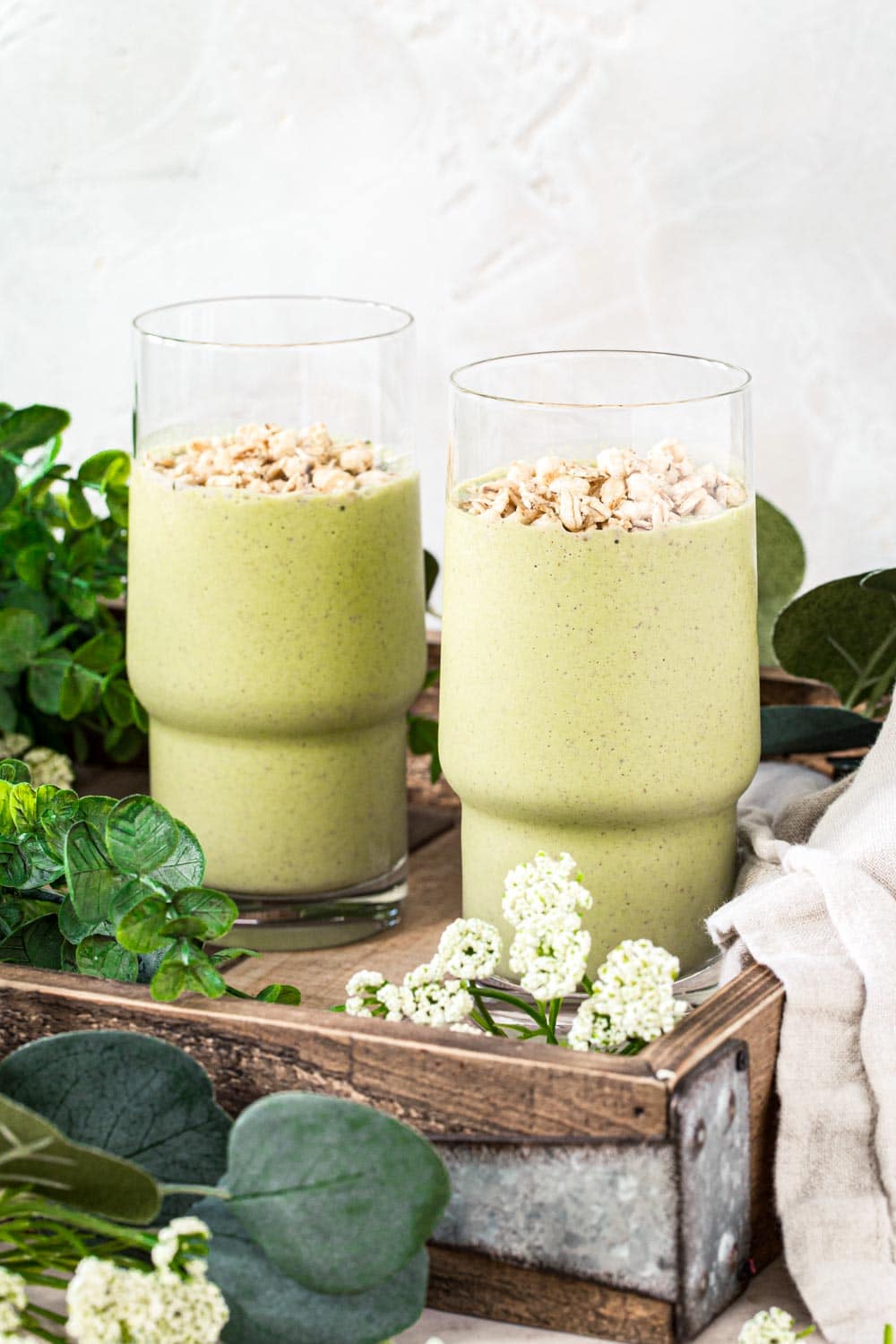 Simple Green Smoothie
Does this smoothie taste "green" or like spinach? Nope, not at all. In fact, the banana and peanut butter in this smoothie blend the flavors together and mask the spinach.
There was a time in my life several years ago where I drank this smoothie every single day for lunch. I knew it was a delicious and easy way to get some more greens into my diet because I could load it up on spinach.
This easy green smoothie can be made in minutes and is versatile, meaning you can add or even change up the ingredients. I personally like to add some ground flaxseed to bulk it up, which keeps me full all day.
Ingredients in a Simple Green Smoothie
Though there are just a handful of ingredients in this easy green smoothie recipe they're still powerful and healthy. You can change up the ingredients or even add to the recipe if you'd like some additional flavor or nutrients.
Dairy-Free Milk: the type of milk base you use is entirely up to you and you can even use water. I prefer oat milk, but Almond milk, cashew milk, or even coconut milk are delicious options.
Frozen Banana: Using a frozen banana is best, otherwise the smoothie won't be cold.
Baby Spinach: Fresh spinach is the best option for this recipe and if you can't find it try something like fresh kale.
Nut Butter: Since this is an easy and one many first-timers try I always use peanut butter as my nut butter choice, but you can use almond butter, cashew butter, or any other type of nut butter.
Ground Flaxseed: This is optional, but it will bulk up the smoothie, which will keep you fuller longer as well as increase the amount of protein.
How to Make a Simple Green Smoothie
All the ingredients for this recipe go into the blender and are then liquefied until smooth. I love a good high-powered blender like my Vitamix A3500, which I use just about every day.
Place all the ingredients into your blender and blend until smoothie and creamy in texture.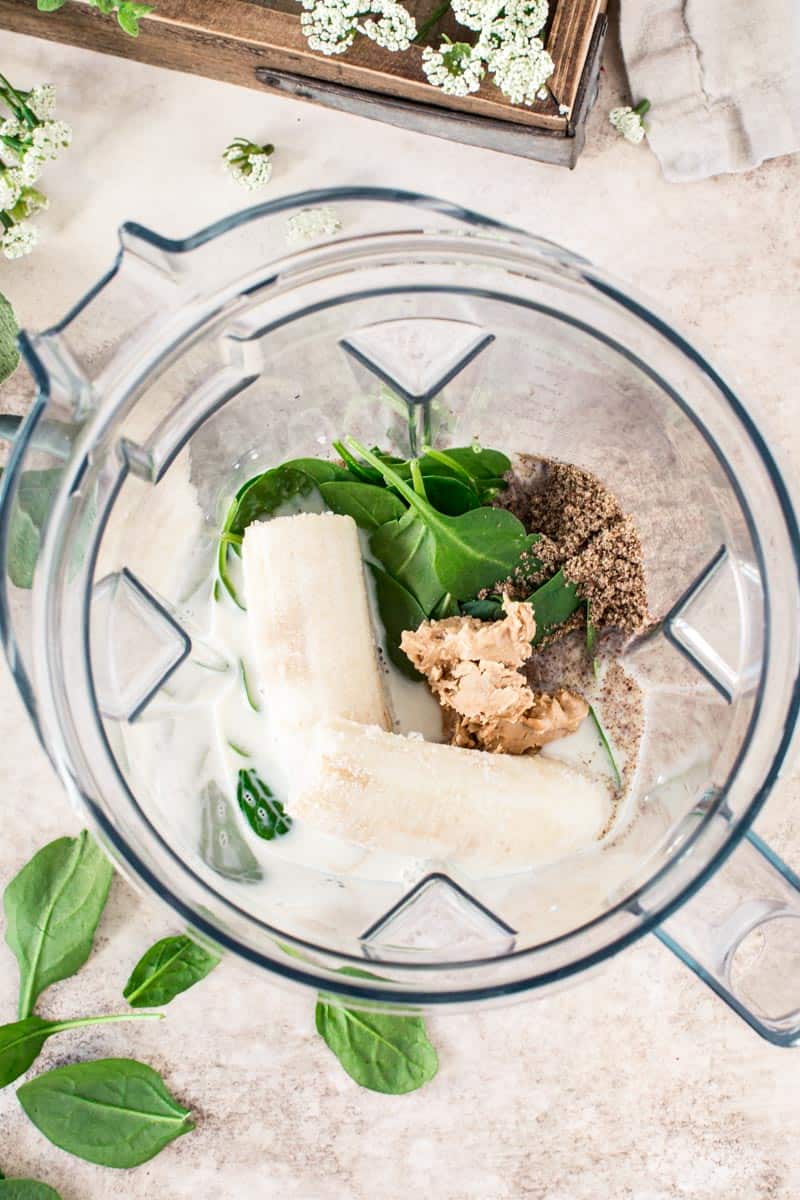 If the mixture is too thin then try adding half an avocado or another half of a frozen banana. If it's too thick then add more milk.
If you'd like to make this smoothie ahead of time you can place all the ingredients, except for the milk into a freezer-safe ziptop bag and store it for up to a month.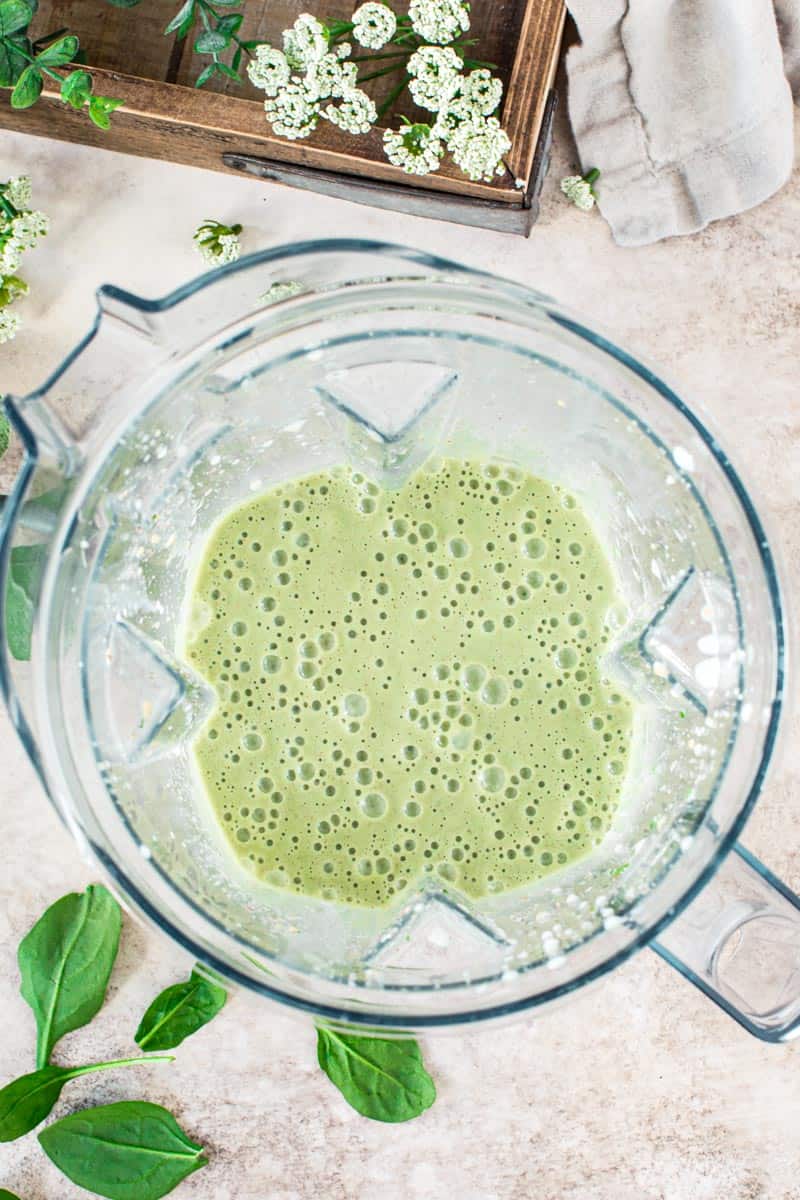 Additional Add-ins
As I mentioned above this recipe is extremely versatile, which means you can easily change up the ingredients or add more. If you just want some extra smoothie options without having to figure out a recipe of your own then try this pomegranate mango smoothie or this coconut antioxidant smoothie too.
Protein Powder
Fruit
Vegetables
Seeds: Chia seeds and hemp seeds are some great options.
Coffee
Granola: I like to top my smoothies with granola for some extra flavor.
What greens to put in a smoothie?
This is called a green smoothie because of the spinach and green color, however, that doesn't mean you have to add just spinach. There are several other greens you can add. Find some delicious options below.
Not all the options listed below are vegetables either. There are many ways you can achieve a green smoothie.
Kale
Swiss Chard
Beet Greens
Carrot Tops
Mint
Celery
Avocado
Green Apple
Cucumber
Can this smoothie be frozen?
Yes. I recommend setting up smoothie bags by placing all the ingredients except the milk into individual freezer-safe ziptop bags and storing them in the freezer until ready to use.
You can prepare the smoothie though and place it in a freezer container and store it in the freezer until you're ready to thaw it out.
Do green smoothies help you lose weight?
While this green smoothie is extremely healthy and filled with fresh ingredients it's not a magic weight loss drink, unfortunately. A balanced diet of fresh foods and exercise are some of the best options for losing weight. I'm not a nutritionist or dietician but would suggest speaking with one if weight loss is a goal of yours.
Recipe Notes and Tips:
Use frozen bananas for this recipe because it makes it super thick and cold. Don't add ice cubes either because it will dilute the flavor of the smoothie.
For a thicker smoothie add half an avocado or another half of a frozen banana. To thin it out add some more liquid.
Fresh spinach is the best spinach option, however, you can swap it out for other leafy greens such as kale.
If you're allergic to nut butter then I recommend using sun butter.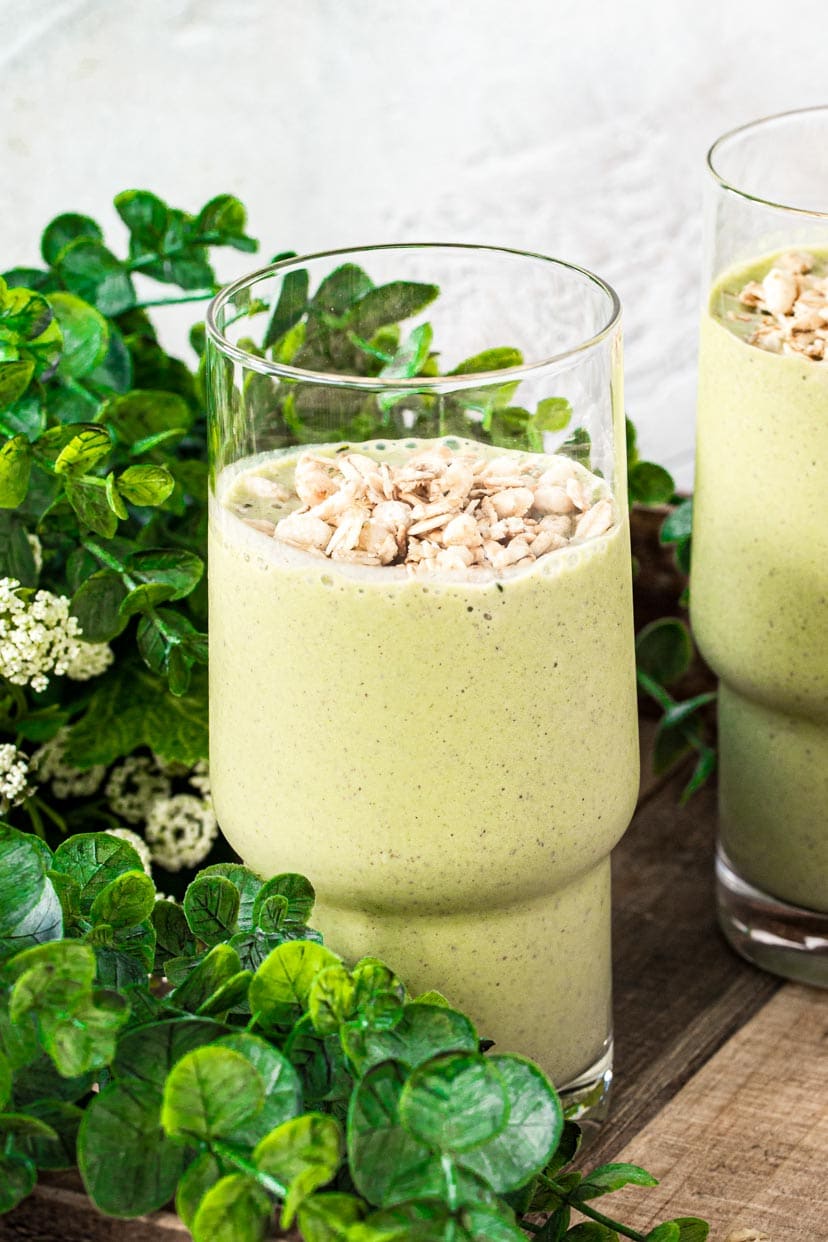 Ingredients
1

cup

Almond Milk

or dairy-free milk alternative

1

medium

Frozen Banana

2

cups

Baby Spinach

1

tablespoon

Almond Butter

or other nut butter

1

tablespoon

Ground Flaxseed
Instructions
Place all the smoothie ingredients into a strong blender and press the liquify or high blend option. Blend until the ingredients are smooth.

If the smoothie consistency is too thick then add more almond milk 1/4 cup at a time until the desired consistency is reached.

Pour the mixture into a tall glass and add any additional toppings to the smoothie.
Nutrition
Serving:
1
smoothie
|
Calories:
272
kcal
|
Carbohydrates:
36
g
|
Protein:
9
g
|
Fat:
13
g
|
Saturated Fat:
1
g
|
Sodium:
387
mg
|
Potassium:
926
mg
|
Fiber:
8
g
|
Sugar:
16
g
|
Vitamin A:
5702
IU
|
Vitamin C:
27
mg
|
Calcium:
415
mg
|
Iron:
3
mg