Pure comfort food, Instant Pot Chili Mac and Cheese is a simple hearty chili style stew with a creamy texture. This easy instant pot recipe has a ground beef base seasoned with garlic, onion, and chili spices such as cumin, paprika, and chili powder, all combined with elbow pasta and extra cheese for one delicious meal.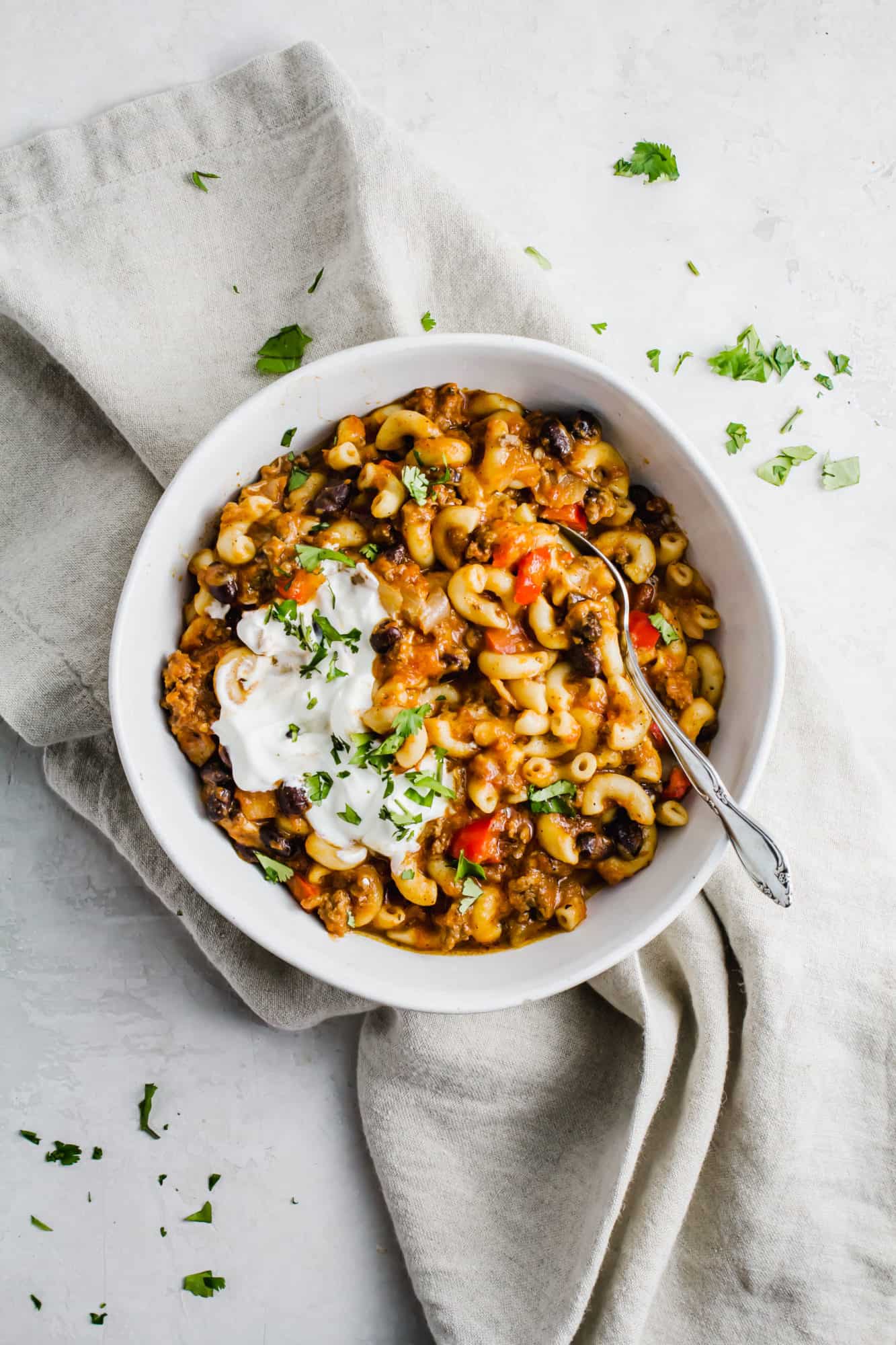 A bowl of chili and a bowl of mac and cheese walk into a bar… I was hoping by the time I finished typing that sentence I'd have a punchline, but alas I do not.
My children have been sharing lately entirely too well… Actually, "well" is the exact opposite of what we all are and what we are is sick. For the last, oh I don't know, 4 months my kids have been passing some level of a winter cold back and forth and Jonathan and I have been trudging through life with little sleep due to the circumstances. Even as I type this I can feel that slight scratch in my throat and know it's coming. They finally got me…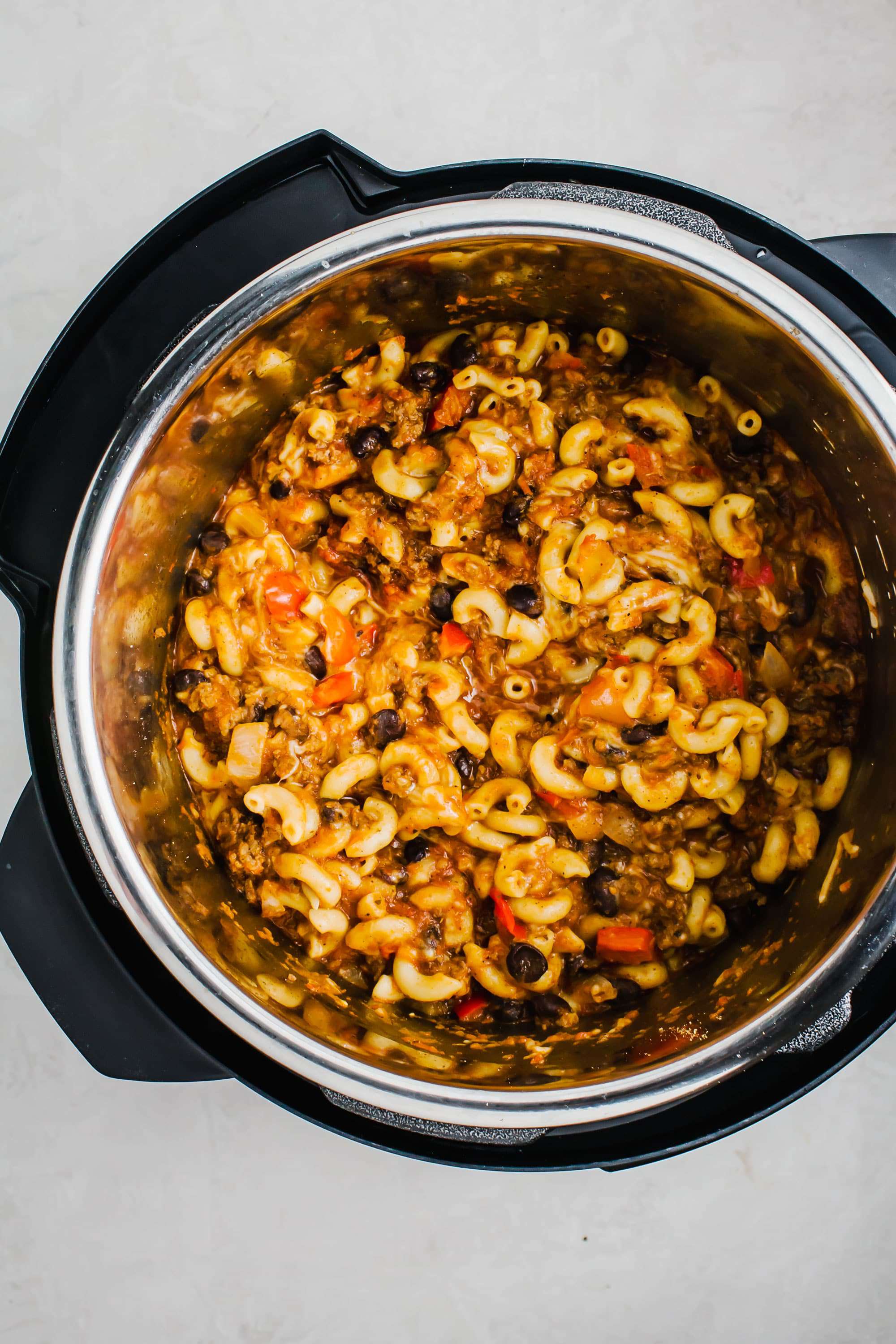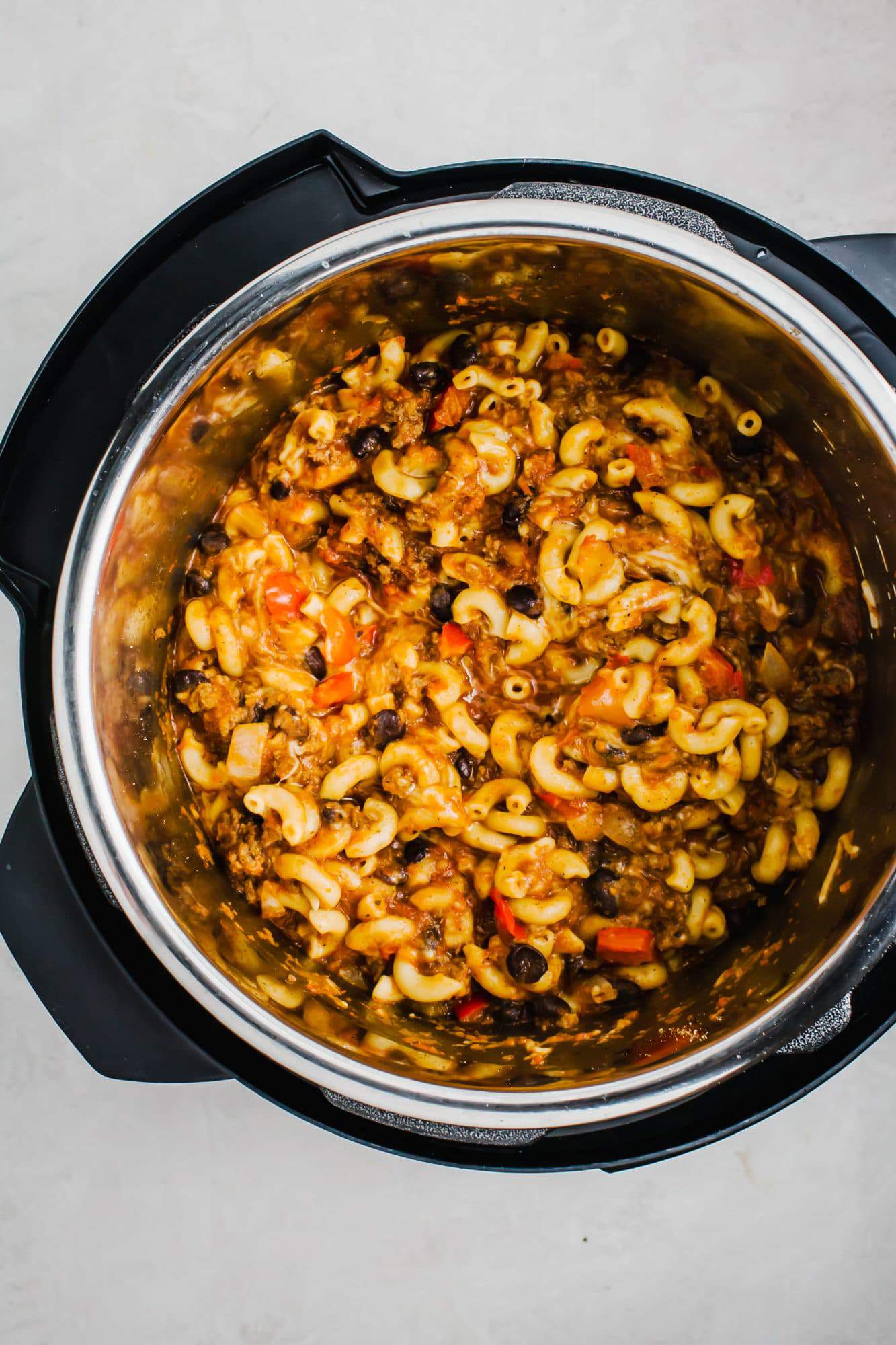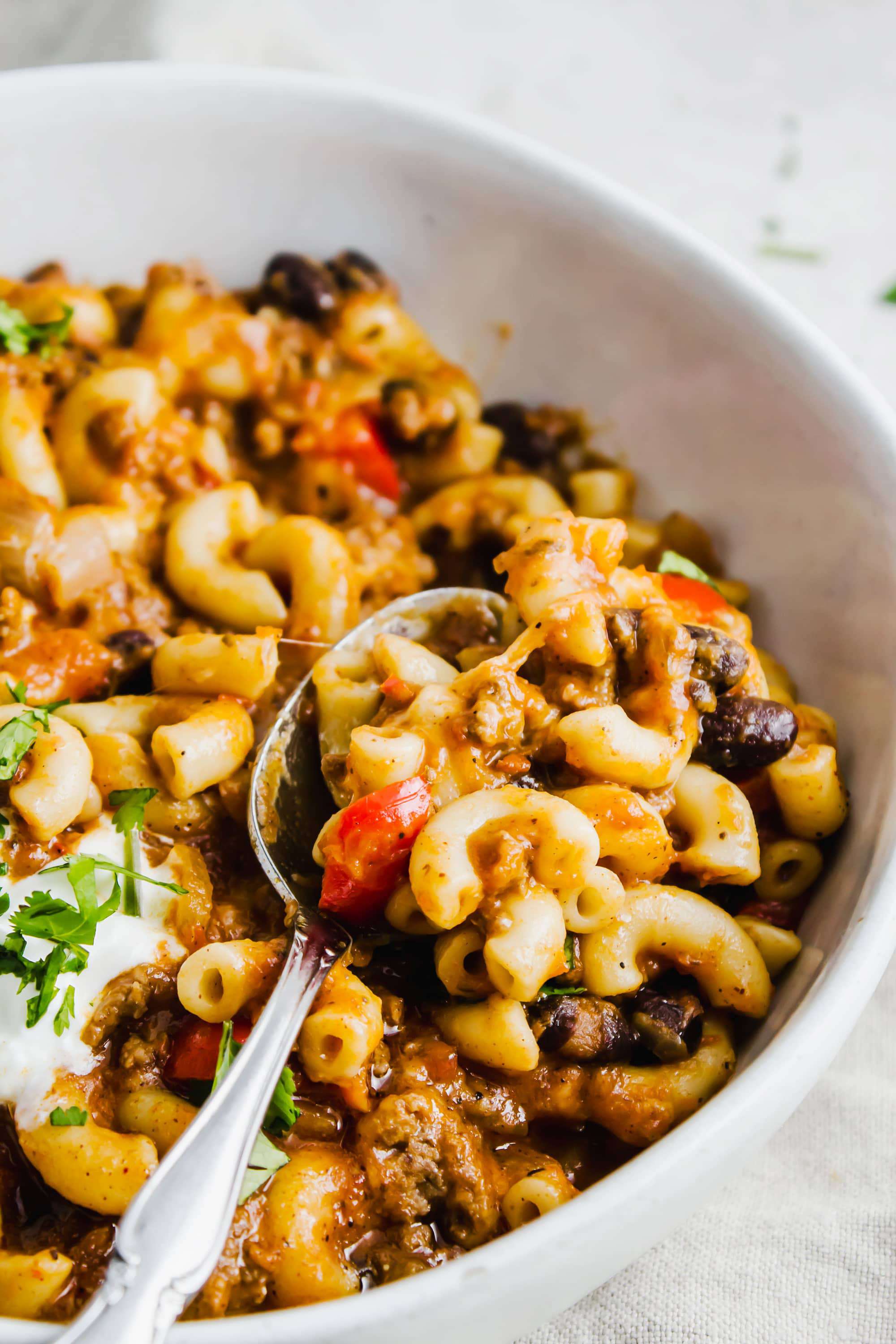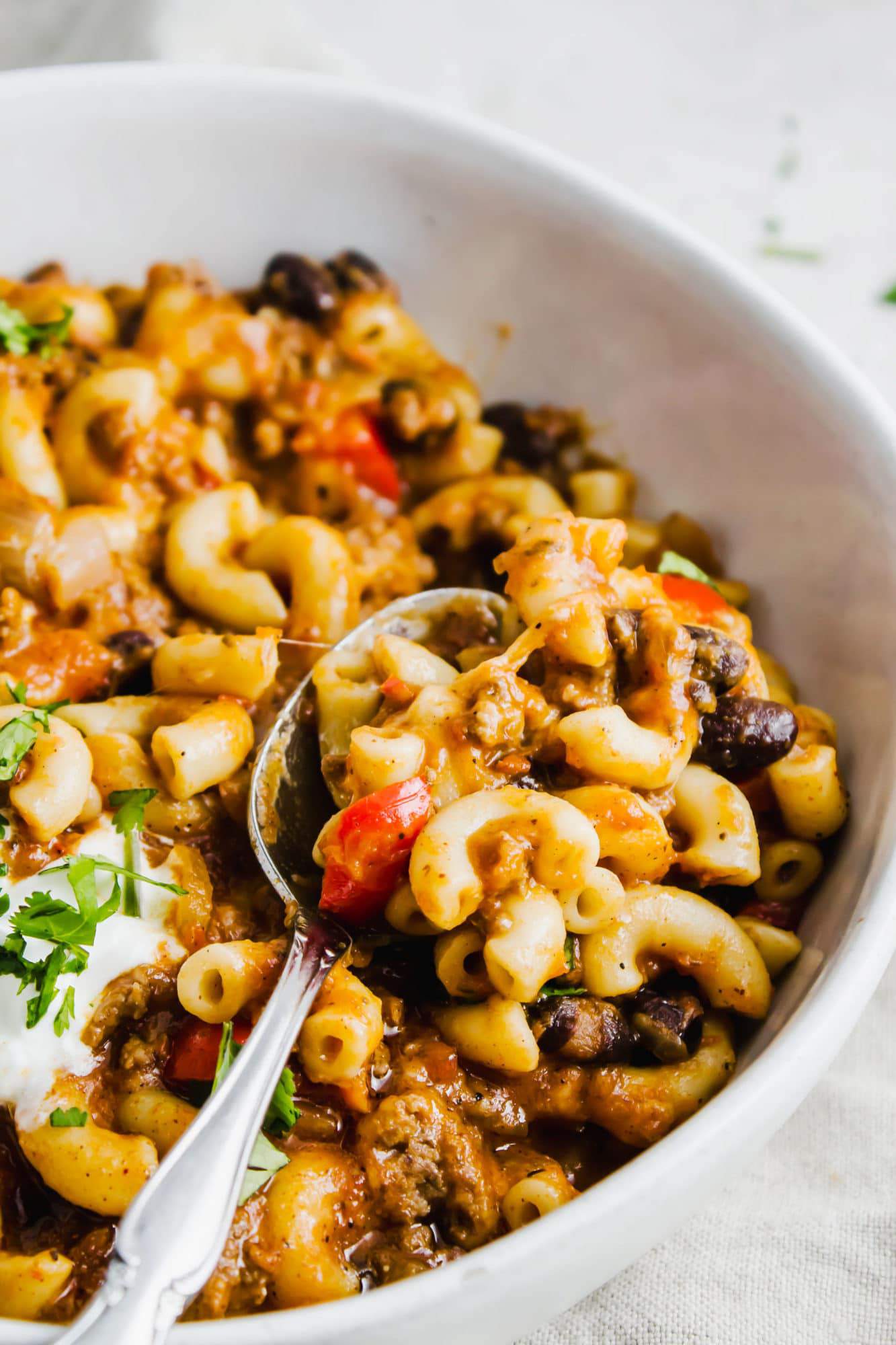 All I can think about eating is pure comfort food right now and what better way to improve life (and feel better about potentially getting sick) than combining two of the best all-time comfort foods? Chili + Mac and Cheese! What a time to be alive folks…
The base of the macaroni-and-cheese-type-stew is the simple no fuss chili. Ground beef, garlic, onion, all the usual spices of cumin, paprika, chili powder make a delectable appearance and provide the tiny spice kick you need this time of year. Combined with the elbow pasta and cheese of your choice (I prefer cheddar) create an ultimately creamy texture and essentially perfect comfort food…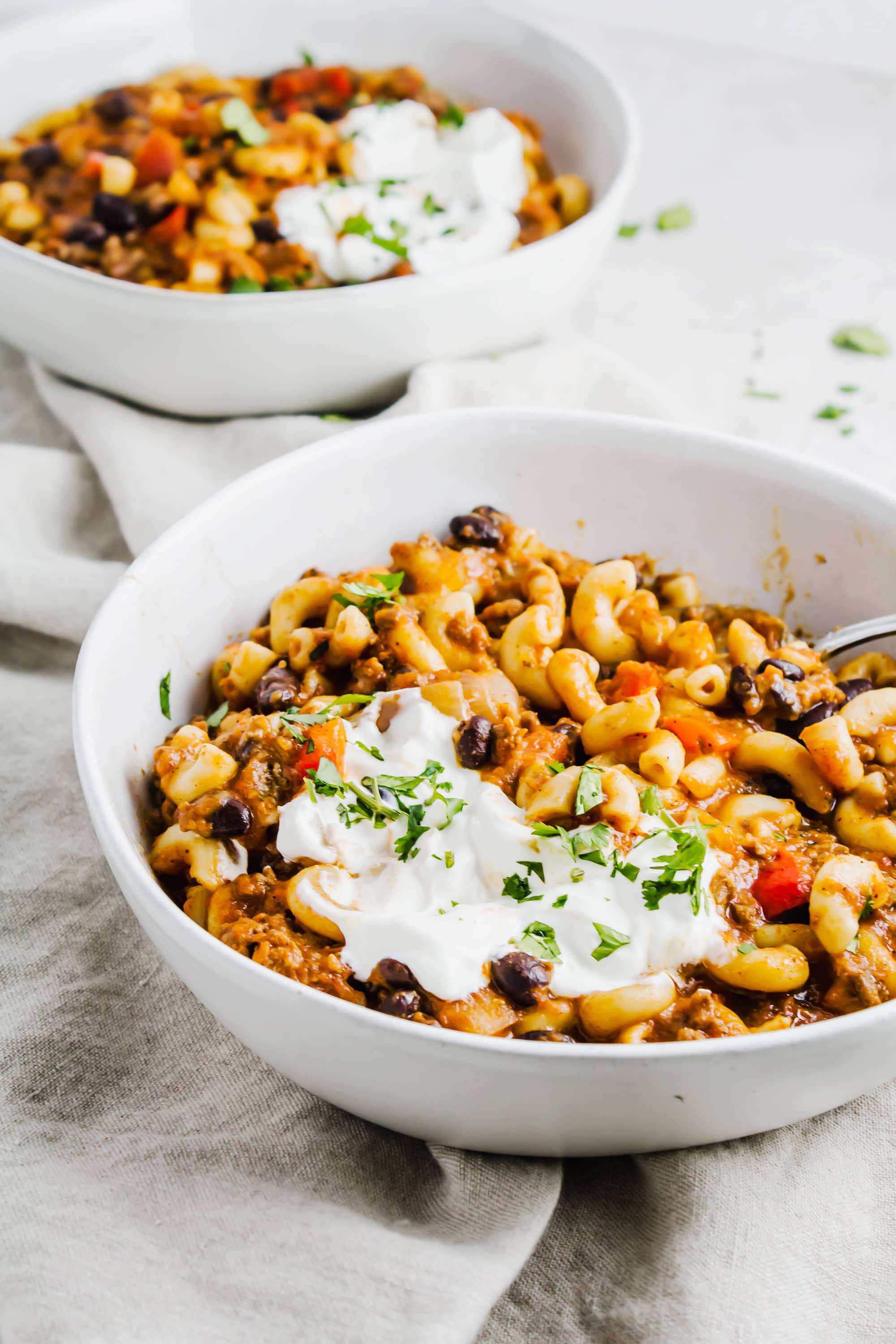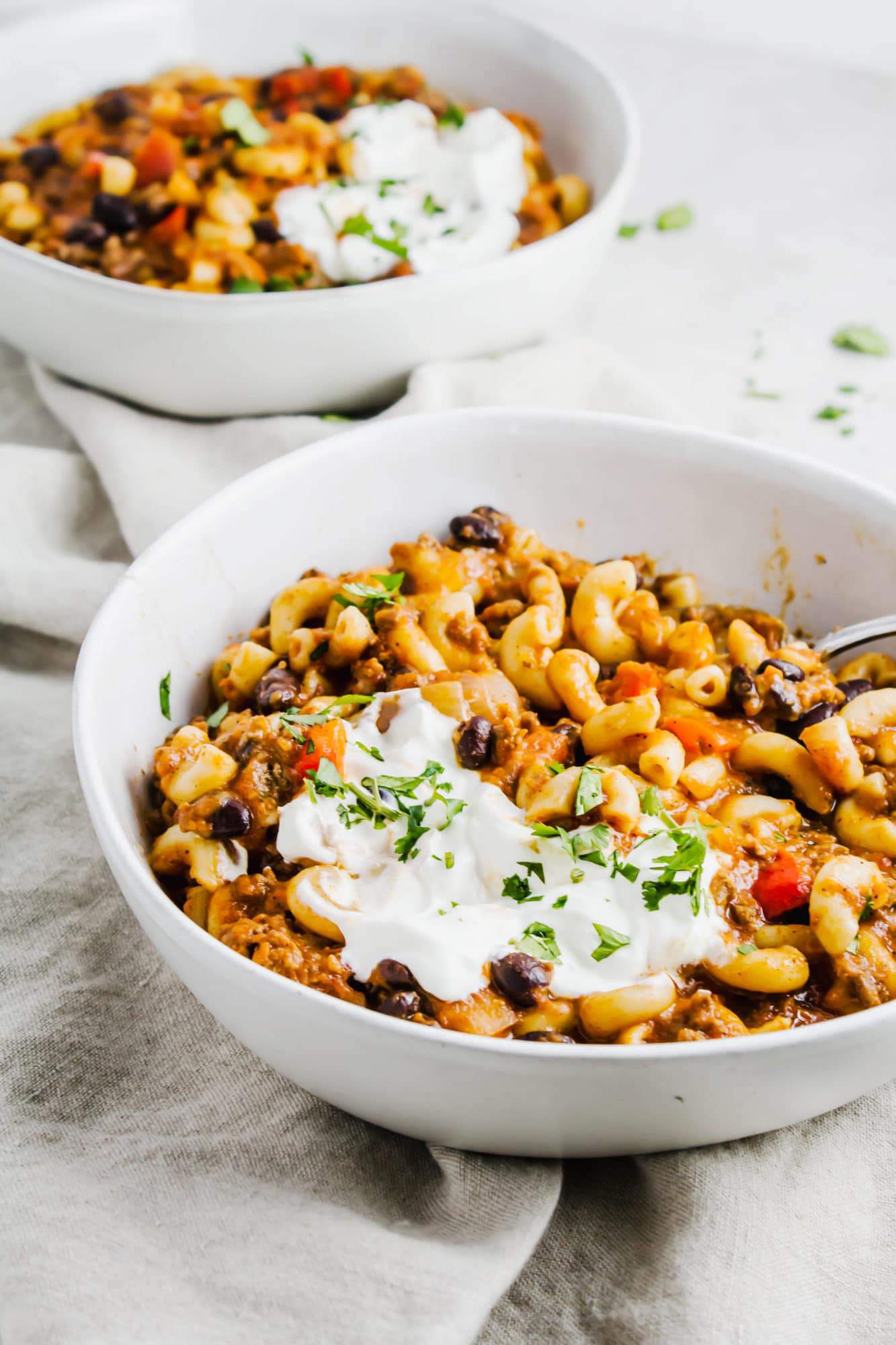 No, an Instant Pot isn't necessary for this dinner, however, if you're not feeling well or like cooking dinner it's kind of a requirement, but you could just as easily (although not as quickly) prepare this in a crockpot or stovetop dutch oven. You need, want, and potentially crave this type of meal around this time of year and the best part is it requires so little of you. It's not needy at all.
Simple, sanity-saving, chili mac and cheese is here to comfort you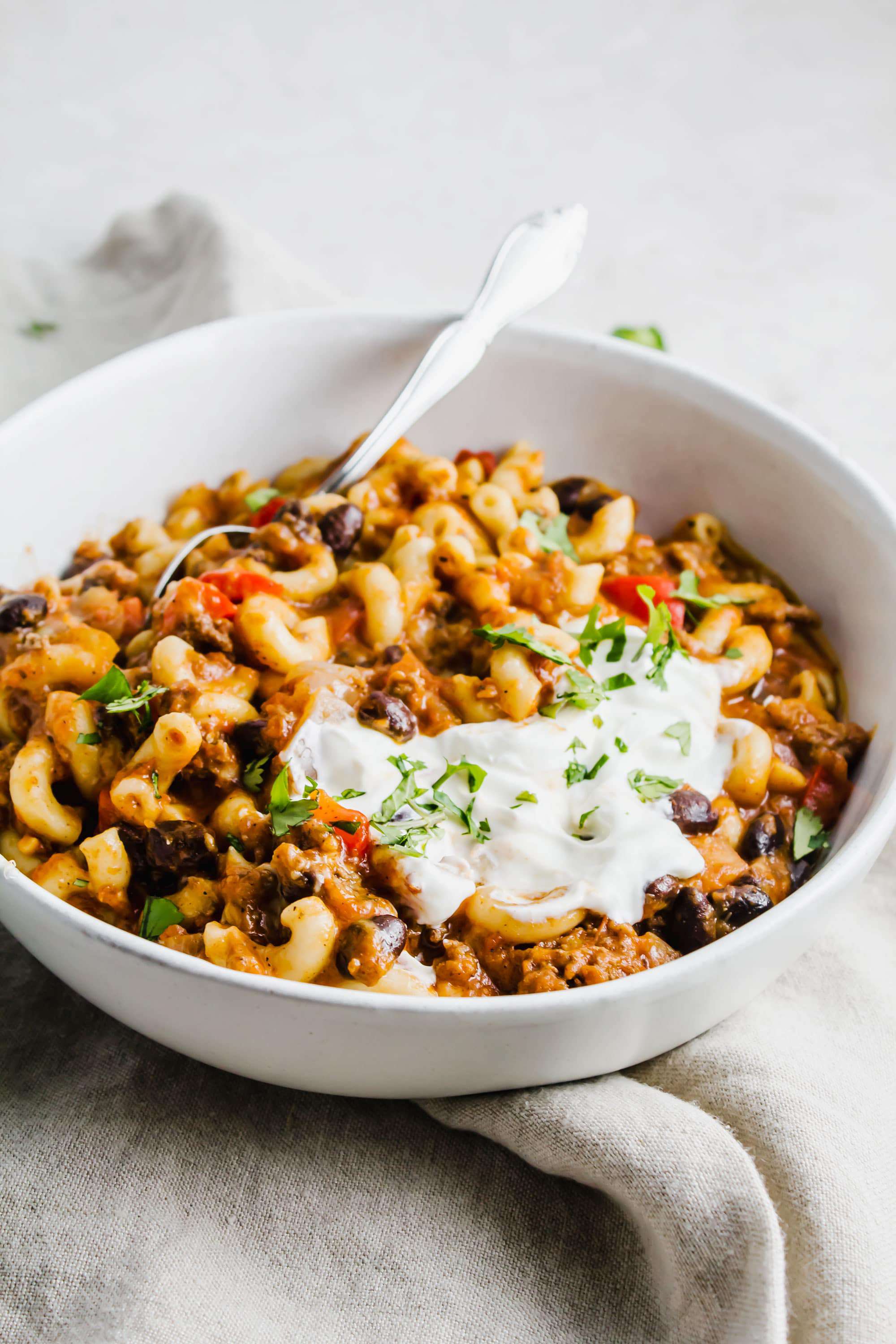 Ingredients
1

lb

Ground Beef

1

tablespoon

Olive Oil

1

medium

Onion

diced

6

Garlic Cloves

minced

2

teaspoons

Chili Powder

1

tablespoon

Cumin

1/4

teaspoon

Paprika

1

teaspoon

Salt

3

cups

Beef Broth

14

ounces

Canned Black Beans

28

ounces

Crushed Tomatoes

6

ounce

Can Diced Green Chilies

8

ounces

Elbow Macaroni

2

cups

Shredded Cheddar Cheese
Instructions
Set the Instant Pot to "saute," add ground beef and cook until browned, about 5 minutes. Using a slotted spoon transfer beef to a dish and set aside. Drain fat from Instant Pot.

Keep Instant Pot set to "saute" and add the olive oil and onions and saute until translucent, about 3 minutes. Add garlic cloves, chili powder, cumin, paprika, salt, and broth.

Add the cooked Ground Beef back to the Instant Pot along with the black beans, crushed tomatoes, green chilies, and macaroni. Stir making sure the pasta is covered with the liquid.

Place the lid on the Instant Pot and set the vent to sealing. Push the "cancel" then push the "manual" button and set the timer to 4 minutes (the Instant Pot will come to full pressure in about 15 minutes and then the times will start).

Once finished quick-release the pressure before removing the lid. Stir in the cheddar cheese and any additional seasonings.