Last Updated on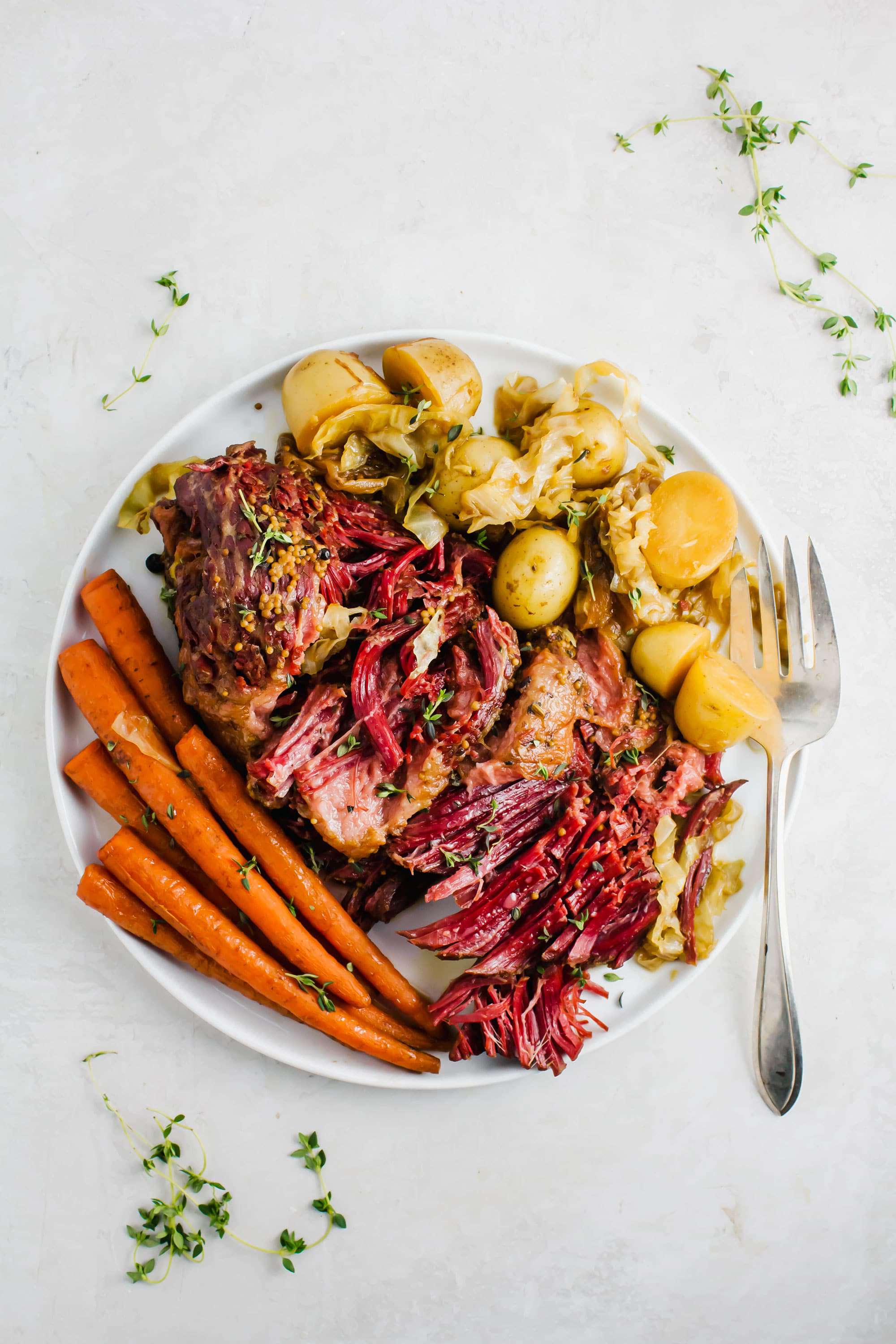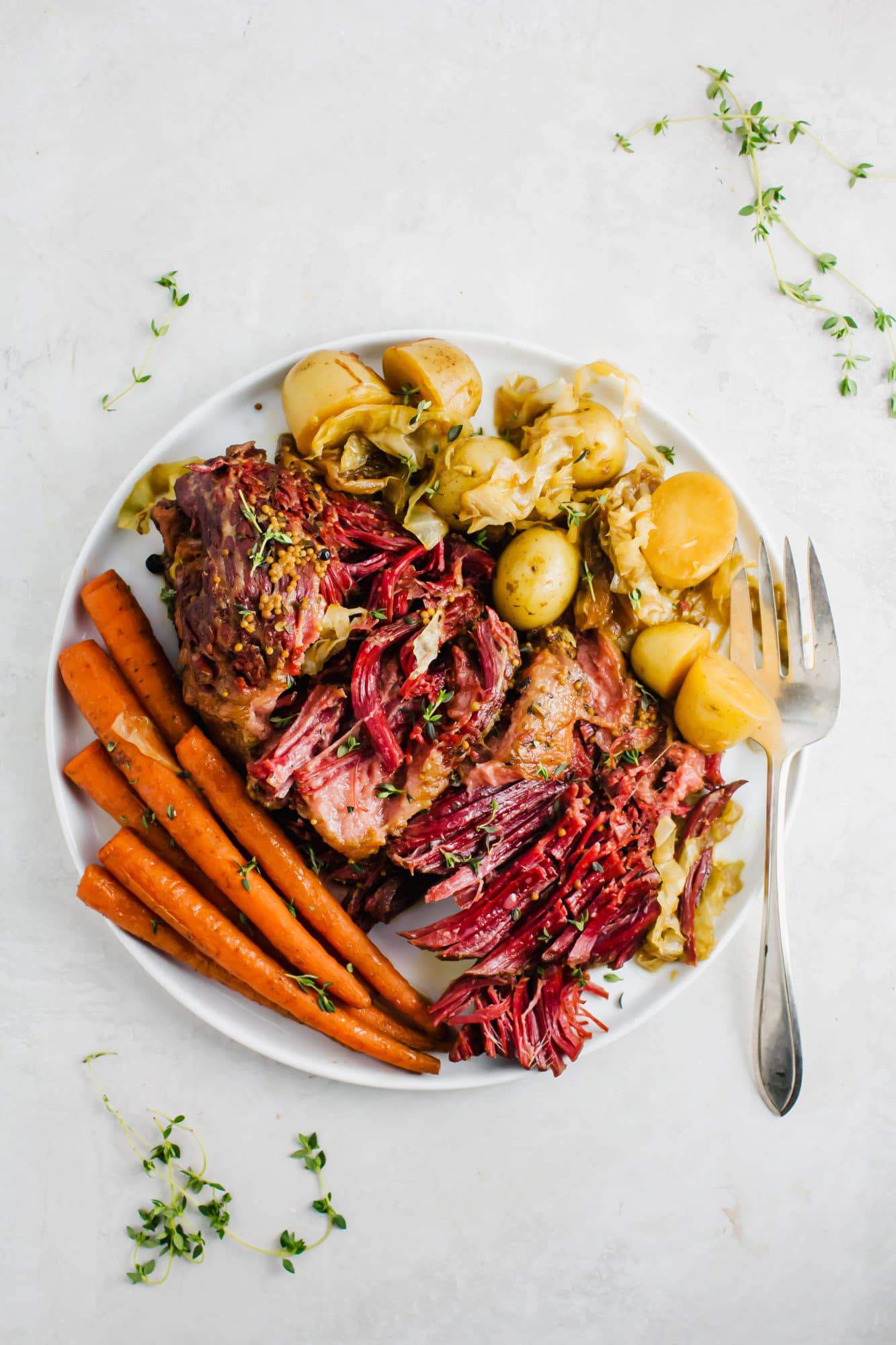 Salty, tangy, fall apart, melt in your mouth delicious corned beef is not only popular among the Irish, and apparently the English (see history lesson below), but also fun to prepare for St. Patrick's Day.
This past weekend I had the sheer joy of spending some time with my bestie in my hometown of Charleston. She lives in New York City and since we moved from there several years ago I don't get nearly as much time with her. At this stage of life, we're often chatting about our kids and how we've really gotten into the holidays or rather "making memories" as we coined it. Usually, these memories are solidified with buckets of confetti, much to our husbands' dismay.
As I mentioned packing up the Valentine's Day books she said they'd just cleaned the last of the red and pink confetti from all the nooks and crannies of their place, and she'd just pulled out the Easter books. Immediately, I was like "WHOA!" you can't just skip over St. Patrick's Day?!?! While neither she nor I have fond memories of this holiday dating back to living together in Hoboken, NJ and having to endure many a Hoboken St. Paddy's Days I, however, find excitement in the mischief a random leprechaun makes in our house each year.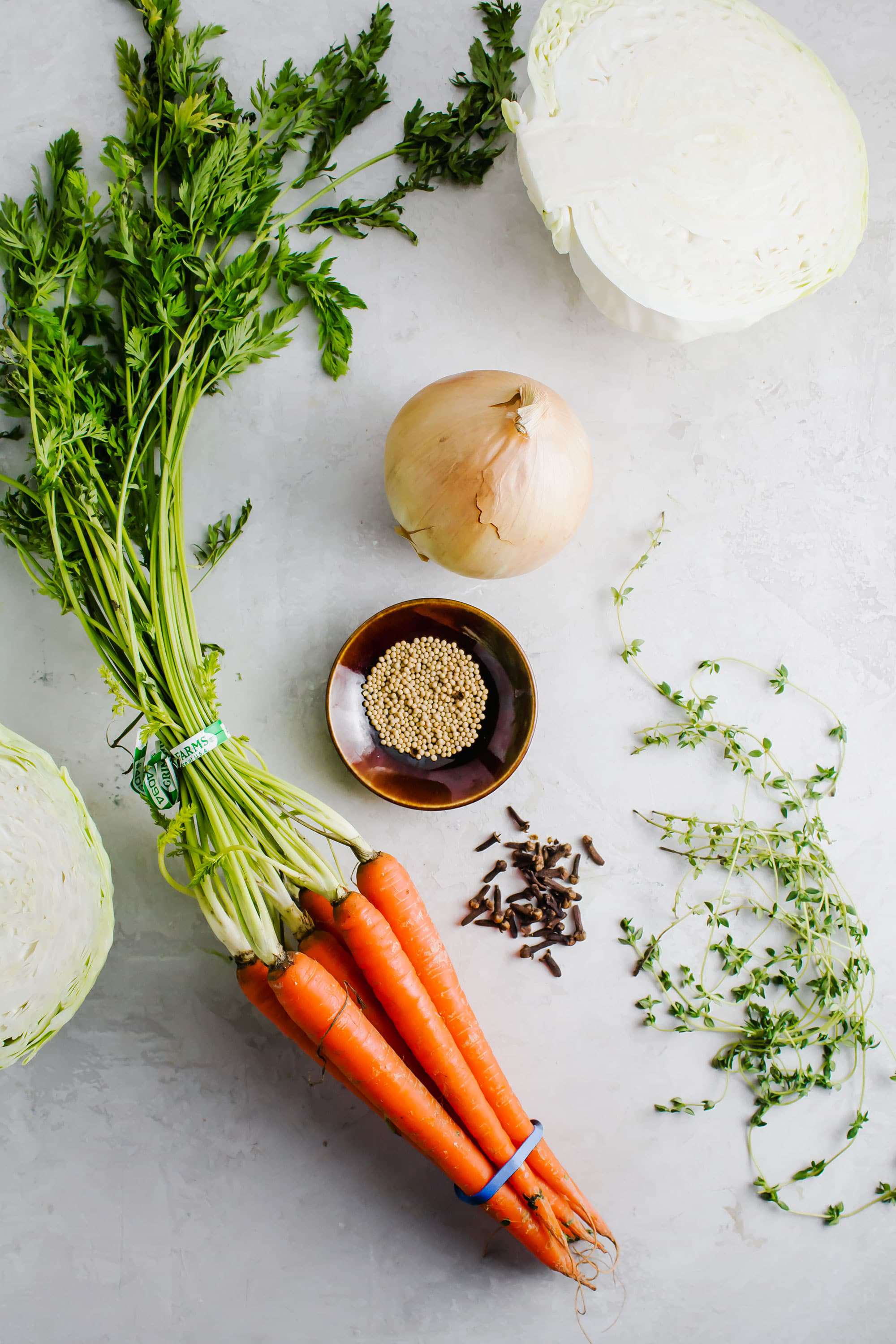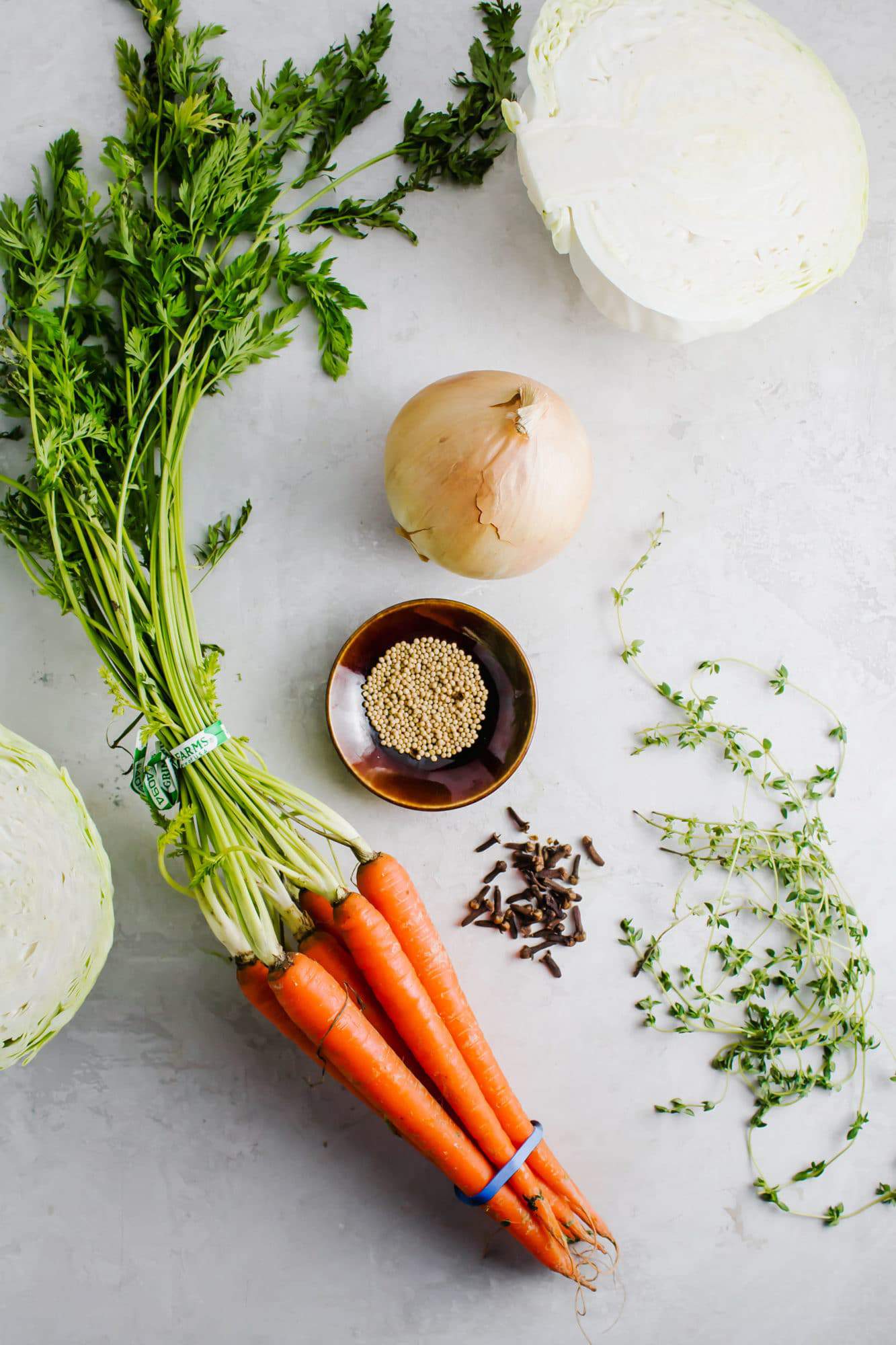 Part of memory making for me always includes food, which is why I often get excited around holidays. I can't keep up with all the social media food holidays, but Thanksgiving, Christmas, Easter, I'm all in to make some food magic and St. Patricks Day is no exception. Cue the green milk!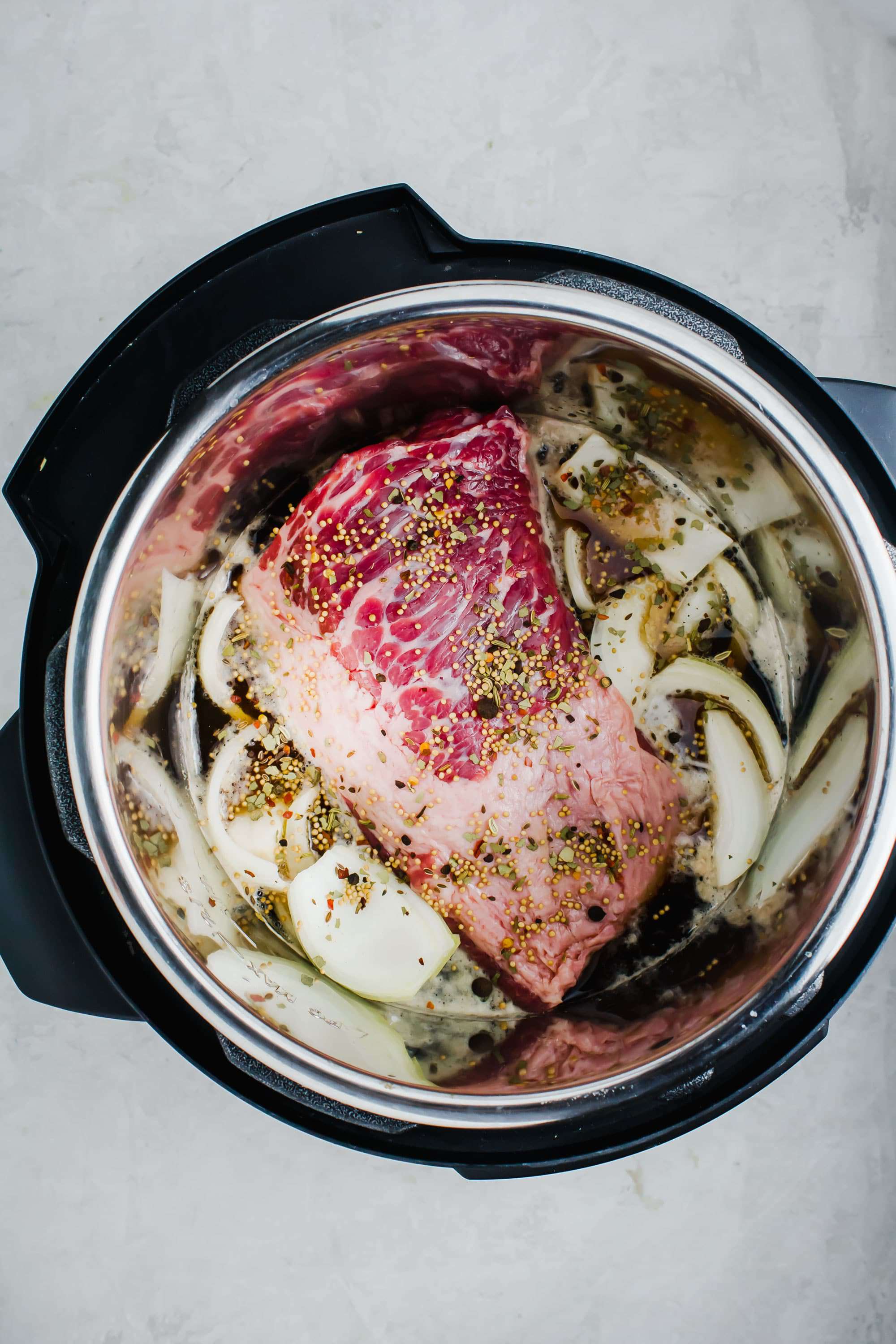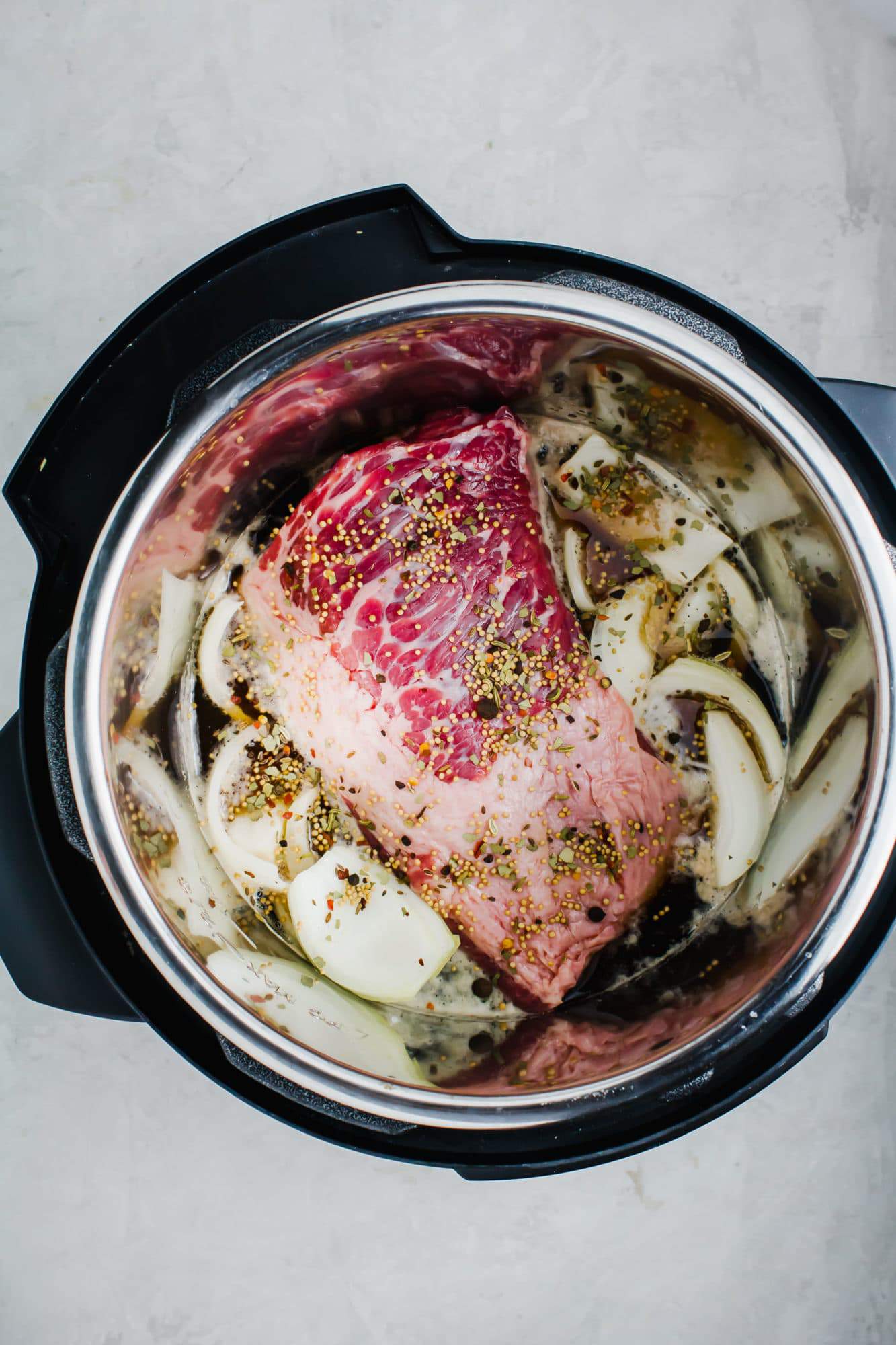 And Now a Brief History of Corned Beef…
This excerpt was pulled from this Food & Wine article (should you wish to finish reading).
"Beef, corned or otherwise, wasn't often eaten in ancient Ireland because the cow was considered a symbol of wealth in the Gaelic religion. While the Irish enjoyed dairy products (which didn't require the slaughtering of the animal), beef was often reserved for royalty. The pig actually was the most eaten meat in Ireland. It wasn't until England's 16th-century conquering of Ireland that the cow turned from an animal of deference to a food commodity. With a taste for beef thanks to the ancient Romans, the English brought in thousands of cattle from the Irish countryside to the tables of English urbanites (as the saying goes, to the victor goes the beef). But in the 1660s, a series of so-called "Cattle Acts" enacted by the English Parliament prohibited the export of cattle to England and kept Irish beef at home. This drove down cattle prices in Ireland and made the meat more abundant and affordable.
While salting beef as a means of preserving it has been around for thousands of years, the term "corned beef" dates to around the time of the Cattle Acts. Originally the word "corn" came from the Germanic word "kurnam," meaning "small seed." In the 17th century, salted beef started taking on the name "corned beef" in some parts of England because of the large "kernels" of rock salt used to preserve it."
Don't you feel educated?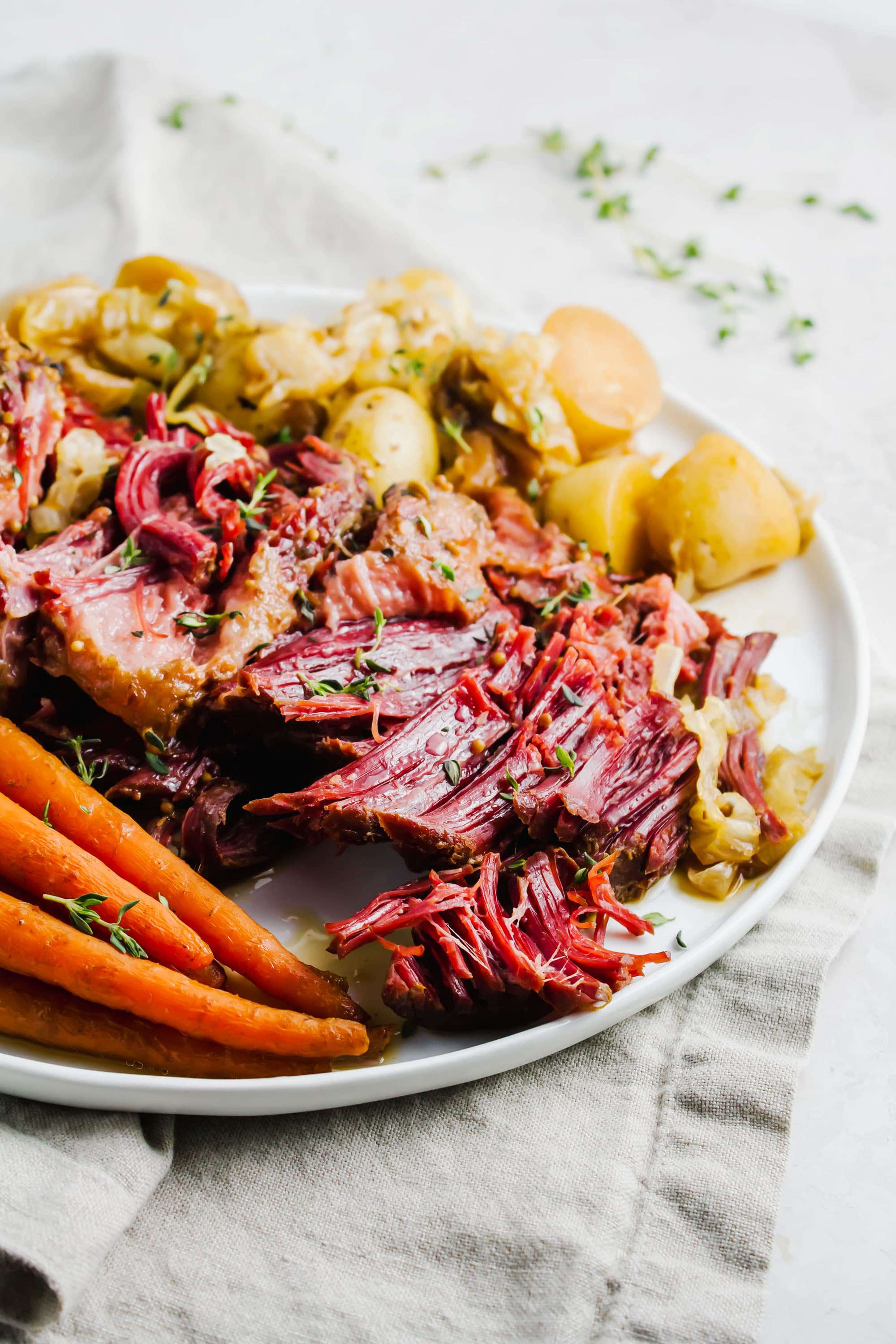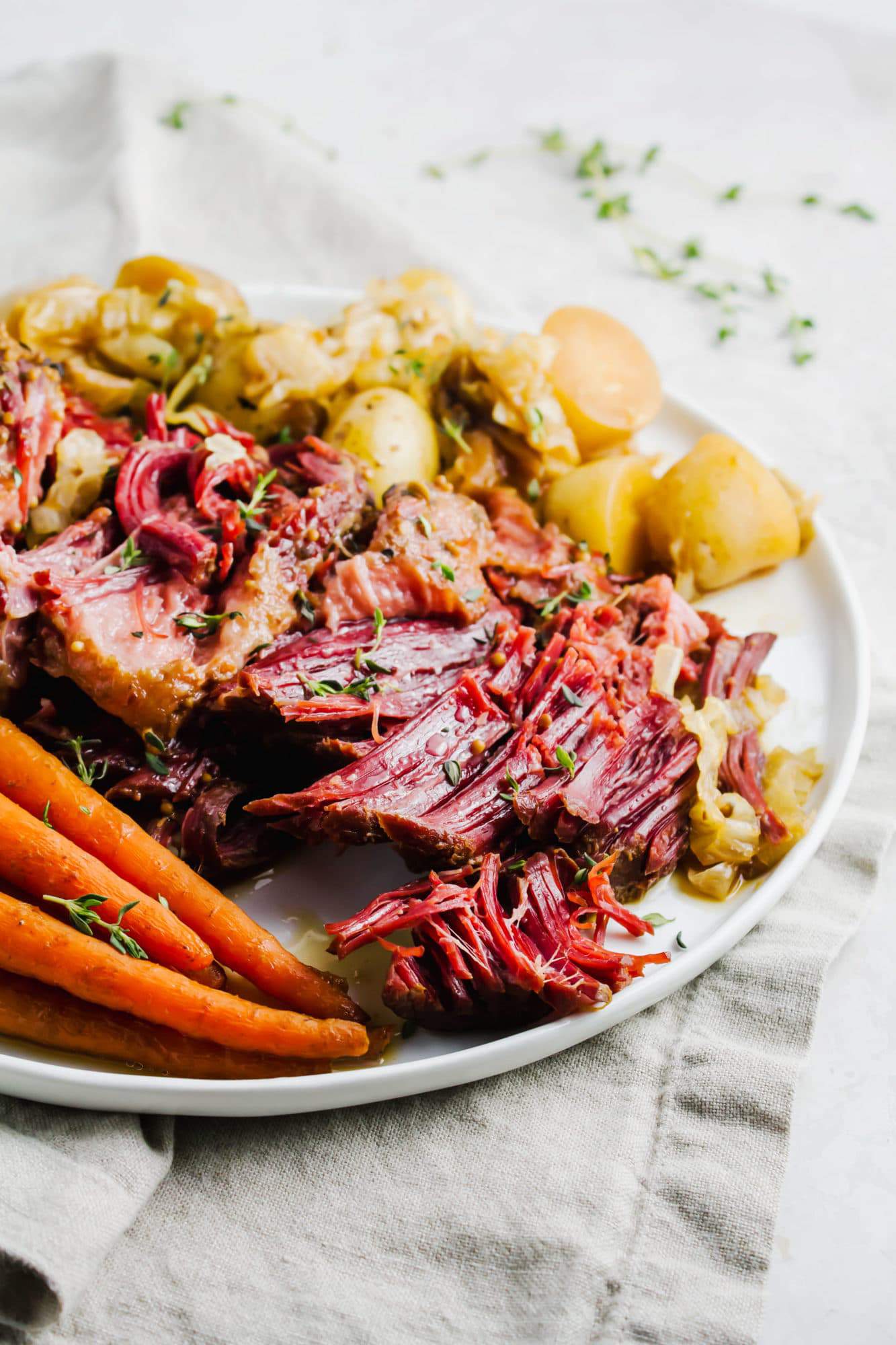 Instant Pot = Life
Corned Beef, much like a pot roast is a type of meat that requires some time to cook, usually in the oven or slow cooker. Since I haven't upgraded to one of those fancy timed slow cooker versions I often have to plan way in advance if I'm using mine. Any of you who are in possession of an Instant Pot know this is NOT the case with this little appliance gem.
I speak nothing but the truth when I tell you all the ingredients go directly into your Instant Pot, you push a few buttons, and your dinner is done. Fall apart, juicy, salty, all-in-one-meal, DONE!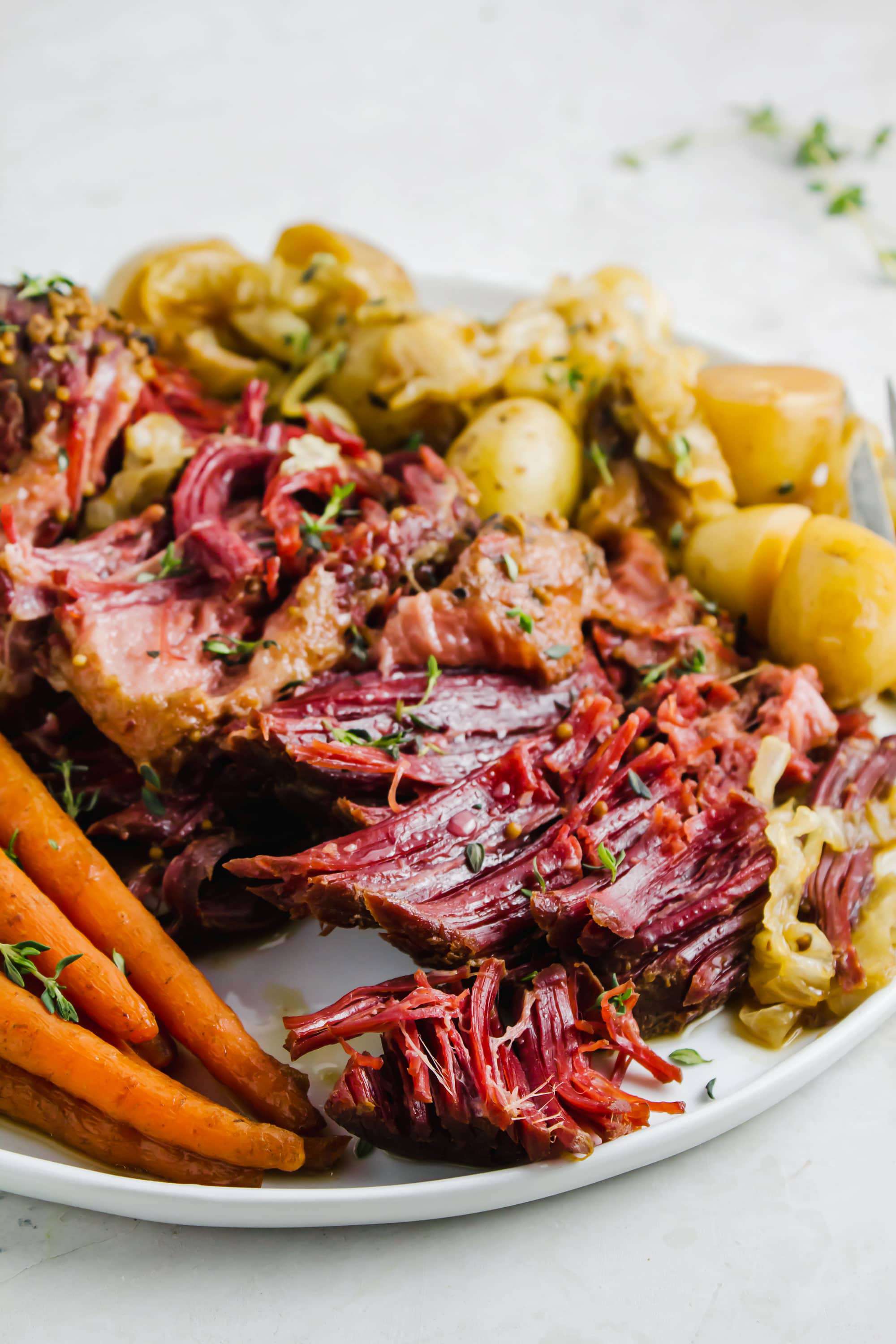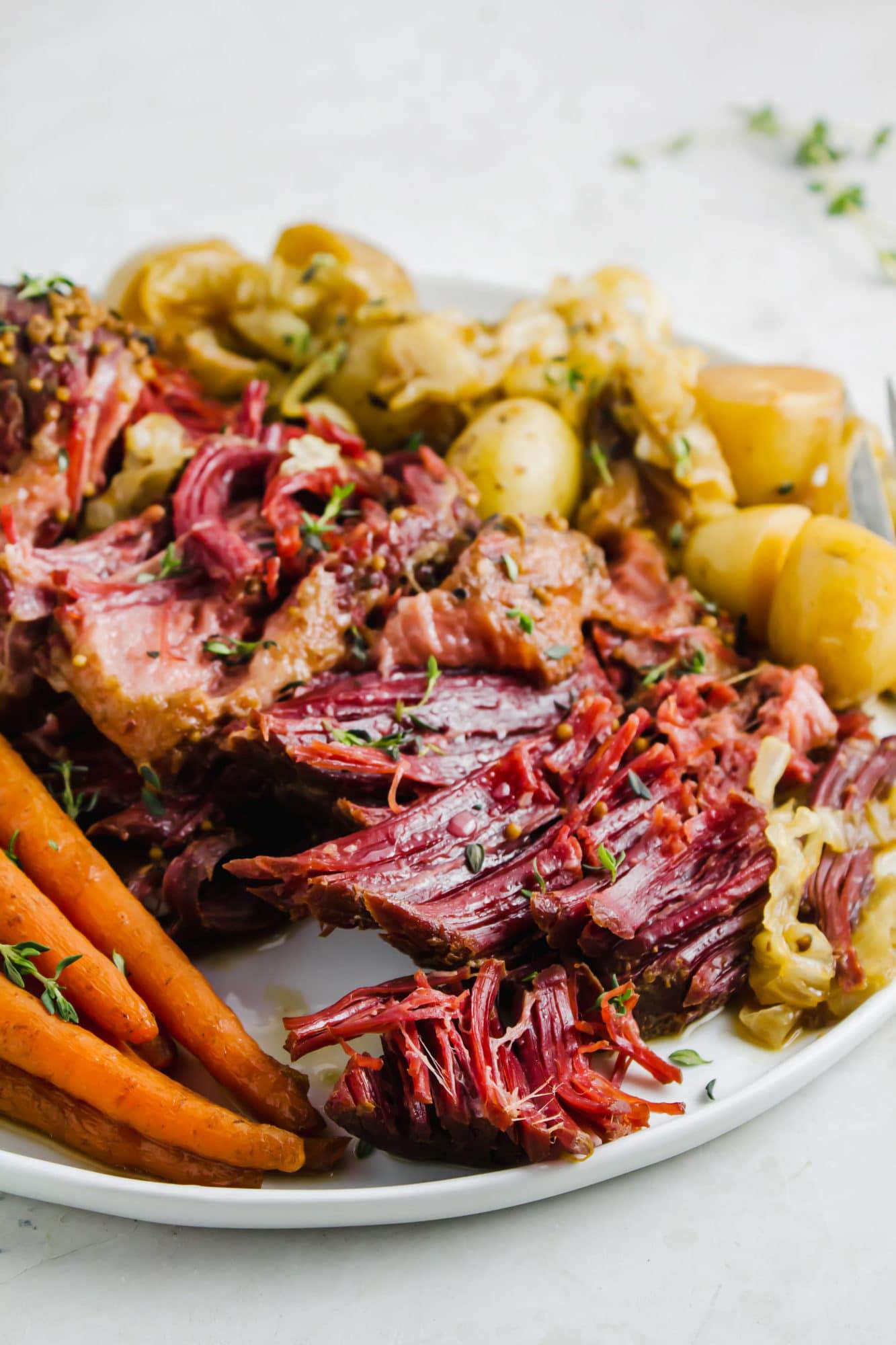 You'll have plenty of time to die your beer with artificial coloring and suit up in your green leisure wear after preparing this Instant Pot Corned Beef and Cabbage.
Print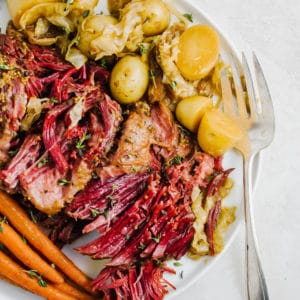 Instant Pot Corned Beef and Cabbage
Prep Time:

5 Mins

Cook Time:

95 Mins

Total Time:

1 Hr 40 Mins

Yield:

4

Servings

1

x
---
Description
Instant Pot quick, salty, tangy, fall apart, melt in your mouth, delicious corned beef is the perfect weeknight dinner whether you're celebrating St. Patrick's Day or a good meal.
---
Scale
Ingredients
1

Yellow Onion, peeled and quartered

1

3-lb Corned Beef Brisket

1 tablespoon

s Pickling Spice

16

-ounces Beer (choose and Ale or Lager)

3

large Carrots, trimmed

1/2

pound Dutch Potatoes, halved

1/2

head of Cabbage, sliced
---
Instructions
Place the Corned Beef Brisket, quartered Onion, and Pickling Spice in the Instant Pot. Pour the Beer in and close the lid. Set the vent on the lid to "sealing." Press the MANUAL button and set the timer to 90 minutes. The pressure will build and then it will begin counting down. Once finished quick release the pressure by turning the vent to "venting."
Turn off the heat and remove the lid. Add the Carrots, Potatoes, and Cabbage and press MANUAL and set the timer to 5 minutes (check to make sure the vent is turned back to sealing). Again, quick release the pressure by turning the vent dial to "venting."
---
Notes
Once fully cooked the corned beef will be fall apart good so use a slotted spoon to scoop out the ingredients into bowls and then spoon some of the remaining juices on top.
The TOTAL time for preparing the recipes does not include the amount of time it takes for your Instant Pot to reach the needed pressure.