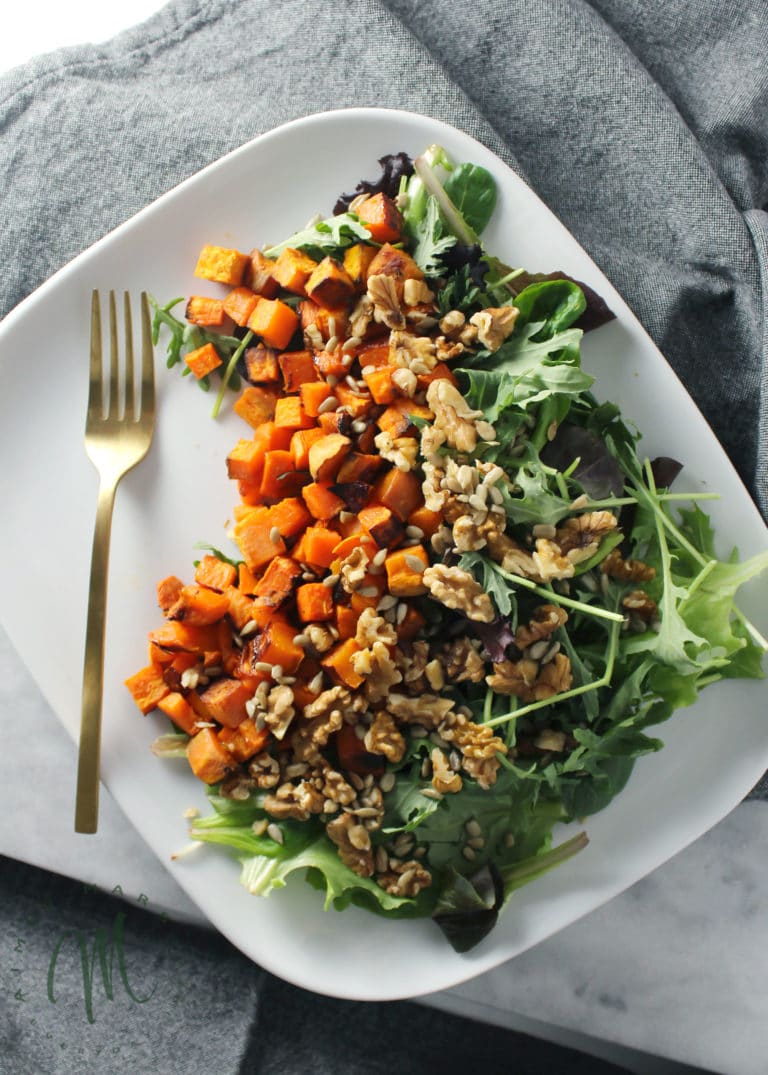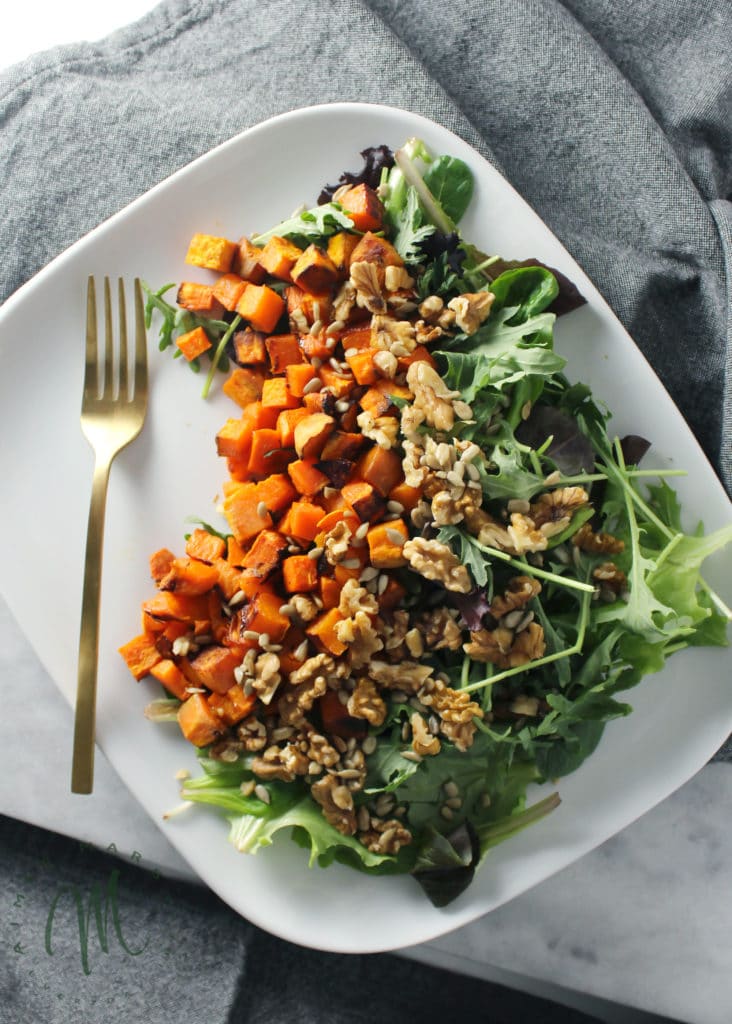 There is a good chance this is the last lunch-type post you'll see on my site for a while because I fully plan on indulging in this salad daily, indefinitely… Kidding! Sort of…
This kale salad is so simple to toss together and what truly makes it so amazing is the dressing! KALE yeah! (sorry, I went there).
I'm a salad-gal through and through! I'll happily order a side of it with brunch, indulge on it for lunch, and dine on it for dinner. So it's no surprise I pretty much think "salad" when it comes to the question "What should I have for lunch?" The Husband, Jonathan, he thinks "sandwich" so I guess he's the ever constant yin to my yang (lunch-wise), but he likes this salad. I did throw an extra bit of protein (turkey bacon) on his to seal the deal on the salad thumbs up, but that hardly changed the flavor.
Don't get me wrong I'm a sweet-gal too, but chocolate for lunch everyday doesn't quiet help with the "healthy lifestyle" resolutions, so if you're looking for the perfect winter salad I've got you covered right here…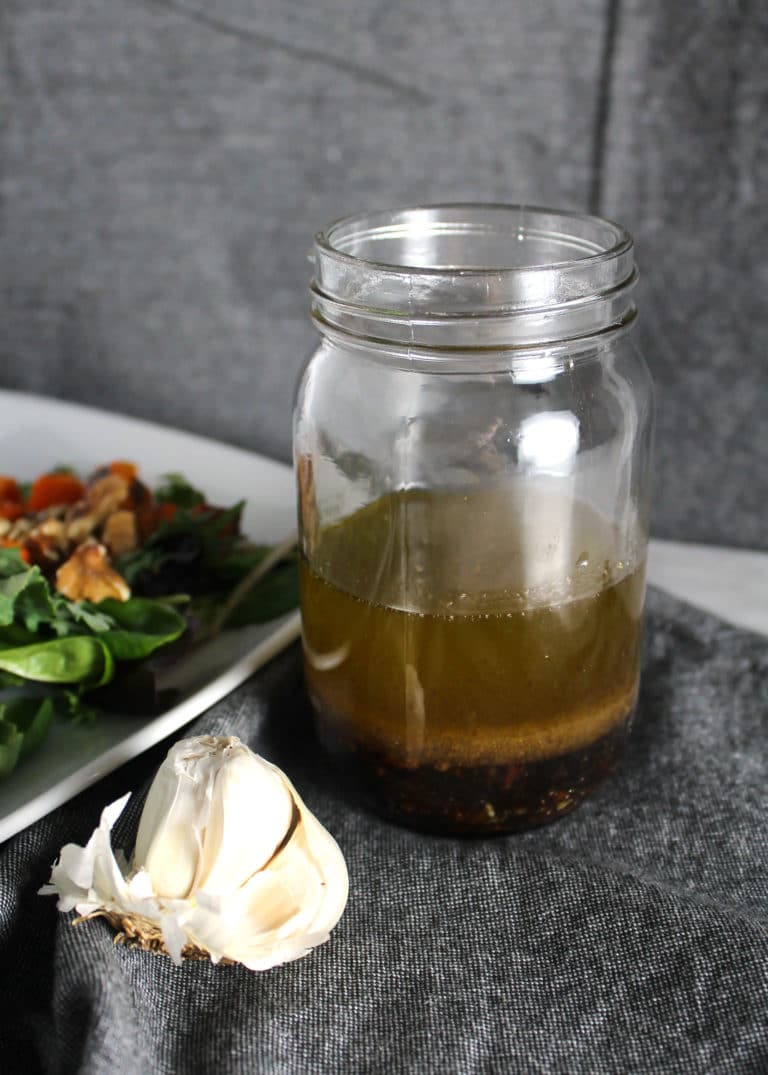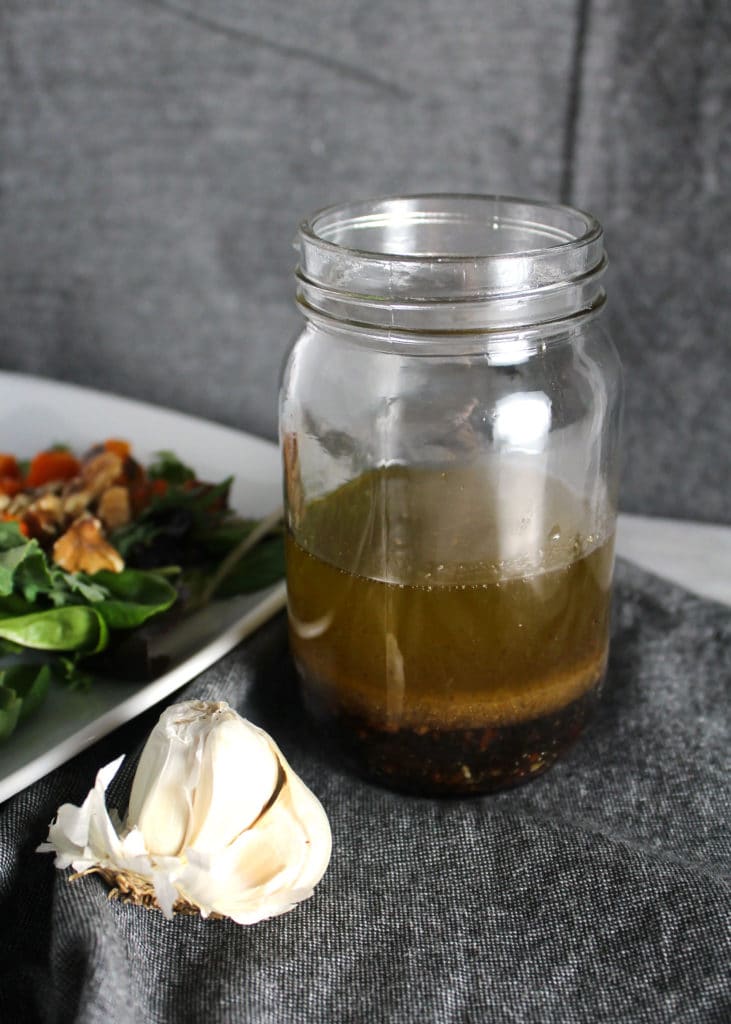 About this salad, it has 6 ingredients, one of which is olive oil so you can barely count it, but we will, so 6 ingredients: Sweet Potato, Olive Oil, Mixed Greens, Baby Kale, Walnuts and Sunflower Seeds. And here's a bonus… I'll let you in on a little information about why those seemingly small addition sunflower seeds are a key ingredient…
Sunflower Seeds:
Promote cardiovascular health
Promote healthy cholesterol levels
Supports a healthy mood
Who doesn't need a healthy mood booster this time of year? Yes, I know there are wonderful souls out there who love the cold, and you truly are awesome in my book, I'm just not one of you.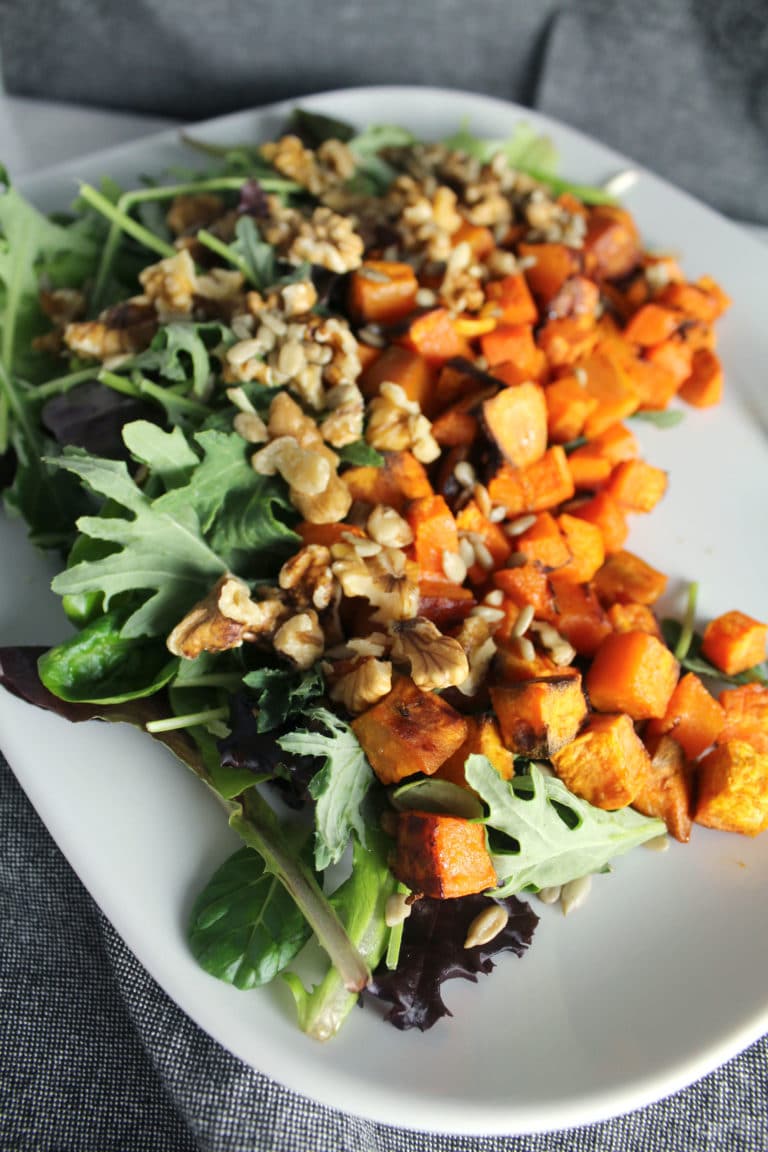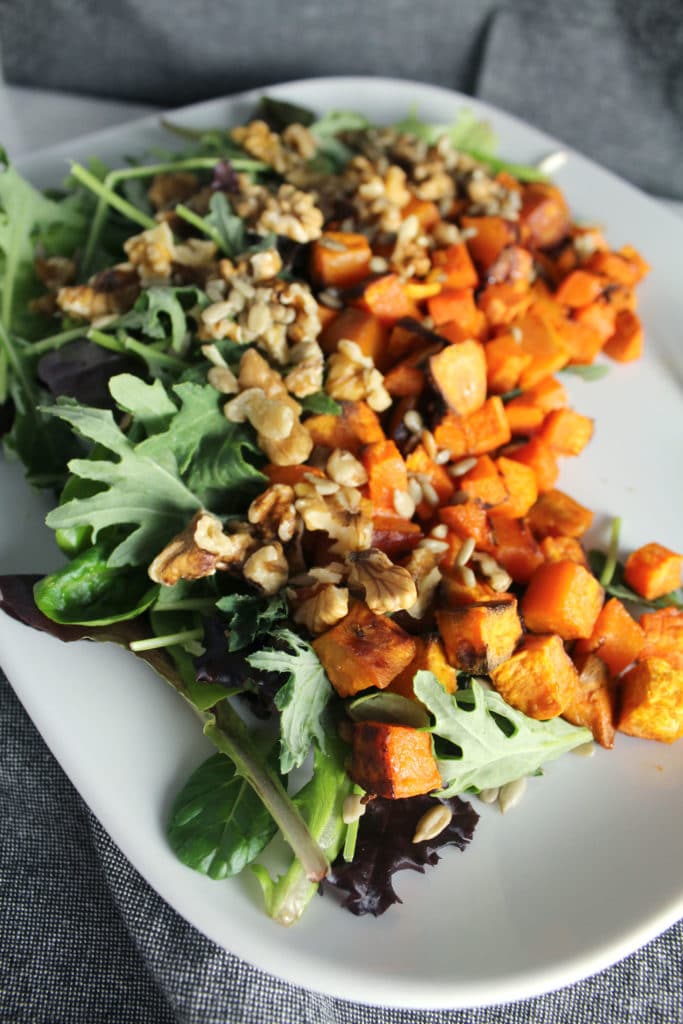 Okay, so the dressing… Oh this dressing!! This dressing could really be so much more than a dressing. Think marinade, dipping sauce… I'm already coming up with new recipe ideas (hazards of the job).
Yes, the dressing does have many ingredients, but each one adds so much potential to the mixture. Like I said before the best part about this salad, aside from those magnificent mood boosting sunflower seeds, is the dressing. I suggest making a double batch and marinating tomorrow nights chicken dinner. Just a suggestion…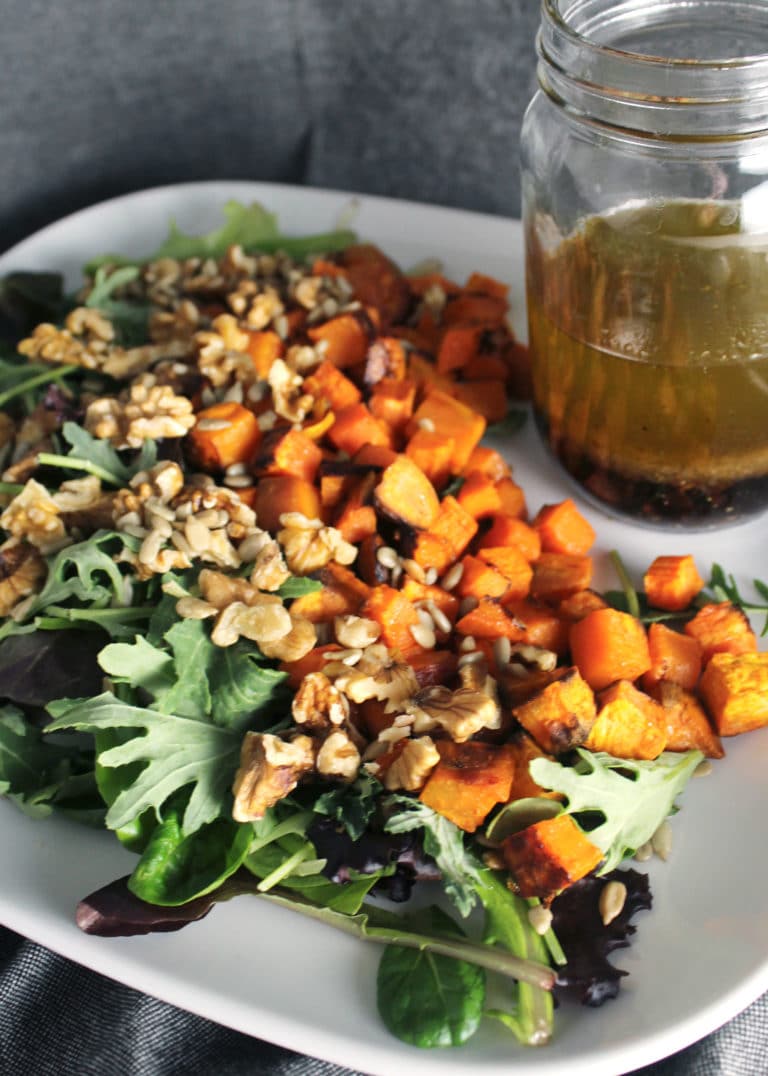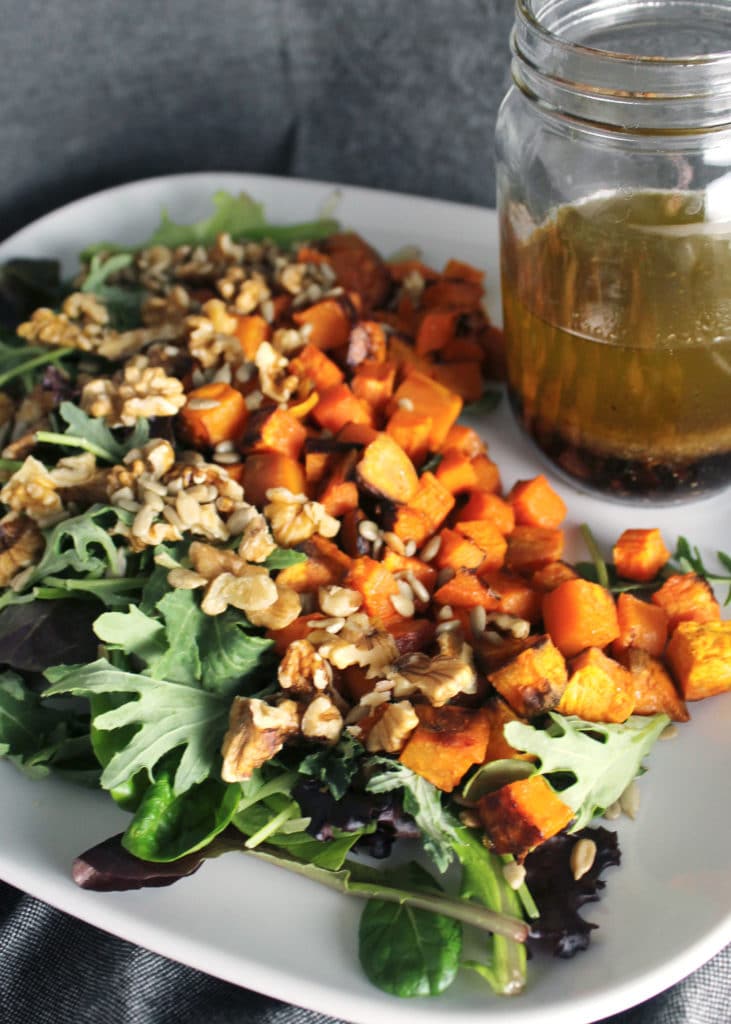 So the point is this salad should absolutely be in your lunch rotation!
Ingredients
SALAD
1

Sweet Potato

peeled and diced

1

tablespoon

Olive Oil

8

cups

Baby Kale

1/4

cup

Chopped Walnuts

1/8

cup

Sunflower Seeds
SESAME GARLIC DRESSING
3/4

cup

Oil

3

Garlic Cloves

minced

4

tablespoons

Rice Vinegar

2

teaspoons

Lemon Juice

2

teaspoons

Honey

2

tablespoons

Soy Sauce

1

teaspoon

Sesame Oil
Instructions
Preheat the oven to 475 degrees. Place the chopped Sweet Potatoes on a rimmed baking sheet and toss with the Olive Oil. You can also lightly salt them if you'd like. Bake for 30 minutes or until edges become crispy. Remove from the oven and let cool.

Prepare your dressing by whisking all the ingredients together in a medium bowl. Store any leftover dressing in an airtight container and shake before each use.

Divide the Kale, and cooled Sweet Potatoes between 4 salad bowls. Top with Chopped Walnuts and Sunflower Seeds. Pour 1 to 2 tablespoons of the dressing on each salad.
Nutrition
Serving:
1
Salad
|
Calories:
600
kcal
|
Carbohydrates:
24
g
|
Protein:
9
g
|
Fat:
55
g
|
Saturated Fat:
4
g
|
Sodium:
573
mg
|
Potassium:
855
mg
|
Fiber:
2
g
|
Sugar:
5
g
|
Vitamin A:
17997
IU
|
Vitamin C:
163
mg
|
Calcium:
225
mg
|
Iron:
3
mg