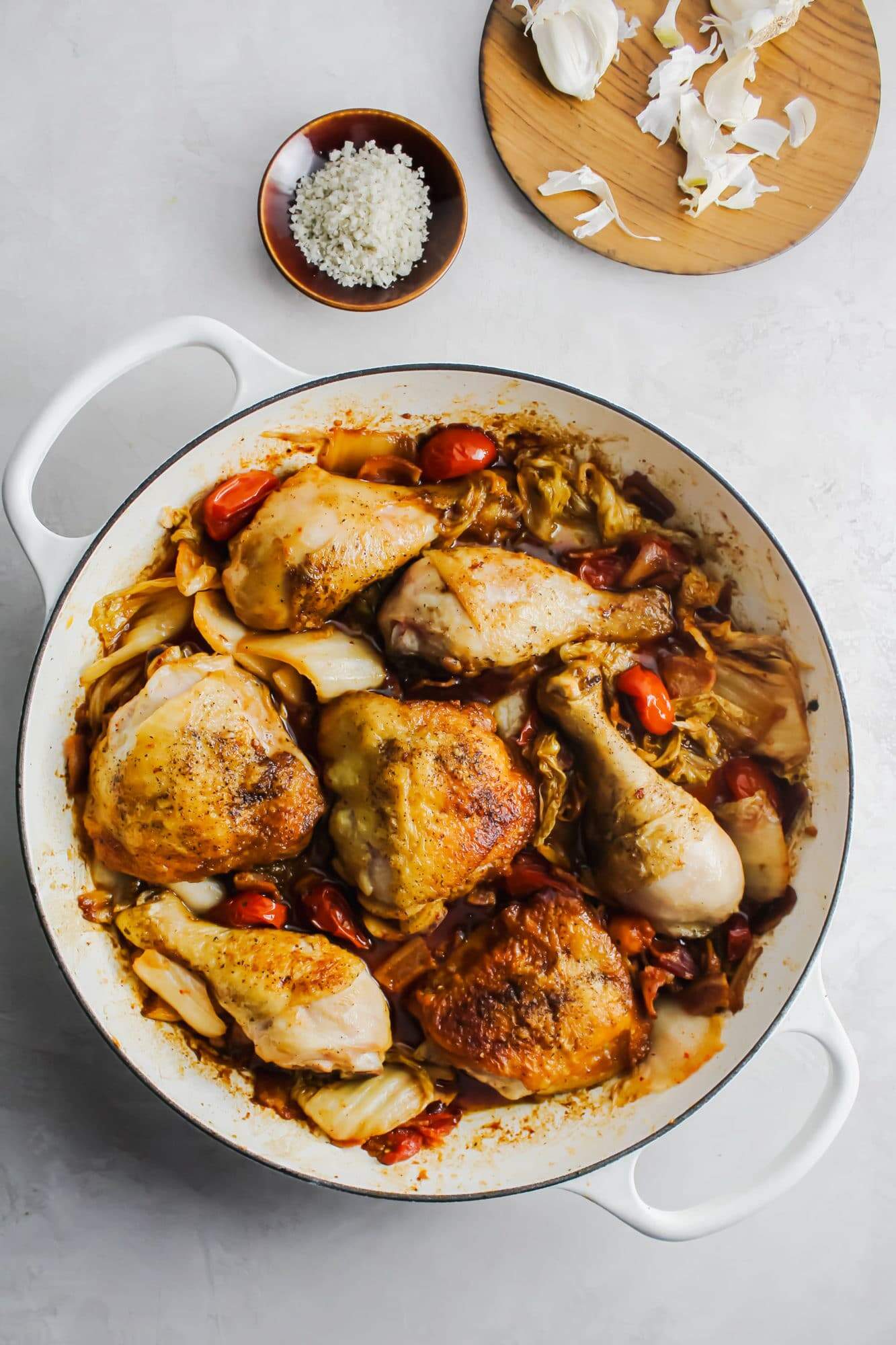 Yes, Kimchi-Braised Bacon Chicken is a thing and yes it may sound weird, but I'm here to dispell your weary wondering and tell you it's downright amazing.
Here's how it all went down…
The checkout counter magazines get me every time! Especially when the seasons are shifting and the covers are glossed over with images of some delectable comfort dish or delicious fall treat, especially when they tout "15-minute meals" or "one-pot wonders," I'm a goner. I fully confess to dropping upwards of $35 on a stack of food filled magazines during a recent train trip down to NYC, which consisted of some basic and really unique recipes.
While flipping through my stash, without interruption cause the kids were spending the week with their grandparents, I came across a kimchi-braised chicken recipe and it caught my attention immediately. I mean, I love kimchi but my husband not so much, however, I thought (potential evil grin here) if it's dripping with bacon then I might be on to something. (Cue wicked laugh…) Muahh-ha-Ha-HA!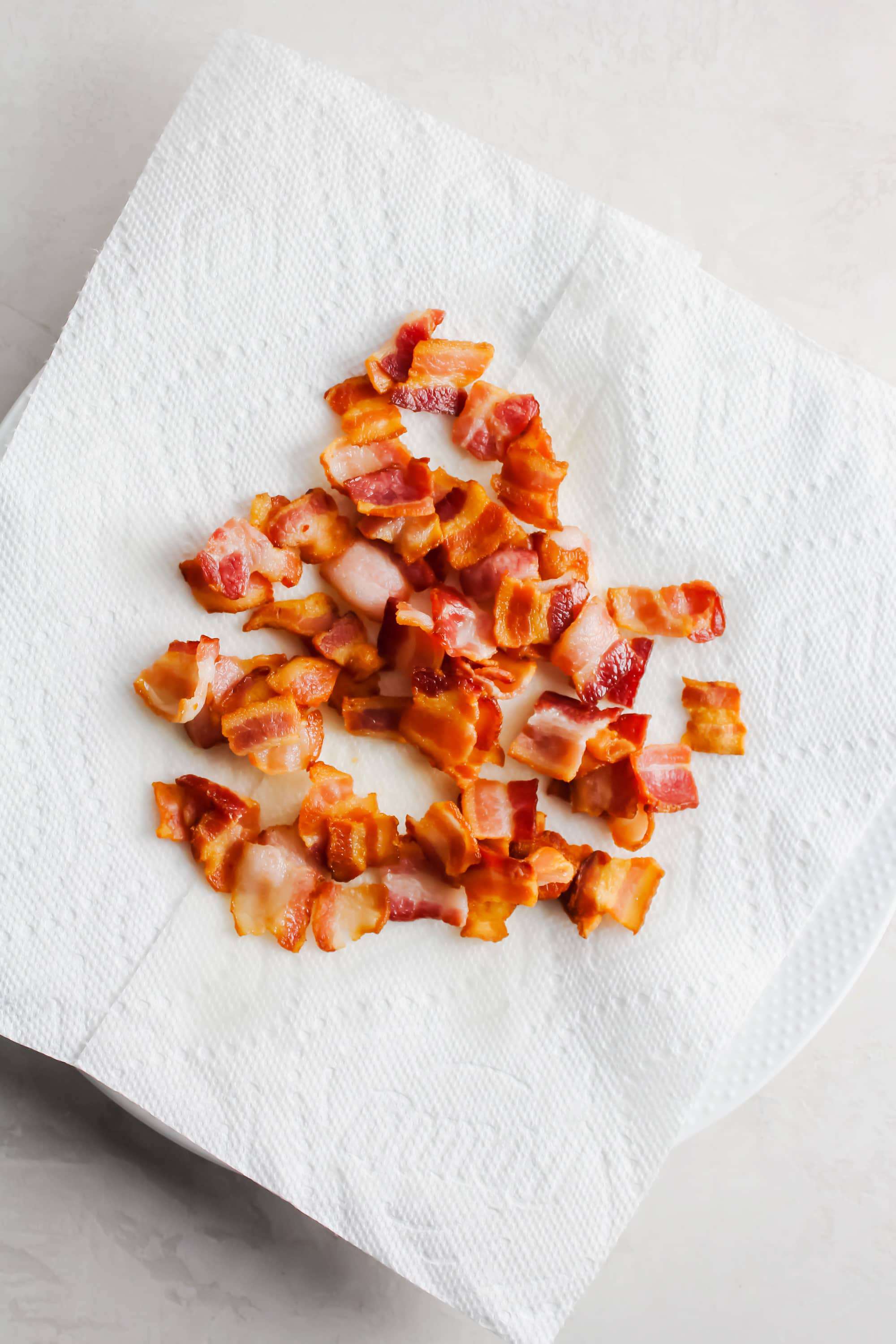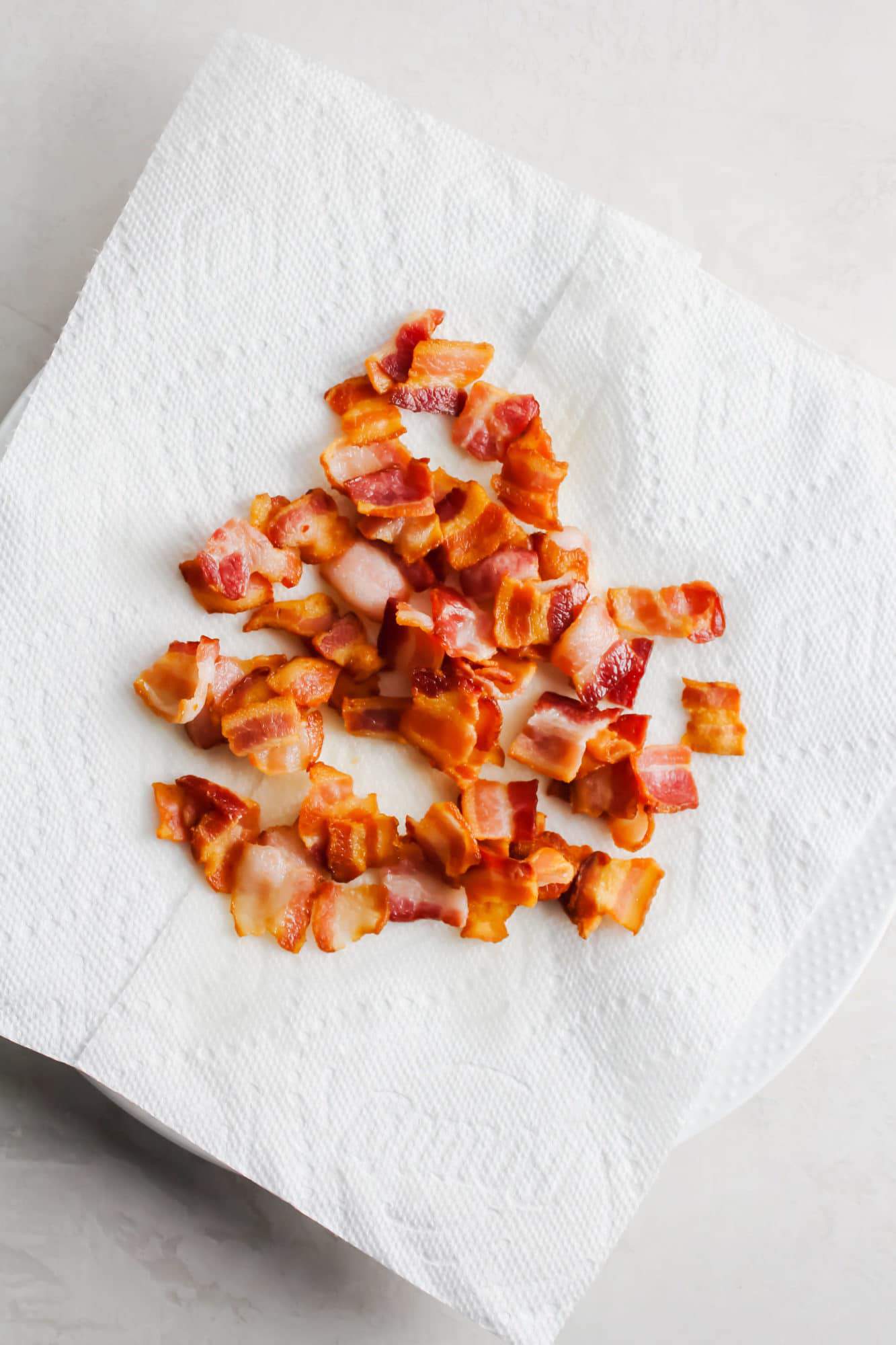 First and foremost…
What in the world is kimchi?
A staple in Korean cuisine and also wildly popular in foodie magazines and Pinterest, is a side dish made from salted and fermented vegetables.
Before you start commenting with pics of the green-faced sick emoji, hear me out… I haven't quite developed a taste for basic kimchi all by it's lonesome, however, stirred into a kimchi fried rice (a dish from an NYC restaurant I'm still dreaming about) or mixed in with bacon and braised, it's pretty epic.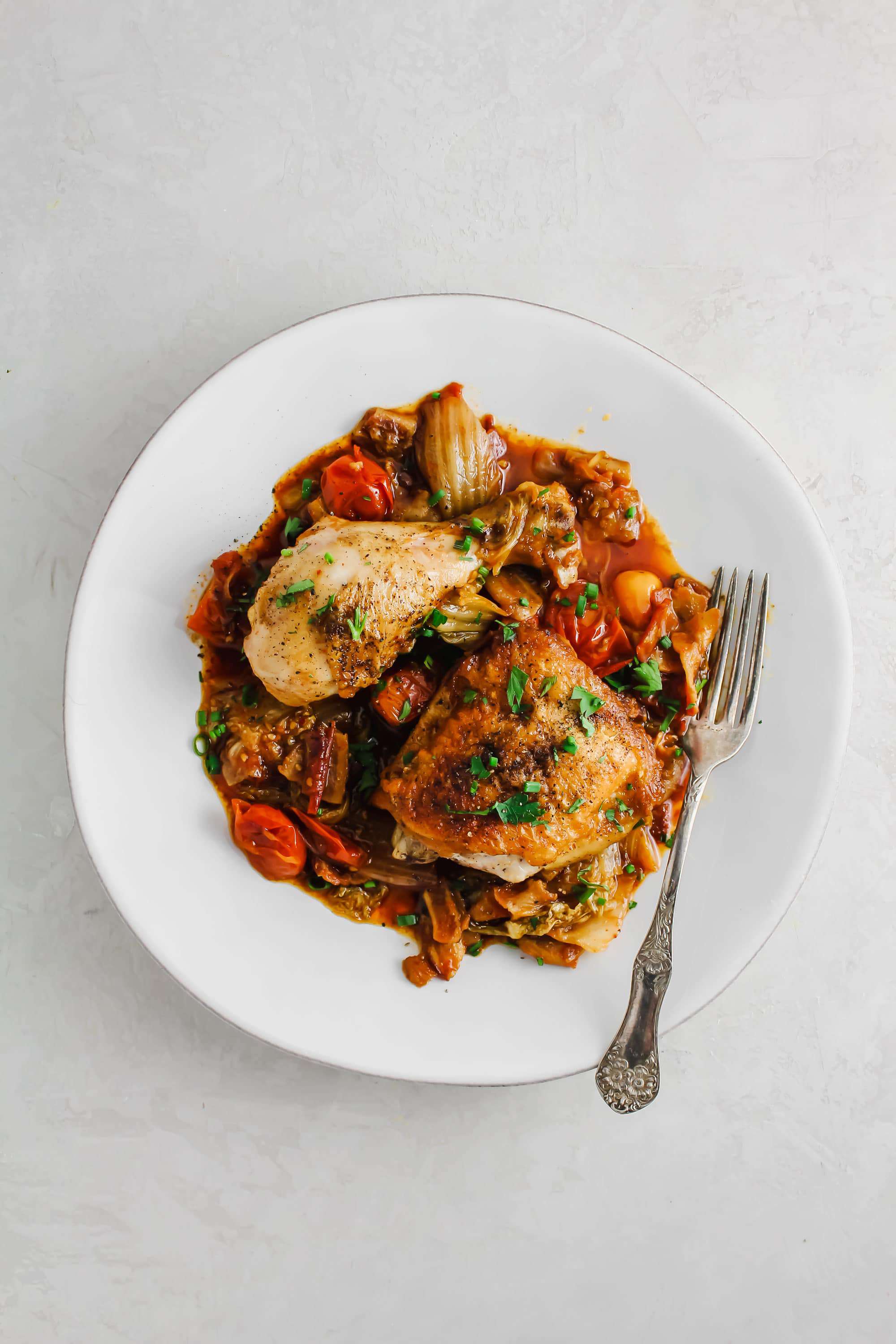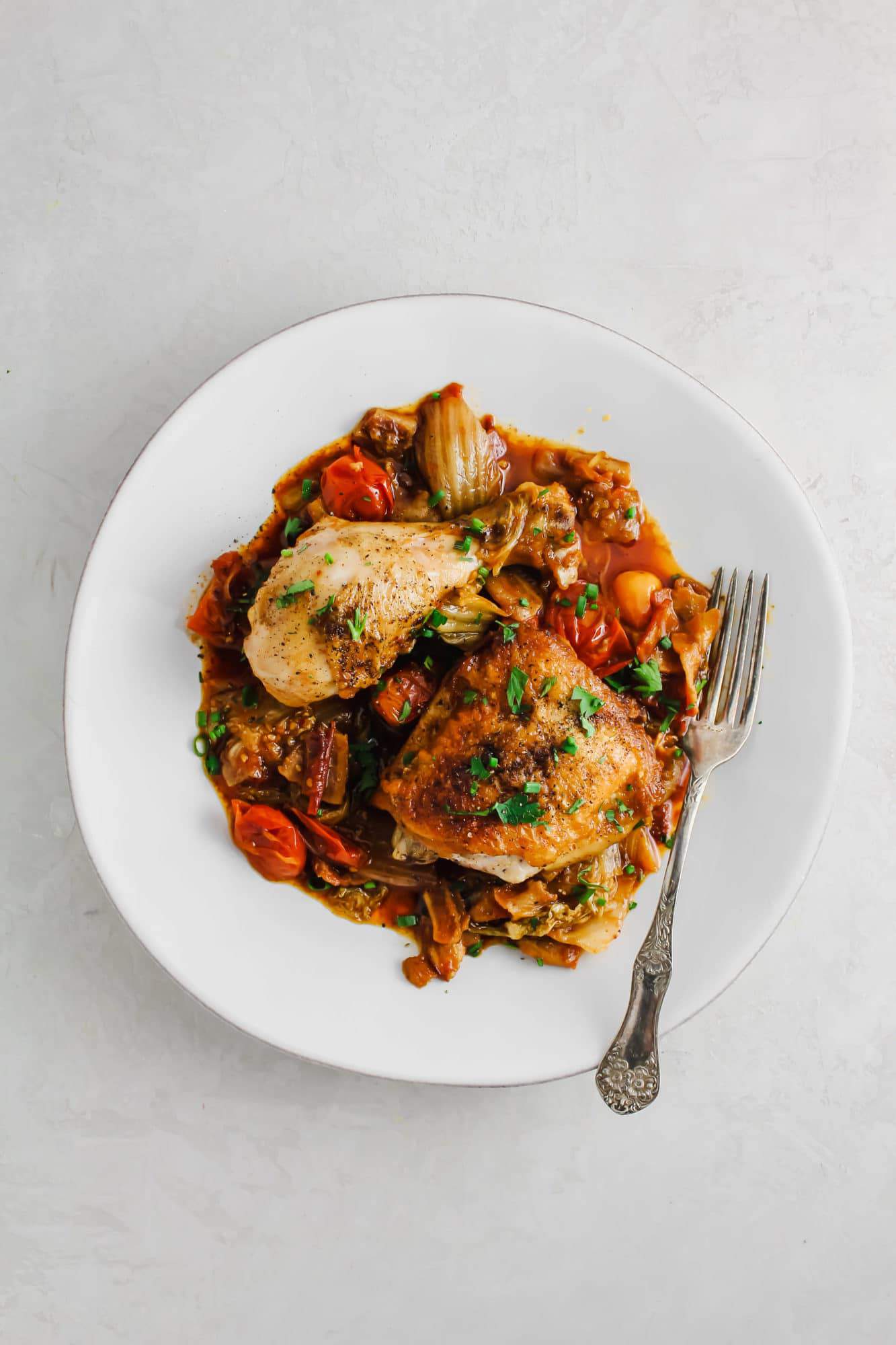 3 Crucial Steps to the Perfect Braise
This is one of those meals requiring a tad bit of attention. You won't exactly be able to just dump everything into the pot and leave it because you won't end up with the rich layers of flavor and texture. Maybe make this for a Sunday supper or on a lazy Saturday afternoon.
Sear the meat: Super important step number one is ensuring you brown, aka sear, your meat to achieve the crusty outer layer, but also creating those browned bits on the bottom of the pan.
Skim the fat: Plain and simple as the fat rises to the top, gently spoon it off with a ladle otherwise you'll end up with an oily stew.
Garnish: Top the braised stew with any kind of crunch or herbs to add even more tasty goodness. No regrets here!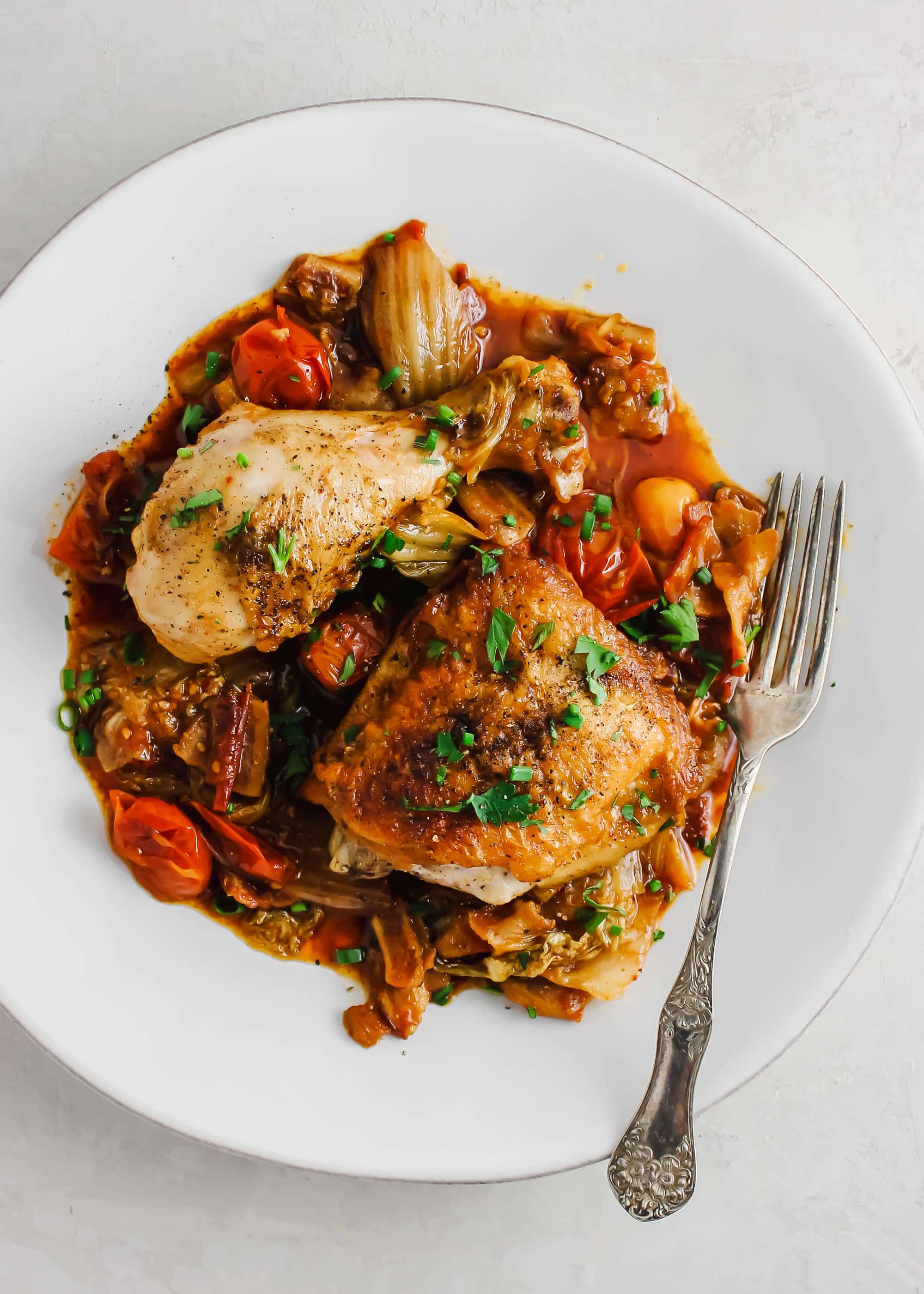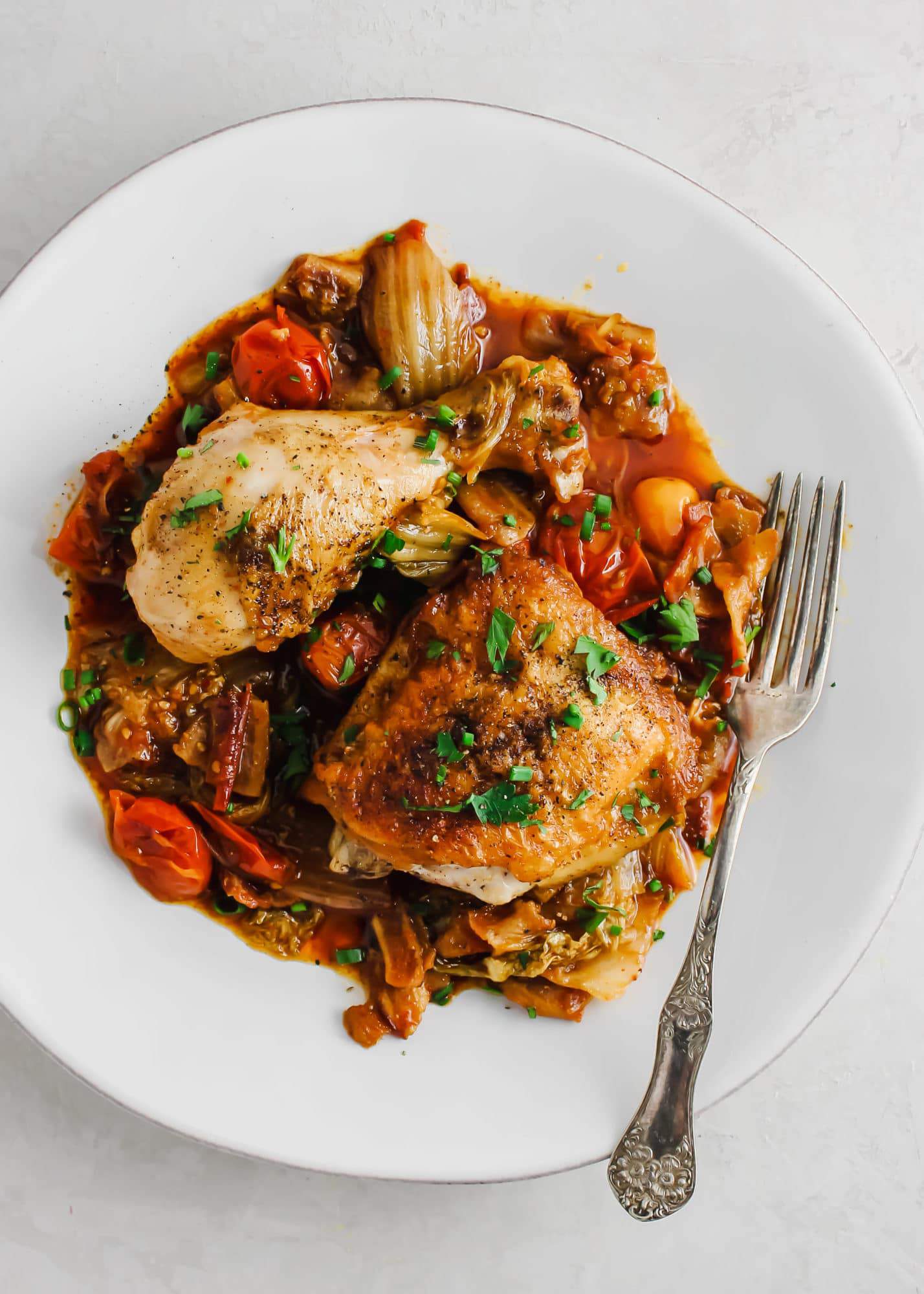 I get that time is of the essence when cooking, most nights, but this recipe is one you're not going to want to pass on because it's THAT GOOD! And if you're all "I don't know about kimchi," trust me on this it's kimchi basically wrapped in bacon!
Kimchi-braised bacon chicken is similar to the Bon Appetit recipe, cause I just can't help tweaking things a bit, and it's so good.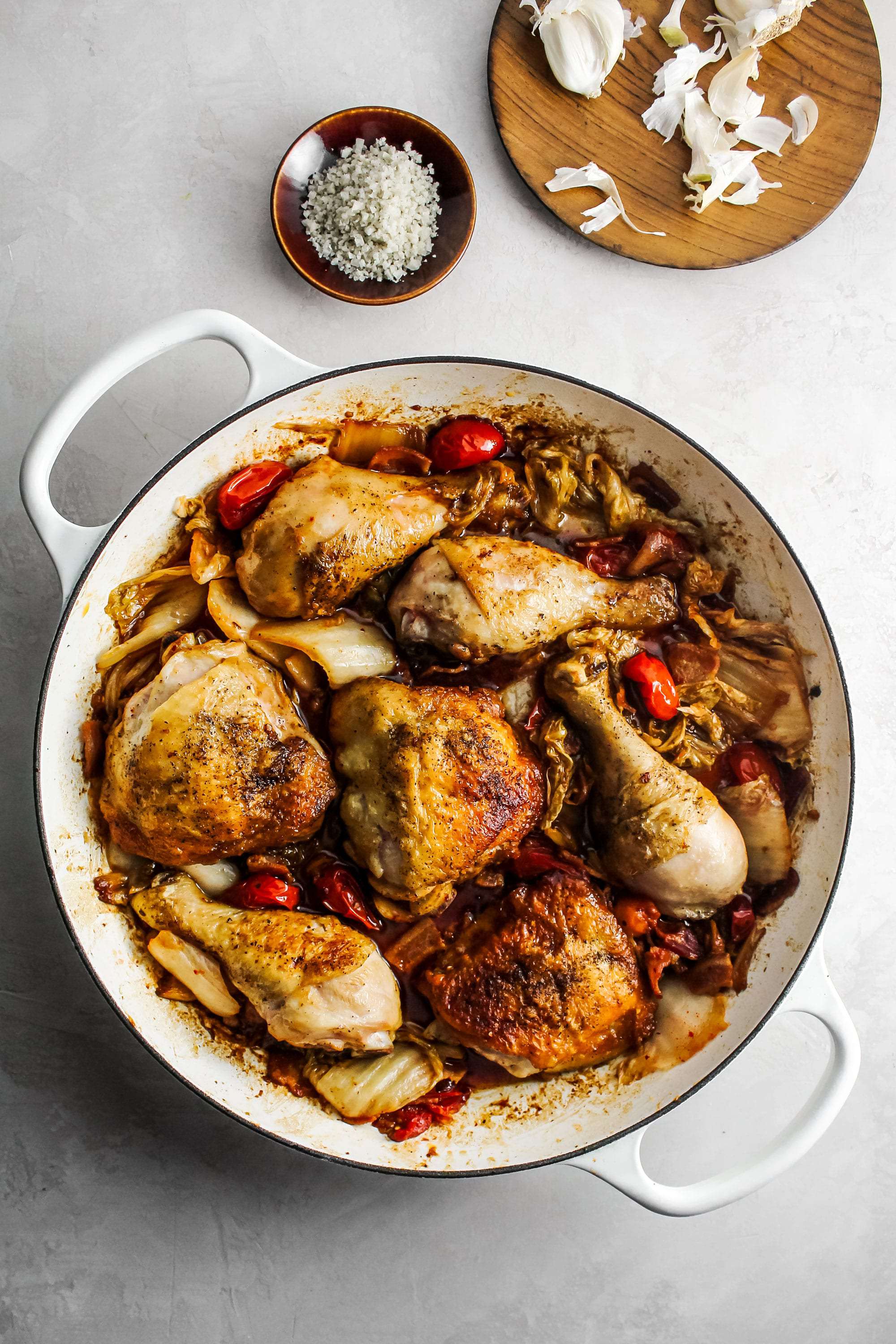 Ingredients
1

tablespoon

Olive Oil

8

slices

Bacon

cut into 1-inch pieces

4

lbs

Chicken Drumsticks

or thighs

Salt and Pepper

8

Garlic Cloves

crushed

1

pint

Cherry Tomatoes

1

cup

Chicken Broth

2

cups

Kimchi

juices included but divided
Instructions
Heat the olive oil over medium in a large heavy-bottomed skillet or braiser and cook bacon slices, tossing occasionally, until brown and crisp, 7 to 8 minutes. Transfer to a plate.

Season chicken with salt and pepper and cook, skin-side down, in the same skillet with the bacon drippings until skin turns a deep golden brown, 15 minutes. Transfer to a plate, skin side up.

Add the garlic and tomatoes to the same skillet and cook, stirring occasionally, until garlic browns and tomatoes have burst, about 5 minutes. Pour in chicken broth, making sure to scrape the browned bits up from the bottom of the skillet. Bring to a boil and cook until the liquid reduces by 3/4 quarters.

Add 1 cup of the kimchi to the skillet with the bacon and stir to combine. Place the browned chicken, skin-side up into the skillet (making sure the skin is above the liquid surface), and bring to a simmer. Cook for 50 to 60 minutes, reducing heat if needed until chicken is cooking through and reads 165℉.
Notes
You can serve this over egg noodles or rice, but it tastes great just the way it is too.
Nutrition
Serving:
1
serving
|
Calories:
731
kcal
|
Carbohydrates:
8
g
|
Protein:
61
g
|
Fat:
49
g
|
Saturated Fat:
14
g
|
Trans Fat:
1
g
|
Cholesterol:
309
mg
|
Sodium:
836
mg
|
Potassium:
1094
mg
|
Fiber:
1
g
|
Sugar:
3
g
|
Vitamin A:
736
IU
|
Vitamin C:
33
mg
|
Calcium:
60
mg
|
Iron:
3
mg