A little sauce, a lotta melted mozzarella, and a sprinkling of basil and oregano mixed together with noodles make up this delicious Margarita Pizza Casserole. It has all the margarita-flavored pizza taste but in a pasta casserole form.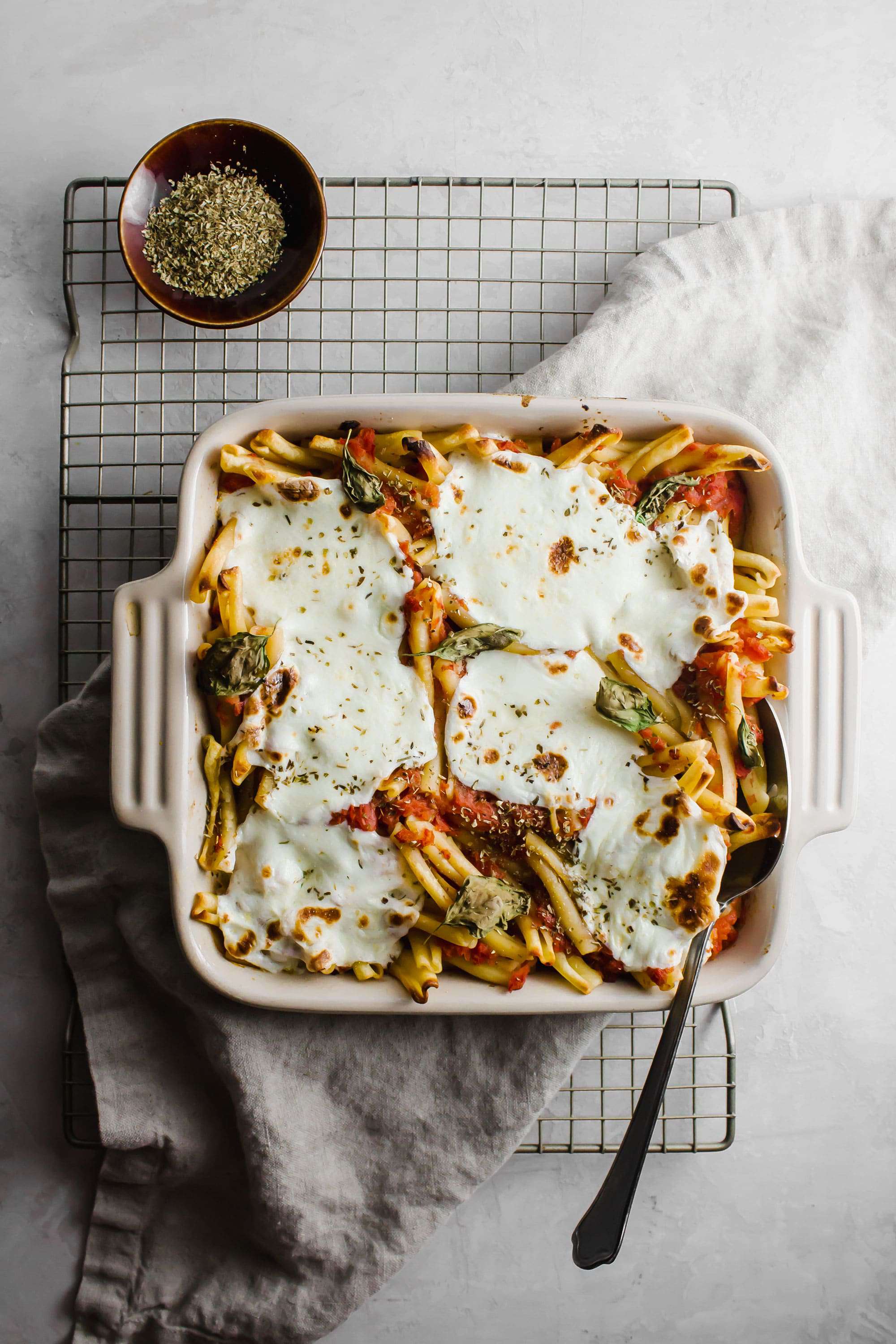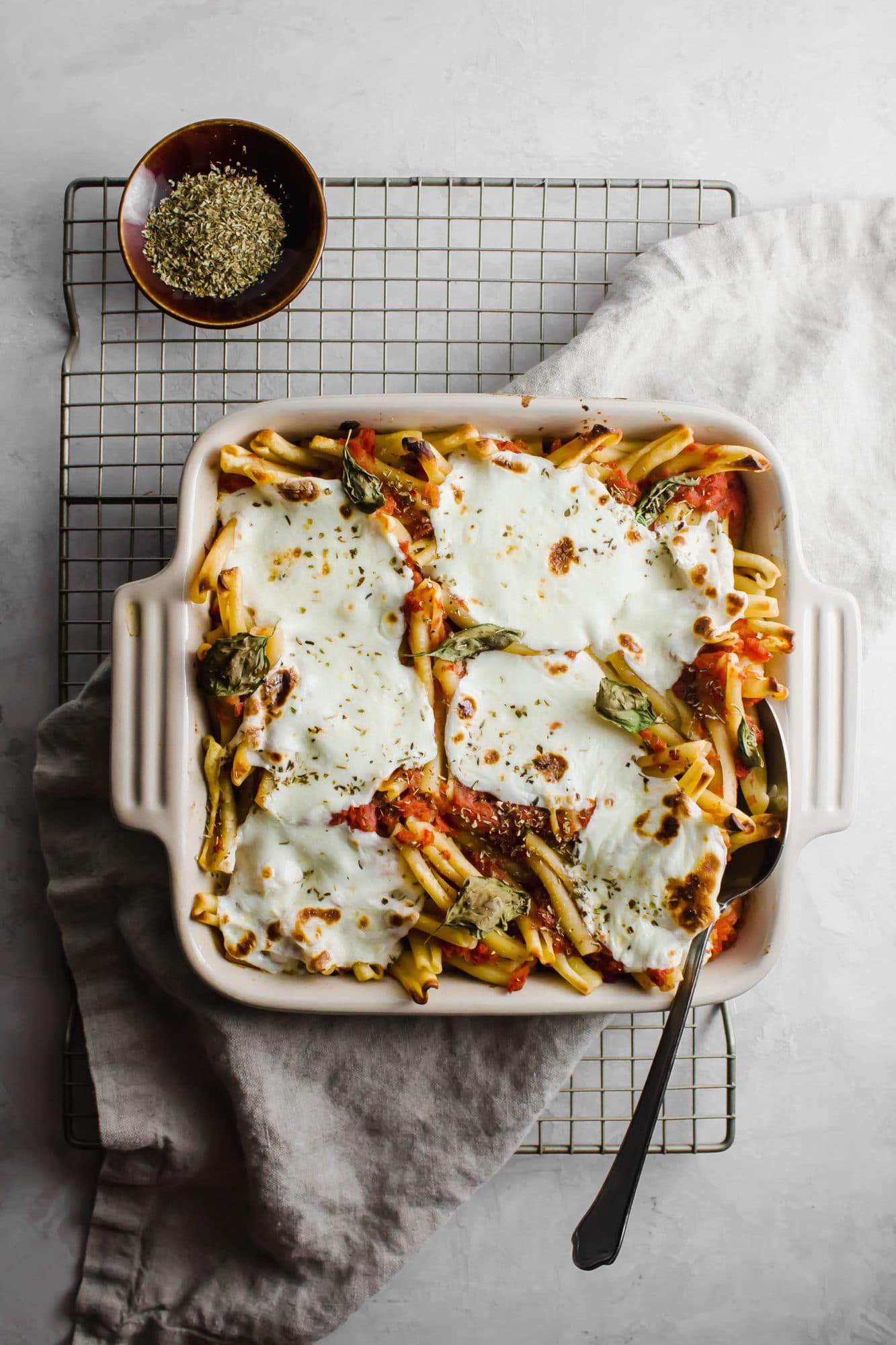 Sometimes in life, I get all caught up in figuring out healthy dinners, but often have to reel myself back, realign my priorities and say, "Self, we need some serious carbs. The yummy kind of carbs like pasta and bread." AKA the kind of food I don't have to beg my kids to eat. Then a recipe such as Margarita Pizza Casserole comes to mind and life becomes balanced, or that's what I'm telling myself…
As far as balance goes this is day 3 of being on a schedule in our house, which is something I've only been able to accomplish in random bits here and there this year. Somehow I'm already reflecting on the year and it's only October… I guess it's because I'm still in shock it is October or maybe because it's still 90 degrees outside and my body is like "it's summer!" and my head is all "Nope, it's fall! Happy New Year" Perhaps even this is the start of my new year because my kids have been talking about Halloween and what they want to be since, well, last Halloween. Our year revolved around this holiday. Either way, we have a stretch of time before us of several weeks where, hopefully, and God willing (please!), we can stay on schedule.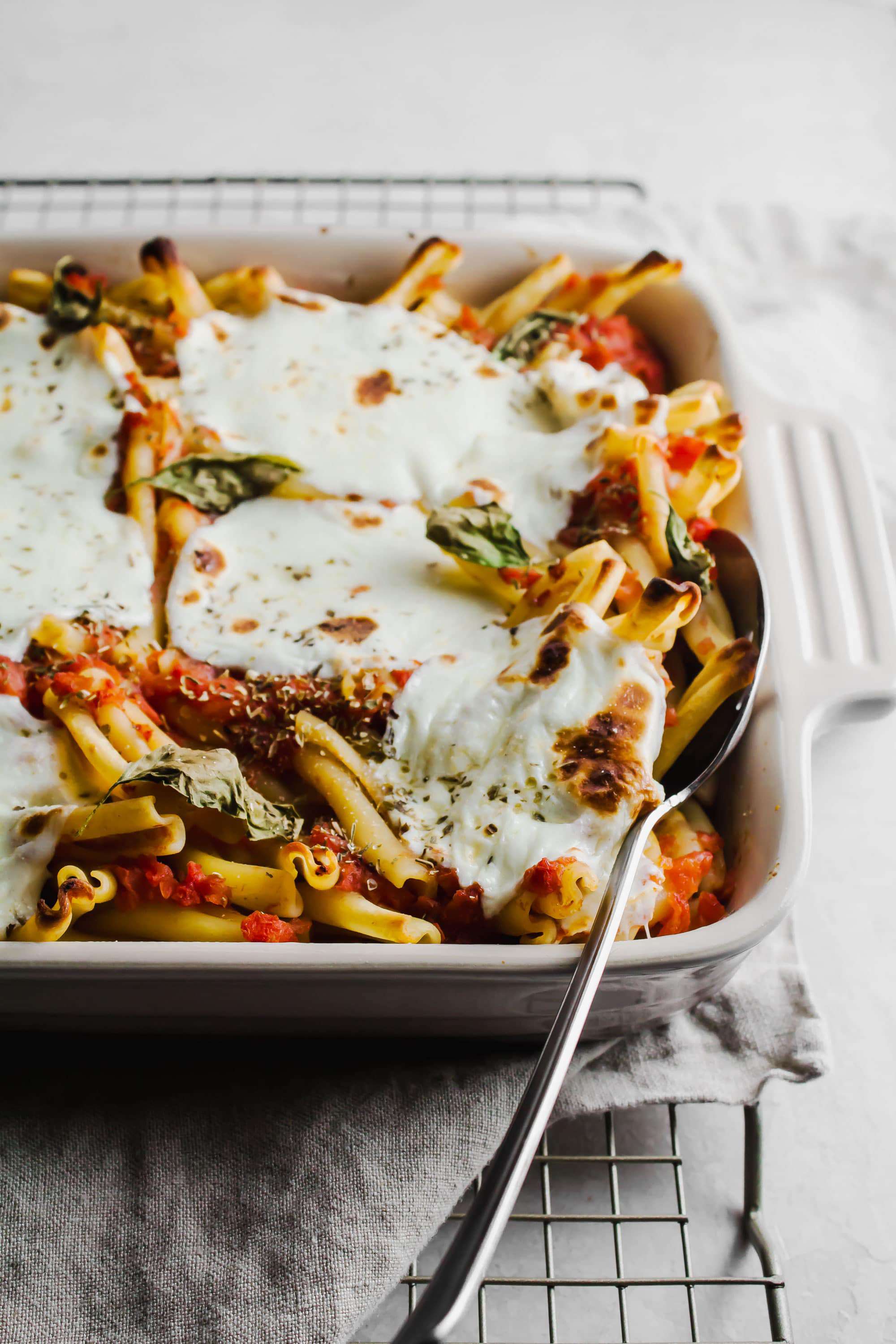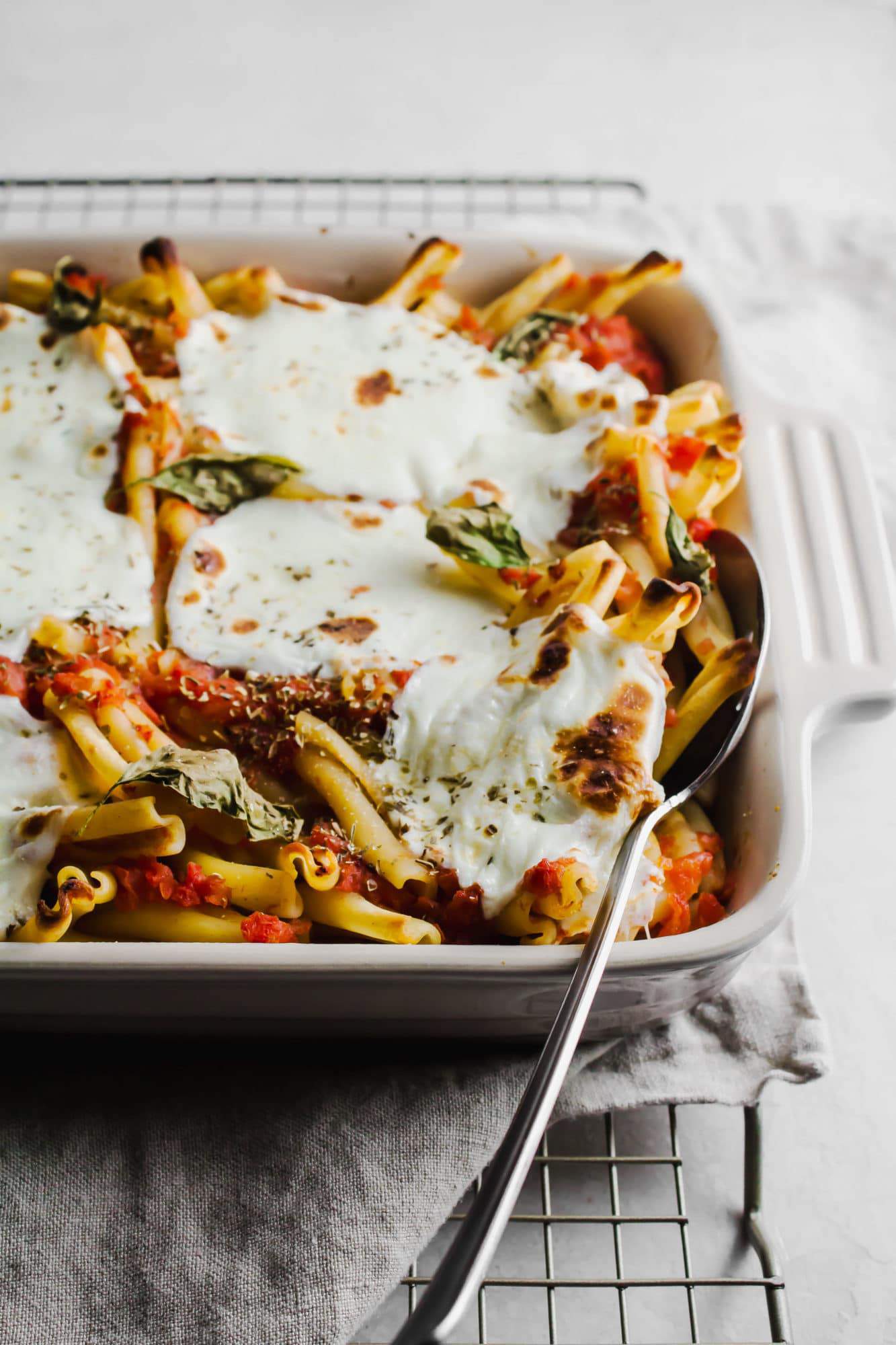 Despite those 90 degree temps I'm uniting with all other fall food lovers and making those heartier meals I've been dreaming about since we had cooler temps. Soups and stews, casseroles, and quick bread all come to mind. Combine my love for fall-esque meals with my carb realignment and we've got Margarita Pizza Casserole.
I call this a casserole loosely because it is basically a baked pasta, but I ask you, is it not THE SAME THING? I don't know, but it is made in my brand new Le Creuset casserole dish I picked up from the Le Creuset Factory to Table Sale. If it's in a casserole dish then I say, "let's call it a casserole."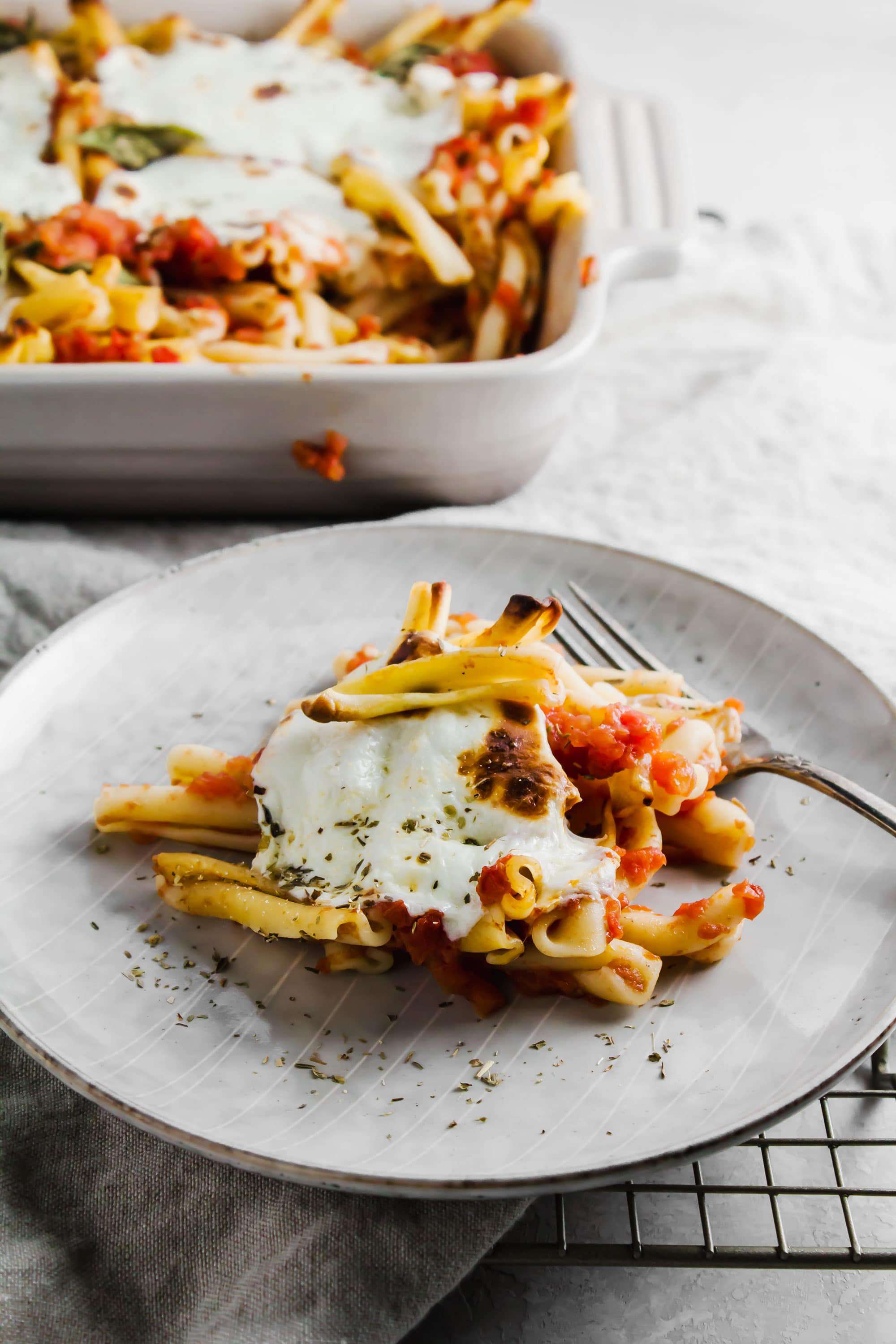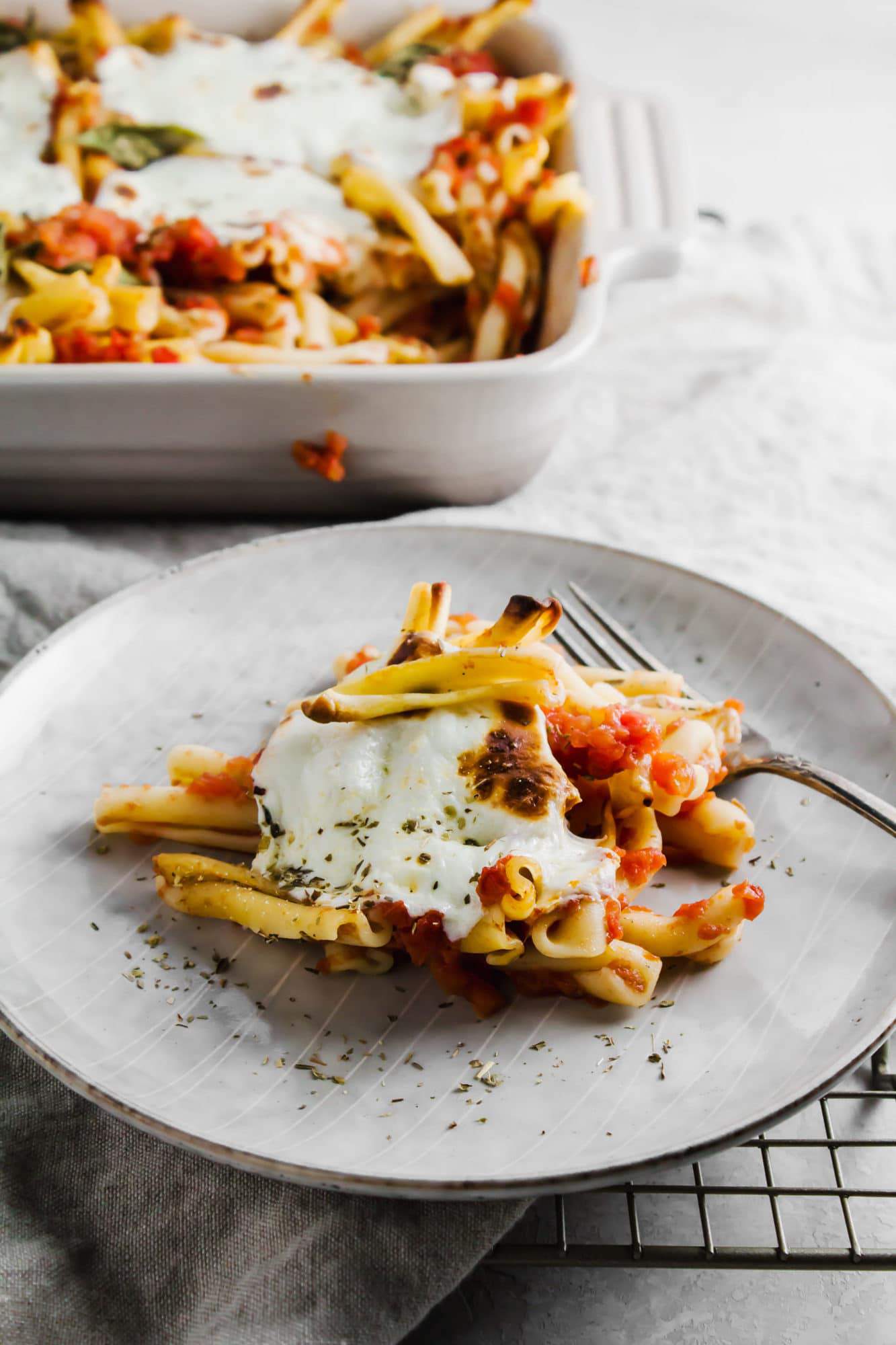 What Makes this like a Margarita Pizza?
Glad you asked… Mainly, what makes this casserole similar to a margarita pizza is the simple sauce paired with melty mozzarella cheese. You're going to make the sauce yourself (don't freak out its 2 steps: mash the tomatoes and add salt) and toss with the noodles. Similar to a margarita pizza where you have a basic crust with the simple Napa-style tomato sauce on top and melted mozzarella cheese with fresh basil. The only difference here is the swap of pasta for dough.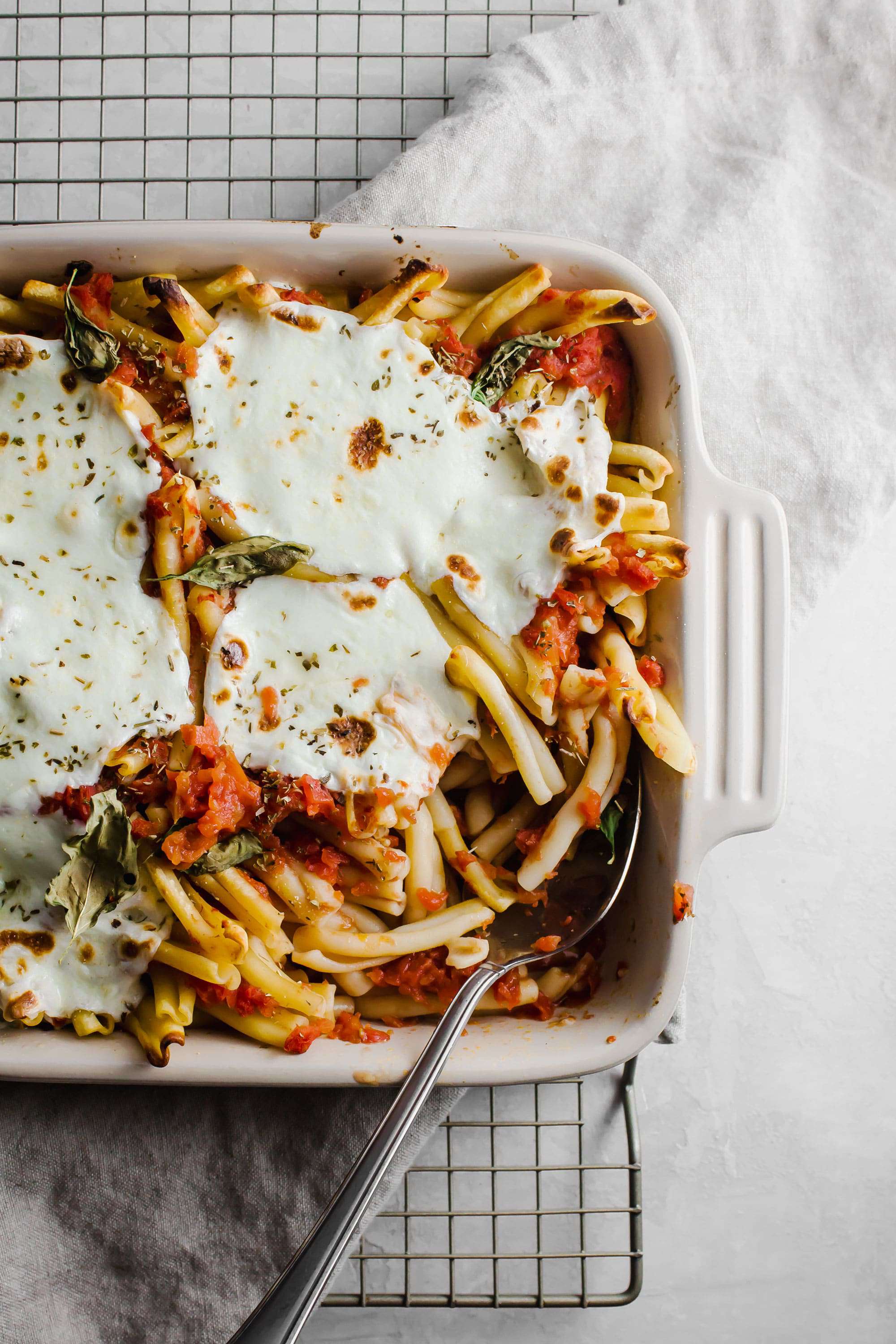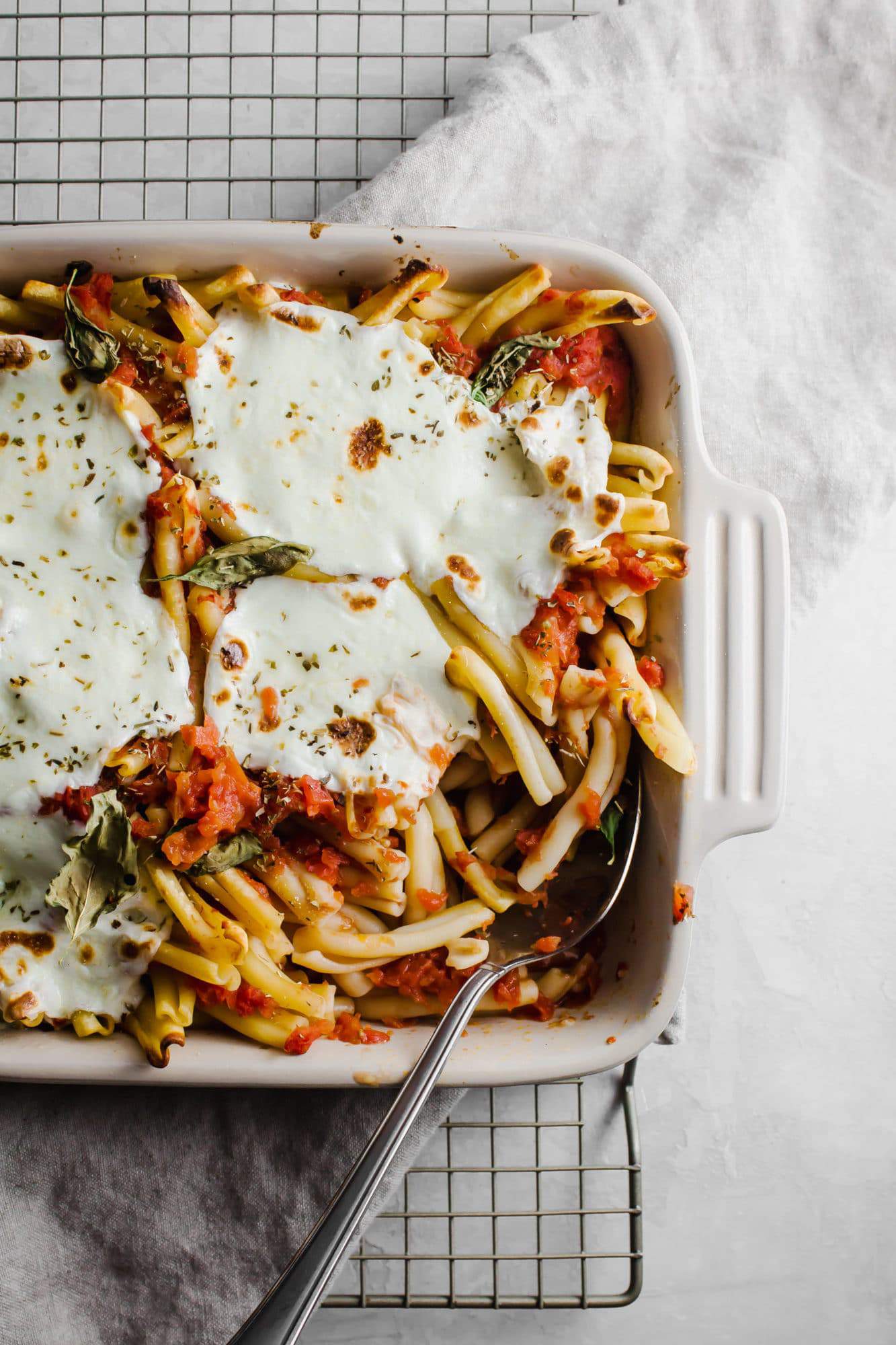 This is one of those easy, make ahead, meals that's kind of pretty and looks nice on a table. It's also one you're going to want to just leave the serving spoon in cause you're going to go back for seconds, maybe thirds. Again, align your priorities!
A little sauce, a lotta mozzarella, and a sprinkling of basil and oregano and you've got one delicious baked pasta, I mean casserole, everyone is going to love.
Print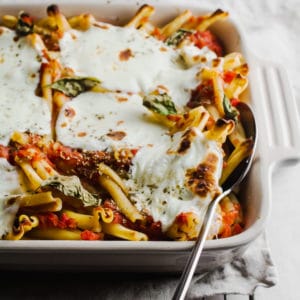 Margarita Pizza Casserole
Prep Time:

10 Mins

Cook Time:

30 Mins

Total Time:

40 Mins

Yield:

6

Servings

1

x
---
Description
A little sauce, a lotta mozzarella, and a sprinkling of basil and oregano and you've got one delicious Margarita Pizza Casserole.
---
Scale
Ingredients
1

16-oz box Pasta (such as Ziti or Cavatapi)

2

28-oz cans Whole Peeled Tomatoes
Salt, seasoning

1 teaspoon

Oil

4

to

6

ounces Fresh Mozzarella

1 teaspoon

Dried Oregano
---
Instructions
Preheat the oven to 375.
Bring 6 quarts of salted water to a boil in a large stockpot. Add Pasta and cook for 10 minutes until it becomes al dente or follow the package directions. Drain and set aside.
Remove the Whole Peeled Tomatoes and place them in a large bowl. Mash the tomatoes together using your hand and remove any tough parts of the tomato. Add 1/2 to 1 cup of the remaining sauce from the tomato can. Season with Salt. Add the cooked pasta to the sauce and toss to coat.
Grease a baking dish with Oil or cooking spray and pour in the pasta mixture. Tear the Fresh Mozzarella and place randomly on top of the pasta mixture. Season with Dried Oregano and place in the oven to cook for 20 minutes or until cheese is melted and begins to bubble.
---