The reward of meal prep is high when you prepare this Vietnamese Beef and Riced Veggies recipe. The brown sugar and garlic marinated beef over riced broccoli and carrots taste deliciously drenched in the homemade hoisin sauce.
Some of my other favorite meal prep recipes include this Asian Chicken Chopped Salad, Instant Oatmeal Packets, and this Turkey and Egg Breakfast Casserole.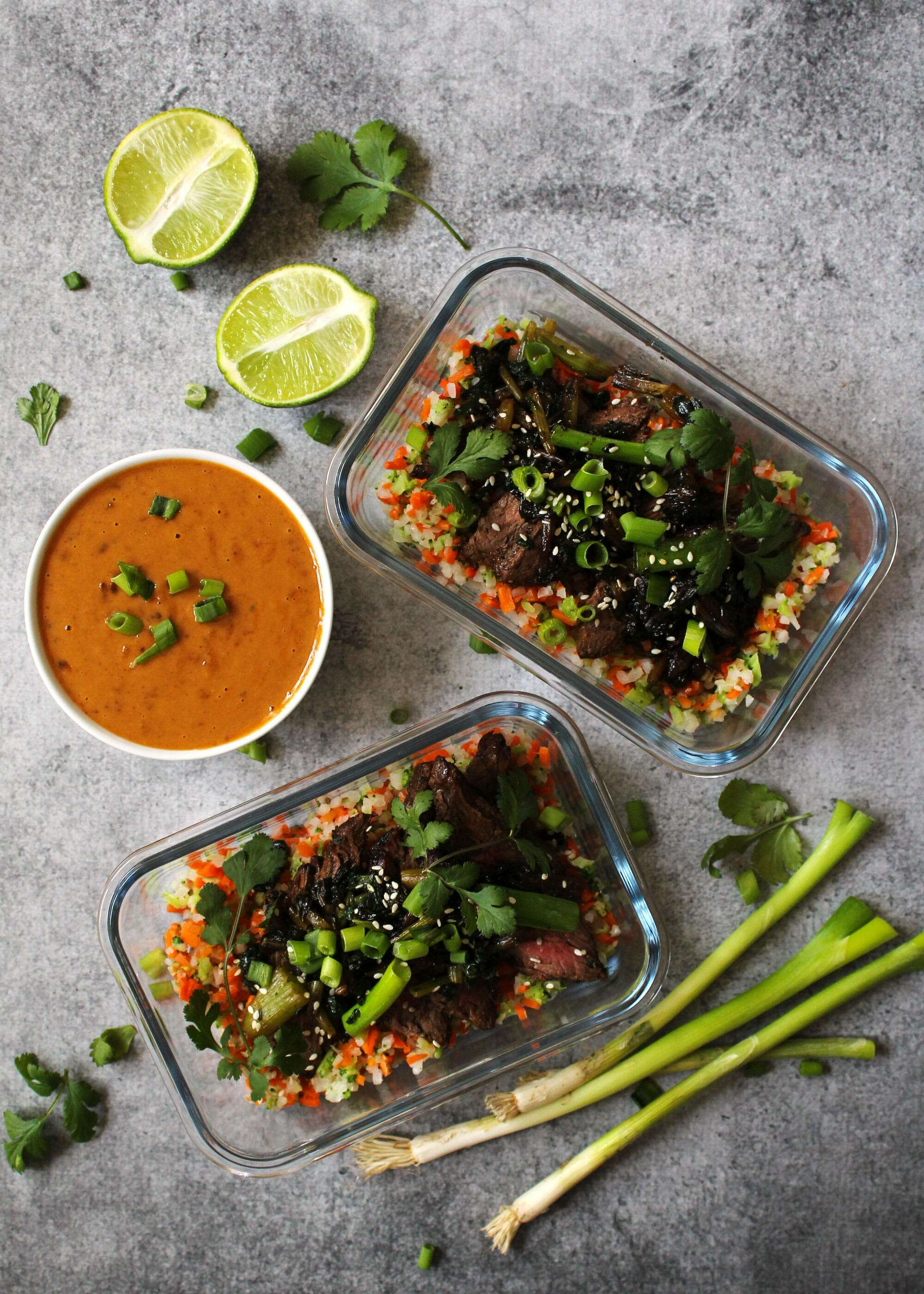 Vietnamese Beef and Riced Veggies
Before I spent my days preparing food for my family and the internet I was a fashion designer and CEO of my own clothing label. When I was 9 months pregnant I made the shaky transition from the world of fashion to the world of a stay-at-home mom. Surprisingly, I've found many similarities in raising toddlers and working within the fashion industry. One such commonality is the lack of food.
I often find myself snacking on my kids' leftovers or skipping lunch altogether. My solution has been to meal prep, which allows me to each delicious wholesome foods that provide the energy anyone who is sleep-deprived needs.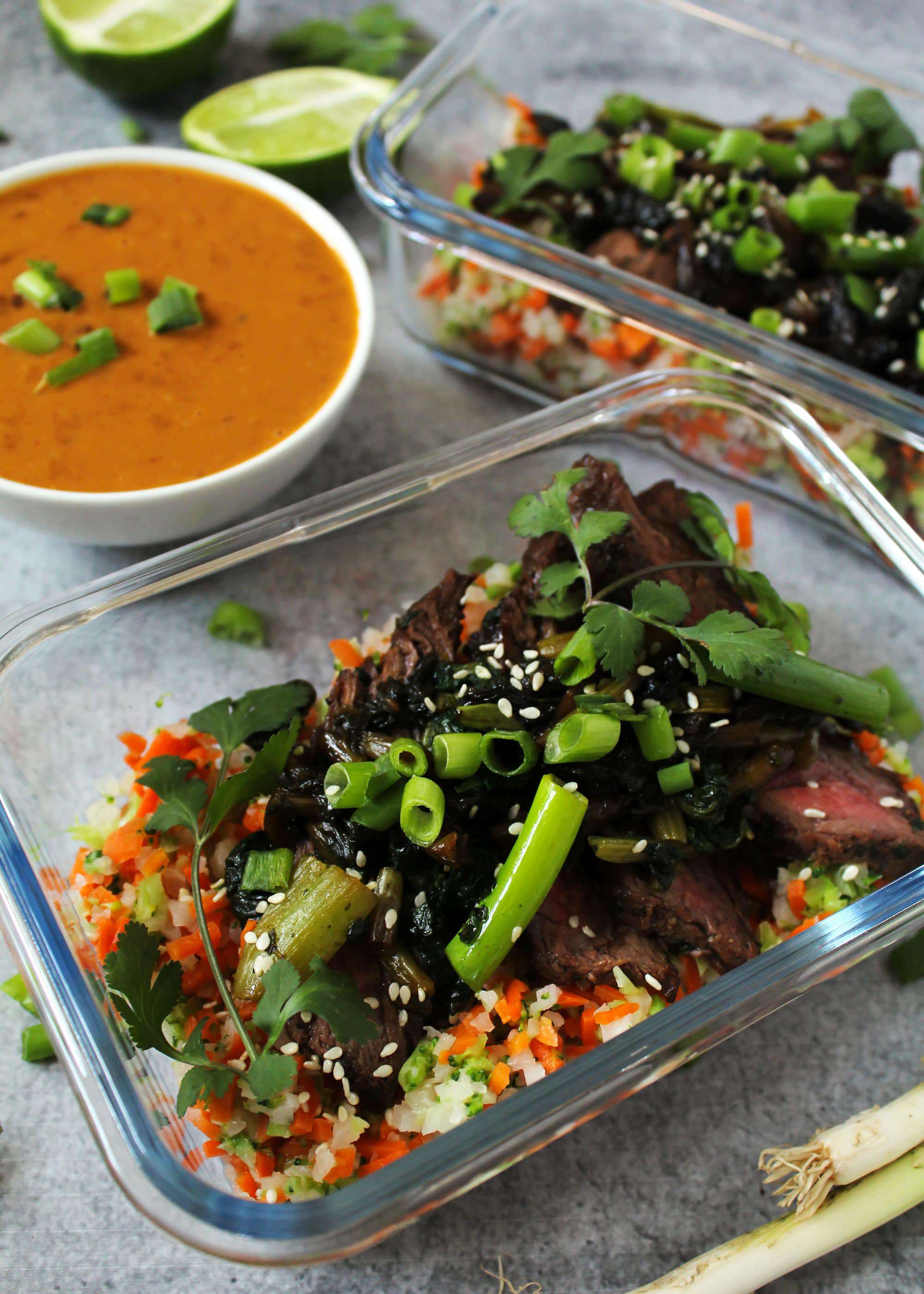 How to Make Homemade Hoisin Peanut Sauce
While this Vietnamese Beef and Riced Veggie meal are delicious in and of itself, drenching it in a homemade hoisin peanut sauce is even better. This simple sauce is easy to prepare too. Whisk all the ingredients into a small saucepan and heat until well-combined and sauce begins to thicken.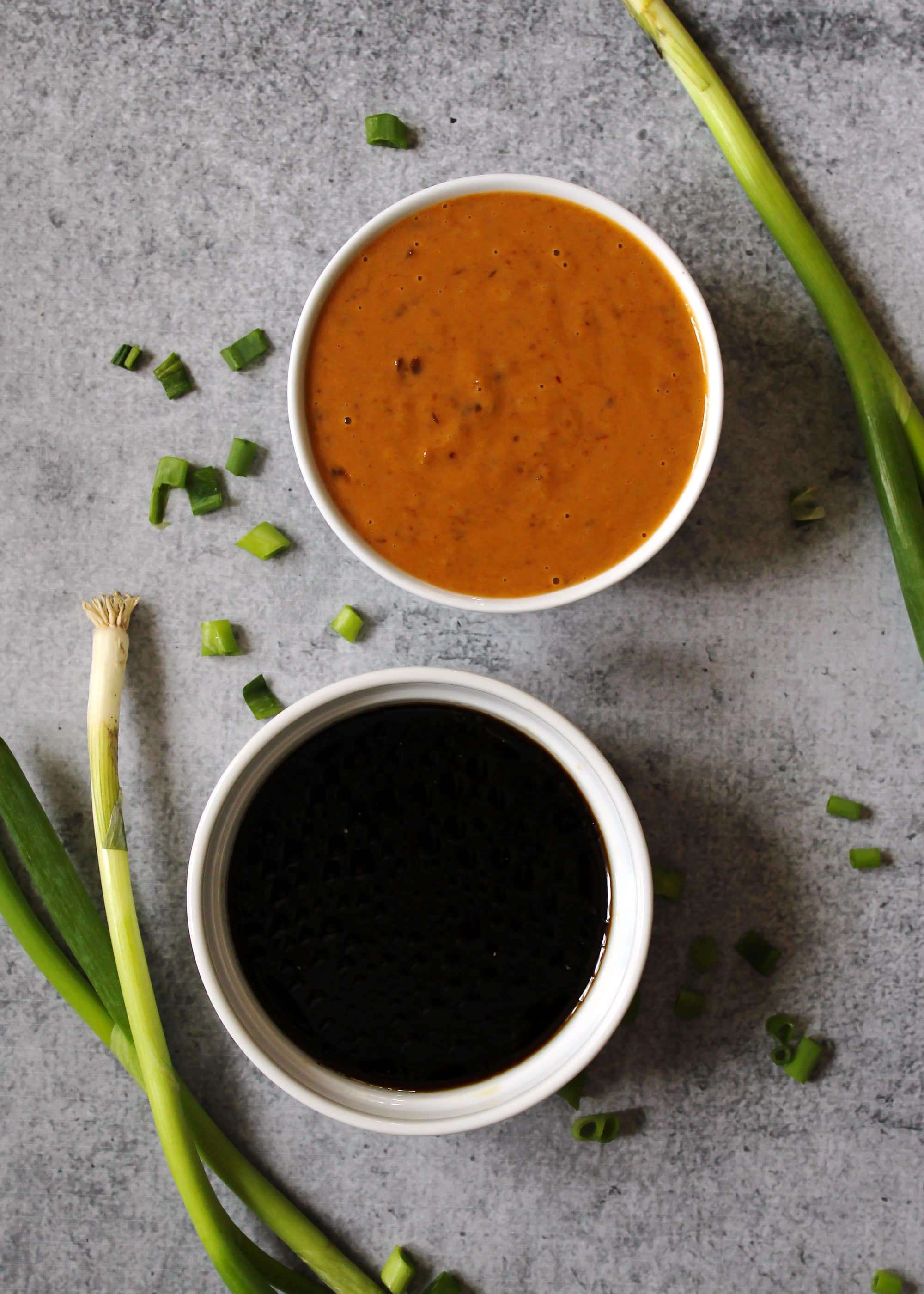 How to Meal Prep
The brilliance behind meal prep is the benefit of eating real wholesome foods, without having to stop and prepare them daily. If well planned preparing your weekly meals ahead of time can be relatively simple.
Choose 1 meal you're going to happily eat (let me persuade you with the images in this post) for the week. I consider my week for 5 days, but you can do weekends too.
Get some meal prep containers. No, they don't need to be anything fancy, but it's nice to have containers you use only for your meal prep and that fit together easily in your fridge.
Go to the grocery store to get all your ingredients.
Choose a day, again I prefer to prep on Sunday, to make your dish and then portion it out in your containers. Store in fridge if necessary
Some of My Other Favorite Meal Prep Recipes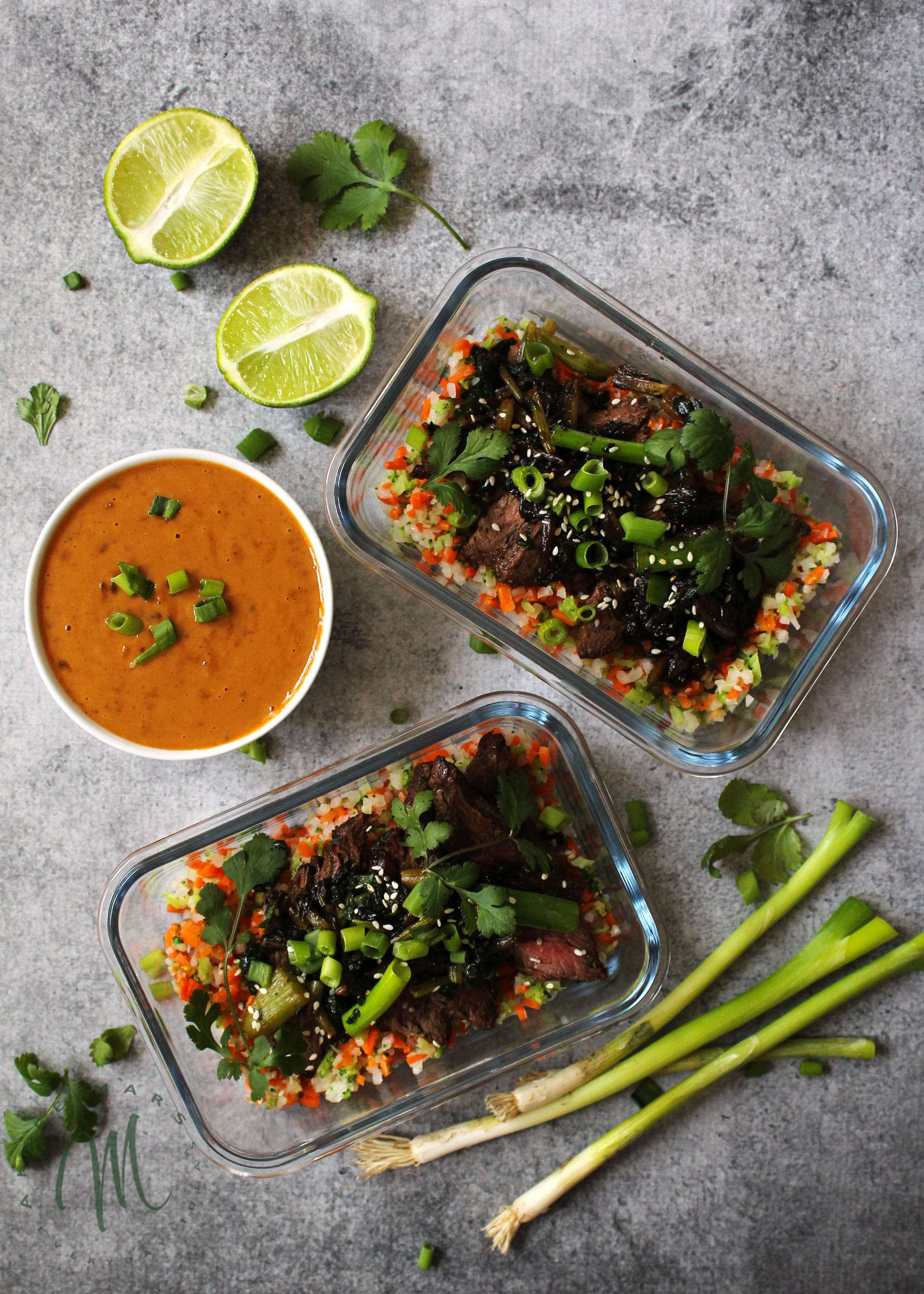 Ingredients
Beef
1

lb

Beef Skirt Steak

3

Garlic Cloves

1

tablespoon

Brown Sugar

1

teaspoon

Salt

1/4

cup

Olive Oil
Hoisin Peanut Sauce
1/4

cup

Hoisin Sauce

2

tablespoons

Peanut Butter

2

tablespoons

Red Chili Paste

1

teaspoon

Sesame Oil

1/2

teaspoon

Crushed Red Pepper Flakes

1/2

cup

Water
Meal Prep
1 ½

cup

Frozen Riced Cauliflower

1

cup

Frozen Riced Broccoli

1

tablespoon

Sesame Seeds
Instructions
Beef
In a small bowl combine the garlic cloves, brown sugar, 1 tablespoon olive oil, and salt. Rub onto the beef, coating both sides. Slice each strip of the steak into thirds.

Heat a large skillet over medium-high heat and add 3 tablespoons olive oil. Place each piece of steak, making sure not to crowd into the skillet. Sear on each side for 3 to 4 minutes until meat reaches a temperature of 140°. Drain skillet. Cut the meat slicing against the grain.

In a small saucepan over medium heat add the hoisin peanut sauce ingredients and whisk occasionally for about 5 minutes. Once the mixture is heated and begins to thicken, remove and store in an air-tight container. Serve with the beef and vegetables.
Meal Prep
Add the frozen riced cauliflower and riced broccoli to the same skillet and saute for 3 to 5 minutes, until vegetables have cooked through. Divide between 5 meal prep containers.

Layer the sliced steak on top and garnish with sesame seeds.
Nutrition
Calories:
356
kcal
|
Carbohydrates:
16
g
|
Protein:
24
g
|
Fat:
23
g
|
Saturated Fat:
5
g
|
Cholesterol:
58
mg
|
Sodium:
804
mg
|
Potassium:
562
mg
|
Fiber:
2
g
|
Sugar:
9
g
|
Vitamin A:
185
IU
|
Vitamin C:
41
mg
|
Calcium:
51
mg
|
Iron:
3
mg