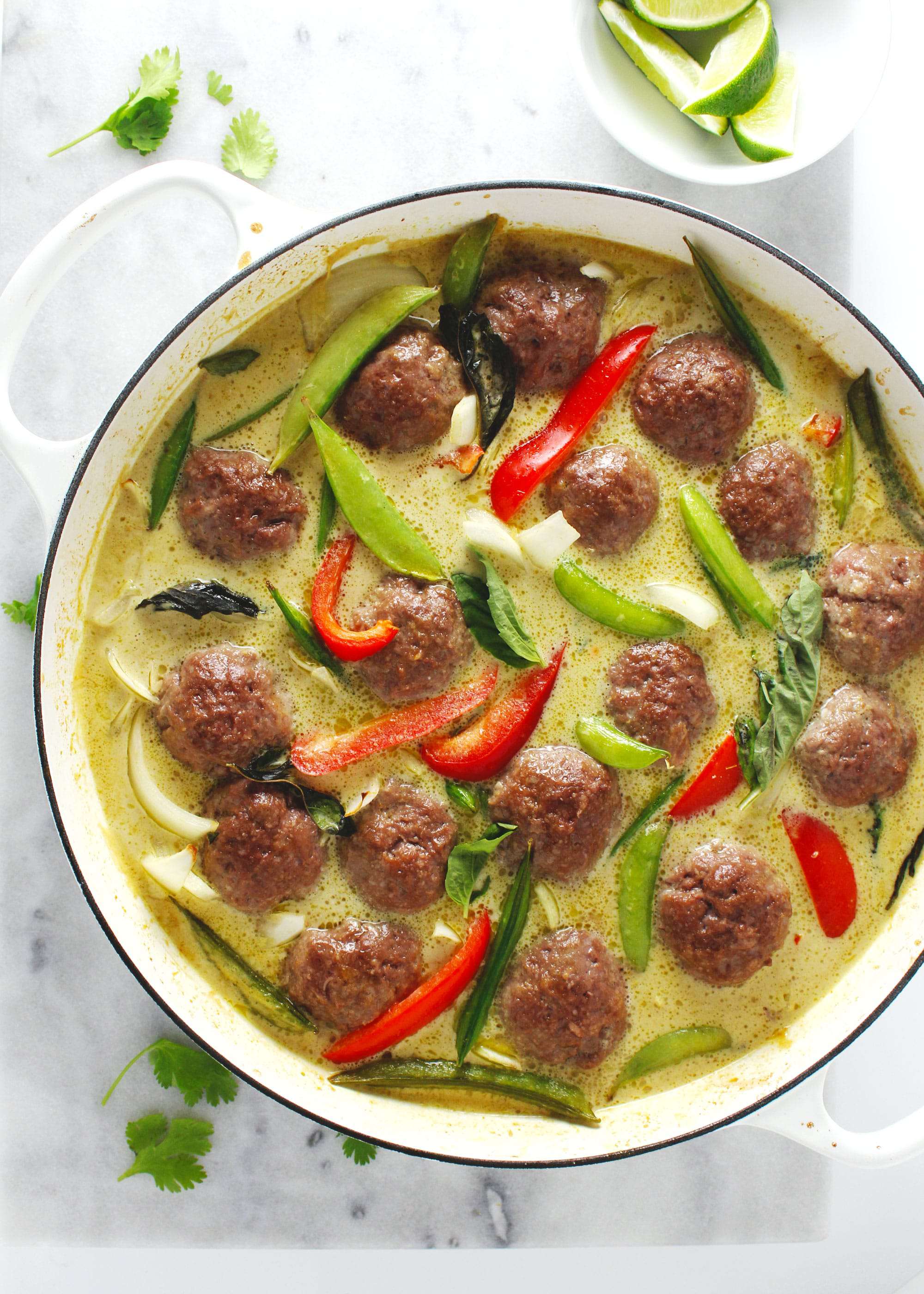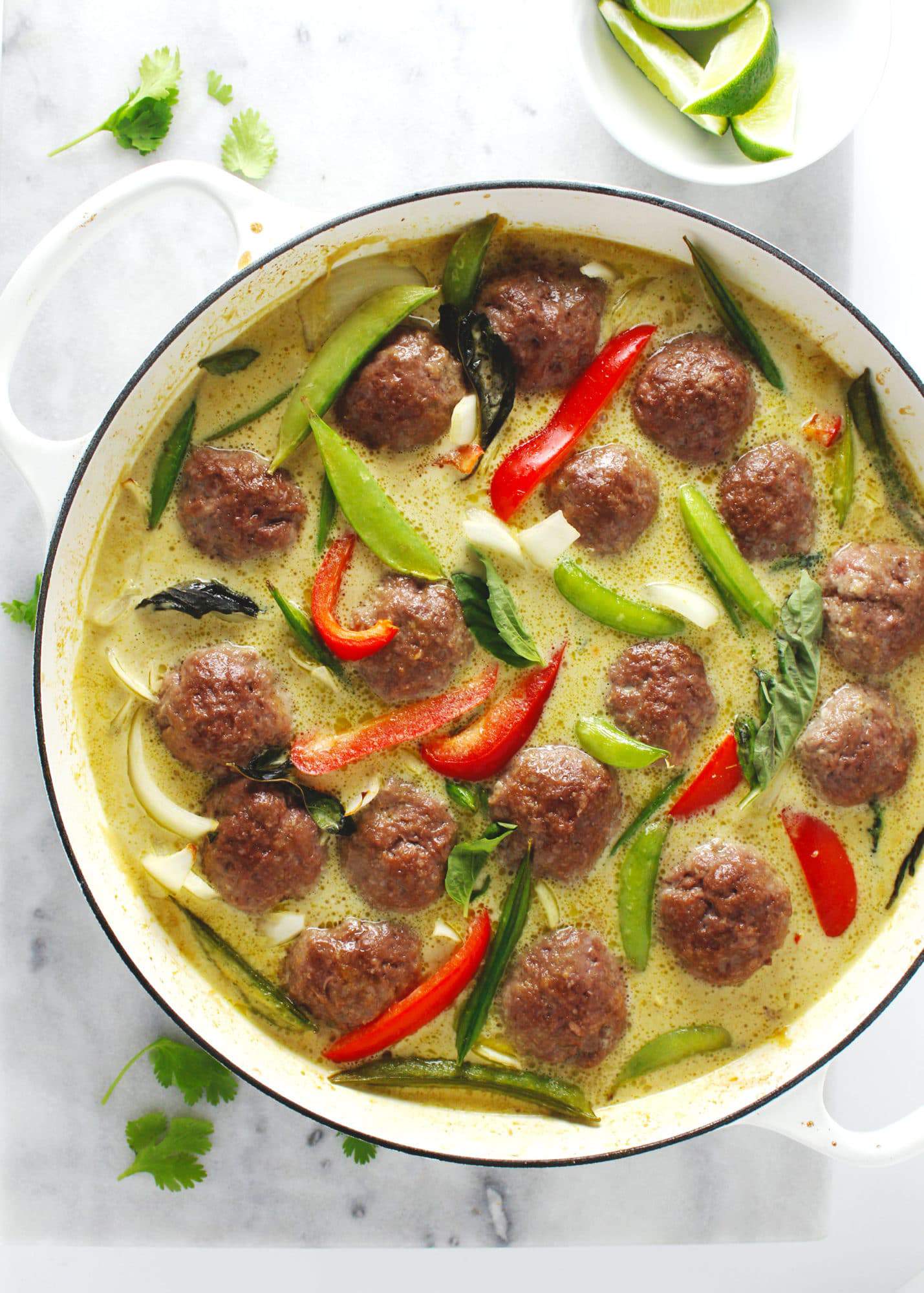 Oh hello there bright and beautiful looking healthy dinner option. I'm so glad you came to my table… So truly glad because the dinner struggle in our house is sooo real. So real, that I often dread making it, thinking about, shopping for it (yep, I said it, I'm a food blogger and making dinner sometimes causes me to have a nervous twitch). But this dish, this is an ONE POT MEAL friends, meaning all those delicious ingredients you see listed below and coming together so perfectly in the pics go in one happy little skillet ('cause skillets are happy, right? Especially, when filled with yum ingredients!)
This one takes about 50 minutes to prepare start to table finish, but before you click off this page thinking that timeframe will never do, just know you can enjoy it for more than one night. Yes, make it Sunday when maybe you've magically found some extra time in your jam-packed day and then eat it for leftovers on Monday when you've somehow lost time.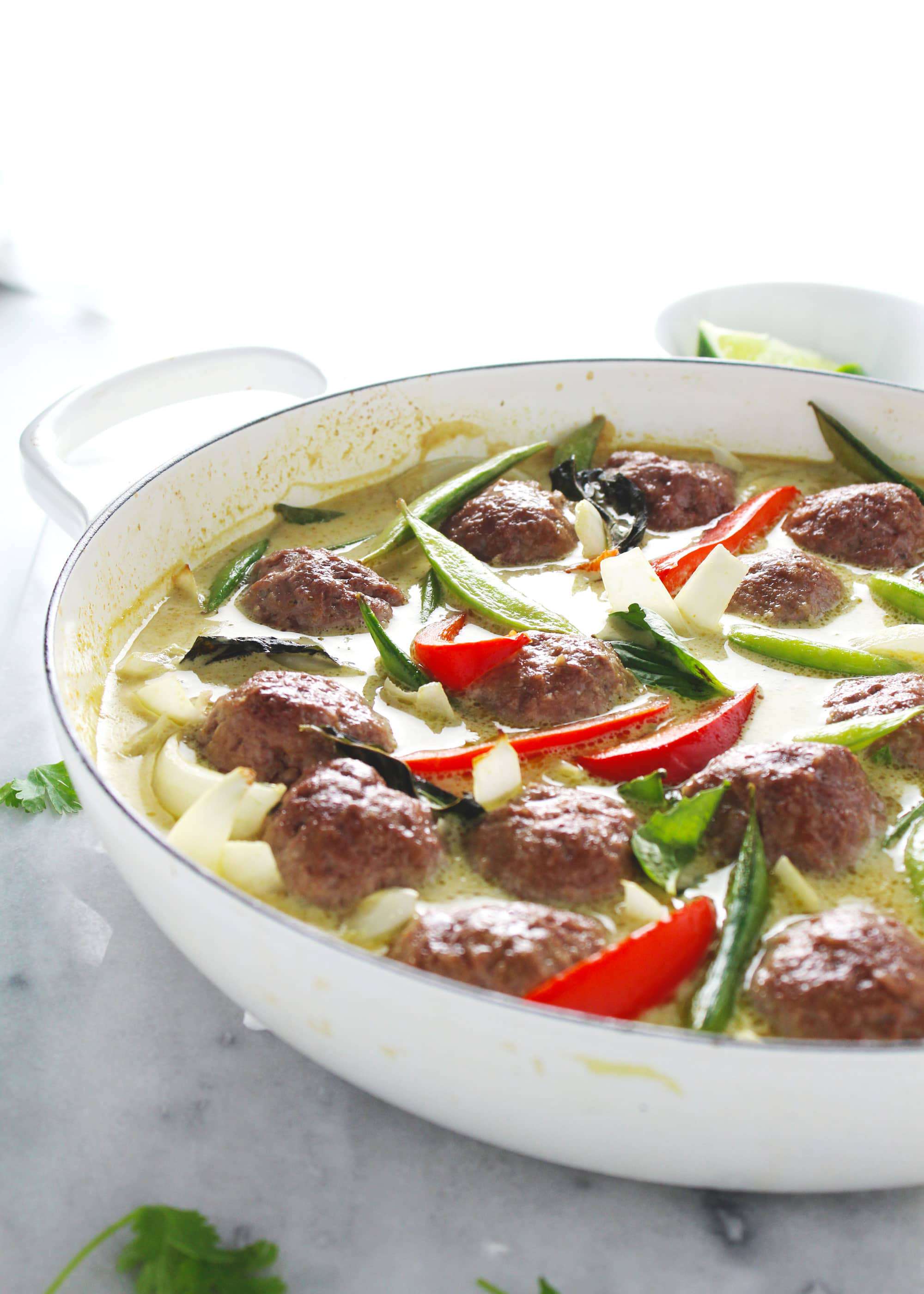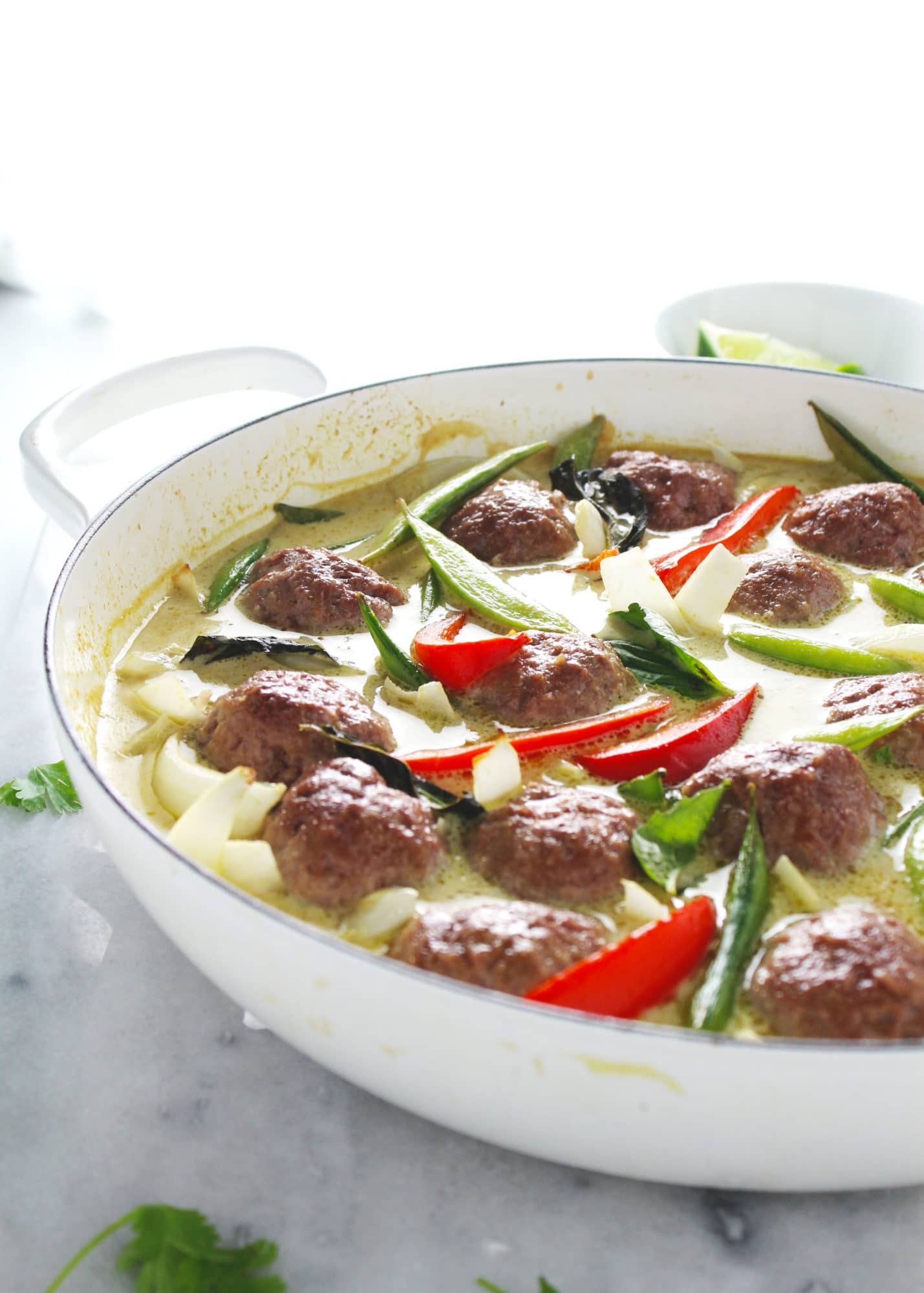 Still concerned about the total time till you're shoveling this dish down? Let me tell you a little secret because with this dish the secret really is in the sauce… If you really truly want to try it out and want to cut down on the time just switch out the meatballs for chicken. Get a rotisserie chicken from your local grocer, use a fork to pull it apart, toss it in and you've just created an under 30-minute meal. Go you, you savvy little chef! Like I said the star is the sauce.
And speaking of dinner, you may or may not have noticed a few changes around here, because change can be good especially when the change is to focus on dinner type meals and easy meal prep, right? See, secretly (gosh I'm just spilling them all tonight) I want my dinner struggles to disappear and I figured if I can achieve such life bliss I have to share the love. Moving forward there are going to be quite a bit more dinner recipes like the one you see here, but many will be versions of quick and easy, 5 ingredients, meatless and even slow cooker meals with some breakfast and dessert sprinkled in the mix.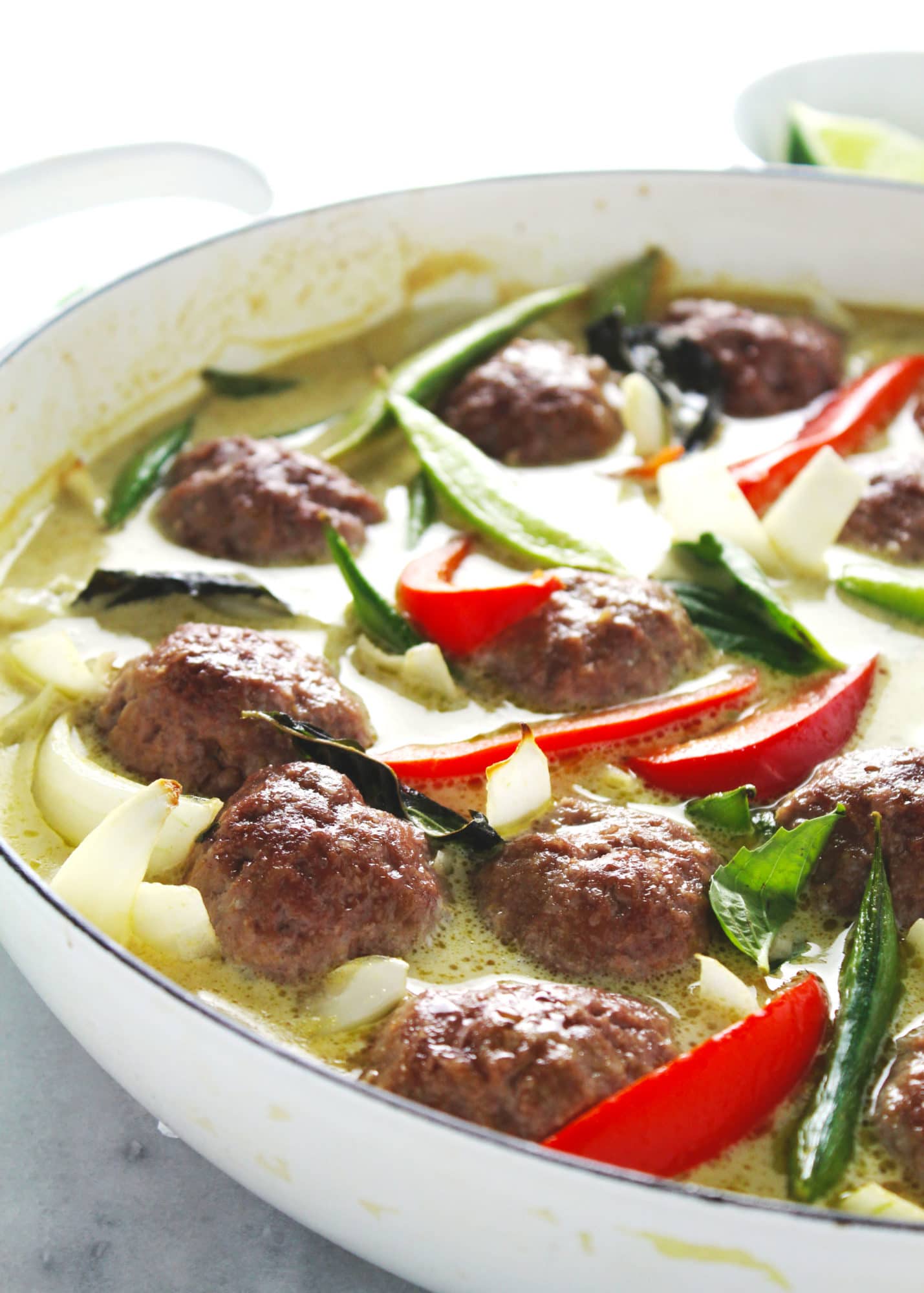 (Slight pause here for a little close-up of that deliciously good green curry sauce)…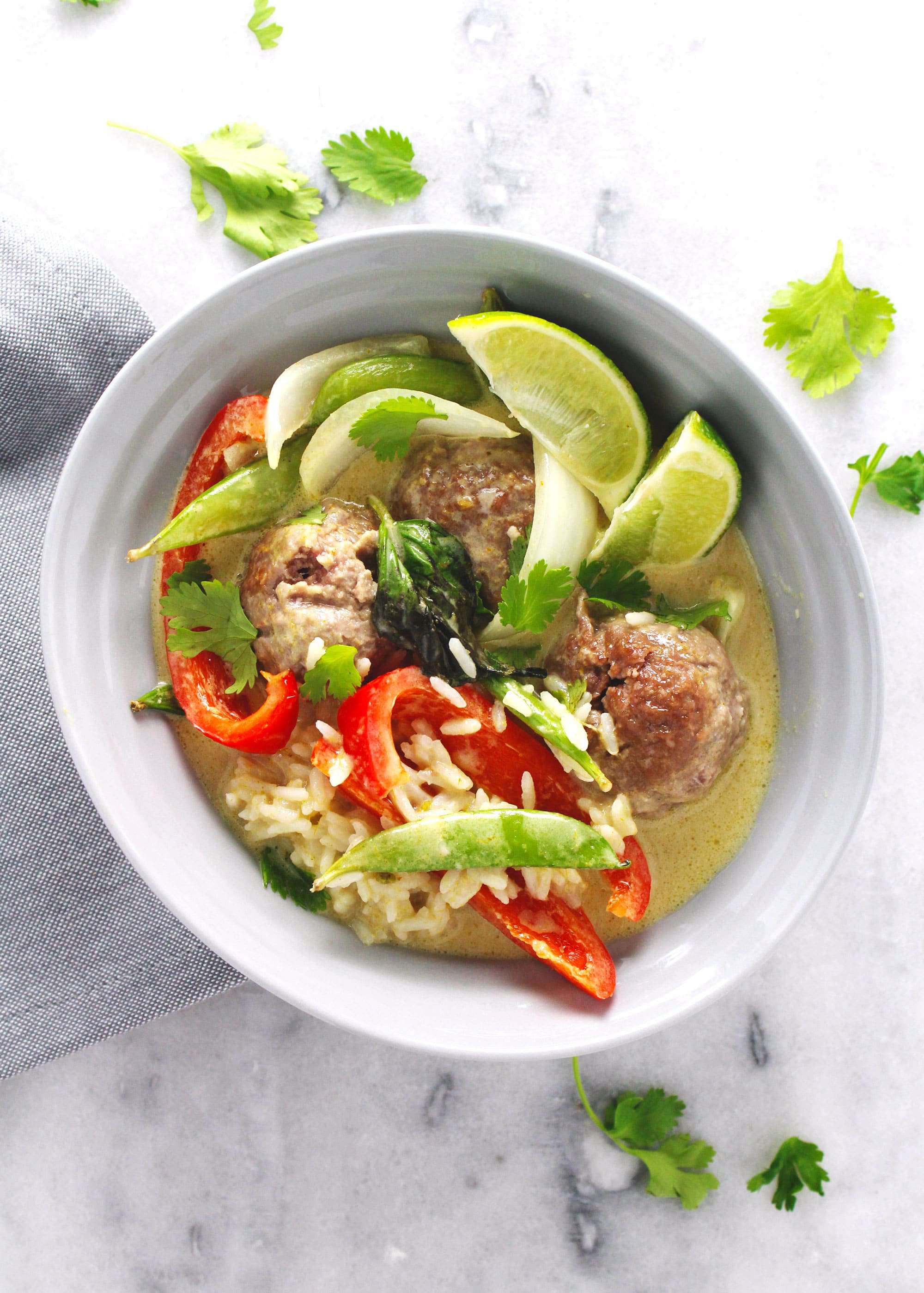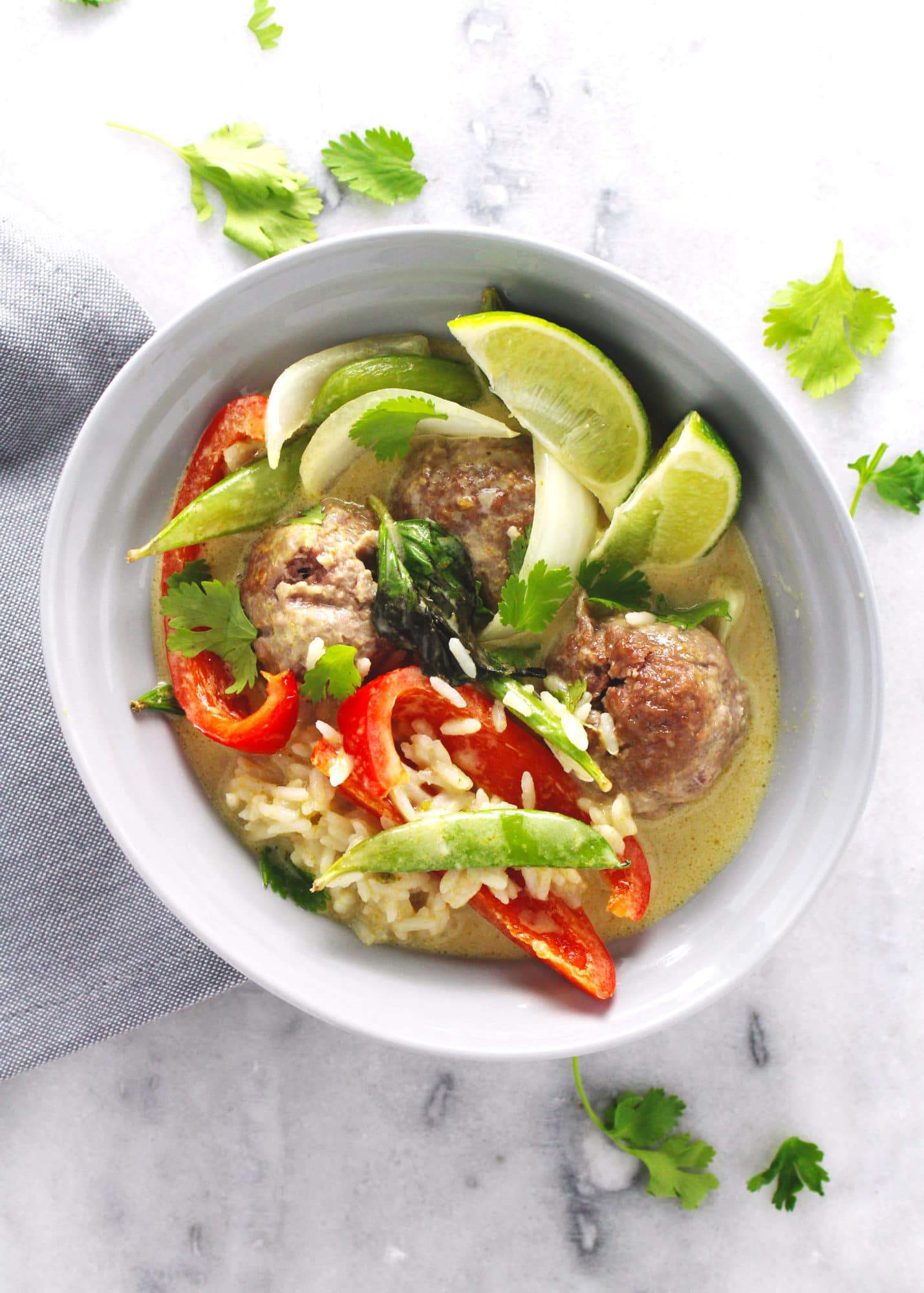 So there you have it, a slight twist with, what I feel, are enormous benefits.
Before we get off track though the main event here are these meatballs in green curry sauce, which may or may not (okay so it will) appear again very soon in future recipes because I am in love with the creamy coconut basil flavoring. Place this dish on top of some jasmine rice and you've got one seriously happy meal (I'm even thinking lunch here too!).
While I'm focusing on making dinner a breeze for you and your family (or roomies, or even just your super busy self) go ahead and throw these ingredients into your skillet and I'll have another great dinner waiting for you right after.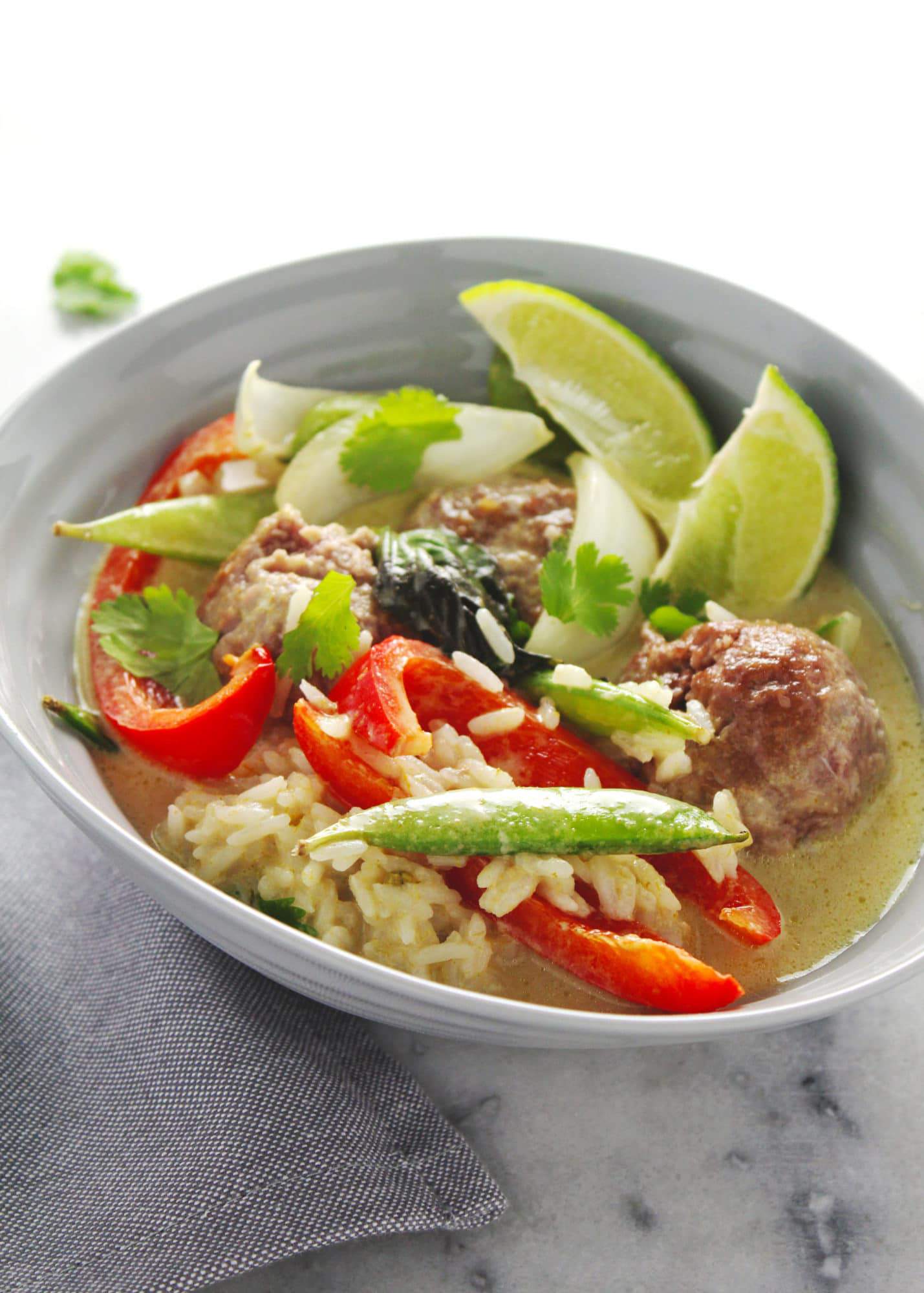 Print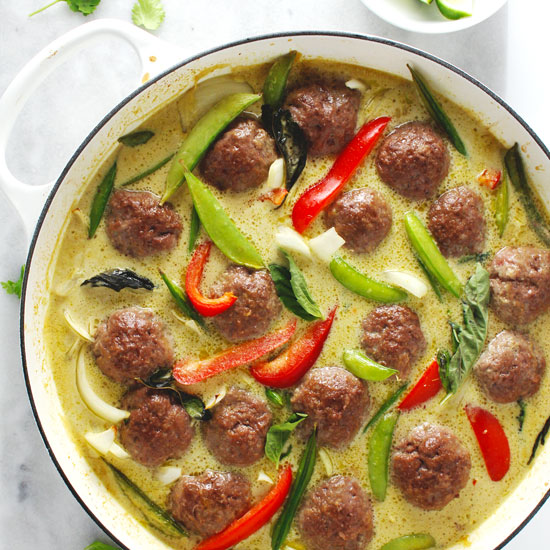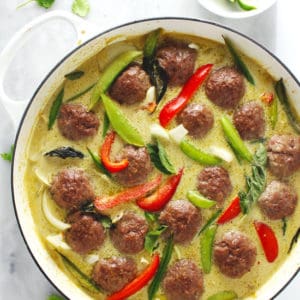 Meatballs in Green Curry Sauce
Author:

Prep Time:

28 Mins

Cook Time:

30 Mins

Total Time:

58 minutes

Yield:

4

Servings

1

x
---
Description
This bright and beautiful one pot meal of Meatballs in Green Curry Sauce is a healthy, gluten-free option for dinner when you want something exciting and may have about an hour to prepare it.
---
Meatballs
1

lb Ground Beef

1/4 cup

Almond Meal/Flour

1

Egg, beaten
Green Curry
1 tablespoon

Virgin Coconut Oil

1/4 cup

Green Curry Paste

1 cup

Low Sodium Chicken Broth

1/2 teaspoon

Finely Grated Lime Zest

1

medium onion, sliced into small strips

1 teaspoon

Salt

1

medium Red Bell Pepper, sliced into strips

1 cup

Sugar Snap Peas, trimmed

1

(14 oz) can Canned Coconut Milk

1/4 cup

Basil Leaves

1 tablespoon

Fresh Lime Juice (equals

half a

lime juiced)
Serve With:
---
Instructions
Preheat the oven to 350 degrees.
Place the Coconut Oil in a large heavy-bottom (oven safe) skillet with the Green Curry Paste, Lime Zest, and Chicken Broth. Swirl together with a spoon.
Prepare the Meatballs. In a large bowl mix the Ground Beef, Almond Meal, Egg, and some salt and pepper for seasoning. Form the mixture into 2-inch round balls and place in the prepared skillet.
Add the Onion, Red Bell Pepper, Snap Peas, Coconut Milk, Basil Leaves, and Fresh Lime Juice to the skillet. Swirl with a spoon to slightly mix the ingredients. Place in the oven for 30 to 35 minutes, or until the meatballs have cooked through completely and there's no pink in the middle (usually this is no more than 35 minutes.
Serve over rice with lime wedges if desired or just eat as is.
---
Notes
If you truly want this to be a one pot meal or want to cut calories (like I did) then serve without the rice.