Base
Protein
Meat: beef, chicken, or pork
Fish: salmon, tilapia, shrimp
Egg
Tofu
Beans: lentils, chickpeas
Vegetables
Sauce
Green Goddess Dressing
Dairy-Free Lime Crema
Lemon Tahini Dressing
Hummus
Harissa Dressing
Zaatar
Toppings
Quinoa Bowl Recipe Ideas
Quinoa Breakfast Bowl
Asian Quinoa Bowl (Peanut Sauce)
Teriyaki Quinoa Bowl
Vegetable Quinoa Bowl
Vegan Quinoa Bowl
Barbecue Chicken Quinoa Bowl
Taco Salad Quinoa Bowl
Spring Pesto Quinoa Bowl
Thai Shrimp Quinoa Bowl
Fajita Quinoa Bowl
Thai Coconut Quinoa Bowl
If you could consider life a bus stop then I currently feel like the person who frantically runs up late to the bus stop just as the bus is pulling away with their hair standing wildly on end, purse loosely hanging wide open and hands flailing about to stop the bus. Meanwhile everyone currently riding is rolling their eyes silently (or sometimes not so silently) hoping the driver will continue the course.I pride myself on working hard to be organized and maintain a steady schedule, however life feels quite frantic at the moment. This frantic nature of my life is welcome as I have two children, both under the age of 3, a tolerable marriage (kidding honey! Just wanted to see if you read my posts) and we live in a beautiful area of the country, however I also have huge aspirations for myself. Anyone, fathers and mothers alike, will tell you personal time gets tricky when you have children, which is why I feel as the the bus of life is leaving the station without me sometimes.
I truly love my family and all the chaos baggage attached, but often I feel that striking a balance is almost impossible. Perfect balance is impossible, but balance some days and some days not (a concept I'm still grasping) is not unattainable. Usually there are areas of life you can simplify a bit or discard baggage, if you will, in order to strike more of a daily balance. I started with something small "tracking." I track just about anything there is to track. Calories, exercise, when my baby eats and the list just goes continues. What seems like a small data entry task can actually end up taking a fair amount of my time. So anything I deemed truly unnecessary to track I dropped and surprisingly I felt lighter instantly .Slowly I'm finding more areas I can clean up in my life in order to continue the path of feeling lighter.
I do have to credit being organized to also feeling light though and keeping the chaos at bay. In addition to discarding unnecessary tasks I also have a few organizational techniques I use. One such technique is a "Meal List." The Meal List is just a simple document with 4 columns labeled breakfast, lunch, snack and dinner. Under each heading I've listed out the names of the meals I cook most frequently and can practically make without a recipe or cook book. Then when it's time to plan food for the week ahead and my grocery list I just pull up this list and pick the meals I'd like to make. I often add a new recipe to test, but this list helps me simplify life in one area.
One of my favorite recent additions to this list is the Mixed Vegetable Bowl. This recipe does require a good amount of ingredients, however none of them are complex and the actual preparation is very easy, which is also something to help with a chaotic life. It also helps make most mom's smile when a ton of healthy goodness is deliciously packed into one meal. Though making this dinner won't make you feel as though life has just handed you a couple of extra hours in the day, if you add it to your meal list and learn to cook it without the recipe then you might just feel lighter mentally and physically too.
Print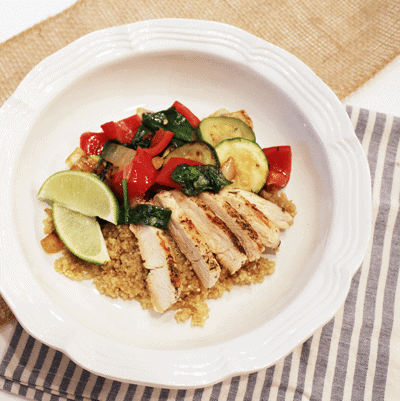 Mixed Vegetable Quinoa Bowl
Author:

Prep Time:

5 minutes

Cook Time:

45 minutes

Total Time:

50 minutes

Yield:

4

1

x
---
Scale
Ingredients
1 1/2 cups

Cooked Quinoa

2 1/2 cups

Chicken Stock

1 tablespoon

olive oil

2 tablespoons

Fresh Thyme

1/2 teaspoon

Salt

1

Medium Red Bell Pepper (chopped)

1/2

medium Red Onion (chopped)

1

large Zucchini (chopped)

6 cups

Baby Spinach

4

Chicken Breast

2 tablespoons

garlic (minced)

1 tablespoon

Coconut Oil
Lemons (halved)

3/4 cup

Water
Salt & Pepper

1

Lime
---
Instructions
Bring Chicken Stock to a boil in a medium sauce pan. Add Quinoa; cover, reduce heat, and simmer 15 minutes or until liquid is absorbed.
Heat Olive Oil in a large skillet over medium-high heat. Add 1 tablespoon of the Thyme, Salt, Bell Pepper, and chopped Onion; saute 3 minutes. Add Zucchini; saute 2 minutes. Add Spinach, cover, and cook 2 minutes. Toss to combine.
Preheat oven to 400 degrees. Sprinkle Chicken with 1 tablespoon Thyme, salt & pepper. Squeeze Lemon Juice over chicken breasts.
Heat Coconut Oil in an oven-safe skillet. Add minced Garlic and cook until just fragrant. Place Chicken Breast in skillet and cook on each side for 4 minutes. Pour 3/4 cup of Water into bottom of skillet and place in oven to cook for an additional 20 minutes or until thermometer registers 165 degrees.
Divide quinoa among 4 bowls. Top with mixed vegetables and chicken. Serve with Lime Wedges.
---
Ingredients
Quinoa Bowl
2

cups

Quinoa, cooked

in 4 cups of water

12

ounces

Extra Firm Tofu

2

teaspoons

Coconut Oil

1

teaspoon

Lime Zest

16

ounces

Sweet Mini Peppers

5

ounces

Shiitake Sliced Mushrooms

1

cup

Mustard Greens

1

small

Lemon

cut into wedges
Lemon Tahini Sauce
1/3

cup

Tahini

1/4

cup

Cold Water

2

tablespoons

Fresh Lemon Juice

1

clove

Garlic

minced

1

teaspoon

Olive Oil

1

teaspoon

Dijon Mustard

1

teaspoon

Agave

1/8

teaspoon

Salt

1/8

teaspoon

Freshly Ground Black Pepper