Two other delicious and uniquely flavored chicken dishes include this Crispy Mediterranean Spiced Chicken and this Kimchi-Braised Bacon Chicken.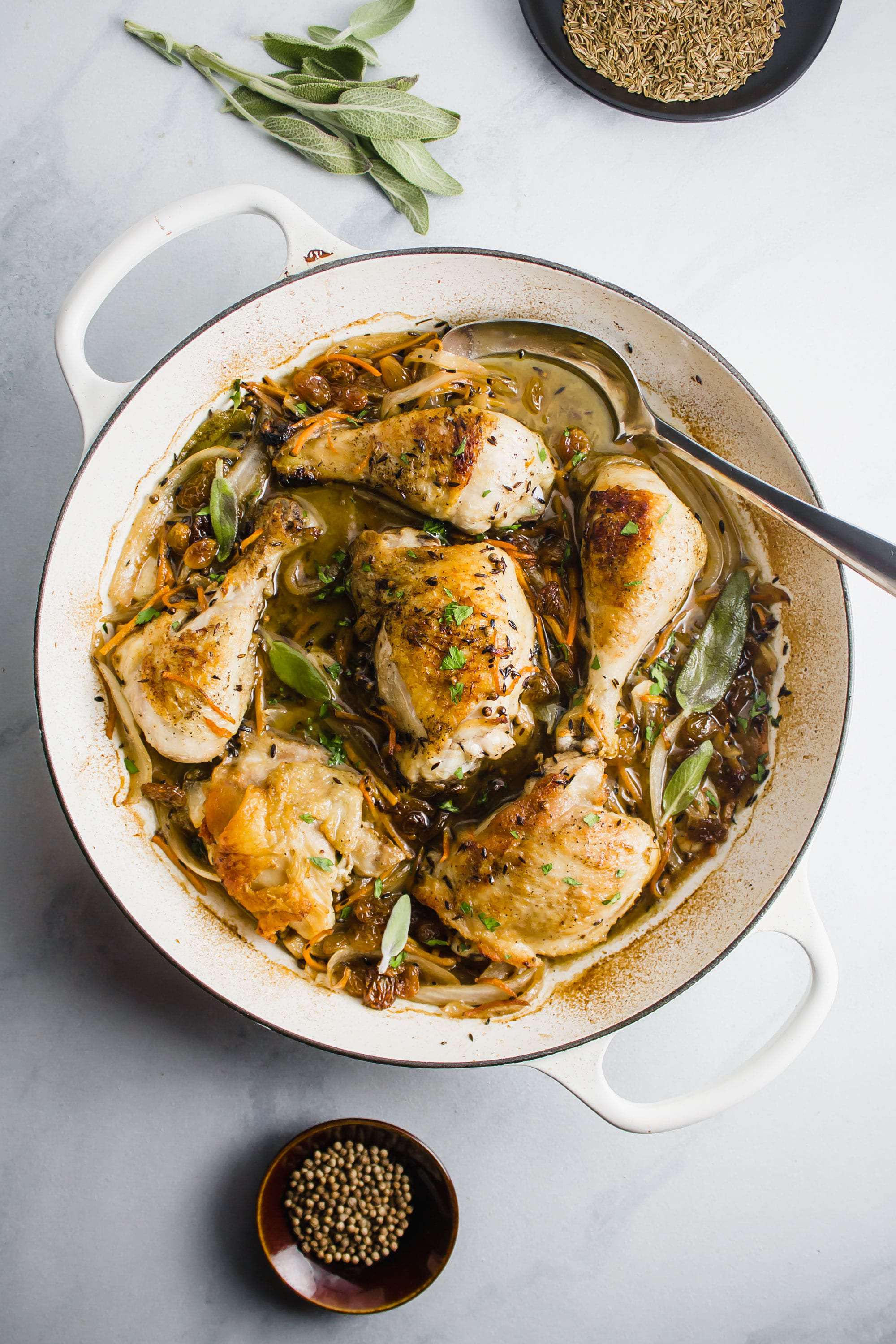 Morraccan Braised Chicken sounds like such a mature meal, but really it's just a little marinade mixed with some seared chicken and baked with raisins. Sounds easy cause it is and definitely delicious.
Goodness, it's been a week here in our household with celebrating both kids birthday's and hosting their party as well as celebrating our 9th wedding anniversary. With hosting the party also came hosting our families that came into town to join the celebration as well.
Basically, it was all chaos but in a good way. Usually, this chaos leads me down a rabbit hole of unhealthy eating and while I can confidently say it absolutely happened this time, it wasn't nearly as terrible as previous visits.
I planned on being prepared with food this time and determined the exact dinner locations prior so I was in a sense over-prepared. I pre-made meals such as a mixed berry baked oatmeal, slow-cooked beef stew, and margarita pizza casserole.
I even had extra healthy ingredients to prepare some of my healthy standard recipes such as my Turkey and Egg Breakfast Casserole for after everyone left.
I did okay, not great, but okay. I basically didn't lose a pound so I guess that's a bit of a win. I now have a stretch of 6 weeks with NO travel (please God can you hold the hurricanes away from Charleston should there be any in the future) and no guests.
I don't even think we have dinner plans outside of this Saturday night and I'm kind of excited about it. What this all means is that I have no excuses going forward for sticking with those goals that YES I set back in January. I'm all about finishing strong…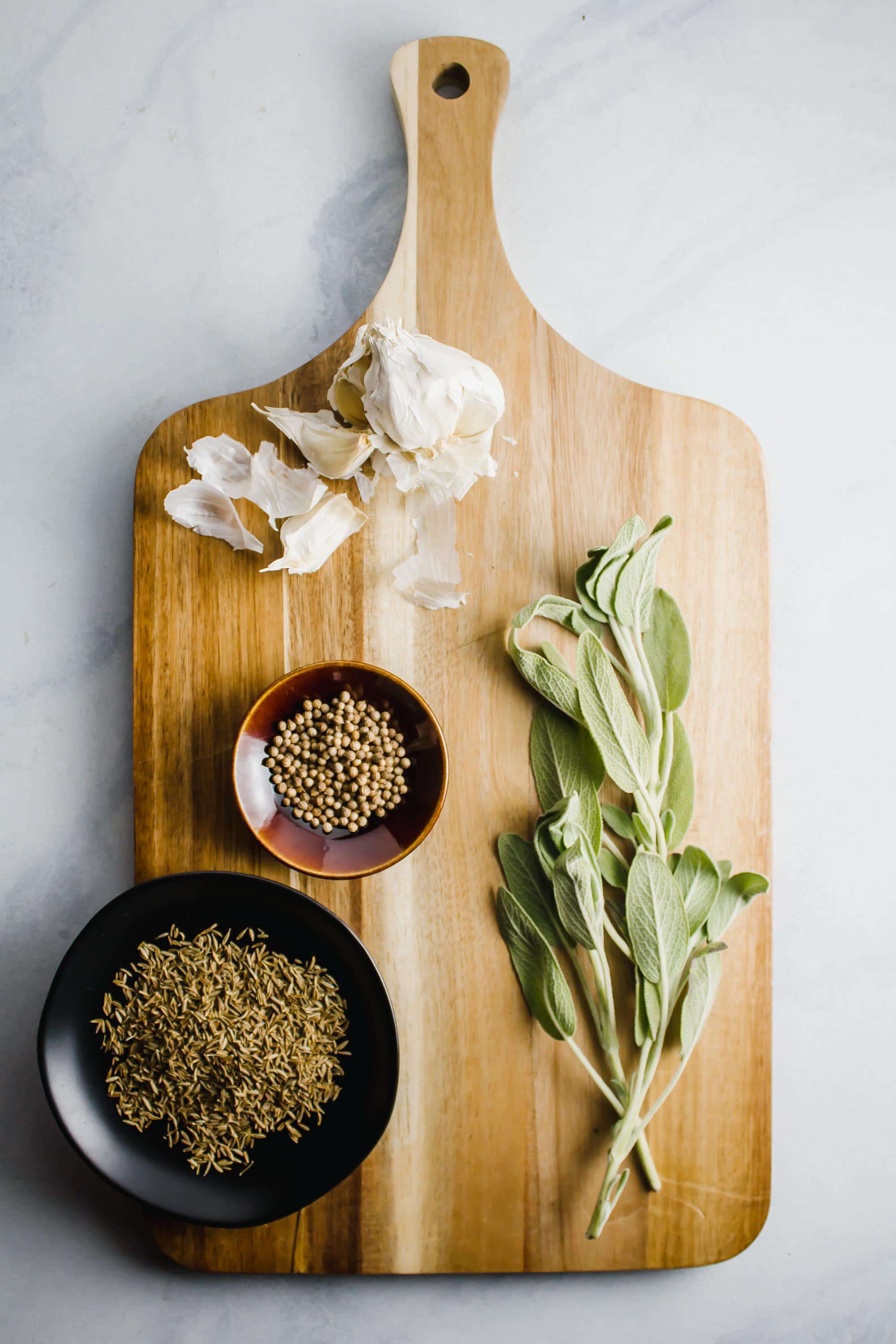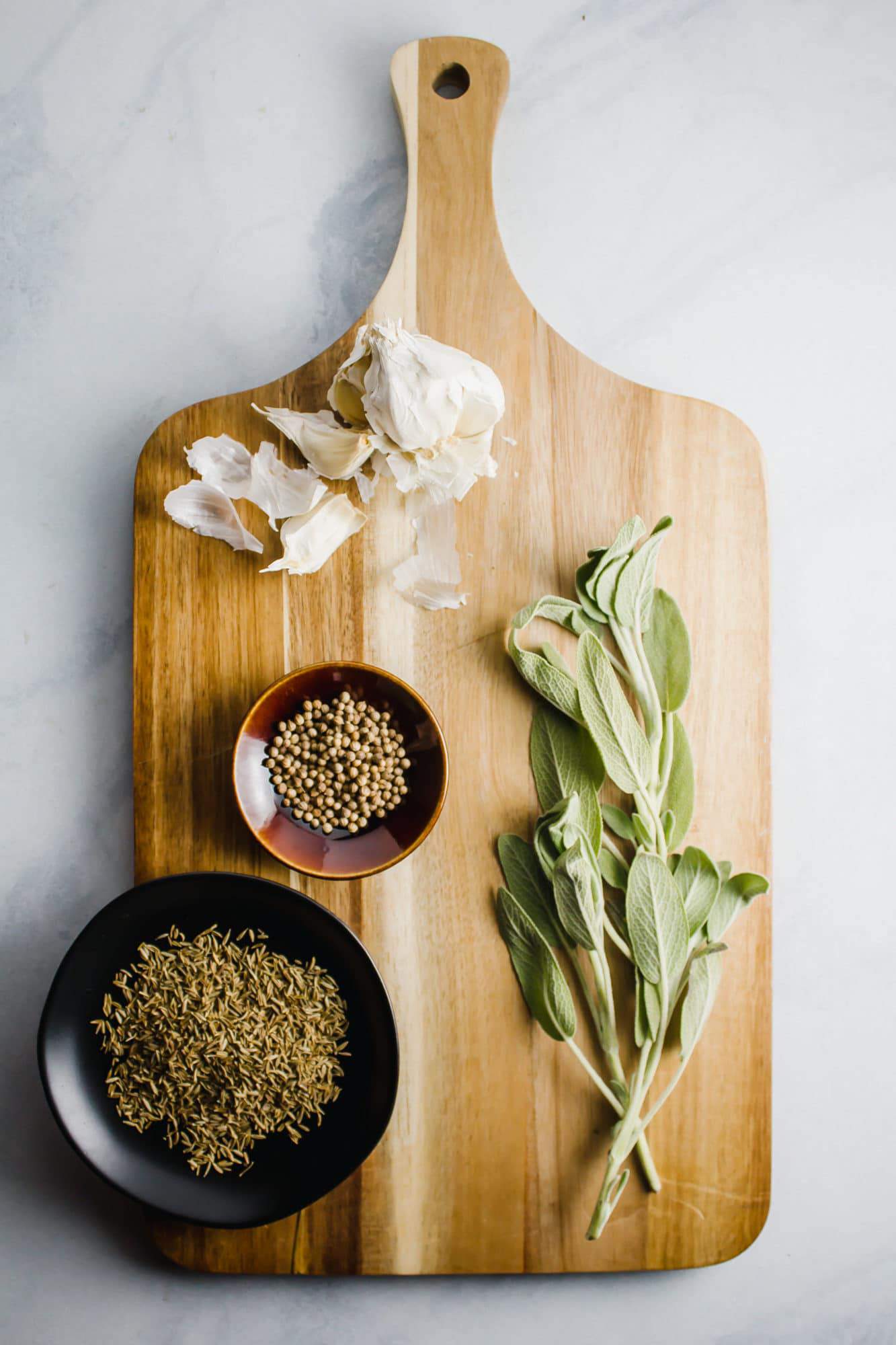 Meals like this Morraccan Braised Chicken have that dining out feel because it looks pretty and has a unique taste, without being a fussy recipe to prepare.
How to Braise Chicken
The super simple way to braise chicken is as follows…
Rinse the chicken and pat dry.
Heat oil in a heavy bottomed skillet over medium-high heat.
Add chicken to heated oil in a single layer without crowding.
Cook 8 to 10 minutes, per side, until chicken is browned (in the case of this recipe a tad crispy).
Add in a marinade and bring to a boil.
Reduce heat and simmer for 40 to 45 minutes or until chicken reaches an internal temp of 165 degrees or place in a prepared oven to finish cooking.
It may seem like many steps, but honestly, they're all very simple and straight-forward.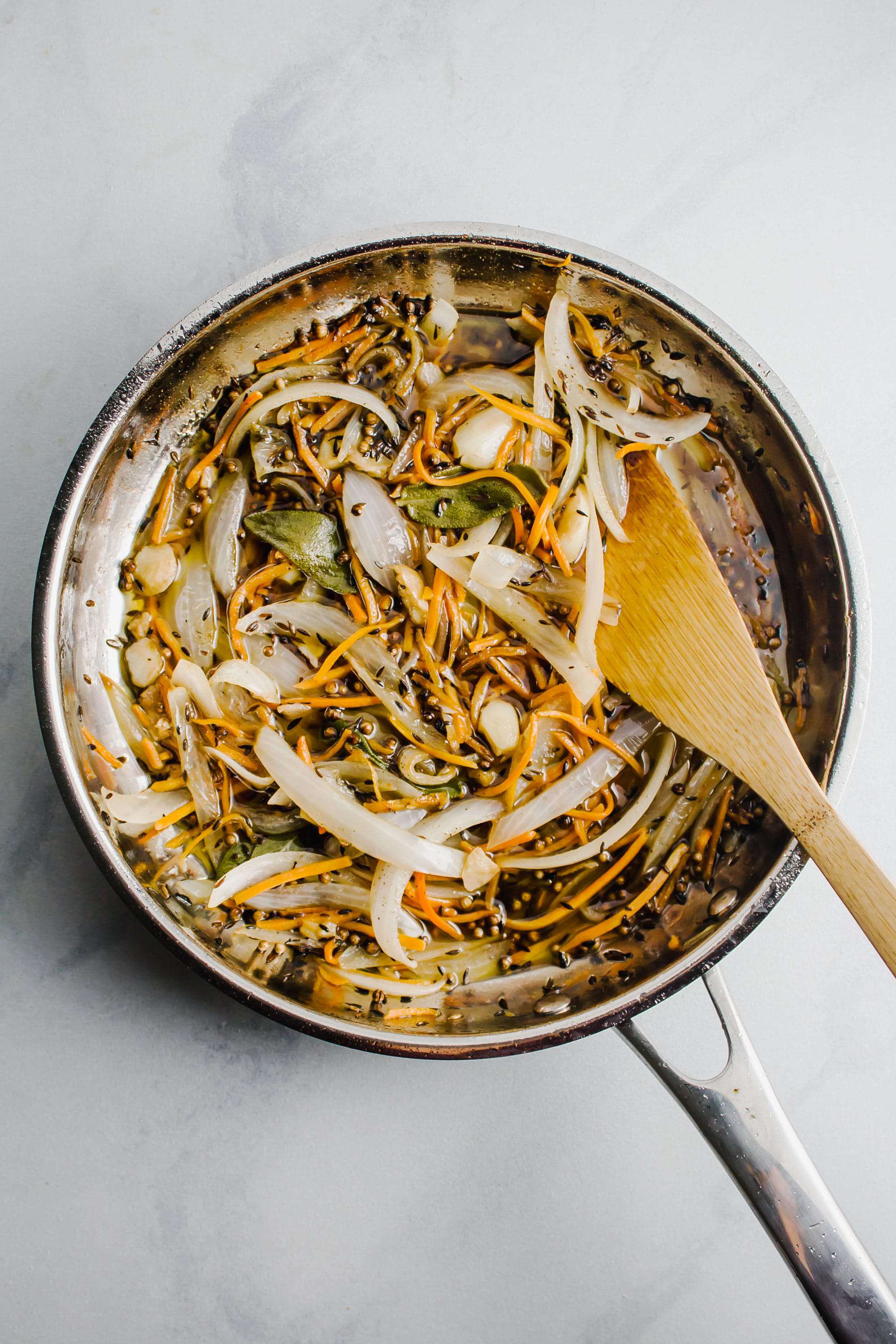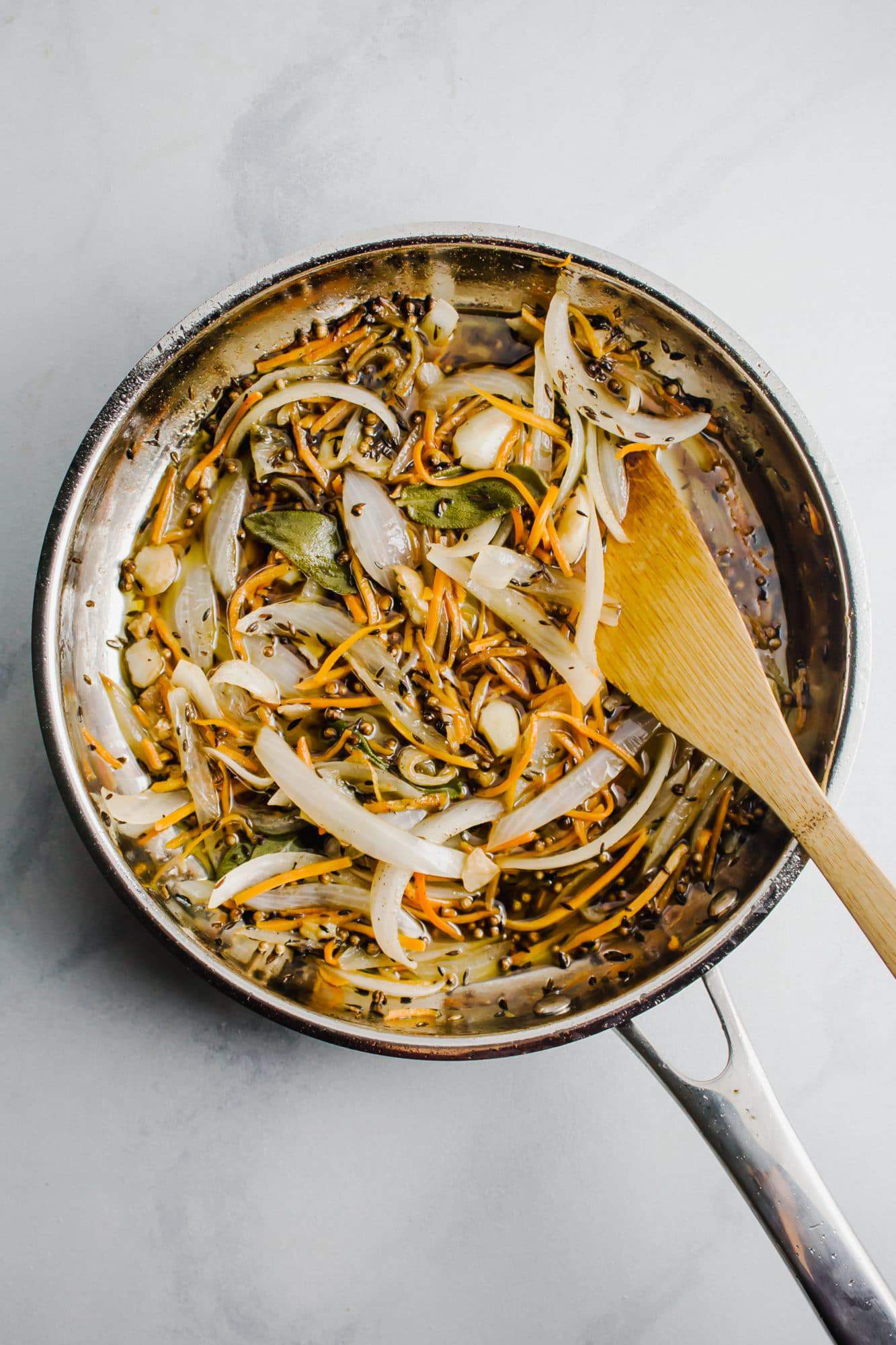 Other Easy Chicken Dinners
I've kind of been on a chicken kick lately and thus seeking out healthy yet unique meals. Here are some of my favorites: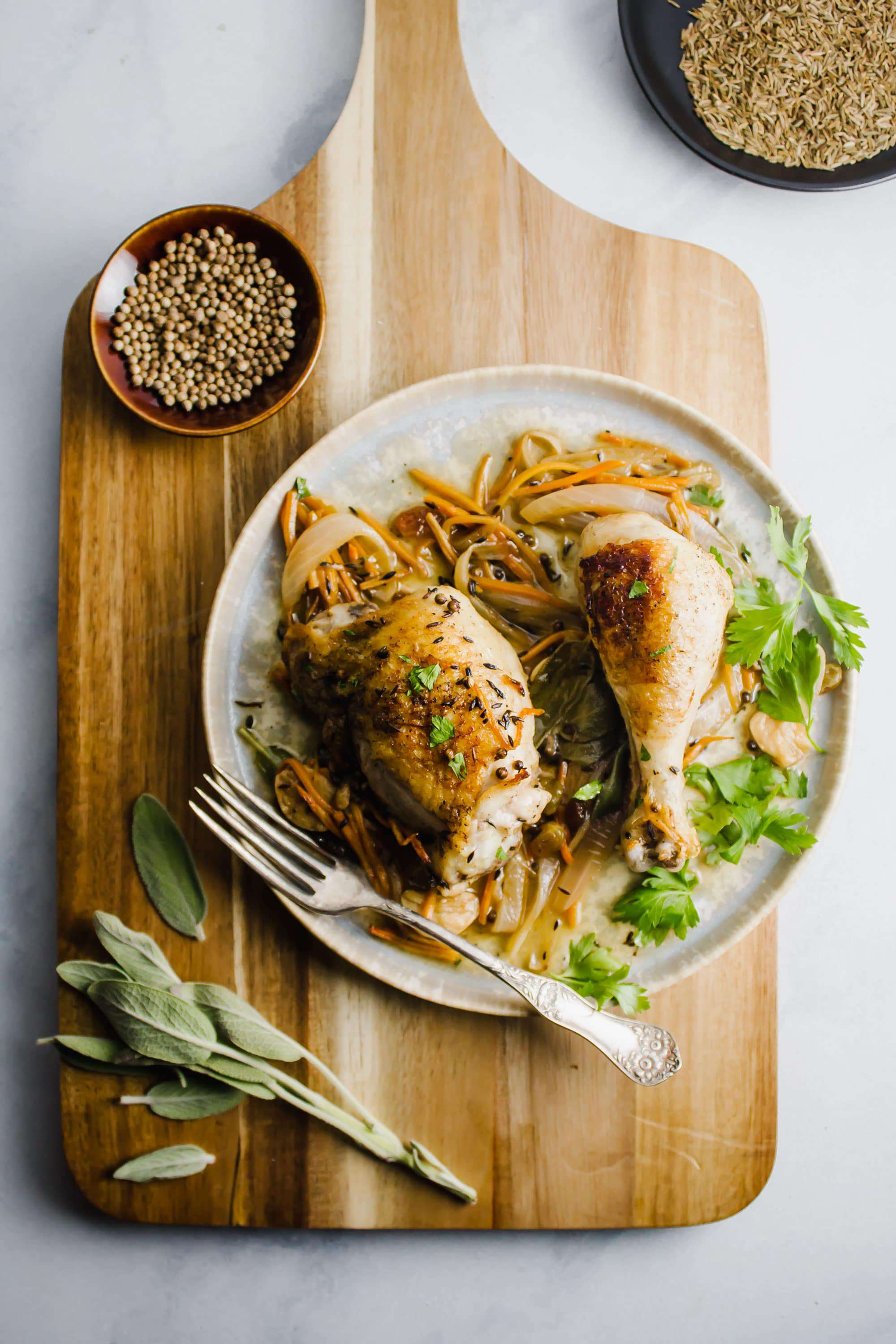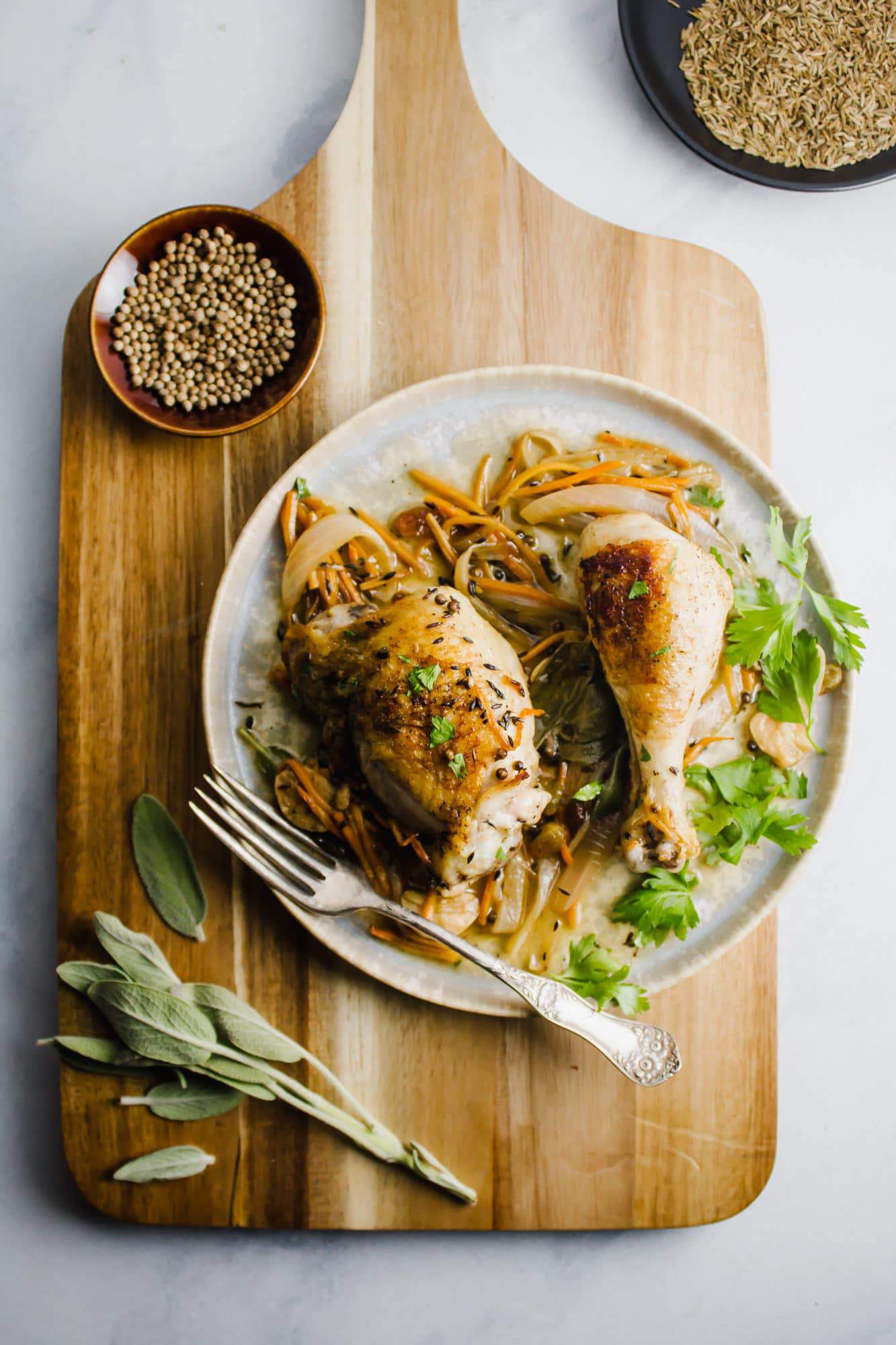 So before the new year, I hope to overcome these food struggles that have plagued me for the past several years. Honestly, I'm tired of talking about them and extremely tired of starting over. This is going to be it and healthier meals that taste delicious, like this Moroccan Braised Chicken are going to help get me there.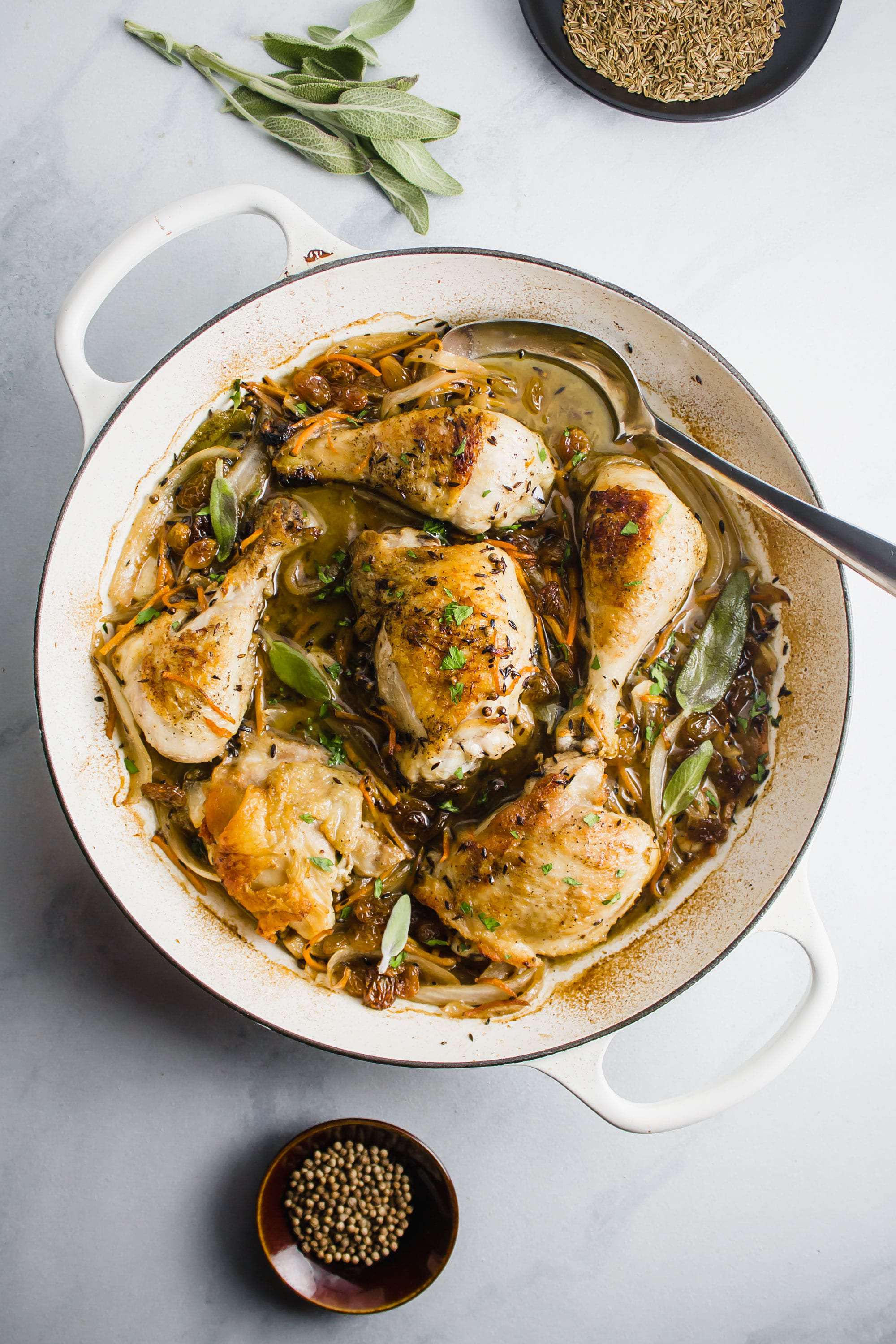 Ingredients
1

tablespoon

Cumin Seeds

1

tablespoon

Coriander Seeds

1/3

cup

Olive Oil

+ 2 tablespoons

1

medium

Onion

sliced

1/2

cup

Carrots

chopped or cut into matchsticks

6

Garlic Cloves

crushed

2/3

cup

Red Wine Vinegar

1/4

cup

Water

4 to 6

Chicken Legs, Thighs, or Drumsticks

1/2

cup

Golden Raisins

6

leaves

Fresh Sage
Instructions
Preheat the oven to 400ºF.
Sauce
Toast the cumin seeds and coriander seeds in a dry medium saucepan over medium heat for about 1 minute.

Pour the olive oil into the skillet and add the onion, carrots, and garlic toss and cook, stirring occasionally for about 5 minutes or until onions become translucent.

Add in vinegar and 1/4 cup water and bring to a boil. Reduce heat to low and simmer for an additional 2 minutes. Remove from heat and set aside.
Chicken
Season chicken with salt and pepper. Heat the remaining 2 tablespoons of olive oil in a large heavy-bottomed skillet, braiser, or dutch oven over medium-high heat. Cook chicken, skin-side down, for 8 to 12 minutes until crisp and brown. Flip chicken to the other side and brown for an additional 8 minutes. Remove skillet from heat and turn the chicken back to skin-side up.

Pour the carrot and onion mixture on top of the chicken, making sure to leave the top crispy part of the chicken uncovered. Sprinkle the raisins and sage on top.

Transfer skillet to oven, uncovered, to bake for 10 to 15 minutes or until chicken reaches an internal temp of 165 ℉.
Nutrition
Serving:
1
piece
|
Calories:
531
kcal
|
Carbohydrates:
22
g
|
Protein:
23
g
|
Fat:
39
g
|
Saturated Fat:
8
g
|
Trans Fat:
1
g
|
Cholesterol:
120
mg
|
Sodium:
131
mg
|
Potassium:
565
mg
|
Fiber:
2
g
|
Sugar:
13
g
|
Vitamin A:
2811
IU
|
Vitamin C:
6
mg
|
Calcium:
67
mg
|
Iron:
3
mg