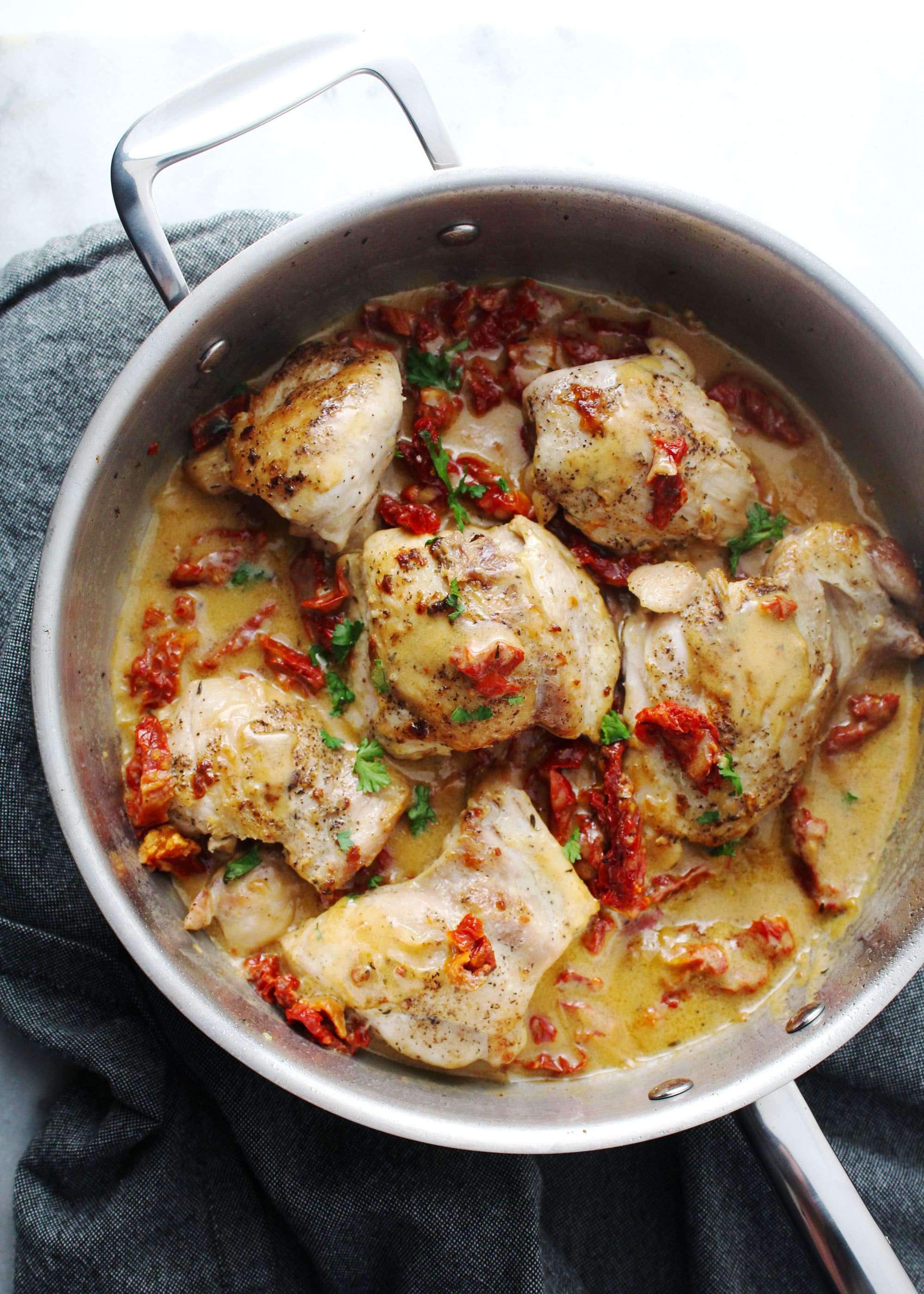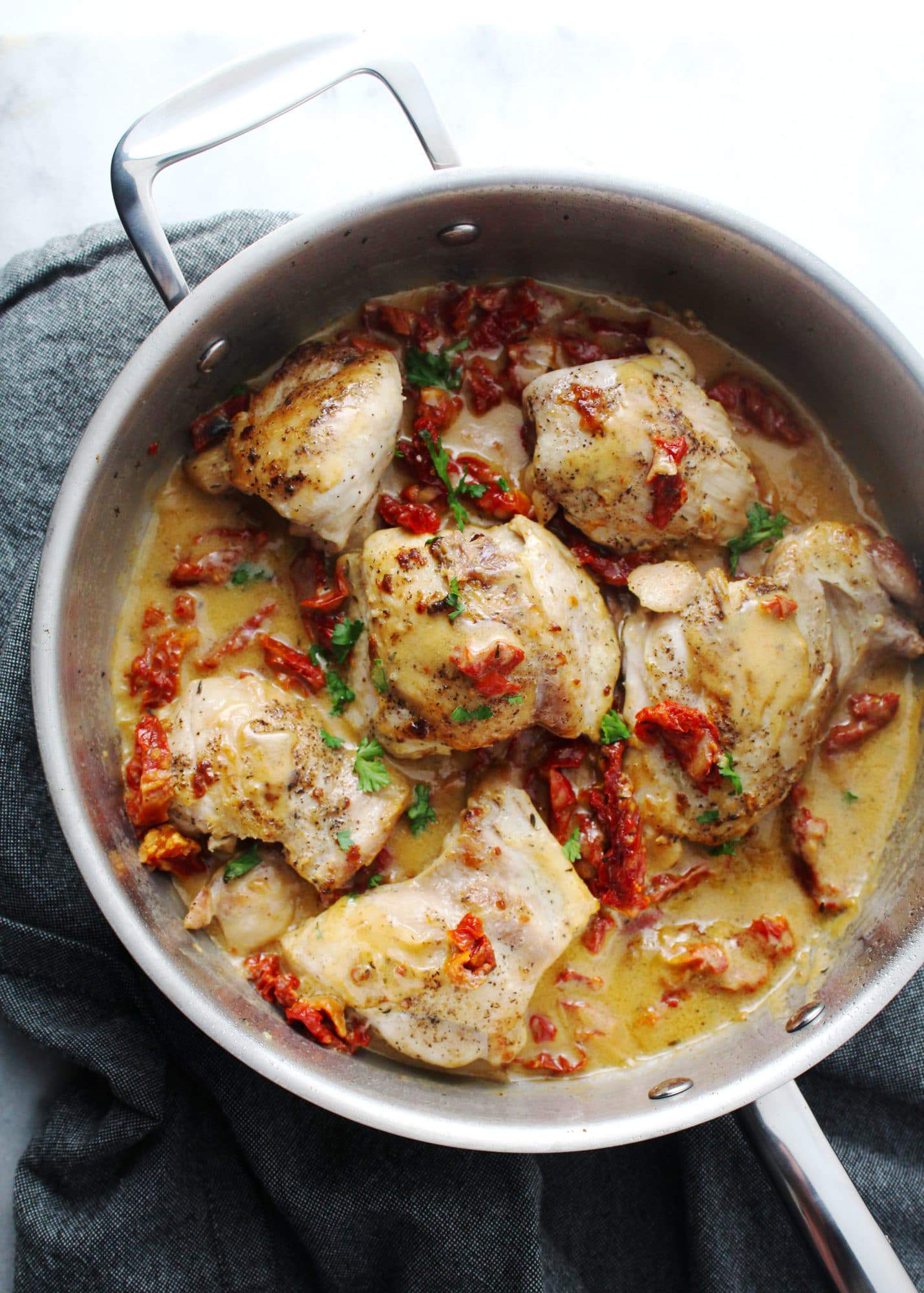 Let's pause for a moment to just enjoy the colors of this pan seared chicken with sun-dried tomatoes. Oh, how it brings me pure bliss, which I could use because…
Today, I'm experiencing Post New York Missing Disorder, commonly know as PNYMD and where symptoms include longing for a walk through Central Park, a visit to the Met, the most perfectly prepared matcha latte, and food, oh the food!
How I miss the food. Currently, I want to cozy up to the hot and cold bar at Eli Zabar's on the Upper East Side and top my plate off with one, maybe two, of their delicious bakery delights.
It's a problem. The only cure I've found is to go straight to the kitchen and cook up something familiar.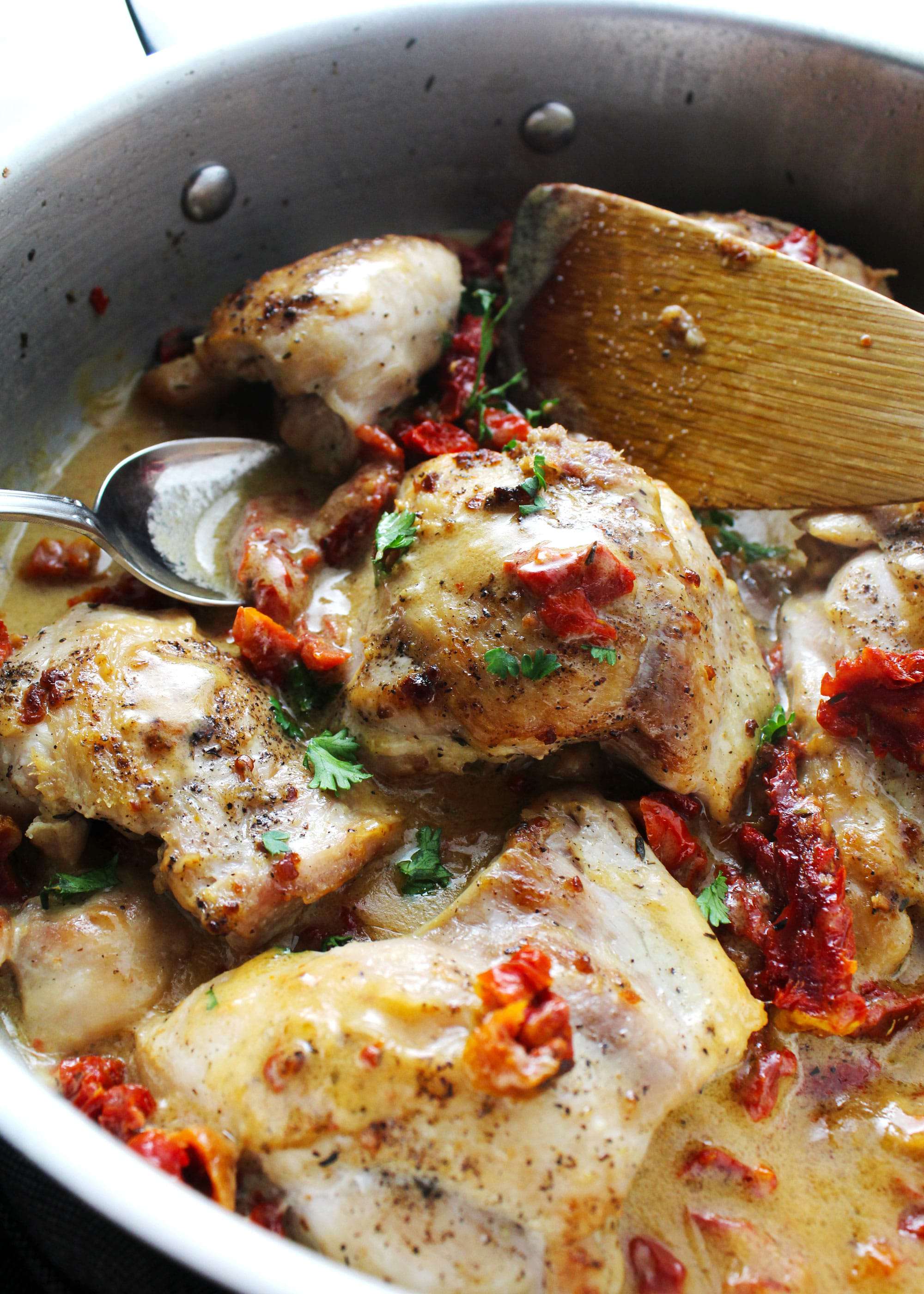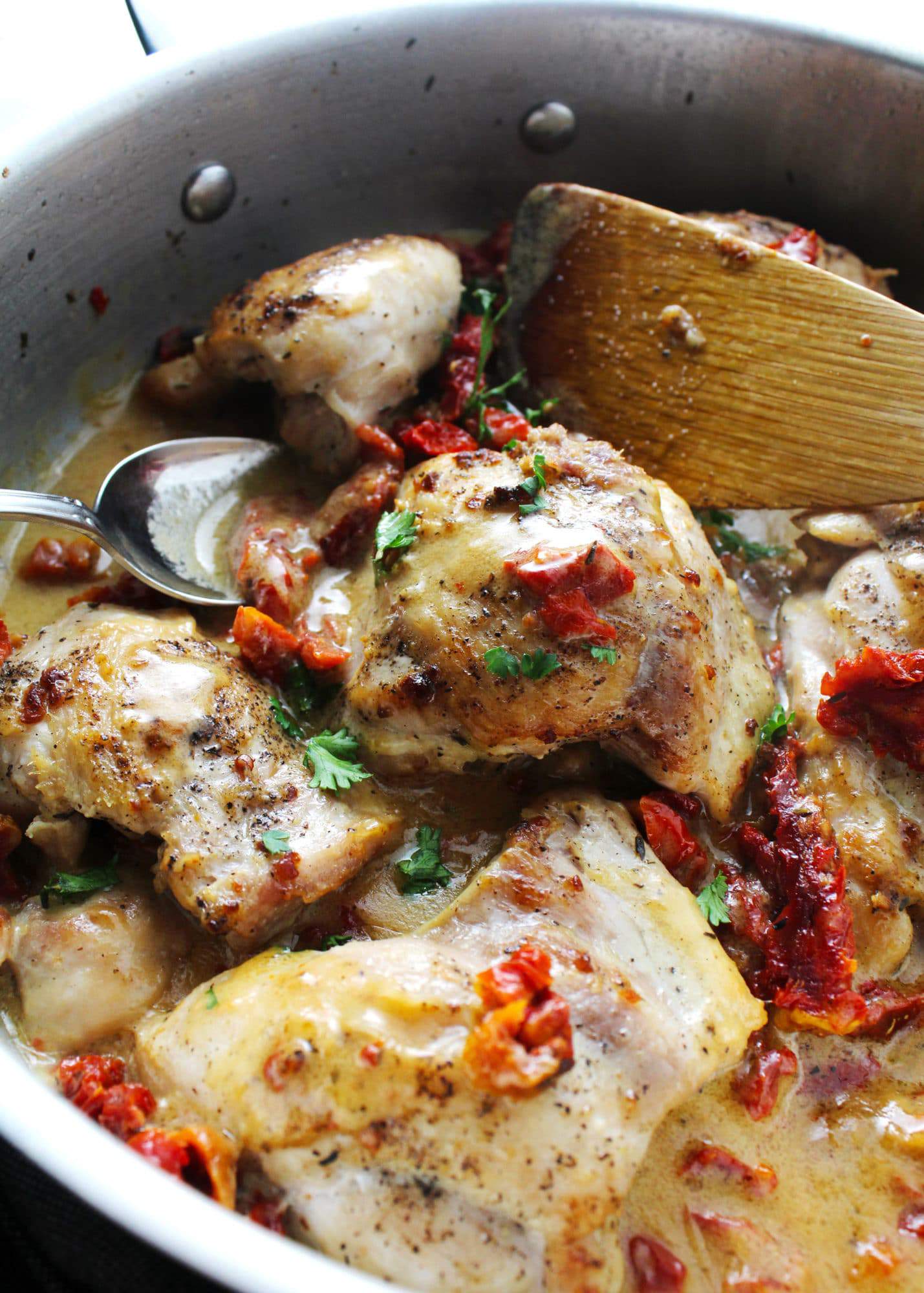 You know what's familiar? That dish you can practically make in your sleep. Your old faithful! This chicken dinner is my go to, my I always have the ingredients on hand meal and this it's a regular visitor at our dinner table.
This dish has evolved over the years into a much healthier complete version. Kind of like old friendships, which I was reminded of this week when I dug through the contents of a box of photographs.
There were snapshots of my best girlfriends and me when we first moved to NYC and it was such a stark and heartwarming reminder of how far we've come. Naturally, this led to a group text-athon.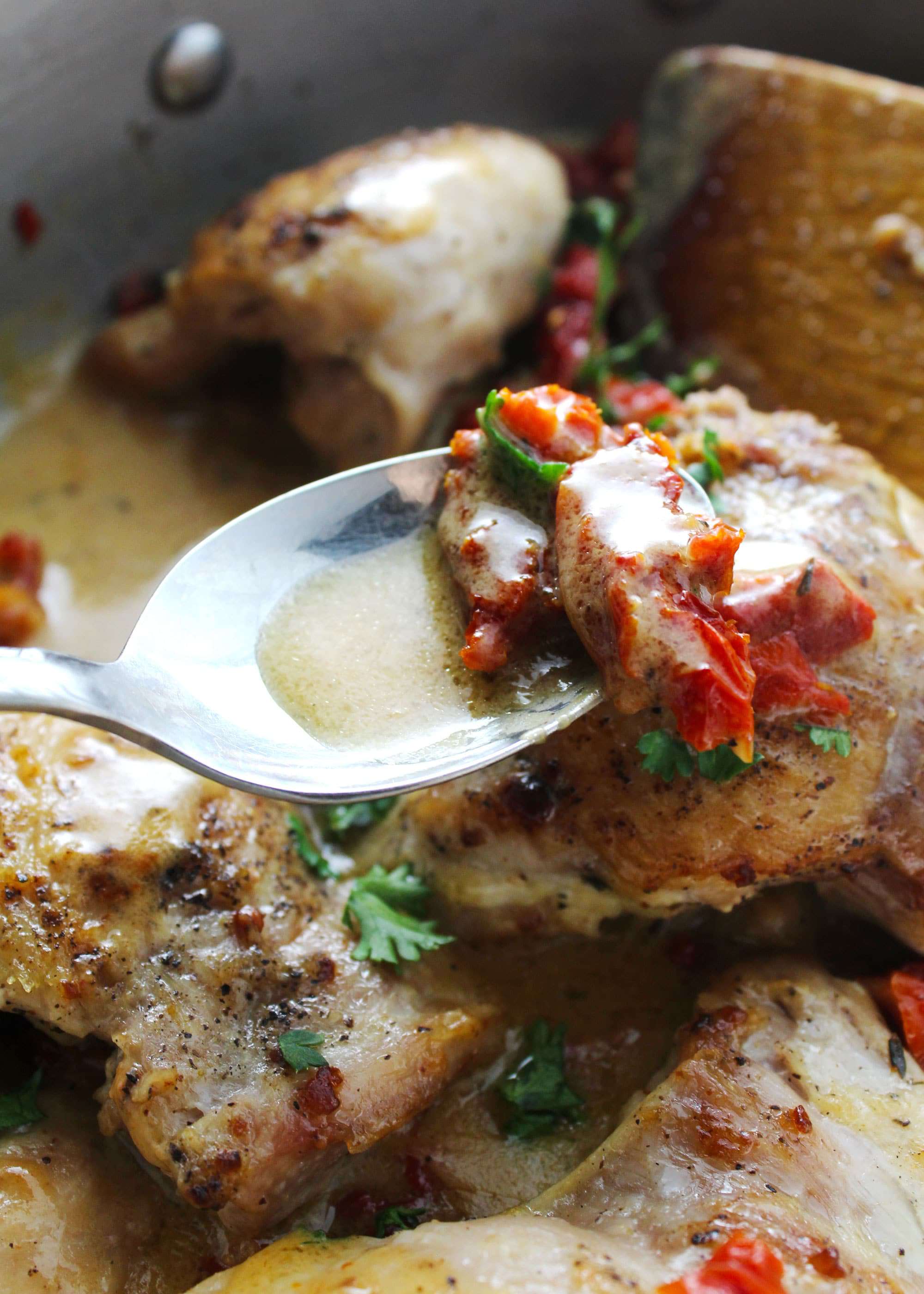 When it comes to my cooking skills I've come a long way too and this pan seared chicken with sun-dried tomatoes is proof. Years ago when I was a fresh newlywed I wouldn't have had a clue about what makes a dish healthy or even how to make good substitutions.
Now I don't mind the occasional dinner flop (hello, that's what take-out is for) and there have been many, oh so many. As a result, I'm more confident as well as knowledgeable about what works and what doesn't.
My first try at this recipe was in my tiny odd-shaped NYC apartment (character, they told me it was called "character.") where I over-cooked the chicken and burnt the sauce, but I didn't give up and now I can safely and tastefully say this is one of my easiest recipes.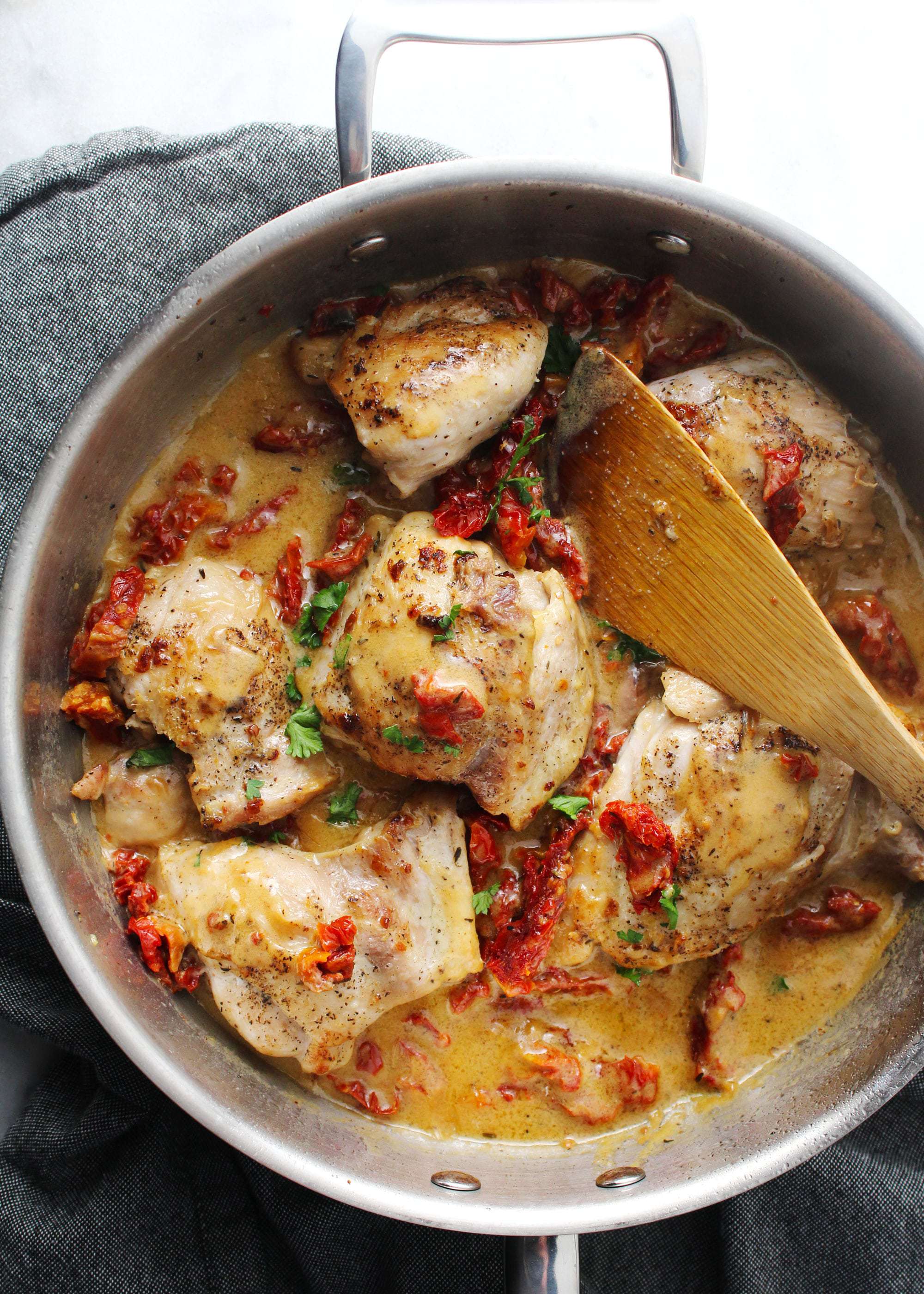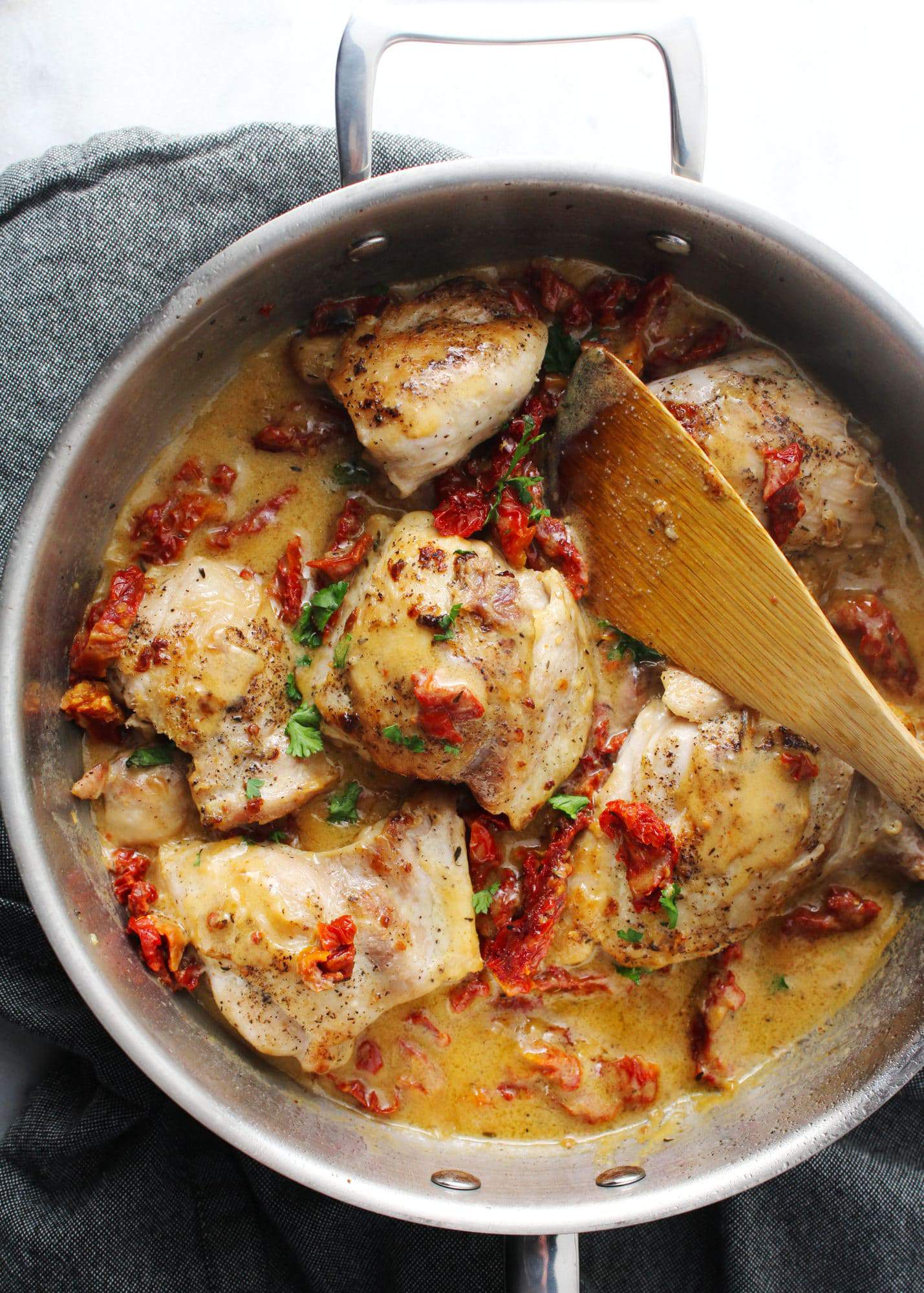 So you see in a roundabout way it's the perfect medicine for my PNYMD. It doesn't hurt either that it smells delicious while cooking.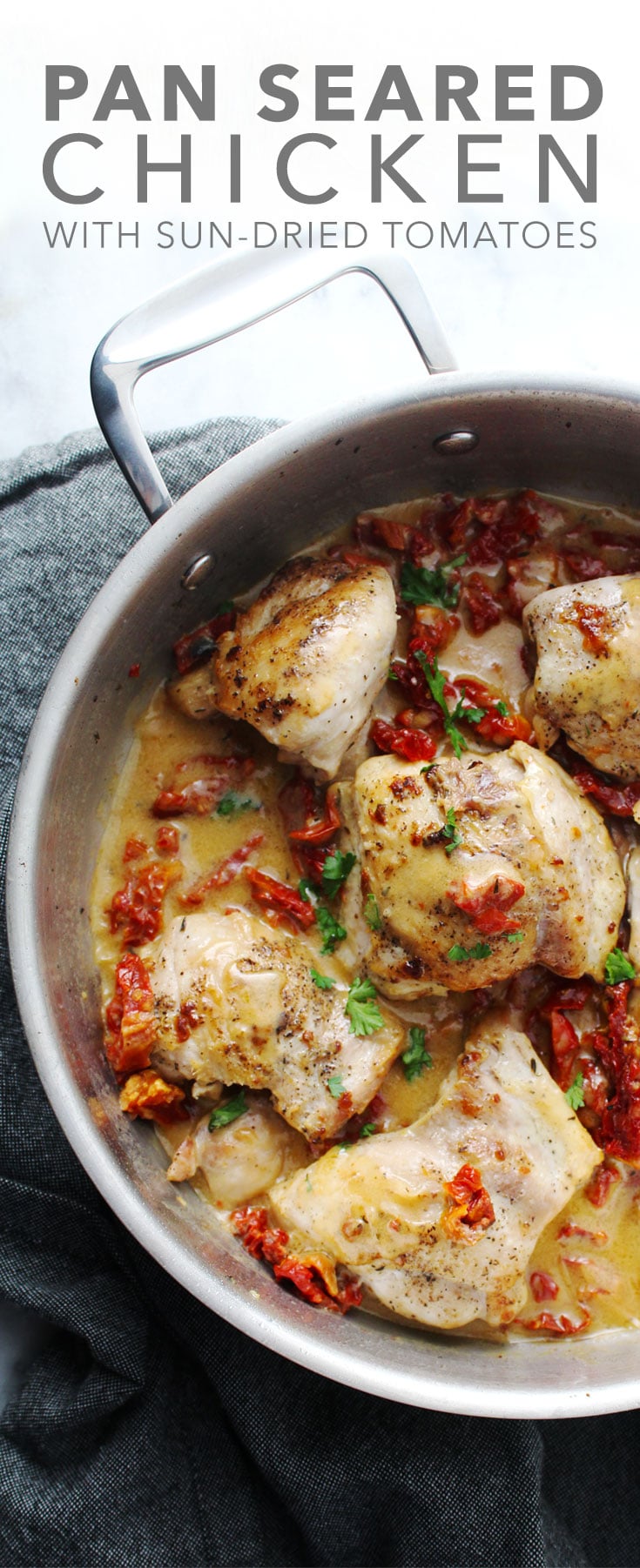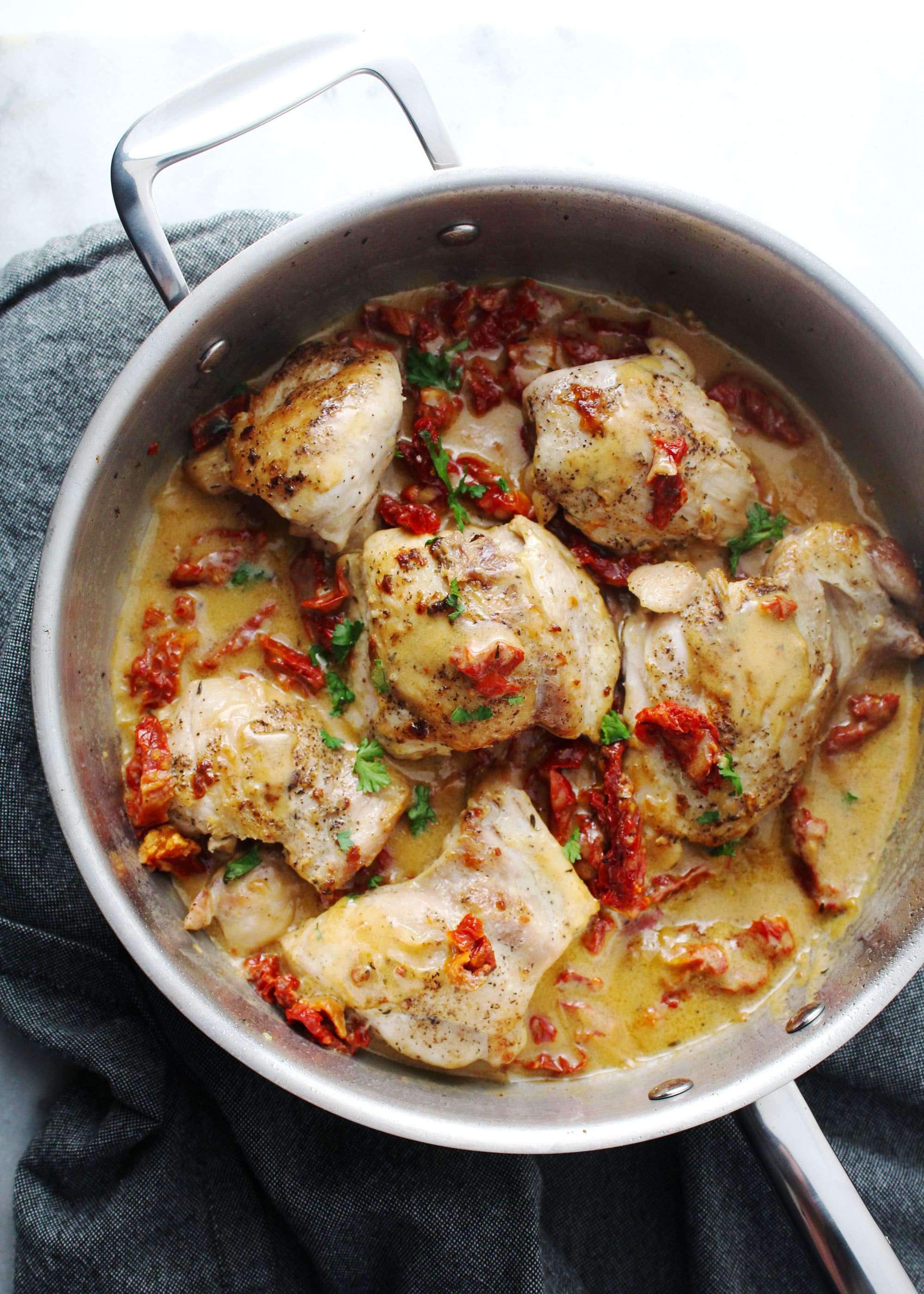 Ingredients
1

lb

Chicken Thighs

3

tablespoons

Olive Oil

divided

4

Garlic Cloves

minced

3/4

cup

Chicken Broth

1/2

cup

Canned Coconut Milk

1

teaspoon

Cornstarch

1/3

cup

Sun-Dried Tomatoes

1/4

teaspoon

Salt

1/8

teaspoon

Ground Pepper
Instructions
Heat 2 tablespoons of olive oil in a medium-sized skillet over medium-high heat. Season both sides of the chicken thighs with salt and pepper and place the chicken, skin-side down, and sear for 4 minutes. Flip and sear the bottom side for 4 additional minutes. Remove from pan and set aside.

Add the remaining 1 tablespoon of olive oil and the minced garlic cloves and cook until fragrant, about 1 minute.

In a medium-sized bowl whisk the chicken broth, coconut milk (make sure to shake the can before you open it so the milk is mixed up), and cornstarch, and then add to the skillet.

Stir the sun-dried tomatoes into the mixture.

Bring to a boil; reduce heat and simmer until slightly thickened, about 3 to 5 minutes. Return chicken to skillet and spoon the sauce on top. Cover and simmer for an additional 8 minutes.
Nutrition
Serving:
1
Serving
|
Calories:
443
kcal
|
Carbohydrates:
9
g
|
Protein:
21
g
|
Fat:
37
g
|
Saturated Fat:
13
g
|
Trans Fat:
1
g
|
Cholesterol:
111
mg
|
Sodium:
422
mg
|
Potassium:
674
mg
|
Fiber:
2
g
|
Sugar:
4
g
|
Vitamin A:
170
IU
|
Vitamin C:
8
mg
|
Calcium:
33
mg
|
Iron:
2
mg