Last Updated on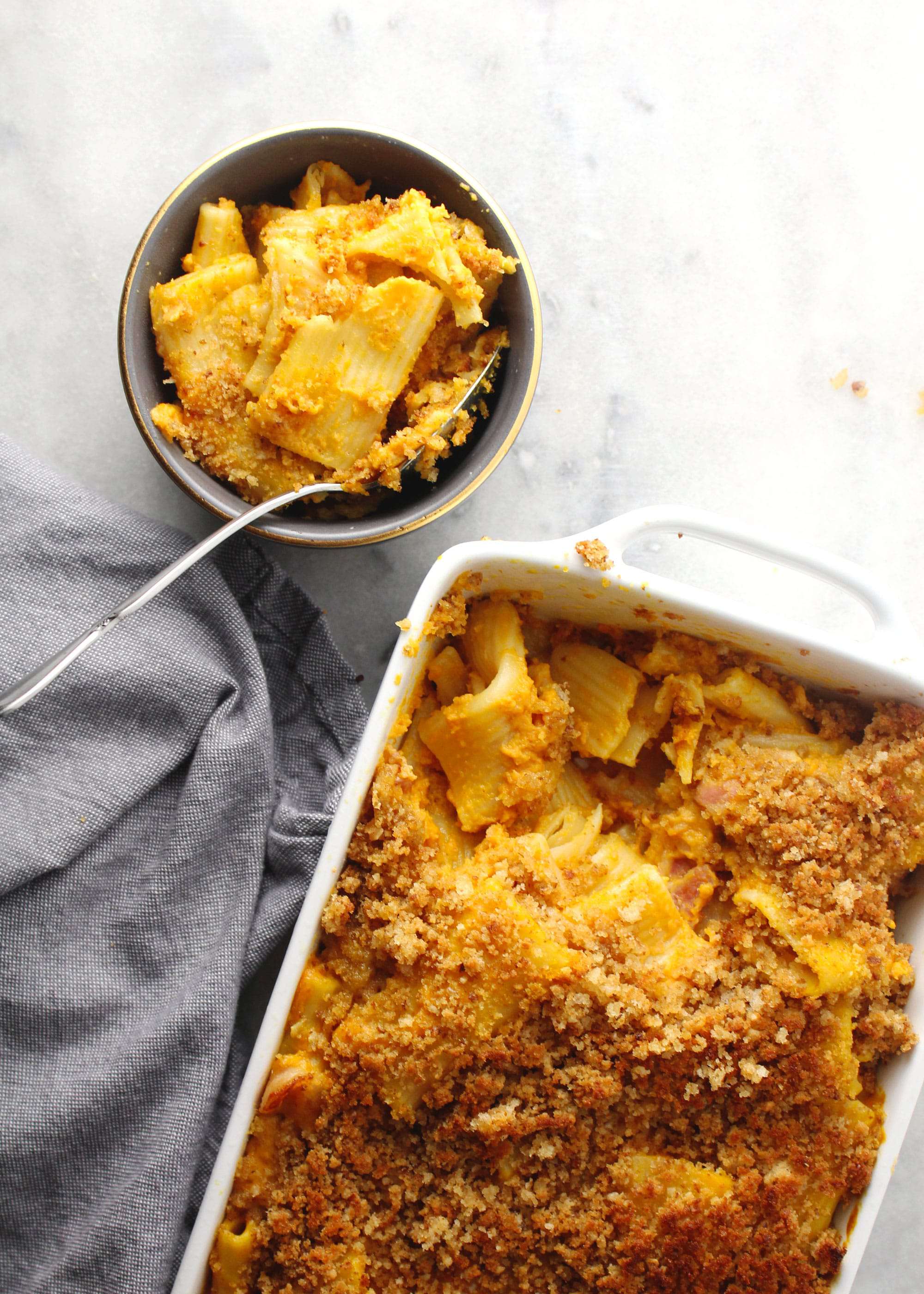 Guys… ???? Are there 4 words that go together better than pancetta, pumpkin, baked and pasta (aka pumpkin mac & cheese) when the air is potentially turning crisp and you're daydreaming about your sweater collection?!? Living in Charleston I'll be daydreaming about my sweaters only because it's unlikely I'll be wearing them, however, I'm more than happy to crank the AC and warm up with a heaping plate of this pasta. Kinda the same, but not at all…
Not only are my kids eating this meal but they're also eating pumpkin and they have NO IDEA. And yes, I'm aware this dish is swimming with other less than desirable (cheese) and sugar-filled ingredients (pasta), but battles! You have to pick your battles sometimes. While I should have been handing my kids pre-made snacks and only let them touch non-organic carb-laden foods on special occasions I admit that's not at all reality. Not even close!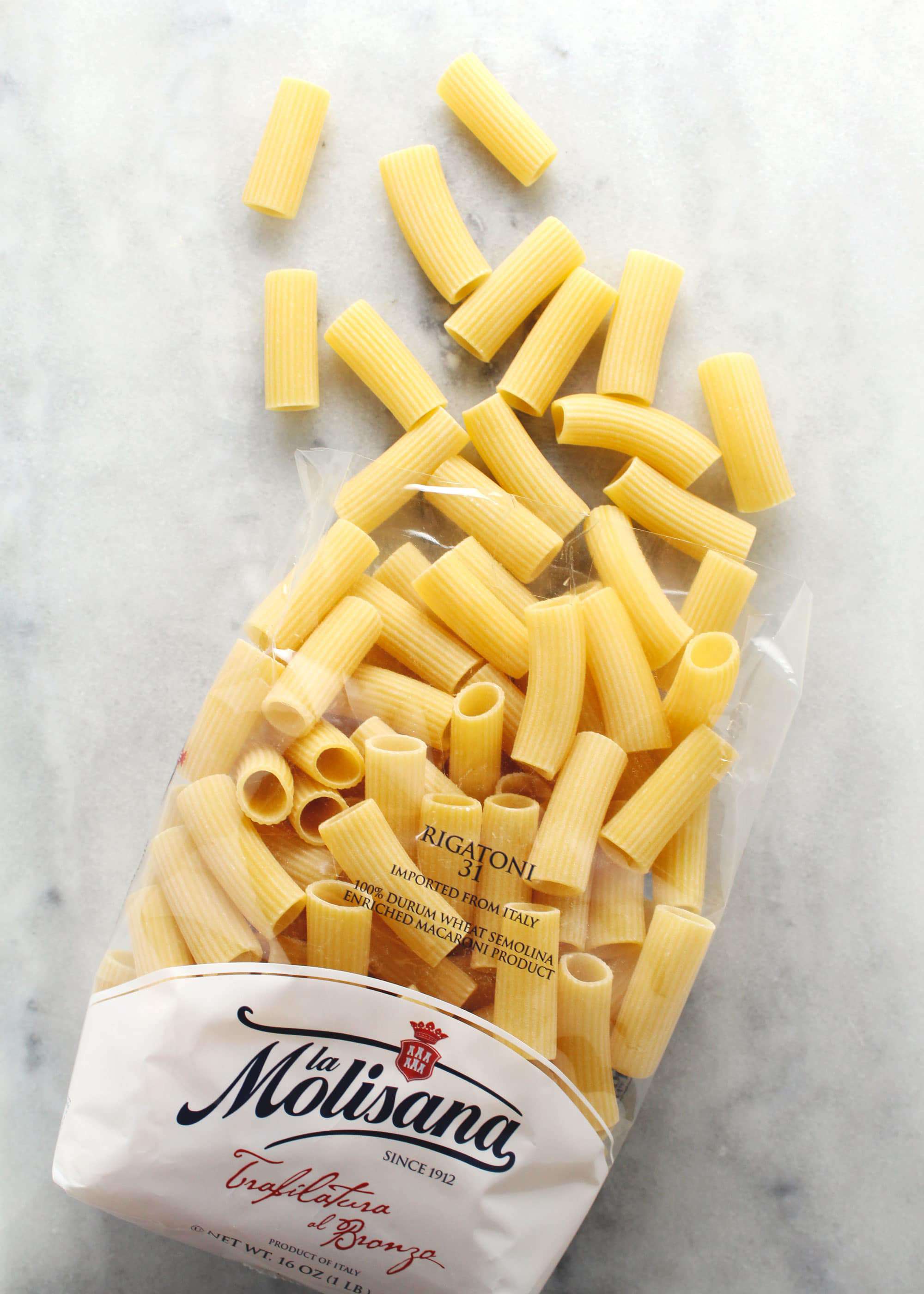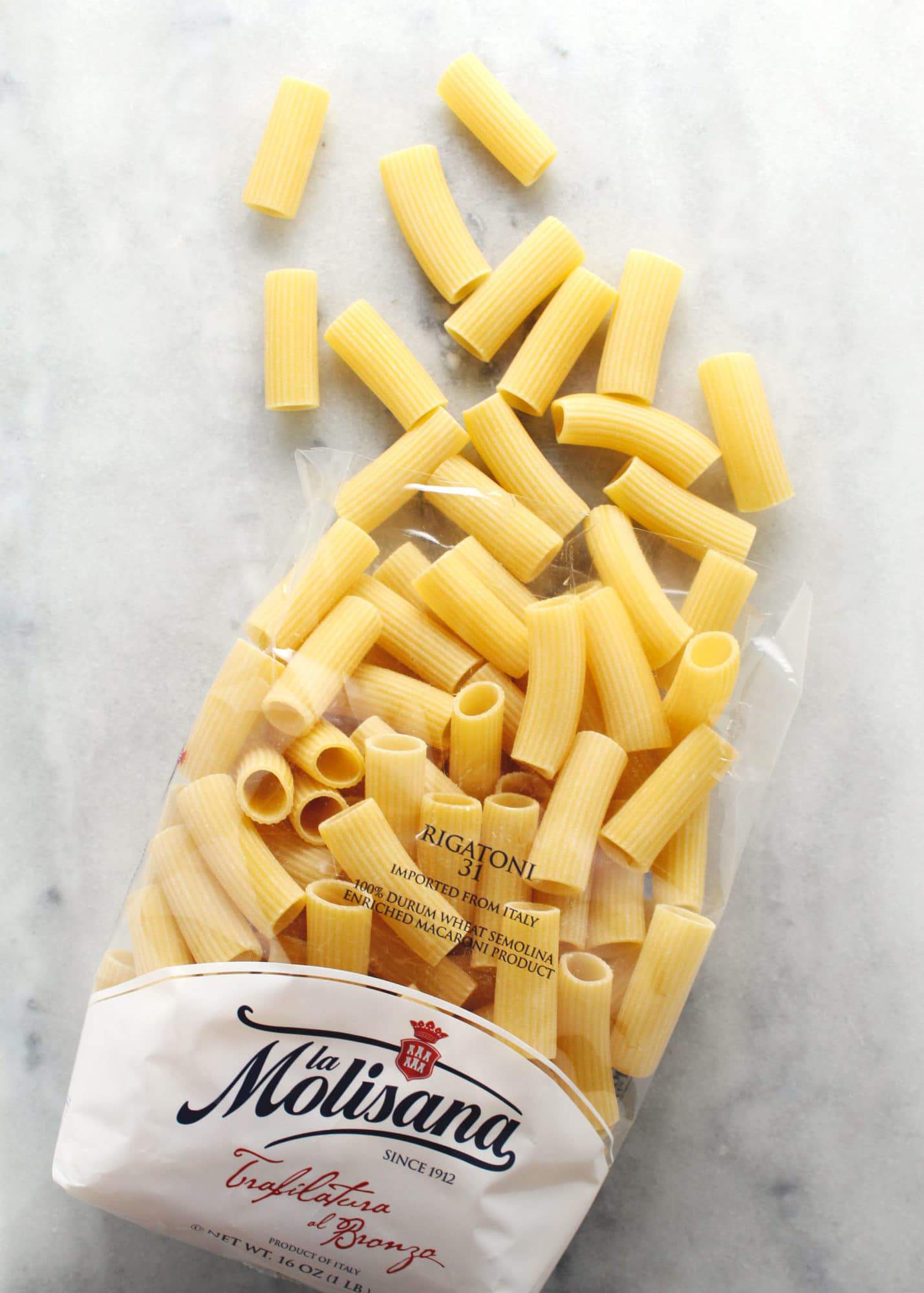 After a long day of refereeing my kids sometimes, I do just want to sit down to a meal that everyone will happily eat, and this is one of those meals. It's a peace offering, smothered in pumpkin if you will.
Don't get me wrong, this dish isn't really for the kids though, because my inner child who would eat the entire casserole of mac and cheese, who is now combined with my older self that likes to pretend she enjoys all things veggie is jumping up and down.
See there's super mature pancetta paired with the ever-so-trendy pumpkin, all mixed in with child-like cheese and rigatoni for one family-friendly dish. You don't even have to be family to enjoy it. Give yourself some self-love and make it only for you. I'm not gonna judge! I may ask to join you though…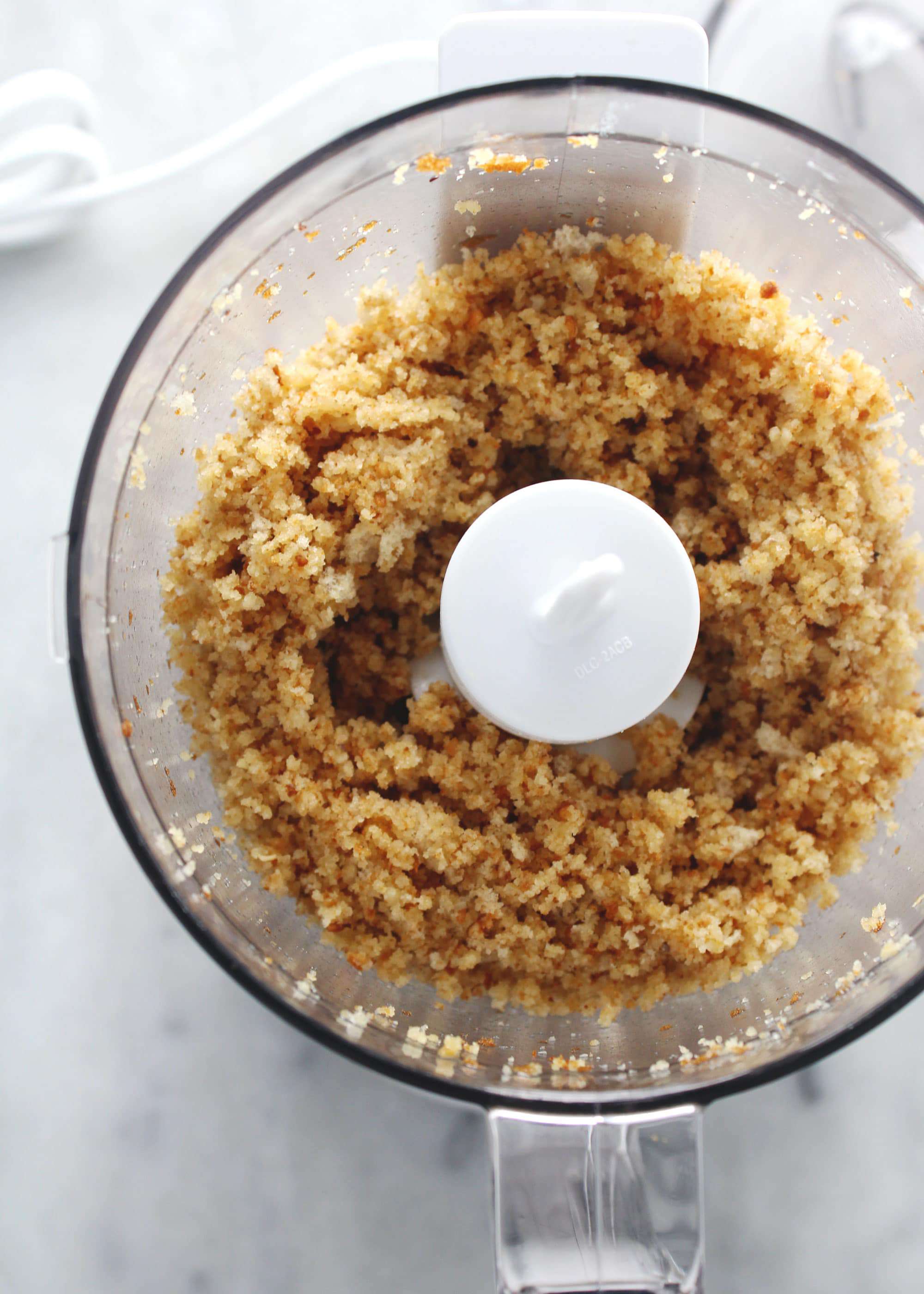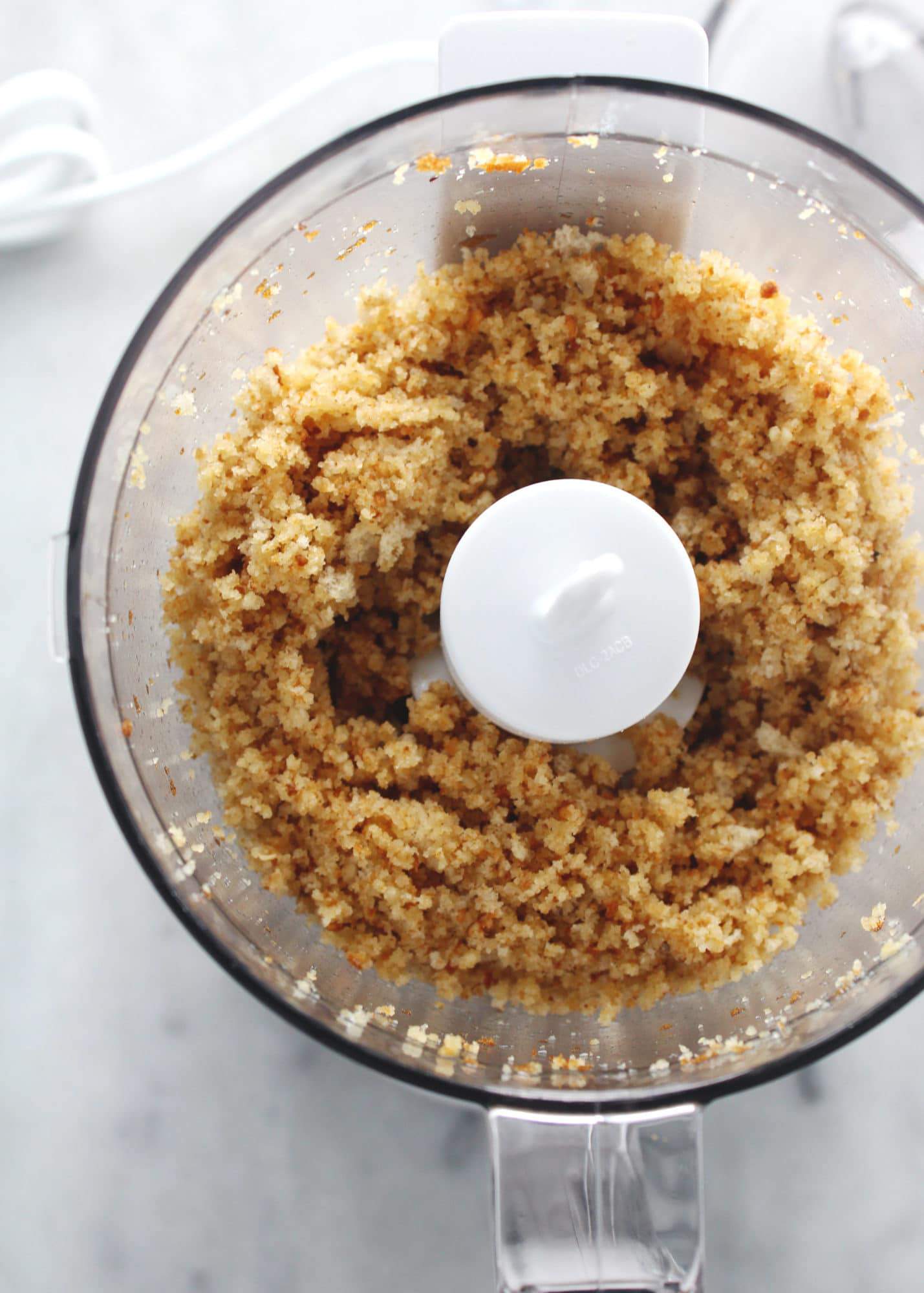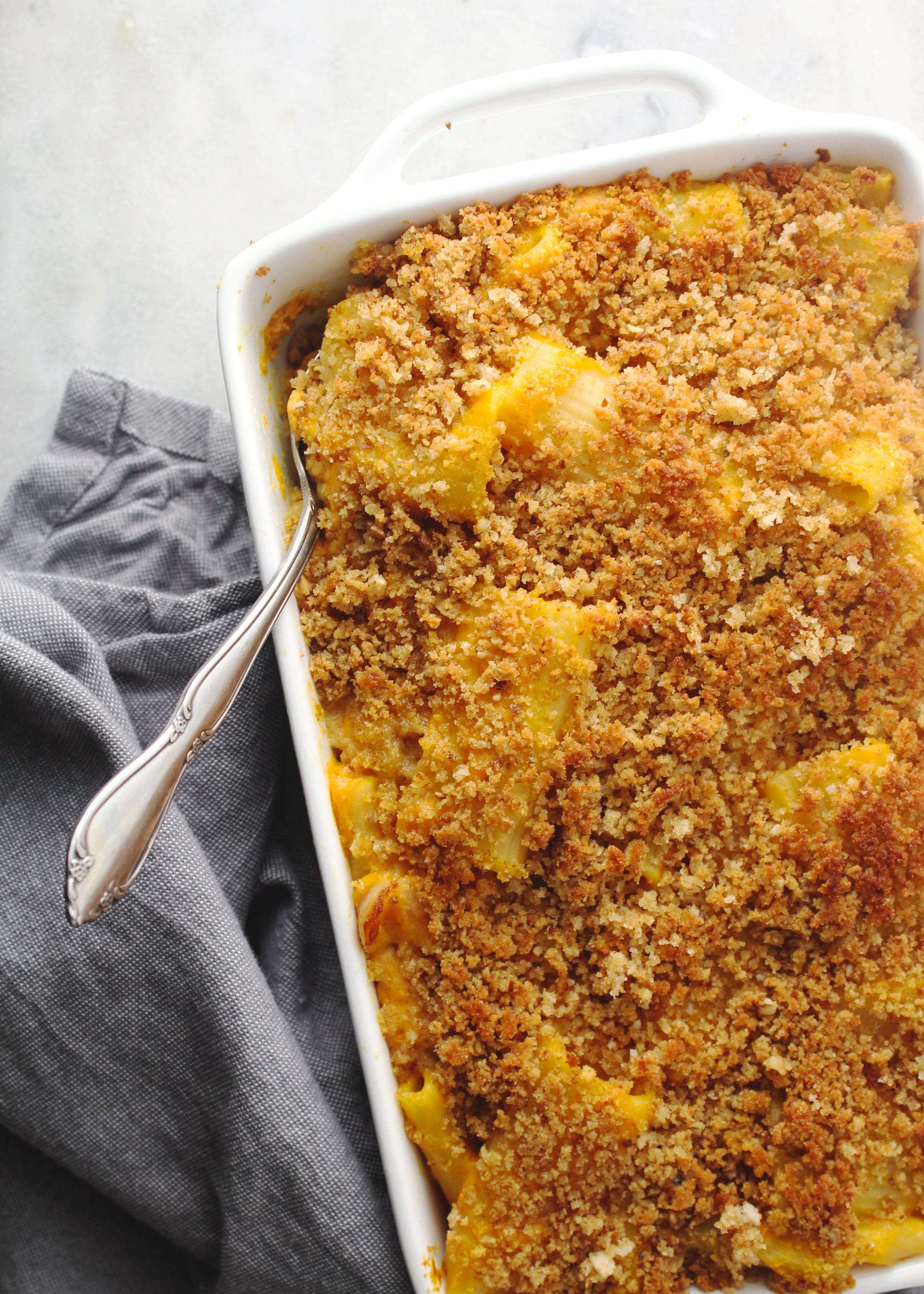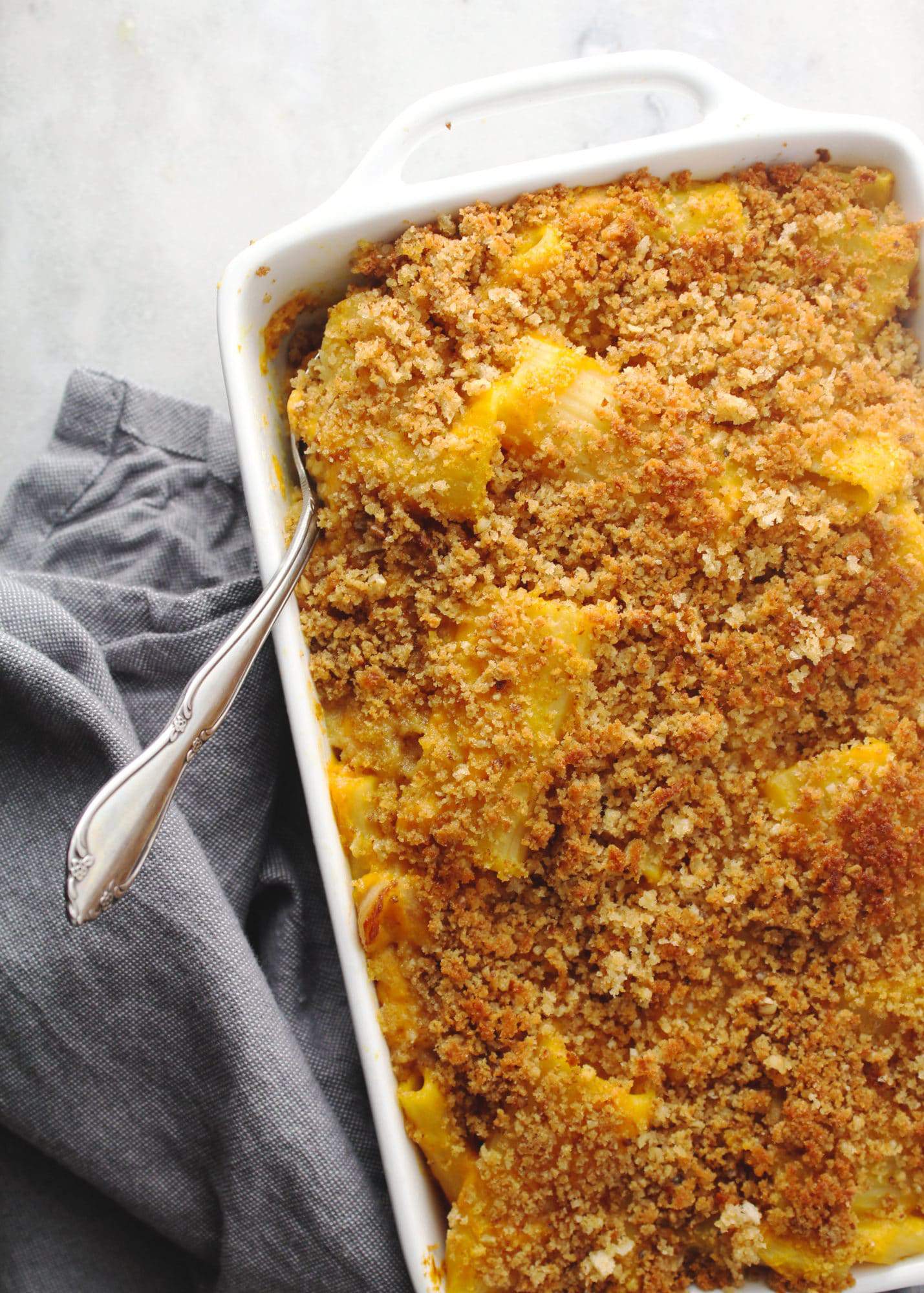 This pancetta pumpkin baked pasta isn't the super involved baked mac and cheese of your childhood either. Remember it's family-friendly/you-friendly. There are just a few ingredients to handle and then you pop it in the oven.
Here's the rundown:
1). You're obviously going to want to pre-cook the pasta to al dente, that's easy.
2). Make the breadcrumb topping, which is only two ingredients. Again, easy-peasy!
3). Make the sauce, the most complicated part of the recipe, but really not at all cause you're just heating the ingredients in a saucepan and then tossing them with the pasta.
4). Place it all in a casserole dish and bake!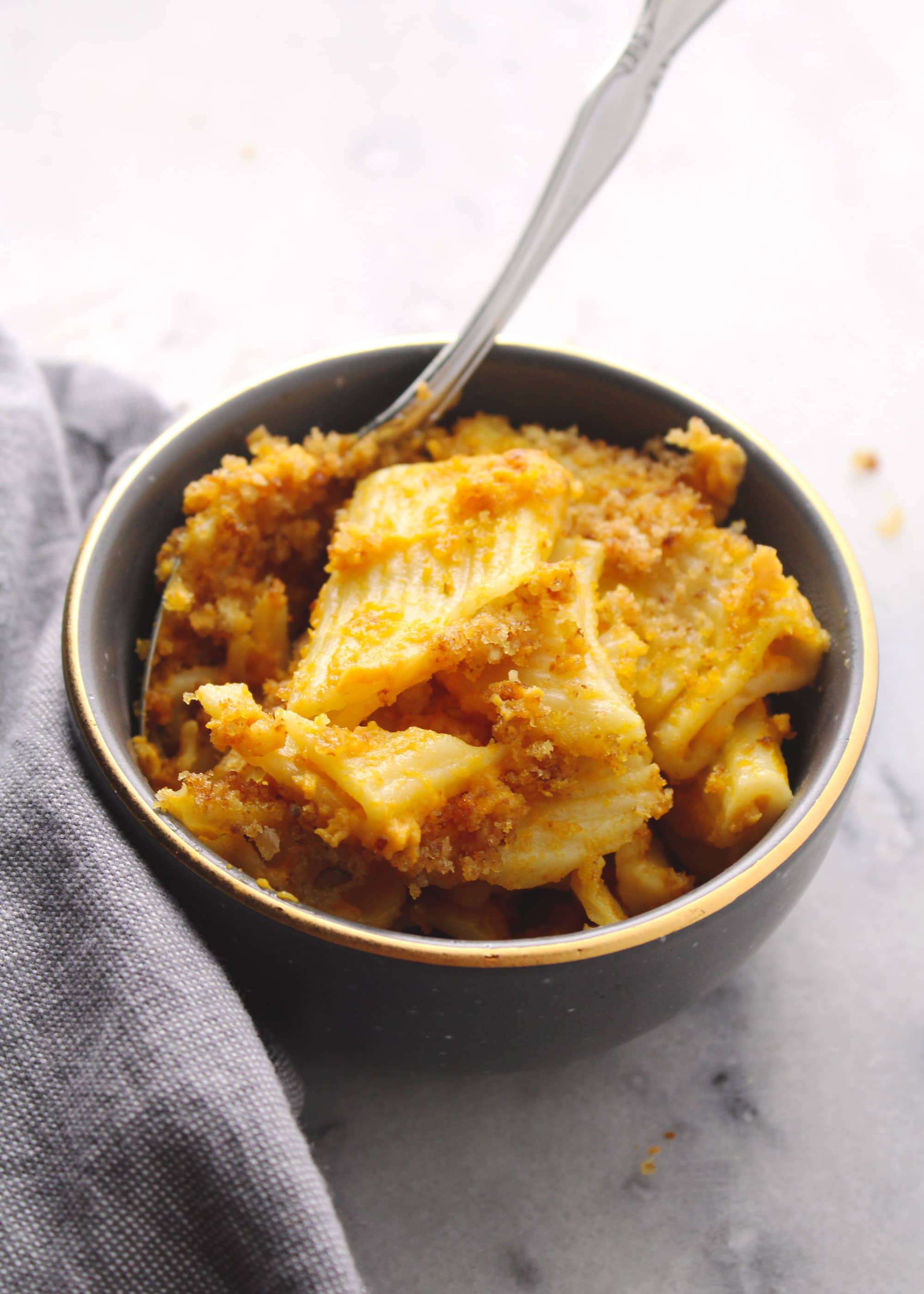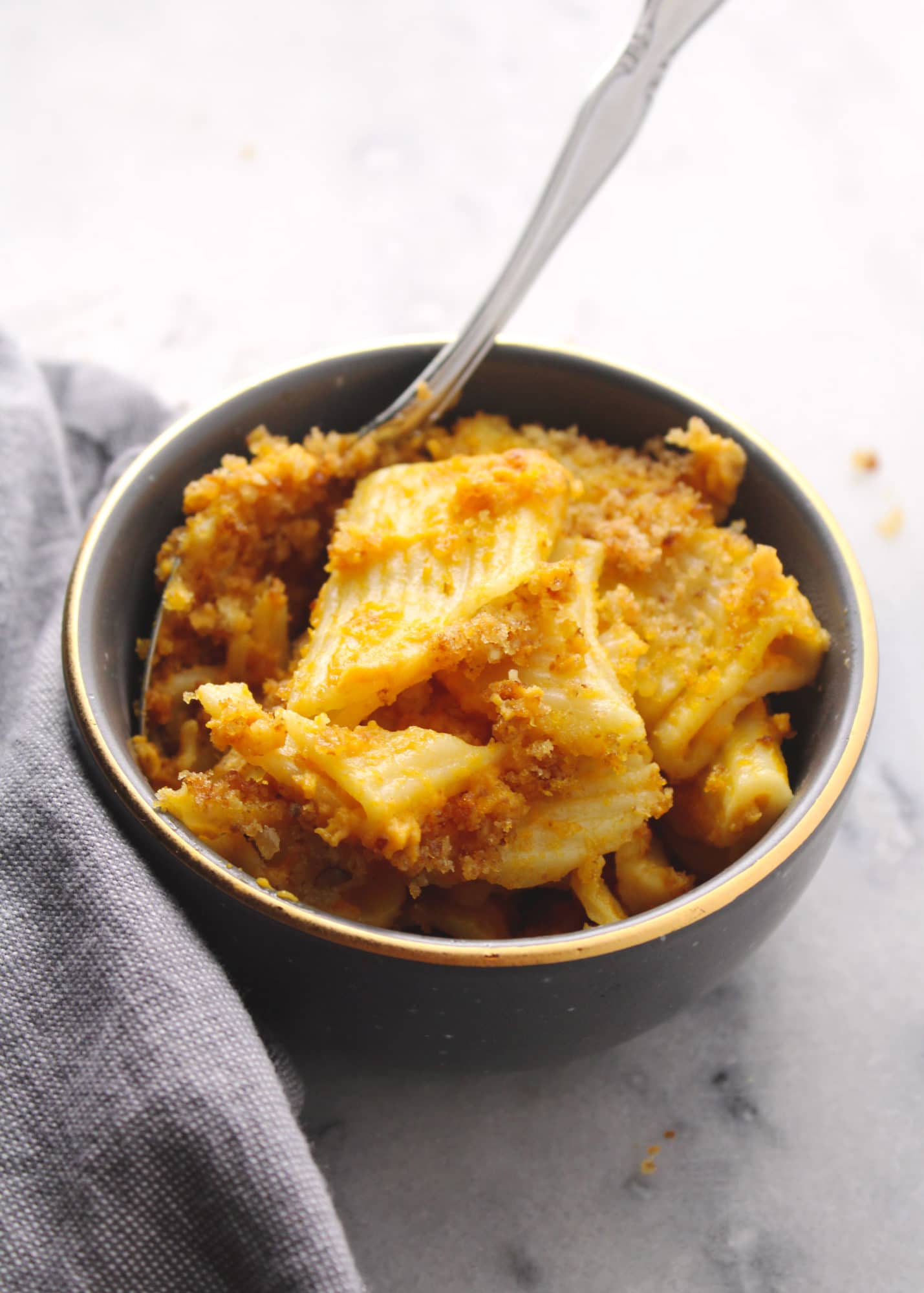 We can handle this! We can do this because this pasta will be giving you a great big fall hug for the rest of the week.
Print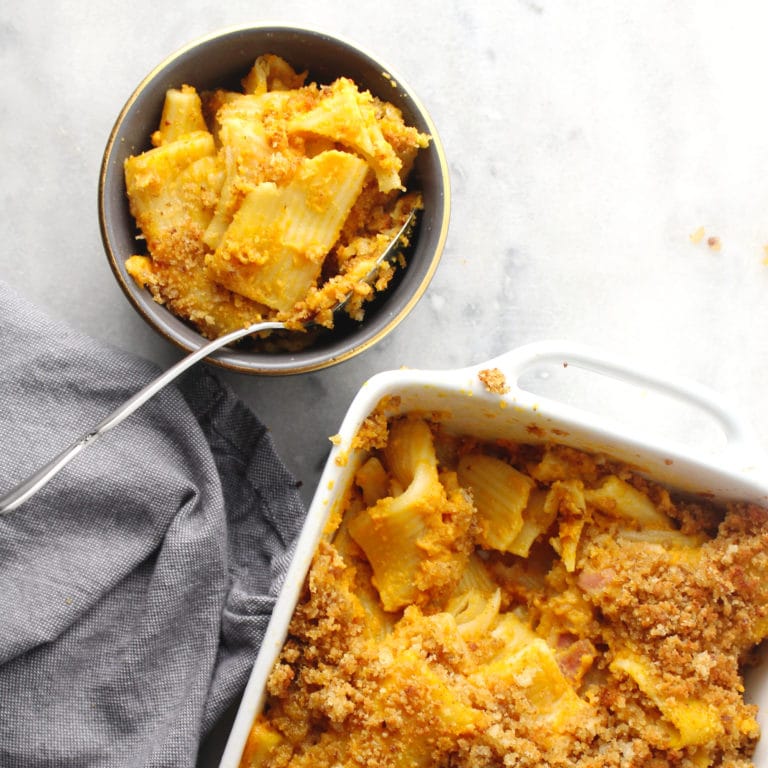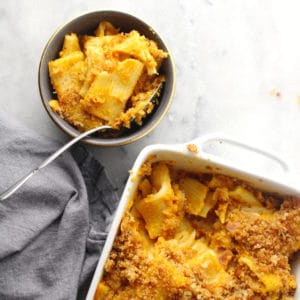 Pancetta Pumpkin Baked Pasta
Author:

Prep Time:

30 Mins

Cook Time:

40 Mins

Total Time:

1 hour 10 minutes

Yield:

8

Servings

1

x
---
Description
Exceptionally cheesy and super creamy, this Pancetta Pumpkin Baked Pasta (aka pumpkin mac & cheese) is fall's guiltiest flavorful pleasure.
---
Scale
Ingredients
1

lb Rigatoni Pasta

2

–

3

slices Bread

7 tablespoon

s Butter, divided

2 tablespoon

s Flour

3/4 cup

Heavy Cream or Milk

1 1/2 cup

s Pumpkin Puree (about

3/4

of a 15-oz can)

1 cup

Asiago Cheese, shredded (or similar type)

1 cup

Gruyere, Cheddar, or American cheese, shredded or cubed

1

package of Pancetta

2

large Eggs, beaten
---
Instructions
Preheat the oven to 375 degrees and bring a large stockpot of salted water, filled halfway, to a boil. Add the Rigatoni and cook until al dente about 15 minutes (check packaging for specifics). Drain and set aside while you prepare the rest of the dish.
Breadcrumbs: Melt 2 tablespoons of Butter. Place the Bread slices into a food processor and pour the butter on top. Pulse until breadcrumbs begin to form. Set aside.
Sauce: Melt the remaining Butter in a large saucepan over medium heat and add then Flour. Stir together until the mixture bubbles and begins to turn a golden brown. Slowly pour the Heavy Cream into the pan, stirring continuously. Add the Pumpkin Puree and stir to combine. Remove from heat and mix in both kinds of Cheese until melted. Tear the Pancetta into smaller pieces and stir into the sauce.
Temper the Eggs with about 1/2 cup of the pumpkin sauce in a small mixing bowl, then pour the egg mixture back into the rest of the sauce. Mix until well combined.
Bake: Pour the pumpkin sauce over the cooked rigatoni and gently toss to coat. Place the pasta into a greased 9 x 13-inch baking dish and cover with the breadcrumbs. Cover with foil (coat the top with oil to prevent sticking) and cook for 30 minutes. Remove foil from top and place back in the oven for an additional 5 minutes to toast the crumb topping.
---
Notes
To make this recipe vegetarian remove the Pancetta and you'll have a nice fall-inspired meatless meal.