Because sometimes the child in you wants those meals you ate repeatedly as a kid and parmesan sausage orzo is here to comfort you.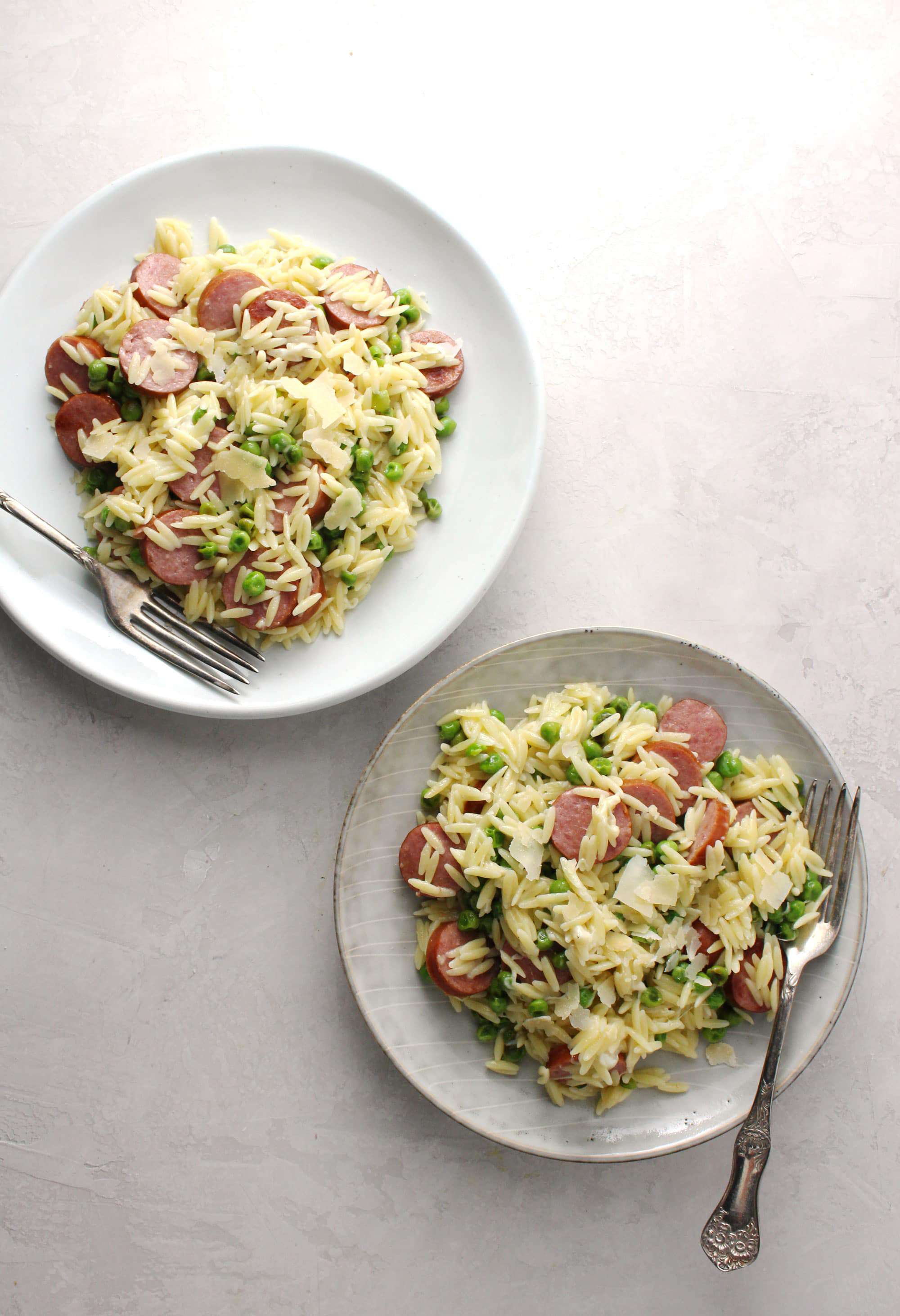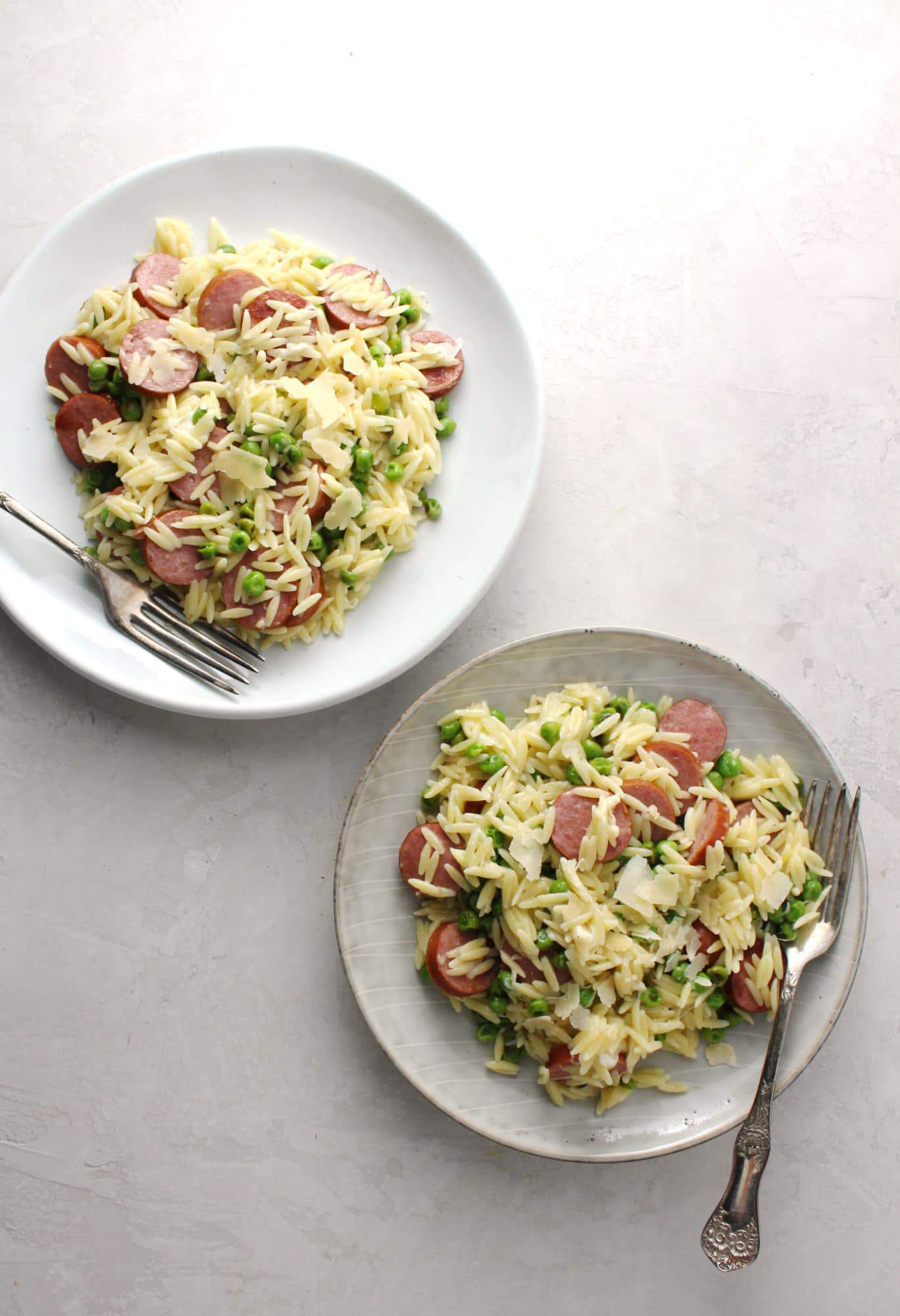 Fridge Foraging = taking what you have and working with what you got. Aka whatever is left in your fridge, freezer, or pantry that can be turned into a tasty, and cost effective, meal.
Picture your old favorite kid meal of hot dogs and mac and cheese piled high on your BPA filled plastic Winnie the Pooh plate. Dreamy, right?
Now shift your mindset to modern times, cause you're not old at all, knowing the mature adult-you still craves this, but desires a more grown up version or maybe not. Enter parmesan sausage orzo to the scene. Same taste just a bit more sophisticated.
Make this for yourself, make it for your kids, because we're all winning here. Here's how are swaps look:
Hot Dogs = Smoked Sausage
Noodles = Orzo
Peas? We're keeping those cause we all need a little veggie in our lives
Velvetta (or other neon orange cheese) = Mozzarella/Asiago Cheese Mix
A little butter, a little olive oil, a dash of garlic powder are all invited to this party
And if you really want to get all sophisticated shake some oregano or Italian spice blend on top and dig in, pinkie poised out.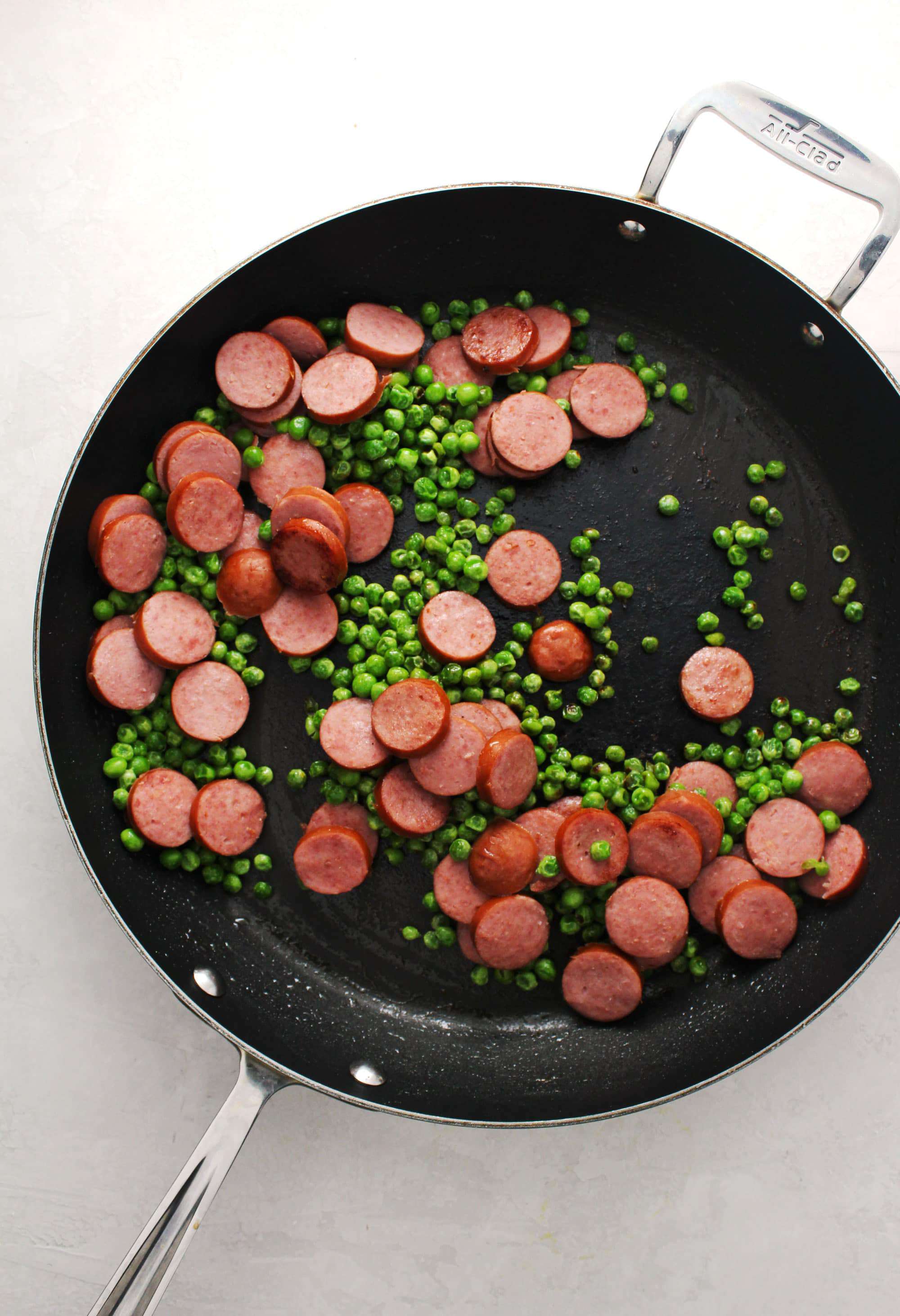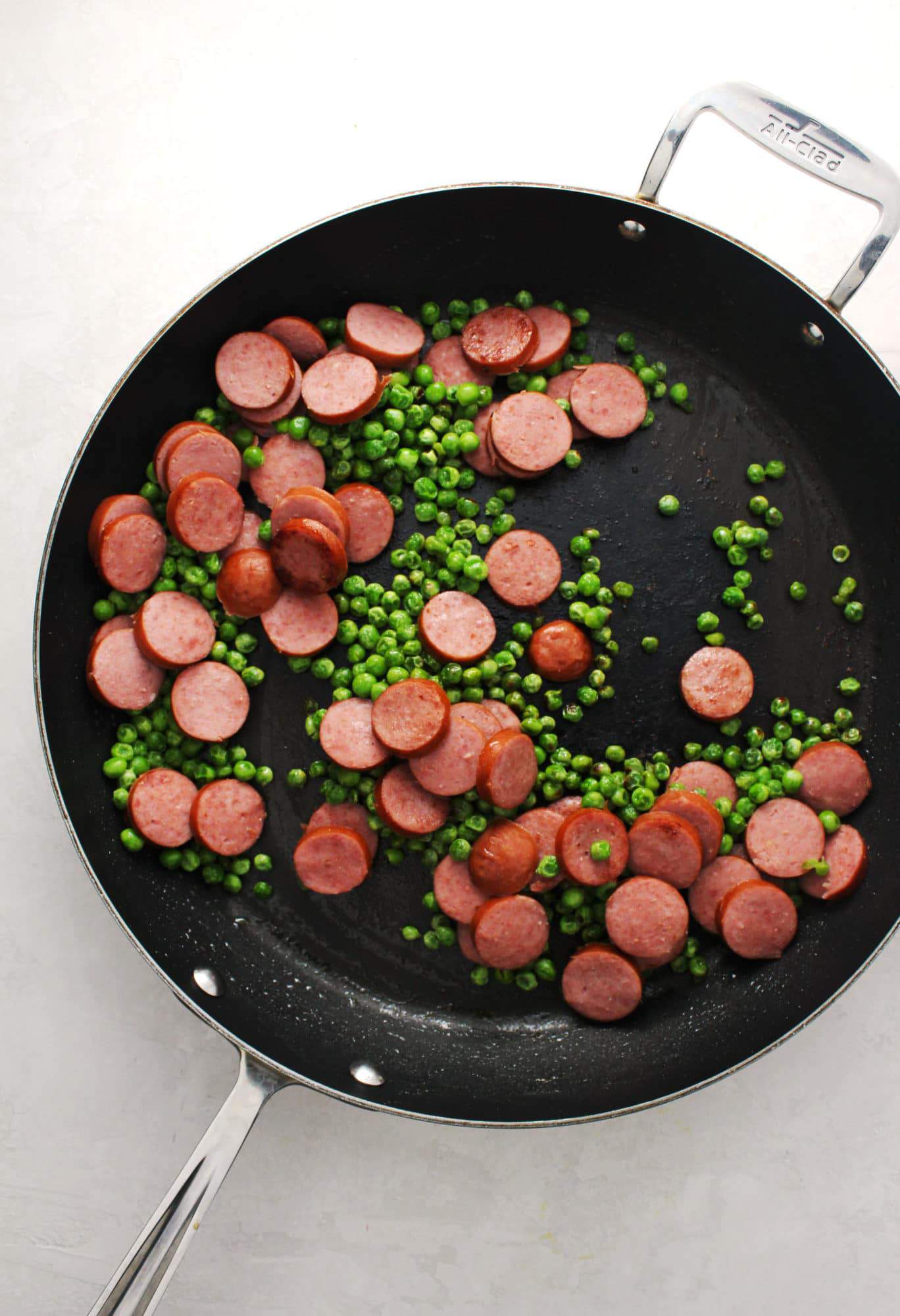 How to Forage in Your Own Kitchen…
Take a stock of your fridge, freezer, and pantry. Rice, beans, pasta? Any proteins, cheese, or veggies What do you have? How can you turn it into an easy meal?
Take what you have and throw it all together. It's that simple friends!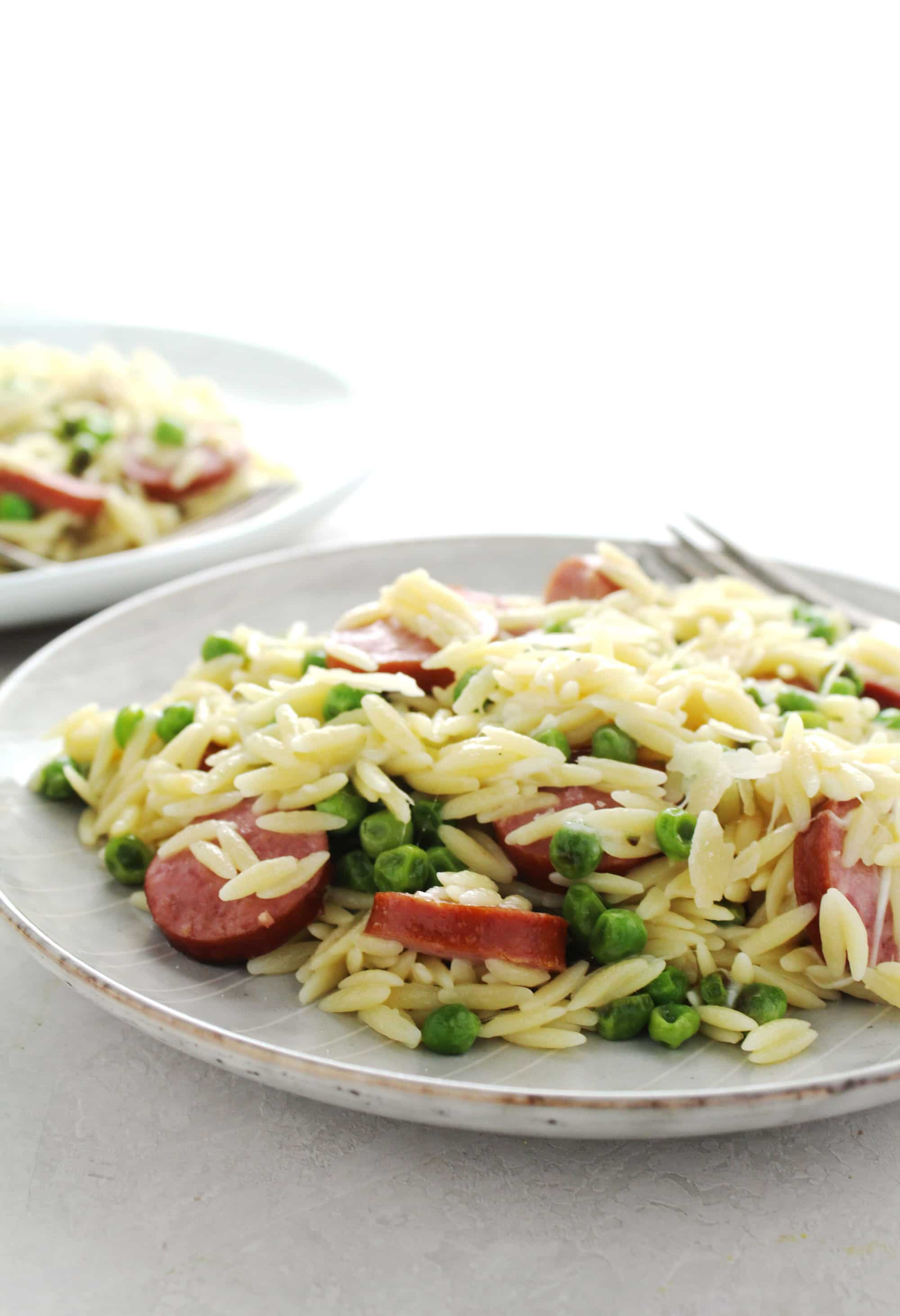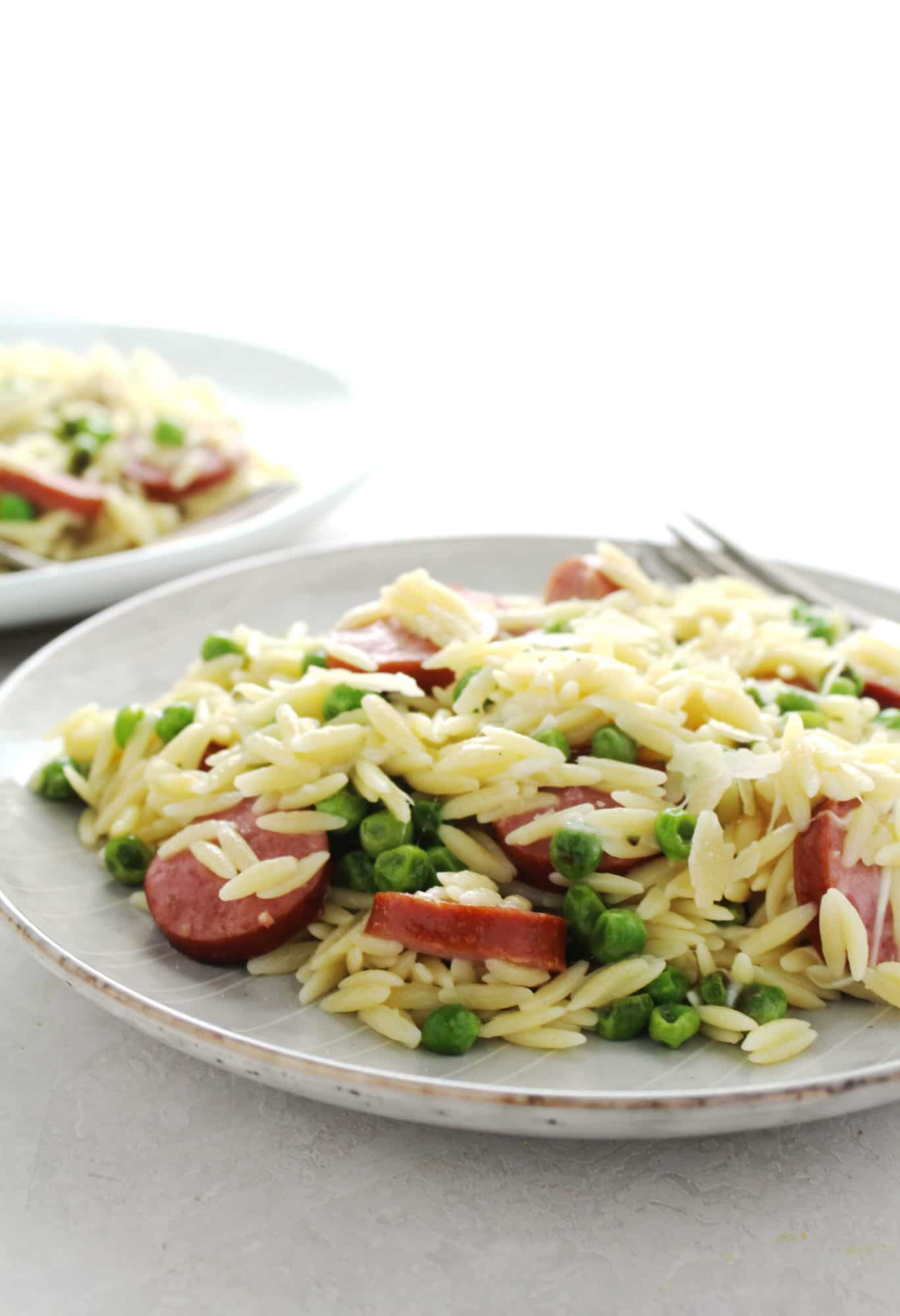 Here's where this meal goes next level, because I made a batch of it up only days before we were heading out of town, and had tons leftover the night before we left. I couldn't bare to waste it so I did what all smart people do and Googled "how to freeze pasta," and I'm happy to report IT CAN BE DONE!
We were gone for over a week and upon our return I had a basically empty pantry and eggs in my fridge (not ideal for foraging), but not the case in my freezer cause I had this parmesan sausage orzo. I let it thaw, reheated it and GUYS it was amazing and oh so perfect for a weekday lunch. If that isn't a great welcome home then I don't know what is.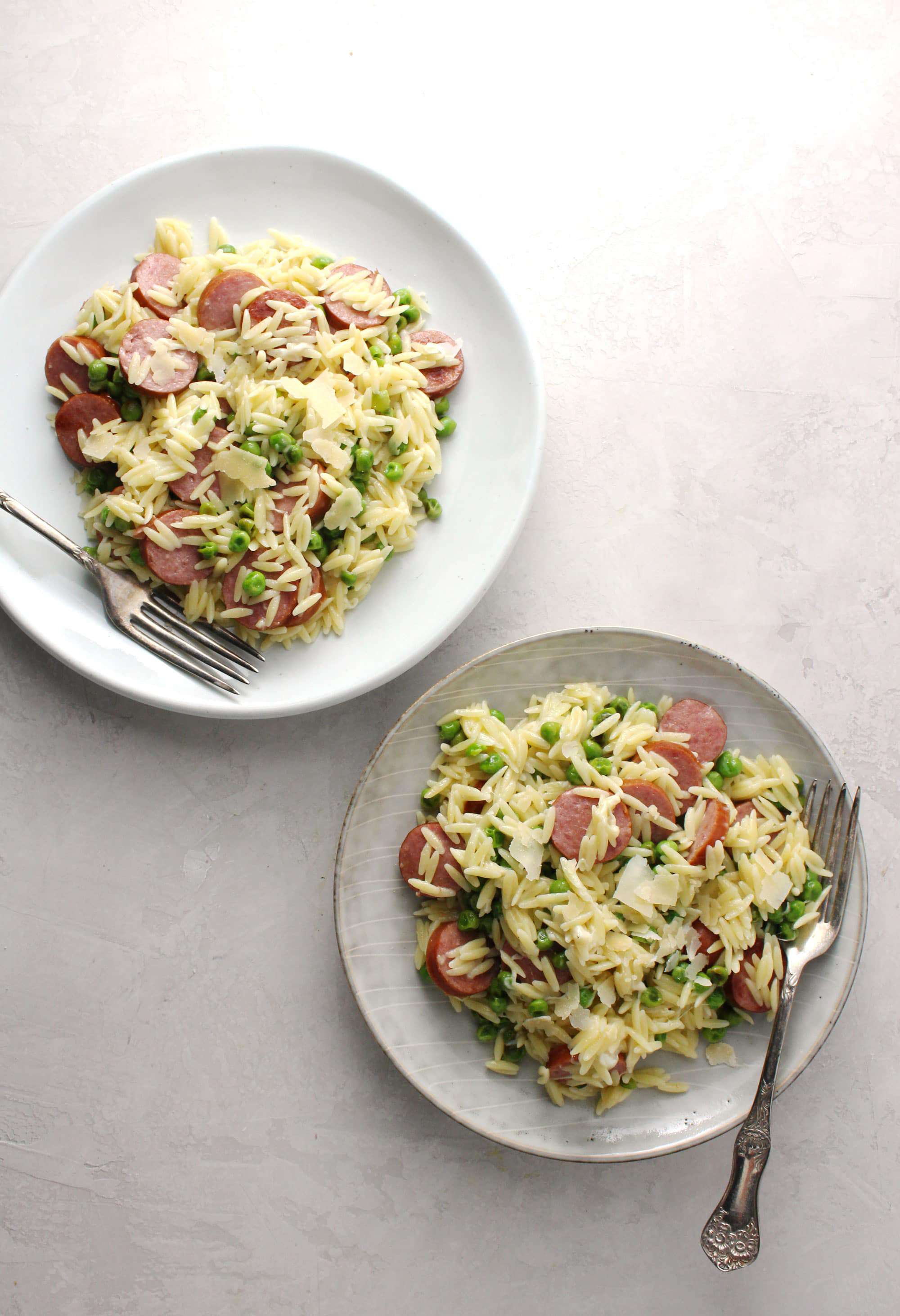 Ingredients
1

lb

Smoked Sausage

4

tablespoons

Olive Oil

1

cup

Frozen Peas

8

ounces

Orzo Pasta

2

tablespoons

Butter

1

teaspoon

Garlic Powder

4

ounces

Mozzarella Cheese

1

ounce

Parmesan Cheese
Instructions
Heat 1 tablespoon of olive oil in a large non-stick skillet over medium-high heat. Slice the smoked sausage and add to the warmed skillet along with the peas. Cook, stirring occasionally for 5 minutes.

In a large stockpot bring 6 to 8 cups of water to a boil and add the orzo. Continue to cook until al dente, about 10 to 12 minutes (or prepare according to package directions). Drain and add the orzo to the large skillet.

Add the remaining 3 tablespoons of olive oil, butter, garlic powder, and mozzarella cheese to the skillet and toss to coat. Turn the heat to low and allow the cheese to melt completely for about 3 minutes.

Remove from the stove and top with parmesan cheese.
Nutrition
Serving:
1
Serving
|
Calories:
435
kcal
|
Carbohydrates:
26
g
|
Protein:
16
g
|
Fat:
29
g
|
Saturated Fat:
11
g
|
Trans Fat:
1
g
|
Cholesterol:
61
mg
|
Sodium:
654
mg
|
Potassium:
234
mg
|
Fiber:
2
g
|
Sugar:
2
g
|
Vitamin A:
350
IU
|
Vitamin C:
7
mg
|
Calcium:
129
mg
|
Iron:
1
mg