These adorable Peppermint Christmas Ornaments are a festive holiday activity to make with kids or share with friends. The simple tree decorations can be made in minutes and look beautiful.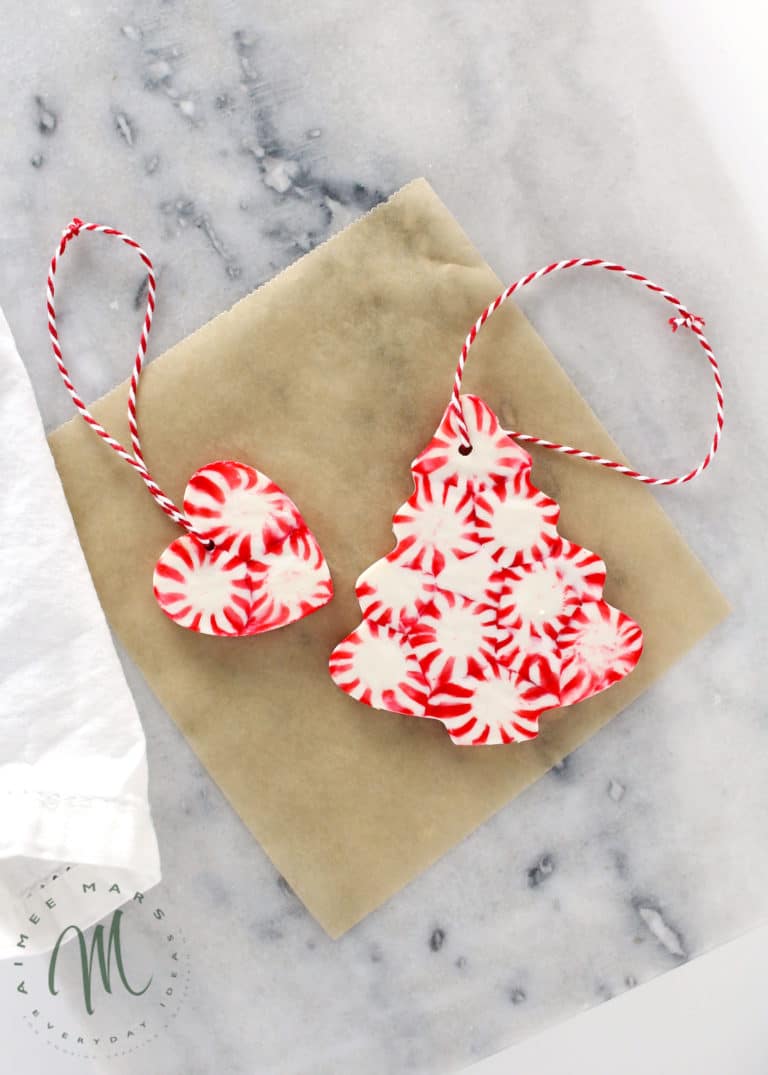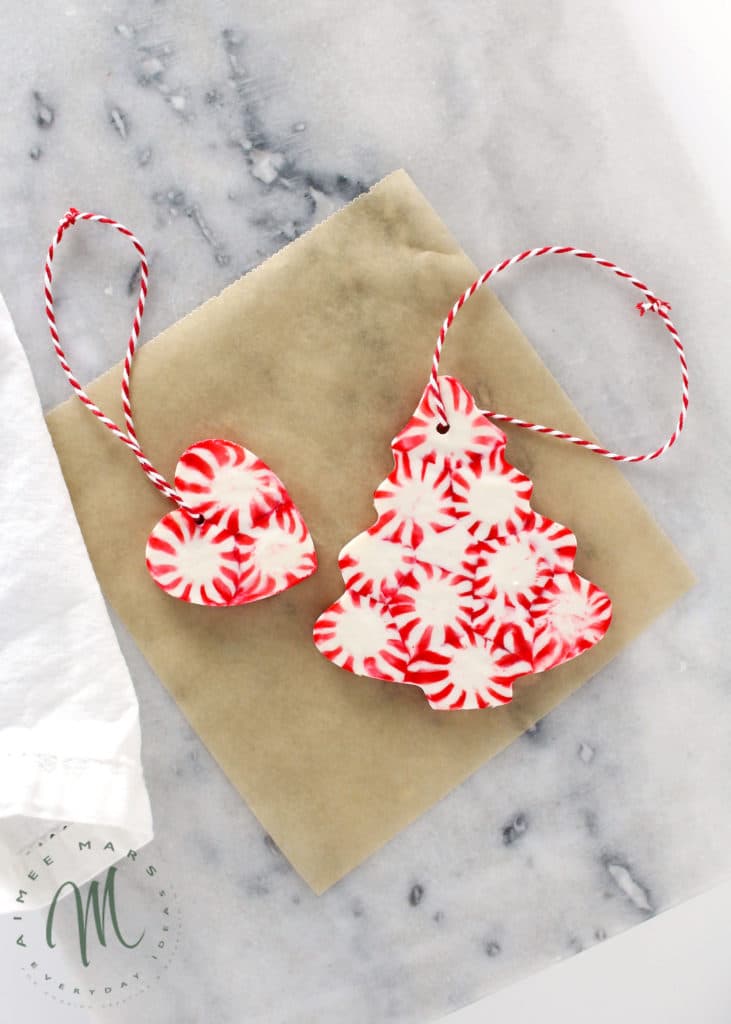 I'm beginning to sense a little holiday magic in my world… Or perhaps I've just decided to focus on the positive after I nearly became consumed with Christmas madness and was toeing the "Scrooge" line. Either way, let me explain…
I've seen these little Peppermint Ornaments everywhere lately, so no I didn't come up with this idea as much as I'd like to claim it, but I couldn't resist making them because they're so pretty. I like pretty things so it worked. Well, I was able to do this project together with my 3-year-old. Those pretty ornaments you see in the pic above were made by her – I only supervised (promise!). Anything that entertains me and my children is a huge win, and well this year it's a Christmas Miracle!
That was Christmas Miracle #1 and #2 happened today when I had a hair appointment that required my hair dresser to process my hair in less than and hour and oh I had my 15 month old with me too, who was an absolute quiet angel the entire time. My hair looks amazing (Christmas morning pic ready) and she finished with 10 minutes to spare. Hands down miracle!
Next, in an absolute Target store tizzy I was trying to wrap up my Christmas shopping and went uber early to the store to avoid people overload, which meant I had both kids (read: HUGE struggle always but worth it to avoid crowds). I somehow managed to sit my cell phone (aka life line) down and walk away without it. I realized this just before check out and calmly, yet on the verge of hysteria, walked over to customer service to find some angel had turned it in. That is Miracle #3!
And in an earlier post I mentioned I sent out Christmas Cards, which for me is just pure miracle in and of itself so let's go ahead and count that as Miracle #4. High five y'all!
In all seriousness though I know these are silly, but focusing on the positive and life's little wins is so much better than dwelling on everything that could or does go wrong. I hope this holiday season you're taking time to realize all the little miracles that might be happening in your life!!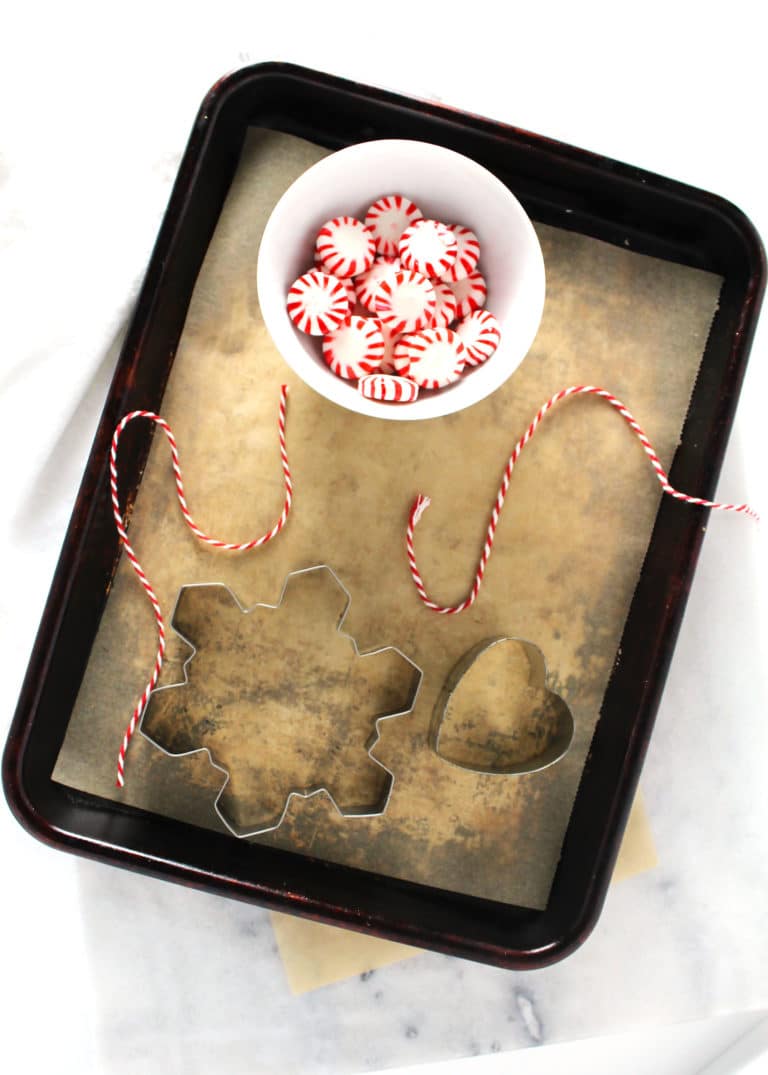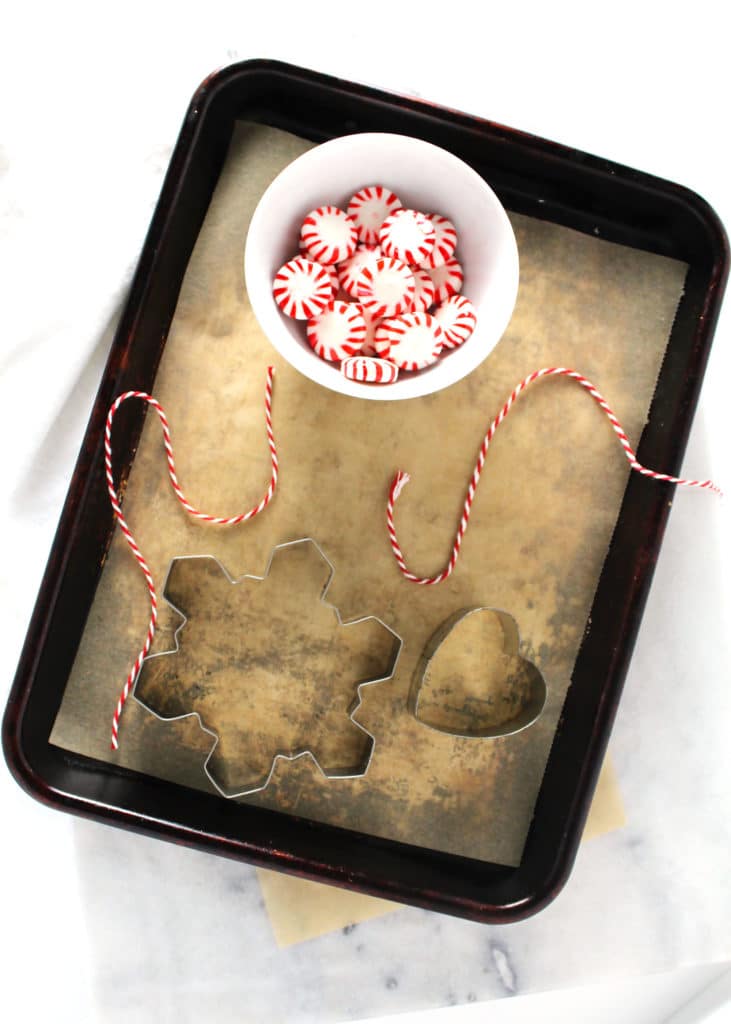 MATERIALS
BAG OF PEPPERMINTS + COOKIE CUTTERS + PARCHMENT PAPER + COOKING OIL + RIMMED BAKING SHEET + STRING + WOODEN SKEWER
First things first, preheat the oven to 350 degrees and line a rimmed baking sheet with parchment paper. Coat or spray the insides of all your cookie cutters with cooking oil.
Lay out your cookie cutters and arrange the peppermints in a single layer (DON'T DOUBLE UP). If there are gaps then use a mallet or something similar to crack some of the peppermints into large pieces. Use those pieces to fill in the spaces (see the heart cookie cutter below for an example).
Place the baking sheet in the oven for 6 to 9 minutes (mine were done in exactly 8 minutes. Remove the tray as soon as the candy melts. You don't want the candy to start bubbling.
Let the cutters cool for 2 to 3 minutes (mine were done at 3) and then dip the end of a wooden skewer into oil and press into the candy where you want your ribbon to go.
Let the cutters sit for an additional 15 minutes before gently removing from the cookie cutter. Don't wait any longer than 15 minutes because as they cool the ornaments will be harder to remove from the cutters and likely to crack.
Loop your ribbon through the hole and tie. Volia! You're done!
NOTES:
Use an oven timer to time this project to the second!
Don't try and handle the ornaments too much after they're made otherwise they'll get sticky.
Unfortunately these will only last one season so don't try and store them for next year. Good news is you get to do this AGAIN next year! So yay for that!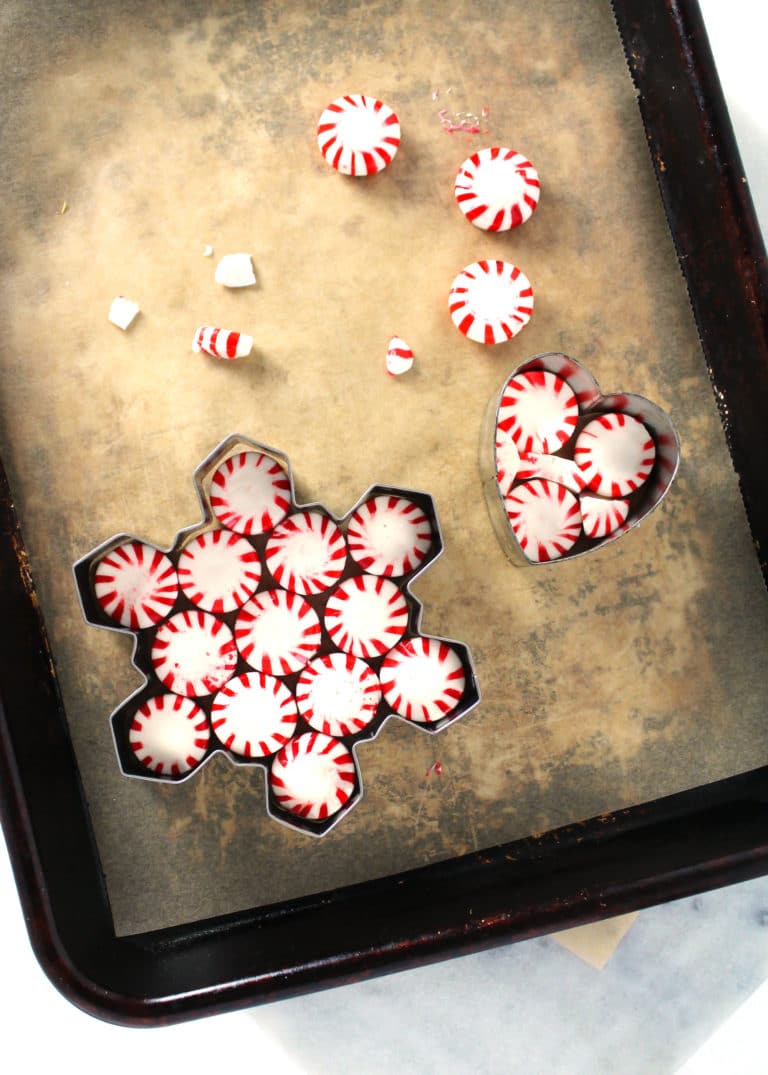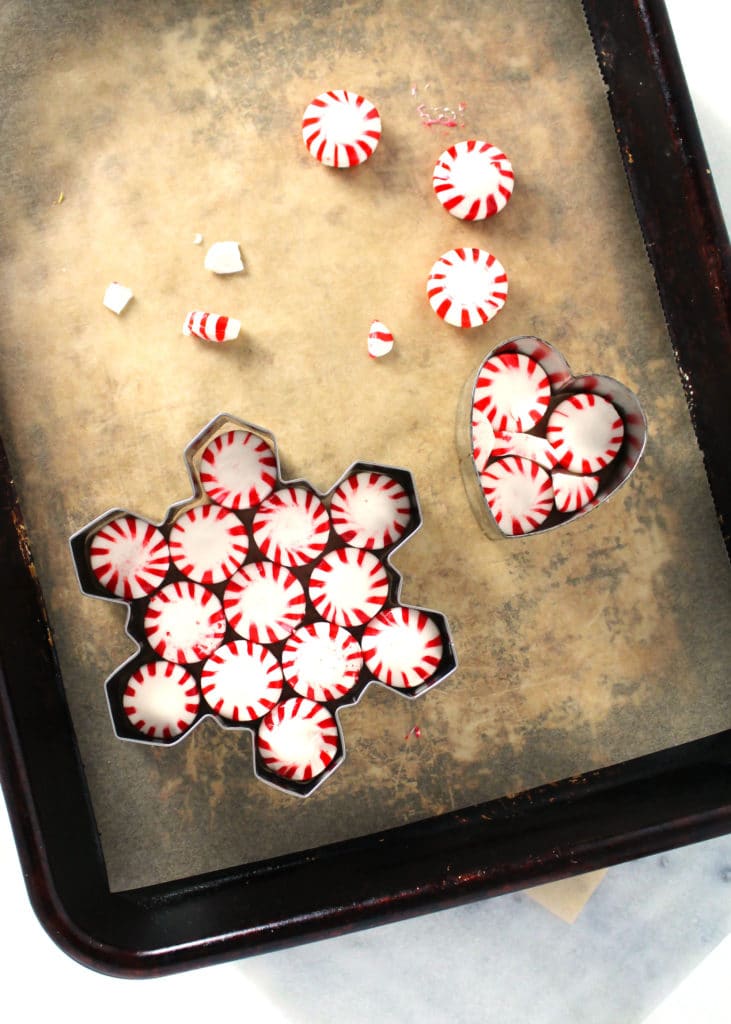 Equipment
Rimmed Baking Sheet

Parchment Paper

Cookie Cutters

Bakers Twine or Ribbon

Wooden Skewers
Ingredients
1

cup

Peppermint Discs

Cooking Spray
Instructions
Preheat the oven to 350ºF and line a rimmed baking sheet with parchment paper. Coat or spray the insides of the cookie cutters with cooking spray and place them on the prepared baking sheet.

Arrange the peppermint discs inside of the cookie cookers making sure to place them in a single layer. To fill in the spaces use a mallet or something similar to crack the peppermint discs into pieces. Place those pieces in the gaps.

Cook the ornaments in the oven for 6 to 9 minutes or until the candies melt together (mine were done in exactly 8 minutes. You don't want the candies to bubble).

Remove the tray and let cool for 3 minutes. Then dip the flat end of a wooden skewer into oil and then press it into the spot where you want the string or ribbon to go. Press all the way through the candy, but don't move the cookie cutter.

Let the cookie cutters sit on the tray for an additional 15 minutes before gently removing it from the ornament. Don't wait longer than 15 minutes because it will be hard to remove without breaking the candy pieces.

Thread the string or ribbon through the prepared hole and tie in a knot at the ends.
Notes
These ornaments are super delicate during the cooking process and can easily break. If this happens just try again! I have found that using smaller sized cookie cutters helps to avoid breakage.