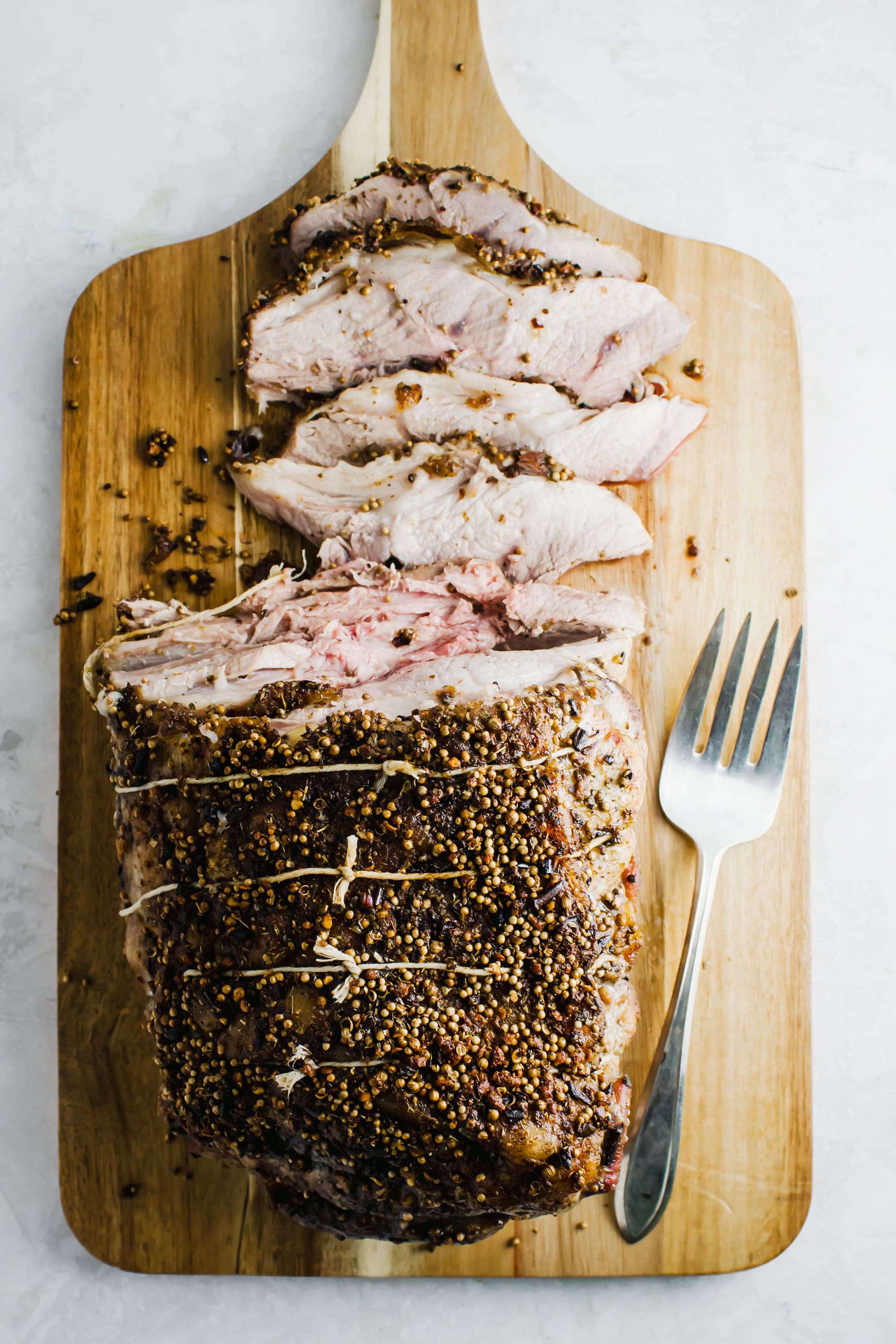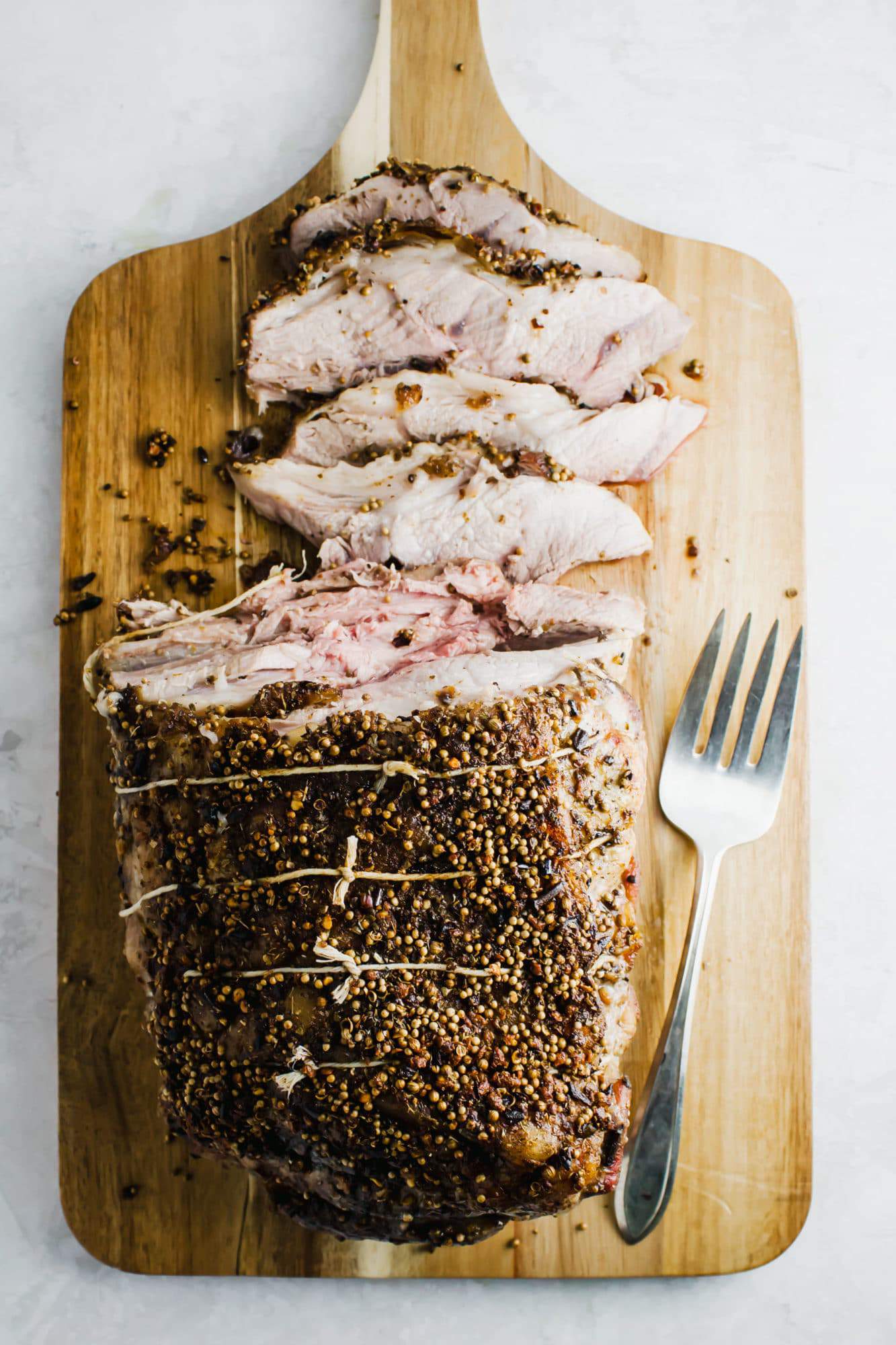 It's amazing we still have a dog. Pork Shoulder al Diavolo is one of those slow-love meals that require some time and a smidge of energy to prepare aka a whole lotta love.
Disclaimer: Before you click delete on this post and think I'm looney for posting a meal that requires substantial time and energy commitment, just skip to where I discuss the delicious qualities this simple to prepare meal embodies…
No special event or holiday is required to prepare this delectable dish either, which is good for my family, this pork shoulder in particular given its end. Just before slicing into this tender, juicy, meat you want to let it sit outside the oven and finish the cooking process.
This is the exact moment my dog decided to jump on the counter (as I took the kids outside to play) and serve herself dinner by saddling up to this pork shoulder. Every last bit. Gone…
Fortunately, I'd sliced some delicious pieces of the meat for the photos I took. Those few pieces my dog, Dixie, decided to leave.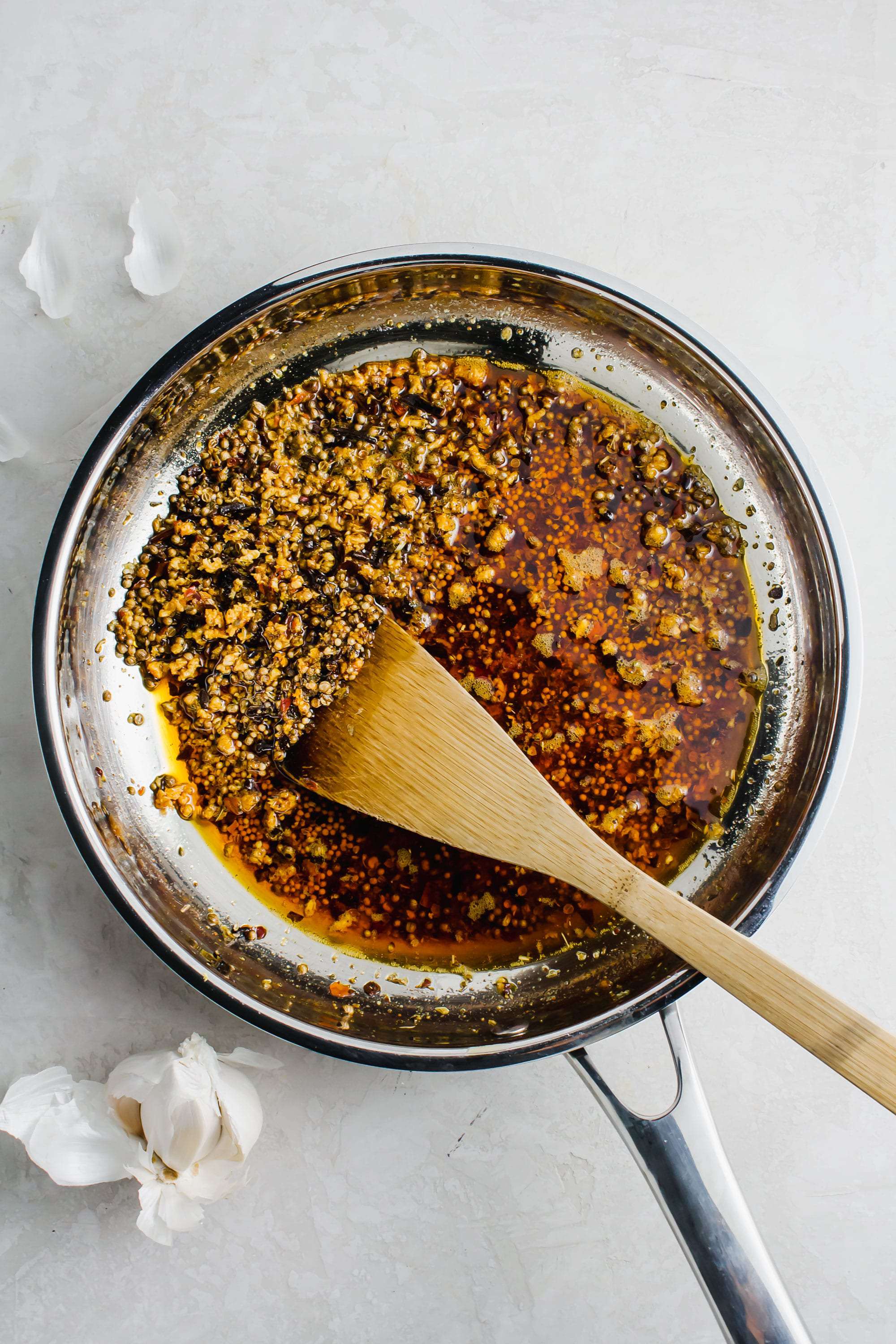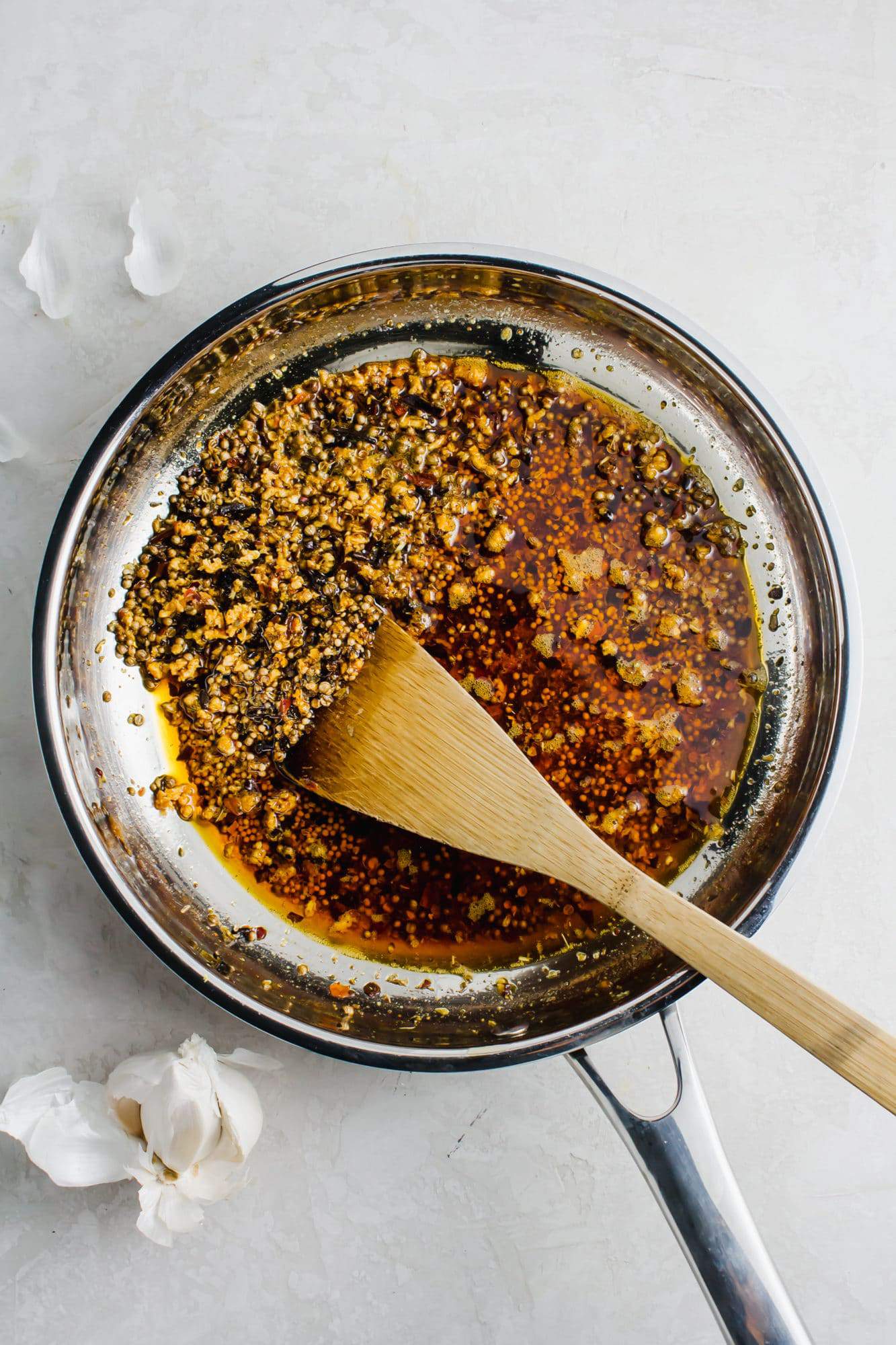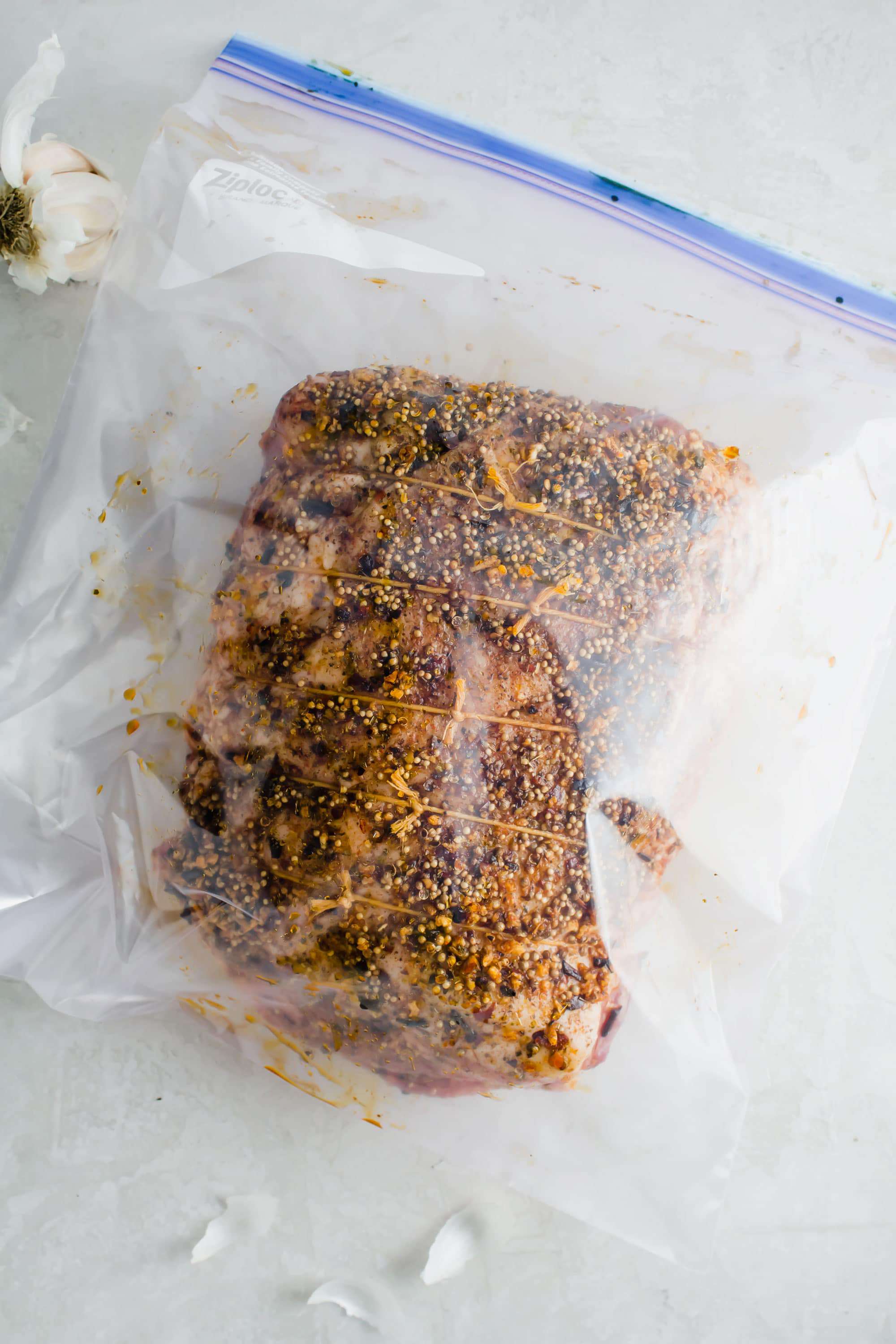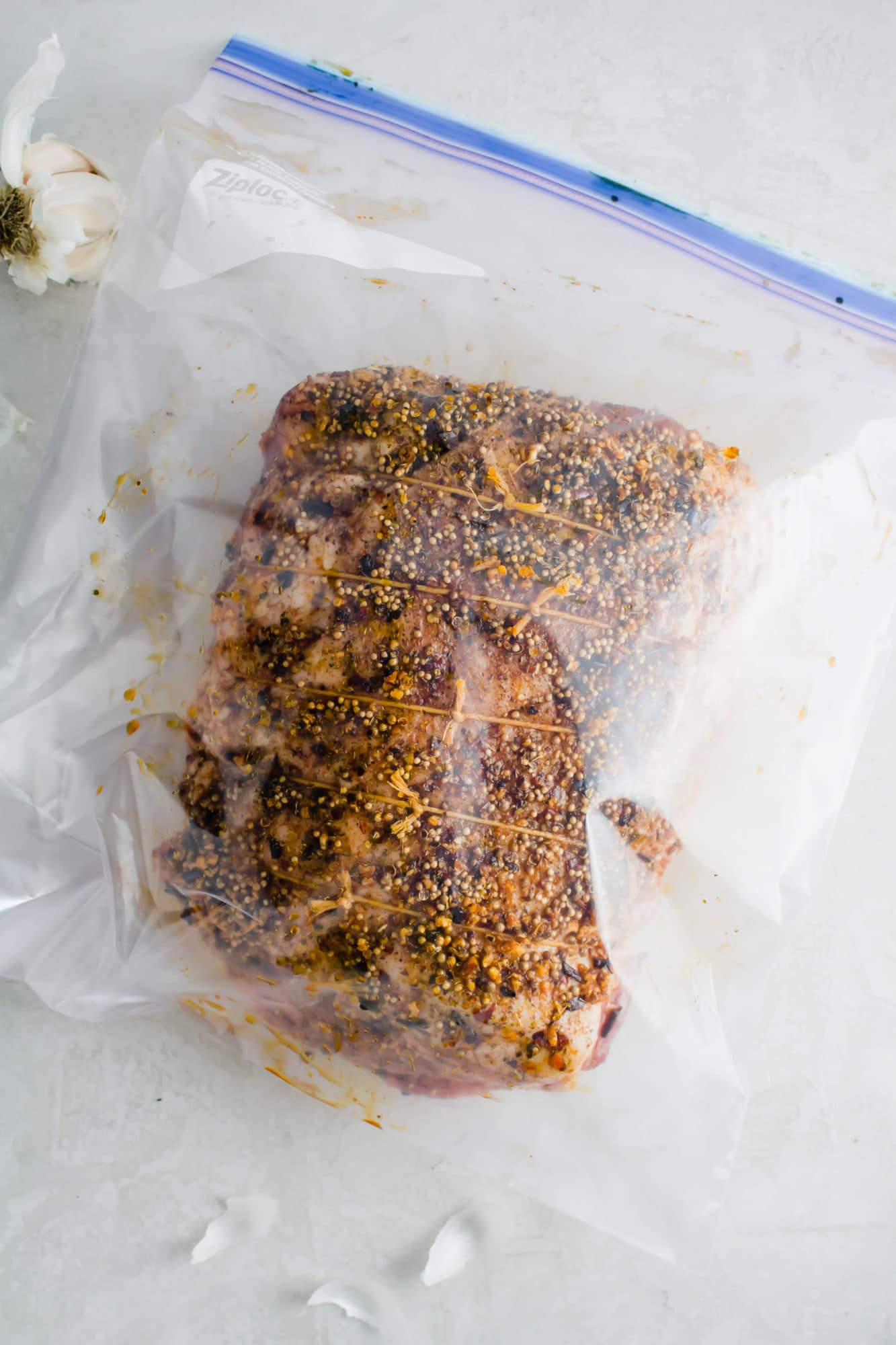 Reasons Why NOT to Delete this Recipe
No, this dish isn't one you whip up in 15 minutes. This is the dinner you serve when you carve out time to gather and be fully present with one another. Those dinners where conversations spill one into the other and time just seems to stand still. The beauty of this recipe is one that embodies:
Tender, juicy, fall-apart, flavorful meat.
A cozy, wintery spice marinade.
Entertaining perfection or Sunday dinner best.
Rich, meaningful conversation
While I can't exactly promise the meaningful conversation, especially if most of the meal you're trying (with what little patience you have left) to cajole your children into their chairs, I can promise a delicious dinner (should you get to eat it and not the dog).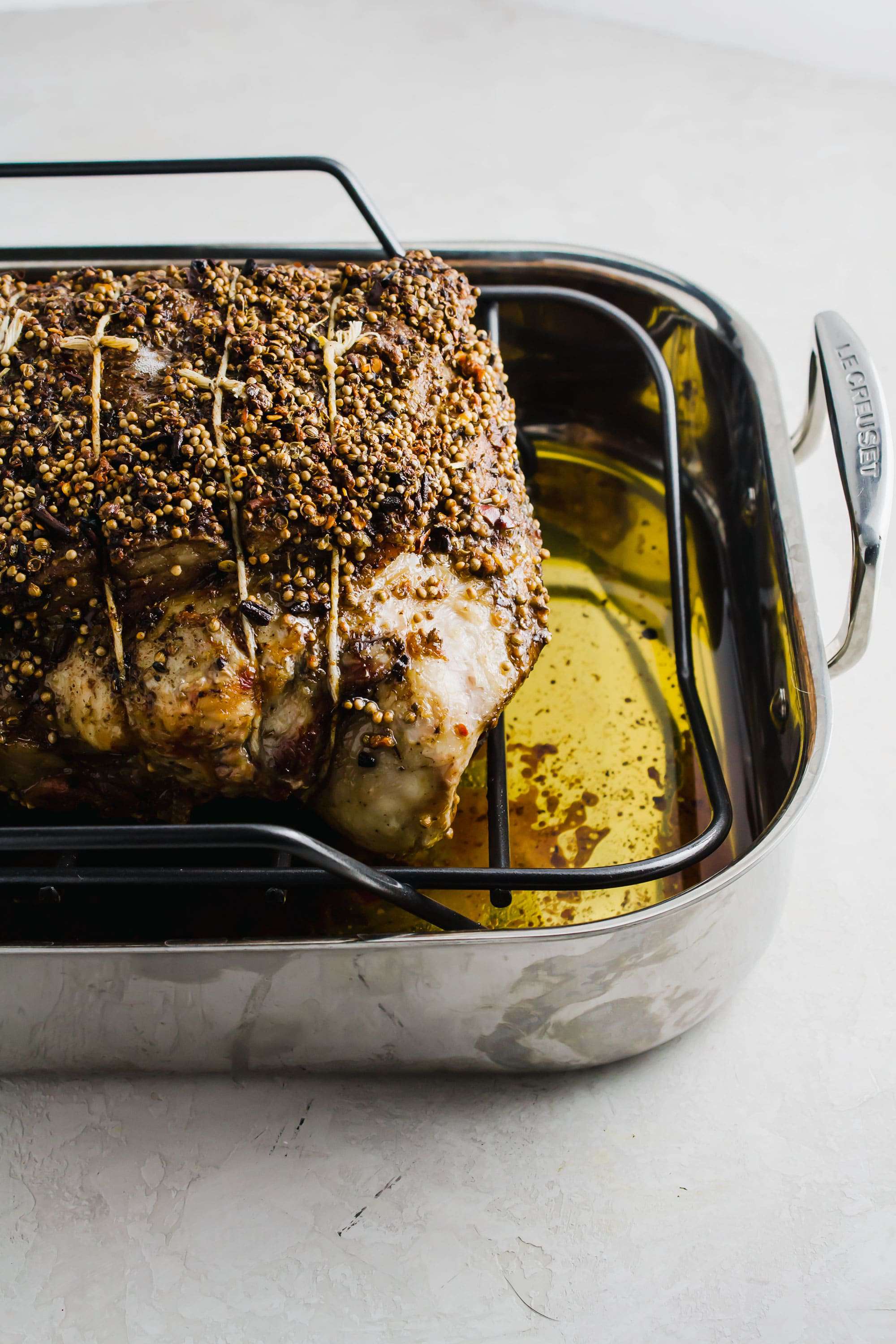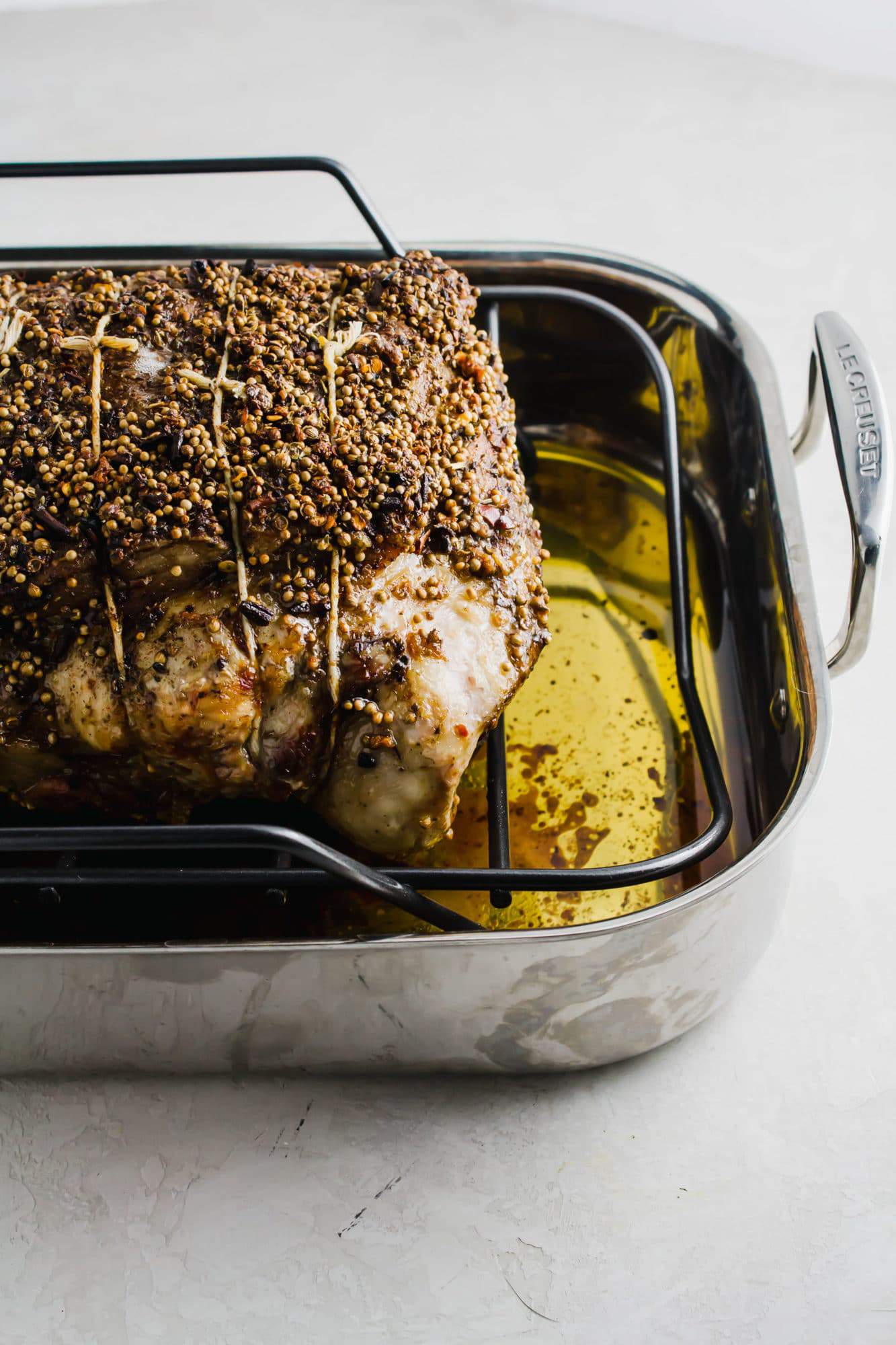 I get pork shoulder can seem enticing yet intimidating (I know, I was intimidated to try it out), but really it's a simple marinade and then cooked with a slow process. Marinate and cook. Just as you would a weeknight chicken dinner. Here's what you need to know:
The meat needs to reach an internal temp of 140 ℉, which you can use a meat thermometer to check near the end of cooking. It's hard to overcook a pork shoulder and if you're looking for even more tender meat cook it until it reads 185 ℉.
You can marinate the pork for as little as 2 hours, but I suggest going for at least 8.
Letting the meat sit for 30 minutes after cooking is a key finishing step so don't skip.
Though it's a lengthy process, it's a simple one and one that is WELL worth the effort.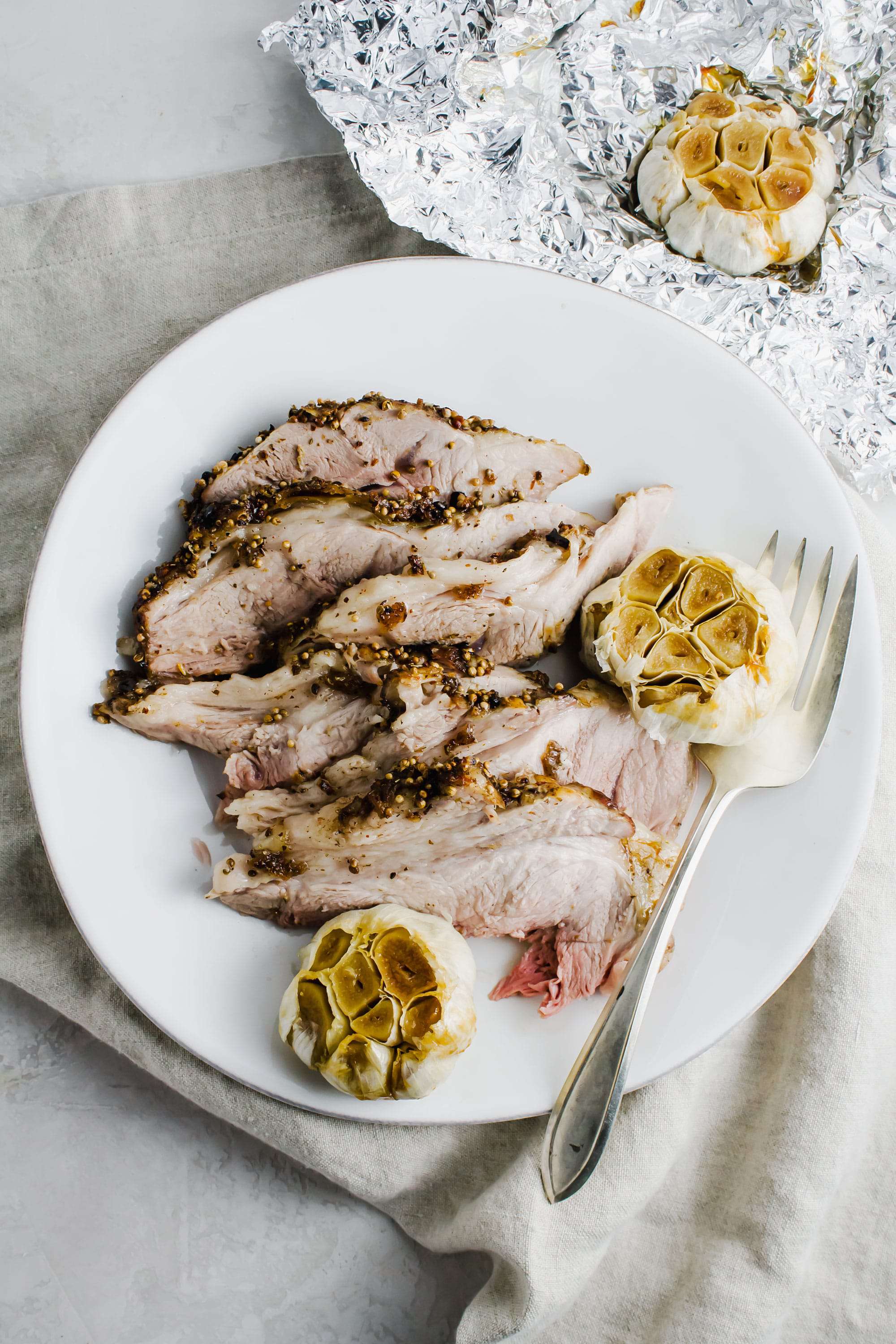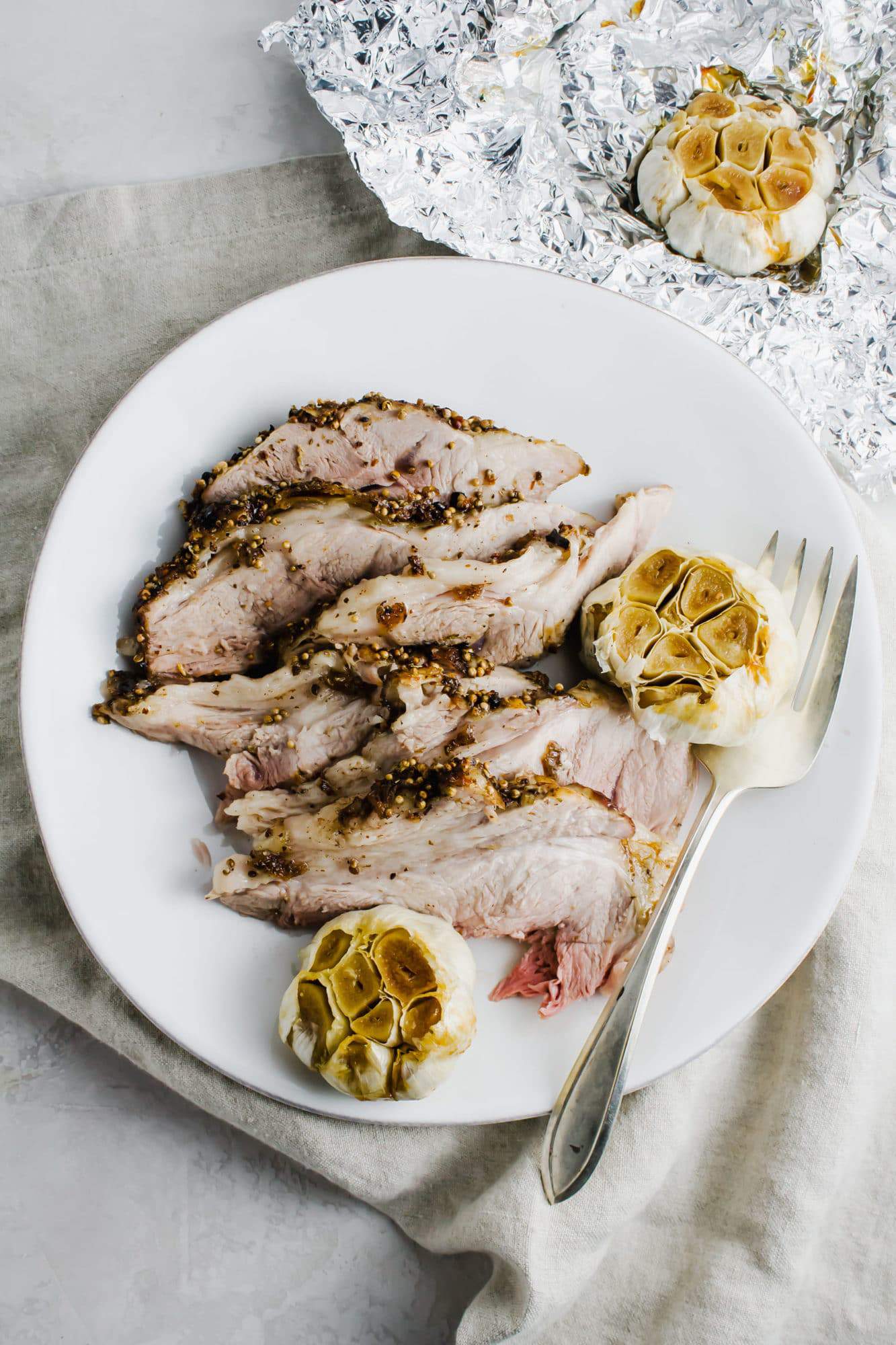 Just looking at these pictures sends my taste buds into a craving overdrive that is likely to send me driving to the store right now to try this recipe out again all the while keeping an eye out for my dog.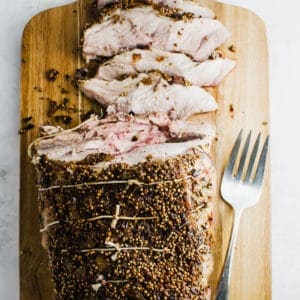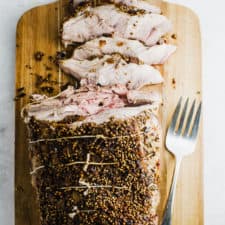 Roasted Pork Shoulder
This tender and juicy fall-apart Roasted Pork Shoulder is kept at room temperature and then marinated in a spicy Diavolo-style sauce. The result is delicious meat perfect for holidays or entertaining.
Print
Pin
Rate
Ingredients
6

lbs

Pork Shoulder

1

tablespoon

Whole Cloves

1

tablespoon

Coriander Seeds

1

tablespoon

Dried Oregano

1

tablespoon

Yellow Mustard Seeds

1/2

cup

Olive Oil

6

Garlic Cloves

minced

1

tablespoon

Orange Zest

2

teaspoons

Smoked Paprika
Instructions
Lightly score the fatty side of pork with the tip of a knife slicing in a diagonal and creating a diamond-shaped pattern; season all over with salt.

Coarsely grind Whole Cloves, Coriander, Oregano, and Mustard Seeds in a spice mill or with mortar and pestle, set aside.

Heat the Olive Oil in a small saucepan over low heat; add minced garlic and cook, stirring, until fragrant, about 5 minutes. Stir in Orange Zest, Paprika, and reserved spice mixture. Remove from heat and let cool for 5 minutes.

Rub the marinated all over pork. Using kitchen twine tie around pork at 1″ intervals. Wrap tightly in plastic wrap or place in a Ziplock bag and chill for at least 8 hours.

Remove from fridge and let the pork sit at room temperature for 1 hour before cooking.

Preheat the oven to 375 ℉ degrees. Unwrap pork, place on a rack set inside a roasting pan, and roast until golden brown, 40 to 50 minutes. Reduce heat to 300 ℉ degrees and continue to roast until meat is very tender, 1 1/2 to 2 hours more.

Transfer pork to a cutting board and let rest 30 minutes before slicing.
Nutrition
Serving:
1
serving
|
Calories:
443
kcal
|
Carbohydrates:
3
g
|
Protein:
41
g
|
Fat:
29
g
|
Saturated Fat:
7
g
|
Trans Fat:
1
g
|
Cholesterol:
139
mg
|
Sodium:
160
mg
|
Potassium:
760
mg
|
Fiber:
1
g
|
Sugar:
1
g
|
Vitamin A:
274
IU
|
Vitamin C:
4
mg
|
Calcium:
56
mg
|
Iron:
3
mg