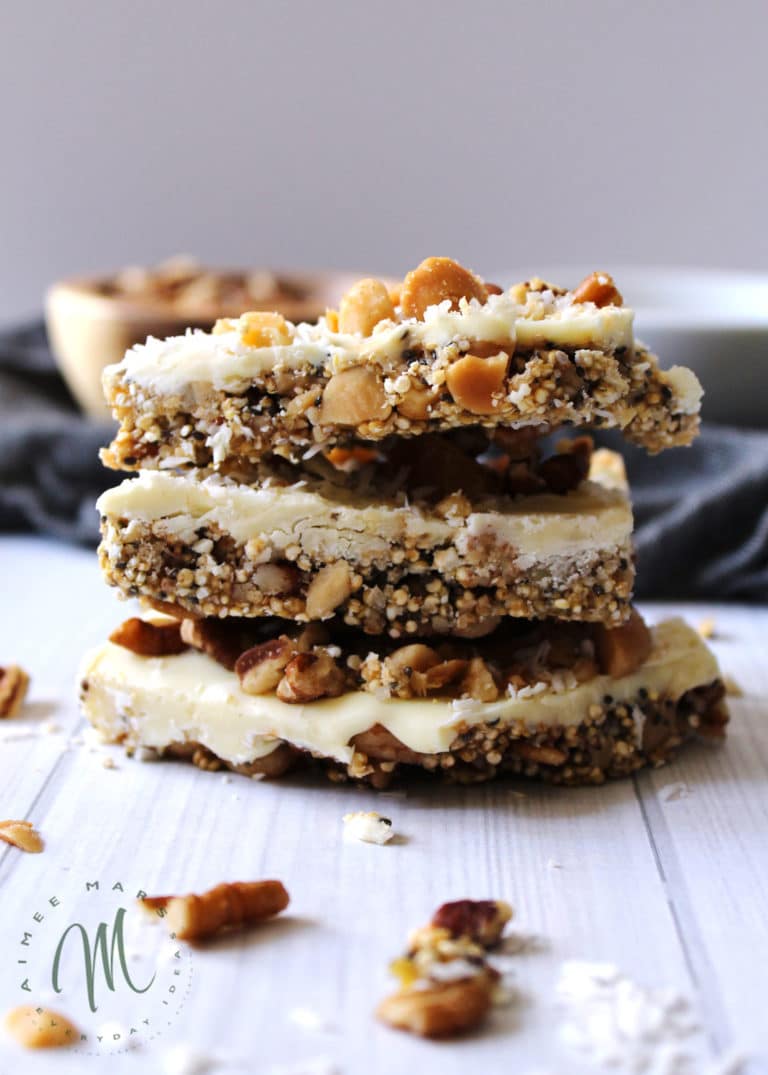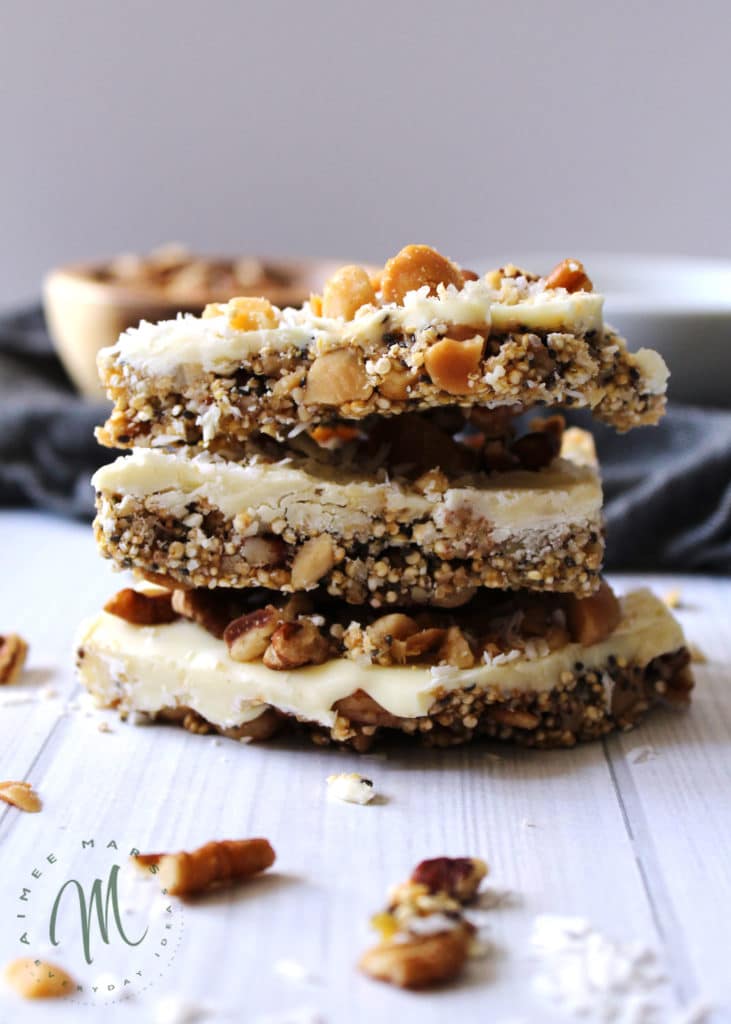 Well, my intentions were good… Ah, and those are the famous last words that always got me in trouble, just as in childhood as with today. I intended to create a healthy dessert/snack, which I did…
Just like the time when I decided to draw a red star using my gummy bath crayon on to each and every, yes every, tile in my childhood bathroom, my intentions were good. I wanted to create a new design and found the yellow tile a bit drab. What I didn't know was that this so-called "washable" crayon was in fact not so easily washed. It made cleanup, which my 8-year-old-self hadn't planned on but was insisted by my mom, a bit tiresome. My intentions were good though…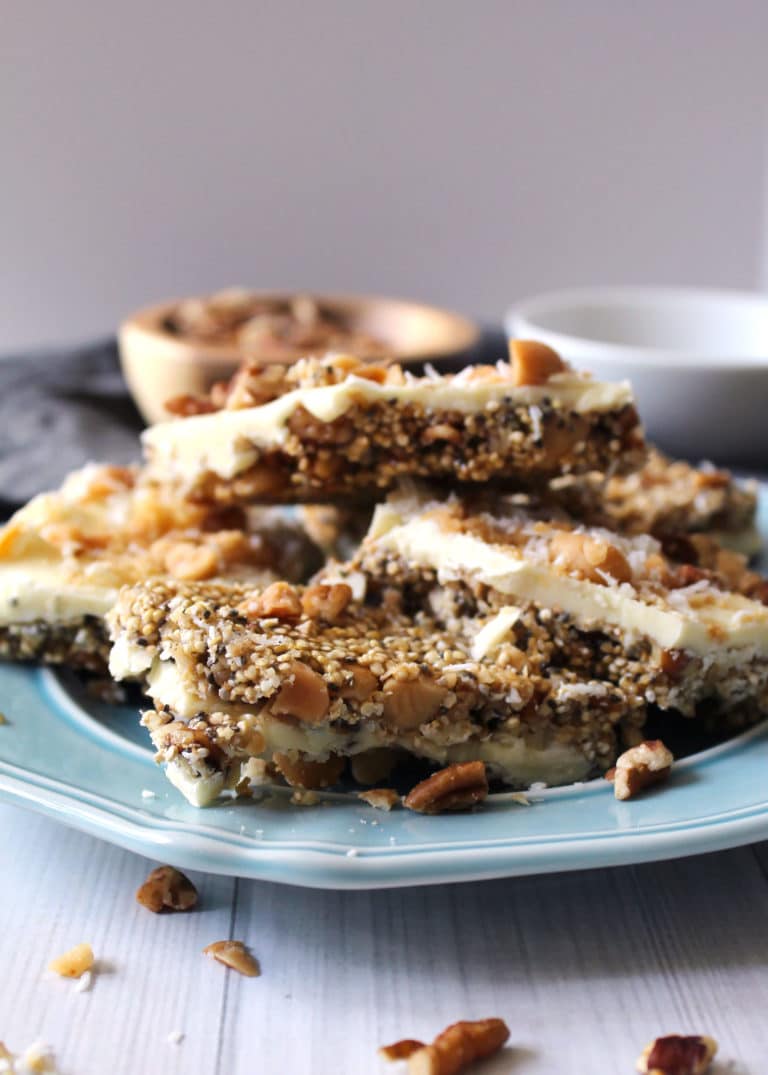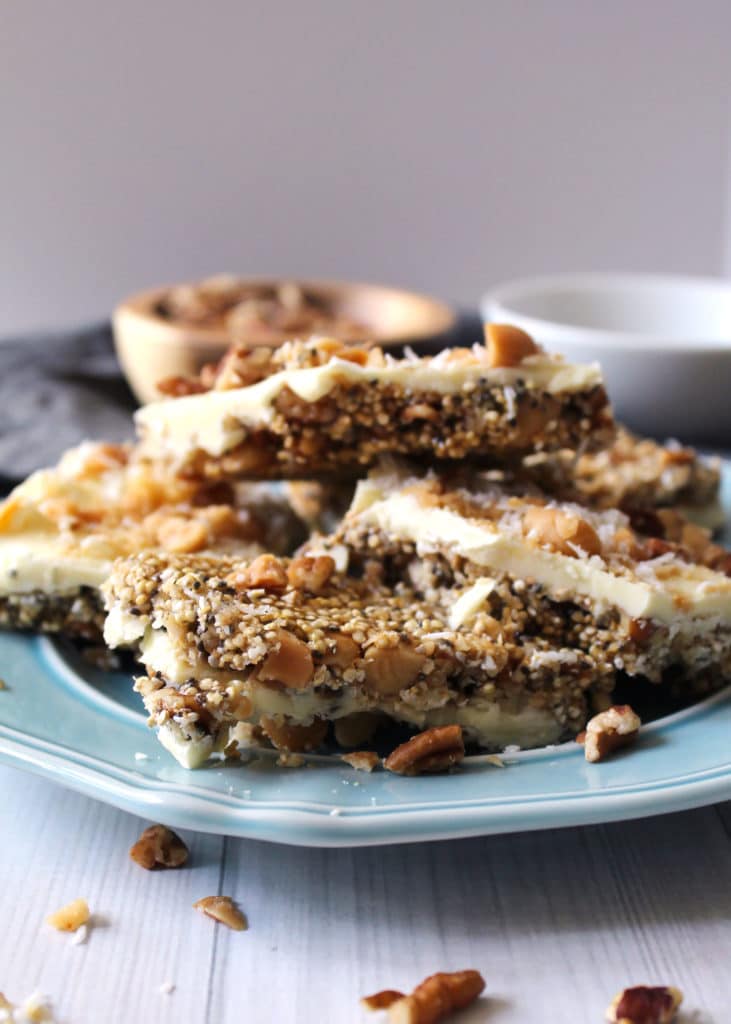 Or perhaps, when I decided to make spaghetti squash for dinner the first time and was so excited I forgot to plan for the hour to the hour and a half bake time so I figured, why not nuke it in the microwave? 5 minutes in and the entire squash exploded leaving me with no dinner options and even less time than before all piled on top of a disastrous looking microwave. My intentions were, in fact, good… (and lesson learned, poke holes in that thing first!)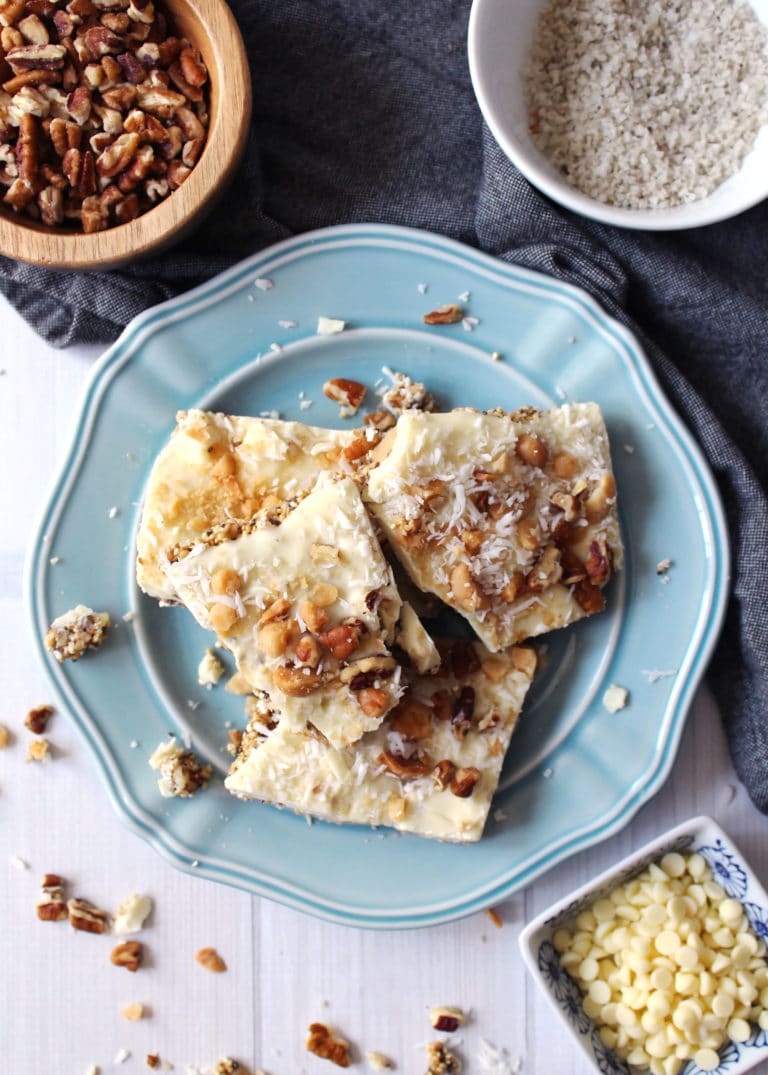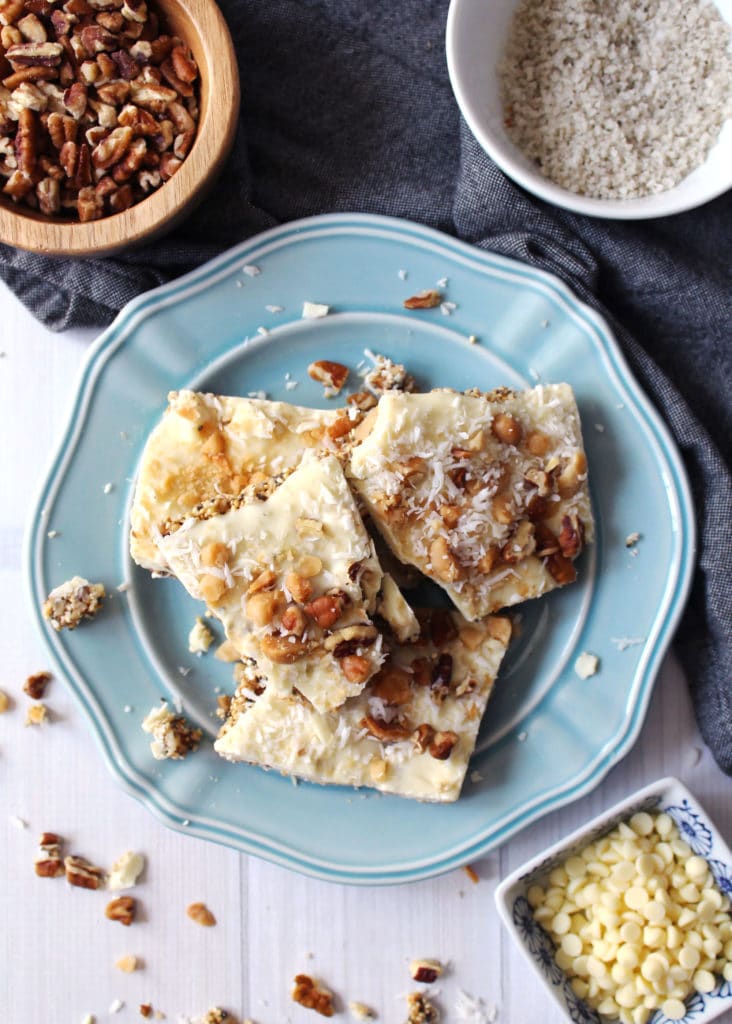 And as I said I sought out to create a healthy dessert and I did just that, but what I didn't account for was eating almost (I said almost, I did let the kids have a piece each) the entire batch. I couldn't resist the sweet and salty combo that is the crunchy sea salt on top of the perfect white chocolate layered on top of nuts and quinoa goodness. So much for healthy. My intentions were good though…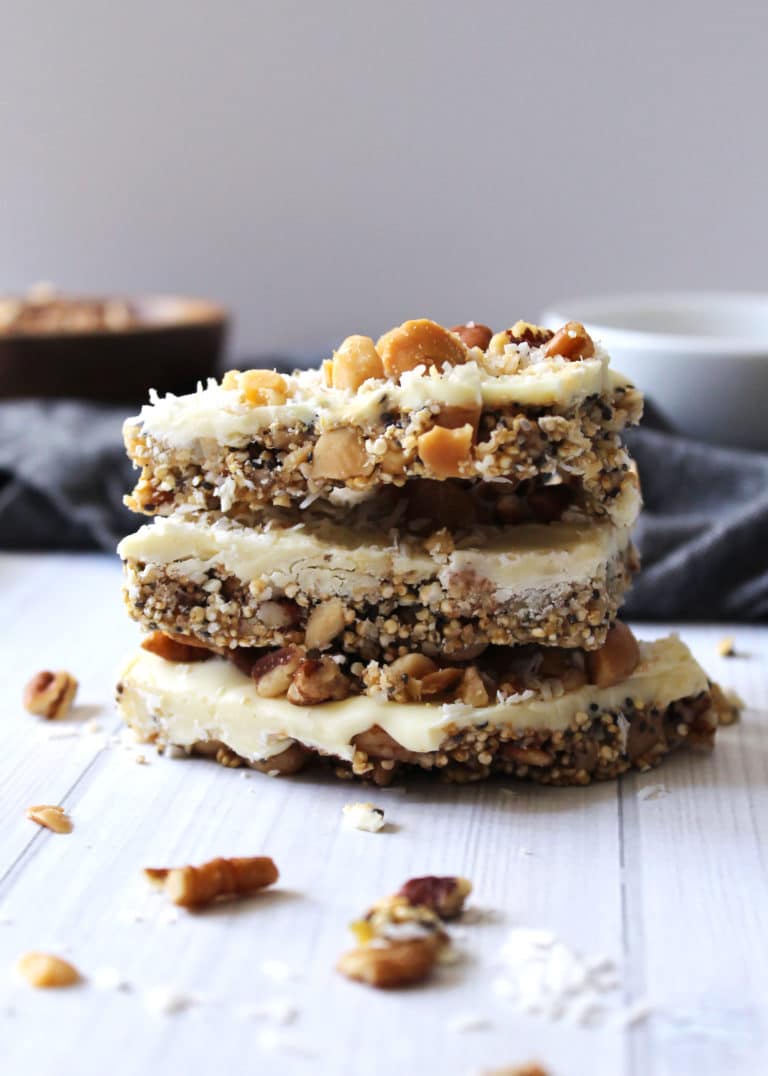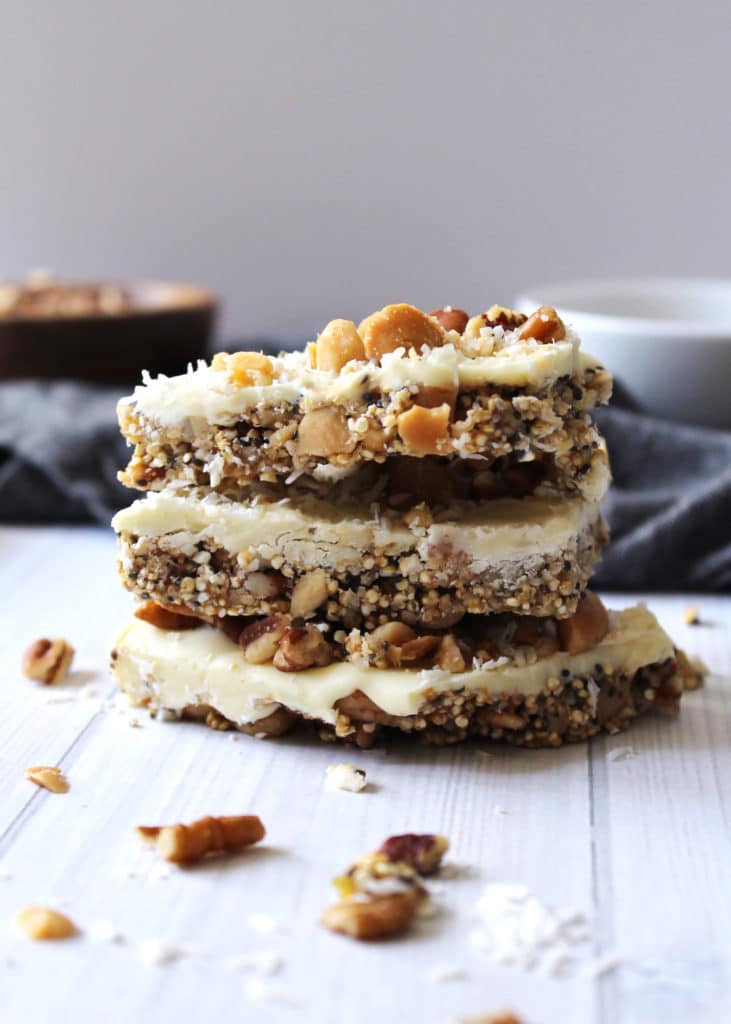 So I'm sharing my good intentions with you so I can once again make good on these intentions. Uh, right? Perhaps, if your intentions are to make this Salted White Chocolate Quinoa Bark and give all but one piece away you'll be in a better place than me.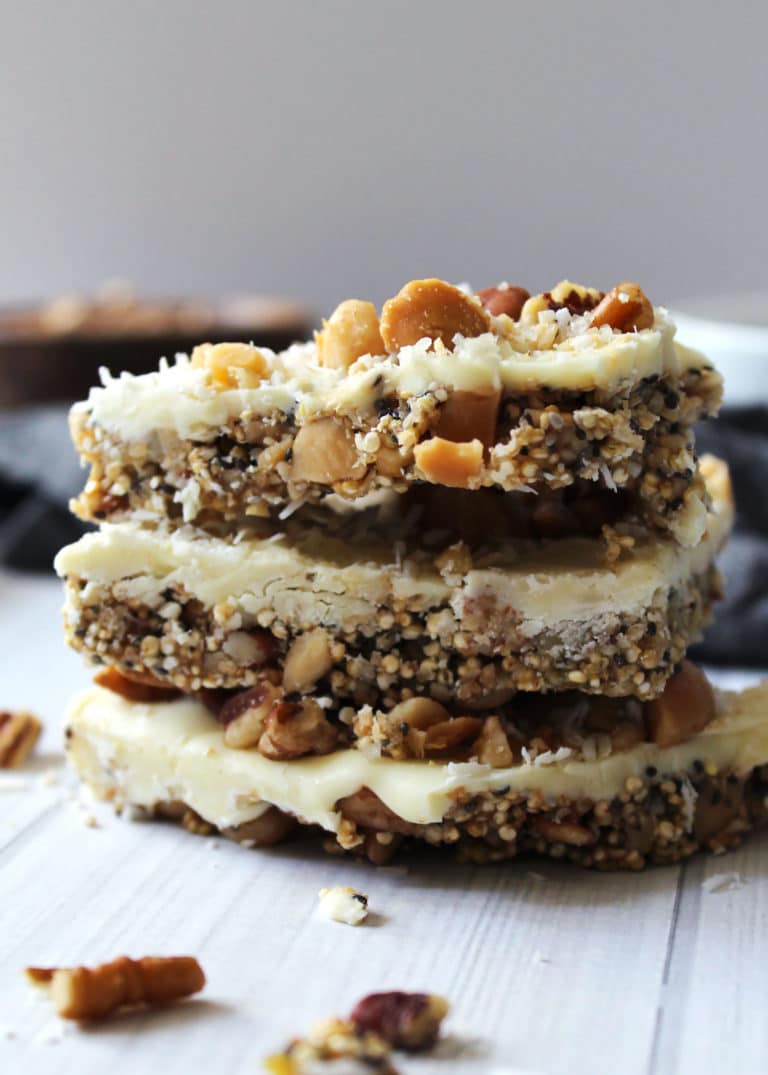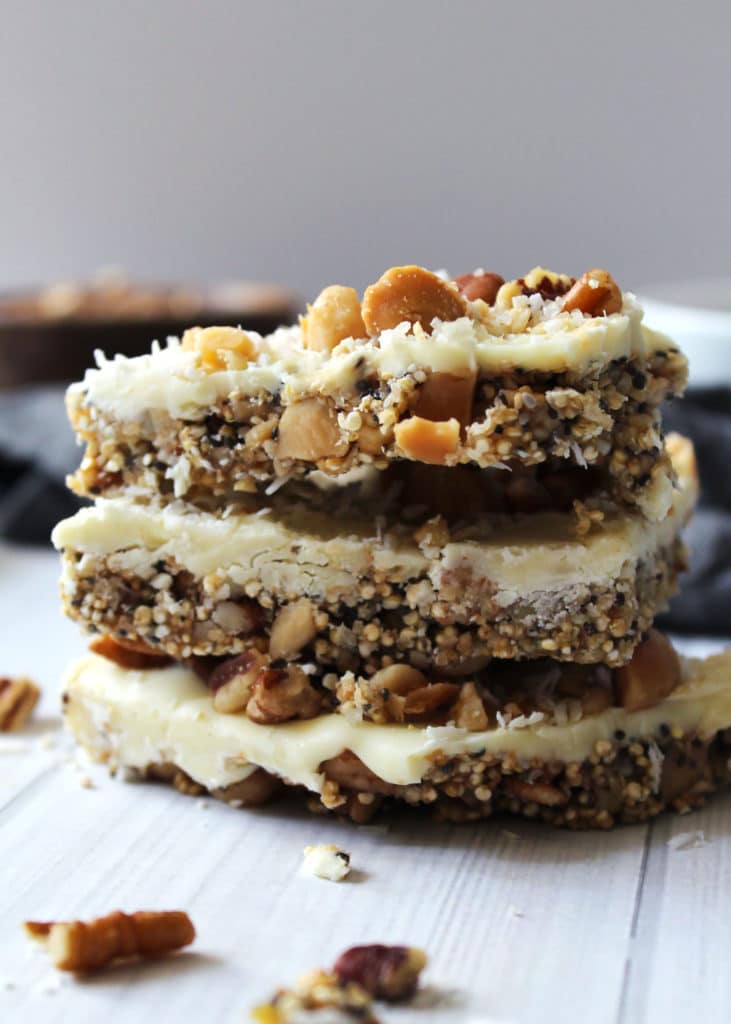 Now, I think I have a few pieces of this bark left I need to polish off and those are indeed my exact intentions…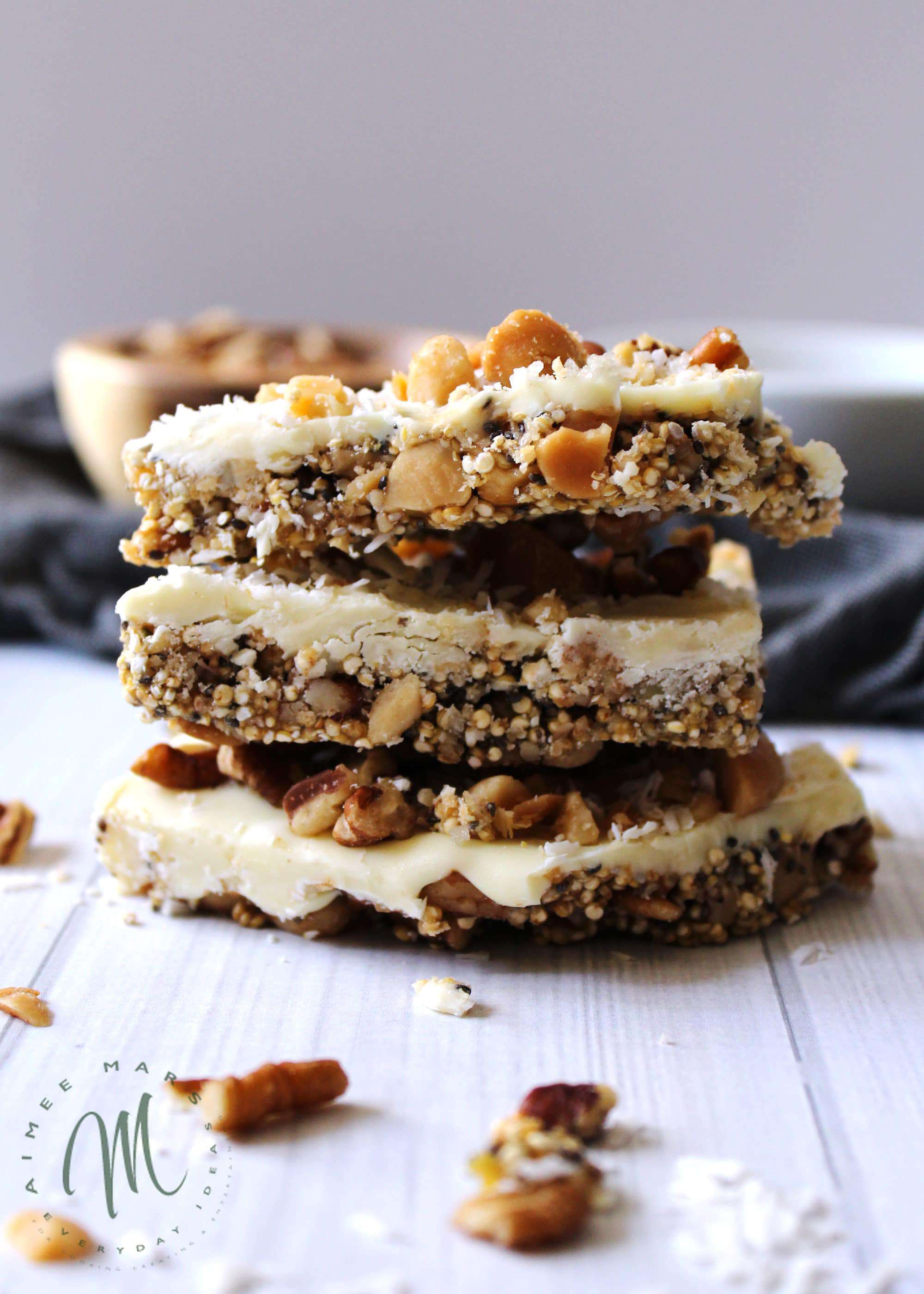 Ingredients
1/2

cup

Honey

2

tablespoons

Coconut Oil

1

cup

Quinoa

1/2

teaspoon

Salt

3

tablespoons

Chia Seeds

3

tablespoons

Flax Seeds

1/2

cup

Macadamia Nuts

1/2

cup

Pecans

1

tablespoon

Sugar

16

ounces

White Chocolate

1/2

cup

Unsweetened Coconut Flakes

2

teaspoons

Coarse Salt
Instructions
Preheat the oven to 350 degrees. Line a Baking sheet (not a rimmed one) with parchment paper and set aside.

In a medium, glass and or microwave-safe bowl, combine the Honey and Coconut Oil. Melt in the microwave for 30 to 45 seconds or until the oil is completely liquid. Stir to combine.

Add the Quinoa, Salt, Chia Seeds, Flax Seeds, Nuts, and Sugar. Mix all the ingredients until fully coated. Pour the mixture onto the baking sheet and even out using a spoon or spatula into a thin layer.

Bake for 15 to 20 minutes, or until the bark becomes golden brown. Remove from the oven and let cool completely on a wire rack.

Melt the chocolate in a heat-proof bowl or using a double boiler and spread in an even layer on top of the cooked bark. Before the chocolate begins to set and while it's still warm sprinkle the Coconut Flakes, Sea Salt, and some additional Nuts on top.

Place in the freezer for 30 minutes to let the ingredients set, then break it apart into pieces.
Nutrition
Serving:
1
piece
|
Calories:
295.13
kcal
|
Carbohydrates:
32.19
g
|
Protein:
4.19
g
|
Fat:
17.86
g
|
Saturated Fat:
8.4
g
|
Cholesterol:
5.29
mg
|
Sodium:
348.4
mg
|
Potassium:
189.62
mg
|
Fiber:
2.84
g
|
Sugar:
23.74
g
|
Vitamin A:
7.56
IU
|
Vitamin C:
0.17
mg
|
Calcium:
77.72
mg
|
Iron:
1.07
mg