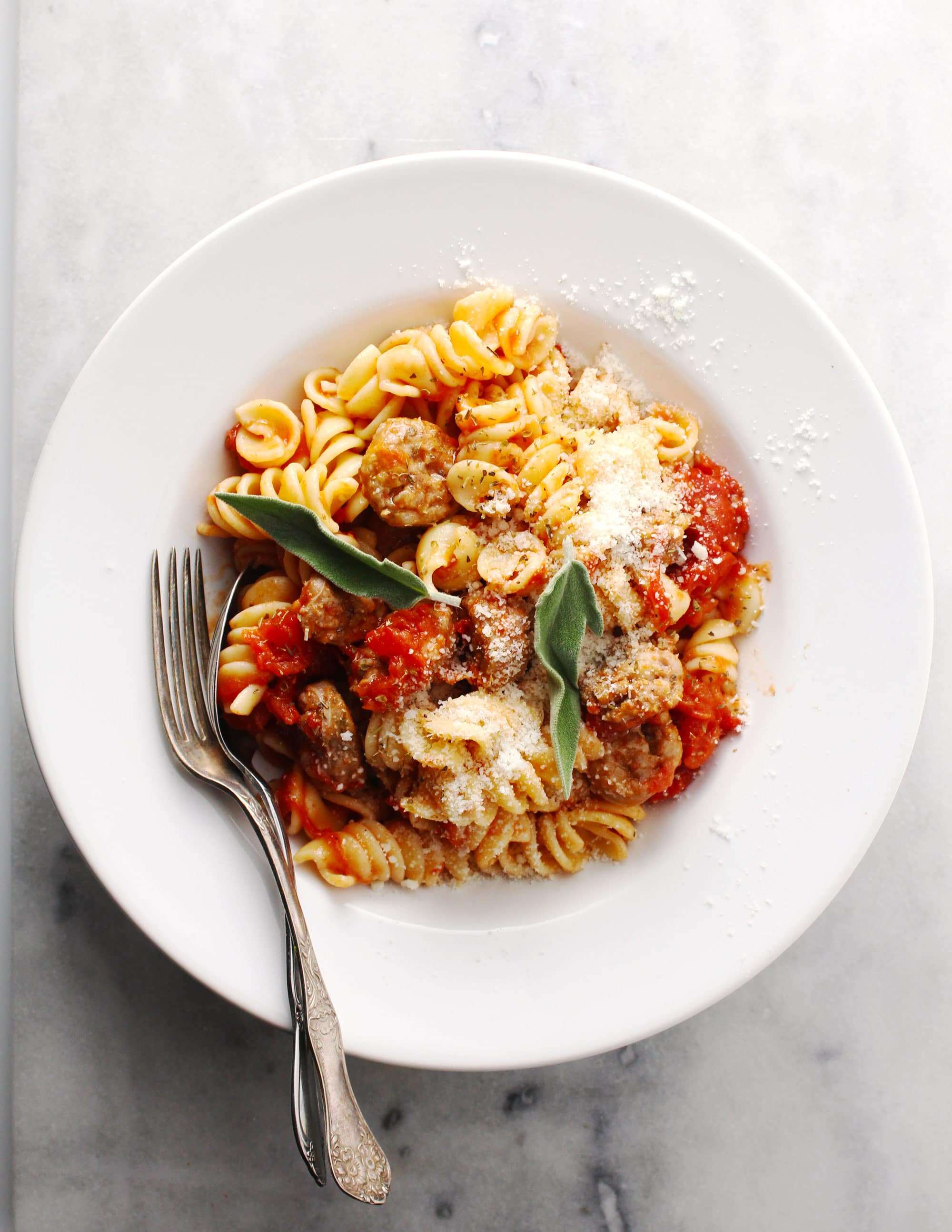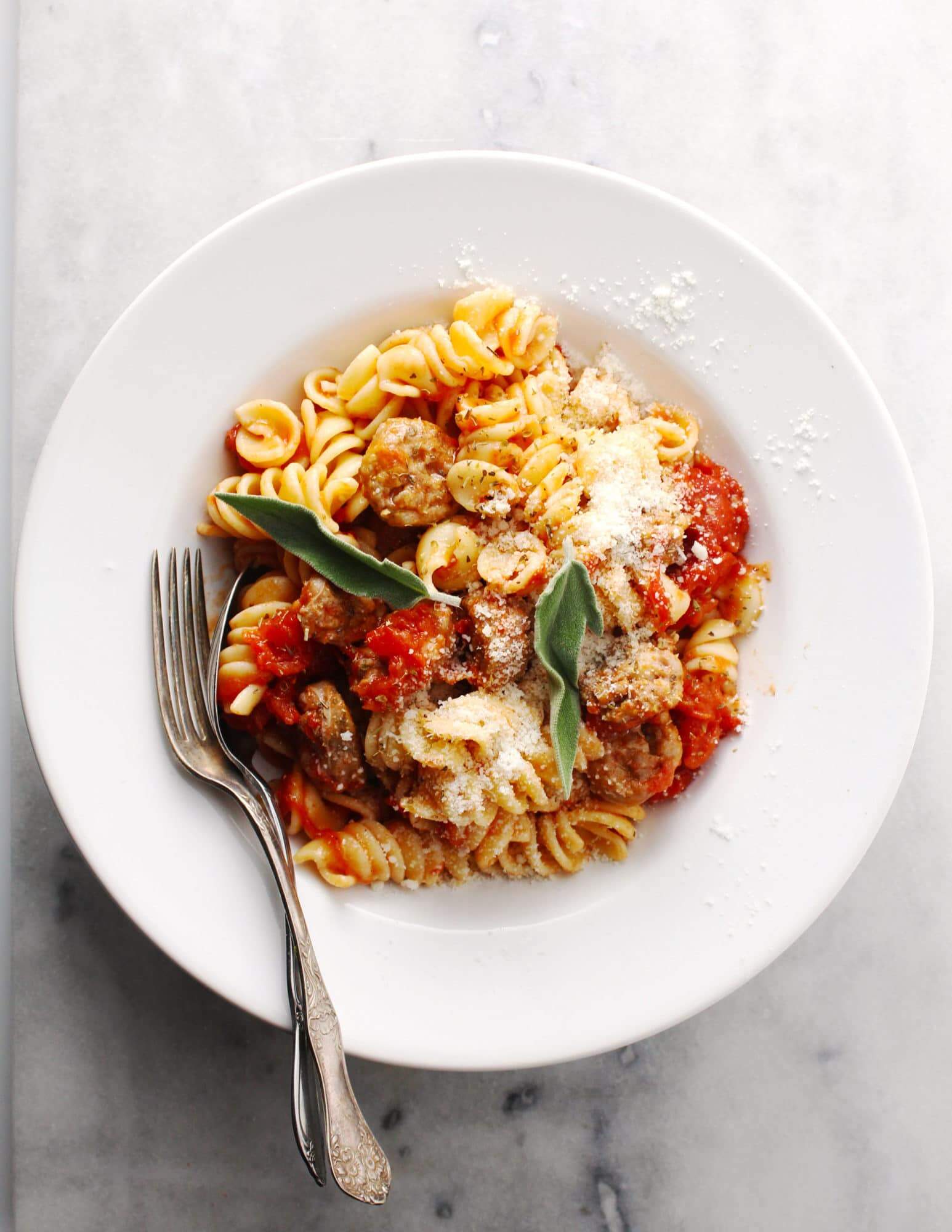 Sausage Pomodoro Pasta for the easy weeknight dinner win, I repeat FTW!
Everyone needs a sauce, even if you're not Italian, you need a sauce, but especially if you're Italian, a sauce is a requirement. The most basic, meaning easy, and here we do easy, type of sauce is Pomodoro Sauce.
Sounds fancy, it's not, but you don't have to tell your friends. Once you master your sauce everything else in your pasta dish is just details, good details, necessary details, but the flavor base comes mainly from that knock-your-socks-off-sauce.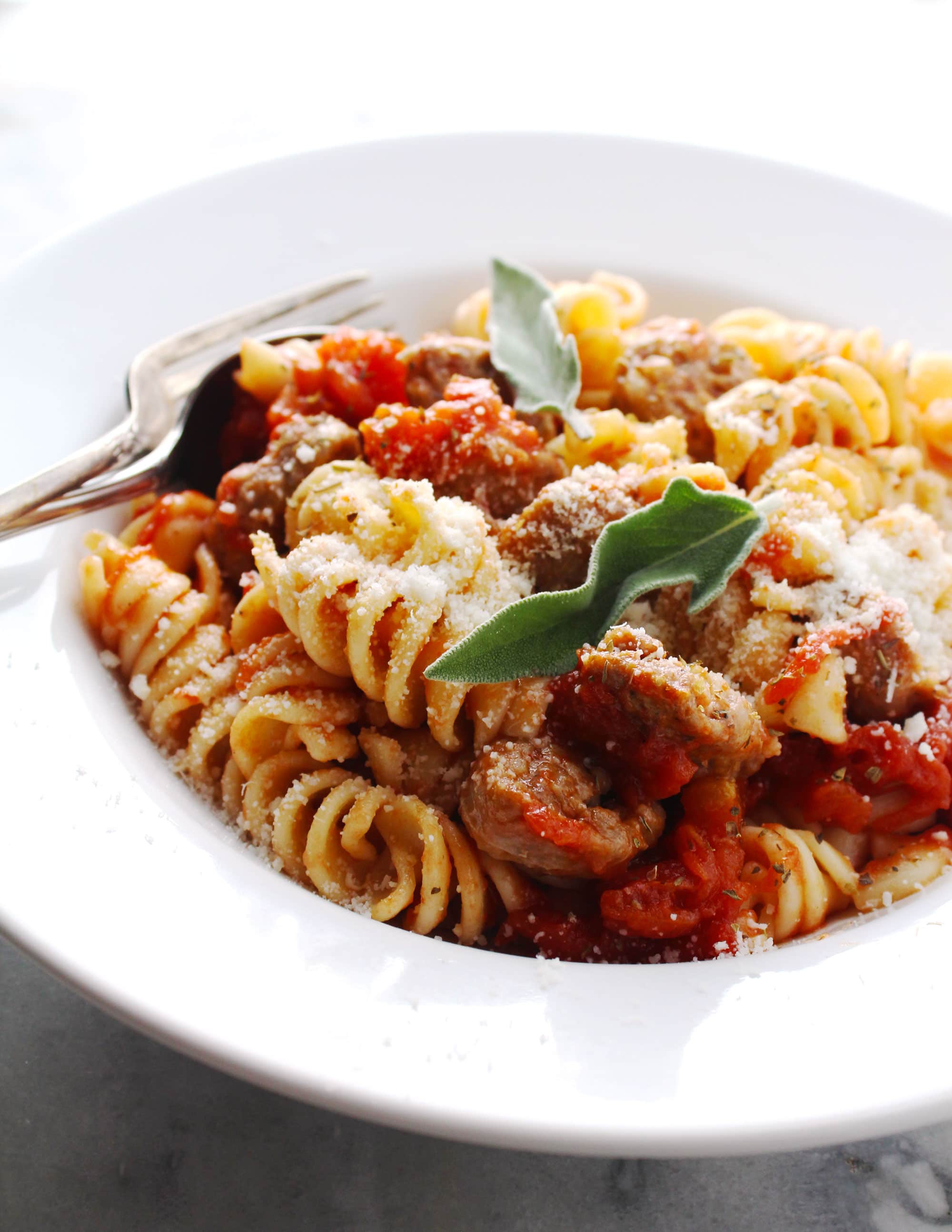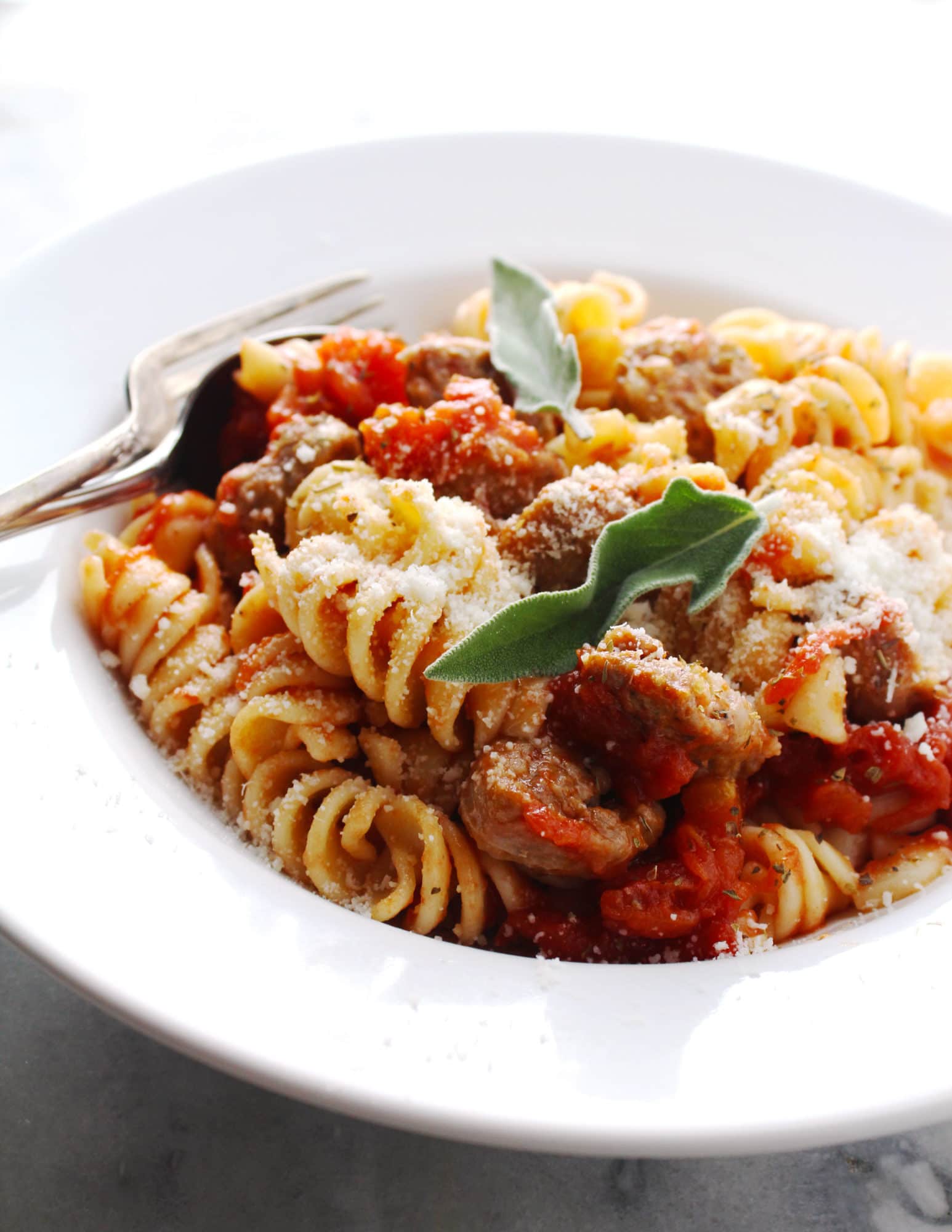 On Christmas Day, another lifetime ago, we were brunching at our friend's house and discussing Christmas Eve dinner. I'd gone the traditional route and made a ham with standard sides like sweet potato casserole, they had pasta because the husband of this friend family has a "sauce" recipe he likes to make. Apparently, it was his "secret sauce" recipe (they all are).
Well, I too have a sauce recipe that I've had for about 8 years now, and while I claim it's a secret it actually came from a recipe in Runner's World magazine. As my friend and I were discussing our sauce recipes with many a detail left out (to ensure secrets stay intact obviously) it turns out my sauce was actually the very SAME sauce as his! What are the chances? Probably pretty high if you're a runner from way back.
Well, I'd had it in mind to post this recipe long before this holiday turn of events because this Pomodoro sauce is just TOO good NOT to share. I have no secrets… (sorry Lance for blowing up your secret sauce).
Pomodoro is a basic tomato sauce that can be used for many, many different pasta dishes such as this sausage Pomodoro pasta, but isn't limited. It's just the beginning!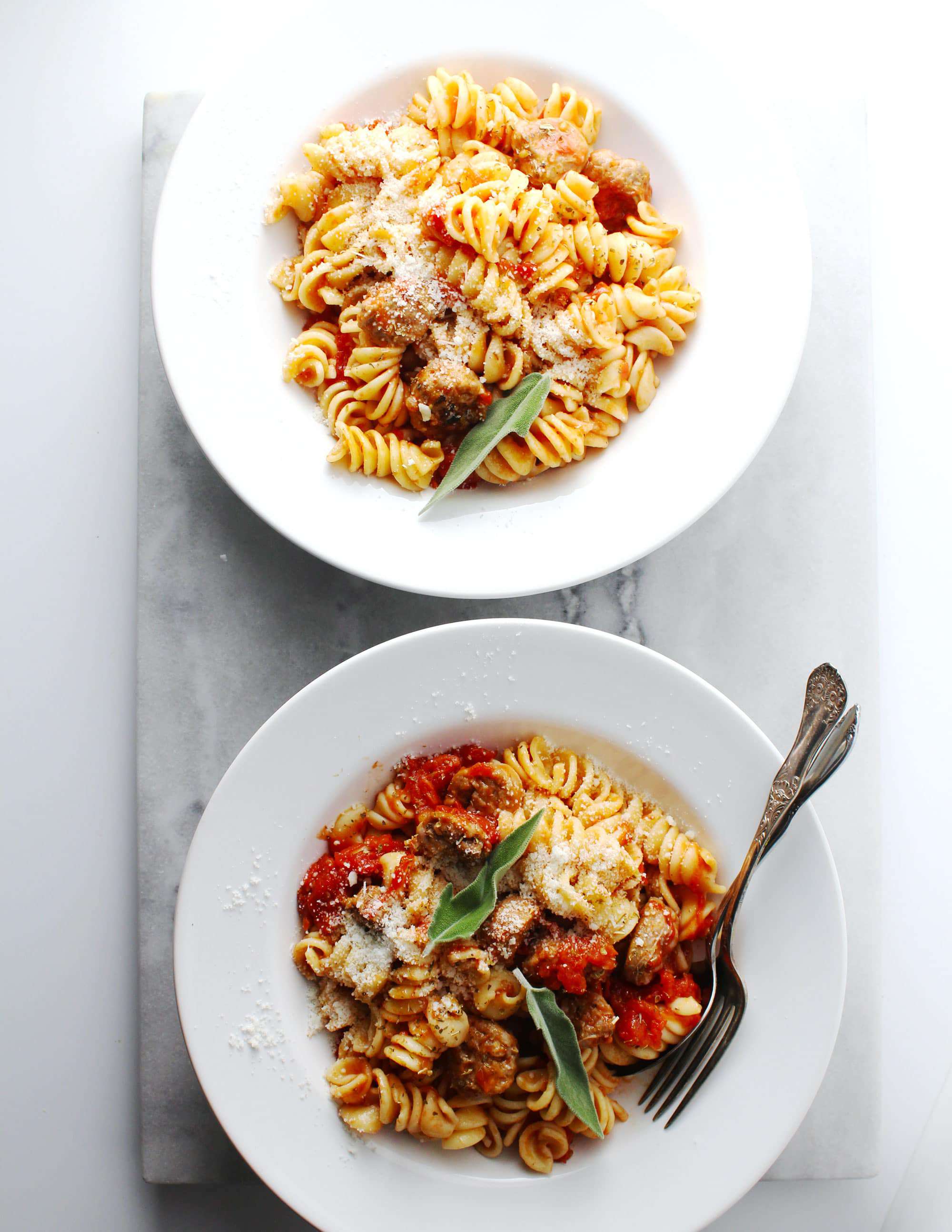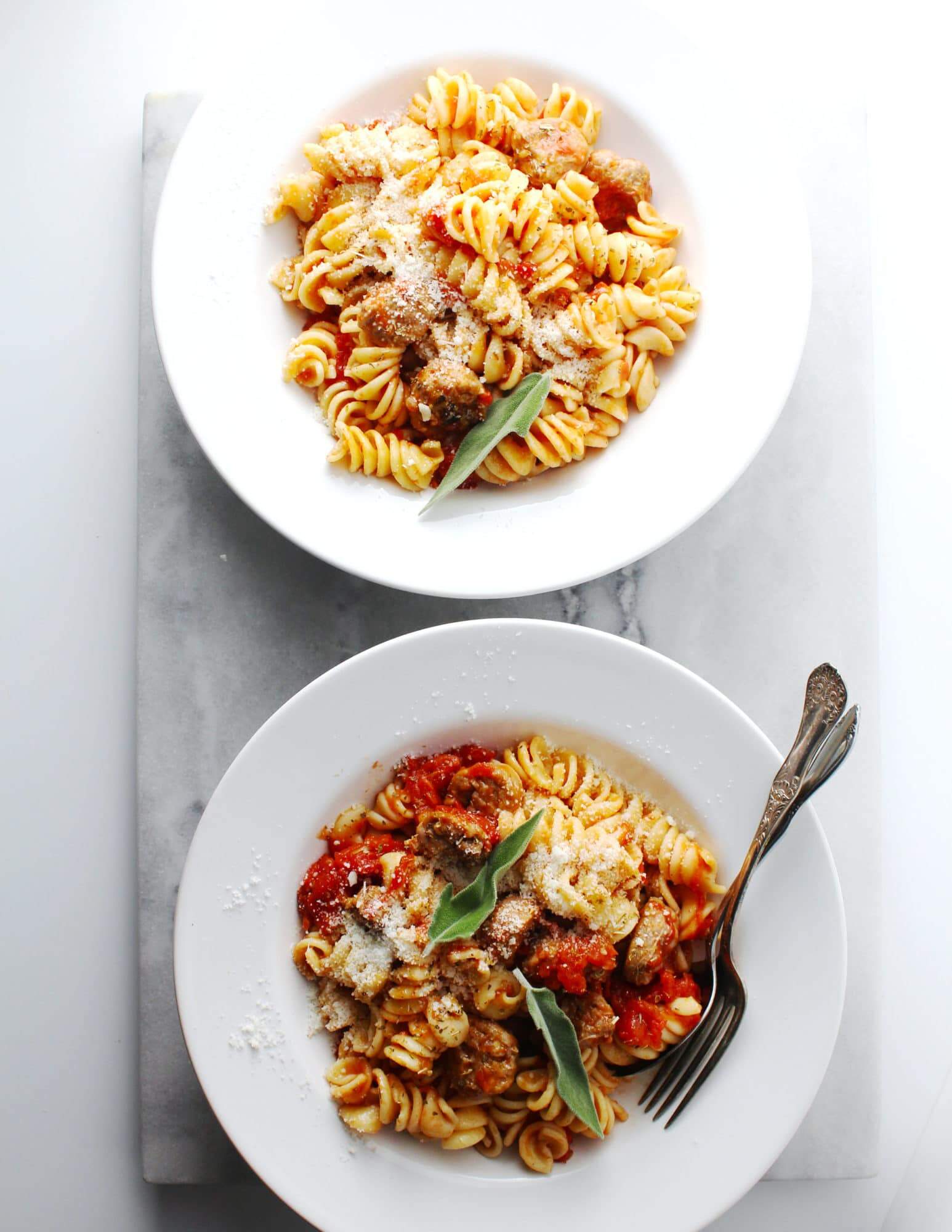 If you're at all into canning, and I am, then making up a batch of this sauce and storing it is level 10 ideal! Then you don't have to ever buy sauce, and you'll have it ready when you need a quick dinner such as the one here. Let me also point out that I highly recommend using San Marzano (affiliate link) brand plum tomatoes for this recipe, which most grocery stores stock, but definitely Whole Foods has it.
Try These Delicious Pasta Recipes Next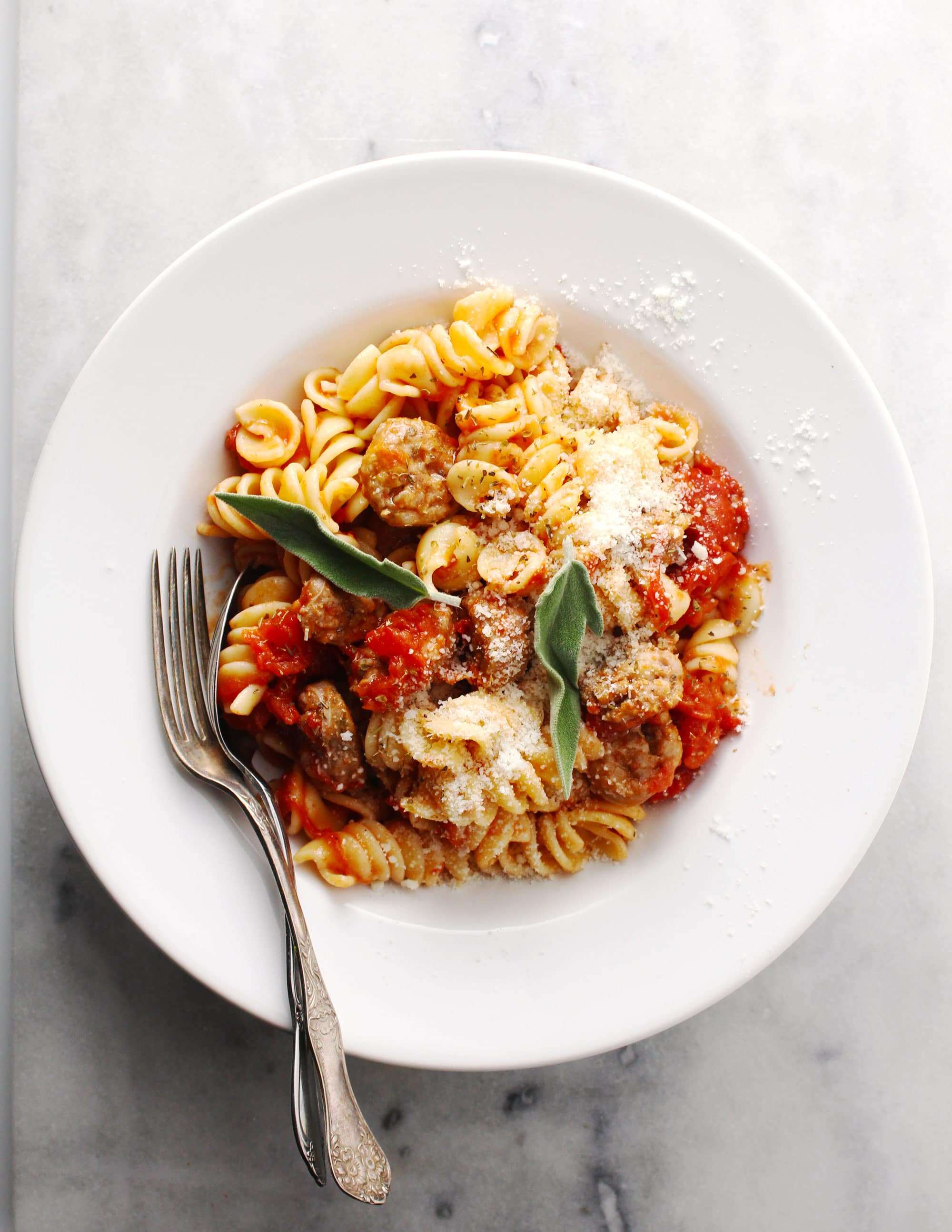 Ingredients
8

ounces

Rigatoni

6

links

Mild Italian Sausage

1/4

cup

Olive Oil

4

Garlic Cloves

crushed

3

16 ounce

cans Peeled, Whole Italian Plum Tomatoes

1

teaspoon

Oregano

1

teaspoon

Salt

1

teaspoon

Ground Black Pepper
Instructions
Sauce
Heat the Olive Oil in a saucepan over medium heat. Add the crushed Garlic and saute until golden brown, about 3 minutes.

Pour the tomatoes into a bowl and squeeze with your hands to break them apart. Add tomatoes and their juice to the saucepan.

Add Oregano, Salt, and Pepper. Simmer on low for 45 minutes. The sauce should be a bright red color if it turns to dark add a little water).
Pasta
Prepare the noodles according to package directions. Usually by bringing a large pot of salted water to boil and adding the pasta to the boiling water to cook for about 10 to 12 minutes, or until it becomes al dente. Drain.

With about 10 minutes left to go with the sauce, slice the Mild Italian Sausage into pieces and cook in a skillet over medium heat.

Add the cooked pasta and sausage to the sauce and toss to evenly coat.
Nutrition
Serving:
1
Serving
|
Calories:
612
kcal
|
Carbohydrates:
30
g
|
Protein:
21
g
|
Fat:
45
g
|
Saturated Fat:
14
g
|
Cholesterol:
85
mg
|
Sodium:
1210
mg
|
Potassium:
385
mg
|
Fiber:
1
g
|
Sugar:
1
g
|
Vitamin A:
8
IU
|
Vitamin C:
3
mg
|
Calcium:
39
mg
|
Iron:
2
mg