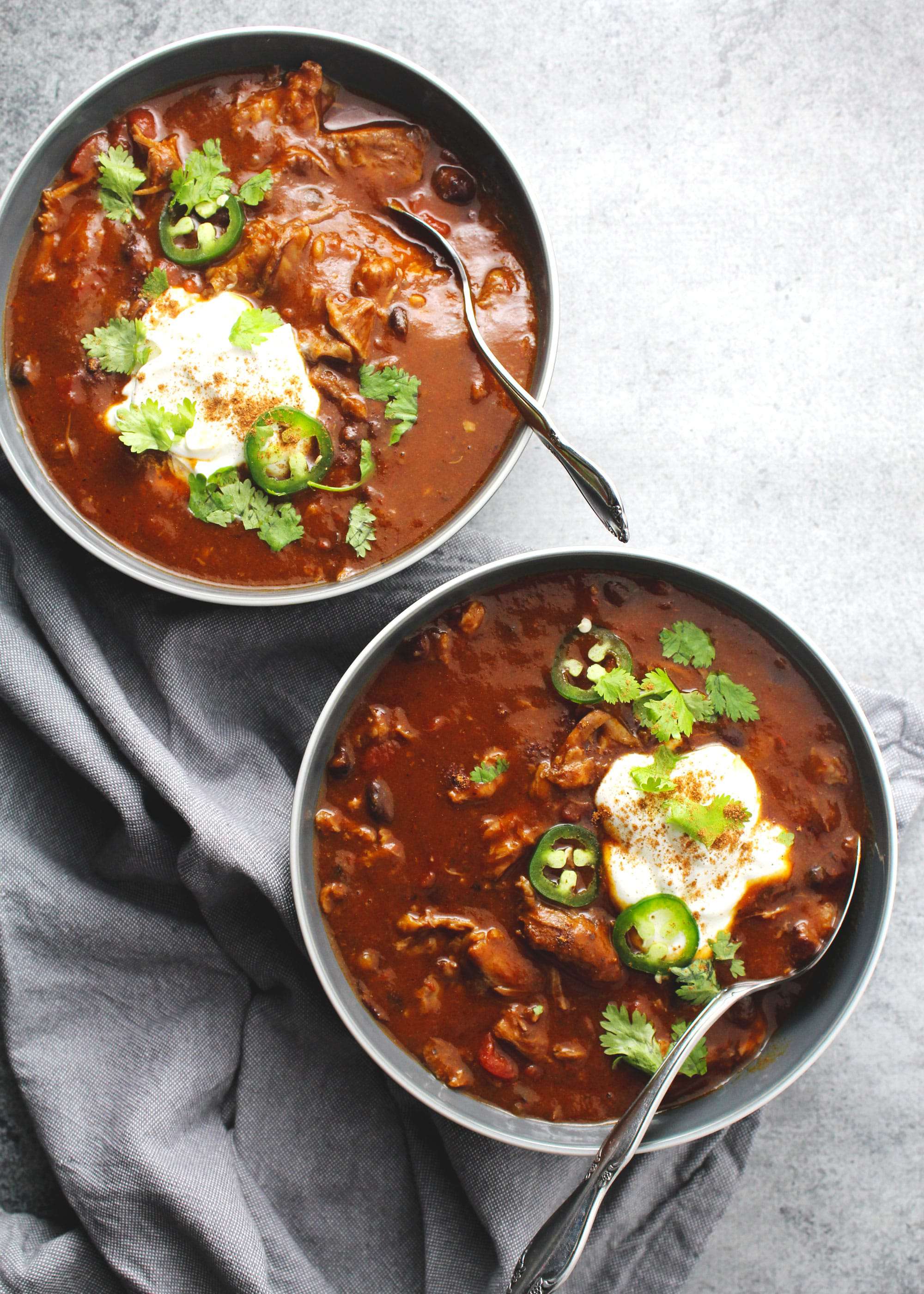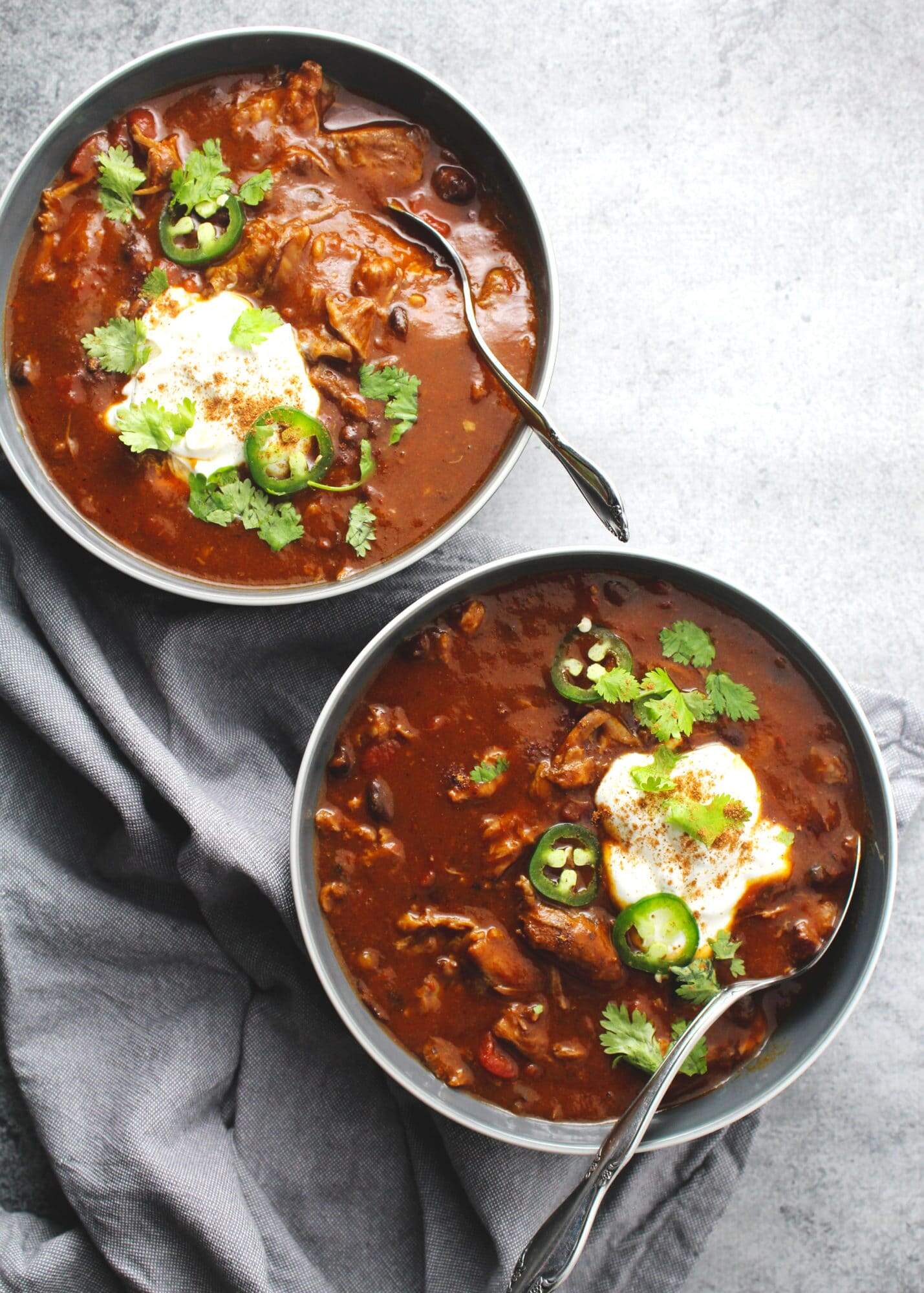 Hello, crisp fall weather, hello slow cooker it's time to dust you off, hello chili recipes it's nice to see you again are you ready for a wonderful season?!?
(Disclaimer: it may be time to order some new children's books in our house as I'm now reciting them in conversation).
I love chili… Everyone loves chili right? There's no right or wrong way to make it so really you can cater to your own taste preferences. Personally, I don't think I've ever made the same chili recipe twice. Whenever I think "chili for dinner," I go into chili cook-off mode and pretend I'm going for the blue ribbon prize, but have to outdo last years version. Totally weird, I get it…
But chili is versatile. It's the good friend you haven't seen in a while but pick right back up where you left off. It accepts you for who you are and where you are in life (like talking in children's book dialogue). Too far??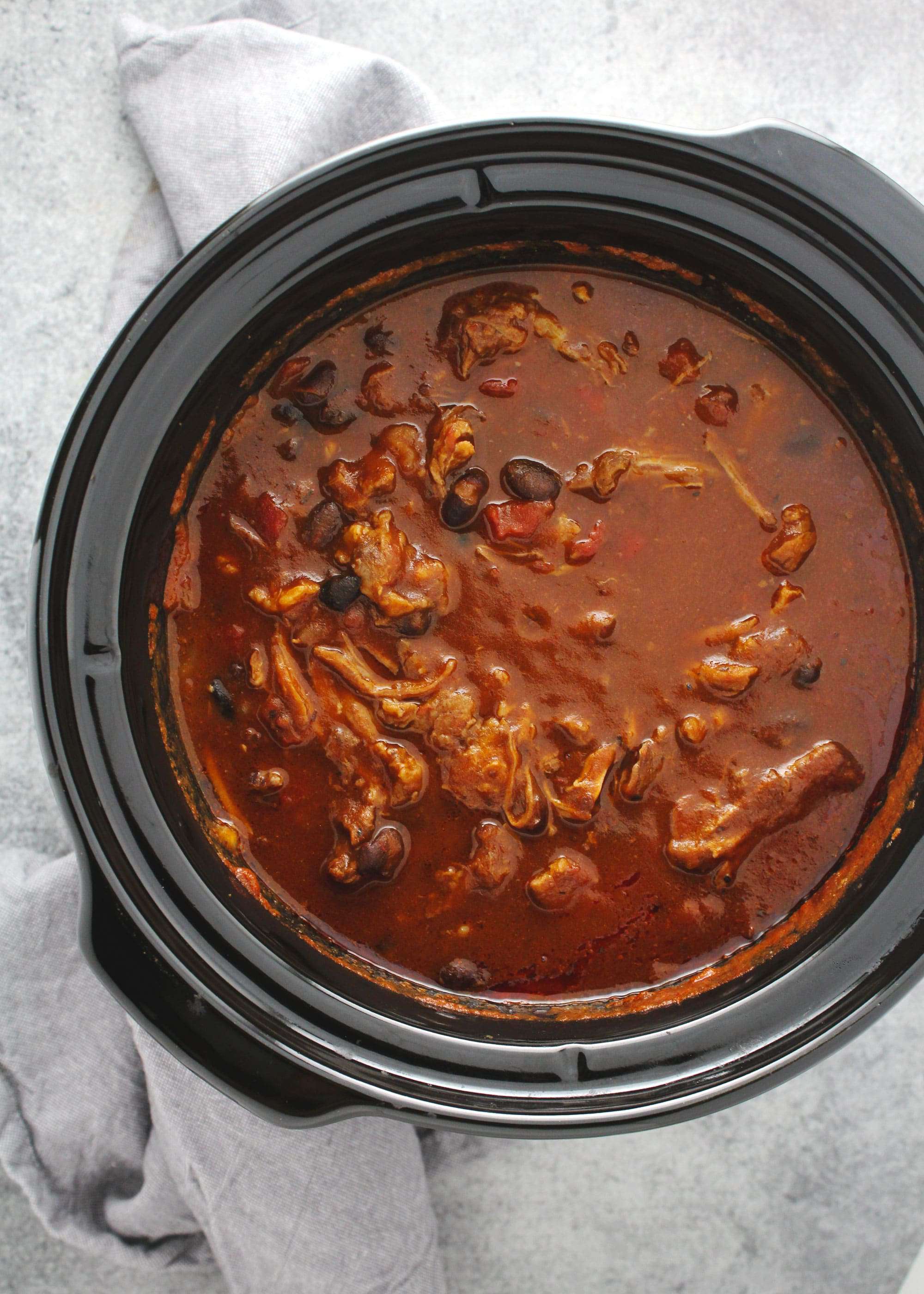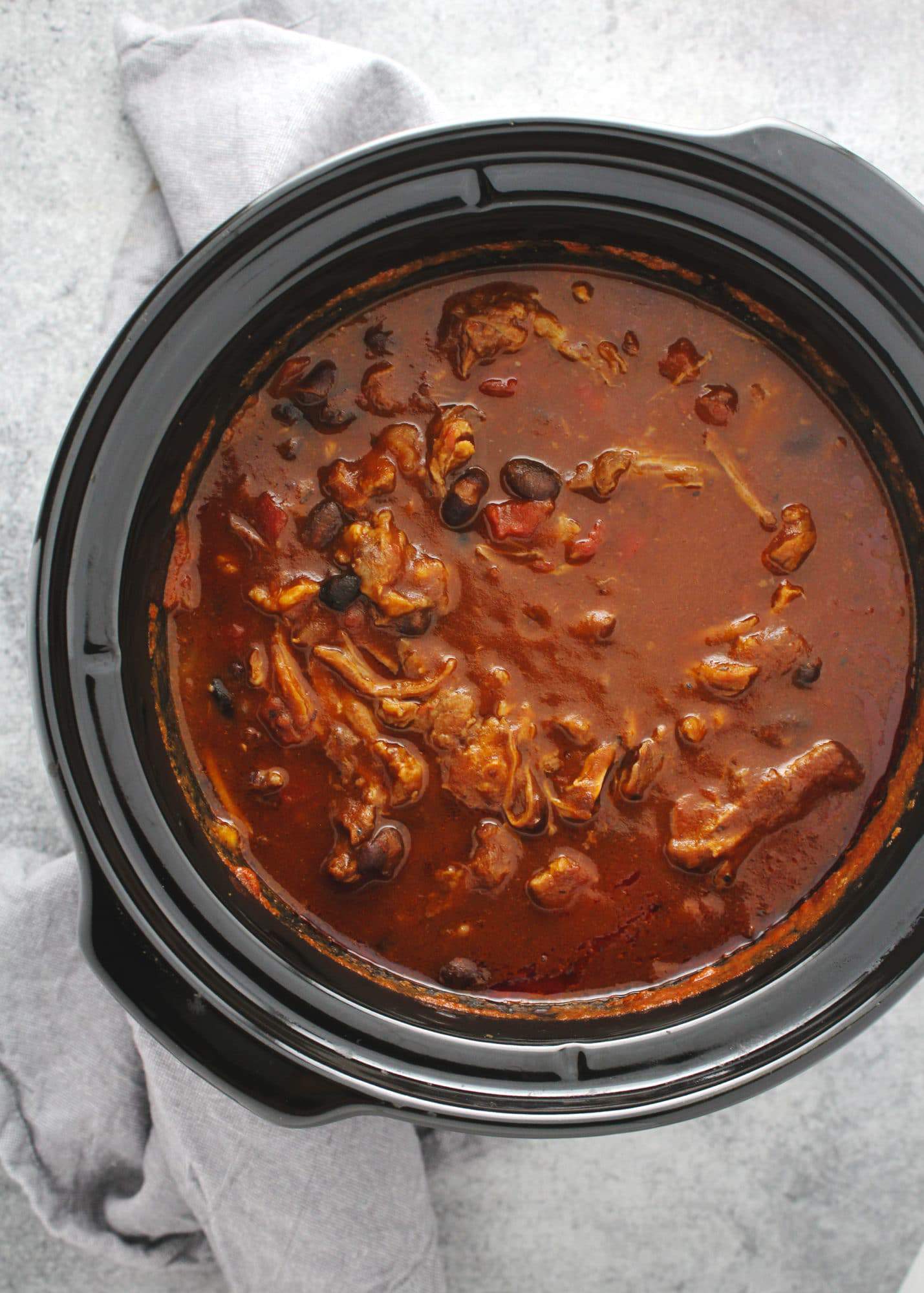 Personally, I'm having a moment with pumpkin. You too? I mean, it's pumpkin season. It's WHAT YOU DO! Sorry, calming down now, but pumpkin gets me excited, which is why it's in the recipe and why I had to buy another shelf for my pantry cause I might have bought a little too much.
I do have a reason for my hoarding-type behavior, cause let me tell you I'm about as far from a hoarder as you can get (read: I'm a previous New Yorker). Last year in October (???? key fact), I casually went to the store to pick up pumpkin puree. No big deal… When I arrived though it was nowhere to be found and realistically should have been stacked high in pyramid form front and center of the automatic doors. I asked someone stocking the shelves where I might find this key fall ingredient and he responded by saying there was a "pumpkin shortage."
!?!?!?
While I get this guy could have been feeding me a line, I kind of freaked out inside a little and ran/sped to the next store over to buy all their stock. Needless to say, this behavior continues the year after. I don't think I could handle a pumpkin shortage. I freak out when Starbucks runs out of the PSL, which I don't understand happening during pumpkin season either, but I digress…
Back to Slow Cooker Pumpkin Beef Chili!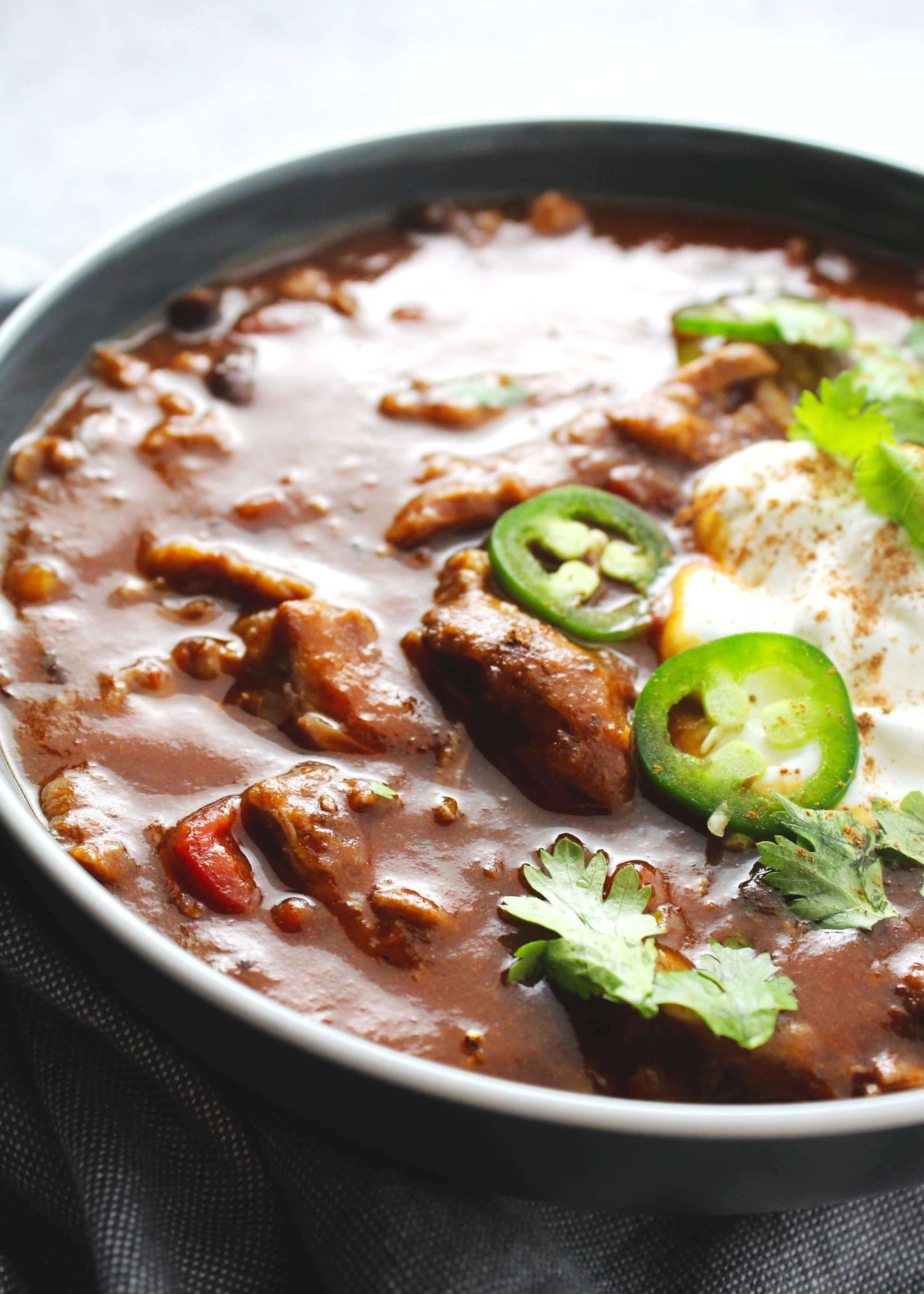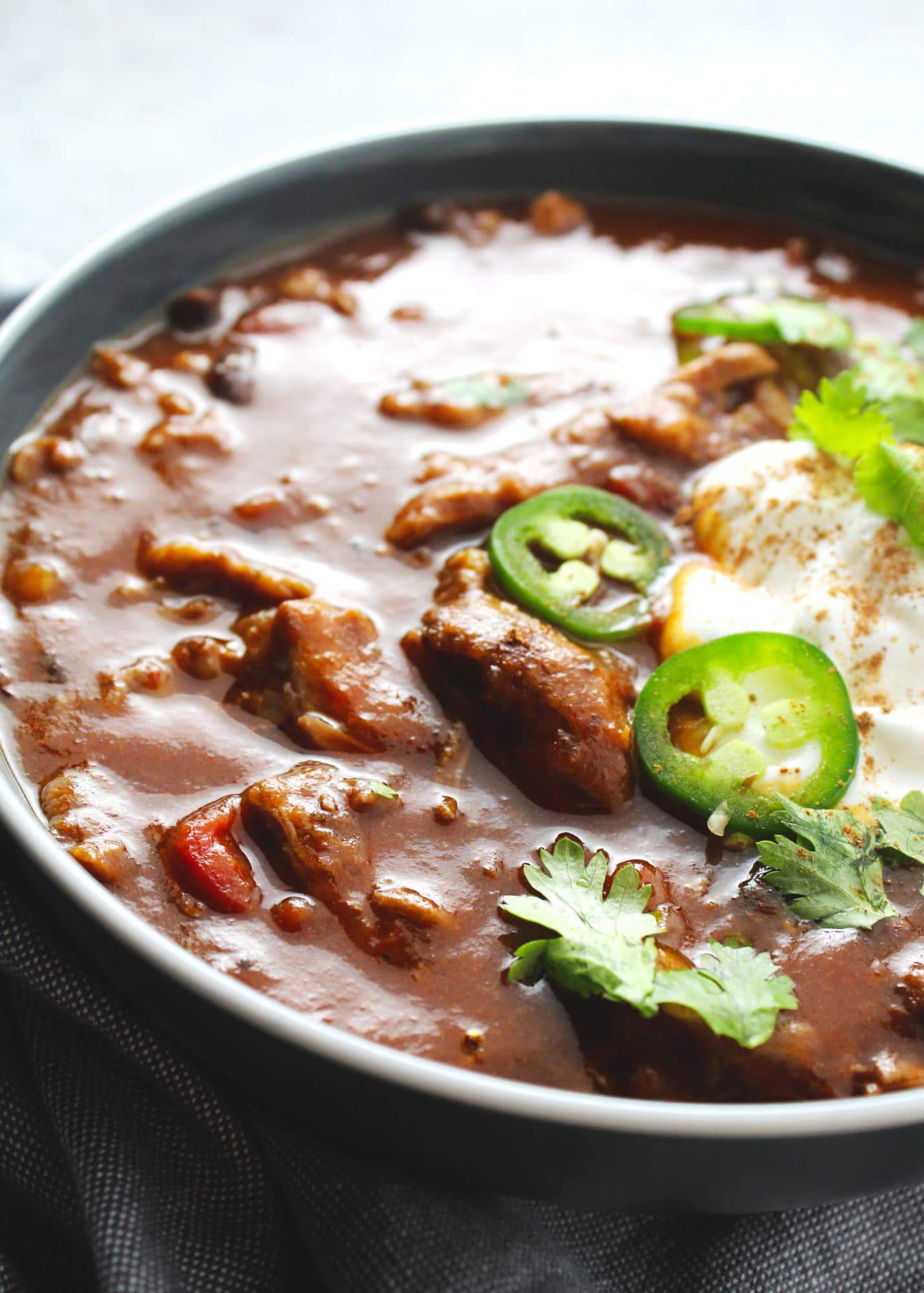 Here I wanted to try out a beef roast chili since I tend to stay in my comfort zone of ground beef or ground turkey and since it's pumpkin-everything season (and SHOULD be in stock) I thought those two would go well together. Let me tell you the roast beef and pumpkin flavors make magic together. Another little magic touch is to top it all off with pumpkin spice. It's like a little kiss of fall. Yeah, I went too far there… I'm gonna stop…
Speaking of pumpkins I've got one kid launching my pumpkin decor across the room and the other putting stickers on the dog so that a wrap. This is also why I make easy chili recipes. If I even tried to spend a bunch of time on dinner right now I imagine we'd have a hairless dog.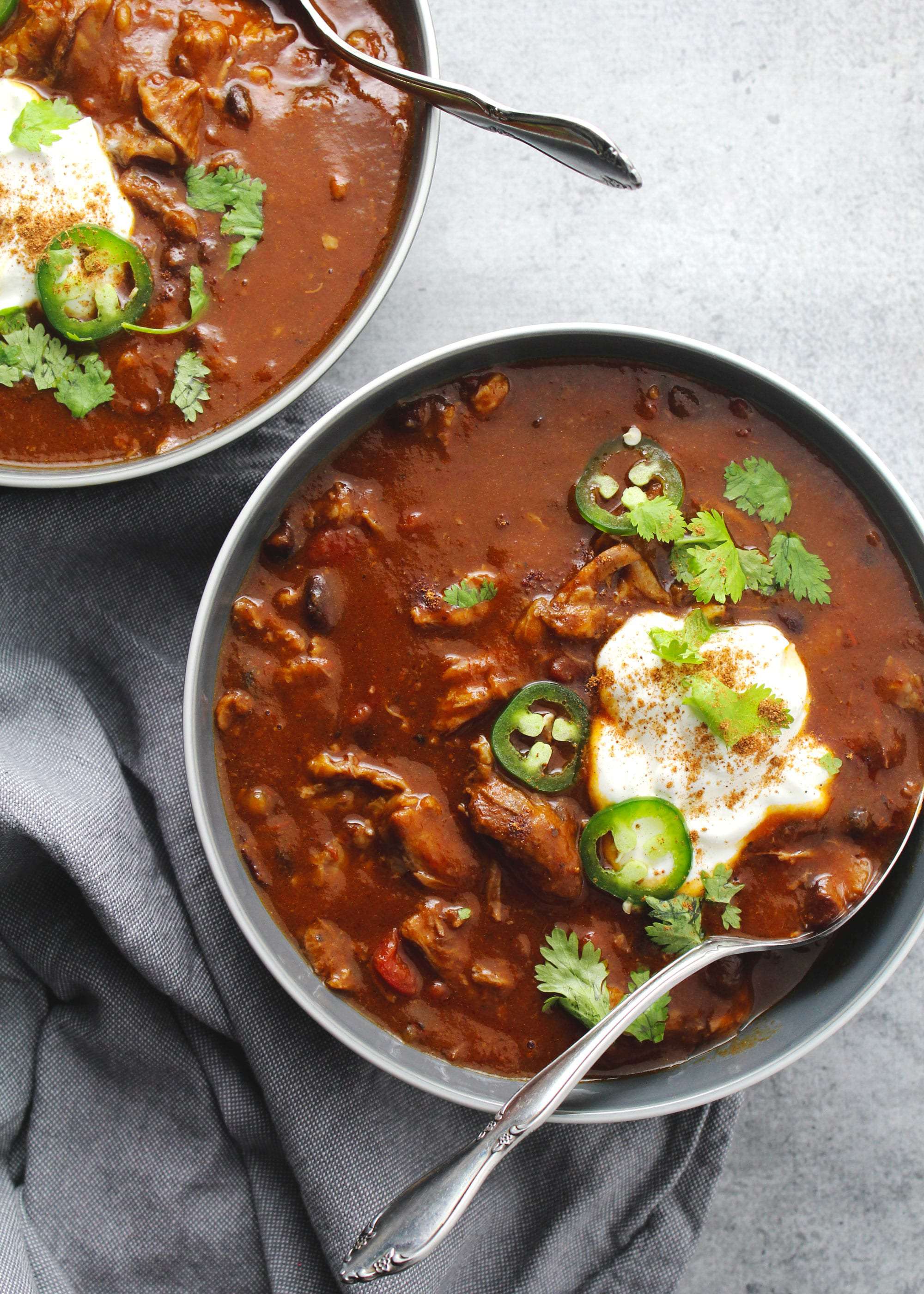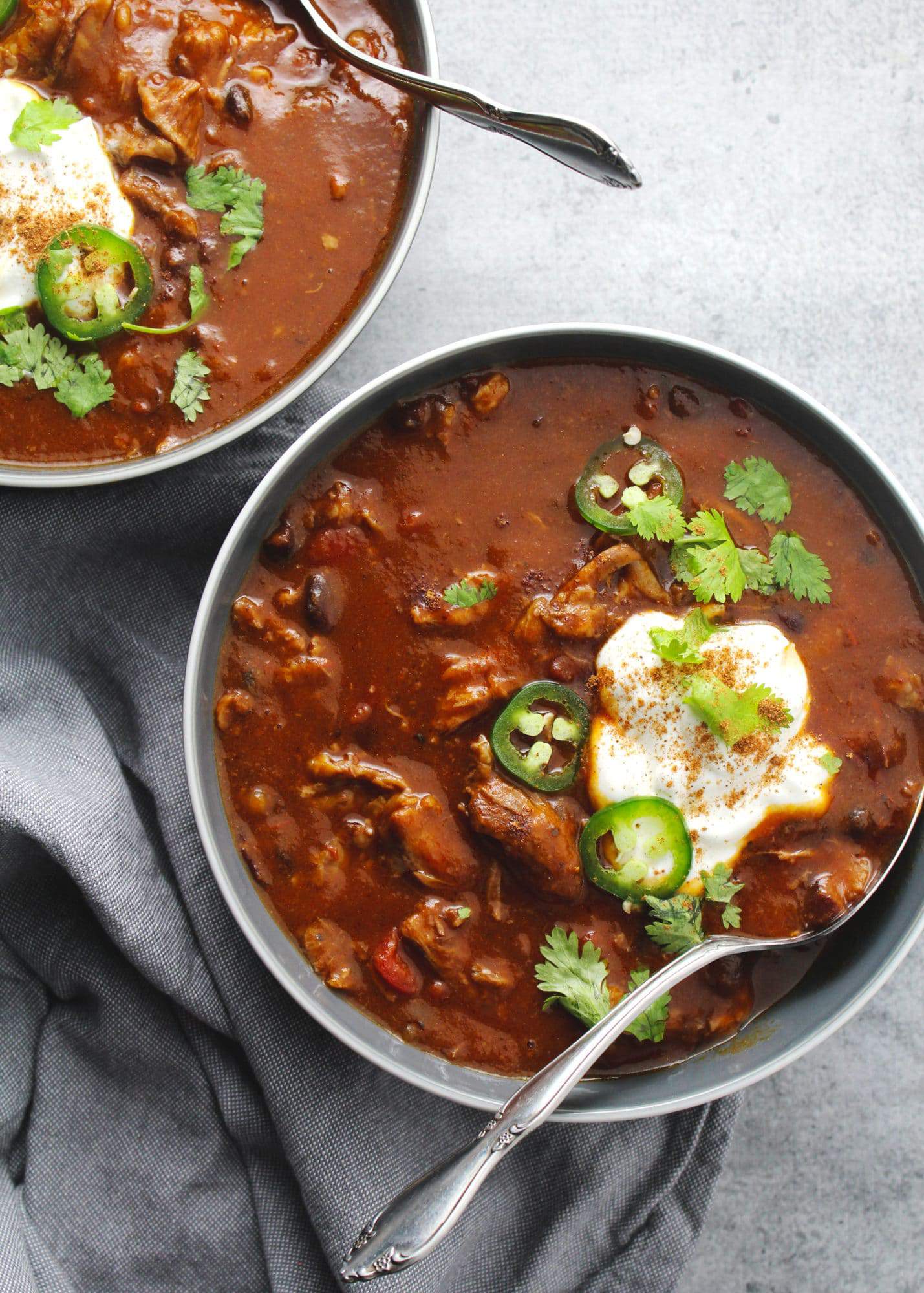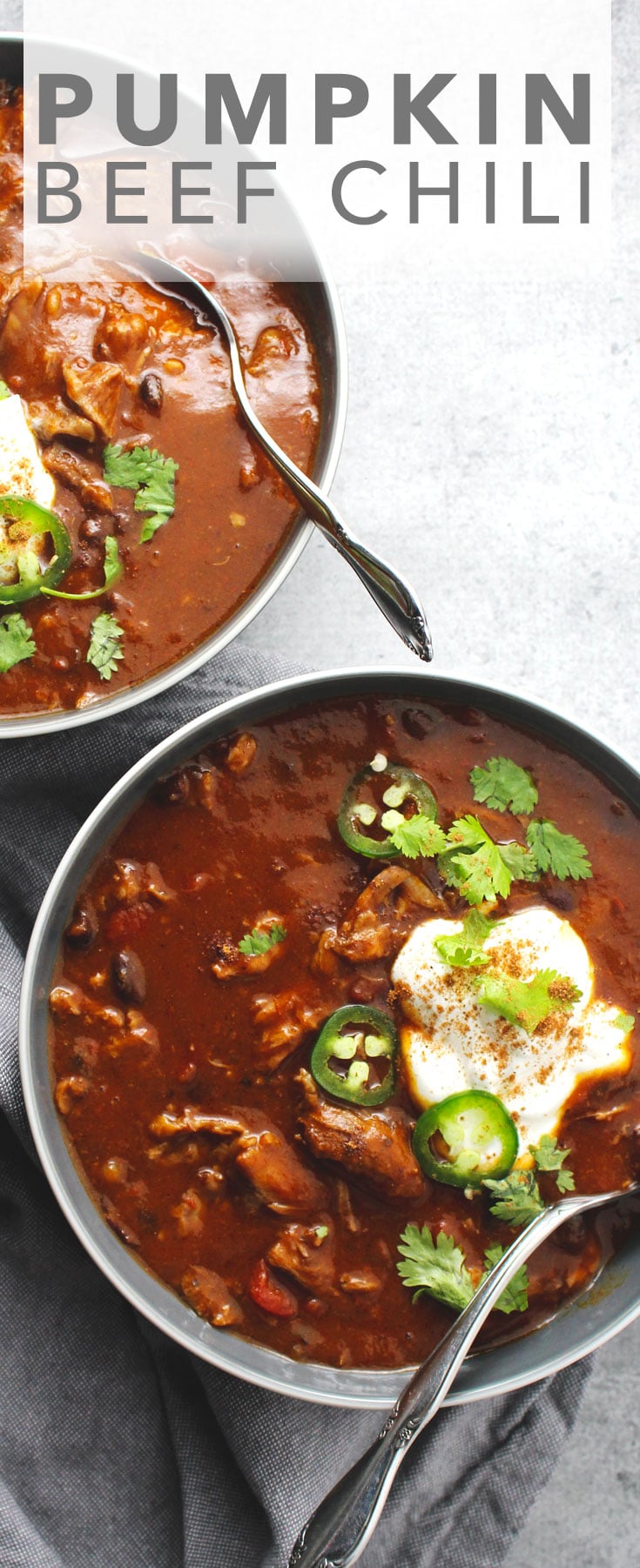 Print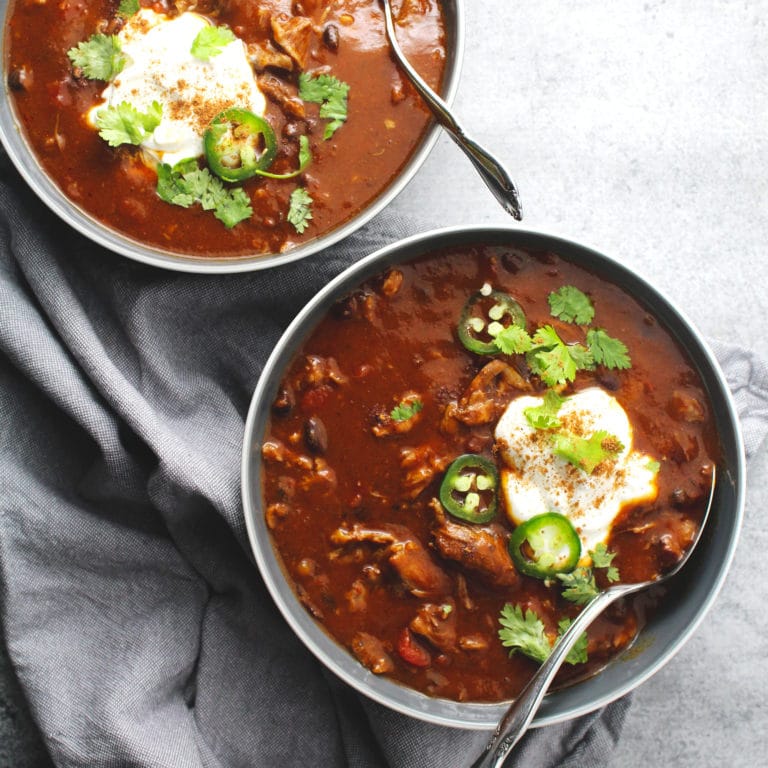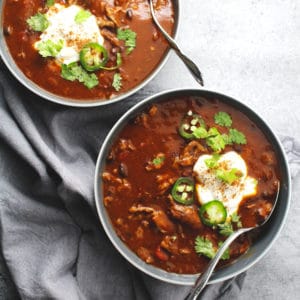 Slow Cooker Pumpkin Beef Chili
Author:

Prep Time:

10 Mins

Cook Time:

8 to 10 Hrs

Total Time:

17 minute

Yield:

6

to

8

Servings

1

x
---
Description
This slow cooked chili is the perfect fall dinner for pumpkin season and packs a sweet and savory taste all in one healthy and delicious bowl.
---
2 tablespoons

Olive Oil

2

lbs Beef Chuck Shoulder

1

28-ounce can Crushed Tomatoes

1

14-ounce can Petite Diced Tomatoes

1

can Pumpkin Puree

2

cans Black Beans, rinsed and drained

1 tablespoon

Cornstarch (optional, see notes)

2 teaspoons

Cumin

2 teaspoons

Cinnamon
Salt and Pepper for seasoning
Add'l Toppings
Sour Cream
Pumpkin Pie Spice (srsly!)
---
Instructions
Place Olive Oil in a large skillet and heat over medium-high heat. Season the Beef with salt and pepper and lightly brown on all sides. Place into your slow cooker.
Add the Crushed Tomatoes, Diced Tomatoes, Pumpkin Puree, and Black Beans to the slow cooker. Season with Cumin and Cinnamon on top. Cook on low for 8 to 10 hours or on high for 5 to 7.
With about an hour to go if you'd like thicker chili add the Cornstarch and additional Cumin or Cinnamon if needed.
---
Notes
I added Cornstarch to this recipe to thicken it up a bit since at first, it was a little soupy for my liking, but this is purely optional.
I had to turn my slow cooker off mid-cook so technically I had to cook mine on low for 11 hours. Check your meat several times throughout the cooking process if possible. The meat should easily pull apart with the slightest tug of a fork. Remember beef chuck takes a looooong time to cook.