S'mores anything makes summer time amazing, but combine them with RiceKrispie treats and the whole world just got a little happier.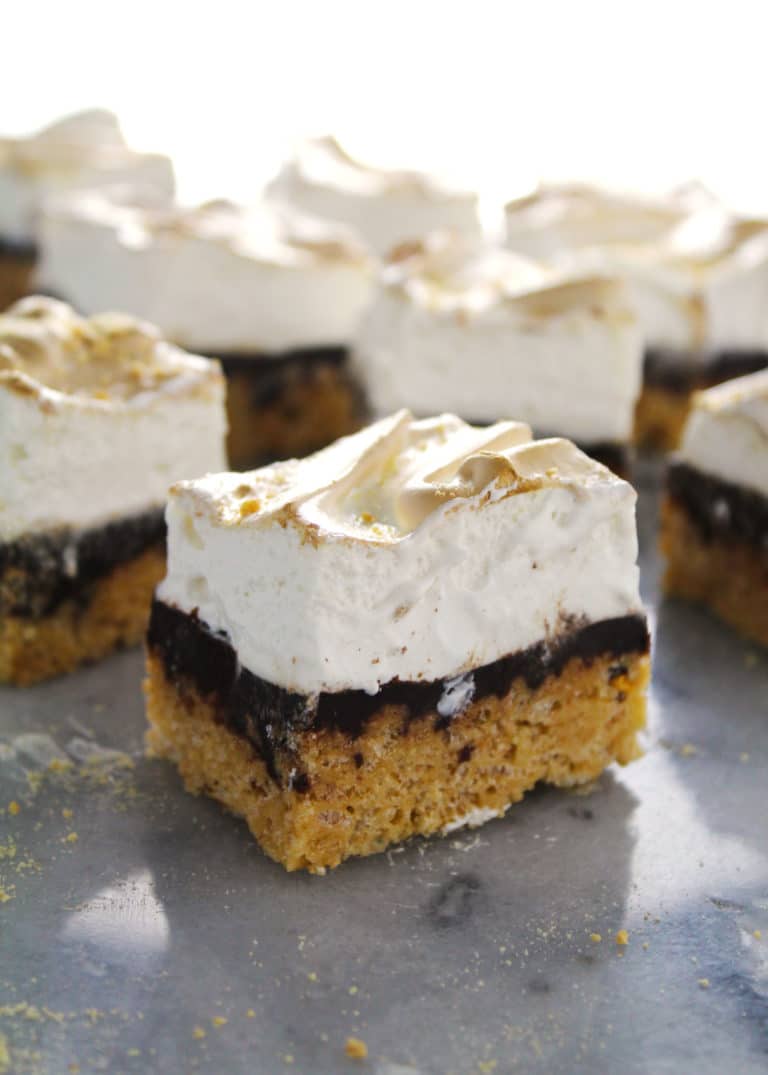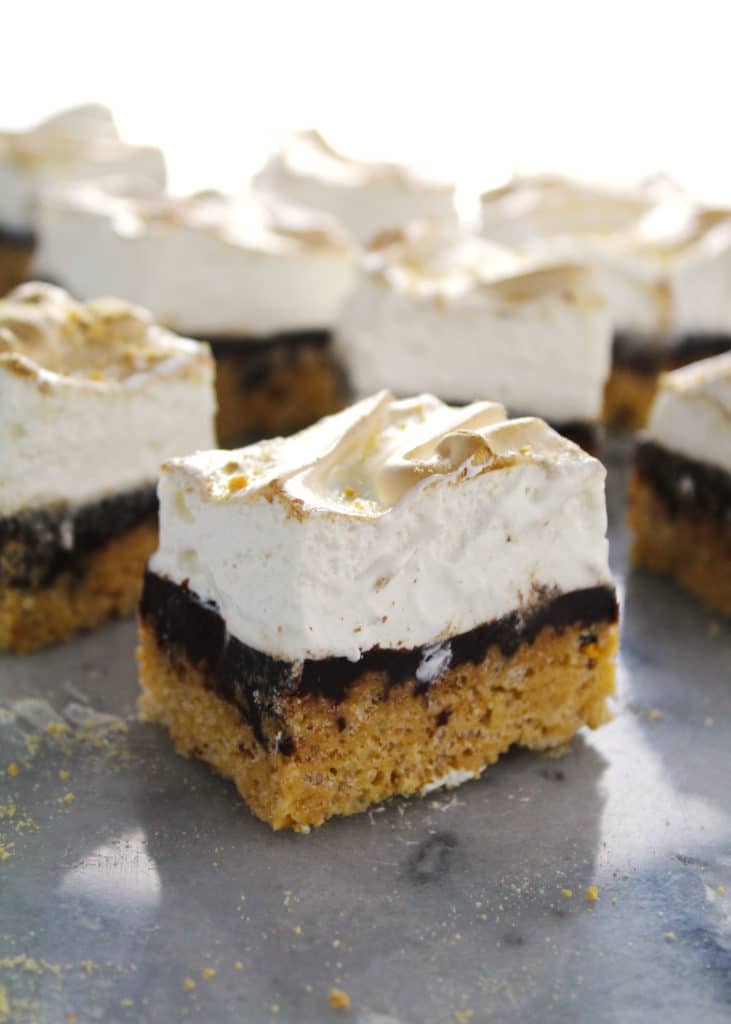 I am aware S'more Rice Krispie Treats have been done before, BUT if your Pinterest feed is any bit as ridiculously filled with s'mores type recipes, because HELLO, summer + right around the corner = happening! Then you know s'mores are not only trending but very much a classic. Cue mouth watering happiness…
My current pantry situation involves graham cracker crumbles, chocolate chunks and an economy size box of Rice Krispies. That my friends, is being prepared for opportunity, which as you know means success and who doesn't want to be successful? That's what I thought.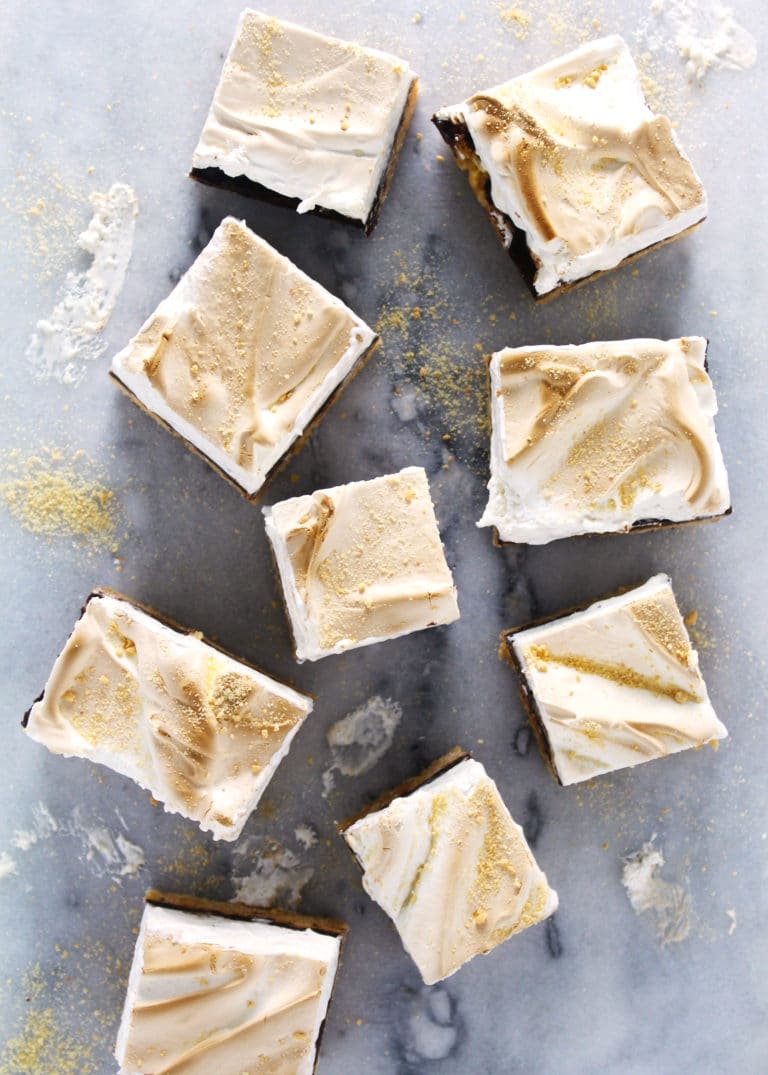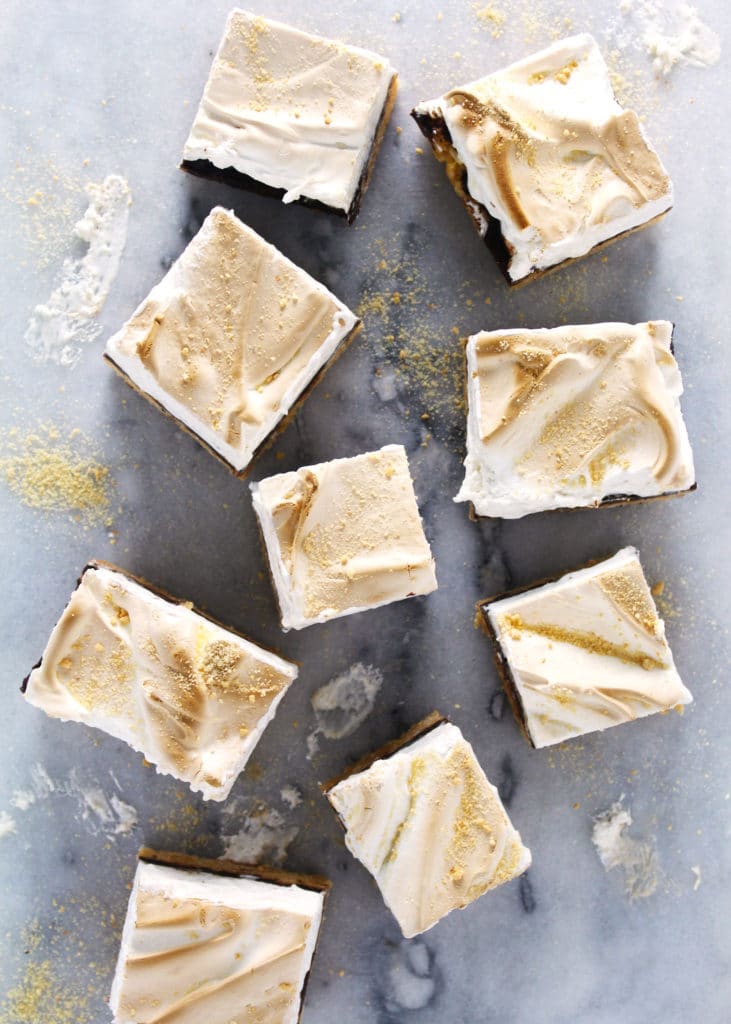 These s'mores Rice Krispie treats happened this past weekend and really if I'm being honest they only "happened" for a matter of hours (I may or may not had one or two, who's counting, for breakfast). Jonathan and I were heading to a low key dinner with friends Saturday night and I wanted a dessert to compliment that same ambiance. Well, like any good food blogger I started searching and scrolling the infinite possibilities of Pinterest.
A simple version of a Rice Krispie Treat caught my eye and I thought, "Hello childhood, hey simple!" Right next to this amazing picture of sweet crispness was an s'mores type recipe. Well, then inspiration hit and I thought to combine the two. A quick search into the Pinterest archives told me not only was I NOT the first to think of this idea (as if!) but it's like sooooo 2014. Hey, I'm cool with it…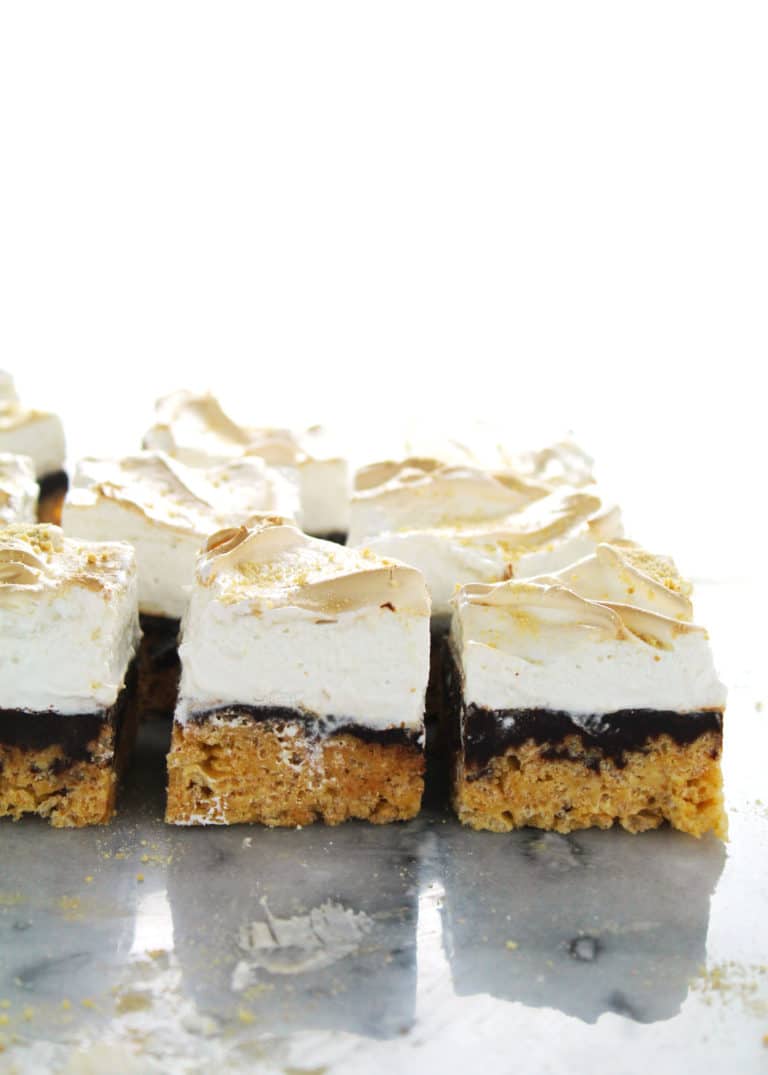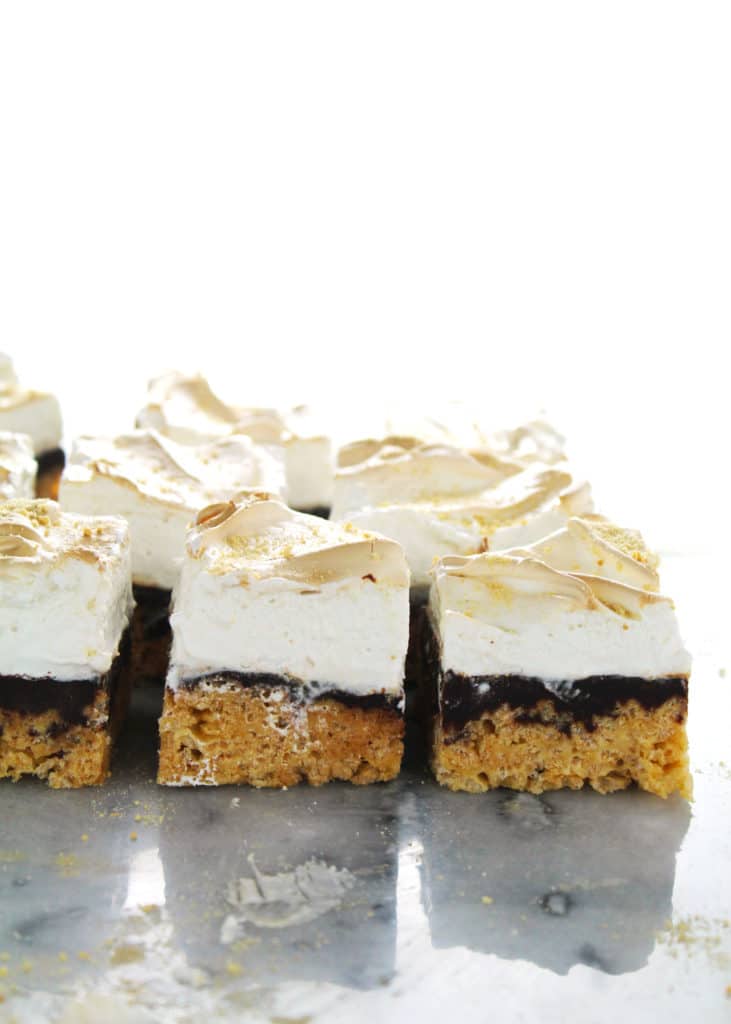 Despite showing up several years late to the s'mores party and just before I face planted into my computer screen I decided to head immediately to the grocery store with my list in hand. Not only were these the perfect dessert for a low key dinner, but also s'more anything never really goes out of style. Perhaps they're just as much a classic as apple pie…
I haven't even gotten to the second best part because to be clear eating the fluffy toasted marshmallows atop melted chocolate dripping down a sweet and crunchy Rice Krispie Treat is obvy the main event, however, they're easy to make. Really! My daughter Autumn wanted in on the baking action and though I'm a bit (okay a lot) obsessive about food presentation when preparing a recipe for this site I wanted her help. That's how easy these Bars are to make, you can prep them with a toddler!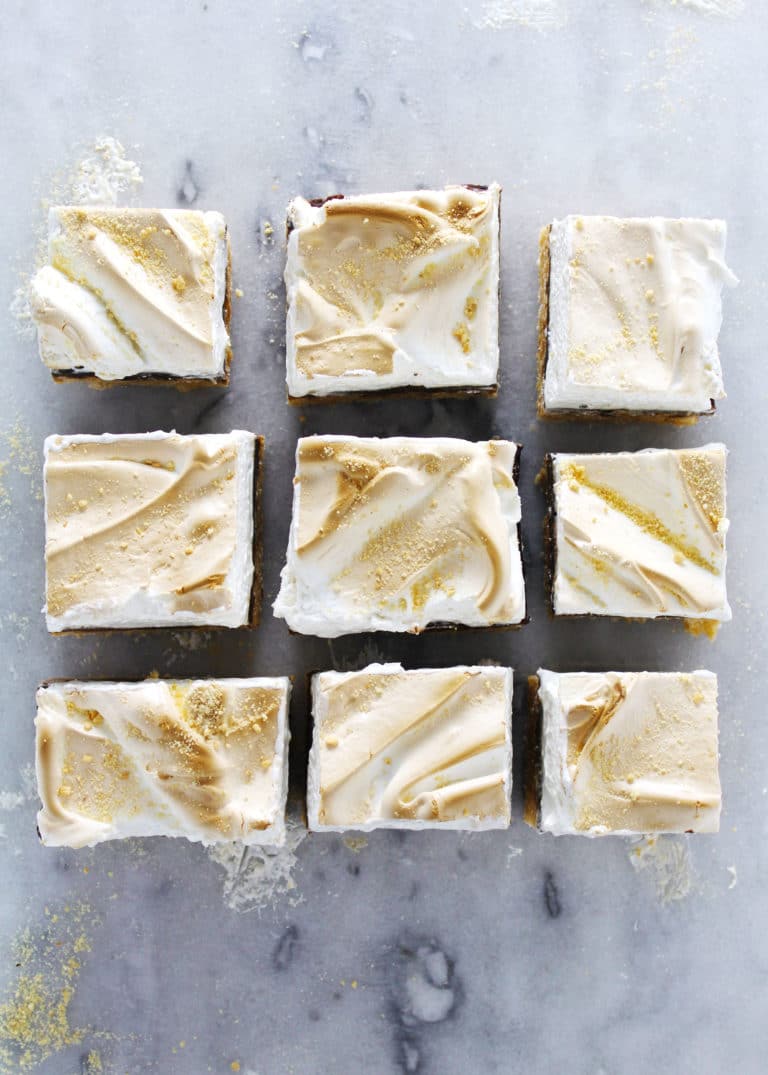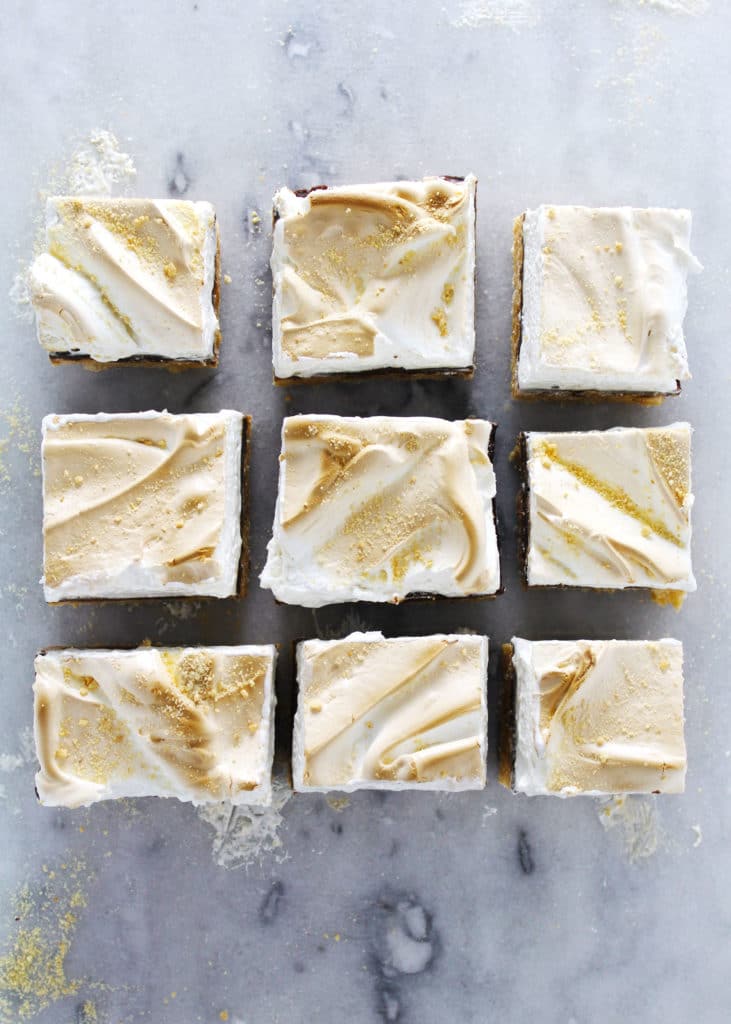 I'm going to give the go-ahead to start summer early (somebody has to!) by saying make these bars as in the second your finish reading this post…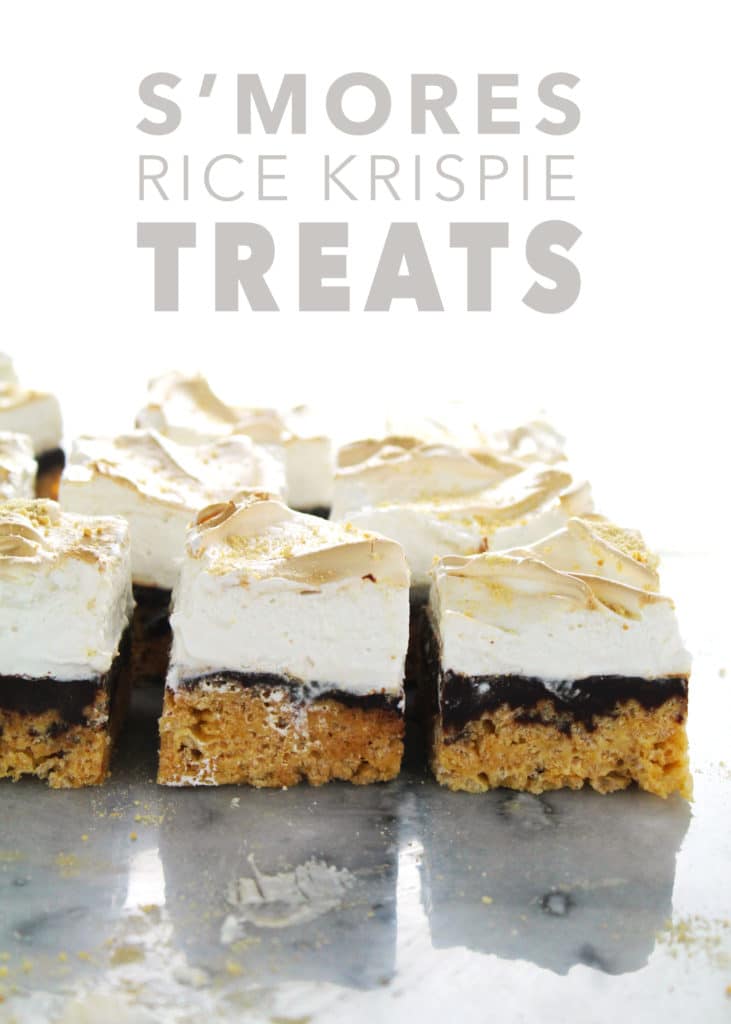 Print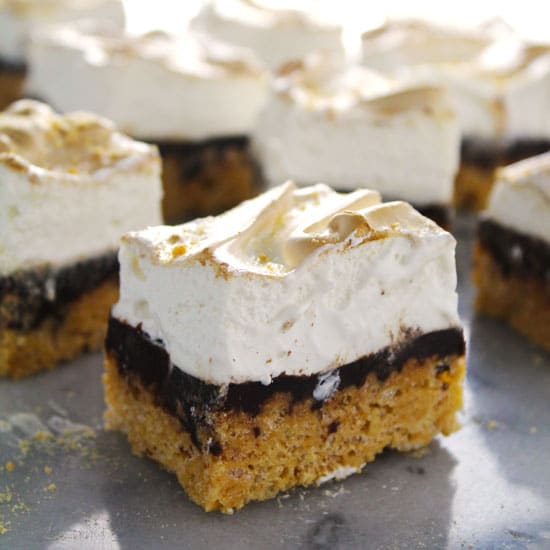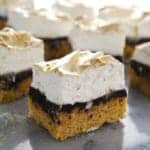 S'mores Rice Krispie Treats
Author:

Prep Time:

30 Mins

Cook Time:

12 Mins

Total Time:

42 minutes

Yield:

9

x13 Pan

1

x
---
Description
S'mores anything makes summer time amazing, but combine them with rice krispie treats and the whole world just got a little happier.
---
Graham Cracker Rice Krispie Layer
4 tablespoons

Butter

10 ounces

Mini Marshmallows (

1

bag)

6 cups

Rice Krispie Cereal

1 1/2 cups

Graham Cracker Crumbs
Chocolate Layer
11.5 ounces

Chocolate Chunks (

1

bag)

4 tablespoons

Butter

1/4 cup

Heavy Cream (or Milk)
Marshmallow Topping
5

large Egg Whites

1 1/2 cups

Sugar
---
Instructions
Graham Cracker Rice Krispie Layer
Line a 9×13 baking pan with foil or parchment paper (I used foil, which required a pull just a few pieces from the bars).
In a large saucepan over medium heat melt the Butter and Marshmallows, stirring until completely melted and combined.
Remove the saucepan from heat and pour the Rice Krispie Cereal and Graham Cracker Crumbs into the marshmallow mixture and stir to combine. Try to work quickly as the mixture cools it gets trickier to mix.
Quickly press the mixture into the lined pan. Be sure to press firmly so the rice krispie treat layer comes together properly and evenly. Set aside.
Chocolate Layer
Using a double boiler or a bowl carefully held over boiling water melt the Chocolate Chunks, Butter, and Heavy Cream (or milk). Whisk continuously until the mixture is completely melted and fully mixed.
Pour the melted chocolate over the rice krispie treat layer and place in the fridge.
Marshmallow Topping
Using the double boiler again or a bowl placed over simmering water heat the Egg Whites and Sugar. Bring the mixture to 160 degrees F while continuously whisking.
Transfer the mixture to an electric mixer, fitted with the whisk attachment. Beat on medium high speed until the mixture cools begins to form stiff peaks, about 10 – 12 minutes.
Spread the marshmallow fluff on top of the chocolate layer. Place in the oven set to broil for 1 to 2 minutes or until the tops of the marshmallows begin to brown. Keep the door of your oven open while doing this because it happens quickly and can easily burn the marshmallows if left too long. Cut into squares.
---
Notes
Seriously just don't even bother cutting them up. Eat them straight from the pan. You're welcome…