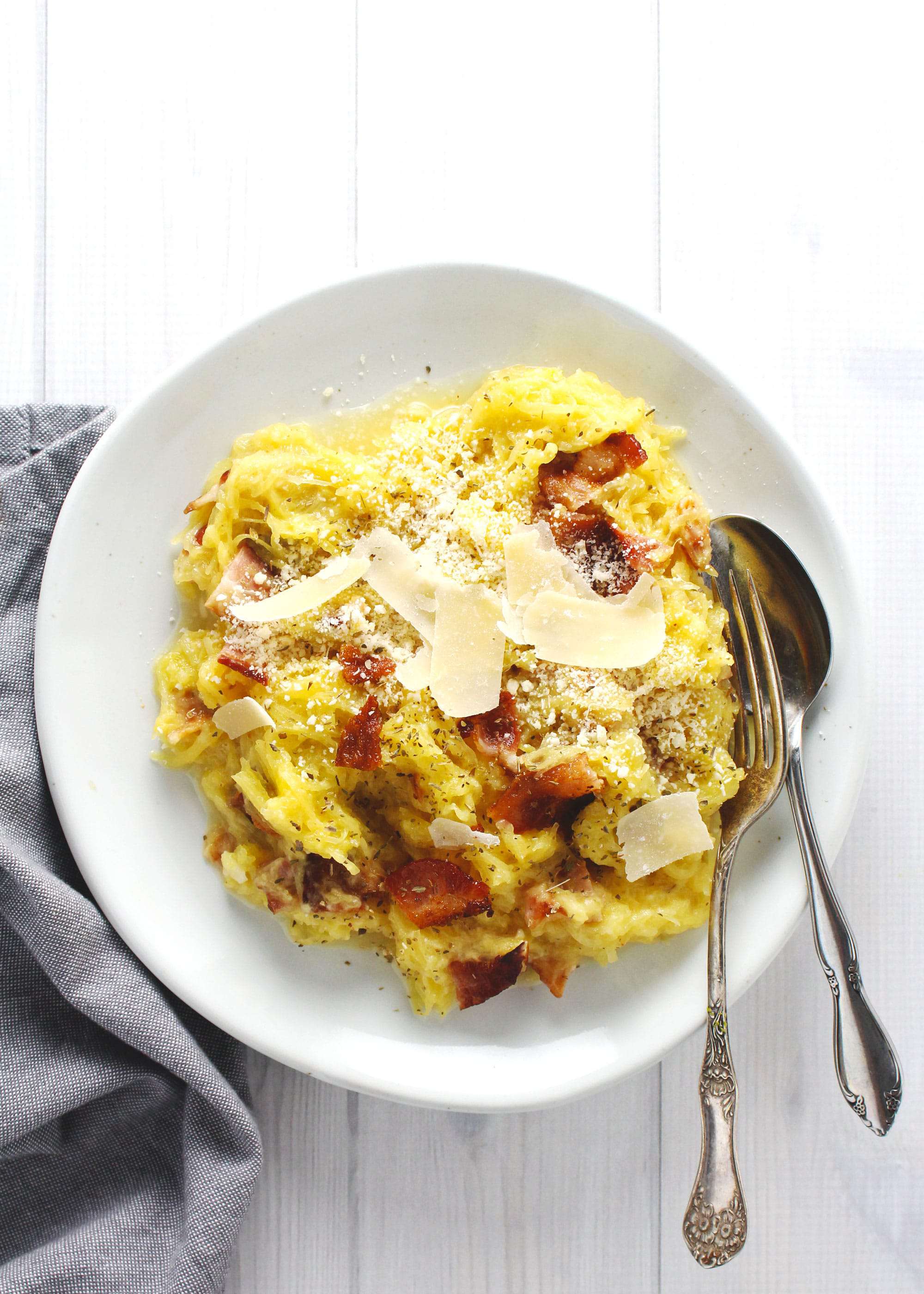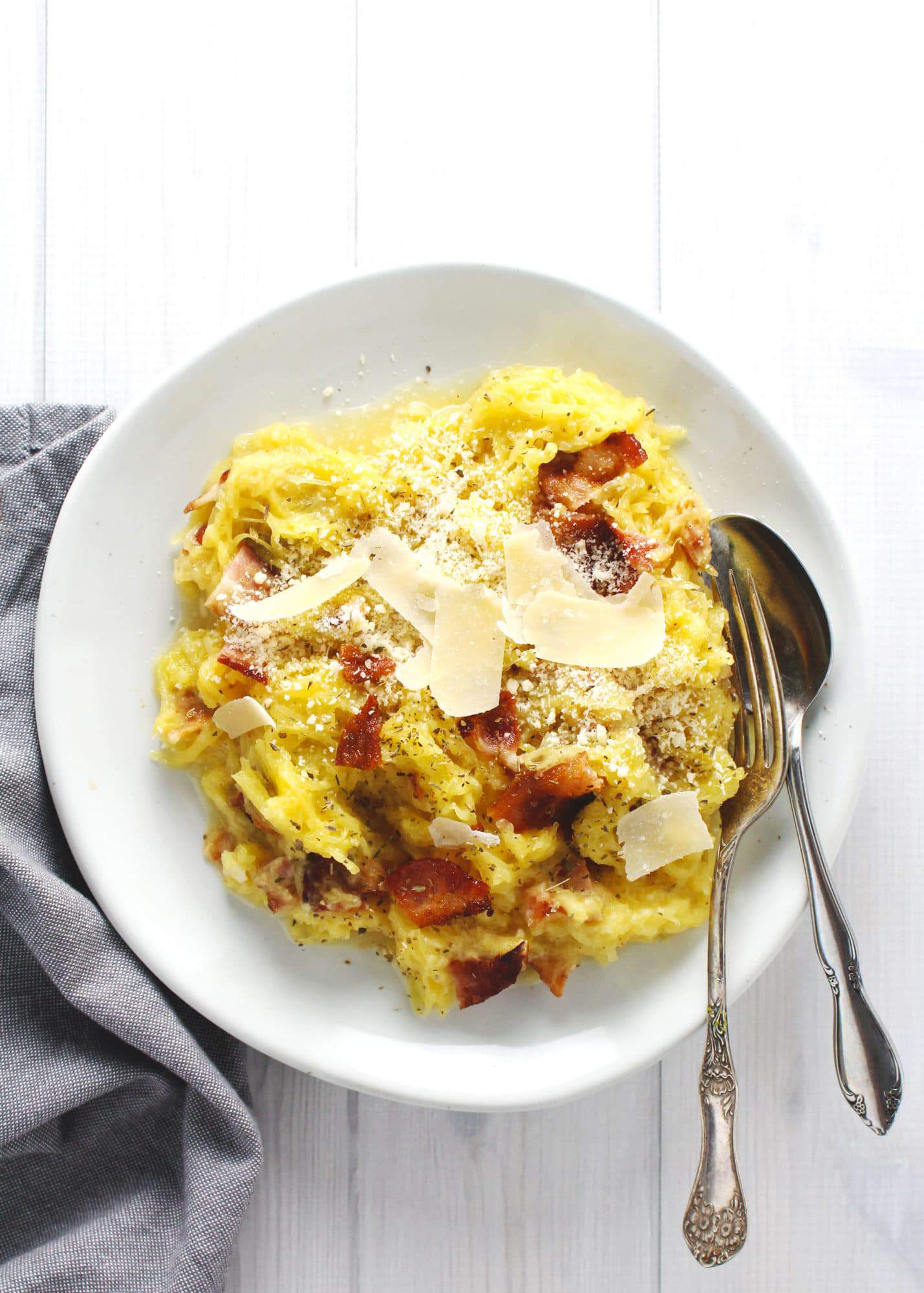 When you make a dinner and your husband responds, "Make this EVERY night, please!" and your kids actually eat it too you feel like you've just gone from Wife/Mom to Kitchen Goddess in the very best sense.
I thought I was really taking a chance on this recipe, because, hi it's predominantly vegetables, which generally doesn't go over well at my dinner table. But it's creamy cheesy goodness won over my taste testers.
Pasta is what my food dreams are made of, but due to that high level on the starchy white carb level it's never really filling and quite unfortunate for the waistline. Life doesn't have to be this way friends! This is where spaghetti squash comes to the table.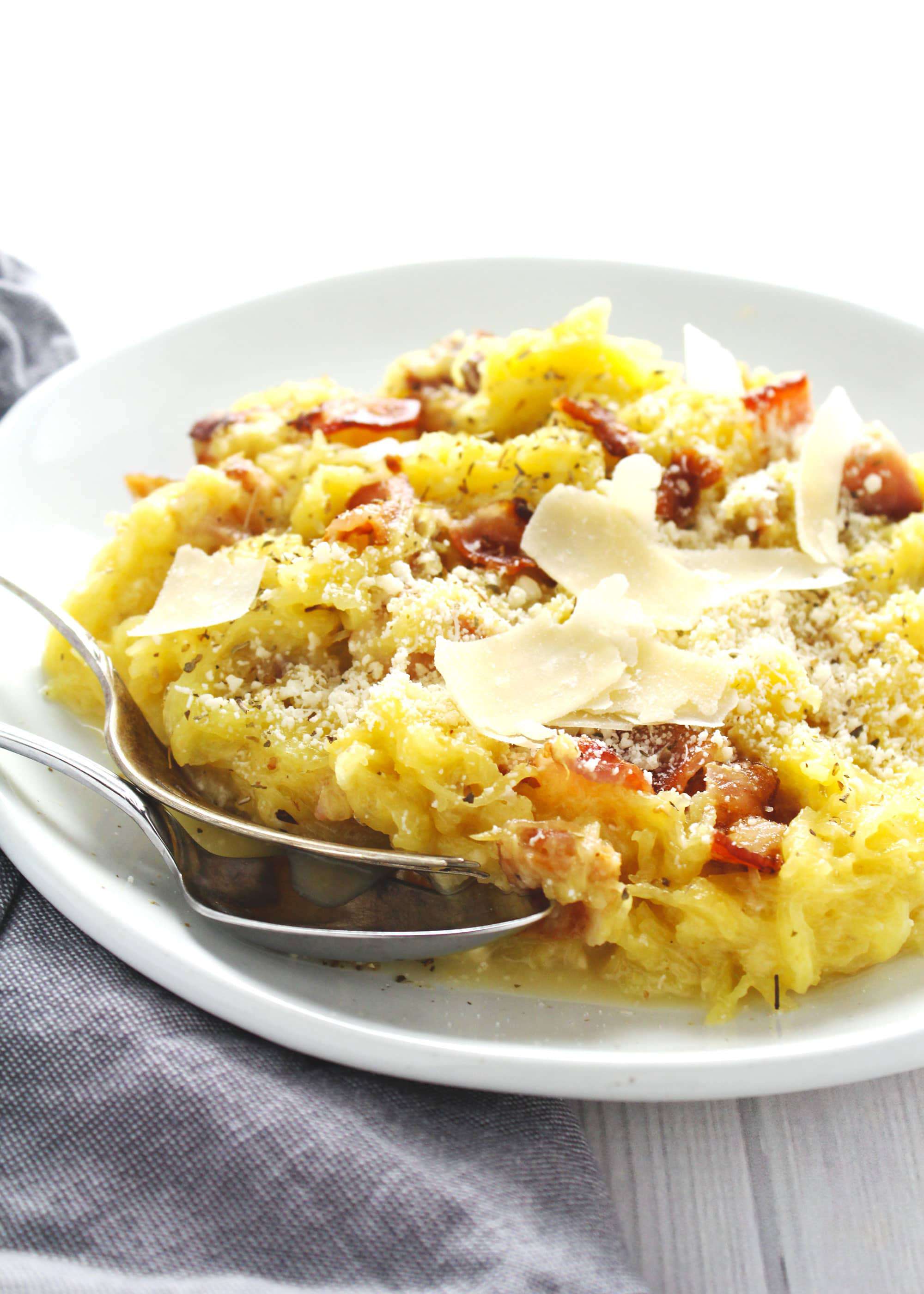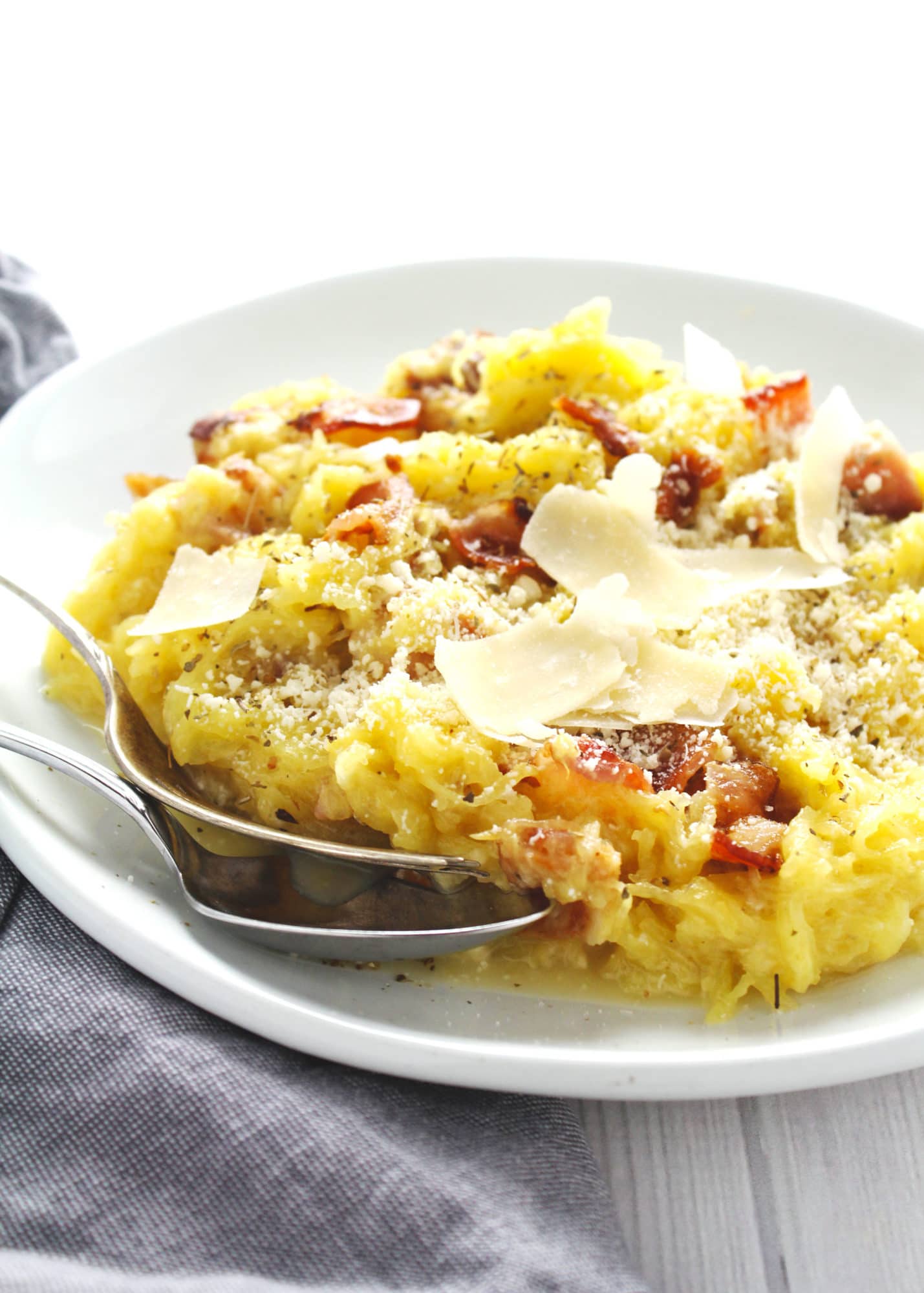 Yes, there is a time and place for the ever delicious starchy carby pasta (like everyday for lunch ????), but when you need to clean it up a bit (read: clean eating) for dinner and want to sneak some vegetable in then this spaghetti squash carbonara is for you, you kitchen goddess or god!
There are a couple of things at play here, which evokes that kitchen goddess/god status…
This is an insanely easy dinner to make.
Your husband, roommate, best friend, etc will request it every night. #LifeMadeEasy
And there's a good chance your kids will eat it too.
It's a healthy way to enjoy pasta.
To top it all off there are only 5 mains ingredients in this dish! Count them, friends, 1. spaghetti squash 2. bacon ???? 3. eggs 4. parmesan cheese and 5. half and half. How's that for your budget?!?
And hey, with the Amazon Whole Foods take over you can probably even stand to get all organic ingredients! Go crazy! Achieve kitchen goddess/god level of perfection.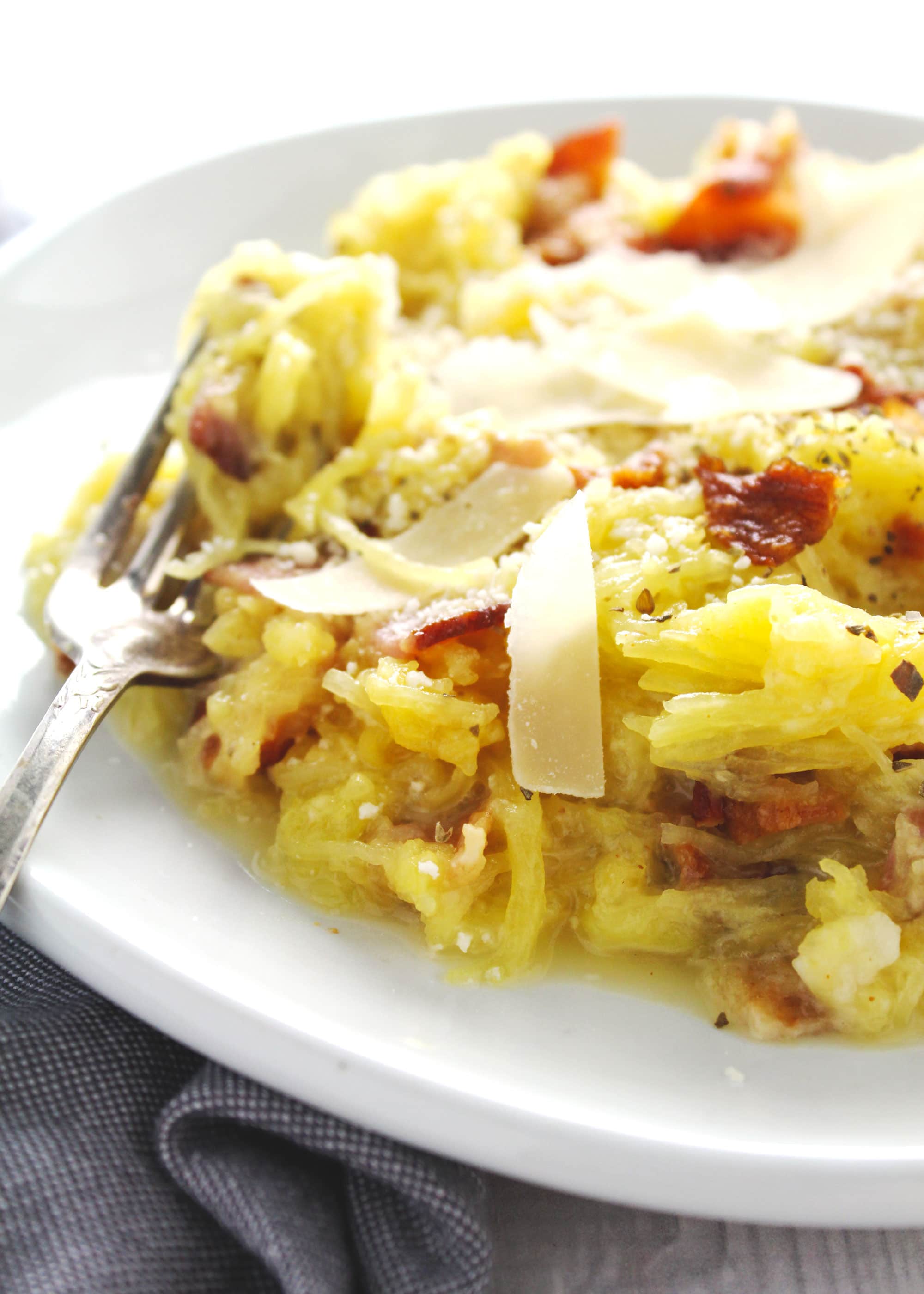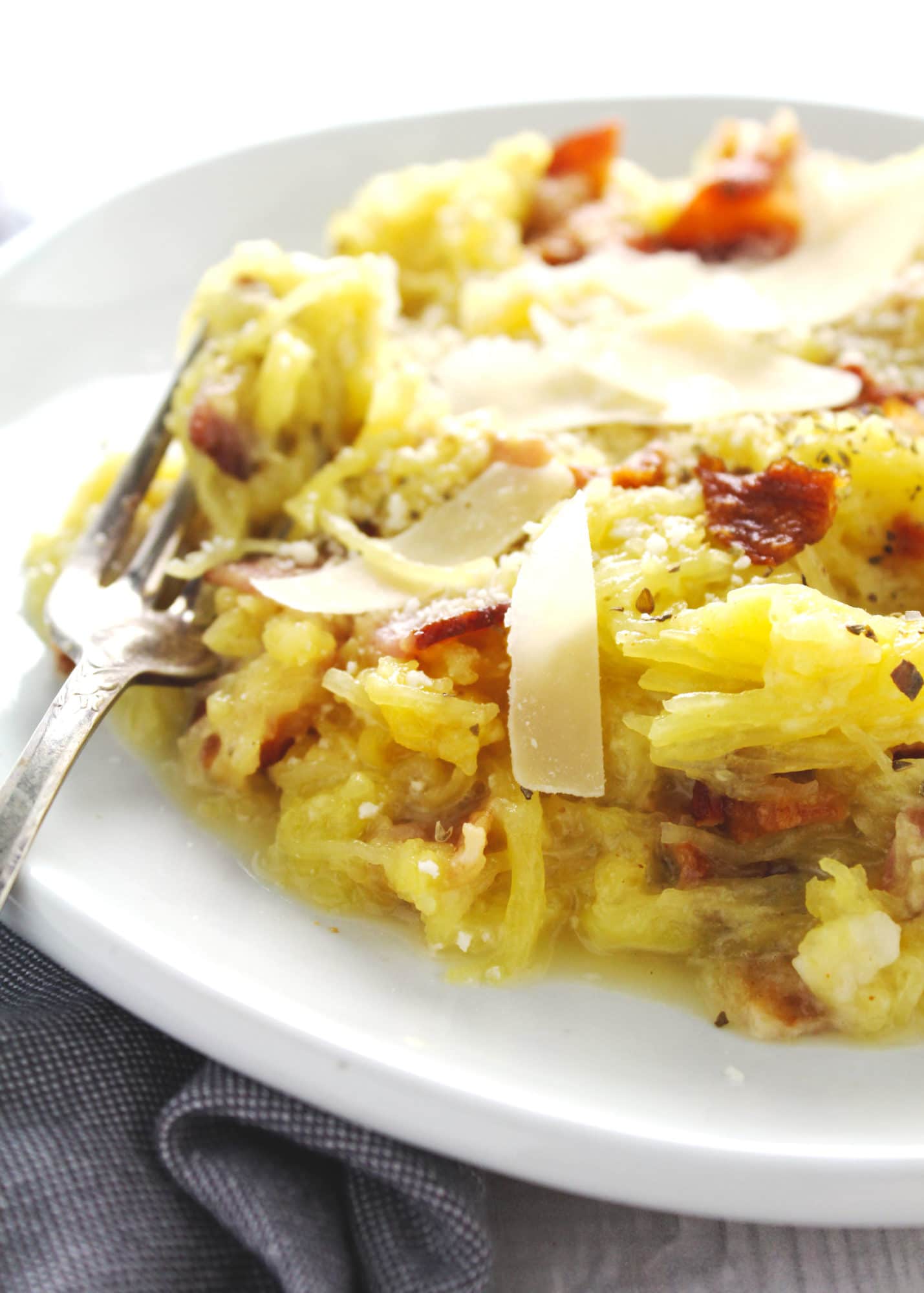 If you enjoy spaghetti squash then try this Barbecue Chicken Stuffed Spaghetti Squash next.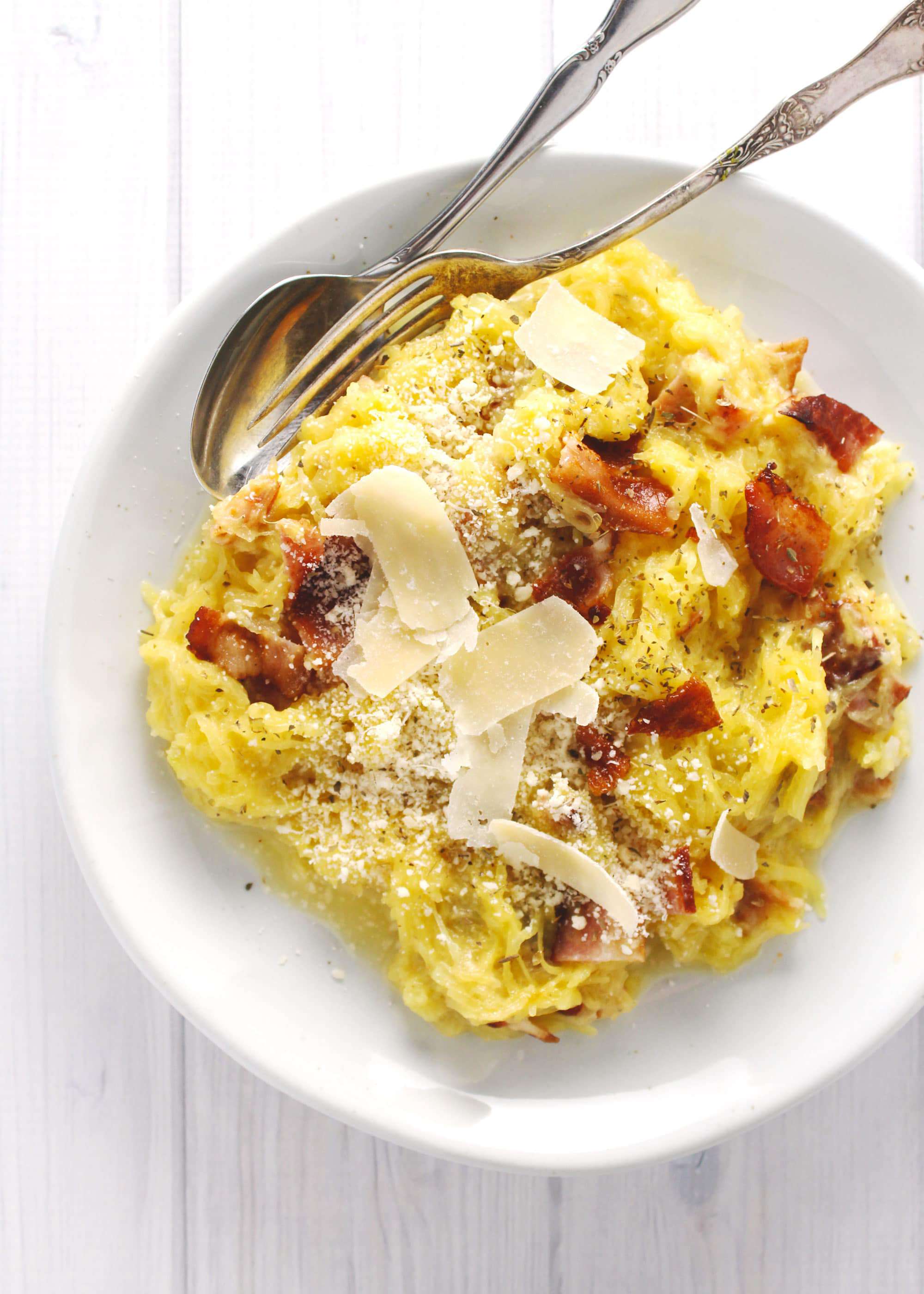 Ingredients
2

medium

Spaghetti Squash

8

slices

Bacon

chopped into small pieces

3

large

Eggs

3/4

cup

Grated Parmesan Cheese

1/2

cup

Half and Half

or heavy cream
Instructions
Using a small knife carefully poke holes in the spaghetti squash all the way around. Place several paper towels in the microwave and lay the squash on top and heat for 10 minutes. Using an oven mitten rotate each squash and then heat again for an additional 8 minutes.

Cook the bacon in a non-stick skillet and allow it to cool on a paper towel before cutting into small pieces.

In a small bowl beat the eggs and mix in the grated parmesan cheese and half-and-half and set aside.

Allow the squash to cool slightly before slicing the top stem off and then slicing it in half lengthwise. Use a fork to remove the seeds from each center and then pull the spaghetti-like insides out and place in a large bowl.

Pour the egg mixture on top and toss to coat (the heat from the squash will safely cook the eggs).

Top the spaghetti squash pasta with bacon and sprinkle additional parmesan cheese.
Nutrition
Serving:
1
Serving
|
Calories:
507
kcal
|
Carbohydrates:
36
g
|
Protein:
21
g
|
Fat:
33
g
|
Saturated Fat:
13
g
|
Trans Fat:
1
g
|
Cholesterol:
196
mg
|
Sodium:
726
mg
|
Potassium:
723
mg
|
Fiber:
7
g
|
Sugar:
14
g
|
Vitamin A:
1067
IU
|
Vitamin C:
10
mg
|
Calcium:
374
mg
|
Iron:
3
mg